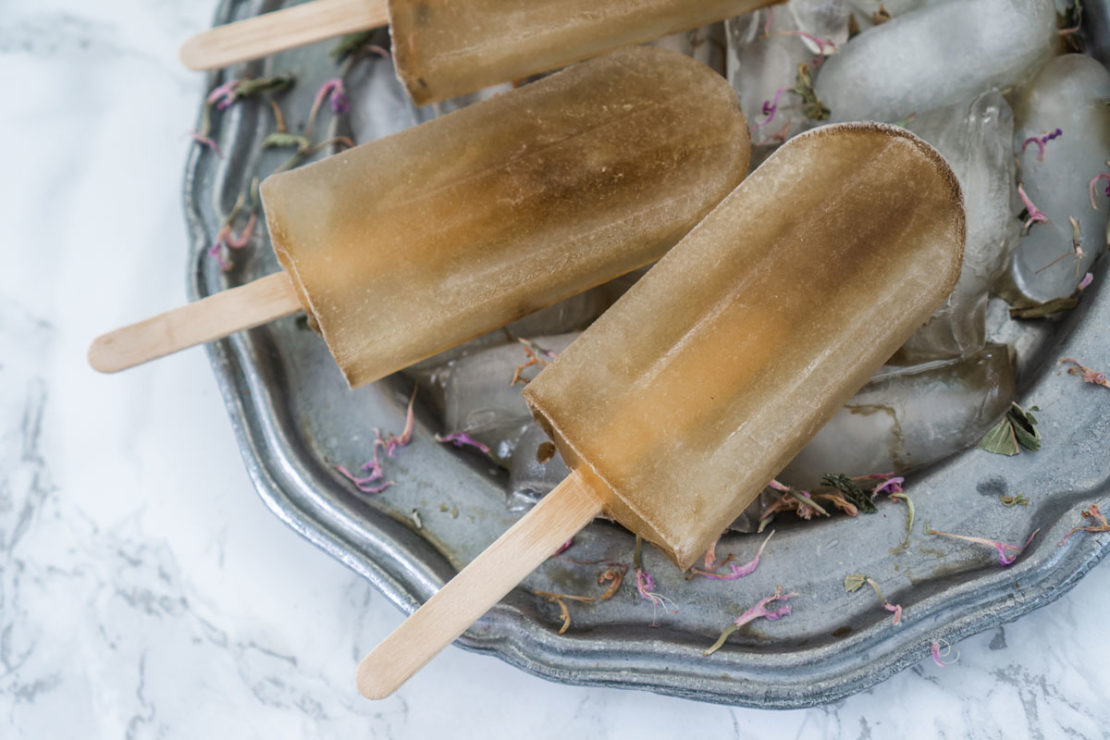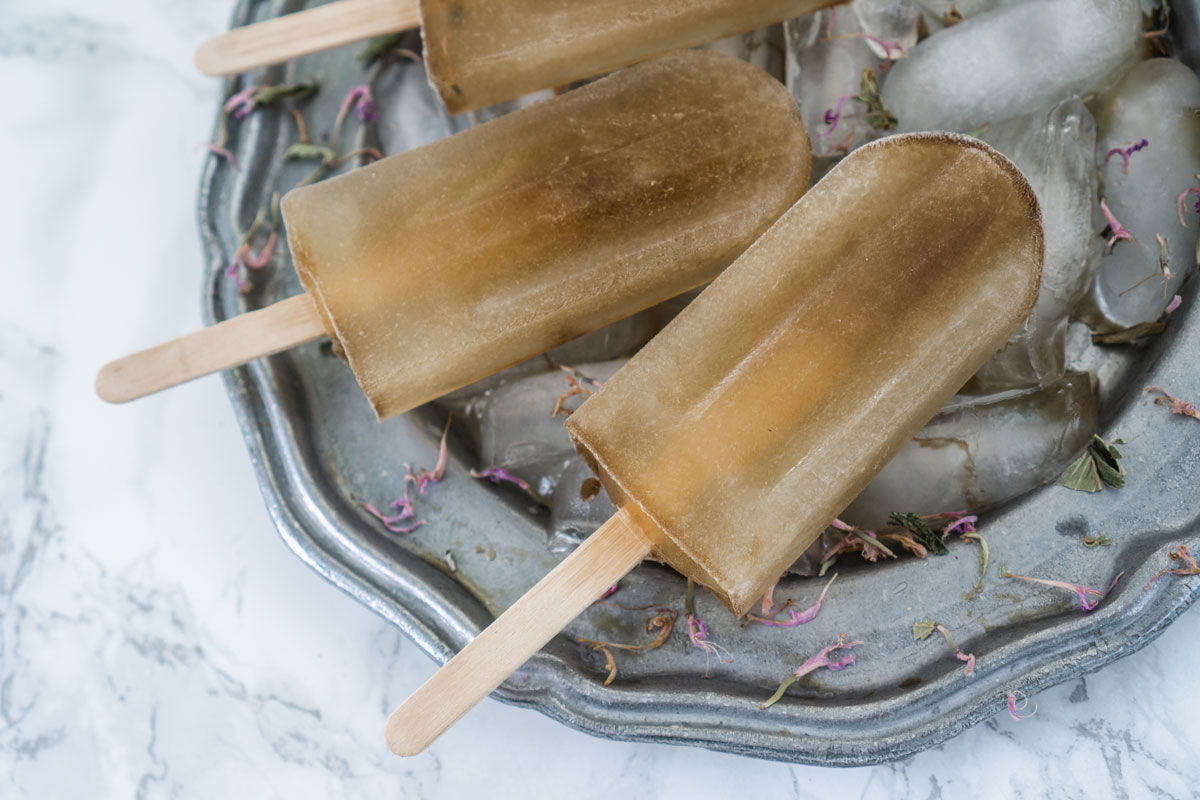 Refreshing Monarda-Mint Ice Pops Recipe
As temperatures climb and spring fades into summer, you may find yourself craving a sweet and healthy treat that doesn't require heating up the house with your oven. Fruit is always a wonderful option, but what else? Our Refreshing Monarda-Mint Ice Pops recipe, below, offers a simple and delicious dessert that your whole family is sure to love. As a bonus, the two herbs featured in the recipe, bee balm (Monarda spp.) and spearmint (Mentha spicata), lend their own cooling properties to help your body find a deeper sense of refreshment on the hottest of days.
As we explain in our free ebook, Cooling Herbs for Hot Summer Days, herbs can help regulate heat—both from external factors, like weather, and internal factors, like inflammation. Some herbs stimulate pores to release heat; others lend moistening qualities to help ward off dehydration, and others aid our bodies in maintaining a sense of balance. 
Keep reading to learn how spearmint and monarda, the two refreshing herbs featured in our Monarda-Mint Ice Pops recipe, below, can help you stay calm, cool, and collected despite uncomfortable heat. (All of the following information, including the recipe, is from our free ebook, Cooling Herbs for Hot Summer Days.)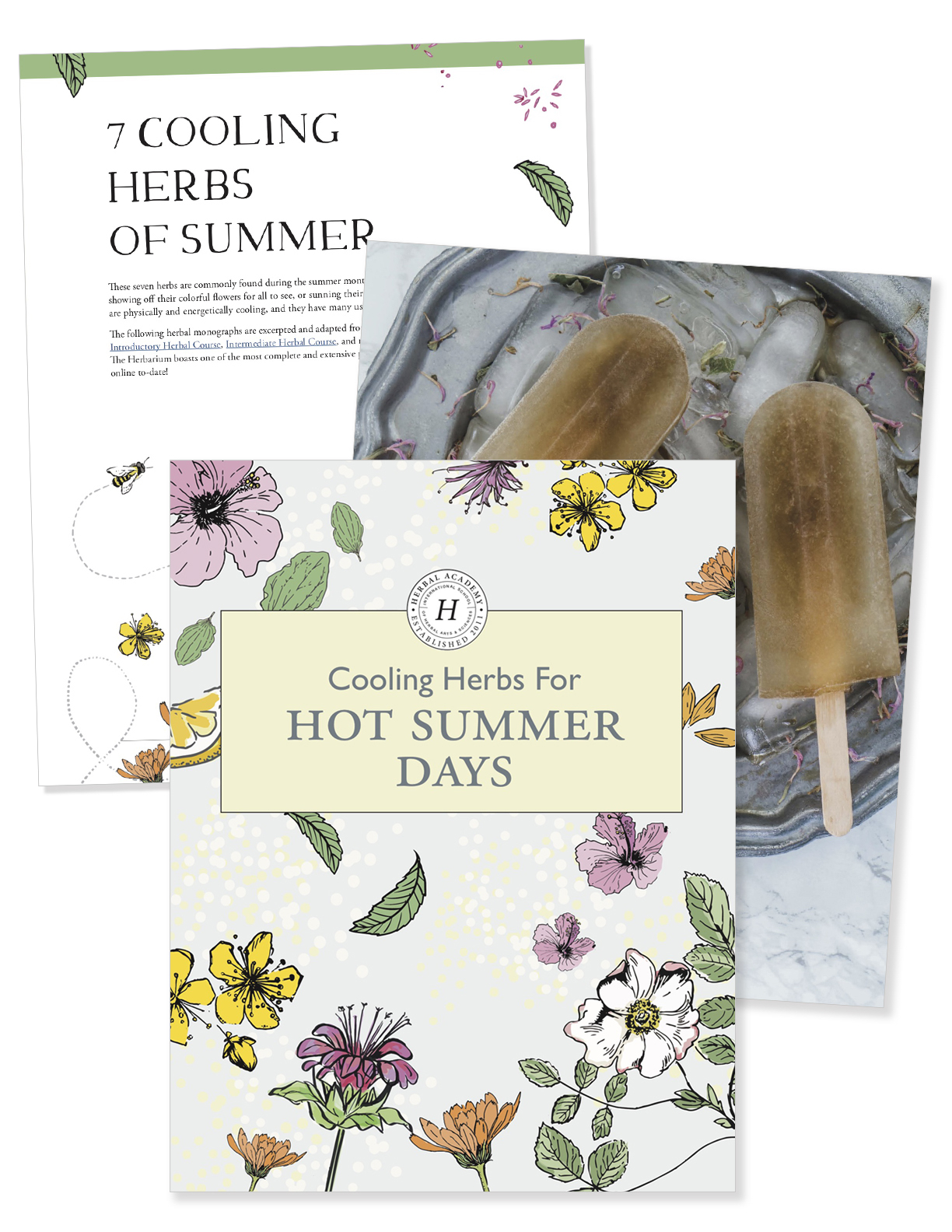 Two Cooling Herbs of Summer
Spearmint (Mentha spicata) leaf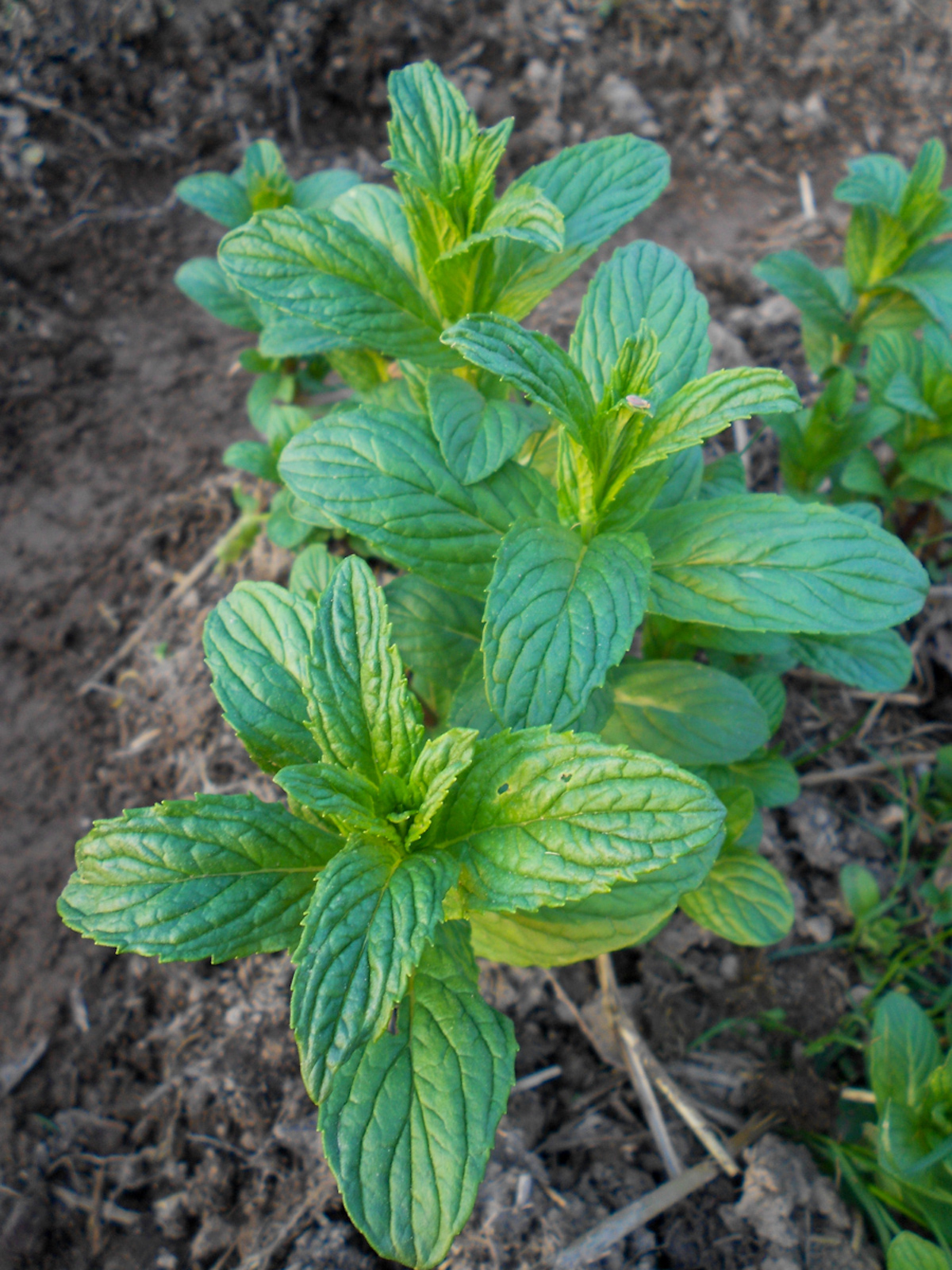 The first herb featured in our Monarda-Mint Ice Pops recipe is spearmint (Mentha spicata). As a refrigerant, spearmint cools and refreshes the body. With an almost universally enjoyed flavor, it is a fantastic addition to our healthy popsicles, below, along with summer teas. Spearmint has cooling diaphoretic qualities and opens the pores, which can be helpful for reducing fevers in adults and children when the tea is consumed or added to a bath. 
Spearmint is perhaps best known for its ability to soothe the stomach; its gentle carminative properties are used to ease gas and bloating (Cook, 1869; Frawley & Lad, 1988). Spearmint can also relax muscles in the gastrointestinal tract and ease nausea and vomiting (Bove, 2001; Cook, 1869). 
Western practitioners describe spearmint's actions as calming and relaxing, which benefit those prone to anxiety, stress, or insomnia. Spearmint can be combined with ginger (Zingiber officinale) rhizome for sudden onset of anxiety that affects the belly or "nervous forms of fever" (Cook, 1869, p. 479). 
A gentle herb tolerated by most people, spearmint is commonly found in pregnancy teas, and is particularly suited for children (Keville & Green, 2009; Ody, 1993). A spearmint tea or bath can be employed for colicky babies and children's fevers, tummy aches, or irritability (Sinadinos, 2008). 
Bee balm (Monarda spp.) aerial parts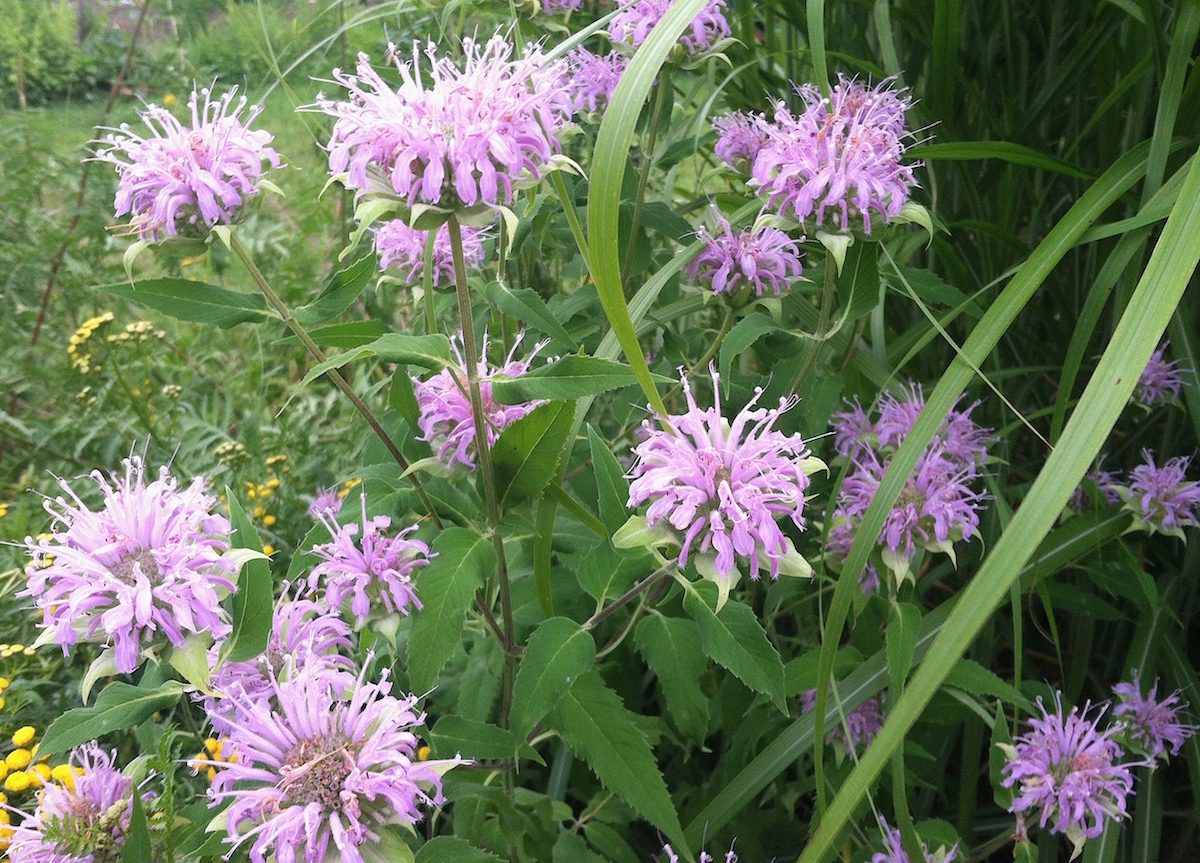 The second herb featured in our Monarda-Mint Ice Pops recipe is bee balm. Also known as monarda, bergamot, lavender bergamot, and sweet leaf, this is not the same plant as the bergamot used to flavor Earl Grey tea (that's bitter orange, Citrus x aurantium). Bee balm grows wild in the United States and Canada and may have lavender-colored flowers and a pungent taste (Monarda fistulosa) or red flowers and a slightly less pungent taste (M. didyma); both are favorites of bees and other pollinators. Both Monarda species can be used in a similar way, but have slightly different tastes and qualities.
Bee balm is one of the many highly aromatic Lamiaceae (mint) family herbs and is curiously considered both cooling and warming. This is due to its dispersive nature; bee balm encourages blood and heat to move from the core to the extremities, and perhaps even makes you sweat a little bit, with the ultimate effect of cooling the body. 
Herbalist Matthew Wood (1997) asserts that bee balm has a soothing, calming, and cooling effect on the organs of the solar plexus region, including the stomach, liver, gallbladder, and intestines. As a diffusive, aromatic carminative, bee balm is also useful for flatulence, bloating, rumbling in the tummy, diarrhea, nausea, and upset stomach. 
Wood (1997) writes that bee balm has the ability to "draw out fire" (p. 366) from internal organs due to its highly diffusive and diaphoretic qualities. Bee balm is also used to "draw out fire" from topical "hot" conditions, such as sunburn, eczema, and acne. Wood (1997) describes using a poultice for sunburns and explains that the best method of preparation is simply chewing the plant's flowers and applying this simple poultice to the affected area. Herbalist and author Susun Weed (2015) describes using the same poultice method to ease the pain and inflammation of bee stings—bee balm lives up to its name in another way!
Now that we have a clear understanding of how these two cooling summer herbs work within our bodies, let's enjoy them in a simple and delicious Monarda-Mint Ice Pops recipe!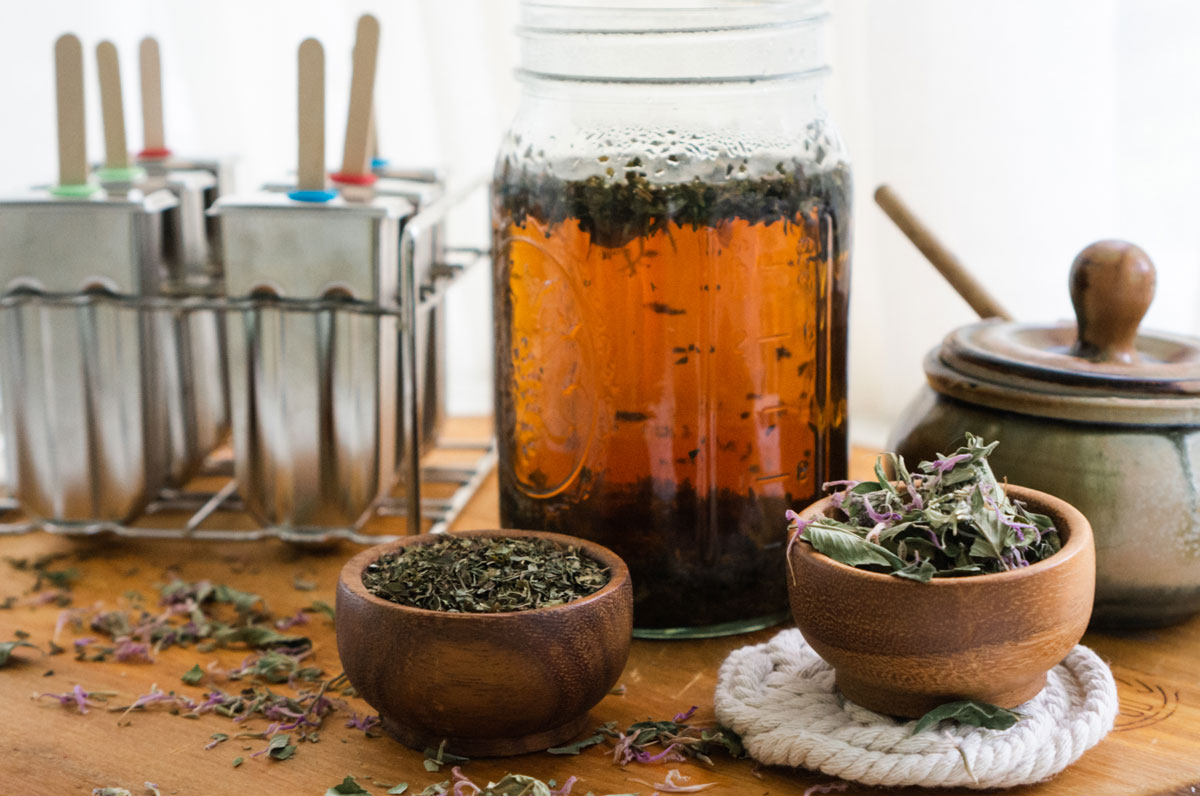 Refreshing Monarda-Mint Ice Pops
Craving a sweet treat on a hot summer day? If so, these cooling herbal ice pops are a healthy way to pacify your sweet tooth. Made with bee balm and spearmint, this tasty combination is sure to ease the heat of a summer's day! Since bee balm has a strong taste, feel free to increase the ratio of spearmint to bee balm to suit your liking. Note: This recipe contains honey and should not be given to children under 1 year of age. The recipe is excerpted from our FREE ebook, Cooling Herbs for Hot Summer Days.
Ingredients
3 tbsp dried bee balm (Monarda fistulosa or M. didyma) aerial parts
3 tbsp dried spearmint (Mentha spicata) leaf
1 quart (32 fl oz) water, just off the boil
Raw honey to taste
Ice pop molds 
Directions
In a quart-sized glass canning jar, steep herbs in hot water (just off the boil) for 15 minutes. Be sure to cover the jar with a lid or plate to prevent volatile oils from escaping. 

Strain the infusion through layered cheesecloth—composting the herbs and reserving the liquid. 

Allow to cool slightly. 

Add honey to taste. 

Pour into ice pop molds and freeze. 
Enjoy healthy herbal ice pops on hot days!
For more simple recipes featuring refreshing herbs, download our FREE ebook, Cooling Herbs for Hot Summer Days. 
Beautifully designed and full of helpful information, this 48-page ebook includes plant monographs for seven of the most widely available, cooling herbs of summer, including spearmint (Mentha spicata) leaf, hibiscus (Hibiscus sabdariffa) calyx, plantain (Plantago spp.) leaf, rose (Rosa spp.) petal, bud, hip, and more! We've also compiled some of our favorite recipes starring these seven herbs, including an incredibly refreshing hibiscus sun tea, a soothing sunburn spray, and even a rose foot bath fit for the May Day Queen herself. 
We hope these simple herbal recipes will help you stay calm, cool, and collected on even the hottest of days, while simultaneously deepening your relationship with refreshing herbal allies of the season.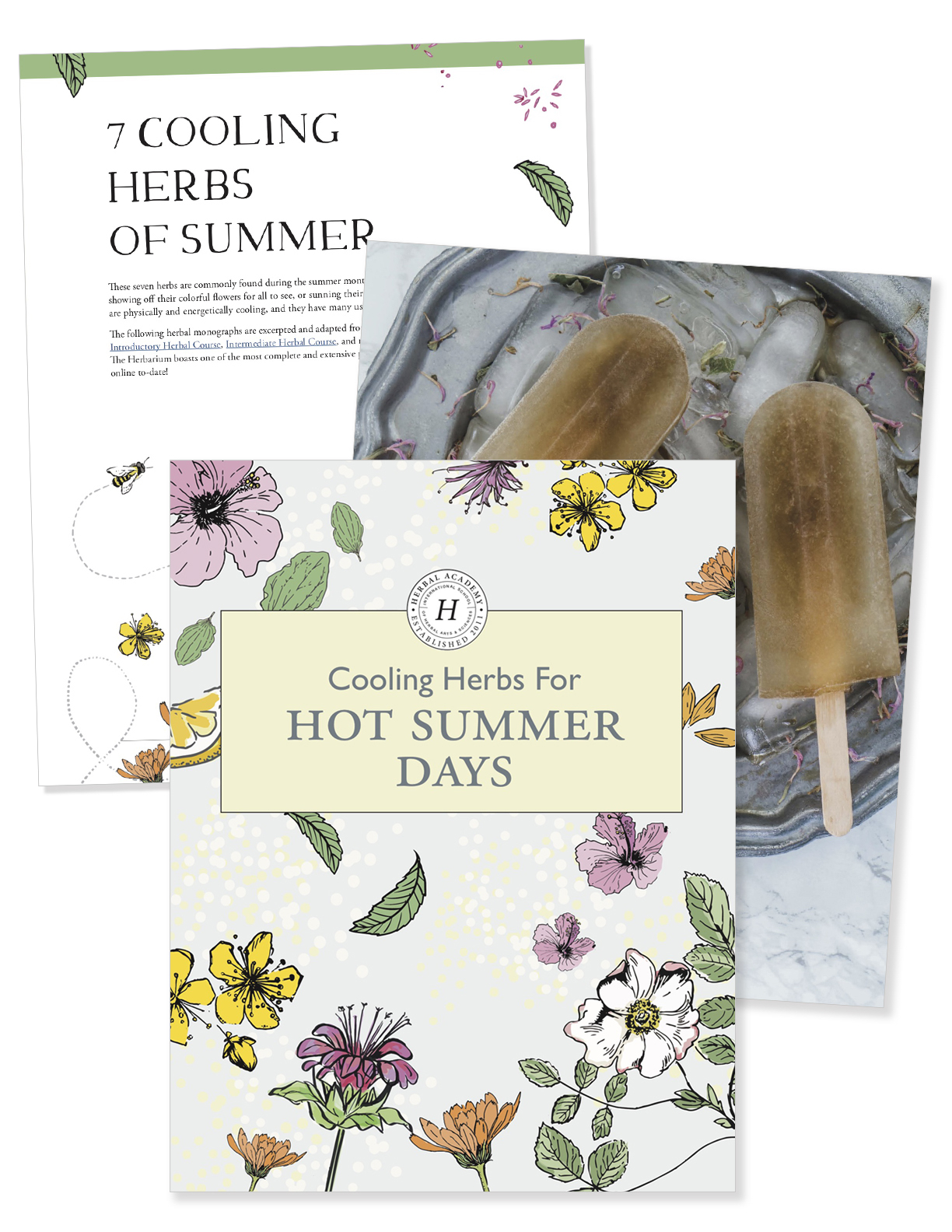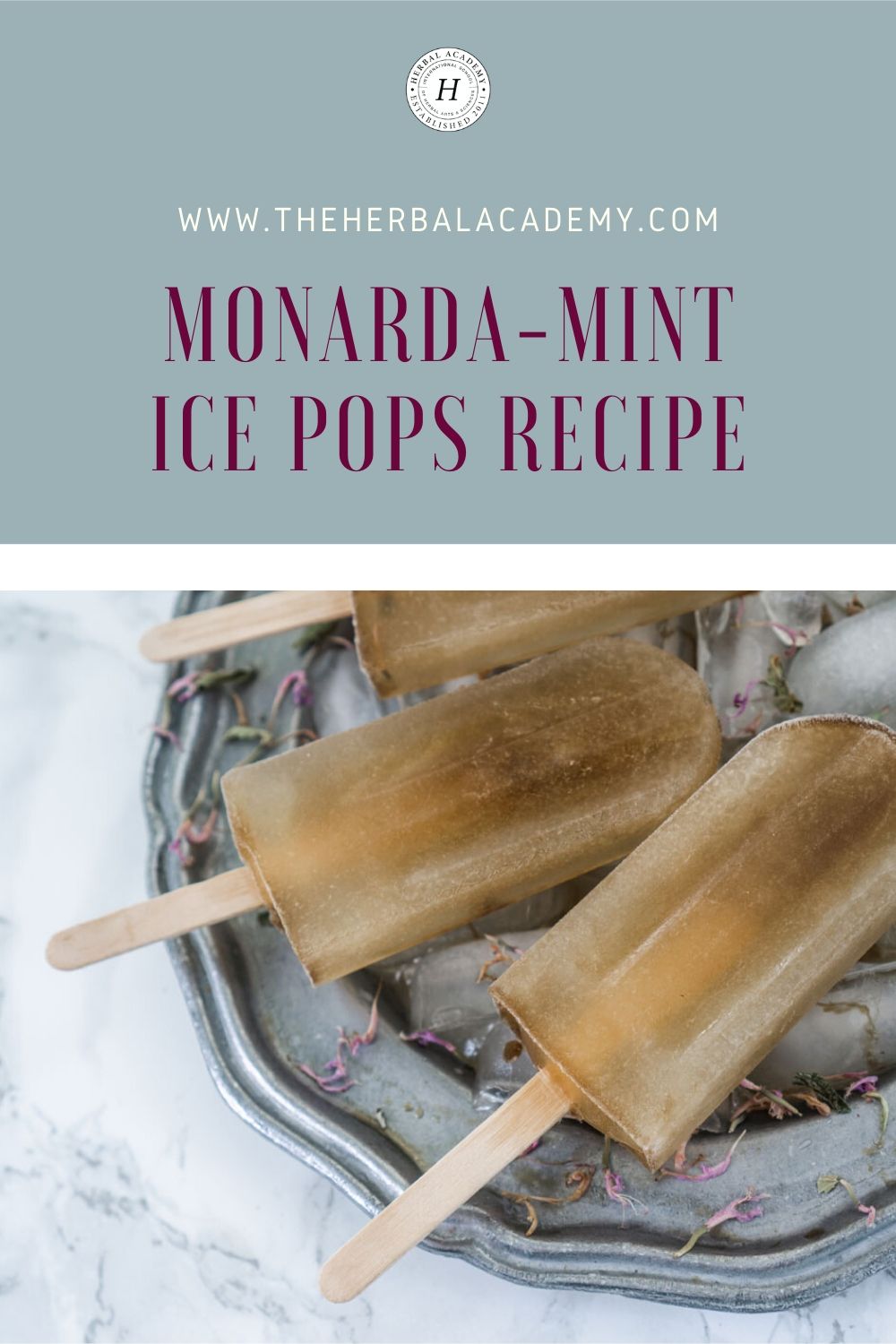 REFERENCES
Cook, W.H. (1869). The physiomedicalist's dispensatory. Cincinnati, OH: Wm. H. Cook. Retrieved from http://medherb.com/cook/cook.pdf 
Bove, M. (2001). An encyclopedia of natural healing for children and infants (2nd ed.). Chicago, IL: Keats Publishing 
Frawley, D., & Lad, V. (1988). The yoga of herbs. Santa Fe, NM: Lotus Press
Keville, K., & Green, M. (2009). Aromatherapy: A complete guide to the healing art. Berkeley, CA: Crossing Press.
Sinadinos, C. (2008). Professional herbalist training program [Lecture]. The Northwest School for Botanical Studies, Arcata, California.
Weed, S. (Guest). (2015). The Susun Weed Show – Marvelous mints: Bee balm [Interview on Time Monk Radio podcast]. Retrieved from https://www.youtube.com/watch?v=VwZd4ZSIqxk  
Wood, M. (1997). The book of herbal wisdom: Using plants as medicines. Berkeley, CA: North Atlantic Books.