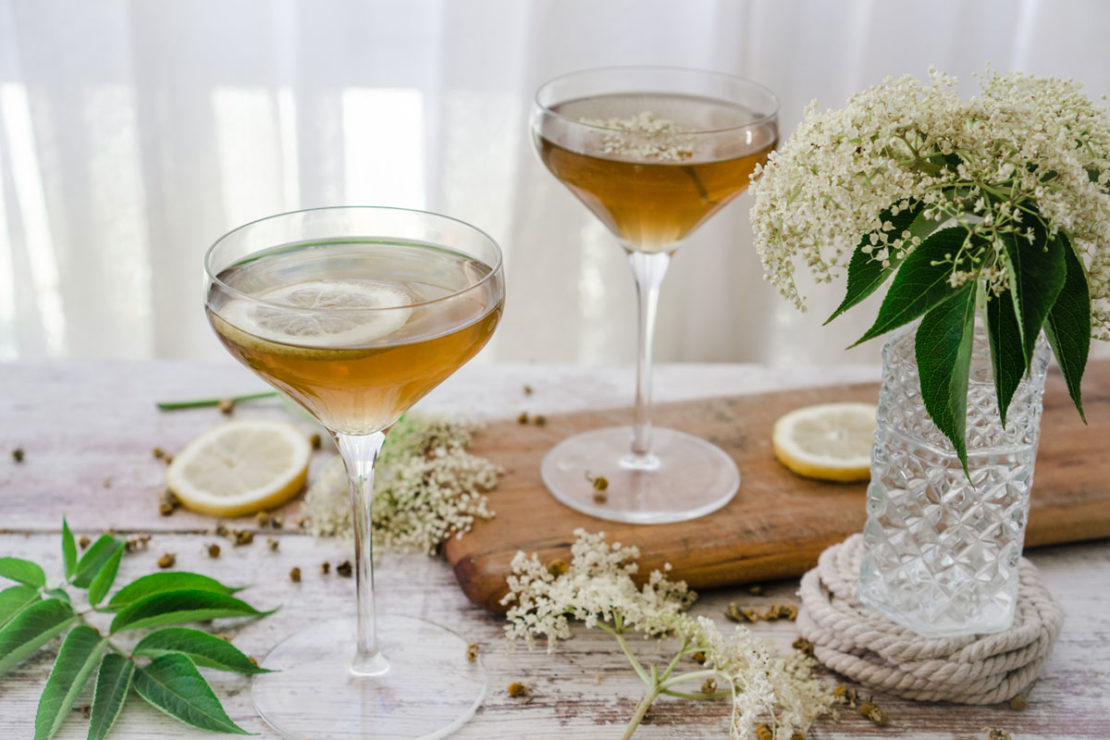 6 Herbal Cocktail Recipes for Summer
Although summer gatherings may be smaller this year, they don't need to be any less festive! We recently screened-in our front porch, and our calendar is quickly filling with small soirees in our new, outdoor space, which allows us to follow safe social-distancing guidelines and spend time with loved ones. In my excitement to host, I've brainstormed and compiled six herbal cocktail recipes that use common ingredients from my apothecary, including fire cider, tinctures, and bitters, for a botanical twist on traditional favorites. 
Whether you're hosting a gathering, attending a backyard BBQ, or spending the day at the lake, these seasonal herbal cocktail recipes offer a creative way to share your herbal prowess in a new and original way.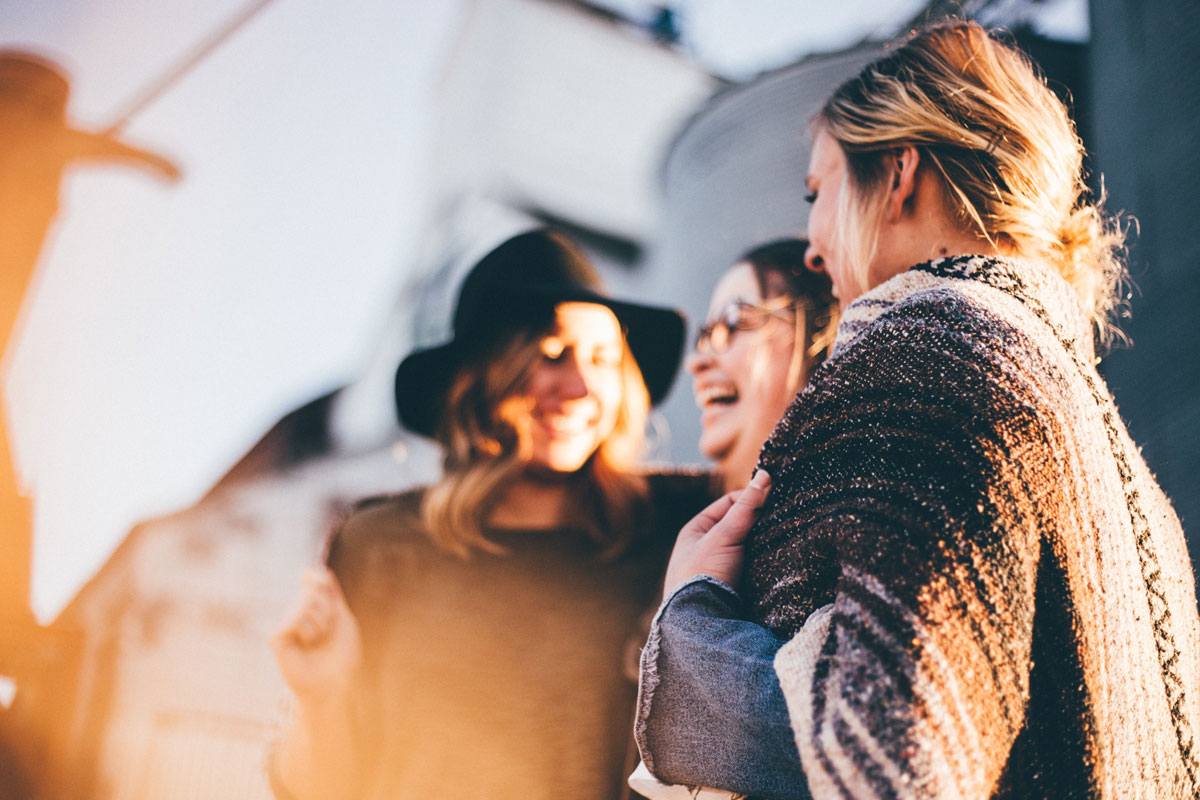 Many of these recipes make enough for one drink, but you can easily double (or triple!) the ingredients for a group. If you're looking forward to hosting, but you'd rather avoid alcohol, then see 6 Herbal Mocktail Recipes for the 4th of July for additional inspiration. 
Note: If you find yourself turning to alcohol on a regular basis to ease feelings of anxiety, depression, or grief, then please consider seeking professional help. 
Herbal Cocktail Ingredients
There are nearly endless combinations for herbal cocktails based on what you have on hand and which flavors appeal to you most. Before I dive into specific cocktail recipes, here are some tips and tricks that will help you formulate your own herbal cocktail recipes using ingredients from your own garden and apothecary.
Sweeteners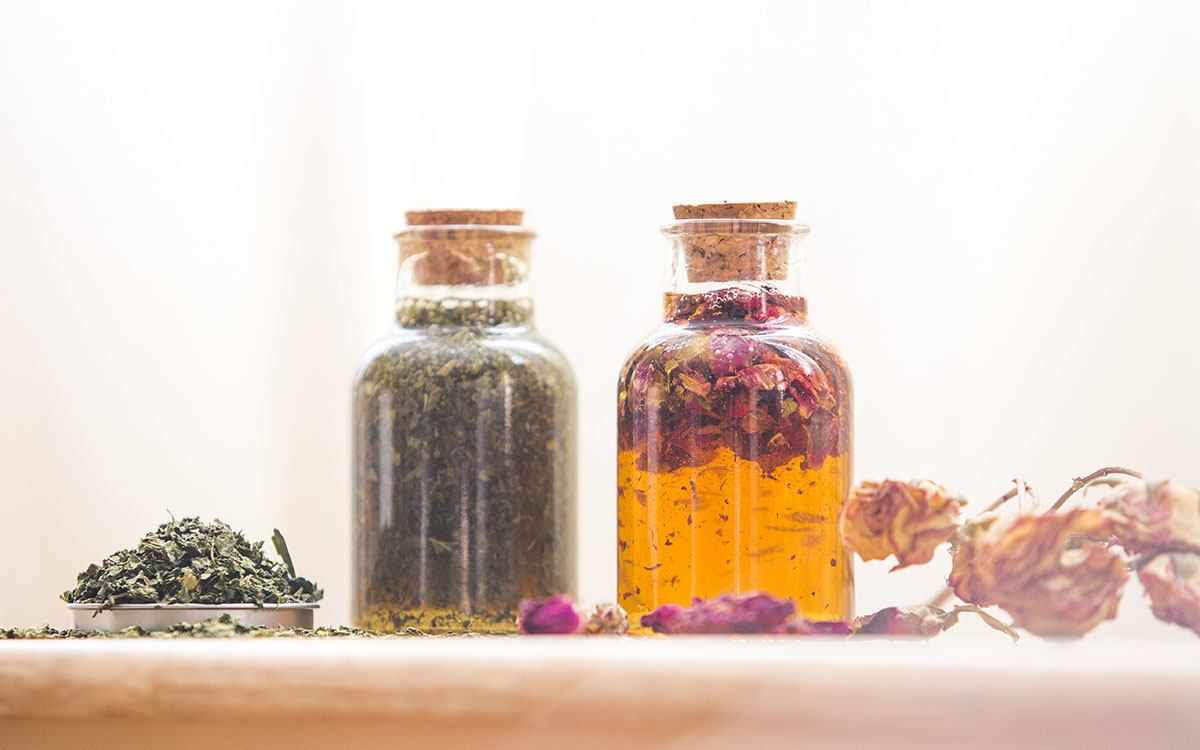 Many traditional cocktail recipes call for simple syrup, which is a 50/50 ratio of white sugar and water stirred together over low heat until they form a sweet syrup. You can add an herbal element to your simple syrup by tossing in a handful of fresh or dried leaves, flowers, or buds to your finished syrup, removing from heat, covering, and letting steep for 15 to 20 minutes before straining. 
For a healthier version, consider replacing half of the white sugar with honey, so you're working with ½ part sugar, ½ part honey, and 1 part water. If you go this route, be careful to not overheat your syrup as many of the beneficial compounds in raw honey are lost at higher temperatures.
To cut out the white sugar altogether, you can make a simple herb-infused honey. Herbal honeys are delicious added to cocktails, tea, sparkling water, salad dressings, desserts, and many other recipes. For step-by-step instructions, see How to Make and Use Rose-Infused Honey.
Bitters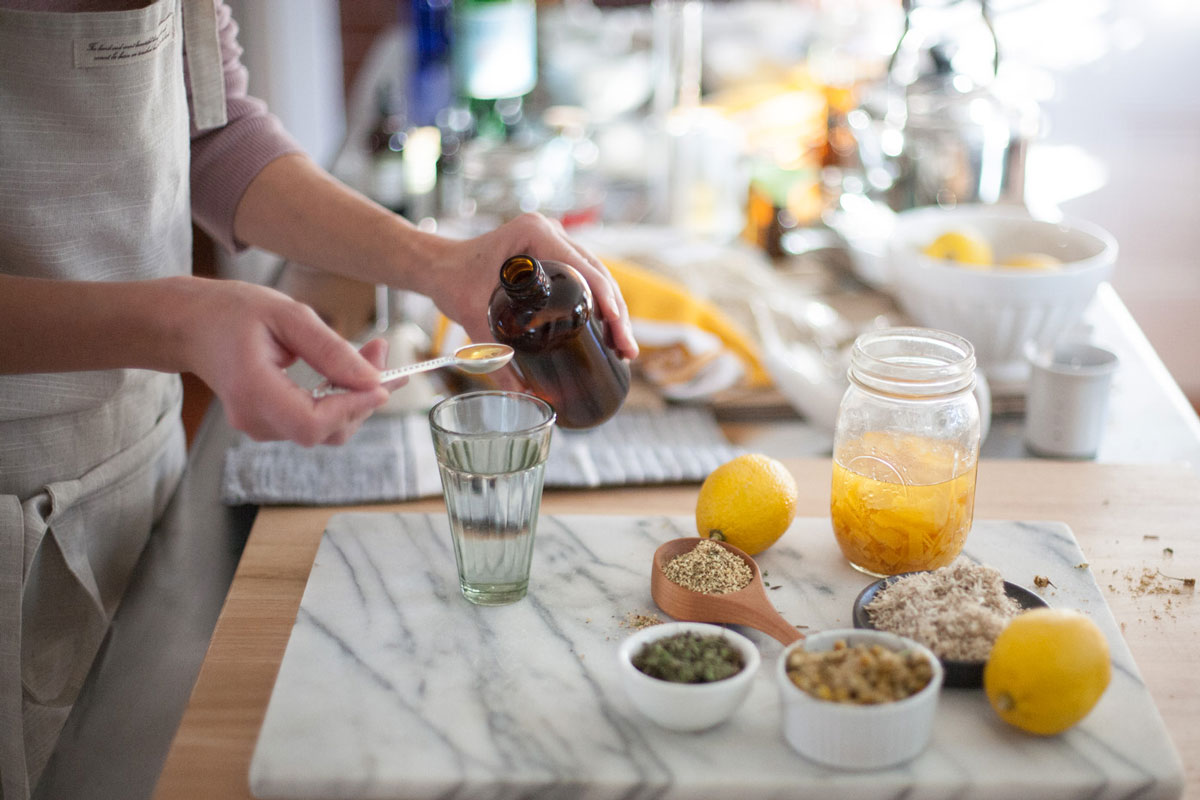 Herbalists and bartenders alike are familiar with bitters because of their wonderfully stimulating effect on the digestive system and the way they add depth and complexity to a cocktail. Bitters are a traditional ingredient in old-fashions, Manhattans, and mai tais.
One of most popular brands of store-bought bitters is Angostura. This brand was founded by a German-Venezuelan physician in 1824, and the bitters were originally intended as a medical formula to help alleviate his patients' stomach troubles. The doctor's three sons eventually reframed the bitter tincture as a cocktail ingredient and named the company after their father's hometown of Angostura, Venezuela. What a fun example of a family's herbal recipe becoming a long-lasting staple in homes, bars, and restaurants worldwide!
Fortunately for herbalists, bitters are surprisingly easy to make at home and often call for common ingredients, like dandelion (Taraxacum officinale) root and citrus peel. To make your own herbal bitters, see A Summer Bitters Recipe, featuring dandelion root, gentian (Gentiana lutea) root, and licorice (Glycerrhiza glabra) root, or Dark and Stormy Mushroom Bitters Recipe with a spicy, chocolatey taste that would blend beautifully with autumn or winter cocktails. 
Tinctures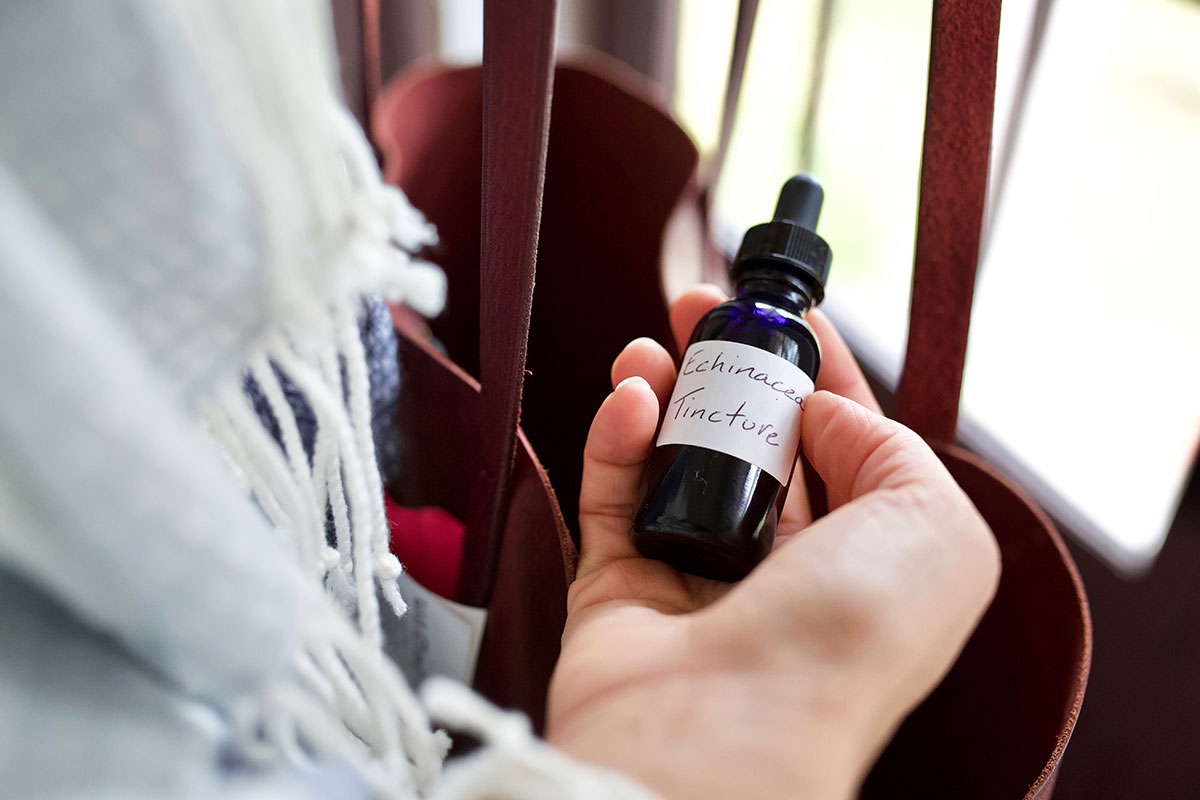 Cocktails, along with mocktails, teas, and spritzers, offer a creative and delicious way to consume tinctures, especially if you want to mask their taste behind something sweet, citrusy, or herbaceous. You can either add a dropperful or two of your favorite tincture directly to your cocktail, or you can create a custom blend with 1 part tincture(s) and 1 part honey to store in the fridge and add to drinks at your leisure. (Our recipe for the Nightcap Tonic, below, is an example of this.)
Keep in mind that an average cocktail recipe calls for between 1.5 and 2 ounces of alcohol, whereas a typical tincture dosage is 1 to 2 dropperfuls per serving (roughly ¼ teaspoon altogether). So your cocktail will not be composed entirely of tinctures, but rather a dropperful or two of your favorite tincture (or tincture blend) combined with your base alcohol of choice.
Fresh Herbs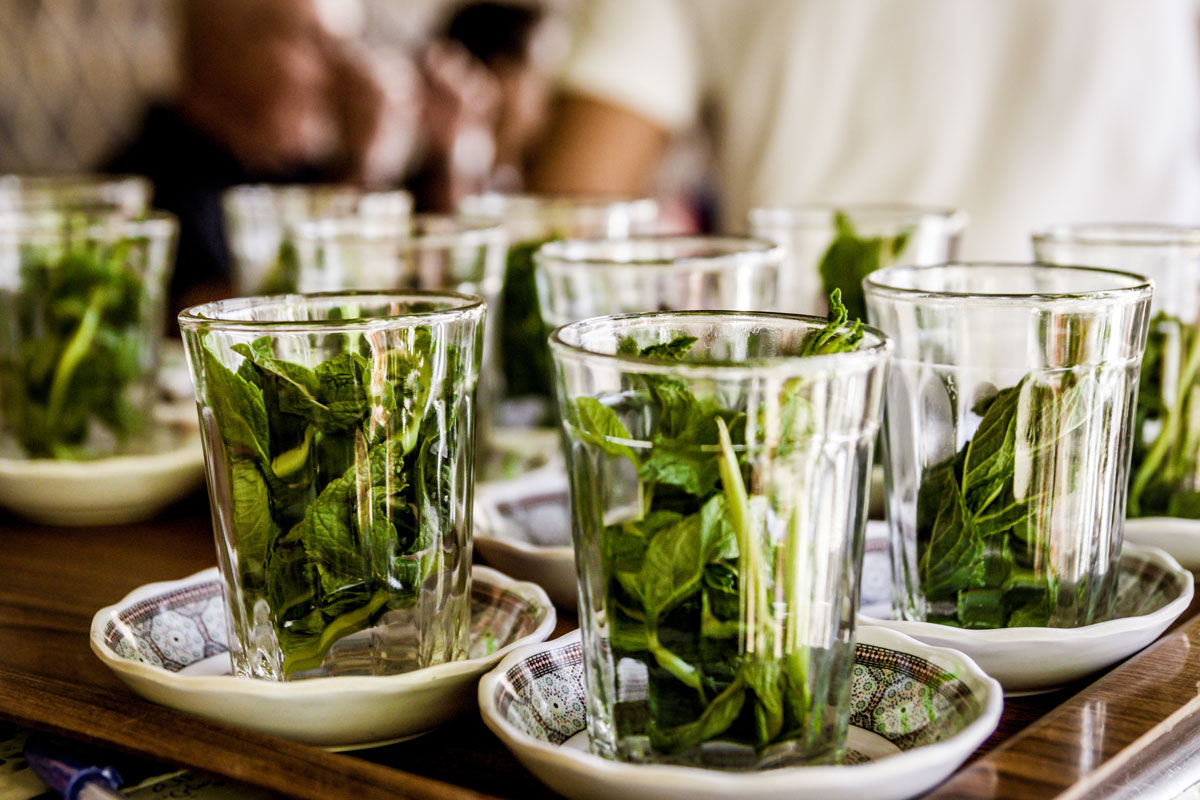 If you have access to fresh herbs, then you'd do well to acquaint yourself with the act of "muddling." This phrase is popular among bartenders, and it means smashing your fruit or herbs in the bottom of your cocktail glass to release the juices and aromatics. If you're muddling fruit, then you can get fairly aggressive and really smash them up. When muddling herbs, however, use a lighter finesse. Your goal is not to smash the herbs, but rather to gently release the aromatic properties into the drink. This is a wonderful technique to utilize in your herbal kitchen, and you can enhance even the simplest sparkling water with the addition of muddled herbs.
Fresh herbs and flowers, including peppermint (Mentha x piperita), rosemary (Rosmarinus officinalis), lavender (Lavandula spp.), and borage (Borago officinalis) also make whimsical garnishes. (For inspiration, see our post 9 Edible Flowers and How to Use Them.) 
For an extra special, crowd-pleasing move, freeze your herbs or edible flowers into floral ice cubes!
As you can see, an herbalist's apothecary is already filled with ingredients that blend effortlessly into healthy, seasonal cocktails. In the recipes that follow, you'll see a number of these techniques and ingredients used as simple modifications of traditional cocktails.
Franklin Rose Mojito
Fresh peppermint (Mentha × piperita) and mojitos go hand-in-hand. Mojitos originated in Havana, Cuba, and they traditionally include white rum, sugar, lime juice, soda water, and mint. The following recipe is from the best-selling book, Fancy AF Cocktails, written by mixologist, TV personality and Herbal Academy student, Ariana Madix, and it features rose-infused sugar for an extra special, herbal twist. Yield: 1 short glass. 
Ingredients
Rose-Infused Sugar
Fresh rose petals from 6-8 organic, unsprayed roses
2 cups white sugar
1 pint-sized glass jar with lid

Cocktail
¾ oz lime juice
4-5 fresh mint sprigs (Mentha x piperita)
1 tablespoon rose-infused sugar
Crushed ice for serving
2 ounces aged rum
2 dashes bitters for garnish
Directions
To make the rose-infused sugar, pour 1 inch of sugar into the bottom of a sterilized, dry glass jar. Add one thin layer of rose petals, then add another inch of sugar. Continue layering rose petals and sugar until the jar is nearly full. Cap, let infuse for 2-3 weeks out of direct sunlight before straining the rose petals from the sugar. 

To make the cocktail, muddle the lime juice, mint sprigs, and rose-infused sugar in the bottom of a short glass. 

Fill the remainder of the glass with crushed ice. 

Add the rum and stir. 

Add 2 dashes of bitters for a final garnish.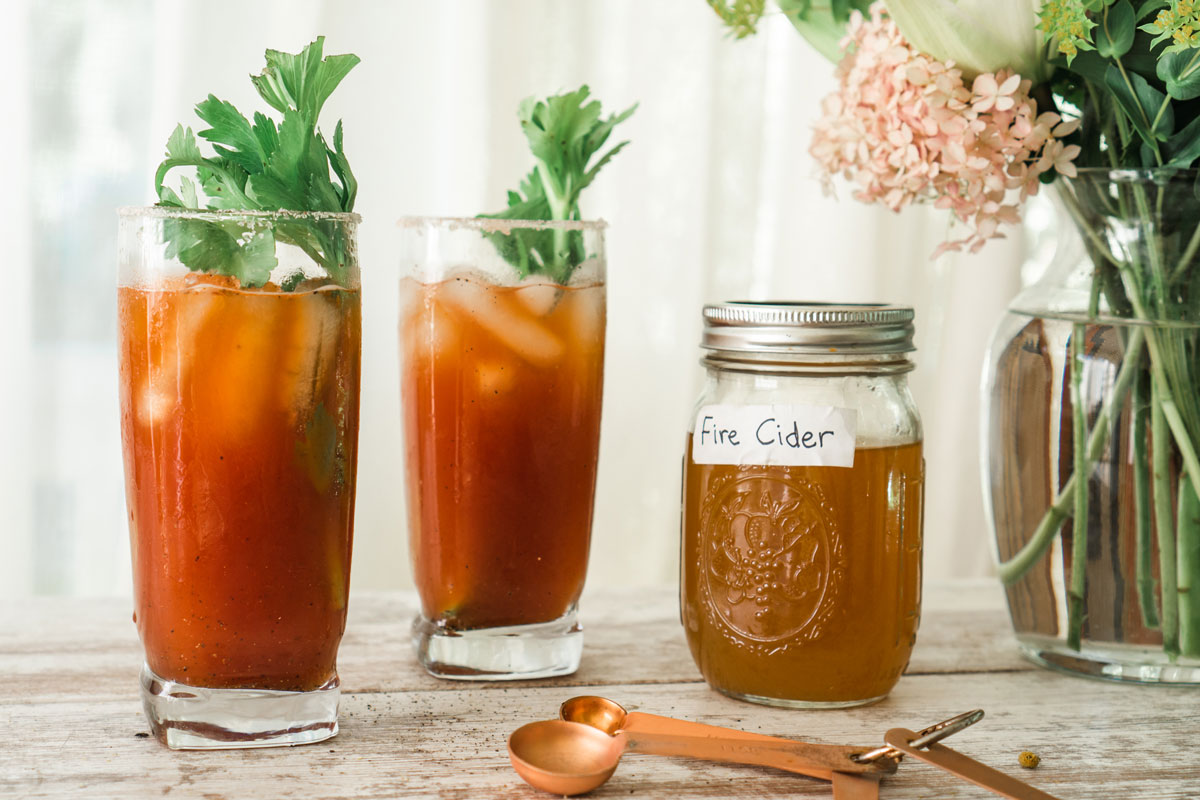 Fire Cider Bloody Mary
Fire Cider is an easy-to-make, immune-boosting tonic that many herbalists already have on hand. The spicy blend of peppers, horseradish, onion, garlic, black pepper, and vinegar blend beautifully with tomato juice for a quick, herbal Bloody Mary. If alcohol isn't your thing, then simply omit the vodka from this recipe! Yield: 1 tall glass.
Ingredients
1 tablespoon celery salt
1 lemon, sliced into wedges
1 cup crushed ice
4 ounces organic tomato juice
2 ounces vodka
2 ounces fire cider
2 dashes Worcestershire sauce
1 pinch ground black pepper
Celery stalk, green olives, or parsley sprig for garnish (optional)
Directions
Pour celery salt onto a small plate.

Rub the juicy side of the lemon wedge along the lip of a tall glass.

Roll the outer edge of the glass in celery salt until fully coated.

Fill glass with ice and set aside.

In a cocktail shaker, combine tomato juice, vodka, fire cider, Worcestershire sauce, and black pepper. 

Shake to combine, then pour over ice.

Garnish with celery stalk, green olives, and/or parsley. Enjoy!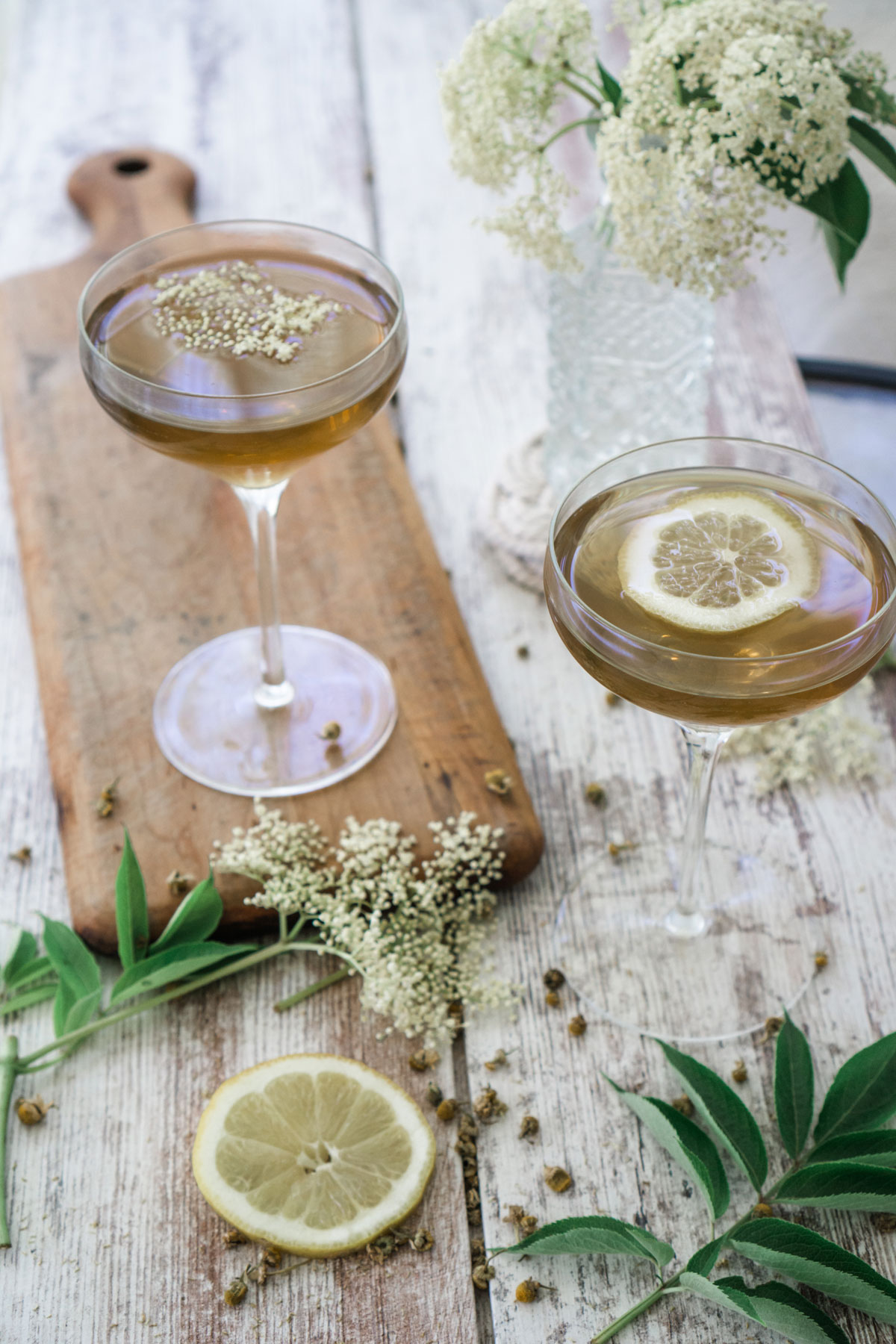 Chamomile and Elderflower Iced Toddy
The apple-like, floral nature of gentle chamomile (Matricaria chamomilla or Anthemis nobilis) flowers blend beautifully with the oak undertones of aged whisky. This surprisingly lovely combination is further enhanced with St. Germain elderflower liqueur, a whimsical addition to any herbalist's bar. Add a drizzle of honey, and you're drinking a delightfully herbal, iced version of a classic hot toddy. Yield: 1 short class. 
Ingredients
3/4 cups water

1 tablespoon dried chamomile flowers (
Matricaria chamomilla
or
Anthemis nobilis
)

1 teaspoon honey

1 ½ ounces whiskey

1/2 ounce St. Germain elderflower liqueur

1 cup ice

Fresh chamomile flowers, elder (
Sambucus
spp.) flower, or lemon wheel for garnish (optional)
Directions
Bring water to boil in a small saucepan or kettle. Remove from heat, then pour water over dried chamomile flowers in a heat-proof container. Cover and steep for 5 minutes before straining. 

Add honey to warm chamomile tea and stir until fully dissolved.

In a cocktail shaker, combine sweetened chamomile tea, whiskey, St. Germain, and ice. Shake until well combined and chilled.

Pour the contents from the cocktail shaker into the cocktail glass. Garnish with fresh chamomile flowers, elderflowers, or a floating lemon slice (optional).
Tulsi Lime Margarita
Tulsi, also known as holy basil (Ocimum sanctum) leaf and lime juice are an incredibly refreshing combination for hot summer days. Because lime juice is a traditional ingredient in margaritas, this cocktail comes together beautifully with the addition of high-quality tequila. Yield: 1 short glass.
Ingredients
Tulsi Simple Syrup
½ cup honey
½ cup white sugar
1 cup water
1 cup fresh (1/2 cup dried) tulsi (Ocimum sanctum, synonym O. tenuiflorum) aerial part
Cocktail
1 tablespoon salt
1 lime, quartered
Ice
2 sprigs fresh tulsi (Ocimum sanctum, synonym O. tenuiflorum) aerial part
2 tablespoons tulsi simple syrup
4 tablespoons lime juice
2 ounces tequila

Directions
To make the simple syrup, combine honey, sugar, and water in a small saucepan and heat at a low temperature, stirring constantly until the sugar and honey have completely dissolved in the water.

Remove from heat, stir in the tulsi leaves, cover, and let steep for 30 minutes before straining. This syrup will keep for about 2 weeks when stored in the refrigerator.

While the syrup is infusing, pour salt onto a small plate. 

Rub the juicy side of the lime wedge along the lip of a short glass.

Roll the outer edge of the glass in salt until fully coated.

Muddle the fresh tulsi sprigs in the bottom of your salt-rimmed glass. (This step is optional and you can skip it if you don't have fresh tulsi. However, it really helps bring the tulsi flavor alive.)

Fill glass with ice and set aside.

To make the margarita, combine 2 tablespoons of the tulsi simple syrup with lime juice and tequila in a cocktail shaker.

Shake until well combined, then pour into glass with muddled tulsi, ice, and salted rim. 
NightCap Tonic
Tinctures blend beautifully into cocktails and have nearly endless combinations. This Nightcap Tonic combines a few sleepy-time tinctures, including hops, passionflower, and valerian, with honey and brandy for an easy-to-make cocktail intended to help you drift to sleep. Yield: 1 sipping glass. 
Ingredients
Nightcap Syrup 
4 ounces organic honey
1 ounce hops (Humulus lupulus) tincture
1 ounce passionflower (Passiflora incarnata) tincture
1 ounce valerian (Valeriana officinalis) tincture
1 ounce chamomile (Matricaria recutita) tincture
Cocktail
1 ounce brandy
Directions
To make the NightCap syrup, combine honey and tinctures in a double-boiler over very low heat. Stir constantly until well blended and then immediately remove from heat. Be careful that your temperature does not get too high because high heat will negatively affect the quality of your honey and your tinctures. Pour into an 8 oz glass jar, cap, label, and store in the fridge for up to 2 months. 

To make your NightCap Tonic, combine 1 ounce of brandy with 1 teaspoon of NightCap syrup. Stir until well combined, and sip slowly as you blissfully drift asleep.
(Note: A nightcap is not a substitute for healthy sleeping habits. If you experience insomnia or persistent trouble sleeping, see 5 Herbal Insomnia Options for Better Sleep and 5 Lifestyle Hacks for Sound Sleep for more information.)

Orange Blossom Aperitif
Aperitifs are traditionally served before meals to help stimulate the appetite and prepare the stomach for the upcoming meal. This Orange Blossom Aperitif recipe is a super simple, effervescent way to consume bitters, and it's inspired by the classic Italian Aperol Spritz. Yield: 1 wine glass.

Ingredients
Directions
Add orange blossom water, bitters, prosecco and sparkling water to a wine glass with ice. Stir until well combined

Garnish with an orange wheel.
In Closing,
When consumed responsibly, cocktails can be a fun and creative way to concoct new recipes from tinctures, syrups, fresh herbs, bitters, and other ingredients found in your home apothecary. Your recipes can be as simple or complex as you like, and they're always a great conversation starter at parties and gatherings. Have fun pouring yourself a healthy herbal cocktail, and cheers to your herbal studies!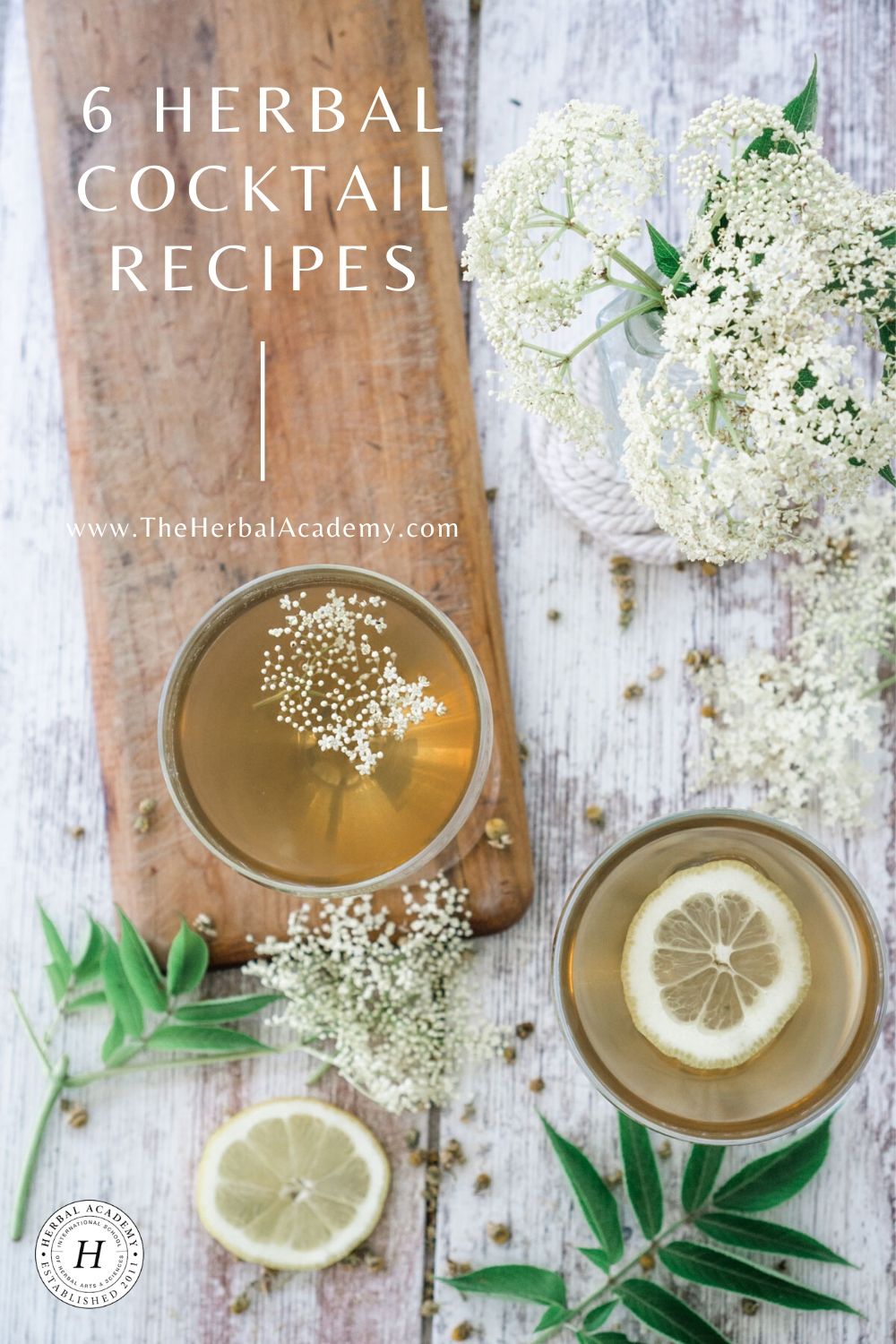 REFERENCES

Madix, A., Sandoval, T., & Pelligrino, D., (2019). Fancy AF cocktails: Drink recipes from a couple of professional drinkers. Boston, MA: Houghton Mifflin Harcourt.