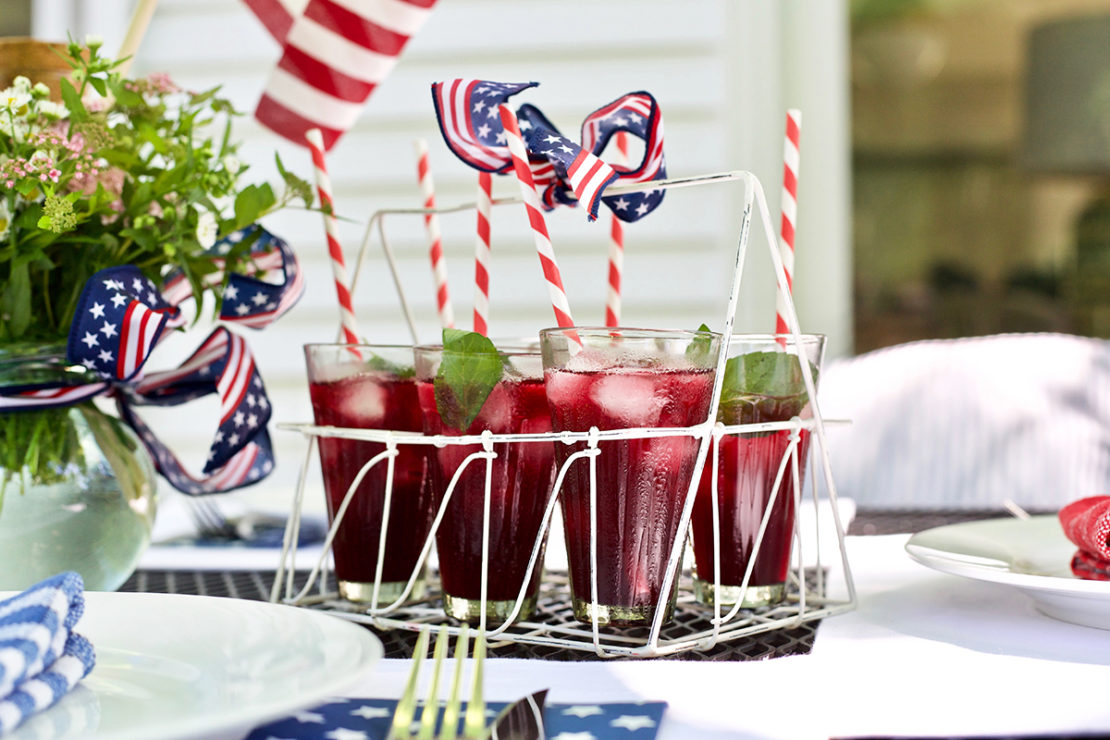 6 Herbal Mocktail Recipes For The 4th of July
When summer approaches, patios begin to bustle, umbrellas and sun hats come out, and perhaps you even find yourself on a blanket at the beach. During this laidback time of the year, we are often accompanied by a favorite libation to aid our relaxation. While there is a heavy emphasis on alcohol in today's culture, there are many alternative recipes, tasty beverages, and relaxing drinks that can bring about a soothing, uplifting, and connecting sensation. Why not drink creatively this 4th of July with some herbal mocktails! 
Below you'll find some fruity and herby mocktails that support the nervous system and open the heart for connection to community, celebration, and relaxation. The 4th of July is a great time to make and share these herbal mocktails with friends and family. 
6 Herbal Mocktail Recipes For The 4th of July
All of the recipes below are made with fresh herbs as so many plants are available fresh this time of year. However, if dried herbs are easier to come by, be sure to reduce your fresh herb measurement by half. 
Lemon Balm Watermelon Refresher Herbal Mocktail
Lemon balm (Melissa officinalis) leaf, with its lemony flavor, is a great addition to any tea or mocktail, and watermelon, with an addition of sweetness, hydration, and beautiful color, brings an element of creativity to an afternoon libation. 
Often during summer celebrations, we eat foods we didn't prepare. Sometimes, if these foods don't agree with our digestive systems, the body may need some extra digestive support to soothe the gastrointestinal tract. Lemon balm, with its carminative properties,  can support digestive upset if you find yourself out of your typical routine, thus, easing any tension in the gut. It's also not uncommon to approach social gatherings with butterflies, also known as emotional tension, in the gut. Thankfully, the nervine properties of lemon balm have the ability to soothe the nerves that can so often alter our digestion (Masé, 2013). Another benefit of lemon balm, with its antidepressant properties (Easley & Horne, 2016), is that it works to uplift and refresh the spirit.
Another fun note about lemon balm is that Melissa, its genus name, translates to "plant of the bees." Lemon balm helps to soothe bees as well as humans and animals alike (Masé, 2013). When you drink this herbal mocktail, I hope you hear the soft hum of bees as you feel its relaxing effects slowly slip over you. 
Lemon Balm Watermelon Refresher Herbal Mocktail
Serves 4
Ingredients
1 handful of fresh organic lemon balm (Melissa officinalis) leaf
½ a small organic watermelon
32 oz sparkling water 
Directions
Muddle watermelon until juices have been released and place it in a bowl.

Roll lemon balm leaves in your hand to break the cell walls and add it to the bowl with the watermelon. 

Muddle the watermelon and lemon balm together.

Pour chilled sparkling water over the lemon balm and watermelon, and serve.
Sparkling Citrus Bitters Herbal Mocktail
Bitters have a profound effect on our overall wellness. With a lack of diversity and wild foods in our modern diets, it's important to add the bitter flavor back in when we can (Masé, 2013). Wild foods tend to have more bitter properties and can serve as bitter tonics to the body. I like to think of bitters as flexing the muscles of resilience, as bitters stimulate digestive fire, help with nutrient assimilation, support the liver, and touch taste receptors that are often flooded with the taste of sweet. 
Orange (Citrus sinensis) peel is a bitter aromatic that warms and stimulates the appetite and digestion (Easley & Horne, 2016). When it comes to making herbal mocktails with bitter herbs, shrubs, known as drinking vinegars, can be a great substitute for traditional bitters made with alcohol. Shrubs are made with organic apple cider vinegar which boosts the digestive enzymes and probiotics of the preparation, making it an extra supportive beverage for your digestive system. You can easily make your own shrub with a combination of fresh and dried orange fruit and orange peel. If using fresh orange peels, don't forget to include as much of the white pith as possible as many of the bitter principles can be found here.
This is a great 4th of July herbal mocktail for those that want more of a bitter taste without the overwhelming sweetness of conventional cocktails.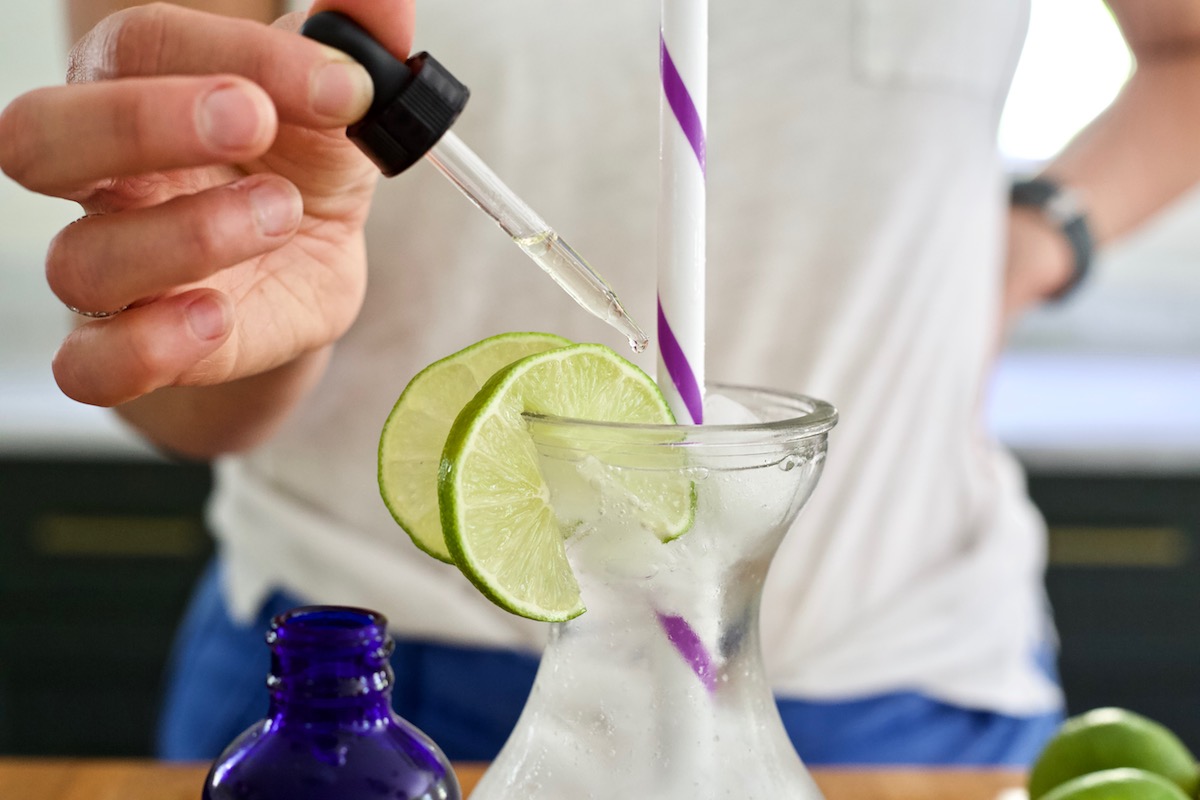 Sparkling Citrus Shrub Herbal Mocktail
Serves 2
Ingredients
2-3 droppers of organic orange (Citrus sinensis) peel shrub
1 squeeze of fresh lime juice
16 oz sparkling water   
Directions
Pour sparkling water into a pint-sized jar or cup.

Add fresh squeezed lime juice to water followed by 2-3 squirts of orange peel shrub.
Happy Rose Herbal Mocktail
Rose (Rosa spp.) is also a common and abundant plant, and it makes a great addition to any 4th of July herbal mocktail.
Rose petal is a cooling herb with astringent, uplifting, antidepressant, and anti-inflammatory properties that is also great at promoting stress reduction (Easley & Horne, 2016). 
As a heart exhilarant, rose can often turn the human spirit towards joy. Think of being a kid and sticking your nose deeply into rose's petals—deeply inhaling the floral fragrance, feeling the enlivening quality come to your emotions, and taking note of happy memories. Now you can bring those qualities back into your life with this 4th of July herbal mocktail!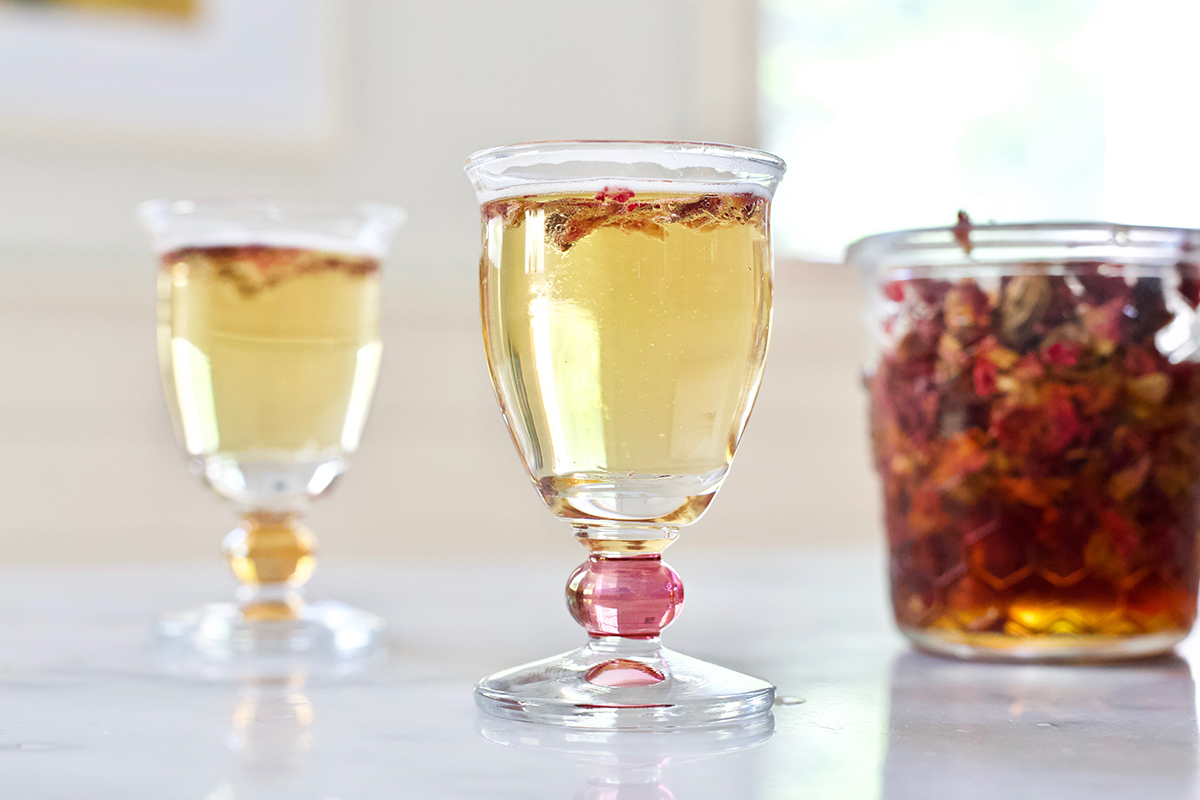 Happy Rose Herbal Mocktail
Serves 4
Ingredients
Directions
Warm your rose honey on a sunny windowsill or in a gentle water bath.

Strain 1 teaspoon of rose honey through a fine mesh strainer, reserving the infused rose petals, and add the rose honey to the sparkling water.

Stir the mixture together and add a few of the leftover petals from your rose honey as a garnish that can be eaten. 
Hollyhock Blueberry Herbal Mocktail
Hollyhock (Althea rosea) is a beautifully expressive flower. A relative of marshmallow, it is a moistening herb and great for hot summer days when we may not have taken in enough water. 
You can use hollyhock leaf, root, or flower, but for this 4th of July mocktail, I suggest using the vibrant flower. Hollyhock flower is soothing to the digestive tract and has demulcent, emollient, and anti-inflammatory properties (Skenderi, 2003). 
This year, cool off and moisten up with a 4th of July herbal mocktail that is subtly sweet, antioxidant-rich, and delicious.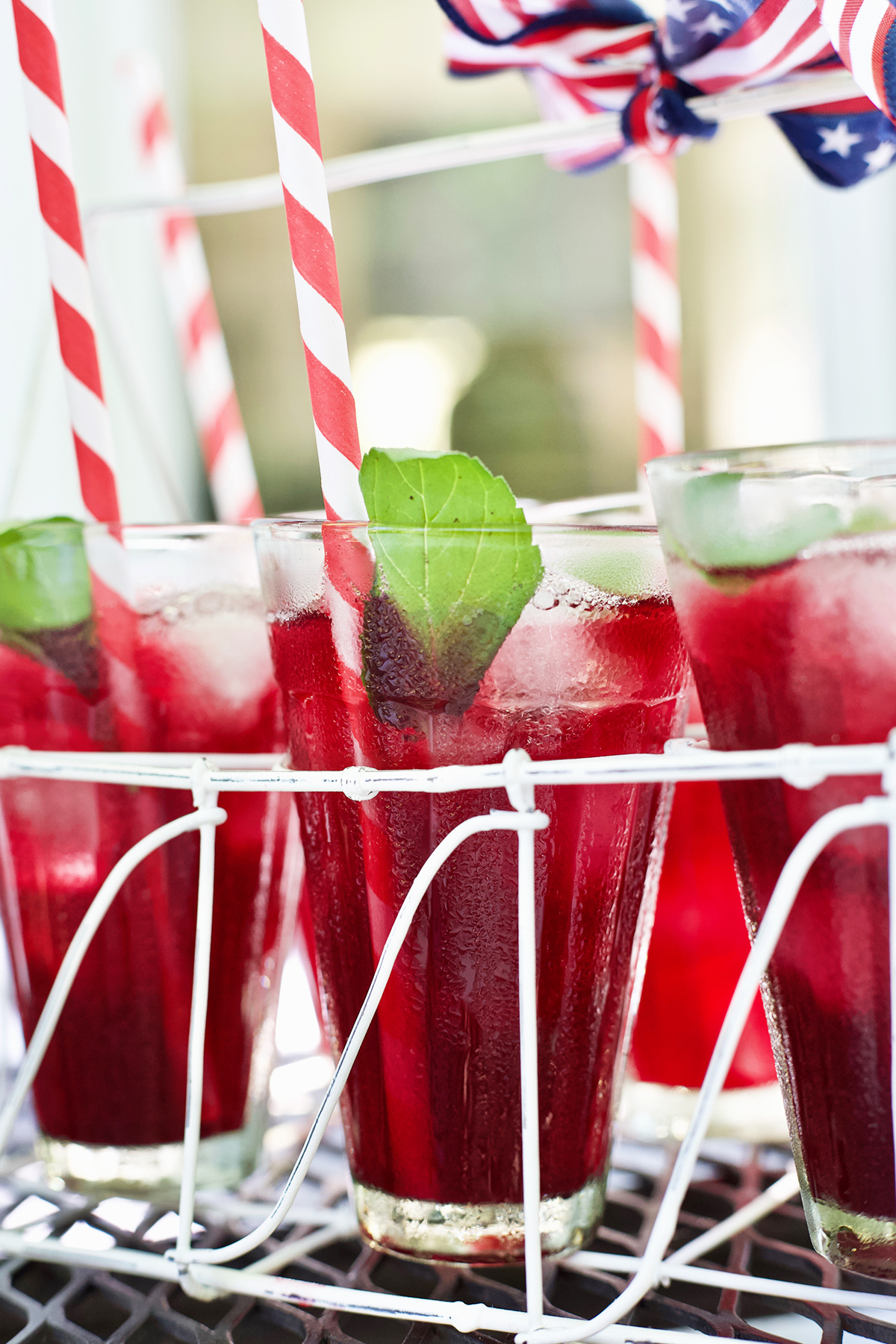 Hollyhock Blueberry Herbal Mocktail
Serves 4
Ingredients
1 handful of fresh organic blueberries
2 handfuls of hollyhock (Althea rosea) flower
32 oz spring water
Directions
Begin by muddling a handful of organic blueberry in a bowl, and set aside. 

Next, infuse two handfuls of hollyhock flowers in a pitcher of cool water for 15 minutes. 

Mix the muddled blueberries with the hollyhock infusion, and serve with or without ice.
Ginger Skullcap Fizz Herbal Mocktail
Are you in the mood for something warming and slightly spicy this summer? If so, this 4th of July herbal mocktail is for you. With its bitter, nervine, relaxant, and digestive support, you'll feel your whole system warm up and calm down. 
Skullcap (Scutellaria lateriflora) aerial parts is a wonderful supporter of chronic stress. Summer is often the time we decompress, let go, have some fun, and look for ways to relax, and skullcap is a perfect way to support the release of a hectic year. Additionally, it can also soothe headaches and overstimulation, and it's well-known as a sedative and relaxing nervine (Easley & Horne, 2016). Skullcap is an herb that is well-suited to glycerin, making it particularly useful in an herbal mocktail. You can learn more about making herbal glycerites in our post, How To Make Herbal Glycerites: Tinctures Without Alcohol. 
Ginger (Zingiber officinale) rhizome is a warming and aromatic herb. As a digestive tonic, this herb can soothe nervousness and nausea, and it acts as a carminative (Easley & Horne, 2016). It can also increase circulation (which is great for those with cool hands and feet) and promote diaphoresis which ultimately acts to cool the body. Ginger is a perfect addition to an herbal mocktail on a hot summer day.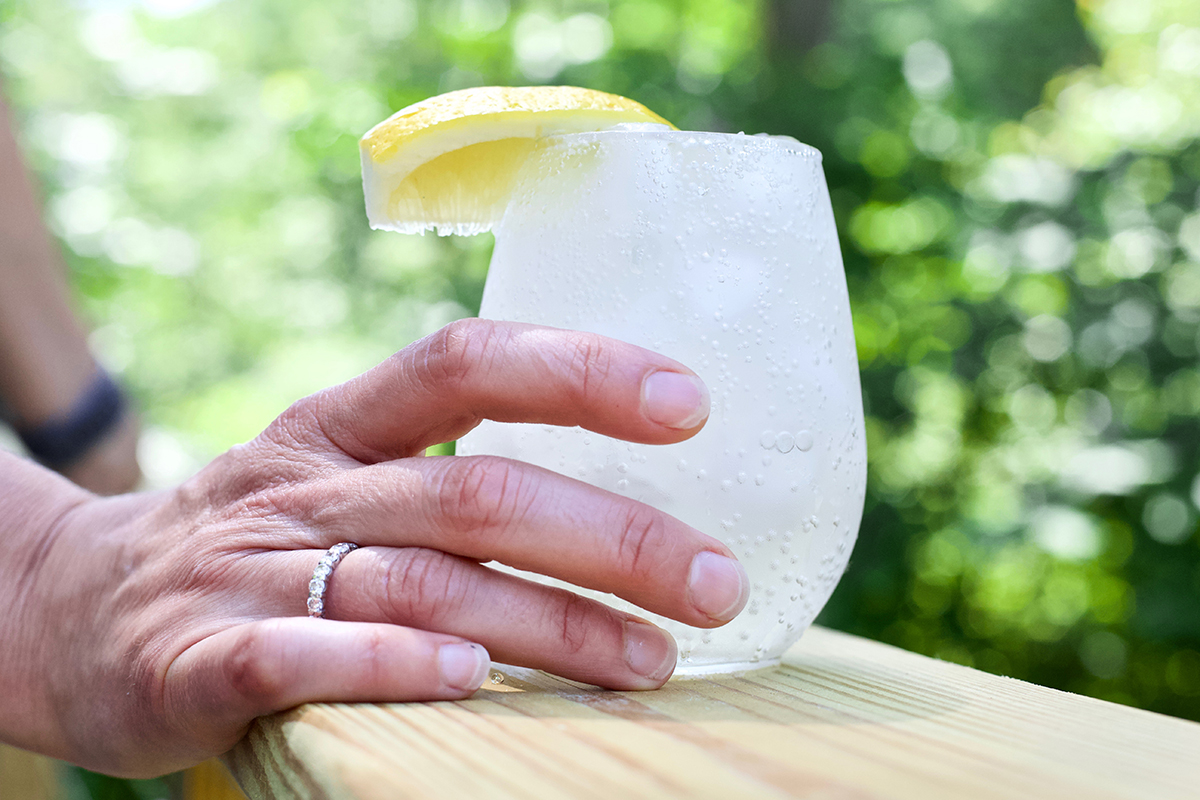 Ginger Skullcap Fizz
Serves 4
Ingredients
1 piece of fresh organic ginger (Zingiber officinale) rhizome
8 droppers of skullcap (Scutellaria lateriflora) glycerite
32 oz sparkling water 
Directions
Juice a small chunk of ginger rhizome and place the juice in a drinking glass.

Add skullcap tincture to ginger juice, and top off with sparkling water.

Add lemon wedge if you desire, and enjoy!
Linden Strawberry Herbal Mocktail
A lovely end-of-the-day 4th of July herbal mocktail, linden (Tilia spp.) leaf, flower, and bract provides an unwinding of tension for the whole body. This is a safe herbal mocktail for children and can provide soothing after a long, stimulating day of heat and celebration. Linden also has a subtle sweetness in flavor and ability to relax the heart and allow it to open to love and appreciation (Masé, 2013). This herbal mocktail is sweet, moistening, heart-relaxing, full of antioxidants, and visually beautiful.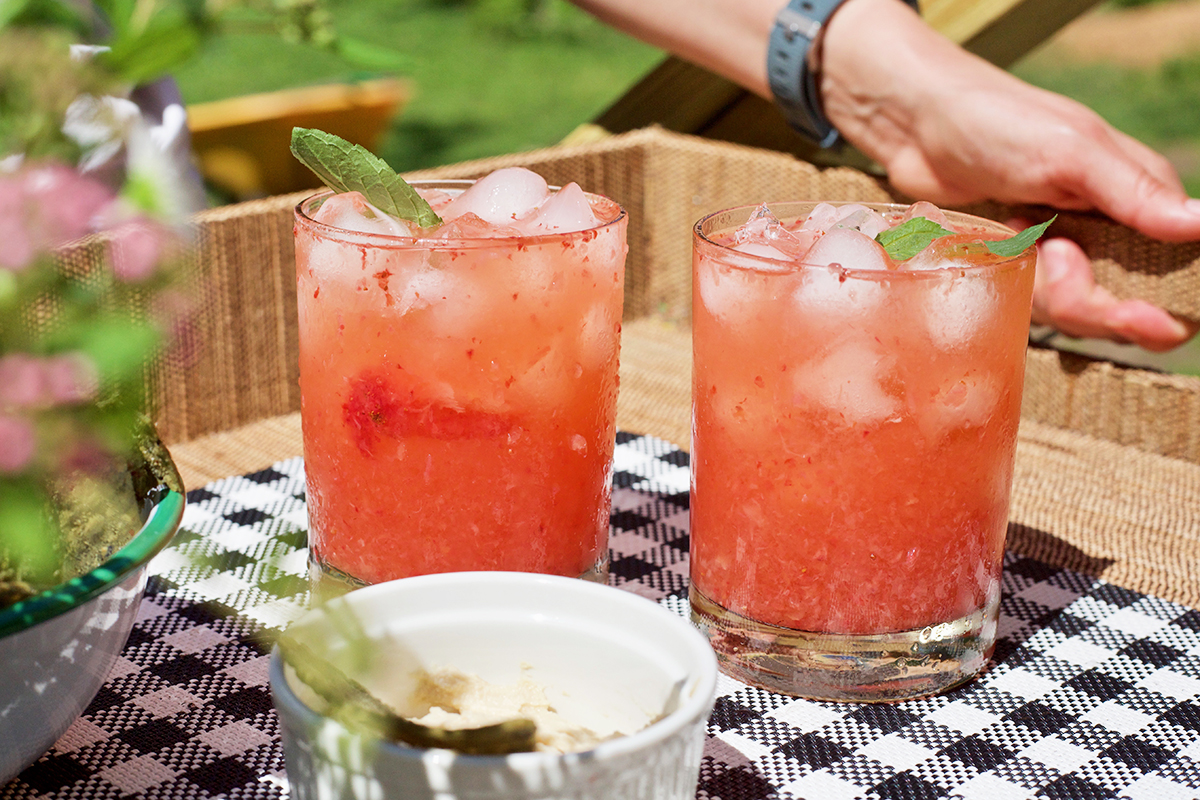 Linden Strawberry Herbal Mocktail
Serves 4
Ingredients
2 handfuls of organic linden (Tilia spp.) leaf, flower, and bract
1 cup of organic strawberries
Sprig of mint
32 oz spring water
Directions
Infuse two handfuls of linden in warm water in a quart-sized sealable jar for 15 minutes before straining and composting herb material.

Let cool.

Muddle one cup of organic strawberries, and mix cooled linden infusion with muddled strawberries.

Serve with a sprig of mint with or without ice. 
Finally
There are many reasons to reach for an herbal mocktail this holiday season. I hope these 4th of July herbal mocktails hit the spot and that they help bring you relaxation, relieve tension, and foster connection without the worry. 
Have a happy, hydrated, and safe 4th of July, everyone!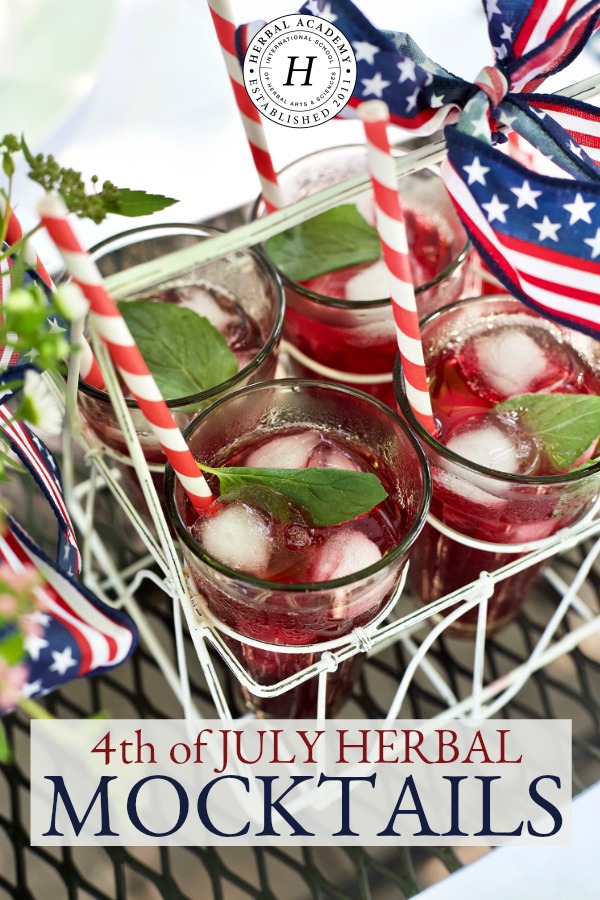 REFERENCES: 
Easley, T., & Horne, S. (2016). The modern herbal dispensatory: A medicine-making guide. Berkeley, CA: North Atlantic Books. 
Masé, G. (2013). The wild medicine solution: Healing with aromatic, bitter, and tonic plants. Rochester, VT: Healing Arts Press.
Skenderi, G. (2003). Herbal vade mecum. 800 herbs, spices, essential oils, lipids, etc. constituents, properties, uses, and caution. Rutherford, NJ: Herbacy Press.