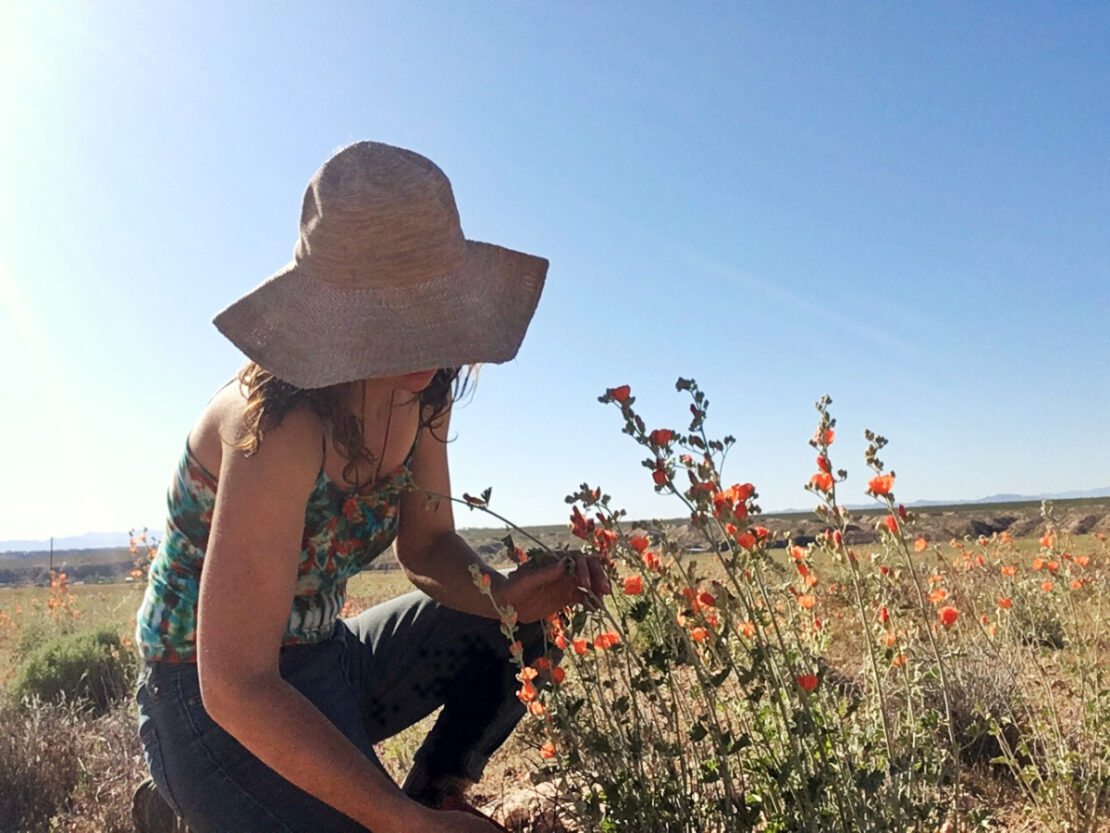 Herbal Academy Student Feature: Liz Witter (@backcountry_botanicals)
We sat down with Herbal Academy graduate, Liz Witter (@backcountrybotanicals), to hear more about her path into herbalism and her herbal business. She currently owns and operates Backcountry Botanicals out of her home in Kanab, UT, where she distills essential oils from desert plants, and makes wildcrafted personal care products. Liz has taken Herbal Academy's Natural Perfumery Course, and the Botanical Skincare Course, and has plans to enroll in the Intermediate Course in the near future. 
HA: Please tell us a little bit about yourself and how you started your path into herbalism.
Liz Witter: My path into herbalism actually started with my pets' health. For the last 15 years or so, I've been responsible for 4-5 horses and mules, chickens (at one point hundreds!), my late dear Jasmine (black lab), cats…you get the picture. At the time, I was told that one of my horses and one of my dogs had incurable diseases and I refused to take no for an answer. It turned out there was an herbalist focused on animals living across the street from me at the time. The rest is history.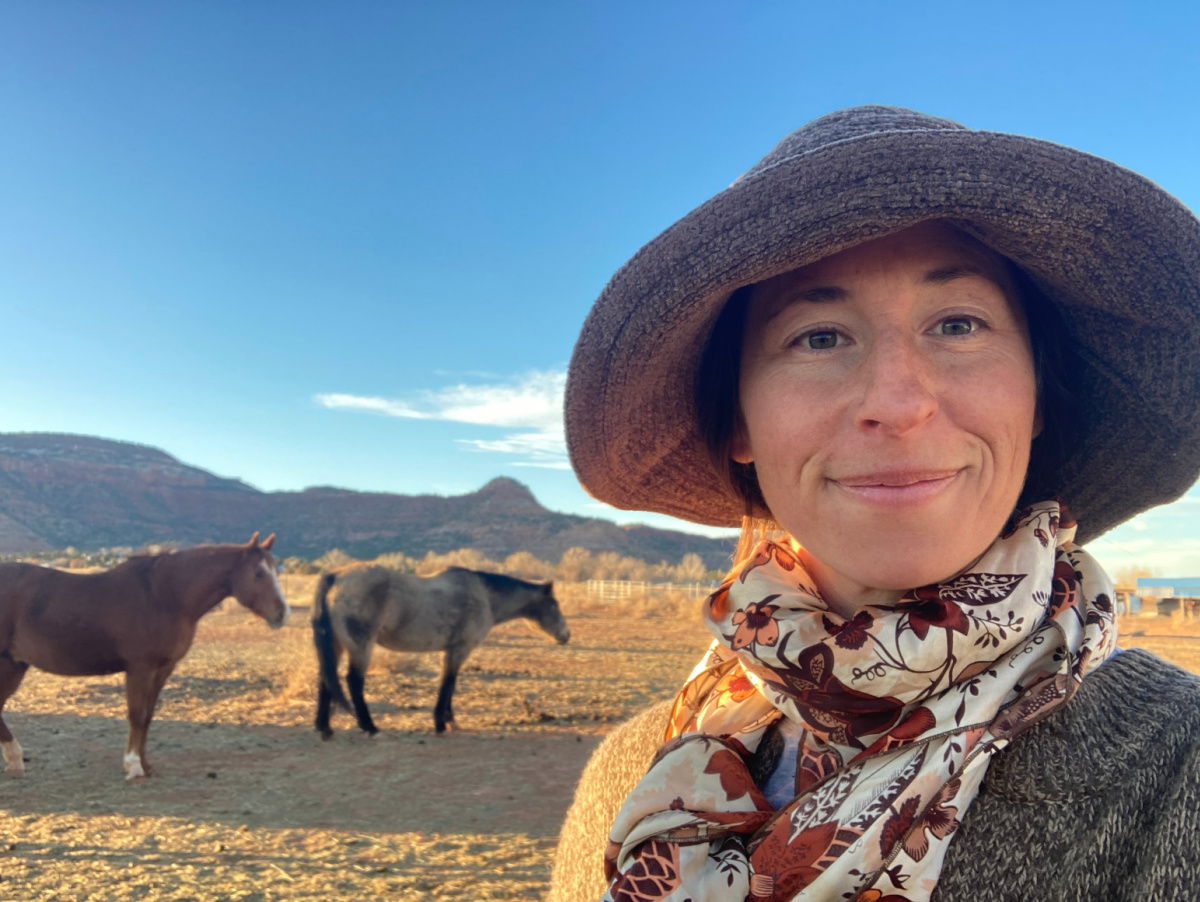 HA: Why did you choose to pursue your herbal education with the Herbal Academy?
Liz Witter: I had been scouring the internet for a natural perfumery course that was well researched and didn't break the bank. A friend of mine was enrolled in one of your courses and she mentioned it to me.  It was exactly what I was looking for!
HA: Do you own an herbal business or brand?
Liz Witter: I have an herbal company, Backcountry Botanicals, that distills desert plants in a sustainable way. We make essential oils & hydrosols (and a few other fun creations).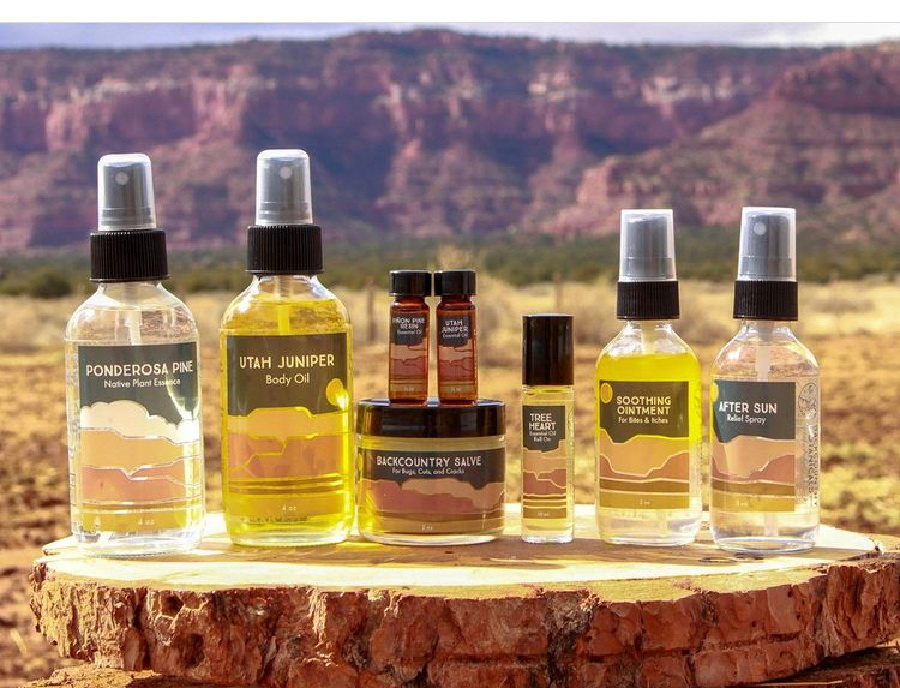 HA: How did your Herbal Academy courses help shape or improve your business?
Liz Witter: It greatly expanded my understanding of perfume and helped me to offer more useful natural products. I also feel more confidence in my recipes and the benefits they offer! 
HA: Tell us, what's next for you in your herbal journey? 
Liz Witter: I'm currently saving money to enroll in your Intermediate Course. I'd like to responsibly and confidently support the health of friends and family.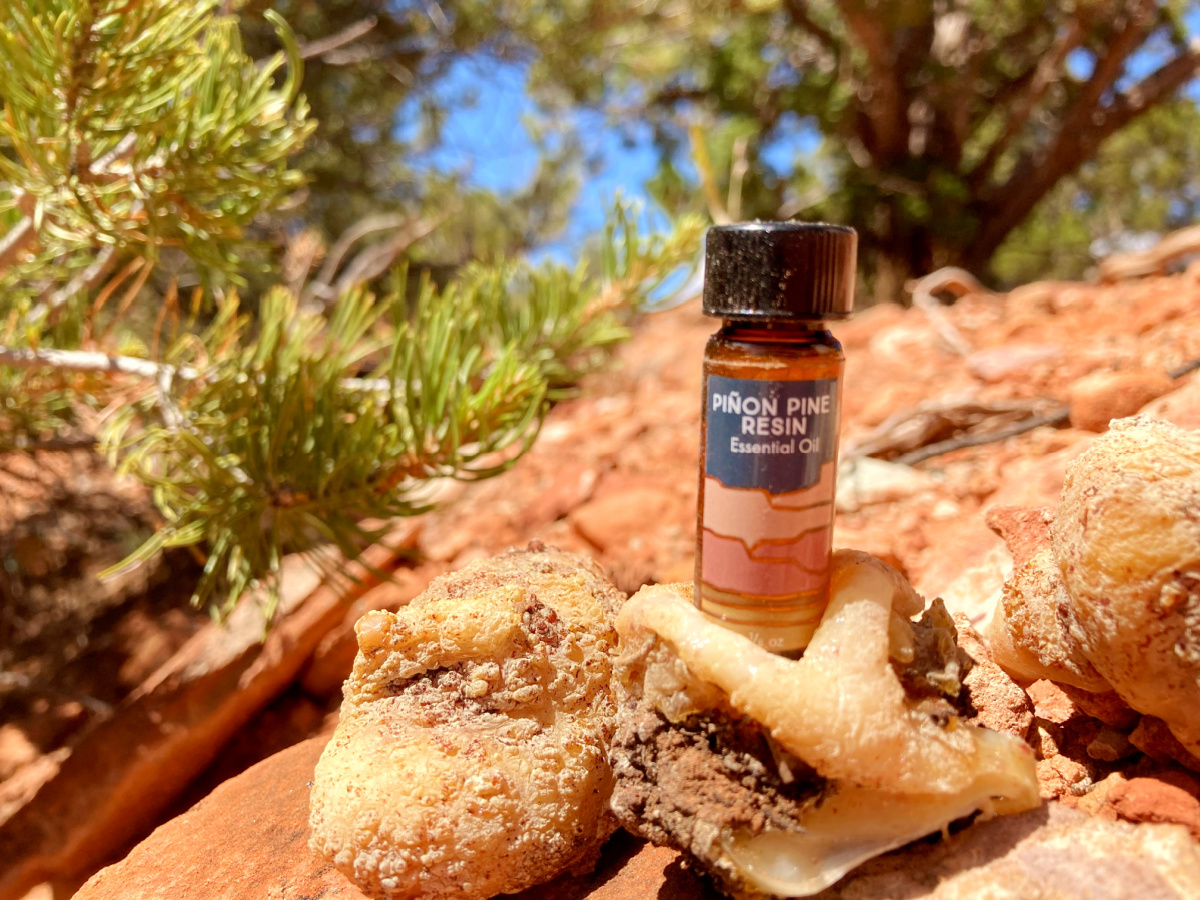 HA: What were you looking for when you enrolled in your Herbal Academy course that you were not able to find elsewhere?
Liz Witter: I was looking for a balance of quality and price, as well as unique offerings. The Herbal Academy was my answer!  
HA: What did you like most about your Herbal Academy course?
Liz Witter: I like that it offers a variety of learning options. You all have videos, interviews, and reading material formats. I love that I can download parts of the reading material, and I can file at will on my Mac. I also LOVE the interviews with real practitioners.
HA: How has your herbal education deepened your connection with nature and the seasons?
Liz Witter: For years, I've collected my own firewood to warm my house during the winter, which quickly connected me to the seasons. I've also tended gardens for years. However, there's an unexplainable connection between my soul and those first shoots of spring greenery harvested for medicine—watching the bird life, listening to the wind for small indications of change, planning for that first harvest, and then preparing and drying for winter medicine. The act of planning, harvesting, and drying has deepened my connection to the elders that had to prepare to keep their kin nourished and healthy throughout the entire year. It's mind-blowing to me.
HA: Do you feel empowered by your herbal practice? If so, how?
Liz Witter: Absolutely. It has completely changed my health, the health of those around me, and my life perspective. Herbs foster independent thinking and open up new worlds of choices and possibilities. I've literally healed diseases that were labeled 'incurable' and helped to support sustained quality of life for those I love. It really doesn't get any better right?! I have to add the caveat that when I first started learning about herbs, I went completely anti-healthcare and modern medicine because of what I was experiencing with herbs. Understandably there's a confidence that comes with magical healing experiences. In the last five years or so, I've nurtured a balance based on research and the trusted relationships I've developed in both modern and holistic/herbal medical fields and I feel more empowered than ever. 
HA: If you were an herb, which herb would you be?
Liz Witter: Oh I would be sagebrush, Artemisia tridentata. This is an herb that we harvest for hydrosol and when we can find sustainable amounts, essential oil. This was one of the first herbs I spent a considerable amount of time with when I first moved to Southern Utah. I worked in our 'backyard' (Grand Staircase-Escalante Monument) for the summer, driving 10 hours in the backcountry most days, and I witnessed so many variations and lifestyles of our local sagebrush. It has so many uses that sustained the Piutes and many other tribes whose homes are these lands, as well as holding an incredible medicinal, aromatherapy, and cleansing value. Sagebrush has an incredible amount of uses and is one of those plants that most people use solely for aromatherapy. Of course the scent is incredibly grounding and invigorating, filling the senses so thickly (not for everyone!). I also love the feathery feel of a healthy sagebrush, and have felt its support during particularly emotionally difficult times in my life. 
HA: Has your herbalism experience encouraged you to learn and explore other related niches, like botanical crafts, gardening, natural dying, aromatherapy, etc?
Liz Witter: Definitely! I'm now slowly cultivating an aromatherapy & dying section of my garden and always expanding my herbal section. Right now I'm very interested in making natural perfumes from tinctures. I recently created a ponderosa bark perfume and a tobacco perfume.  It's definitely a new love! I'm also finding native plants for dying, specifically flowers. We have sunflowers everywhere in the west that give off an incredible red dye that I'm collecting for winter dying right now!
HA: What is the biggest way that herbalism has brightened your life?
Liz Witter: It has taught me how to be in nature with reverence rather than consumption. Well, it's still teaching me, let's be honest. It's also opened me to a world beyond this human-created one. Herbalism changed my life in every way. I would absolutely not be the same person without herbs.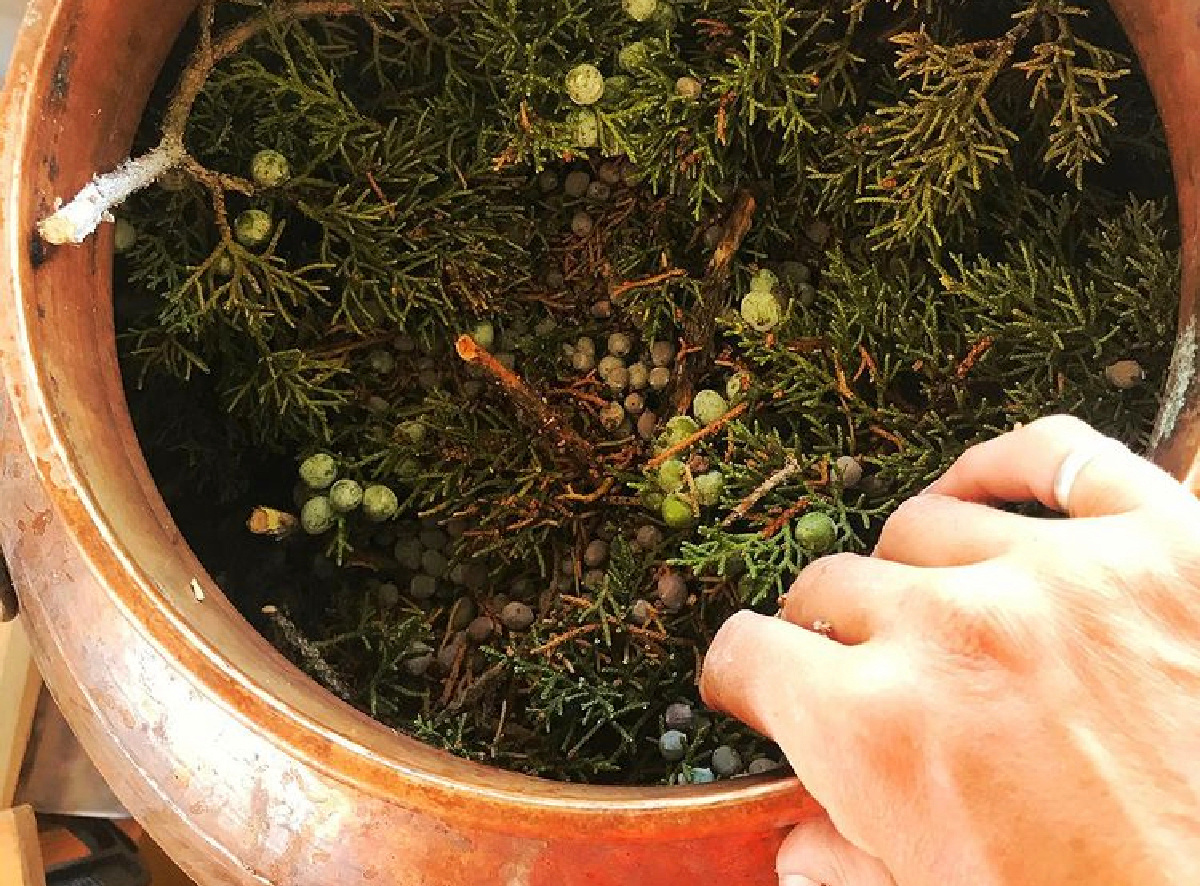 HA: What is the biggest challenge you face in your personal or clinical herbal practice? 
Liz Witter: Educating people about the benefits of their local & abundant plant resources. I recently had a woman with a chronic skin issue approach my booth at our local farmers market looking for frankincense oil. She would not hear about anything else that could help her condition; she had read and heard that it had to be frankincense and she quickly walked away. If we were all living in a time that prevented us from importing exotic oils and herbs from other countries, we would definitely know about the herbal properties of our local ones, right? It's tough because our minds have been a bit conditioned by essential oil corporations and other commercial outfits that may give a message that there are no substitutes. This line of thinking can sometimes rob us of the magic of choice and discovery. It's a bit of a juxtaposition in the herbal world. 
HA: Which herbalism teachers, authors, or peers do you find most inspiring, and why?
Liz Witter: Right now I am really loving Rosalee de la Foret. I discovered her through a podcast of another herbalist. She grew up in Southern Utah, which is where I live currently, so it's fun to hear little pieces of her southwest roots. It's hard to find herbalists in the desert…seriously! Also, she seems to have cultivated an incredible amount of humility that comes out in her interviews, which I really dig. She seems to have so much curiosity that leads to this deep yet simplistic way of teaching herbal medicine. I also love that she hosts other herbalists and acknowledges their greatness. She had Rosemary Gladstar as her first interview, it was lovely. Of course, Rosemary Gladstar is also ever-inspiring!
HA: If you could provide any tip or encouragement to those just starting their herbal studies, what would it be? 
Liz Witter: Do your research on where your ingredients are coming from! All of them! I think many herbalists could be unknowingly contributing to the eradication of their favorite herbs. Sandalwood, frankincense, and white sage are just a few that I will climb up on my soapbox for. I cannot stress enough—do your research, do your research, do your research!  As much as possible, know where your herbs originate from and the impact that your suppliers have on the local economy and environment. These companies know the answers and if they don't, don't buy from them. Ask hard questions and be willing to adapt when there is not a reputable resource available. Be willing to let go of the trends. I guarantee you can find herbs in your backyard that are great substitutes!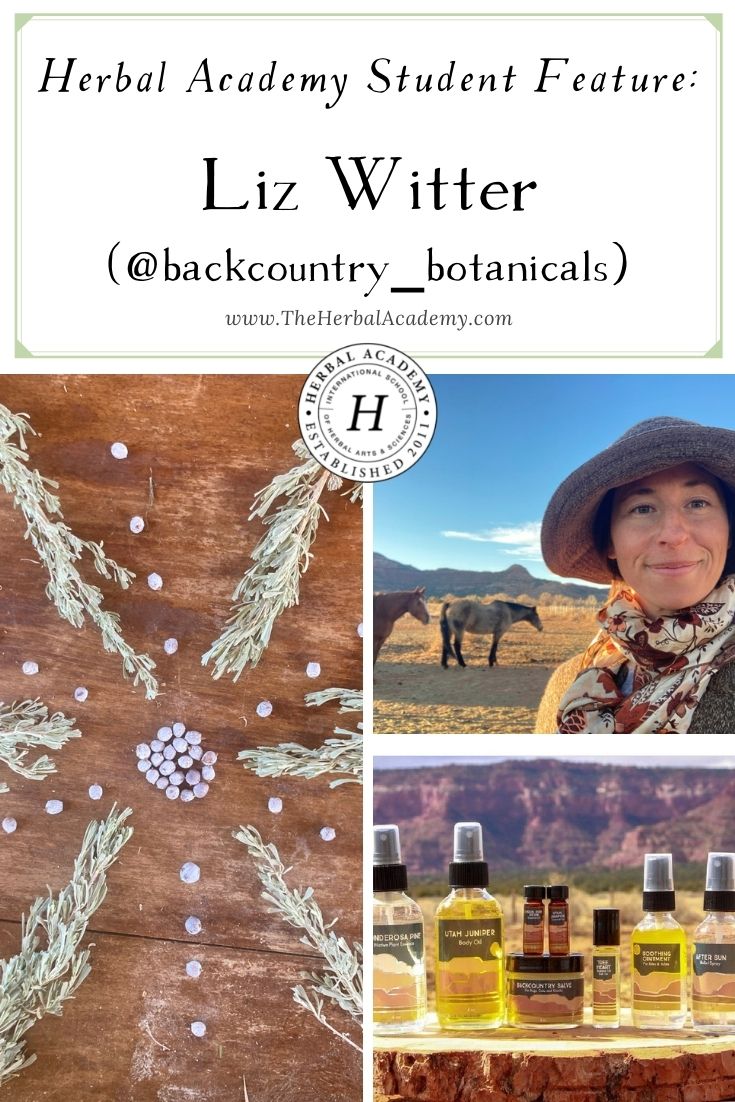 Stay tuned for the next installment of our Student Feature Series with Shiang-ling Bissonnette @HalfBakedBarelyMeasured.
Read past student interviews with: 
Adriana Jensen (@backcountrybotanicals)
Jess Madsen (@the.wildcraft)
Nana Meriwether (@drinkcale)
Erin Ethier (@EarthlyRemediesByErin)
Kendra Payne (@the.herbal.scoop)
Eduardo Yunen (@eyunen)
Caitlin Frazier (@TheLocustsandHoney)
Chelsea Stephens (@wildflowerandtherose)
Inspired by Liz's herbal journey? Further your own journey today by perusing our online herbal courses.