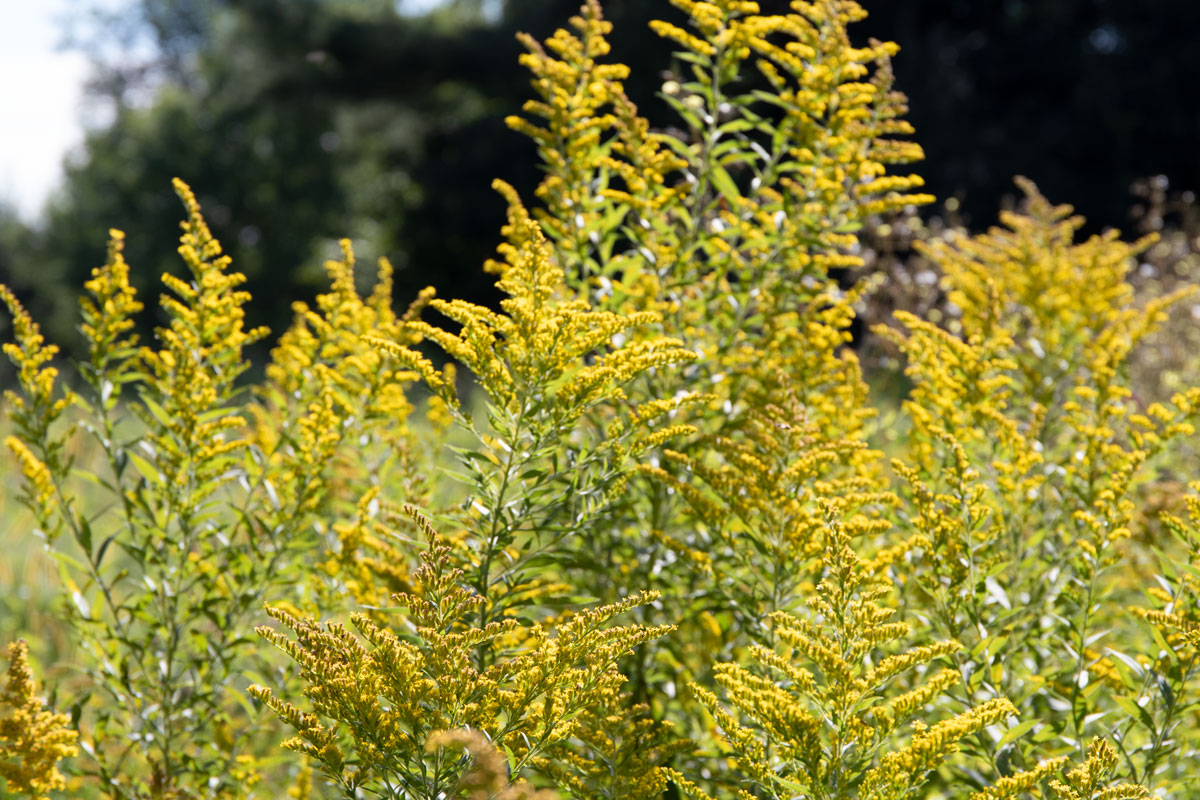 3 Late-Summer Herbs and How to Use Them: New England Aster, Chrysanthemum, and Goldenrod
Spring and early summer seasons are the peak time for blossoms, but many supportive plants are still in bloom during late summer as well. 
In this article, we'll look at three late-summer herbs, such as New England asters, chrysanthemums, and goldenrod, that bloom towards the end of the summer season. Some of these herbs are lesser-known and used, but they can still provide benefits as the summer comes to a close and turns the corner to fall. 
Safety note: Keep in mind that each of the following late-summer herbs are part of the Asteraceae family. If you have an allergy to plants in this family, please avoid using these herbs. 
3 Late-Summer Herbs and How To Use Them
New England Aster (Aster novae-angliae)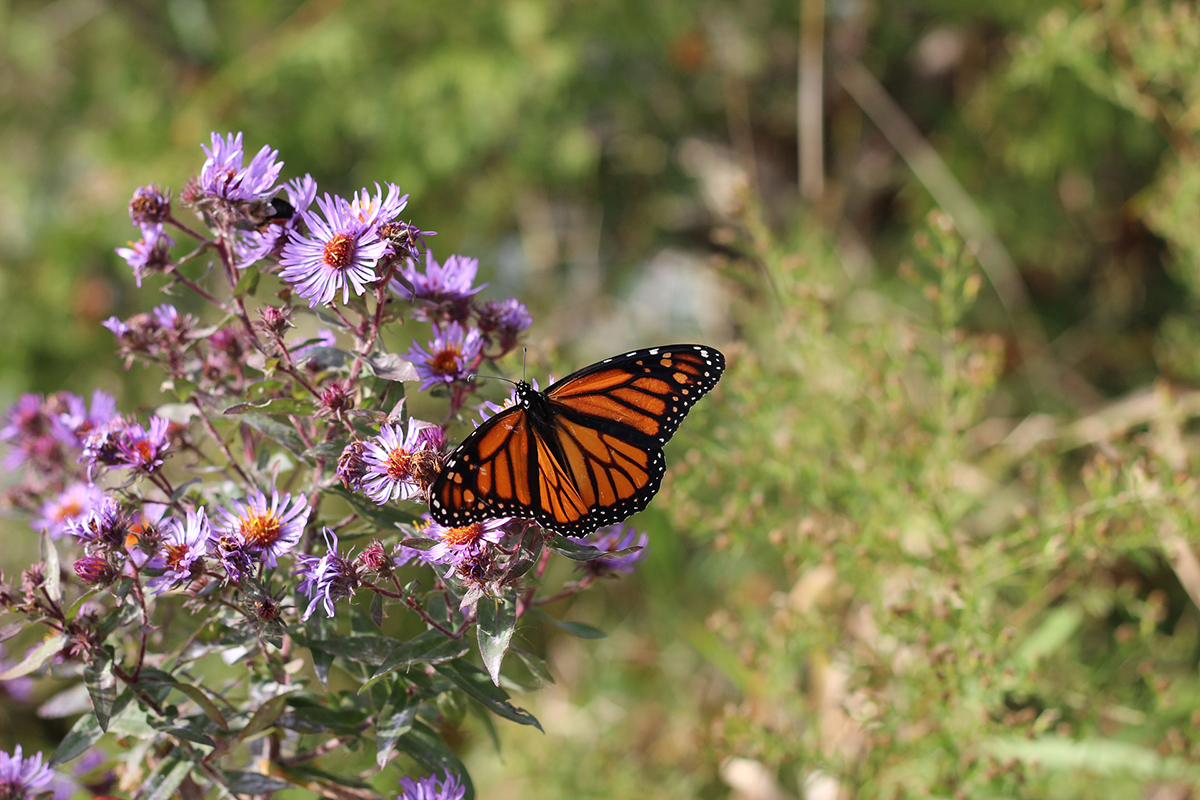 The New England aster is a common late-summer herb that is prolific. In Rafinesque's Medical Flora, it's stated that aster is an abundant genus with nearing 100 species (Rafinesque, 1828). It has deep purple ray flowers and yellow centers that are showy and grows to around 3 feet in height during August, September, and October (Missouri Botanical Garden, n.d.). New England aster can be found in fields alongside goldenrod—showing off a beautiful mixture of purple and yellow. Bees and butterflies alike will visit this wildflower. 
A few different aster species have been discussed in various materia medica texts in the past, but many of these species are not commonly found in our traditional texts and are not widely used in Western herbalism. Thankfully, Michigan herbalist jim mcdonald, has worked closely with this plant and has many insights to offer regarding its uses and benefits. 
Respiratory Support
New England aster has an affinity for both the upper and lower respiratory system. It is said to be decongesting, antispasmodic, and relaxing to the lungs (mcdonald, n.d), and it is particularly useful for seasonal allergies and colds as well as for cases of acute and chronic asthma. For example, there have been notable benefits for people who have asthma-related allergies and are dependent on inhalers (mcdonald, n.d).
New England aster supports the release of lung tension through its relaxant effects, although herbalist jim mcdonald (n.d.) has seen the fresh blossoms act as more of a sedative herb when used. With acute or chronic asthma, New England aster can help by relaxing and dilating the lung's passageways and releasing constriction and works best when used before spasms occur as the plant is not as effective once these symptoms are underway (mcdonald, n.d.). mcdonald also considers New England aster a well-indicated herb for people that have a quivering in their lungs that is part of their presentation of allergy or asthma (mcdonald, n.d.).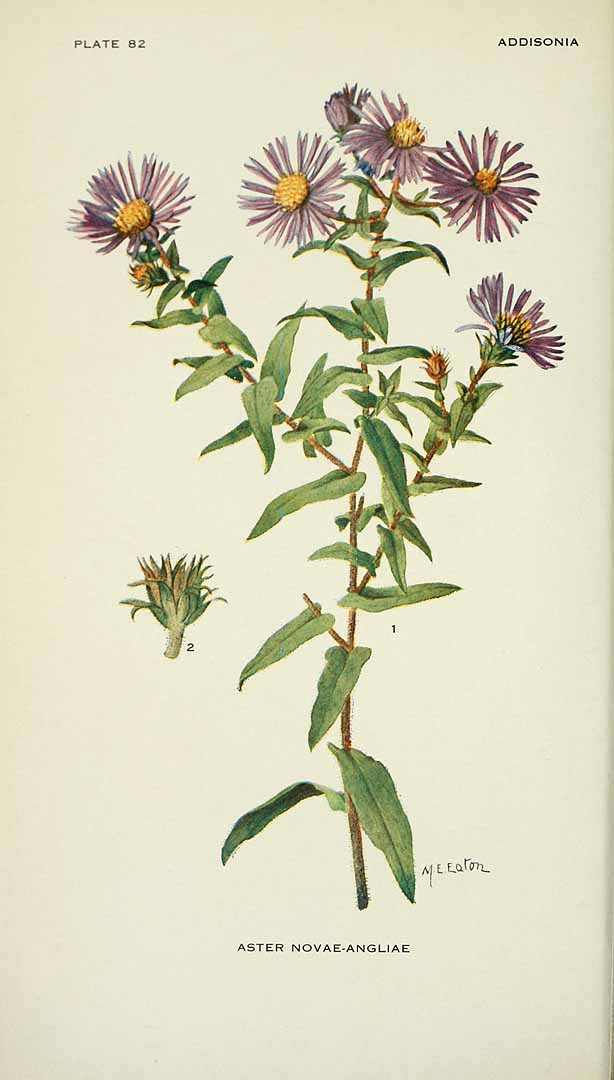 New England aster can be used as a tincture made from the fresh flowering tops. It also has a diaphoretic action when used as a hot tea, which is beneficial for colds and the flu when some discomfort and restlessness is present (mcdonald, n.d.). Combining the fresh flower tincture to the tea is extra supportive. This approach helps to soothe overly tense respiratory tissues, ease a cough, clear sinuses, lessen headaches, and release congestion (mcdonald, n.d.). 
Digestive Support
High in volatile oils, this late-summer herb is also considered a carminative and can support the digestive system. According to my experiences with New England aster, it is a helpful herb to use when you are prone to bloating, flatulence, and general discomfort, especially when used after meals. This herb can help settle the stomach by releasing gas and bloating that builds up and leads to discomfort. After eating foods that are out of the norm, or eating a food that doesn't sit well with you, New England aster is a great herb to lean on for relief.  
Chrysanthemum (Chrysanthemum morifolium)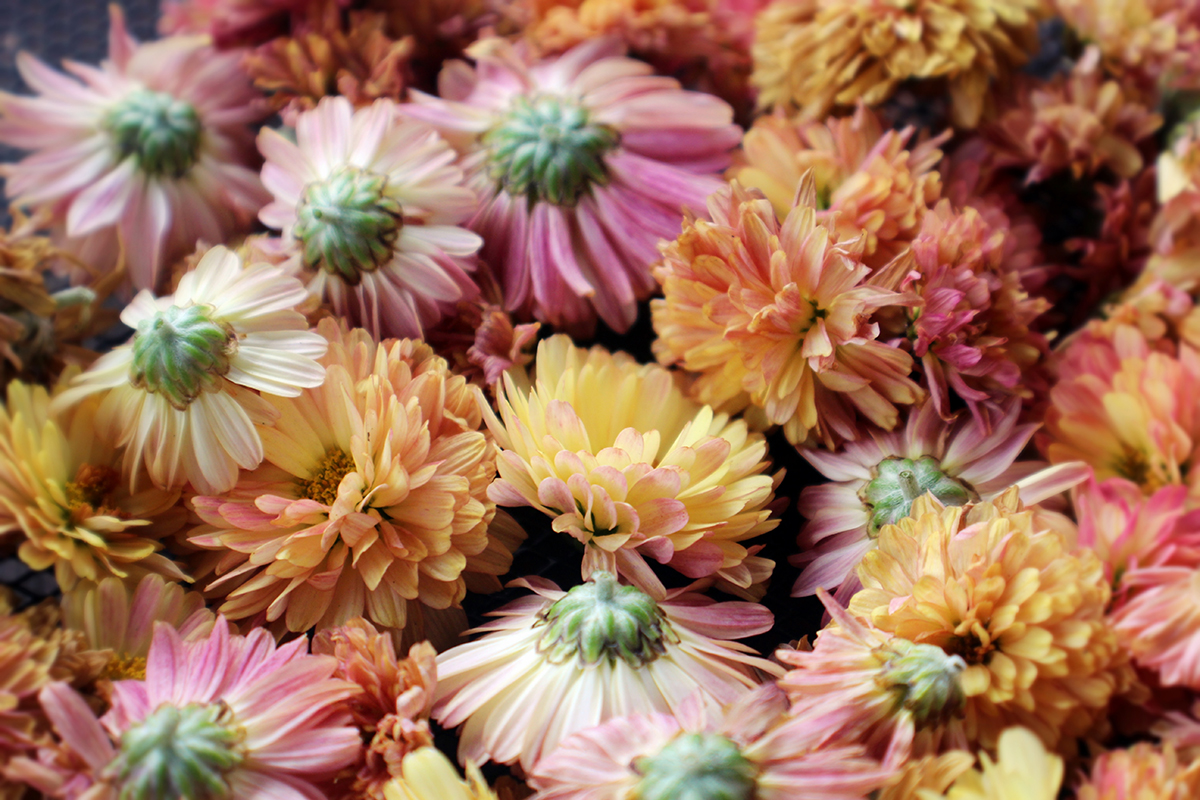 Another one of our late-summer herbs is chrysanthemum, also commonly called garden mum or golden flower. Chrysanthemum is a perennial in the aster family that blooms from August through the frost. It is typically soft yellow in color though there are many color varieties available. This garden perennial enjoys full sun and fertile soil. It can range from 2-3 feet in height and up to 2 feet in spread (Lehndorff & Peters, 2007). It is a hearty and colorful addition to your herbal chest.  
Caution should be taken when using chrysanthemum for those with lighter skin tones and those with sensitive skin as it can increase photosensitivity (Tierra, 1988). 
Immune Support
With its antibacterial and antipyretic (fever-reducing) properties, this late-summer herb is beneficial for viral infections, such as colds and the flu with a fever present, and even viral pink eye (Tierra, 1988; Stauber, n.d). Chrysanthemum has an affinity for the lungs and, due to its ability to promote expectorant like effects, can help clear congestion that is often present during respiratory complaints. 
Chrysanthemum is also great for bacterial-related infections, such as boils, eye infections, and inflamed throats, due to its antibacterial effects (Stauber, n.d.). Used as an internal tea, eye wash, tincture, or salve, chrysanthemum can help support active infections (Stauber, n.d.) and soothe inflamed tissues. 
Chrysanthemum is great for late-summer seasonal allergies that can cause tired, red, and sore eyes. An infusion of the fresh flowers, ingested as tea or used as an eye compress, can ease this type of eye irritation. Chrysanthemum is also said to help improve visual acuity (Stauber, n.d.).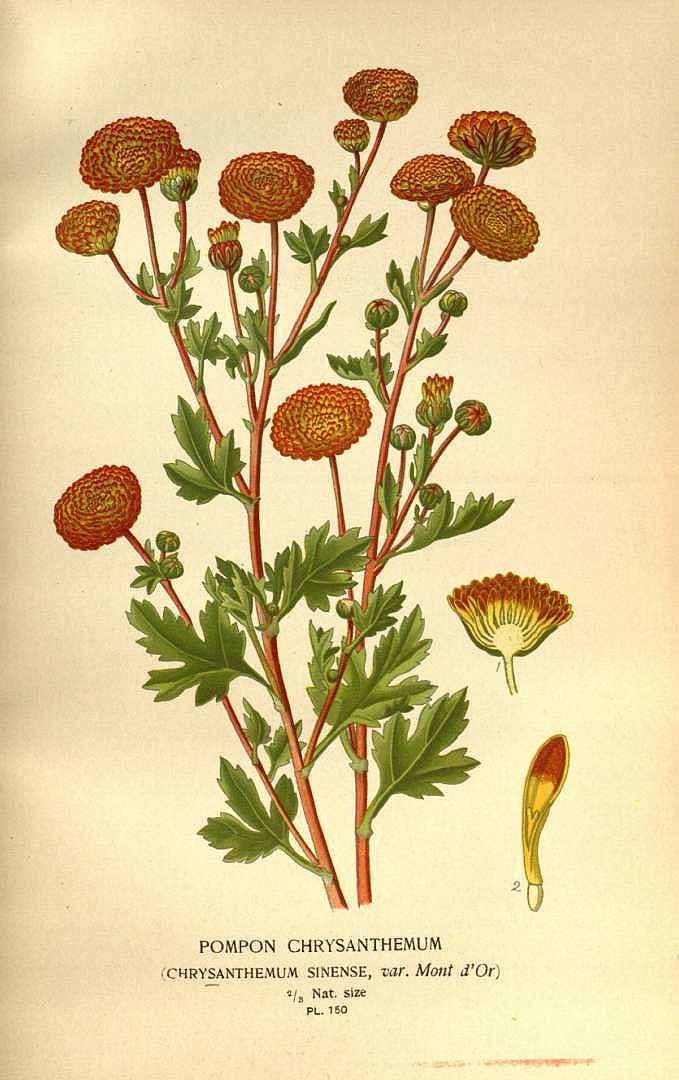 Pain Support
Chrysanthemum is a cousin of feverfew and acts similarly to support the release of headaches. It is used in Chinese medicine as a yin tonic that supports the clearing of heat in the body which is believed to contribute to congestion that can often lead to a headache (Stauber, n.d.). Its ability to soothe the nervous system can help to release headache tension as well (Stauber, n.d.). With the heat of a summer day, and maybe not enough water intake, a nourishing cup of chrysanthemum tea could be just the thing you need to ease a stubborn headache!   
General Wellness Support
As a plant that continues to bloom in autumn and early winter, this late-summer herb is known as a longevity tonic (Stauber, n.d.). Chrysanthemum is often used as a healthy beverage that refreshes and rejuvenates the body and mind (Tierra, 1988). Not only that, but chrysanthemums are rich in vitamins, minerals, and antioxidants (Tierra, 1988), and therefore, used to support overall vitality and wellness. 
Goldenrod (Solidago spp.)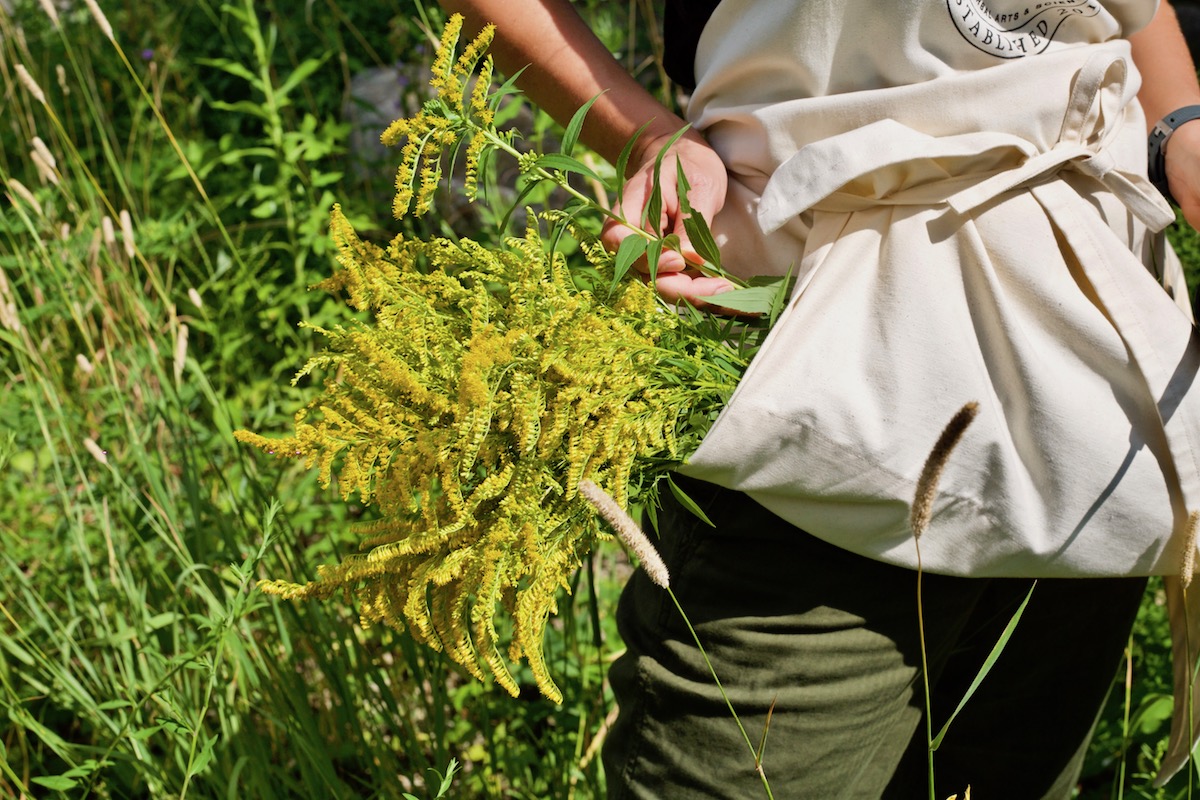 Goldenrod is another one of our late-summer herbs. It is widespread and quite common in the Northern hemisphere. Historically, the roots, leaves, and flowers have all been used. It varies in height ranging from 1-7 feet tall. It inhabits poor soil, can take full or partial sunshine, and can be found in fields or along waterways (Wiles, 2016). 
Goldenrod can be harvested from late July to late September right as the plants are beginning to bloom. (You can learn more about harvesting goldenrod in our post, 3 Tips for Foraging Goldenrod This Year.) This late-summer herb reproduces by its root system and its wind-dispersed seeds, which allows the flowering tops to be harvested without too much worry of overharvesting (Wiles, 2016).  
Allergy Support
I've heard a lot of people complain that when goldenrod is in bloom, they believe it to be the source of their late summer allergies. In fact, goldenrod is not wind-pollinated (instead, insects do the heavy lifting of pollination) and is quite helpful for allergies due to its astringent properties (Wiles, 2018). The flowers and leaves of goldenrod can be infused in honey which can add extra benefits to combat seasonal allergies. Raw and local honey can assist seasonal allergies because it can act as a cough suppressant with its coating and soothing properties as well as bringing in anti-inflammatory actions. Goldenrod can also be taken as a fresh or dry plant tincture or as a tea, although the tea is quite bitter, astringent, and aromatic (Wiles, 2018).  
Goldenrod isn't just for seasonal allergies—it's also said to help lessen the intensity of allergic reactions to cats (Wiles, 2018) too.  
Musculoskeletal Support 
A great liniment for overworked joints, inflammation, and body aches, goldenrod can bring stimulation and circulation to an area in need. Often the summer season offers space for physical movement, gardening, hiking, walking, and maybe even camping, and while it can feel good to have a more somatic season, some individuals need extra support while taking a more active role with their body. As an anti-inflammatory herb, goldenrod can ease chronic rheumatic pain (Skenderi, 2003). For an exhausted body, this late-summer herb is soothing as a tincture, tea, oil, or liniment.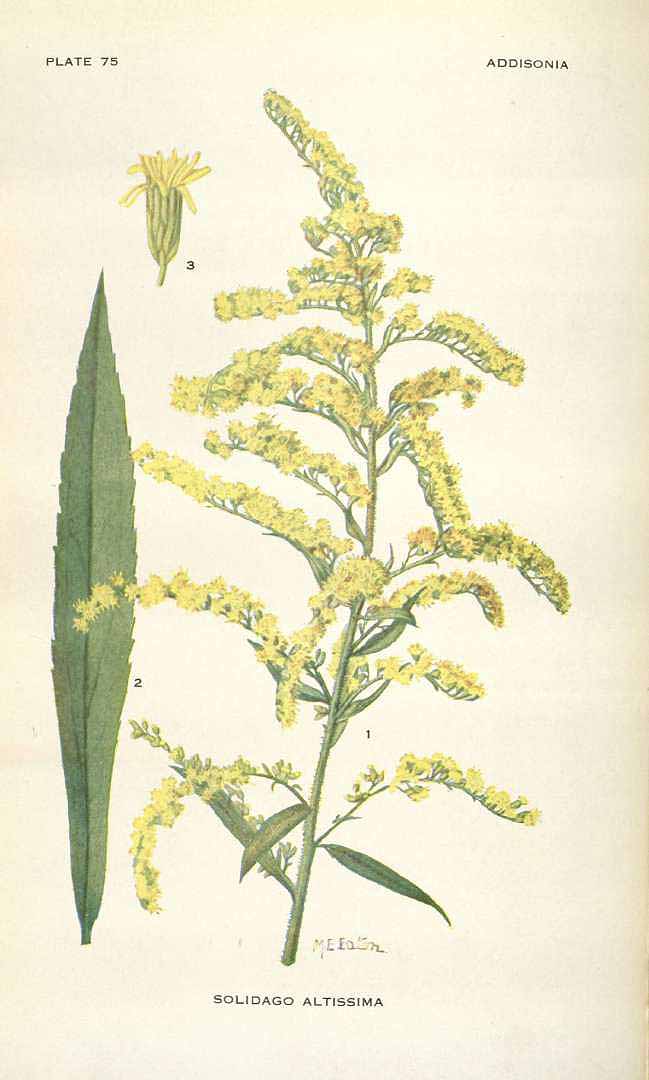 Digestive Support
Goldenrod is bitter and can be used if an upset stomach with nausea and diarrhea is present (Wiles, 2018). Because goldenrod is a bitter plant, it stimulates digestive secretions, thus acting as a digestive aid and carminative (Wood, 2008). These actions help promote a well-functioning digestive system. While goldenrod is predominantly warming and stimulating, its flavonoids make it cooling, and therefore, beneficial to tissues that need cooled and stimulated at the same time (Wood, 2008). These energetic qualities lend themselves well to the digestive system, particularly where inflammation is concerned, as goldenrod helps to soothe inflammation in the digestive tract by decreasing inflammation to the tissues (we see this familiar pattern in the tissues of the urinary tract as well as the respiratory tract) (Skenderi, 2003). 
Urinary Support
Goldenrod is also a common herb for the urinary tract system, being a diuretic, kidney tonic, and antiseptic (Easley & Horne, 2016). Goldenrod is known to help flush out the urinary tract, ease inflammation, and help stop recurring or developing urinary infections (Skenderi, 2003). It is said to stimulate the kidneys and is particularly useful after long bouts of illness (Wood, 2008). 
Immune Support
Colds can occur any time of the year, and when they do, why not think about using a seasonal herb. Goldenrod, with its cooling bitter properties, can be helpful when a fever is present during an upper respiratory infection (Wiles, 2018). As a hot tea, it serves as a diaphoretic which increases perspiration, thus, lowering the body's temperature gently. It can also be a useful mouthwash or gargle for tissue inflammation in the mouth and throat as well. With a high flavonoid content, goldenrod aids in caring for the immune system (Skenderi, 2003), and these flavonoids are known to be antiallergenic, anti-inflammatory, and vulnerary (Holmes, 1989). 
A Call To Seasonal Herbalism
Using herbs seasonally, when in bloom, is always a nice opportunity to connect to the earth. Like eating local foods in season, using herbs in this way can provide great benefit and support to our bodies as we progress through the year. The plants that bloom at very specific times are often useful for one's health at that particular time. Late-summer herbs are just the ticket when allergies, congestion, asthma, and respiratory infections present themselves late in the season, as well as a variety of other common complaints. 
Here's to staying healthy with the support of late-summer herbs like New England asters, chrysanthemums, and goldenrod!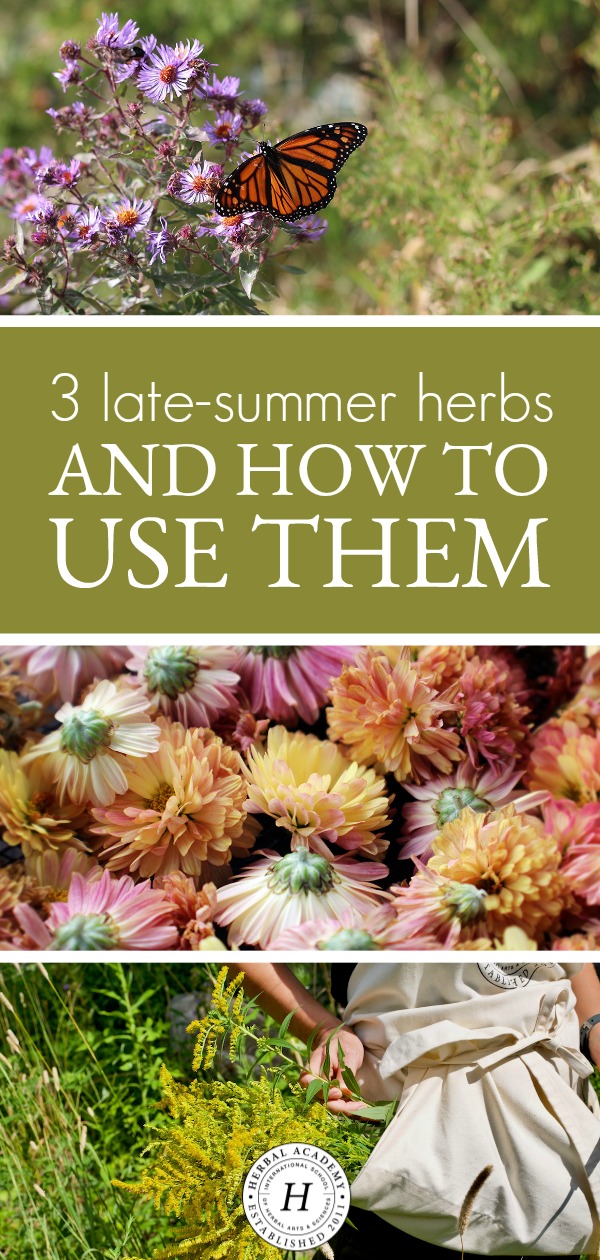 REFERENCES:
Easley, T., & Horne, S. (2016). The modern herbal dispensatory: A medicine-making guide. Berkeley, CA: North Atlantic Books. 
Holmes, P. (1989). The energetics of western herbs: A materia medica integrating Western & Chinese herbal therapeutics. Cotati, CA: Snow Lotus Press. 
Lehndorff, B., & Peters, L. (2007). Best garden plants for Colorado. Auburn, WA: Lone Pine Publishing. 
mcdonald, j. (n.d). New England aster. Retrieved from https://www.herbcraft.org/aster.html
Missouri Botanical Garden. (n.d.). Symphyotrichum novae-angliae. Retrieved from https://www.missouribotanicalgarden.org/PlantFinder/PlantFinderDetails.aspx?kempercode=b540
Rafinesque, C.S. (1828). Medical flora: Or, manual of the medical botany of the United States of North America. Philadelphia, PA: Atkinson & Alexander. 
Skenderi, G. (2003). Herbal vade mecum. 800 herbs, spices, essential oils, lipids, etc. constituents, properties, uses, and caution. Rutherford, NJ: Herbacy Press.  
Stauber, L. (n.d.). Chrysanthemum. Retrieved from https://www.rebeccasherbs.com/pages/herb-article-br-chrysanthemum
Tierra, M. (1988). Planetary herbology. Twin Lakes, WI: Lotus Press. 
Wiles, B. (2016). Mountain states foraging: 115 wild and flavorful edibles from alpine sorrel to wild hops. Portland, OR: Timber Press, Inc. 
Wiles, B. (2018). Mountain states medicinal plants: Identify, harvest, and use 100 wild herbs for health and wellness. Portland, OR: Timber Press, Inc. 
Wood, M. (2008). The earthwise herbal: A complete guide to old world medicinal plants. Berkeley, CA; North Atlantic Books.