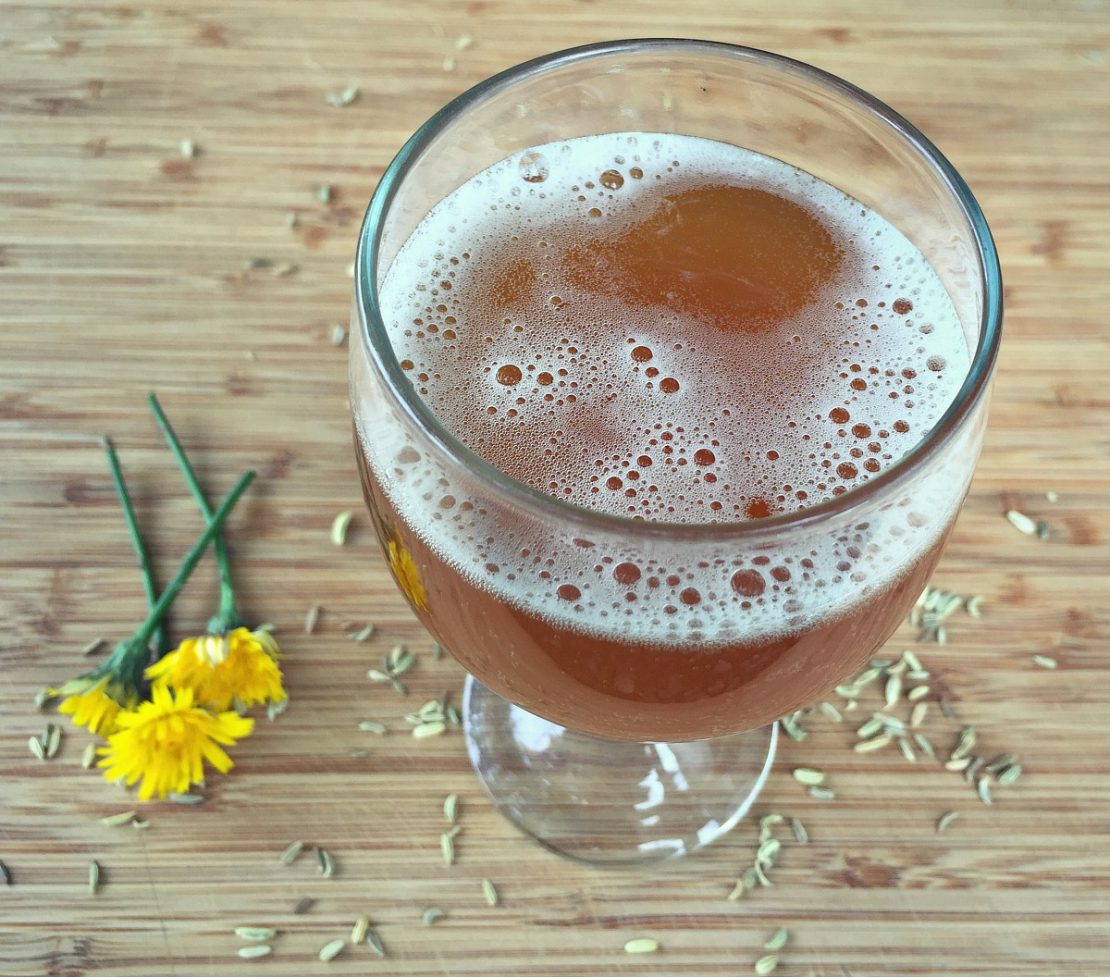 How To Make Dandelion and Fennel Kombucha
You may have heard about kombucha in recent years as this fermented drink has become quite popular. What you may not know, however, is how easy it is to make at home. The best part is that you can flavor kombucha to your own liking (or not flavor it at all), and you will know exactly what is going into it. Today, I'm going to show you how to make dandelion and fennel kombucha. And yes! You really can flavor your kombucha using herbs!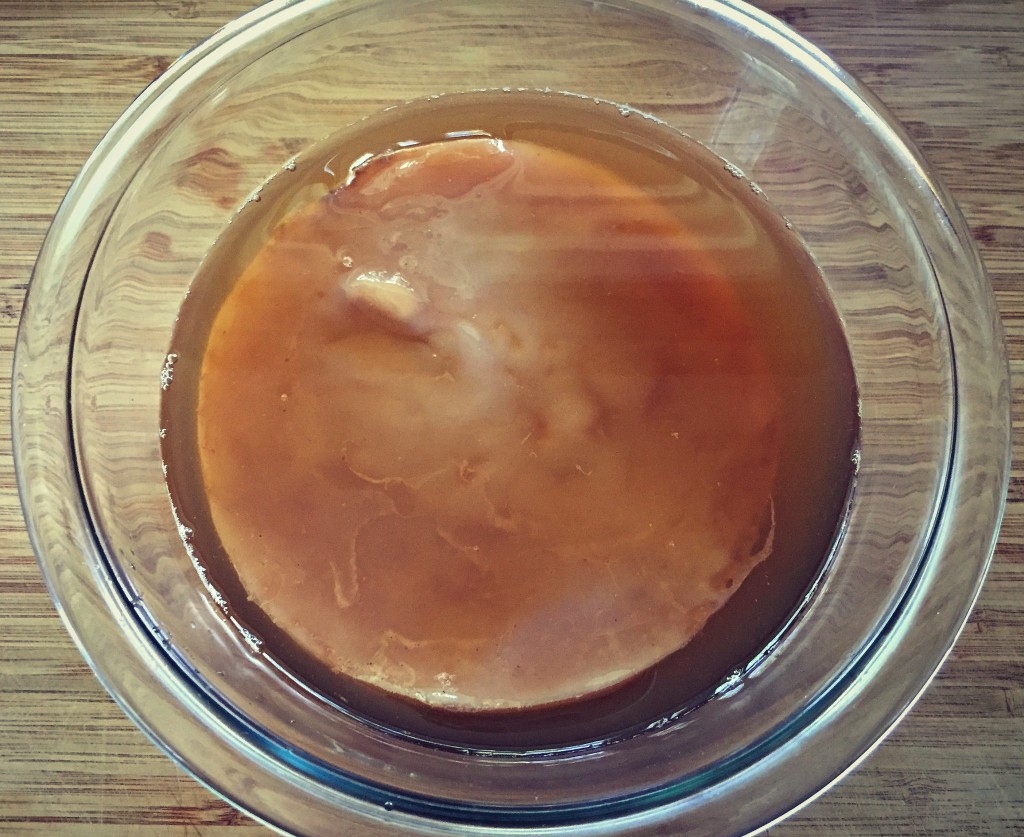 What is Kombucha?
Kombucha is a fermented probiotic drink that is thought to habe originated in China. It is made using a kombucha mother, also called a SCOBY (symbiotic colony of bacteria and yeast). The mother feeds on black tea and sugar and produces another SCOBY "baby" at the same time. The result is a somewhat sour and vinegary-like liquid that kombucha proponents believe is great for your entire digestive system (Katz, 2003).
Kombucha is easy to make at home, with the most difficult part being obtaining a mother SCOBY. If you know someone who brews their own kombucha, they should have one to give you, as a new one forms with every batch that is made. You can also purchase a SCOBY online.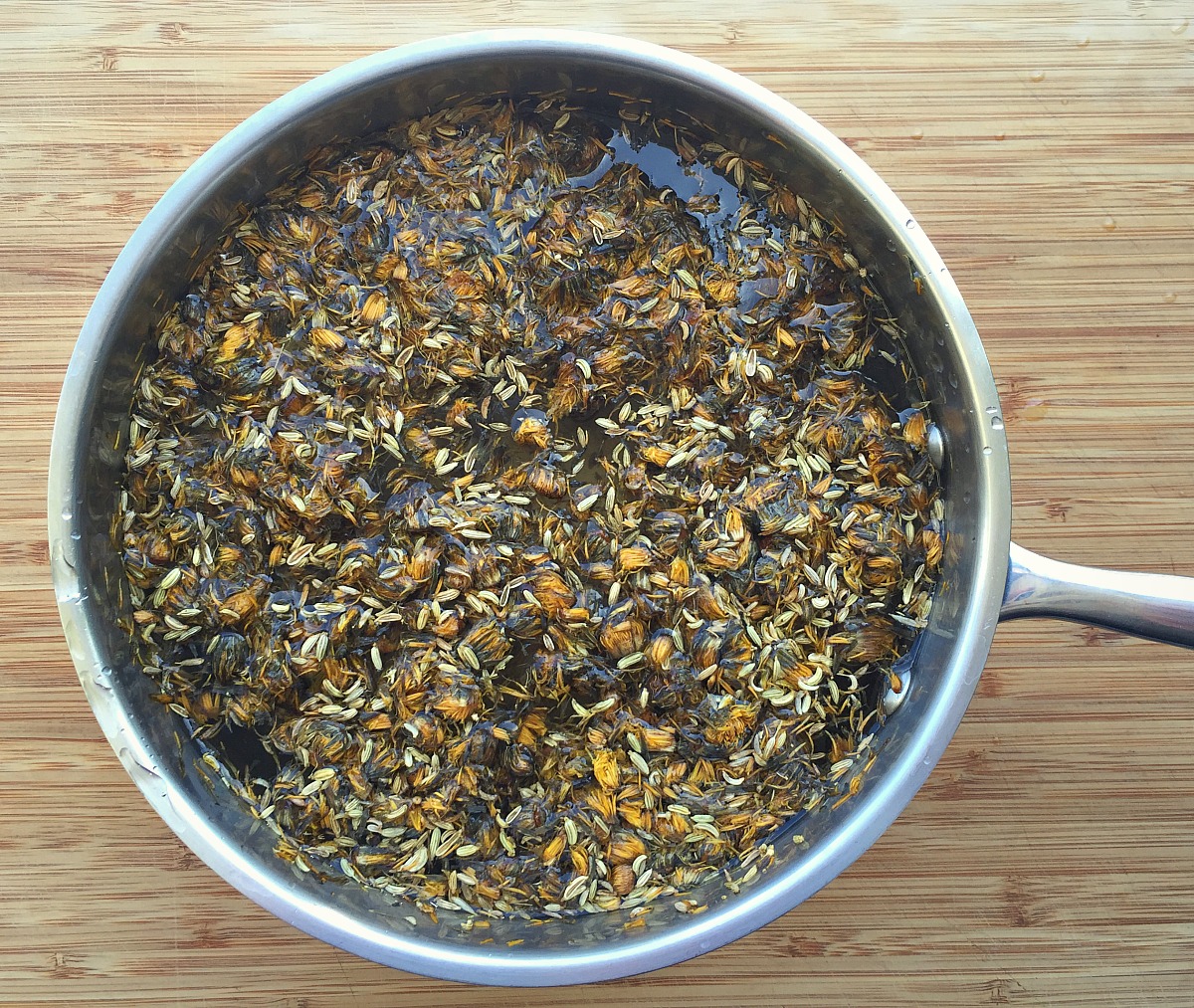 Flavoring Kombucha
I've experimented with adding different kinds of herbal teas to kombucha after the fermentation process with great results.
One of my personal favorites is hibiscus kombucha, which has become a summertime staple in our house, but I'm happy to say that this dandelion and fennel kombucha turned out just as wonderful, with the added benefit of being great for the entire digestive system.
Benefits of Dandelion and Fennel
Dandelion is a flower that we all recognize, and its health benefits are plentiful. The entire plant can be used from the flower to the leaves to the root. It is a bitter plant that promotes healthy digestion. Dandelion is also high in vitamins and minerals and is used as a tonic for the liver (Gladstar, 2008). When wildcrafting dandelions, be sure to gather them in an area that you know has not been sprayed with pesticides.
Fennel seeds are a well-known digestive aid that help stimulate digestion, regulate appetite, and relieve flatulence. Fennel also works as an antacid by neutralizing excess acids in the stomach and intestines (Gladstar, 2008). It is commonly ingested as a tea and has a wonderful, licorice-like flavor that is enjoyed by most people. This makes it a good complement to bitter herbs that are commonly used in remedies for digestion.

Dandelion and Fennel Kombucha Recipe
For this recipe, you will first make a gallon of kombucha. Once it has finished fermenting, you will add a tea made with dandelion and fennel seed before bottling. You will need a one-gallon size wide mouth jar for the initial fermentation and bottles for the end product (flip top bottles work well).
You will also need a mother SCOBY and 1-2 cups of starter liquid, which is just plain kombucha from a previous batch. If you don't have any, you can use store-bought, plain flavored kombucha as your starter liquid.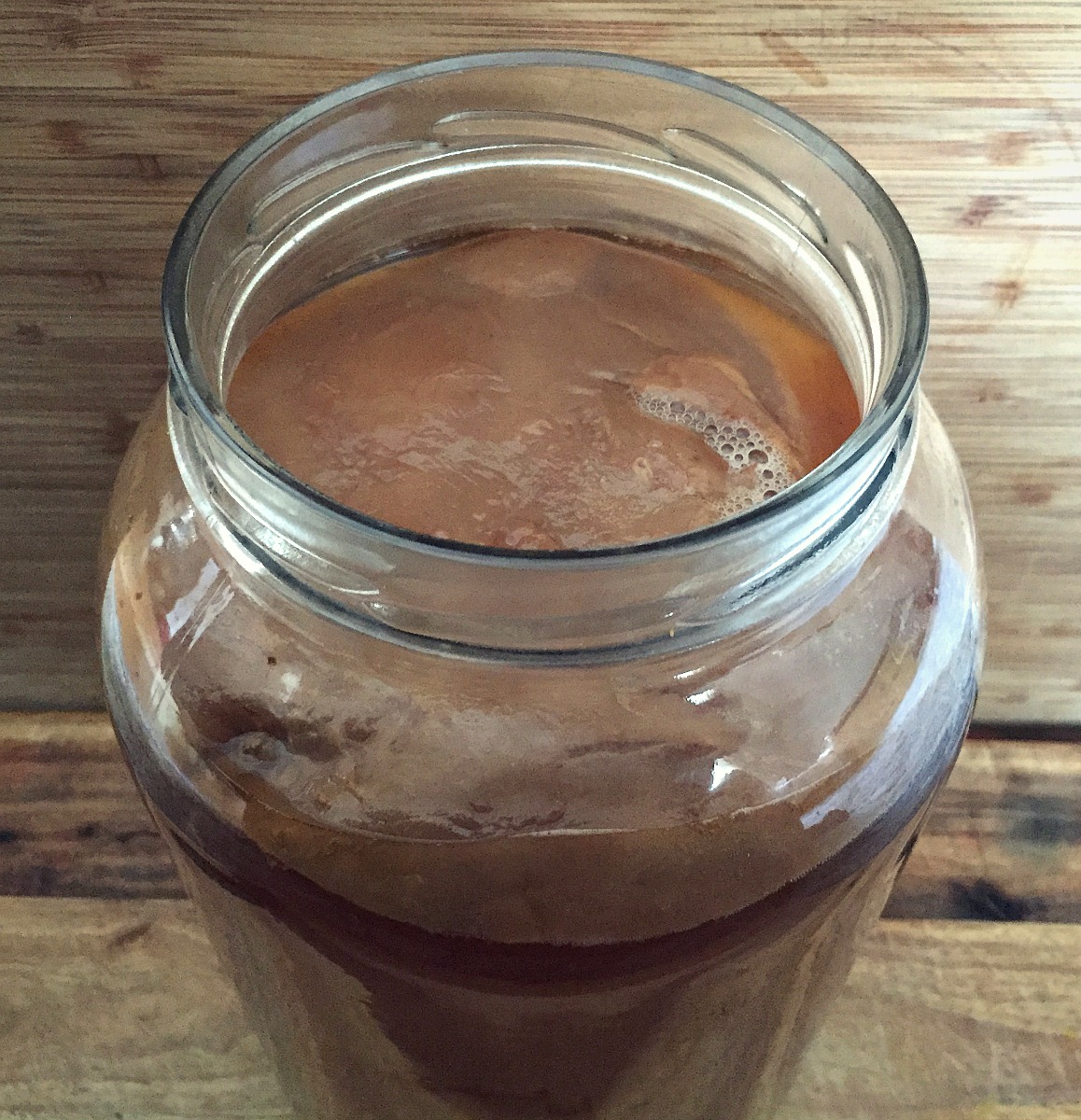 Dandelion and Fennel Kombucha
Ingredients
2 tablespoons unflavored black tea (can use tea bags)
1 cup organic cane sugar
1-2 cups kombucha starter liquid
1 kombucha SCOBY
1 cup dandelion flowers (or 2-4 Tbsp dandelion root)
2 tablespoons fennel seeds
12 cups filtered water
Directions
Bring the water to a boil in a stainless steel pot (not aluminum), turn off the heat, and add the black tea. Let it steep for about 20-30 minutes to make a strong brew. Strain out the tea leaves if necessary, or remove the tea bags.

Add the sugar to the tea and stir until it is completely dissolved.

When the tea has completely cooled to room temperature (it's OK to add a few ice cubes to speed up the process), transfer it to a wide mouth gallon jar.

Add the kombucha starter liquid, and float the SCOBY on top. Don't worry if it sinks.

Cover the jar with a clean tea towel or cheesecloth secured with a rubber band, and place it in a warm, dark place for about 10-14 days. When it has reached your desired sweetness, it is time bottle.

Remove the SCOBY (and any new ones that may have formed) and 1-2 cups of kombucha. Set aside and reserve for use in making your next batch.

Put the dandelion and fennel seed into a pot with 1-2 quarts filtered water and bring to a boil for 3-5 minutes. Then turn off the heat, let cool to room temperature, and strain.

Combine the dandelion/fennel tea with the finished kombucha. At this stage, especially if your kombucha is on the less sweet side, you can also add 1 or 2 tablespoons of sugar if you'd like. This will also aid in making a fizzy end product.

Pour the mixture into bottles (a funnel helps) and cap tightly.

Let the bottles sit at room temperature for several days to let them build up a little carbonation, then refrigerate before drinking.
The taste of this dandelion and fennel kombucha is slightly bitter from the dandelion with a pleasant licorice note. I find it to be quite enjoyable and am finding myself drinking it on a daily basis. It's nice to know that something so tasty is also good for your health. Drink up!
Have you ever made an herbal kombucha? What herbs did you use, and how did it turn out?
REFERENCES
Gladstar, Rosemary. (2008). Rosemary Gladstar's herbal recipes for vibrant health. North Adams, MA: Storey Books.
Katz, Sandor Ellix. (2003). Wild fermentation: the flavor, nutrition, and craft of live-culture foods. White River Junction, VT: Chelsea Green Publishing Company.