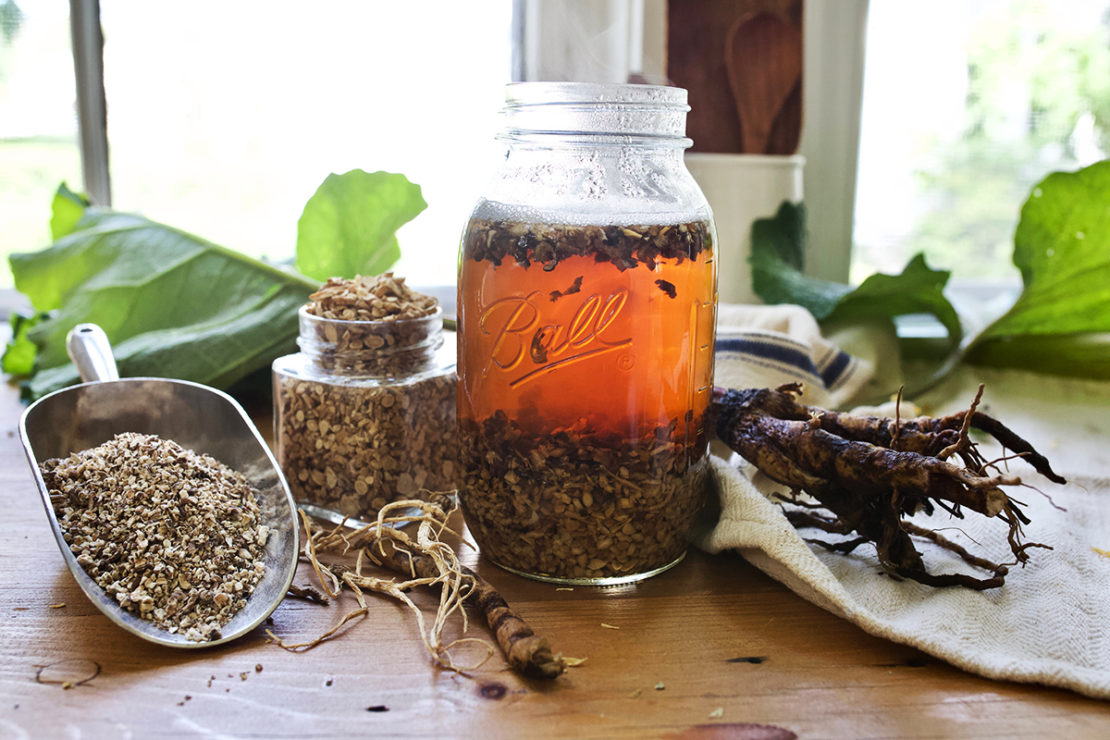 How to Make a DIY Autumn Root Tonic
When autumn begins to show its signs—earthy colors, golden afternoons, and crisp evening air—it may be a good time to utilize a particular plant part within your herbal toolkit: roots. Herbal roots can be used to make a delicious autumn root tonic to support your vitality, especially as the season begins to change. Making this type of wellness tonic can also be a creative, easy, and engaging way to tend to your needs while offering yourself daily care.
In autumn, nutrients have begun to sink deep into the roots of plants that have been showy and vibrant during the spring and summer months. This can be a sign for you too to sink down into your own roots, find connection and grounding, and practice gratitude for all the phases of the earth and the plants it offers to us. 
When it comes to working with roots to make an autumn root tonic, ask yourself a couple of questions. 
What herbal roots do I favor? 

What actions might I find supportive this autumn? 
I've gathered a handful of roots that you might consider playing with in your own autumn root tonic. They each have unique actions and flavors and offer support in various ways, with actions ranging from nervines, antispasmodics, nutritives and moistening herbs, just to name a few.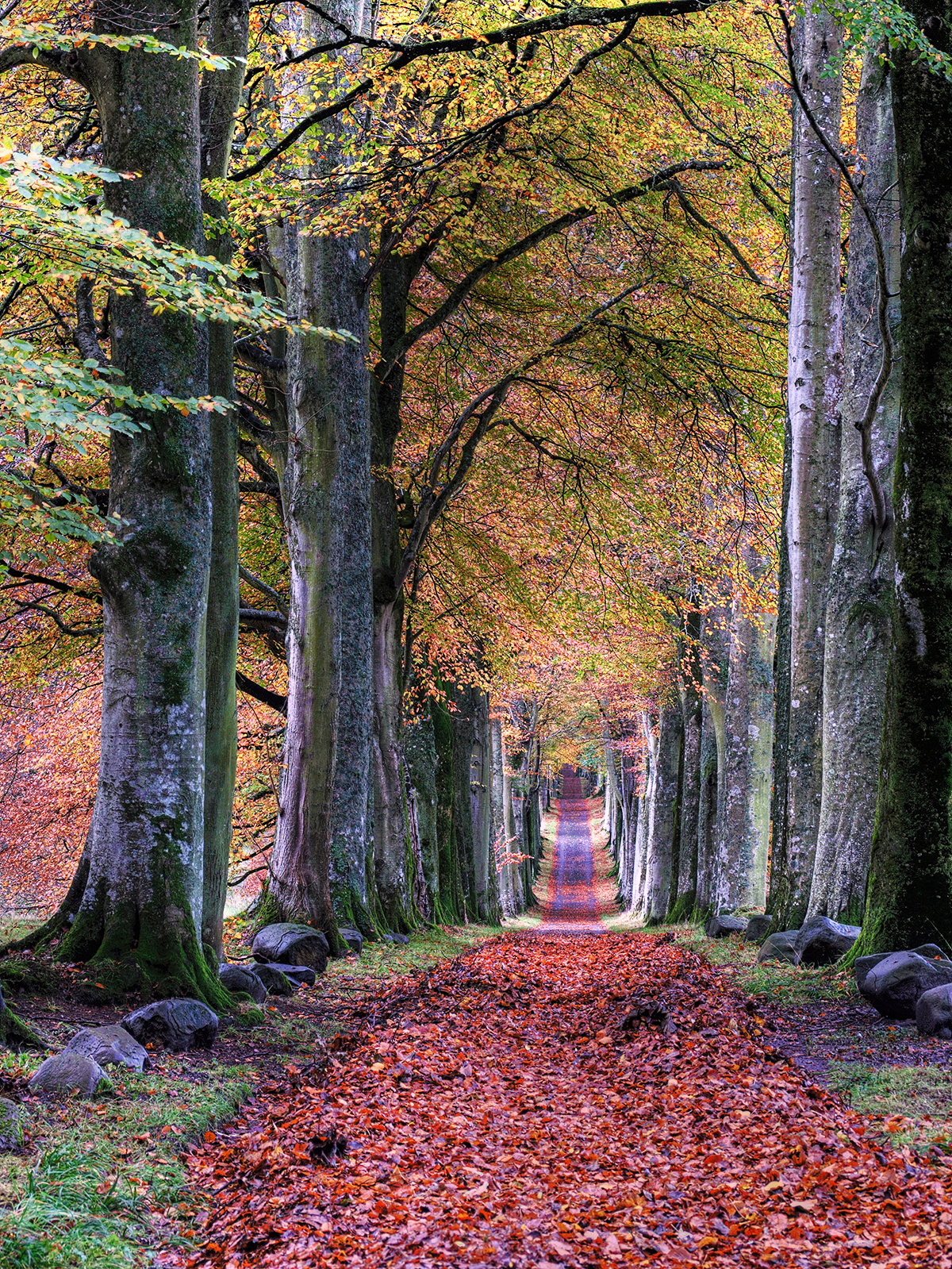 But First, What Is A "Tonic" Herb?
A plant that is classified as a tonic acts by nourishing tissues and aiding in restoration for optimal function (Tilgner, 2009). The idea behind a tonic is that you are not waiting until you are run down or sick to reach for herbal support. Instead, a tonic is woven into your daily regimen to support your overall vitality and wellbeing by promoting tissue and system wellness. I like to think of tonics as a way to touch into the root system of each unique body. I also love to think about Albus Dumbledore sipping his daily wellness tonic, which is perhaps one reason he lived for 150 years! 
A tonic builds us up from our foundation without waiting until something is asking loudly for our attention (emotionally or physically). There are many systems of the body and those systems take on many roles. Tonics are a great way to bring in micronutrients and plant constituents that support system care and can be prepared as a fun rooty autumn beverage. 
It's also important to remember that all herbs need to be researched in order to understand dosage and safety suggestions as well as whether a particular herb is a good fit for you personally. Please keep in mind that just because an herb is categorized as a tonic doesn't mean that it's appropriate for everyone all of the time.
Before You Get Started
Herbs will often come to me in dreams, present themselves to me on hikes, or make their way into my garden. I find it enjoyable to let my intuition and heart, as well as nature, show me what herbs might be appropriate for use. I encourage you to listen deeply to the herbs that are calling out to you—the roots that are available to support you. This may be an opportunity to further develop a practice of researching herbs of interest. With both insight and intellect, you can get a sense of which roots you'd like to combine to make your autumn root tonic. 
Before getting started, you will need the following supplies:
A ½ gallon sealable jar

Spring or filtered water 

A soup pot or crockpot

Herbal root(s) of choice
Mix and Match Formulation
Herbal formulation is where your creativity can shine!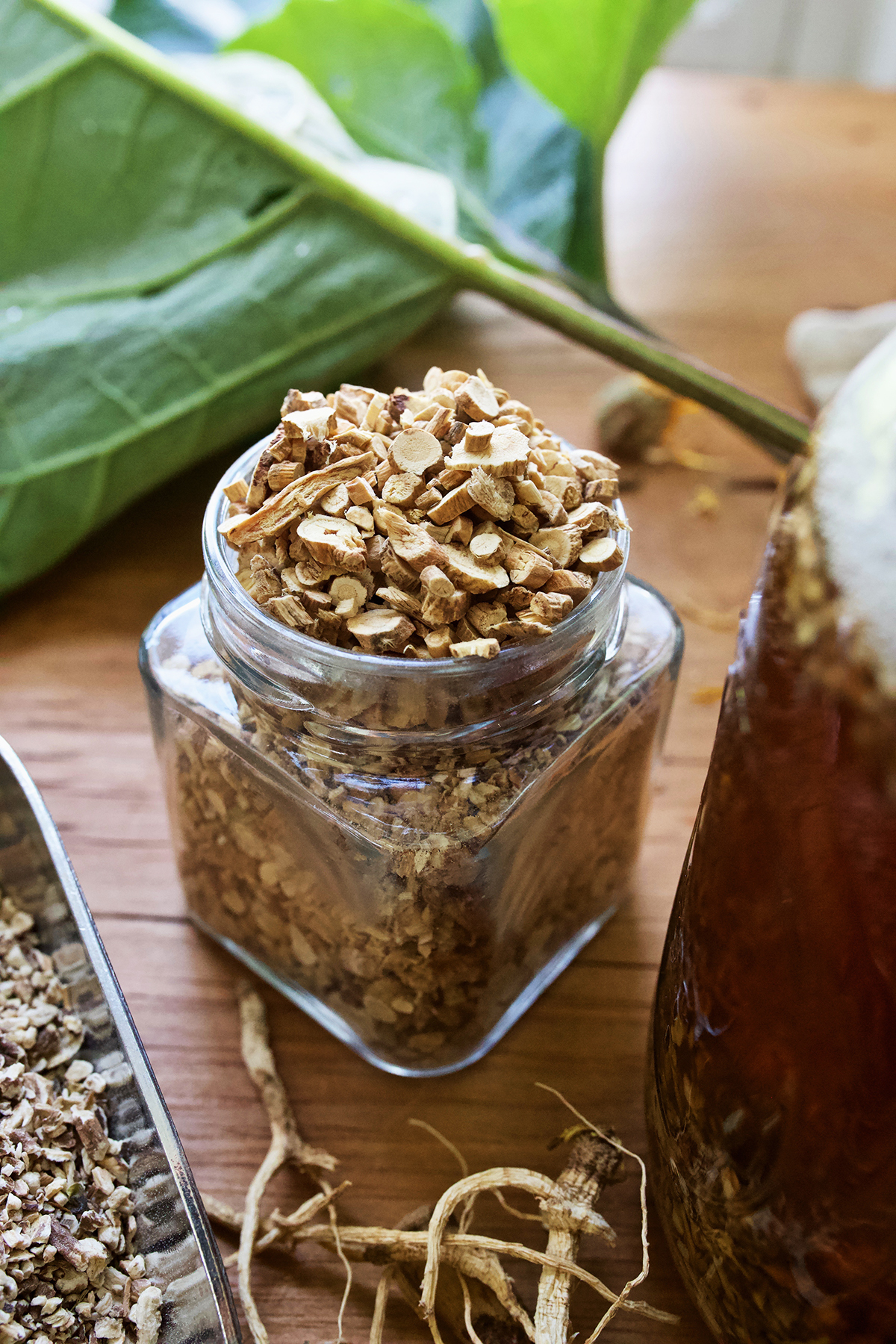 When creating your autumn root tonic, I'd encourage you to think about which actions you want to be the leaders of your formula. Go back to question number two above. What was your answer? Are you looking for nutrients or are you looking for liver support this fall? What about musculoskeletal support during the cool, dry months ahead? 
You'll want to start by doing some research to come up with five herbs you'd like to see in your daily autumn root tonic. Take note of their actions, energetics, and typical use. Do be sure to research the safety and any contraindications of these herbs, as well. 
Using the folk method in your formulation is just fine—a scoop of this root, two scoops of that root. Allow the process to embody you as an individual—feel your inner kitchen witch or wizard manifest. Of course, you can also take a more calculated route if you wish. To do this, decide on the exact amounts of each root you want in your formula using parts and then weigh each herb part (I prefer to use grams), or just formulate by weight from the start. 
When I make a daily tonic, I use 28g (approximately 1/4 cup) of root per quart of water. Because a tonic is something you will typically drink daily, you can save yourself some time and energy by preparing two days of autumn root tonic at once by using 56g of root to ½ gallon of spring water. 
Choose Your Own Autumn Root Tonic Formula
I find it helpful to list out the herbs I'm considering creating a formula with on a piece of paper. Once I have my ideas on the page, I tend to jot down energetics as well as actions for each herb. This can help in building a well-balanced formula. Herbs are multifaceted, however, they are often pigeonholed. For example, burdock (Arctium lappa) root is good for the liver. While that is true, burdock also has many other benefits and actions to consider. That said, here's an example of how you might start crafting a formulation for an autumn root tonic:
Astragalus (

Astragalus membranaceus

) root: Astragalus root has a slightly sweet flavor and can feel mildly warming and moistening. Astragalus is well-known as being an immune tonic and adaptogen (Tierra, 1988). Astragalus root also has anti-inflammatory, antiviral, and diuretic actions (Easley & Horne, 2016). This is a great root to have available to you during shifting seasons. 

Marshmallow (

Althaea officinalis

) root: Marshmallow root is a wonderful addition to a formula that tends toward the drying side, as it contains moistening mucilage. I appreciate its additional nutritive content, as well as its antispasmodic and vulnerary actions (Tierra, 1988). 

Burdock (

Arctium lappa

) root: Burdock root is a slightly sweet, cool, and bitter root that shines as an alterative, nutritive, digestive, and liver supporter (Tierra, 1988). 

Dandelion (

Taraxacum officinale

) root: There is something about dandelion that fills me with gratitude, and its root brings so much to a formula. It is bitter and almost sweet in flavor, and it acts as an alterative and cholagogue (Tierra, 1988). I hardly ever make a tonic formula without dandelion root. It's a powerful digestive tonic and liver protector (Easley & Horne, 2016), and it's a root that I will reach for over and over. 

Shatavari (

Asparagus racemosus

) root: Shatavari is another demulcent herb that can help balance the energetics of a root tonic. It also brings a nutritive and nourishing quality to the formula (Easley & Horne, 2016). Shatavari is known as having adaptogenic properties as well as reproductive tonic qualities. 

Ashwagandha (

Withania somnifera

) root: A gentle adaptogen, ashwagandha can calm nervousness, overwhelm, stress that leads to feeling burnt out, and anxiety (Tilgner, 2009). It is slightly warming and moistening with a mild flavor profile. If you have an allergy to nightshades, I would advise against using ashwagandha. Do not use if pregnant. 

Asian ginseng (

Panax ginseng

) root: Asian ginseng is a strong adaptogen that can support mental fog, weakness, fatigue, and mood; however, t should only be used short term and not exceeding 1-3 months before taking a break (Skenderi, 2003). 

Yellow dock (

Rumex crispus

) root: A bitter alterative that has an affinity for digestive disturbance with skin eruption and inflammation (Stansbury, 2018).

Many herbalists recommend using yellow dock moderately and for short-term periods, such as 2-3 weeks at most (Chevalier, 2007; Masé, 2013).
If you are using roots that tend towards drying, such as dandelion, it might be a good idea to add in a moistening root, such as shatavari or marshmallow, to help balance the moisture of the formula. This is important if you are making a formula you'll be drinking daily for a couple of weeks. You will also want to take into consideration the energetics of where you live, whether in a moist or dry climate.
Because of their polysaccharide content, roots can often have a semi-sweet flavor. The above roots also tend towards a bitter flavor and can combine to make a tonic reminiscent of coffee.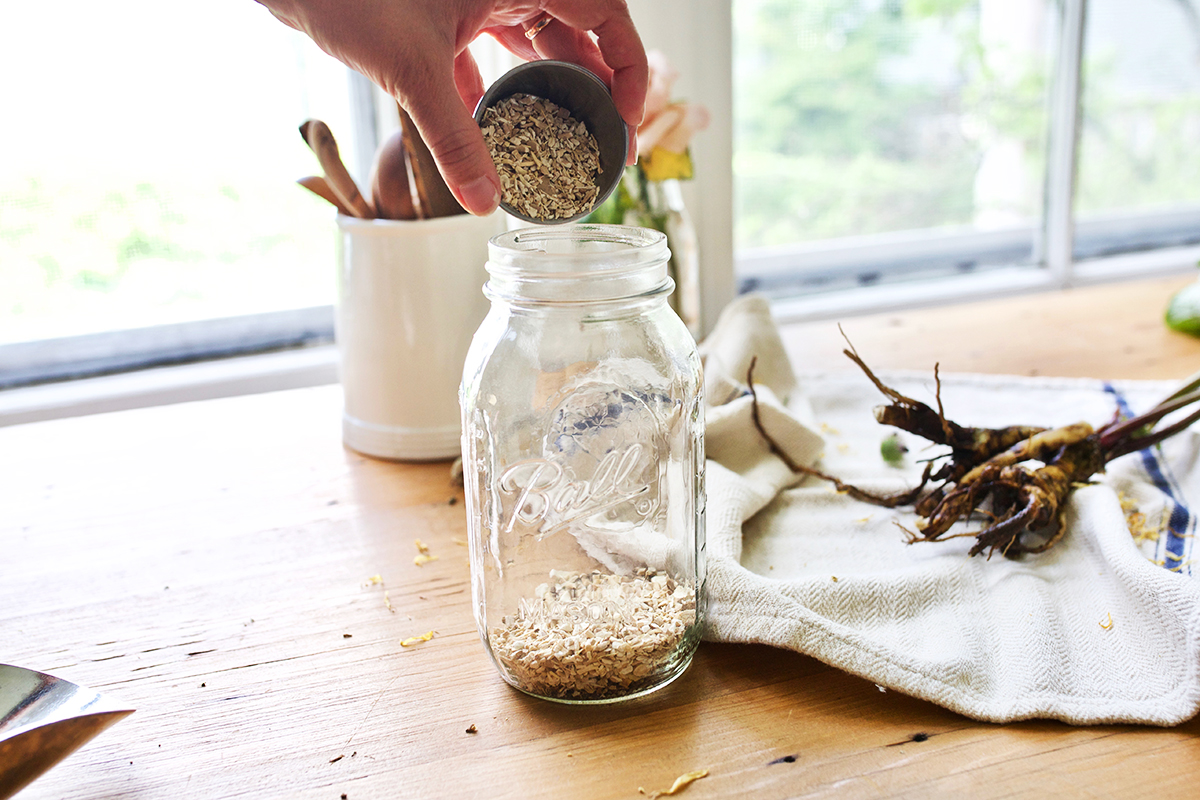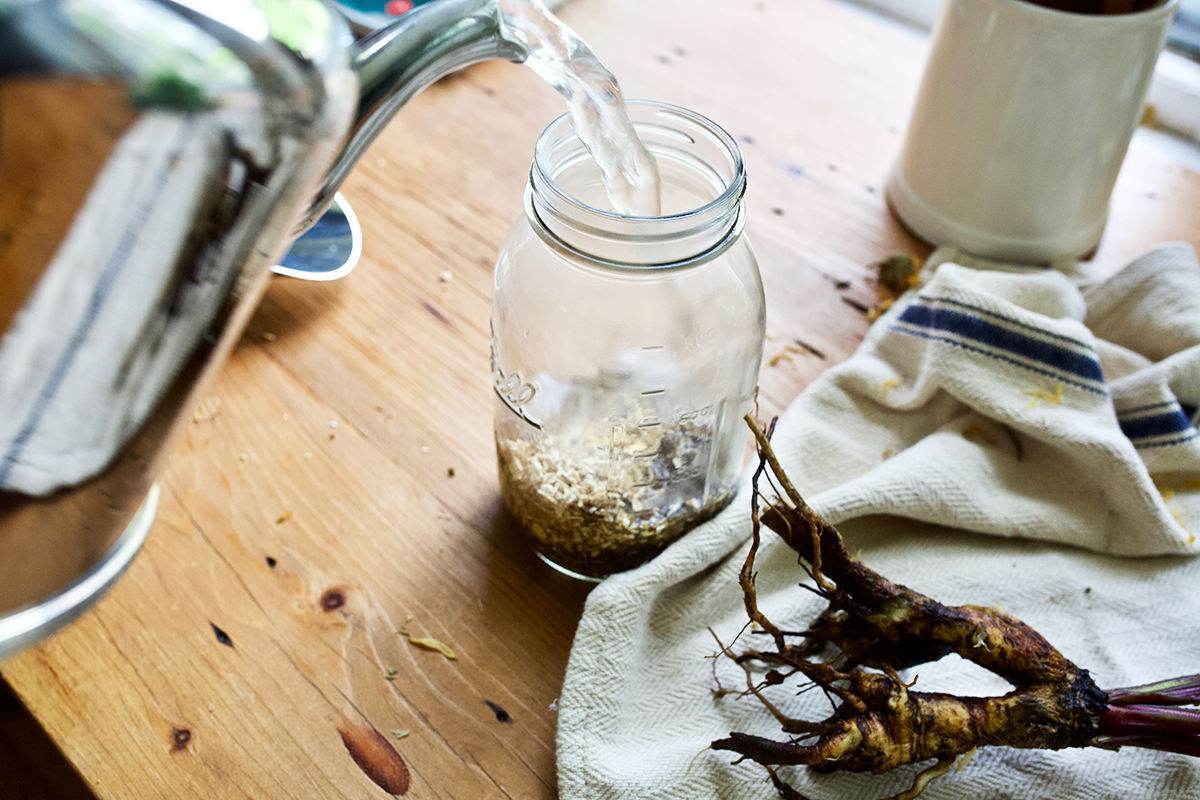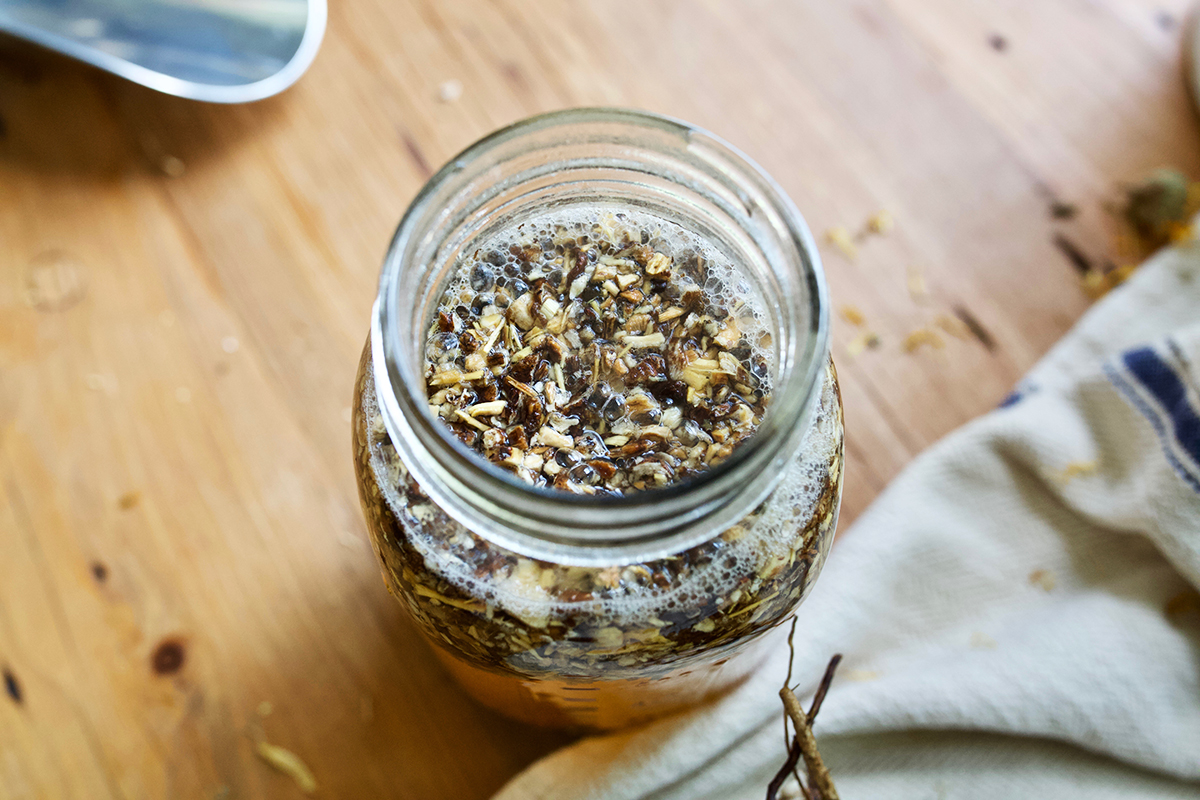 Autumn Root Tonic Triplet
For a simple triplet packed with nutritional, immune-supporting, and nourishing properties, consider making yourself a formula with dandelion, shatavari, and astragalus using the folk method. You may decoct or infuse these roots, but I might suggest, for easy peasy preparation, to make an overnight infusion. When you wake up, you can thank your past self, and enjoy! 
Ingredients
1 tablespoon dandelion (Taraxacum officinale) root
2 tablespoon shatavari (Asparagus racemosus) root
1 tablespoon astragalus (Astragalus membranaceus) root
Directions
Mix herbs together in a quart jar with a sealable lid. 

Fill a clean quart jar with just-boiled water and seal the lid. 

Label and store in a cool, dark place for 8 hours.

Strain and compost spent herbal roots. 

Drink throughout the day. 
Preparations
Once your autumn root tonic formula is complete, store it in a labeled glass container. When you are ready, you can use either of the following herbal preparations to prepare your tonic.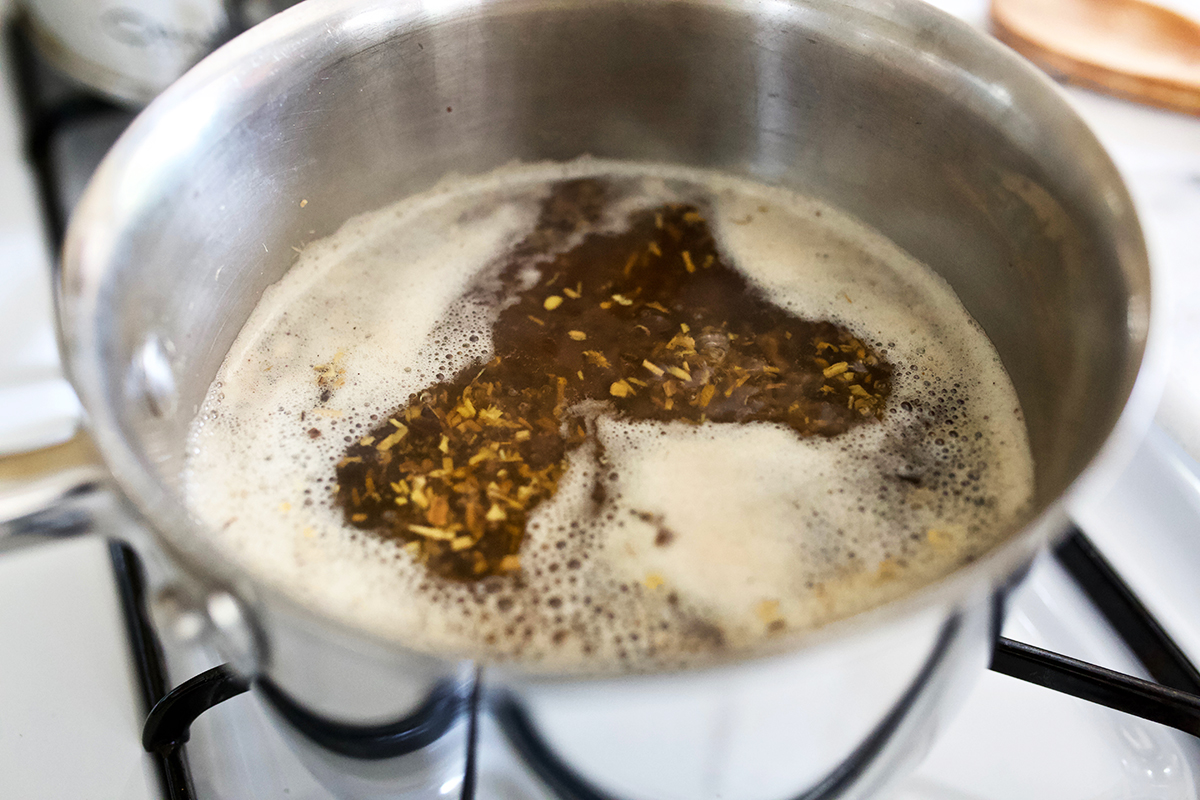 Decoction Method: The decoction method is a more hands-on way to extract active constituents from hardier plant parts such as roots, seeds, berries, and barks. Using water, the universal solvent, at a low simmer for 40 minutes will give you a strong, broth-like tonic. To make a basic decoction, take 28g of an herb or herbal formula (such as your autumn root tonic formula) and add 1 quart of spring water to a soup pot. You may also utilize a crockpot on warm with a similar outcome. Be sure to cover your preparation with a lid and allow it to come to a simmer. It can be made while you are making dinner or cleaning up after a meal so you can keep a close eye on it.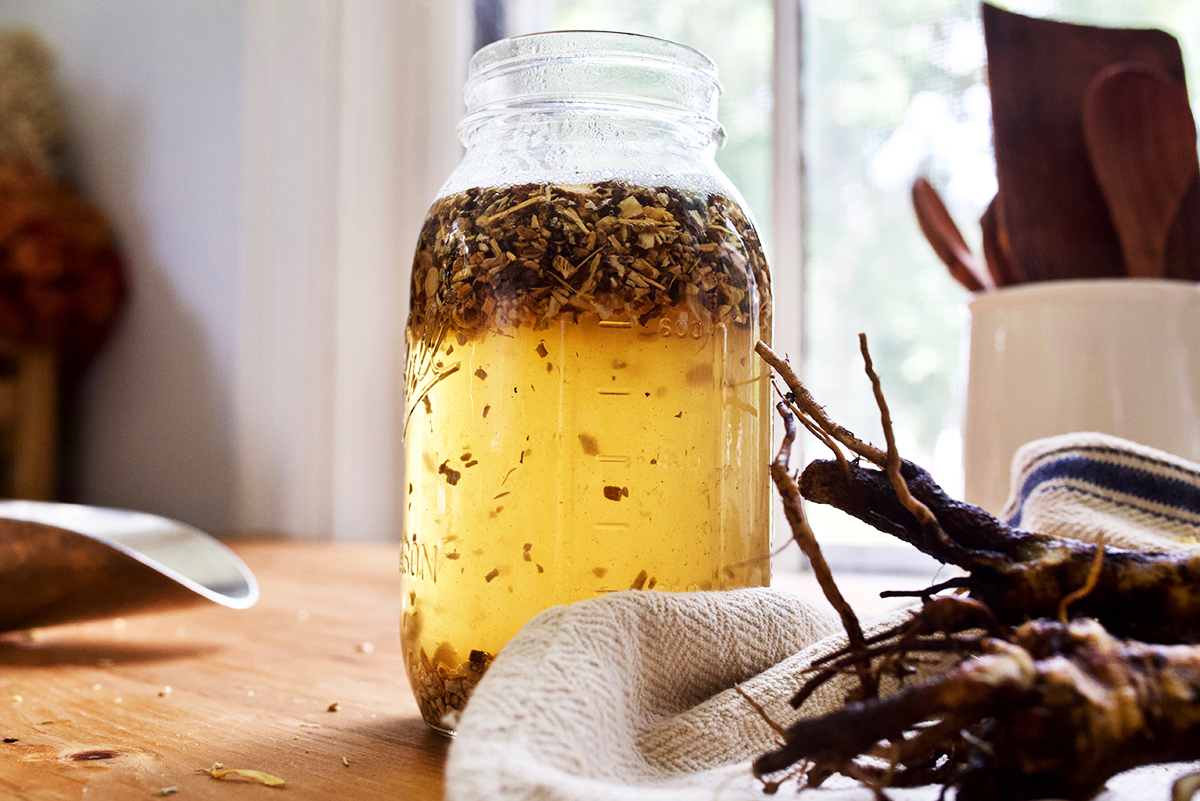 Overnight Infusion Method: The overnight infusion method is great for times when life is busy, hectic, and you need to set and forget your autumn tonic. Water-soluble constituents can be pulled out overnight, often around 8 hours or more, to create a strong overnight infusion. This lengthy infusion gives the roots (seeds, barks, and berries too!) time to macerate and produce a delicious autumn tonic. The next morning, you can strain your roots and enjoy your tonic at room temperature. You may also warm your tonic in a water bath. To add an extra bit of ease, a bombilla (a drinking straw traditionally used for mate) can replace the need to strain your herbs and the use of an extra vessel. 
I always recommend refrigerating unused tea up to 24-48 hours. 
The Season of Autumn
I hope this autumn season can bring you connection, vitality, and grounding. Transition can often feel unsettling but also exciting. The earth has an abundance even as the days begin to cool and plant growth slows. Utilizing herbal roots in an autumn root tonic is a great way to get to know the roots of plants you adore, or are curious about, and can also lead to many long-lasting wellness benefits and daily rituals. Happy root season to you all!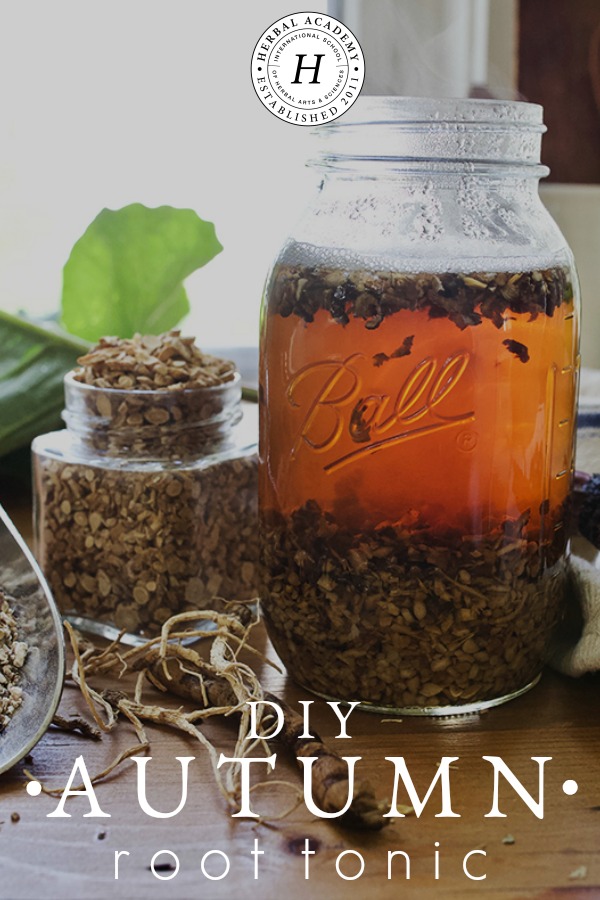 REFERENCES:
Chevalier, A. (2007). Herbal remedies. New York, NY: DK Publishing.
Easley, T., & Horne, S. (2016). The modern herbal dispensatory: A medicine-making guide. Berkeley, CA: North Atlantic Books. 
Masé, G. (2013). The wild medicine solution: Healing with aromatic, bitter, and tonic plants. Rochester, VT: Healing Arts Press.
Skenderi, G. (2003). Herbal vade mecum. Rutherford, NJ: Herbacy Press. 
Stansbury, J. (2018). Herbal formularies for health professionals: Volume 1 digestion and elimination. White River Junction, VT: Chelsea Green Publishing. 
Tierra, M. (1988). Planetary herbology. Twin Lakes, WI: Lotus Press. 
Tilgner, S. (2009). Herbal medicine: From the heart of the earth. Pleasant Hill, OR: Wise Acres LLC.