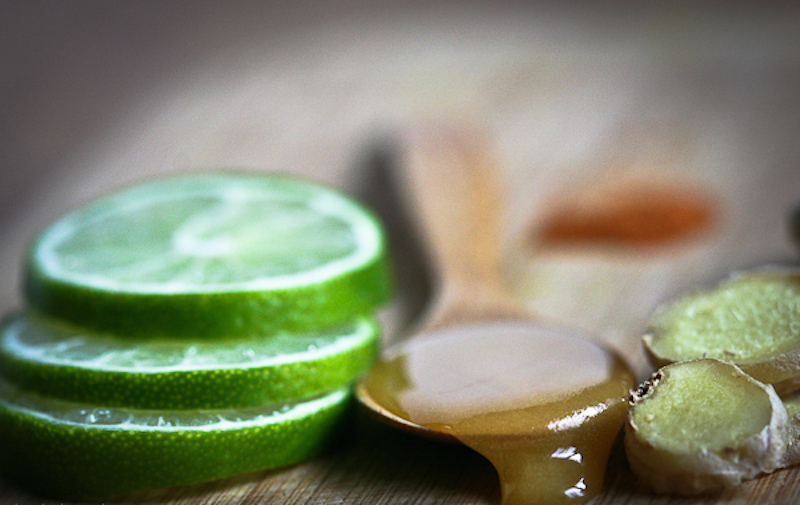 Three Reasons to Eat Ginger During Wintertime
What is it that pops into our minds when we associate ginger with the wintertime? Perhaps baking gingerbread people and gingerbread houses with gumdrop trim. But these uses barely scratch the surface of ginger's value during the coldest time of year.
As an herb, ginger's tongue-tingling zest can help us stay warm and healthy throughout the winter and is one of the most prominent staples of domestic remedies in a variety of different herbal traditions.
As ginger enthusiasts, we discuss ginger's attributes in more than a few units in our Online Intermediate Herbal Course. Indeed, there are innumerable uses for ginger at all times of the year, but here are three reasons why it will be of particular value in what has turned out to be a particularly harsh winter.
Reason #1: Ginger Aids Digestion

When we find ourselves in the midst of a cold, dark winter, we often seek to comfort ourselves with rich, heavy foods. This is of course indicated by the large fat-laden meals, creamy soups, and rich desserts we crave this time of year.
Like other carminatives, ginger is rich in aromatic volatile oils that ease digestion and soothe the wall of the GI tract, ease cramping in the intestines, reduce gut inflammation, and help expel gas from the digestive tract.
Especially when consumed after a meal, it can help our ability to digest with efficiency and help reverse the lethargy that often stems from indulgent eating.

Reason #2: Ginger Relieves Inflammation of the Throat
When we continually breathe in artificially produced heat and fight off an ongoing barrage of viral infections, we may find ourselves with an inflamed throat. Sore throats in the wintertime are as abundant as snowflakes. Ginger, as one of our Five Kitchen Herbs for Cold Season, is a time tested remedy for inflammation and wintertime sniffles.
Ginger can help reduce pain and swelling, and has even been applied externally to painful joints and those suffering from arthritis. (Holford, 2004) Taking powdered ginger with hot water and honey can be a source of comfort and restoration for the throat.
Reason #3: Ginger Helps Relieve Congestion
Just as ginger is a staple of herbal remedies, runny noses and other indications of congestion are staples of winter. In Ayurveda, ginger is used for kaphic conditions like congestion and runny noses. Ginger's antiviral actions include stimulating macrophage activity, preventing viruses from attaching to cell walls, and acting as a virucide. (Buhner, 2013) It's an all-around warming immunostimulant that is delicious and useful in daily teas in cold and flu season.
In his book Herbal Antivirals, Stephen Harrod Buhner provides a recipe for Fresh Ginger Juice Tea, which he recommends drinking 4-6 cups of daily when dealing with a virus. This spicy beverage made with ginger and cayenne is not for the faint of heart – it will warm you from your head to your toes! We like to make this as a blended drink at room temperature to preserve the antiseptic properties of the honey and add a touch of licorice for synergy and an extra antiviral kick. Here's our take on Buhner's recipe.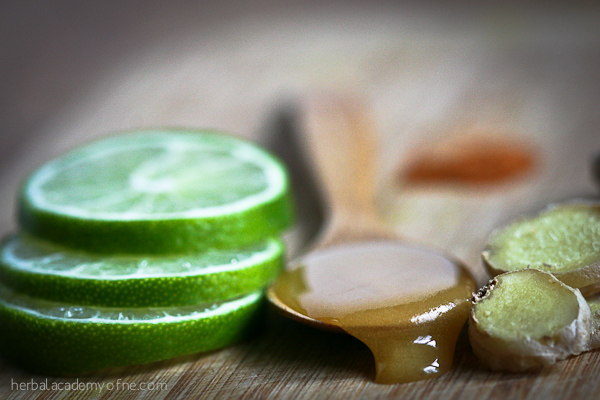 Spiced Ginger-Lime Juice
Adapted from Herbal Antivirals by
Stephen Harrod Buhner
Ingredients
A few thumb-sized pieces fresh ginger
6-8 ounces water
½ or one whole fresh lime, peeled and juiced
Raw wildflower honey, to taste
20-30 drops licorice tincture* (optional at 3x/day)
Tiniest pinch of cayenne
Directions
• Add water, lime juice, honey, and cayenne to blender.
• Blend on high until ginger is juiced and combined.
• Pour liquid through sieve to strain out fibrous material, squeezing down on sieve contents to extract all juice.
• Add licorice tincture if desired and drink!

Safety: Moderate use of ginger may help with morning sickness but large doses should be avoided by pregnant women. Ginger is an emmenagogue and may stimulate early or increased menstruation in some women. *Licorice should not be used at high doses for long periods and should be avoided by those with hypertension, pregnancy, hypokalemia, or hypernatremia.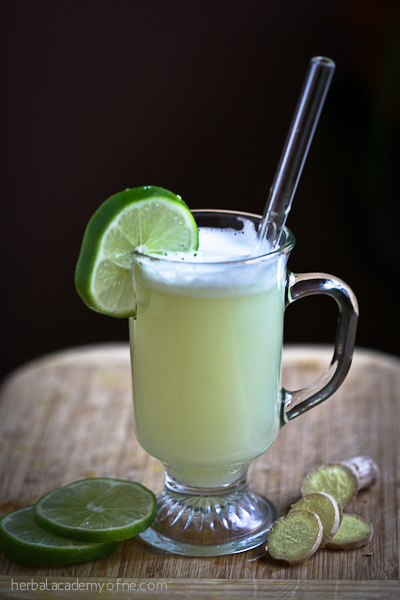 By incorporating ginger into your winter, you can combat the cold on the outside with warmth on the inside. Check out our page on Facebook page to trade tips and success stories with others about ginger!
REFERENCES
Buhner, Stephen Harrod. (2013). Herbal Antivirals. North Adams, MA: Storey Publishing
Holford, Patrick. (2004) The New Optimum Nutrition Bible. New York: Crossing Press.
Lad, Vasant. Ayurveda. (1984) Twin Lakes, WI: Lotus Press.