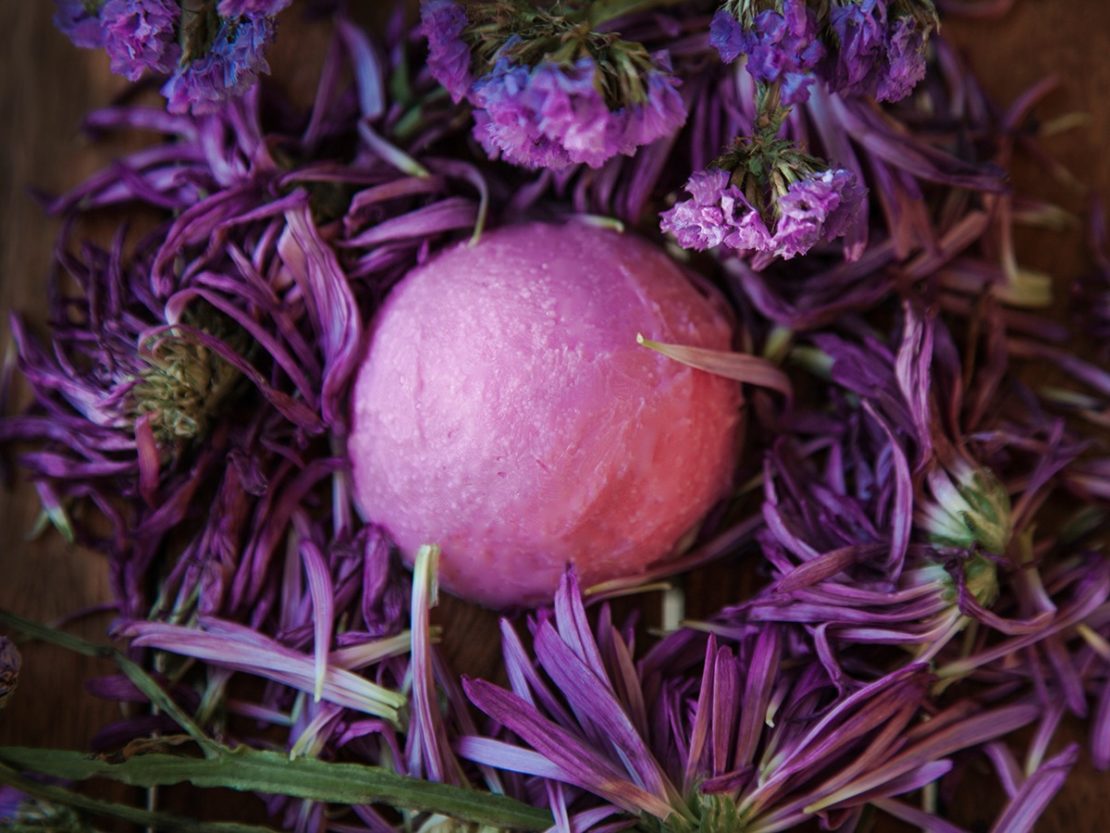 Student Share: Shaili Sutaria & Island Kiss
It is a joy to watch our students gain confidence as they explore their herbal studies. As teachers, we love to see the many ways our students take what they've learned and then go on to blossom on their own unique paths as herbalists.That's just one of the many reasons we love staying in touch with our graduates and hearing about where their herbal journeys take them!
We were thrilled to hear that one of our Intermediate Herbal Course graduates, Shaili Sutaria, is now an herbal entrepreneur with her own natural beauty company! Shaili's company, Island Kiss, offers a fun and flirty take on organic lip care.
Shaili recently shared a bit about herself when we had the chance to chat together about her journey to becoming an herbal entrepreneur. We think you will enjoy her unique story and adventurous spirit, and love the advice and philosophy she shared with us about life, business, and all things herbal.
Interview with Academy Student Shaili Sutaria
Herbal Academy: Please share with us a little about yourself! Where are you from originally?
Shaili Sutaria: I was born and brought up in Mumbai, India, but because I'm a wanderer at heart, I truly believe that I'm a world citizen. The only rule that has remained constant in my life has been to intuitively follow my heart. Being born in an independent urban household, I was ushered towards accomplishing my bachelor's in commerce, while my true interests lay in cinema.
I knew I had an entrepreneurial streak in me but I began to really fancy storytelling through visual mediums. I've pursued my passion endlessly for more than 15 years now, during which time I had the good fortune working for many renowned film-makers, studying at the Los Angeles Film School, and returning only to combine my creative and commercial skills to start my very own animation house in the heart of Mumbai, known by the name of Griphin.
Herbal Academy: You recently got married and moved to Goa, is that correct? What are some interesting things about the herbal and organic scene in Goa?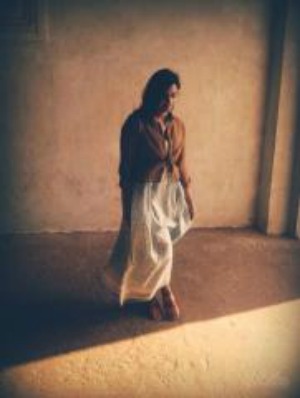 Shaili Sutaria: We had some idea that moving to Goa was going to play such a crucial part in healing, inspiring, and growing us every day. Though the decision was a conscious one, we only realized the power of being closer to nature as we began to experience it. The idea was to move to a small town that's uncluttered and not as industrialized as larger cities are. There is no need to undo human actions here. Thus far, everything is natural and unadulterated hence primarily organic. For the past several centuries, farmers in Goa have based their agriculture practices on a biodiversity-rich inheritance that is extremely rare for so small an area.  This inheritance is reflected in the varieties of mango, legumes, rices, coconut, kokum and even some vegetables like brinjal and of course, flowers.
The palm trees, golden beaches, and the sultry sun are just a few everyday realities one can enjoy as a Goan! The natural floran and fauna, thick tropical vegetation and wide varieties of herbs naturally growing here allows our creativity to flourish. A simple walk down the beach inspires and motivates us to explore the depth of the tropical fauna, giving birth to extraordinary ideas! Thus it seemed a natural fit to start our life in Goa: a place of sun, sand, and flowers.
Herbal Academy: Your first love is film and animation, and your first entrepreneurial venture was founding an animation studio. What got you started on the path of herbalism? Was there anything in particular that inspired you to pursue an herbal education?
Shaili Sutaria: Pursuing one's ambition in today's world means dealing with extreme competitiveness, looooong hours at work, a terrible lifestyle obsessed with achieving, and eventual isolation from regeneration. I got so busy achieving that I stopped naturally growing or learning. I was 'reacting' constantly but hardly 'acting' on my own accord. That's when I decided I might want to go back to living, giving, growing and nurturing others.
When one finally takes a step back to observe their self-obsessed lifestyle, they may realize they have completely isolated themselves from the elements of the planet they live on.
It's funny how the dots do connect…in spite of scoring terribly in science through school, I always found myself in one corner of the chemistry and botany lab, mostly mixing together stuff I had no idea about and ending up with holes in my lab coat. I was simply fascinated by the magic of the unknown reaction. Now that I actually want to go back to learning and regenerating I've decided to study what ingredients one could put together to heal rather than destroy…. and thus my new found obsession towards herbalism.
Herbal Academy: As a graduate of the Intermediate Herbal Course, will you share a little about how you've used what you learned in class? How did your herbal studies help you as you developed Island Kiss?  
Shaili Sutaria: They say when you've made up your mind to pursue your destiny, the entire universe conspires to make it come true. Shortly upon discovering the gigantic world of herbalism and gauging its vast depth, I certainly felt intimidated. Just as I was beginning to lose my way, my husband discovered The Herbal Academy (at the time, HANE) and gifted the course to me for my birthday. It has certainly been the most enlightening gift I have ever received. It is true – what you seek, seeks you. I really want to take this opportunity, to thank HANE for its wonderful course offerings. From the moment I started the course, I became consumed.
The simplicity with which concepts were explained and the beautiful photos and videos inspired me to set up my own herbal kitchen far off in Mumbai. My teachers were an email away and I constantly bounced ideas off of them. They always came up with wonderful solutions. I learned all about essential oils, infused honey, infused oils, tinctures, herbal teas (my fav!) and various herbs. Around then I had also taken up gardening and started to simply study the various benefits of different flowers/vegetable/medicinal herbs with thorough fascination. My husband and I had our mutual interests & had been heavily invested in the health industry. We had studied and were well informed of the organic industry; organic farming and food cultivation were our commercial interests. HANE played a critical part in altering my possibilities. When I started to come across lessons structured towards making your own herbal beauty products, I knew we had struck gold! I could just feel it.
I was making my own lip balm with some locally grown avocado one afternoon in Kodaikanal when it hit us! I have tried many lip care solutions, but none gave me what I wanted from the product. Using my knowledge and interest in nature therapy I wanted to create a lip care product that embodies the progressive woman, rooted in her traditional values, yet global in her voice.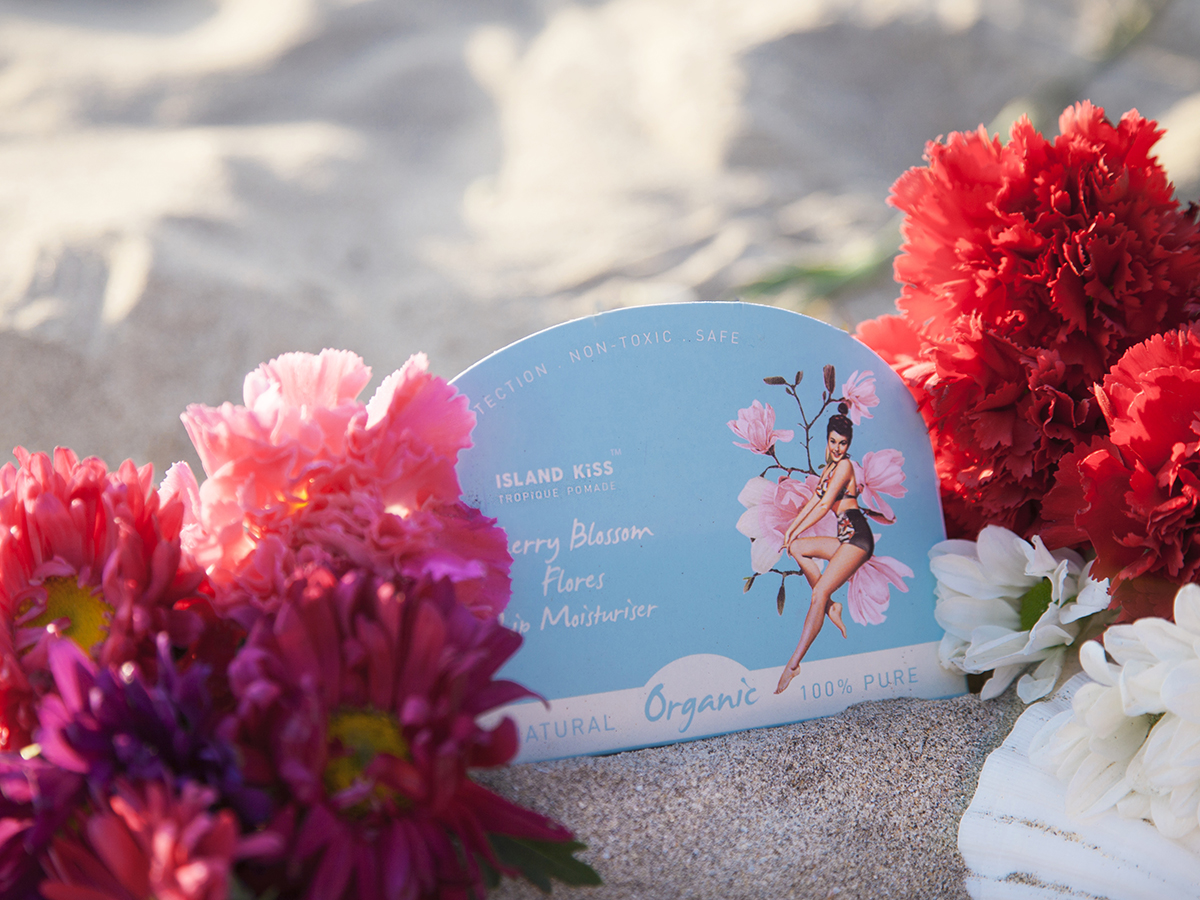 Herbal Academy: Your branding is so fun and flirty! How did you come up with the idea for Island Kiss?
Shaili Sutaria: Since I'm from India, I've been privy to a lot of herbal and ayurvedic medicine. It's deeply entrenched in our culture and so I've seen how Indians have experienced a lot of herbal brands that stay true to their stereotypical identity and thus are perceived as out-dated.
My Western influences allowed me to understand that light, flirty, and fun packaging allows one to adopt the brand as their own. Yet sometimes there is a feeling of impurity attached to cosmetics. We saw a need gap in the industry here and we felt the need to walk the path of 'responsible expressionism' as we have come to understand it.
While the desire is to add expression to the world, we want to ensure that our actions harm nothing. Siddhartha, my husband (who is named after Lord Buddha), and I are firm believers of Mahavira. So we are now channeling our life's learnings, values, and beliefs to create a brand true to our philosophy. We thought of what healing expressive women required the most and it came to us instantly that every woman's lips should be empowered.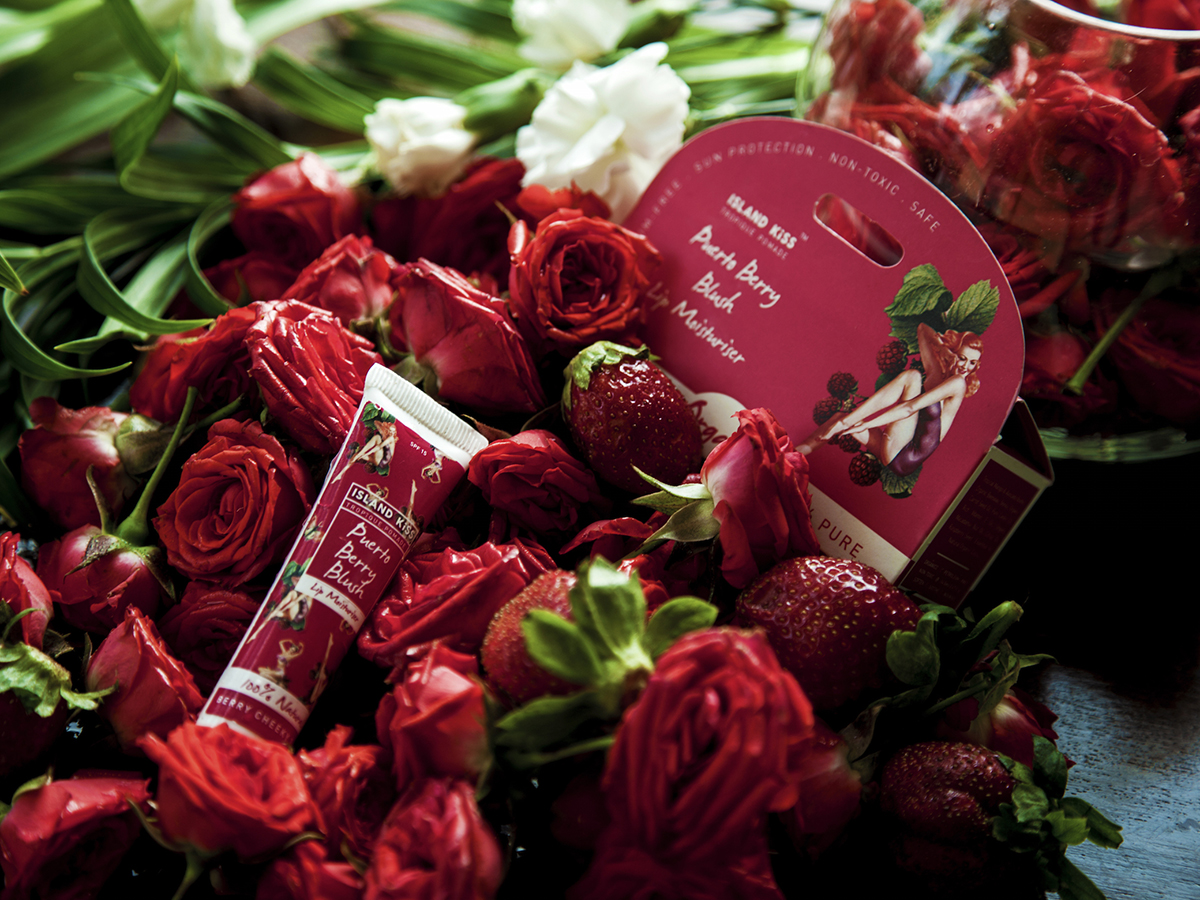 Herbal Academy: You describe your lip balms as being 100% sassy, 100% natural, and 100% pure. Will you share with us a little about why you chose your ingredients? Your company even has its own avocado farm, is that correct?
Shaili Sutaria: Since our ethos at Island Kiss is to add a hint of freshness to our otherwise routine lives, we decided to stick as far as possible to all elements tropical, whether it be the ingredients, the packaging, the branding or the writing…and of course, the first sort of thing to take care of was the formulation. As we began to study different herbs that could be a part of Island Kiss we came across a lot of commonly used ingredients such as shea butter, cocoa butter, almond oil, and castor oil, and also a lot of hazardous ingredients such as petrolatum, camphor (which actually irritates the lips), salicylic acid, sulfates, phthalates, parabens . . . the list goes on. We could hardly see any magic there and put them on our No-No List!
As mentioned earlier I simply used a little avocado butter on face and lips one afternoon in Kodaikanal, at our own avocado plantations when I realized that avocado seems to be doing the trick and that's when my attention turned to other fruits that create butter. We read about kokum and mango butter and realized that we had a lovely formulation in place, with little else required to help the lips absolutely heal. It was purely experimental at first and a lovely discovery. Then all we had to do was spell out the truth about being sassy, pure, and natural, merely by the choice of ingredients we had chosen.
Herbal Academy: What do you feel has been your greatest accomplishment so far with Island Kiss?
Shaili Sutaria: We wanted to create a lip care product that embodies the progressive woman, rooted in her traditional values, yet global in her voice. We wanted to make products that care for women deeply and use natural ingredients of the highest quality. We don't compromise on this considering the heavily toxic world we live in.
As I found myself getting deeply entrenched in travel and natural therapy, I looked at what healing women required the most, and voila! What had been a bigger revolution than speech? What does that speech require? LIPS! I resolved that every woman's lips must be empowered. With this revelation, for the first time I really felt that our idea had met its purpose. We were not rebels without a cause.
We are raw, bold, daring and believe in absolutely no nasties – strictly no petroleum, parabens, phthalates, sulphates or anything artificial on your lips! Only stuff that is edible and safe if ingested.
(Editor's Note: you can read more about Shaili's lip balms and all natural ingredients on her website at http://www.myislandkiss.com/ )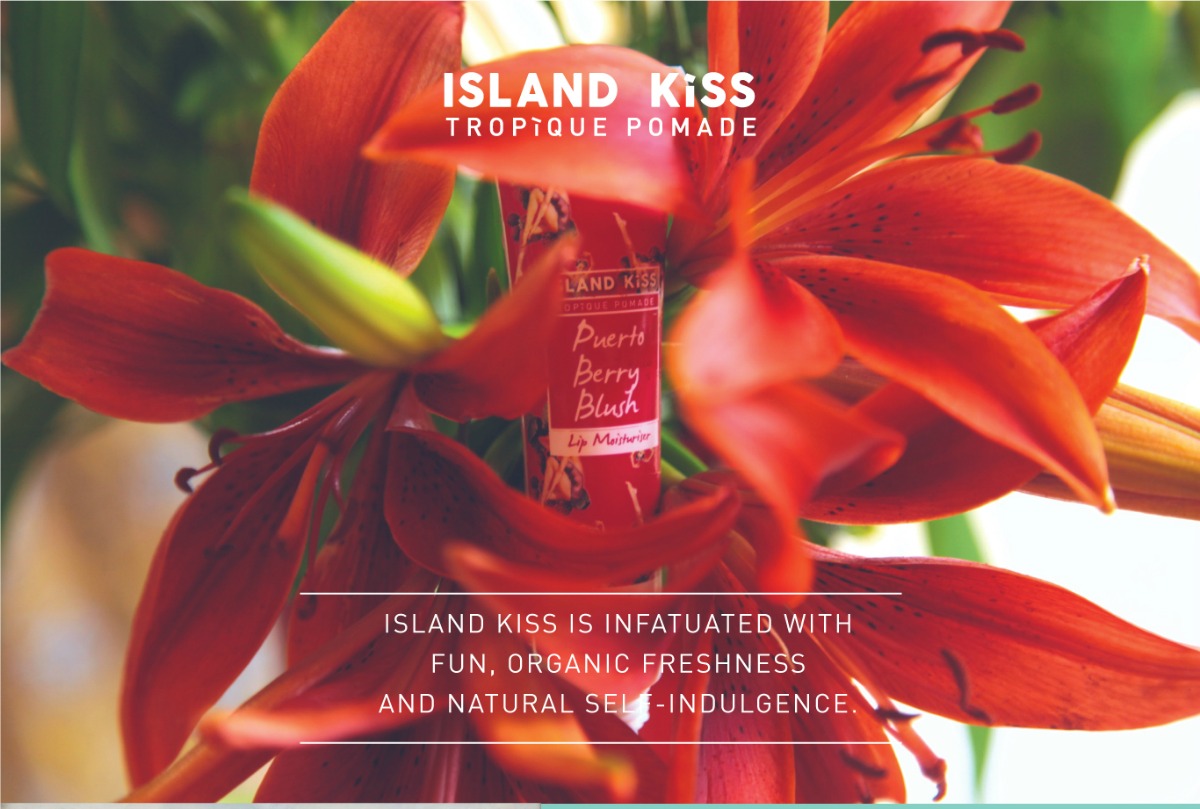 Herbal Academy: What has been the biggest struggle while launching your product line? You chose to keep your business very small and grow a little at a time rather than seek outside investment for your startup. What are the advantages and drawbacks to this strategy?
Shaili Sutaria: The challenges I faced were how to communicate my vision to our suppliers. I tend to be a stickler for details and it was hard to convince our suppliers to do something different since we didn't have the huge minimum order sizes to make their production runs profitable.
It became a dual edged sword, i.e., having to convince them of the highest quality of supplies and yet at a price which doesn't break the bank. It resulted in numerous delays and our launch got delayed by a further 8 months, but I was determined that I would wait rather than compromise on any facet of the brand.
While we could have easily sought external investors, it could have been dangerous for the brand. To ensure implementation and control of the philosophies that were to shape the brand it needed to be contained initially until it was built correctly. While this technique may take time, it assured us a strong foundation going forward. While one should welcome the advice of seasoned investors, you always want to retain the option of rejecting it.
Herbal Academy: Your 2016 collection has three fun lip moisturizers: Puerto Berry Blush, Cherry Blossom Flores, and Alma Vanilla and Lavender. Do you have a personal favorite?
Shaili Sutaria: Well it's hard to choose a favorite because we tried to ensure that the three flavors have their own unique characteristics and can be used for their own purposes. For example, the Alma Vanilla and Inges Lavender has every herbalist's favorite herb (lavender!). Its wonderful de-stressing properties instantly allow one to relax and that's why we maintained this as the nude shade. It's great to wear this at night for wonderful dreams and to wake up to soft lips in the morning.
The cherry blossom, on the other hand, has fresh decadence and lightness. It lends itself towards spirited, blooming day wear.
The Puerto Berry Blush is rather ravenous, made with the pure essence of raspberry seed oil that is rich in color and has a high SPF. Its coloring properties are extremely addictive and allow one to put on a rather bold personality.
Tell me how could I possible choose!?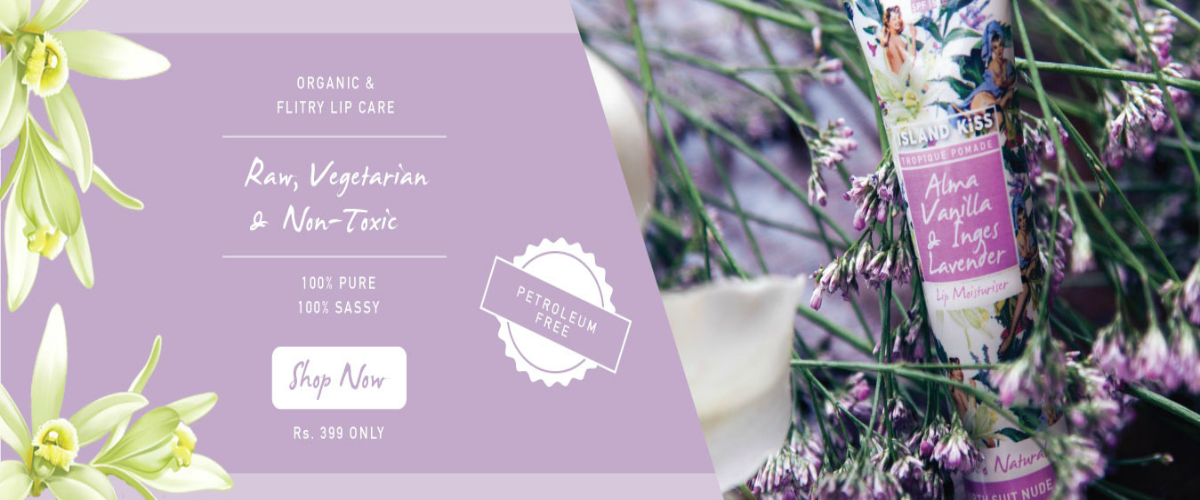 Herbal Academy: You have a fun, inspiring quote on your website that says "If you know where you come from. . . you can go anywhere!"  Do you have any tips for herbal students interested in pursuing their own product lines?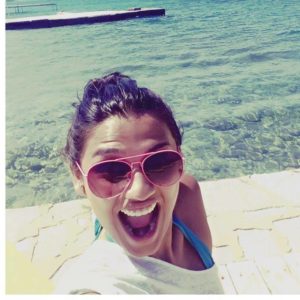 Shaili Sutaria: I distinctly remember the first day I turned actively toward herbalism. It was at the local Starbucks coffee shop. You know how they have coffee beans out for display and the aroma hits you right from the door, instantly drawing you towards it? I dipped my hand into the sack and pulled out a few beans, touched them, smelled them, crushed them, chewed them. They were bitter-haha, I was clearly having a bit of a moment there! But in that instant, I felt awakened. I felt purpose.
I had a massive flashback from my school days right then. I used to water all the plants in the school garden and made lovely flower pot arrangements. I just missed the feeling of playing with mud, of soaking my hands in it and enjoying its warmth. Life had taken me very far away from my childhood love and in this moment I was drawn back to it like a duck to water.
I sat down with my coffee and opened a book on herb gardening and I haven't stopped reading, learning, and practicing herbalism since. Somewhere along the way, I happened to form Island Kiss. As much as I'm enjoying the outcome, it is the journey that has really made me wealthy and prosperous. I do hope we can all feel the love we have to give in our hearts and pursue it until we have given birth, nurtured, and cared for other living beings. What goes around, certainly comes around and thus the rest will all fall into place."
We wish you the best of luck with your new company, Shaili, and hope that you continue to enjoy your herbal journey to its fullest!
If you are a current student or graduate with us at the Herbal Academy, we hope that you will stay in touch with us via the #MyHerbalStudies communities on Facebook and Instagram and let us know how your own herbal journey is going from time to time.