Prepare for Fall with an Herbal Transition Kit
Late August is a time of transition, as summer is drawing to a close and a new school year begins. We know that many herbs are important allies during transitions, easing the stress and helping us settle into new routines.
Creating an Herbal Transition Kit
With that in mind, we can assemble an herbal transition kit to assist us during the change of seasons. The following remedies are meant to support both mental and physical health, as stress and illness often go hand-in-hand. This herb kit makes a wonderful gift for teachers as they begin a new year of important work in our communities, or homeschooling mothers who are preparing to do that same work in their own homes. It is also good for any parent to keep on hand as they guide their children into new routines. The items in this kit can also support anyone starting a new job, or taking on new responsibilities.

Calm Evening Tea Blend
This tea can help someone unwind in the evening. Tulsi is an herb that is well loved for its adaptogenic properties, which can help us adjust more easily to challenging situations. Chamomile, a gentle and relaxing nervine, can assist us in calming our minds so that we sleep more easily. And nettle offers support in this blend through its nutritive qualities, giving our bodies vital nutrients such as magnesium and calcium.
Calm Evening Tea Blend
Ingredients
1 part dried tulsi (holy basil)
2 parts chamomile
1 part nettle
Directions
Mix all three herbs together and store in a glass jar.
To brew, place one tablespoon of the tea in a tea ball or other strainer, and pour hot water over it.
Add a bit of honey if desired, and take comfort in an evening ritual of soothing tea.

Sore Muscle Balm
Following the instructions found here, make a simple salve with goldenrod and arnica. This balm can be gently massaged into tired, achy muscles.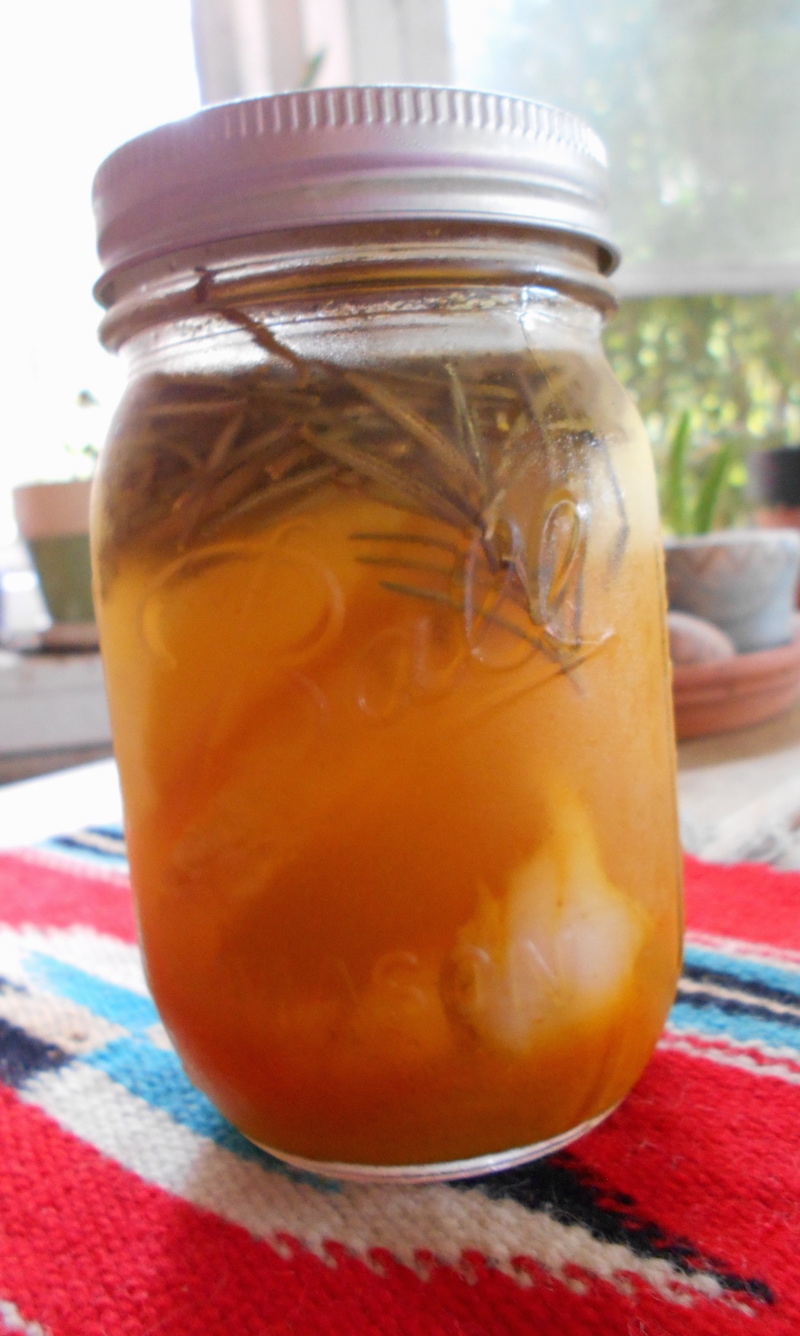 Fire Cider
This traditional remedy popularized by Rosemary Gladstar is a nourishing way to fend off common illnesses that go around through fall and winter, and restore health more quickly if we do get sick. There are many different recipes circulating, and it is easy to make your own custom mixture based on your health needs. I like to chop onion, garlic, ginger, hot pepper, and lemon as my basic recipe, then I add other herbs depending on what I have. Turmeric, astragalus, rosemary, cinnamon, and black pepper are all nice additions.
Fill a jar with your chosen ingredients, and pour apple cider vinegar over them. Close the jar and set it aside for at least 6 weeks. Some herbalist leave it out at room temperature, I prefer to put it in the fridge as my climate tends to be hot and humid, even in autumn. After 6 weeks, strain the mixture, and discard herbs (I compost them). Pour liquid into a clean jar and add raw honey to taste. This can be taken by the tablespoon daily as an immune support, or taken several times per day if illness occurs.
Elderberry Syrup
The antiviral properties of elderberry make it a perfect choice for supporting wellness at the beginning of autumn. Follow the simple instructions found here to make your own.
This herbal transition kit can make a wonderful herbal gift basket if you plan to share it with someone else. If you have made them for yourself, they will be valuable additions to your home apothecary. With just a few simple recipes we can promote wellness in our homes as we say goodbye to summer.