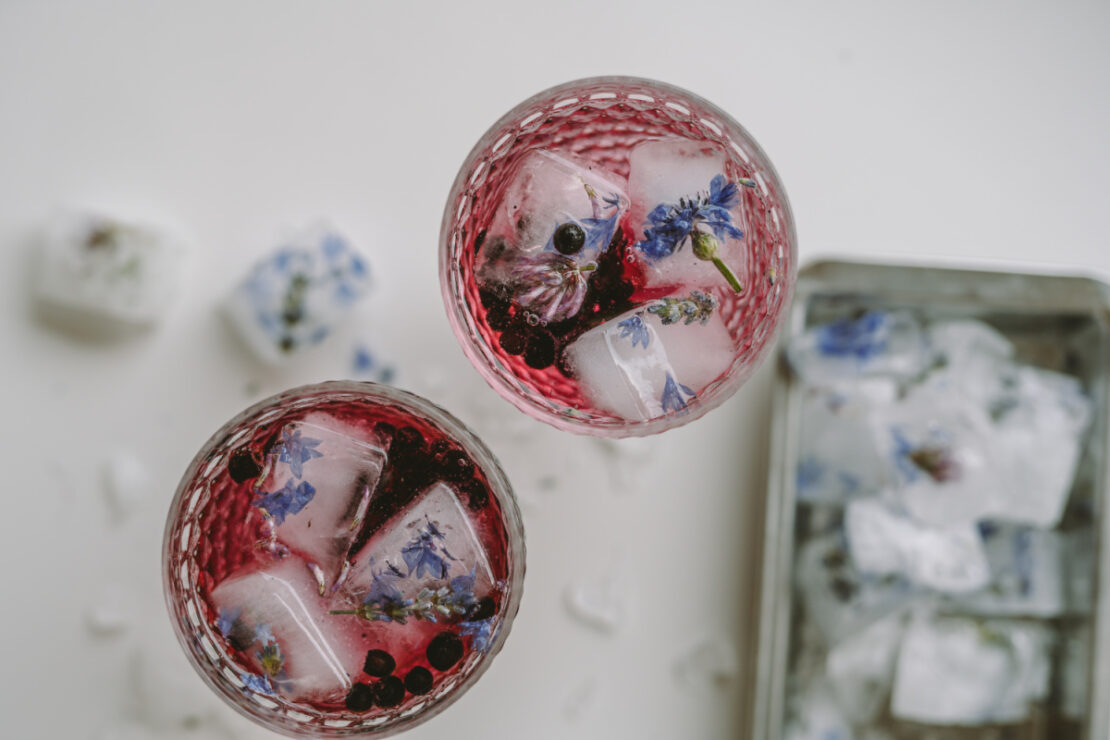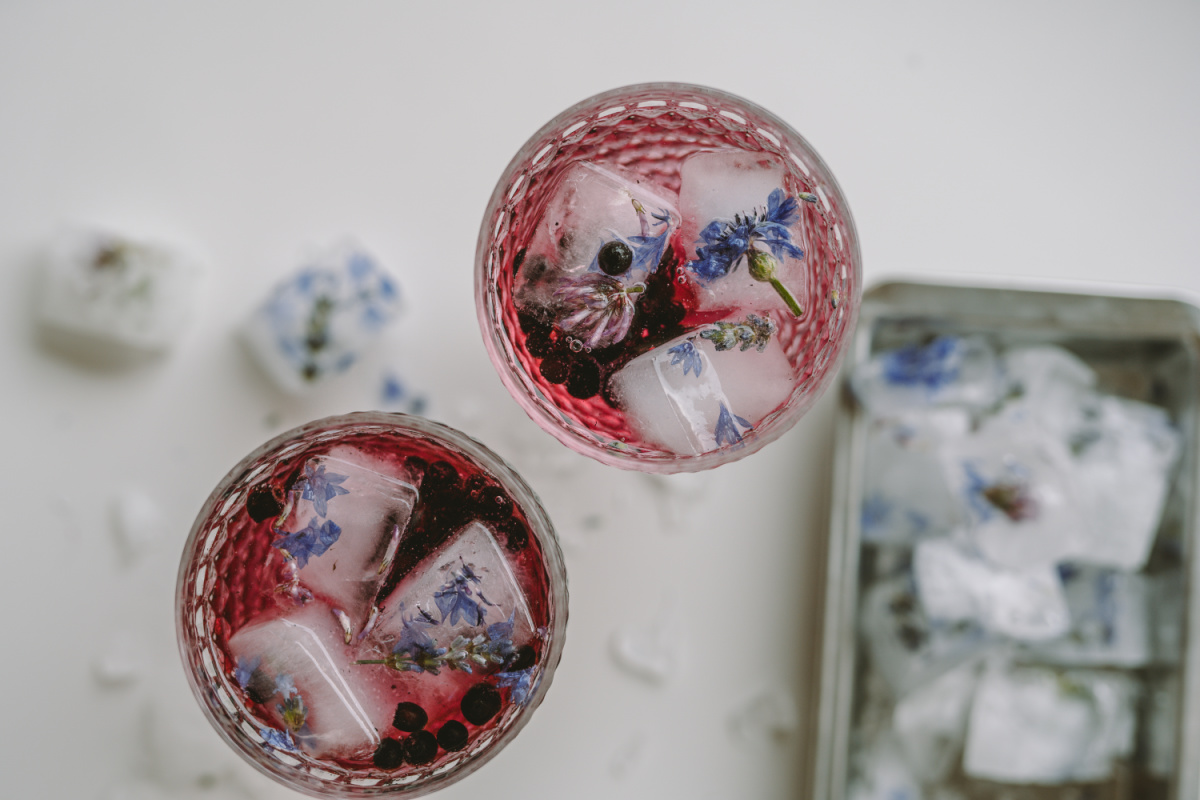 How to Use Flower Petals in 5 Creative Ways
The last weeks of summer are here and nature continues to provide an abundance of gifts. Blossoms are not only beautiful and fragrant, but we can also use them in a variety of ways. Each blossom has a specific effect and can be used for a range of purposes. To inspire you to take advantage of the endless uses of flower petals, let's explore how to use flower petals in five creative ways.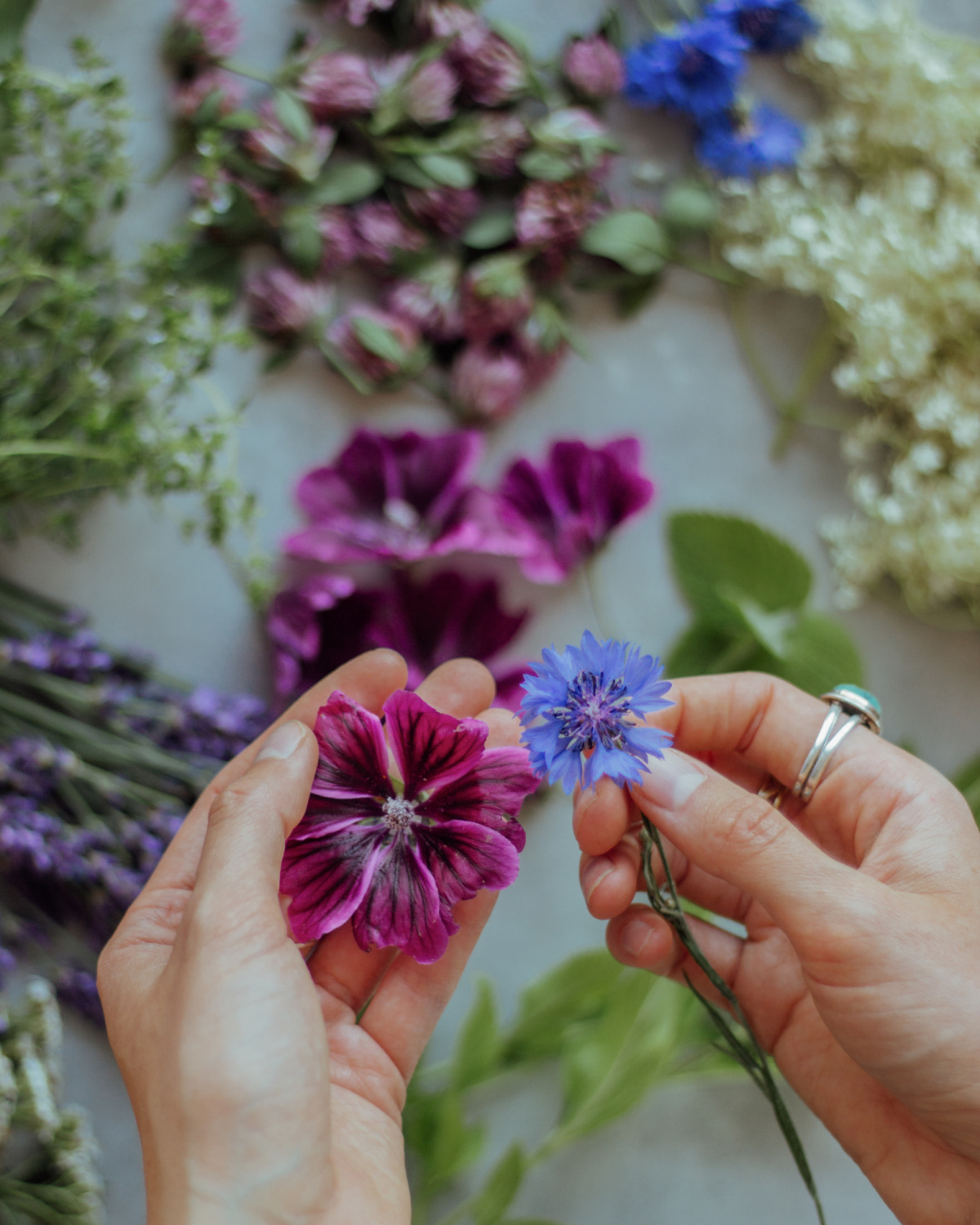 Flower Petals Enrich your Day
Edible flowers bring not only a variety of colors but also flavors to your dishes. Many blossoms contain minerals and vitamins in addition to specific beneficial plant substances—powerful ingredients to support body, mind, and soul. Allow yourself flexibility and creativity when you use flowers and flower petals in your daily recipes. There are endless possibilities for ways to enjoy them.
Always make sure the flowers you are picking are identified correctly and are edible; if in doubt, do not harvest. You can find some favorite edible flowers here and here! Your own garden, balcony, or windowsill, in addition to areas where wild foraging is permitted and land use is known and free of environmental impacts, may be the optimal environment to harvest flower petals, as they are somewhat protected from environmental factors such as pesticide and herbicide use. 
Those who suffer from hay fever and allergies must be careful when collecting and eating flowers. To be on the safe side, begin by tasting tiny amounts of the petals which have been washed free from pollen and then wait to see if a reaction occurs.
Flower petals can serve to complement an assortment of dishes, such as salads, soups, pastries, and many more. The taste and aesthetics of any dish sprinkled with edible flower petals are enhanced, as is the well-being of its lucky consumer.
Here are a few creative ideas for using edible flower blossoms: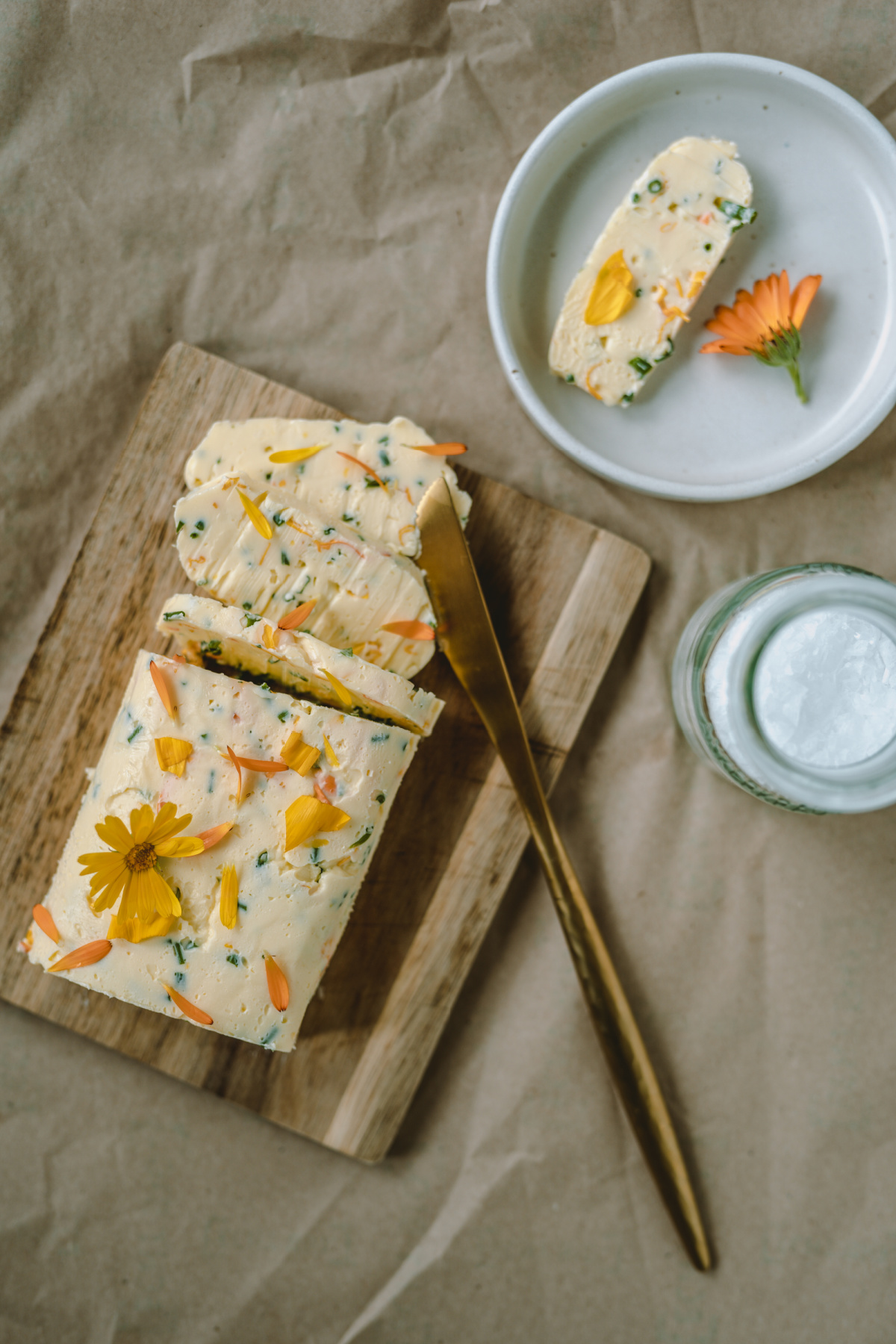 Blossom Butter
For this recipe, you can use any edible flowers you like. When choosing seasonal flowers, your blossom butter tastes and looks a little different each time you make it, depending on the season. The other ingredients are also variable. With an addition of chopped chives, capers, dried tomatoes, mustard, chili sauce, lemon zest, and freshly ground spices such as nutmeg and coriander, you can always enjoy new variations. Everything gets lightly preserved by the butter. The blossom butter will keep in the refrigerator for about a week.
Blossom butter is made very easily and quickly by mixing a handful of edible flowers with a piece of room-temperature warm butter, some grated lemon zest, and salt. The finished butter can be spread in a butter dish and then refrigerated. You can also cover a piece of parchment paper with dry petals and then spread the butter on it and form the paper into a roll, then chill and slice before serving.
My favorite combination is calendula (Calendula officinalis) and sunflower (Helianthus annuus) petals with chives, carrot greens, lemon zest, and some flaky mountain salt. 
Other great herb choices include red clover (Trifolium pratense) blossom, wild mustard (Sinapis arvensis) flower, nasturtium (Nasturtium officinale), locust tree (Ceratonia siliqua) flowers, violets (Viola), etc.
Blossom Butter
Blossom butter is made very easily and quickly by mixing a handful of edible flowers with a piece of room-temperature warm butter, some grated lemon zest, and salt.
Ingredients
1 cup unsalted organic grass-fed butter (at room temperature)
¼ cup fresh herbs and blossoms of choice
1 teaspoon salt of choice
zest of ½ lemon
1 tablespoon fresh lemon juice 
Directions
Rinse and dry your chosen herbs and blossoms. Then finely cut or pluck them into smaller pieces.
In a large bowl, combine the herbs and blossoms with the soft butter, salt, lemon zest, and juice, using a spatula or spoon.
Transfer the mixed butter into a butter dish or onto a sheet of parchment paper. If choosing the parchment paper, roll up to form a cylinder. Twist both ends tight and refrigerate for at least one hour. The butter is ready to serve when cold and solid.
Butter will last in the refrigerator for about a week.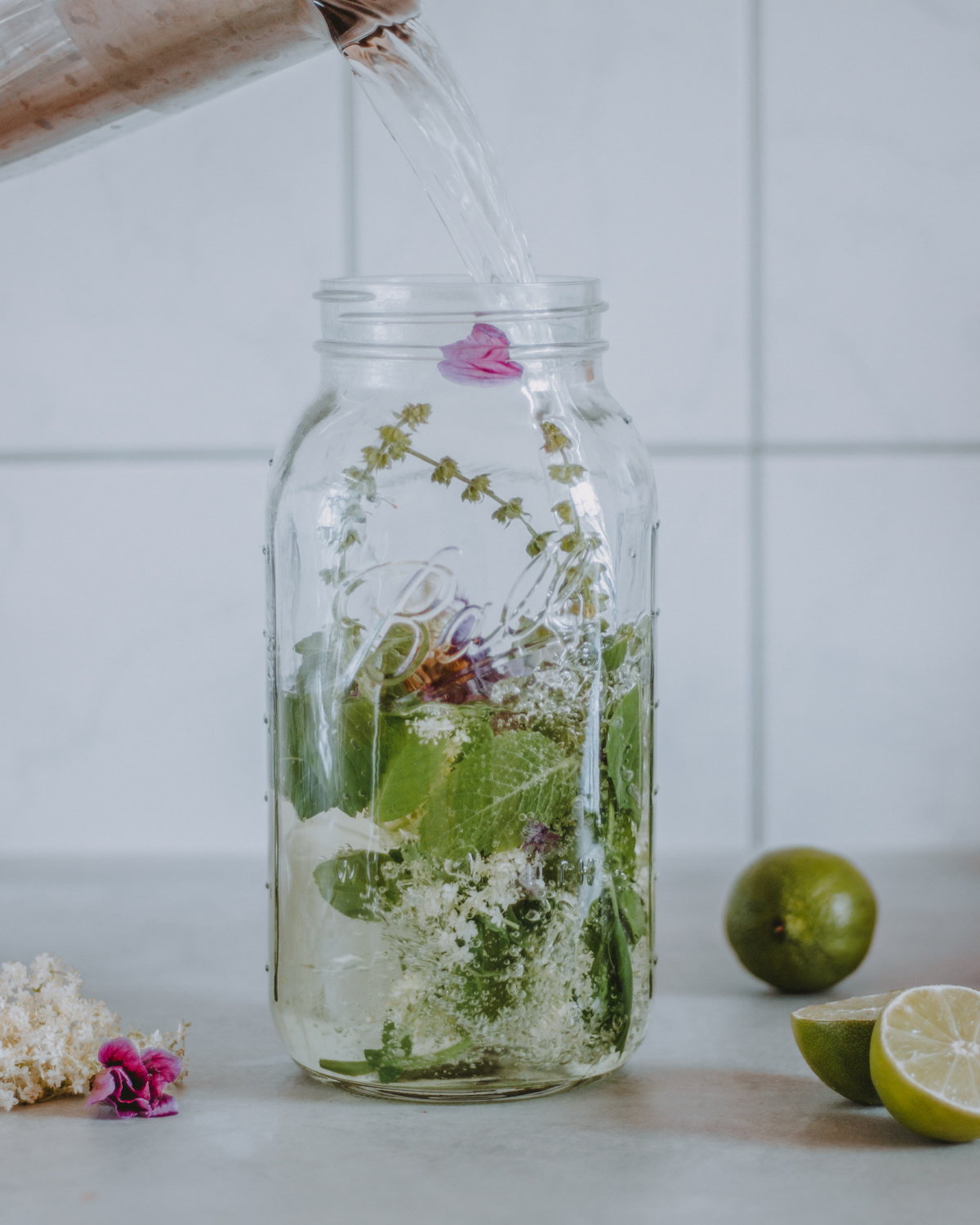 Flower Drinks
To toast the arrival of the warmer months and the beauty of summer, all the beautiful edible flowers can be used for cooling and delicious iced teas, kombucha, lemonade, and more! Simply using some sparkling water or herbal infusions and combining it with syrups, lemon juice, and a few vibrant blossoms such as lavender (Lavandula angustifolia) or Mallow (Malva) can easily create an unforgettable summer beverage.
Flower Drink
Your beautiful, edible flowers can be used for delicious iced teas, kombucha, lemonade, and more!
Ingredients
2 cups sparkling water or cooled herbal infusion
2 tablespoons of herbal syrup or oxymel of choice
Juice of 1 lemon
½ cup fresh blossoms of choice 
Directions
Combine the sparkling water or herbal infusion in a large pitcher or jar with your chosen syrup or oxymel, lemon juice, and fresh blossoms.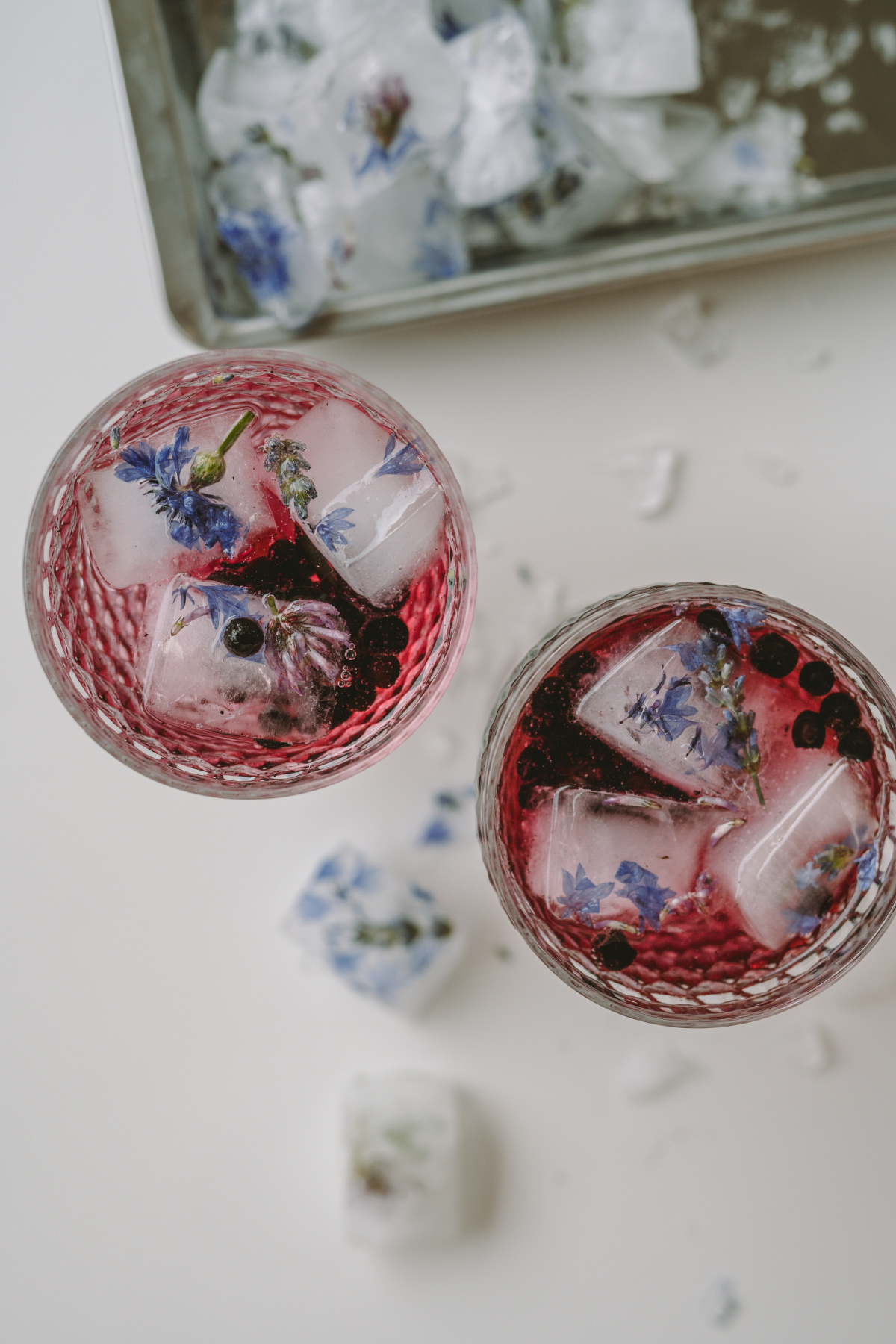 Floral Ice Cubes
On a hot summer day, cold drinks are essential. Adding floral ice cubes to even a simple drink or a plain glass of water turns your refreshment of choice into something special. And the best part: if the ice cubes melt, you can eat the flowers! Rose petals (Rosa), lavender (Lavandula angustifolia), red clover (Trifolium pratense), or any edible flowers and herbs you like can be used here. You can keep it simple, or get fancy with a recipe like these Lime and Flower Ice Cubes. 
Tip: The cubes will be nice and clear if you use boiled water to make them. So just heat the water a few times in the kettle, let it cool down, and freeze it while it's still lukewarm (but not too warm to harm the blossoms).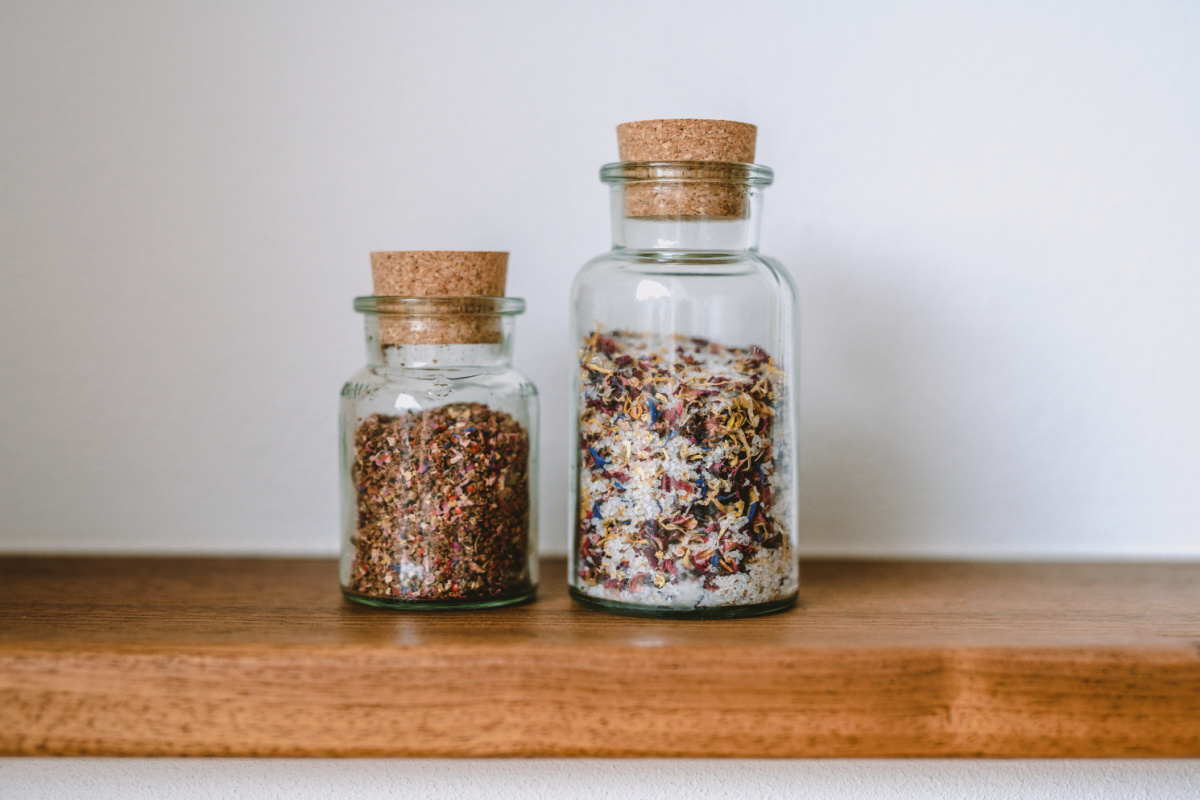 Flower Salts, Sugars, & Topping Blends
The lovely smell of blossoms can be stored in your spice drawer by infusing flowers into salt and sugar or creating herbal-blossom spice blends. The magic happens while the blended mixture is stored in your pantry. Your dried herbs' oils and flavoring elements will be absorbed by the salt or sugar and will later be the perfect finishing sprinkle to round out any dish, especially desserts.
You can start with a basic rose salt that pairs wonderfully with chocolate desserts such as brownies. Over time you can add other dried flowers to suit your preferences. Once you get going, you might develop into a master mixer of herb-infused salt recipes!
Herbal Salt & Sugars
Your dried herbs' flavoring elements can be combined with salt or sugar as the perfect finishing sprinkle to round out any dish.
Ingredients
1 cup salt or sugar of choice
4 tablespoons dried blossoms of choice 
Directions
Combine the salt or sugar with the dried blossoms in a jar and shake or stir well to combine.
Cover airtight and let infuse for at least a week.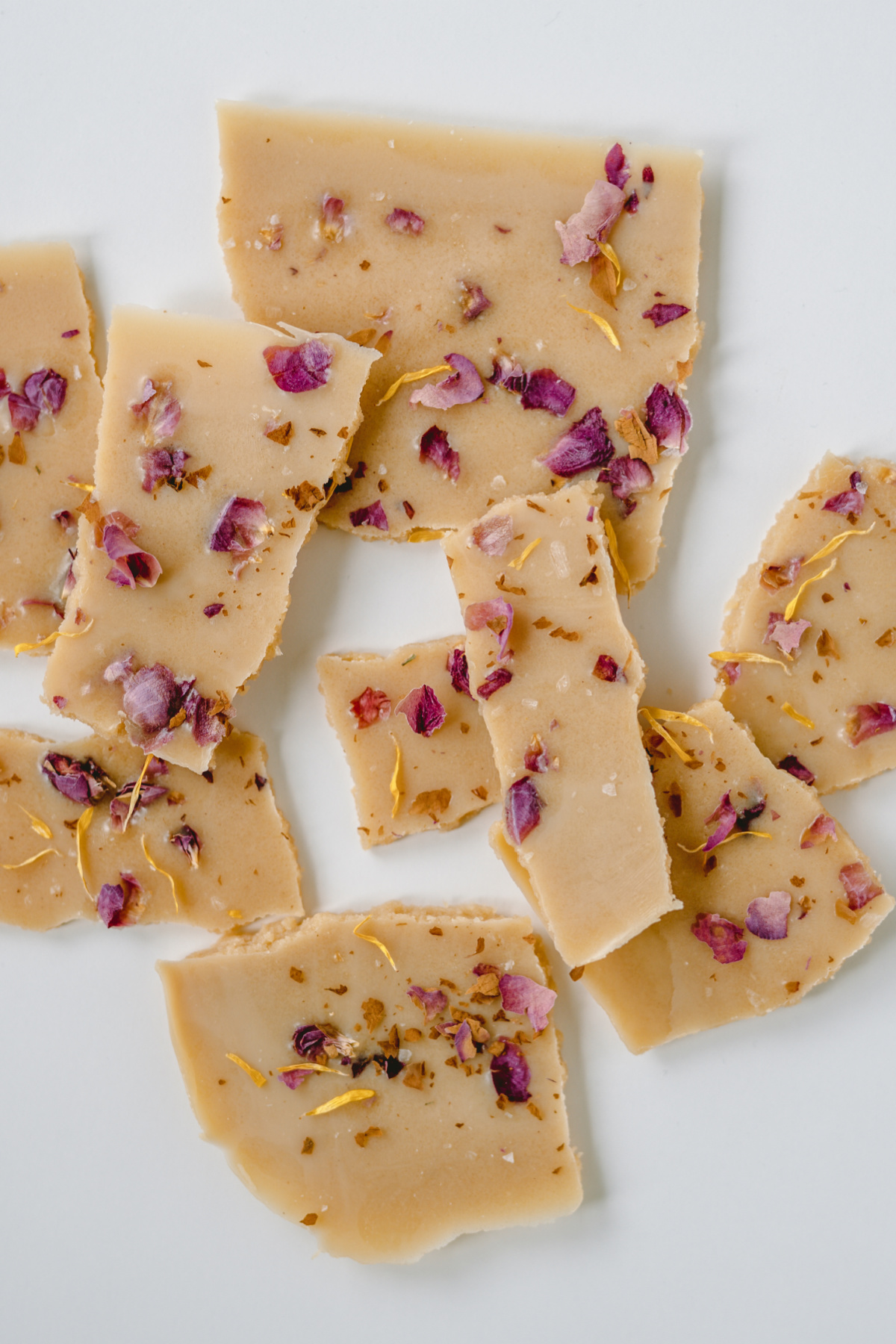 Floral Chocolate Bars
Floral Chocolate Bars
Something so beautiful as a floral chocolate bar can be surprisingly simple to make.
Ingredients
100 g cocoa butter
3-4 tablespoons maple syrup
¼ teaspoon vanilla
2 tablespoon raw cacao powder (optional)
1 tablespoon dried blossoms of choice
½ teaspoon bee pollen (optional)
a pinch of flaky salt 
Directions
To make the floral chocolate, slowly melt the cocoa butter into small pieces in a water bath at a low temperature.
All other desired ingredients such as maple syrup, spices, and cocoa powder can then be thoroughly stirred into the melted cocoa butter. 
The chocolate mixture can simply be spread on a baking sheet lined with parchment paper and sprinkled with lots of colorful dried edible flower petals and a pinch of salt. After about 2 hours in the refrigerator, the chocolate is solid and can be broken into pieces for gifting or serving.
In Closing: Embracing the Blooming Season
These floral preparations are not only a way to embrace the summer season, but also make wonderful gifts. Pair them with your favorite herbalism book and a potted herb for a fun present to inspire your friends and family on their journeys to loving herbs as much as you do.