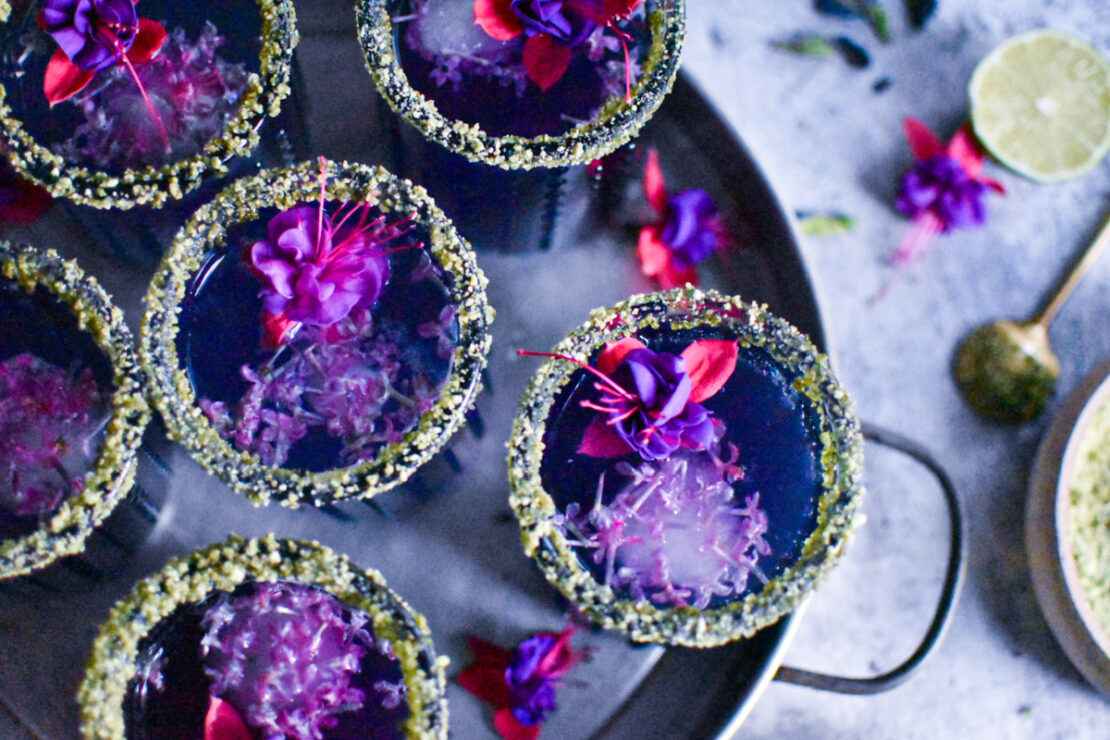 How to Make Butterfly Pea Flower Syrup For a Botanical Drink With Lime and Lilac Ice Cubes
Butterfly pea (Clitoria ternatea) flower is an indigo-blue, vibrant bloom that imparts its signature hue into food and drinks, turning them a variety of shades from blue to fuchsia. I have been endlessly inspired by the unique color in my cooking and beverage preparations. This prolific vining plant can be used in teas, desserts, savory dishes, and even sparkling blue butterfly pea flower syrup. Butterfly pea flower is endemic to tropical areas and thrives in hot and humid conditions, but can be grown all over the world.  
Butterfly Pea Flower: Into the Wild Blue 
Blue is one of the rarest colors in nature for an edible plant or flower. Blueberries or blackberries are sometimes the only blue foods we might find available for sale. In a typical grocery store in the Western world, and in an average Western diet, a large portion of the food consumed is a bland white, tan, or brown in color. Naturally-colored blue and purple-hued foods are a desirable and uncommon treat. The tides are changing, though, and the popularity of ingredients like butterfly pea flowers is growing exponentially. 
Why Add Blue and Purple Foods To Our Diet?
Aside from the aesthetic appeal, blue foods in general, and butterfly pea flowers specifically, typically contain large amounts of antioxidants from anthocyanins, which are the compounds that give them their trademark vibrant hue. Anthocyanins may support cardiovascular health, and they are known to have anti-inflammatory properties (Oguis et al., 2019).
Butterfly pea flower is newer to the mainstream Western world, but this amazing plant has been used traditionally as a beneficial flower for many years in Ayurvedic, Chinese, and Thai Traditional Medicine, among other traditions, to support the whole person both physically and mentally. It has been used historically as an aphrodisiac, as a neuroprotective herb, and as an adaptogen, supporting an increase in energy and potentially soothing stress responses in the body (Oguis et al., 2019). Note that butterfly pea flower may be contraindicated during pregnancy or lactation so consult your healthcare practitioner or an experienced herbalist before consuming.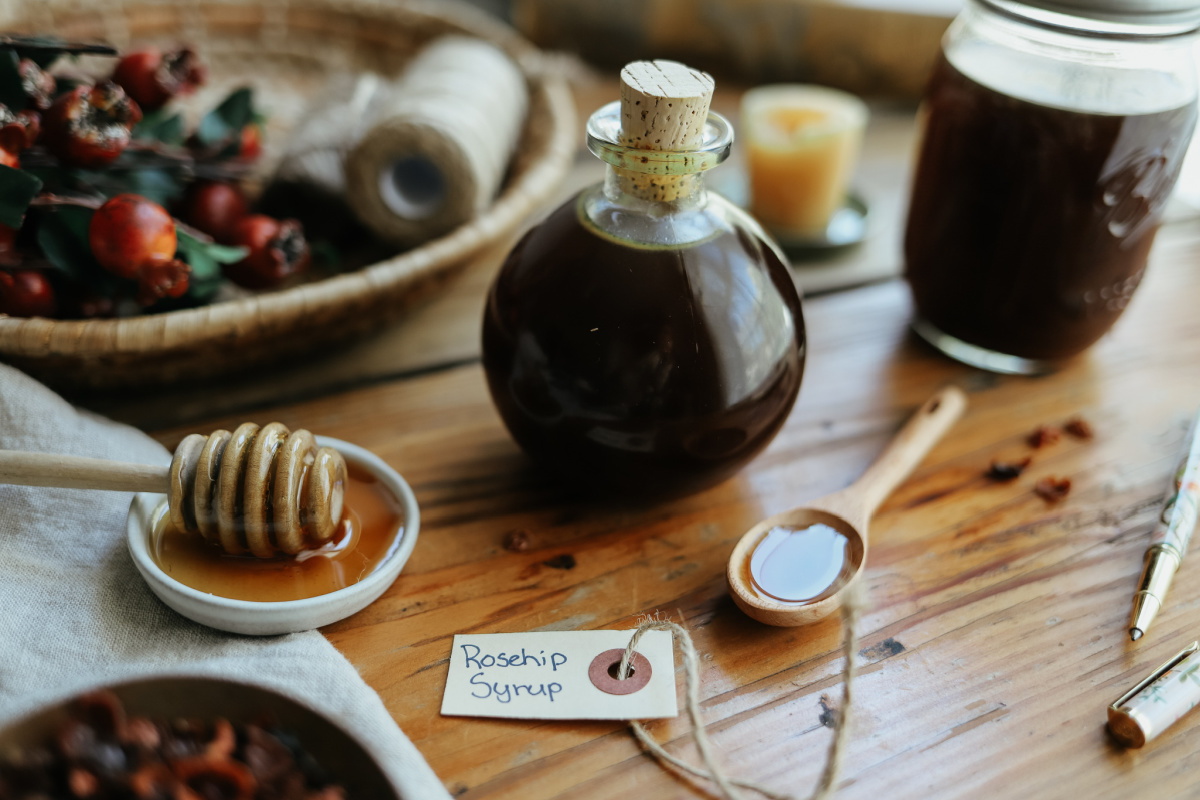 A World of Herbal Syrups
As soon as the weather begins to warm up, my drink preference turns from hot teas and spiced, creamy beverages, to sparkling mocktails or cocktails and fresh herbal sun teas. After a day of working, foraging, or weeding the garden, sitting outside with a sparkling and colorful drink is a dreamy way to end the day. 
Floral syrups have a long history of use in drinks, herbal preparations, and desserts. For example, granitas are a frozen treat from Sicily that was originally composed of wild rose petal syrup and snow from the top of the active volcano, Mt. Etna (Morelli, 2019).
Rose (Rosa spp.) hip syrup is used for its remarkably high vitamin C content (Barlow, 1941). Elderberry (Sambucus spp.) syrups are well known as a potential herbal support during times of immune challenges, and we have likely all had a dose or two of some kind of herb-infused cough syrup, a modern twist on an ancient remedy. 
Herbal syrups are also one of the many ways you can preserve a foraged or garden harvest, as they can be frozen and thawed for use throughout the winter. One of my favorite winter treats is collecting snow and drizzling a thawed flower syrup over the top.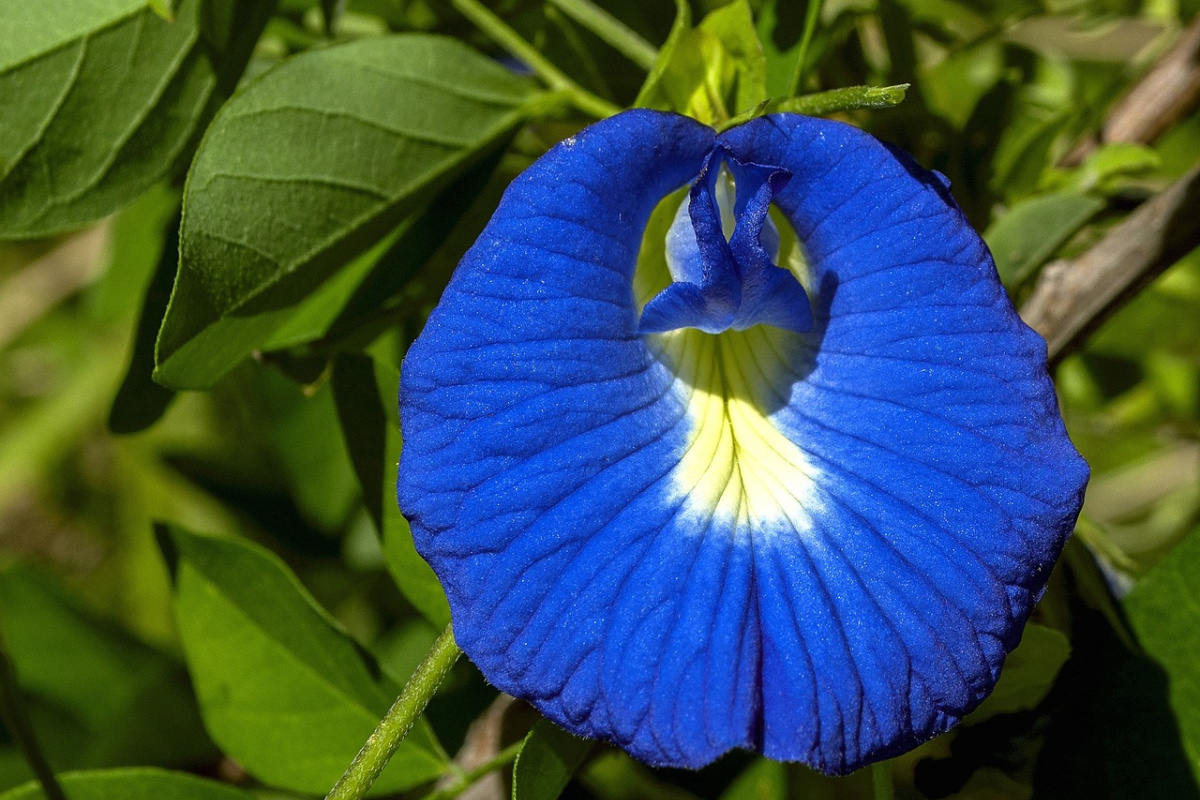 Make Your Own Butterfly Pea Flower Herbal Syrup
A beloved summer recipe of mine is this bright blue butterfly pea flower herbal syrup that only requires three ingredients and a few minutes of your time. It is the perfect component to have on hand for delicious cocktails, mocktails, or sparkling summer drinks. 
Butterfly pea flower syrup is so simple to make, and is a mild-flavored, brilliantly colored addition to drinks, sauces, and desserts. Balanced here with lime juice and lilac (Syringa vulgaris) or violet (Viola spp.) ice cubes and a rim of mint sugar or salt, a butterfly pea flower mocktail is a perfect drink to enjoy at the summer sunsets. 
Butterfly pea flowers turn hot water a deep indigo blue, but that color will change to violet or even a magenta pink if the pH of the water is altered with something acidic like lime or lemon juice. Tonic water and hibiscus flowers will change the color to a red-violet. Similar to hydrangea flowers reacting to pH levels in the soil, butterfly pea flowers react to acidic compounds. I have experimented with making butterfly pea flower syrup with honey, and it does not get as deep blue as when made with sugar, but rather reacts with the honey and turns a violet color. It is still beautiful and a great alternative to sugar, if you want to give it a try. 
Butterfly Pea Flower Syrup
Ingredients
½ cup water
½ cup raw cane sugar
3 tablespoons dried butterfly pea (Clitorea ternatea) flowers or 1 tablespoon butterfly pea flower powder
Directions
Warm the water over low heat and add the butterfly pea flowers. Bring to a near boil and turn down the heat, stirring in the sugar until dissolved. Remove the pan from the heat and cover with a lid.  
Steep for at least 20 minutes. 
Strain the liquid into a bottle, squeezing the butterfly pea flowers to get all the pigment out. 
Label your bottle and use 1-2 teaspoons of this liquid to add flavor and color to 8-10 fl oz of sparkling water.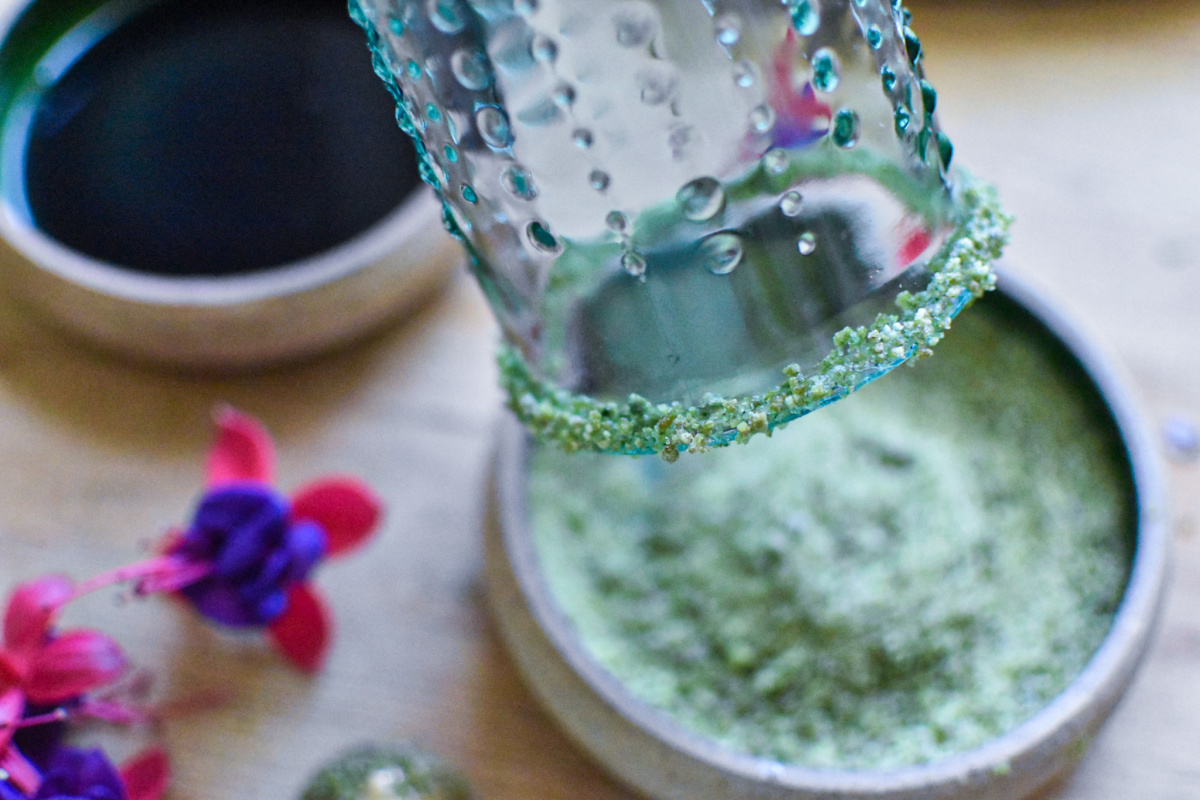 Mint Sugar or Salt Rim
Ingredients
3 tablespoons raw cane sugar, salt, or monkfruit granulated sweetener
3 tablespoons fresh mint (Mentha spp.) leaves
Directions
Blend the sugar and fresh mint leaves in a coffee grinder or a spice grinder. Scoop the mixture out onto a small plate. 
To make a rimmed glass, add a small amount, about 1/2 teaspoon, of the butterfly pea flower syrup to a separate small plate, and dip the rim of the glass in the liquid, making sure it is entirely coated. 
Then take the glass and place it rim side down into the fresh mint sugar, coating the glass. 
Let the remaining sugar dry completely on a plate and scoop into a jar to save for next time.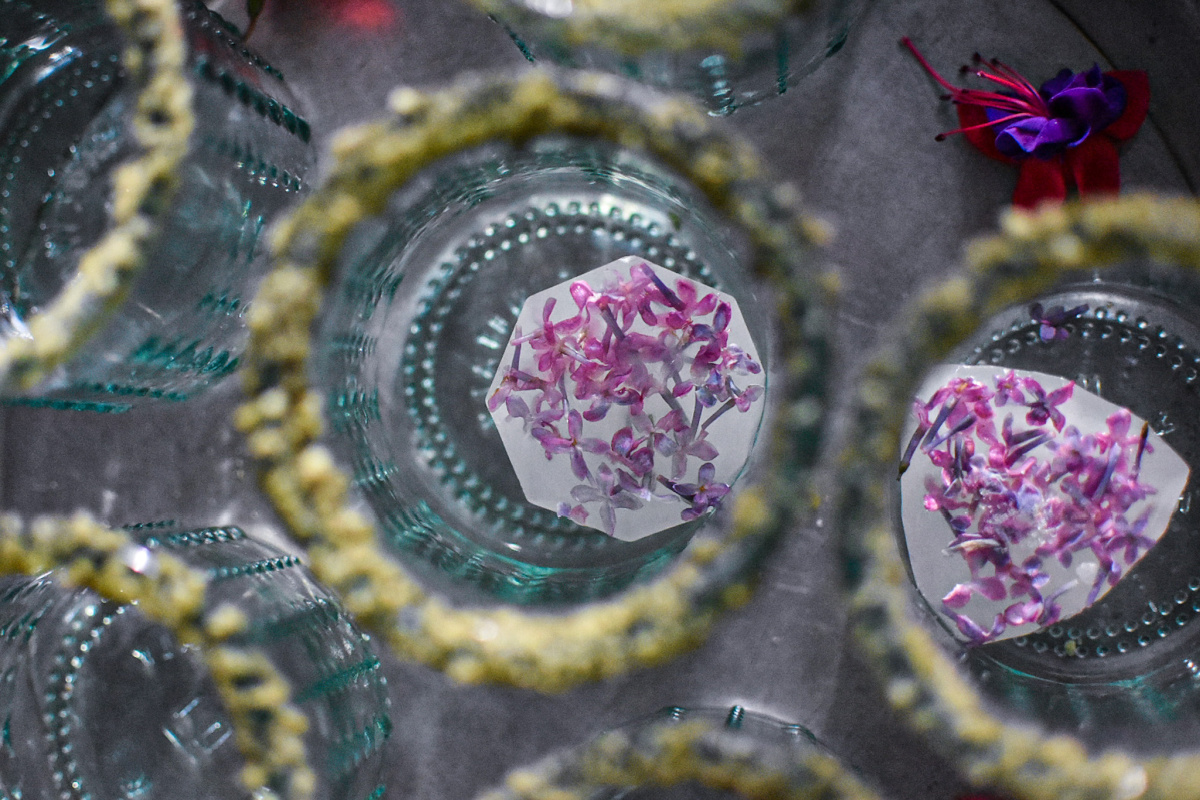 Lime and Flower Ice Cubes
Ingredients
Lime juice, enough to fill a tray of ice cubes (pre-squeezed is easiest)
1/4 cup lilac (Syringa vulgaris) blossoms (no stems), violets (Viola spp.) flower, or rose (Rosa spp.) petals
Directions
Place the flowers in an empty ice cube tray, and add the lime juice on top. 
Freeze completely and use 1-2 ice cubes per drink.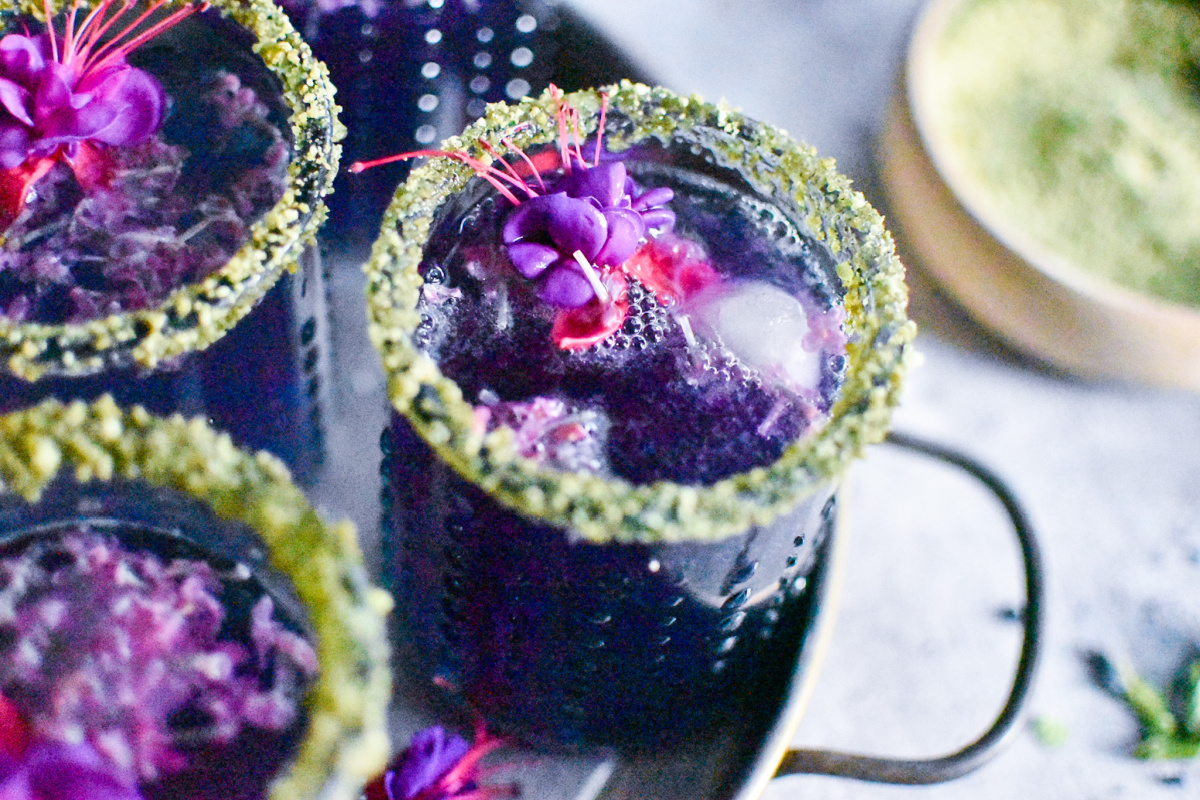 Color-Changing Butterfly Pea Flower Botanical Drink
Yield: One 8 oz glass
Ingredients
6 ounces sparkling water
1 teaspoon butterfly pea flower syrup
2 lime juice and floral ice cubes
Additional lime juice to taste
1 teaspoon mint sugar for rim
Directions
Pour a ¼ tsp of the butterfly pea flower syrup onto a small plate, around the same circumference as your glass. 
Dip your glass in the syrup so that the mint sugar will stick to the glass.
Add the mint sugar to a separate small plate, roll the rim of the glass in the syrup, and then into the mint sugar, coating completely. 
Add the ice cubes, sparkling water, syrup, and lime juice to taste. Enjoy and watch as the color changes while the ice cubes melt.
In Closing, 
Creating an herbal syrup with brilliantly-hued butterfly pea flowers is a perfect recipe to add to your summer drinks. Enjoy a glass of this lightly-sweet, indigo-infused flower syrup in your sparkling water with lime for a simple showstopper. Relax after a hot summer's day with a homemade cocktail or mocktail using this ultramarine syrup as a base. 
If you enjoyed this fun, creative project that will help to give your summer drink recipes an additional botanical nudge, then we invite you to join us in our Botanical Mixed Drinks Workshop to keep the botanical drink inspiration going all summer long!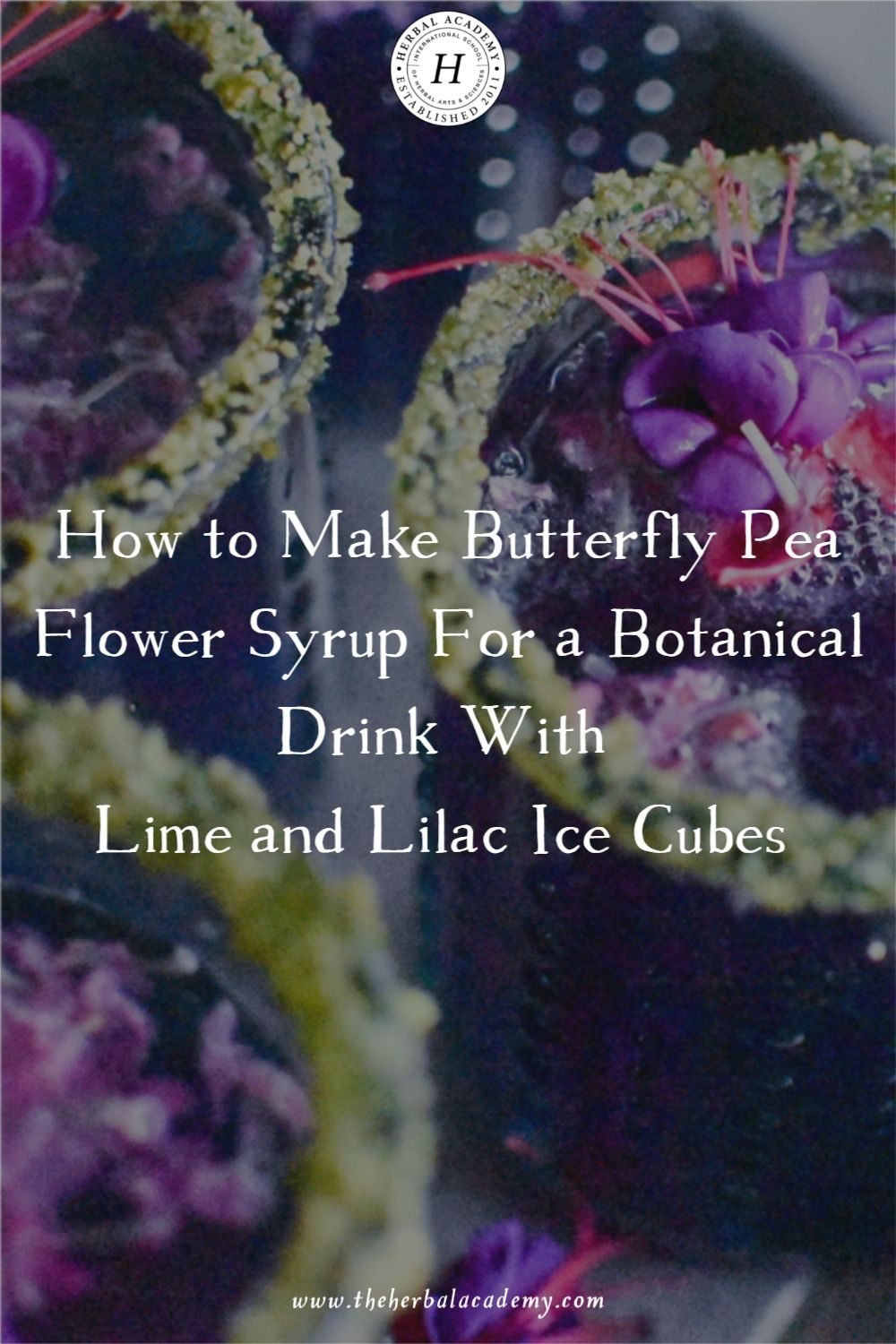 For more delicious summer drink recipes, see:
Holy Basil-Peach Drink to Beat the Heat
Color-Changing Herbal Limoncello Recipe
REFERENCES
Barlow, K. E. (1941). Vitamin C from Rose-hips. British Medical Journal, 1(4194), 797. https://www.ncbi.nlm.nih.gov/pmc/articles/PMC2161920/
Morelli, L. (2019, July 10). Our Foodie Guide To Sicilian Granita. Italy Magazine. https://www.italymagazine.com/featured-story/our-foodie-guide-sicilian-granita
Oguis, G. K., Gilding, E. K., Jackson, M. A., & Craik, D. J. (2019). Butterfly Pea (Clitoria ternatea), a Cyclotide-Bearing Plant With Applications in Agriculture and Medicine. Frontiers in Plant Science, 10. https://doi.org/10.3389/fpls.2019.00645