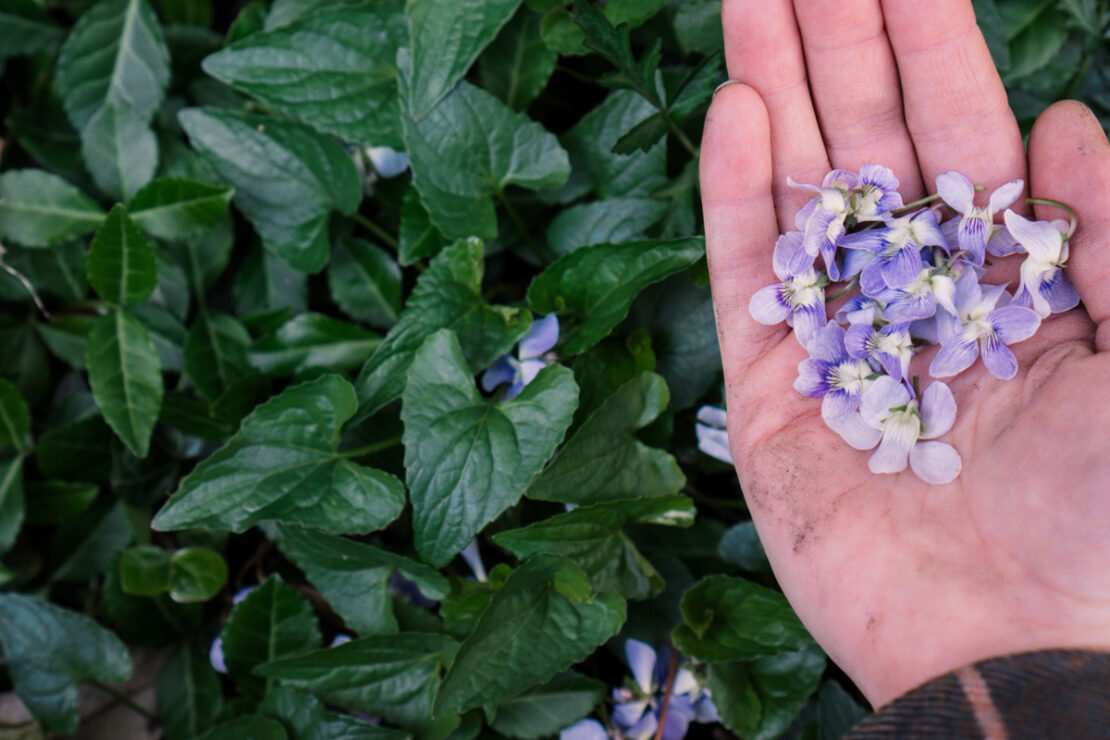 Growing an Edible Flower Garden
No garnish elevates a drink or dish quite like an edible flower. While I am sometimes able to find edible flowers among the fresh herbs in my local grocery store, nothing beats the quality and freshness of being able to pluck them fresh from my garden. Growing an edible flower garden is easily done in pots or flower beds and you'll soon discover a million and one uses for these ephemeral beauties.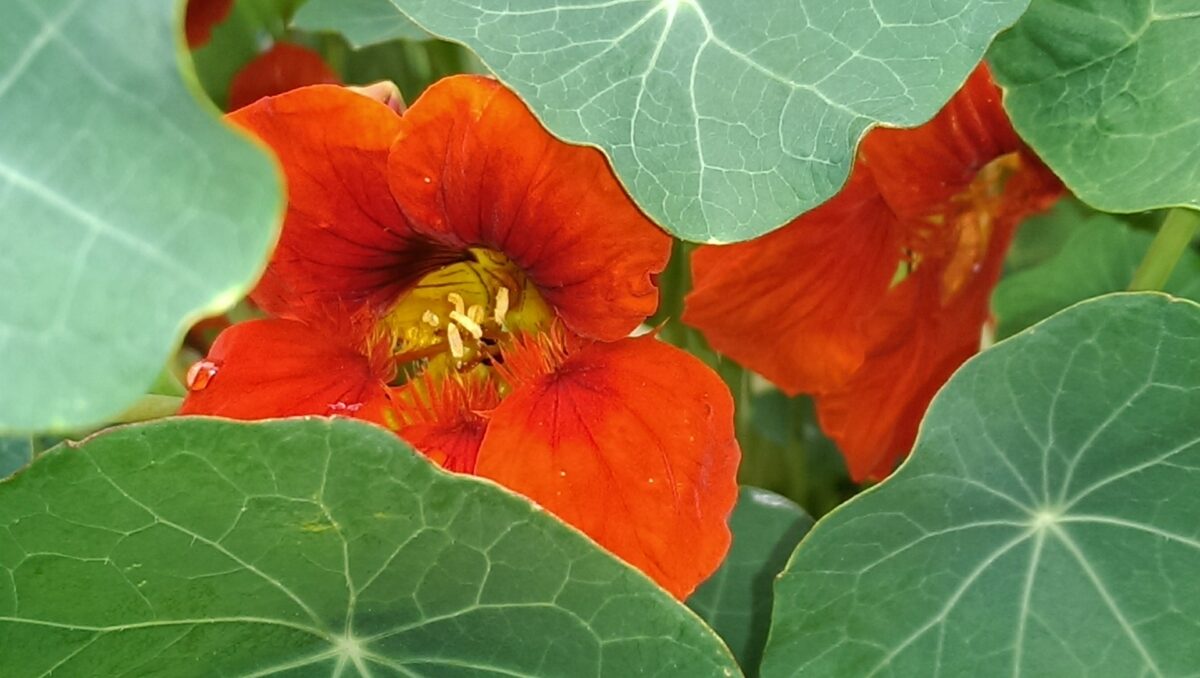 Getting to Know Edible Flowers
The first time I ate a flower was on a sunny day in the garden. My herb teacher was big on experiential learning, and we spent lots of time in our school's gardens looking at and talking about the plants. My teacher showed us several plants and invited us to try the blossoms of each one. There were peppery nasturtiums (Tropaeolum majus), sweet and delicate borage (Borago officinalis), and silky moist hollyhocks (Althea rosea).
Each year our school hosted a "Weed & Feed" workday, where we would identify edible weeds as we picked them from the garden beds, and then build a salad using the wild greens and edible flowers from the garden. What a colorful and celebratory salad mix it was, with the pops of pink from the hollyhocks, the confetti-like bright orange and yellow of calendula (Calendula officinalis) petals, and blue star-shaped borage(Borago officinalis) flowers sprinkled amongst the varying shades of green from the edible weeds. It was like attending a fairy picnic.
Since these early experiences, I've found a plethora of uses for edible flowers. They can bring not only a variety of colors but also flavors to your dishes. They make delightful cake decorations, inspiring ice cubes, beautiful beverages, and gorgeous garnishes for cocktails and culinary creations. Let's take a look at some edible flowers and how you can grow them for yourself and add this simple magic to your home kitchen creations.
Edible Flower Favorites
There are far too many varieties of edible flowers for me to cover them all in one post, but I'd like to introduce you to a few of my favorites. These selections have a range of flavors that I have found very useful in my kitchen. I'll let you know how I use them and how you can grow them in whatever space you have available.
Cilantro (Coriandrum sativum)
Cilantro flowers are delicate, white, and irregular. As the weather warms from spring to summer the cilantro plant bolts to make seed and shoots up umbels of white lace as a final flourish. Snipping the flower head will prevent the cilantro from going to seed, and can keep it available for herb use for a longer period. The flowers have a milder flavor than the leaves of the plant but still provide a fresh and invigorating note when incorporated into salads, pastas, grains, and salsas.
Growing this herb and its flowers in your own edible flower garden is easy enough, whether in pots or in the ground. Cilantro grows well in full sun or shade, and has no special soil needs. Growing your cilantro in the shade can help to slow its bolting when the weather warms, especially if you live in a warmer climate. As an annual, cilantro will need to be replanted each year (Hartung, 2011).
Cilantro is a friend of the digestive system. It eases digestive gripes related to indigestion, such as gas and bloating. Because of its ability to soothe digestive complaints, it can also counter the nervous tension felt when the gut is all "tied up" (Chevallier, 2000). To enjoy these benefits from the flowers, cut the blossoms off the stem and incorporate them into salads, soups, kitchari, and other dishes the same way you would the fresh leaves.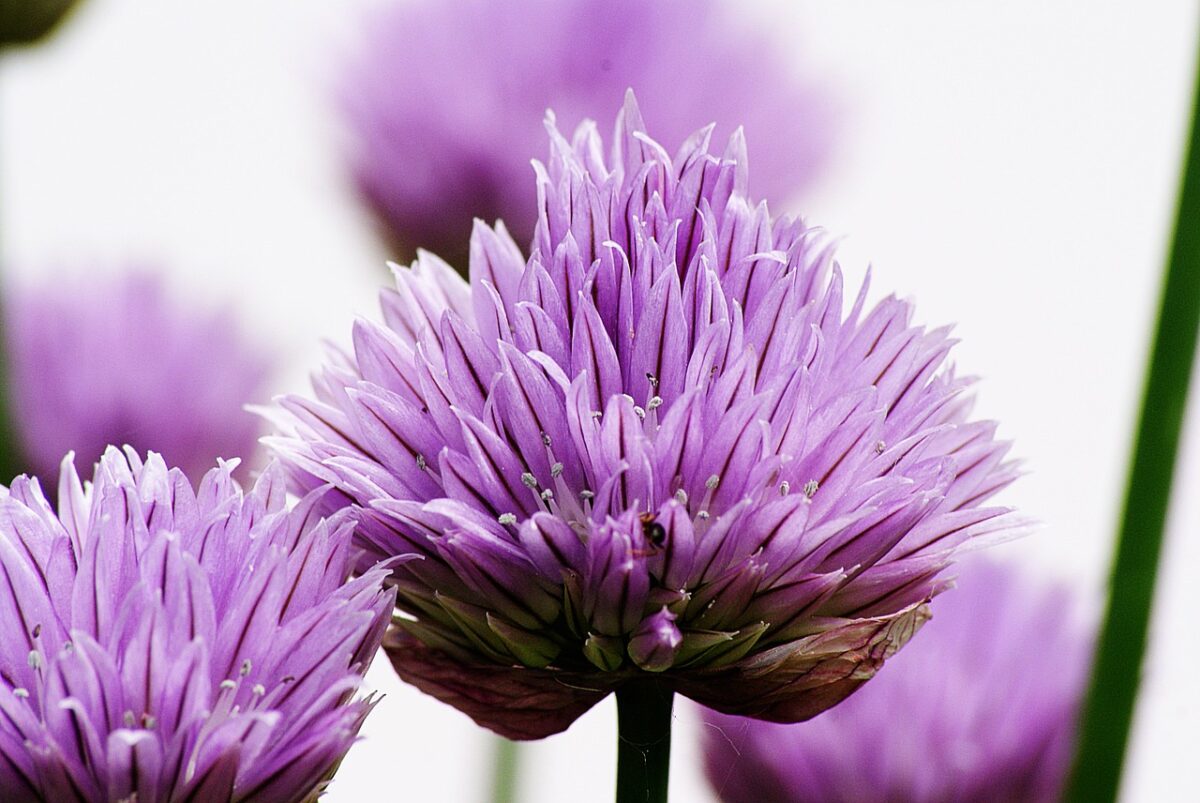 Chives (Allium schoenoprasum)
Chive flowers are delightful lavender-colored fireworks that burst open at the end of stems from spring through summer. Like those of the cilantro plant, chive flowers have a milder flavor profile than the leaves and provide the same savory, bright flavor as the fresh herb. This flavor profile lends itself well to the same dishes that call for chives.
Chives are a perennial herb, so even if they appear to be lifeless in the winter months, they are just napping and should resprout in the spring. Chives prefer a sunny spot but may grow better in the shade when the environment is extremely hot and sunny. This edible plant grows well in pots or in the ground, as long as the soil it is planted in can properly drain and doesn't become waterlogged. Snip the flowers from the end of their stem using garden shears or scissors (Hartung, 2011).
Chive flowers can be sprinkled in egg dishes, spreads, dips, butter, grains, and pasta. Imagine your next party with a cheese ball that contains little festive flecks of purple, or your next baked potato with chive flowers which add delicious flavor and a fresh pop of color to an otherwise blandly colored dish. For palatability reasons, I recommend pulling the individual blooms apart, rather than leaving them grouped in their little poofs.
Chives, like so many allium family members, can help our bodies build resistance to infection, regulate blood pressure, and aid digestion (Roberts, 2001).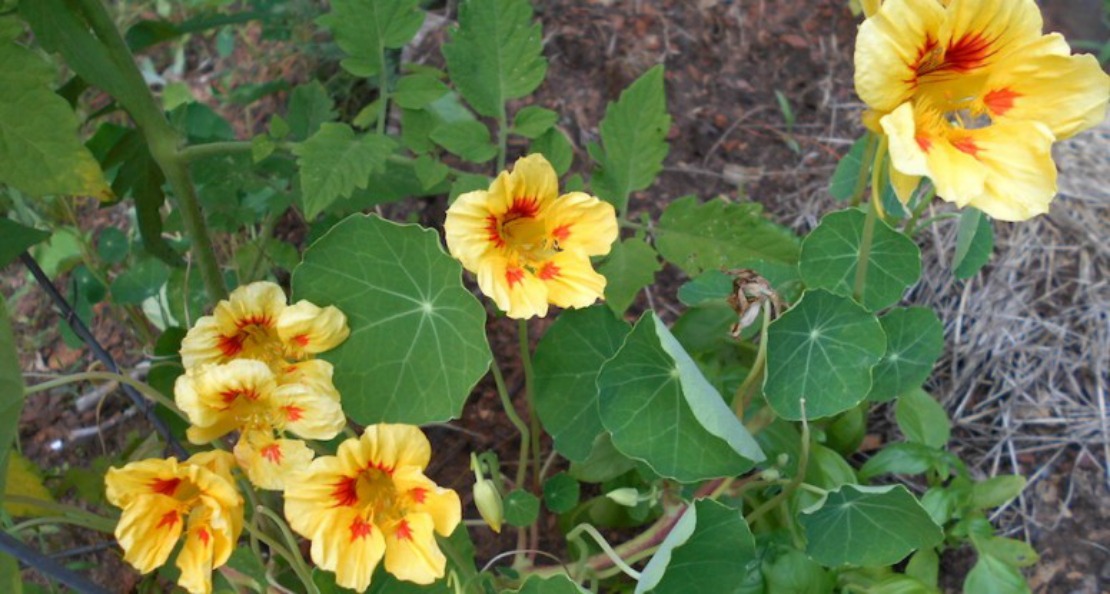 Nasturtium (Tropaeolum majus)
Nasturtium flowers come in a range of warm shades like yellow, orange, red, and combinations of these colors. I have always thought the flowers look a bit like pterodactyls with their pointed bottoms and widespread petals, but maybe that's just me. Their fiery flavor enlivens fruit and vegetable salads, dips and spreads, and soups. They can even be used to add a finishing flourish to desserts and beverages.
The perfect addition to your edible flower garden, nasturtiums grow well in shaded pots, flower beds, and garden spaces as long as there is rich and well-draining soil. Adding organic material, like compost, to the place where you plant your nasturtiums will help them to thrive. As annuals, nasturtiums need to be replanted from year to year in your chosen growing space. This is a long-blooming plant, especially if the flowers are being pruned regularly, and will bloom from spring until frost comes in the autumn or winter months (Hartung, 2011).
Both flowers and young leaves can be used to add a zippy and peppery bite to salad greens, or in place of lettuce in sandwiches, wraps, and tacos. Snip the flowers or young leaves from the ends of their stems. Use whole as decorative garnishes or in salads, or chop to incorporate in dips, spreads, butter, or cooked dishes. These peppery notes also make nasturtiums good for clearing the sinuses and expectorating phlegm (Chevallier, 2000).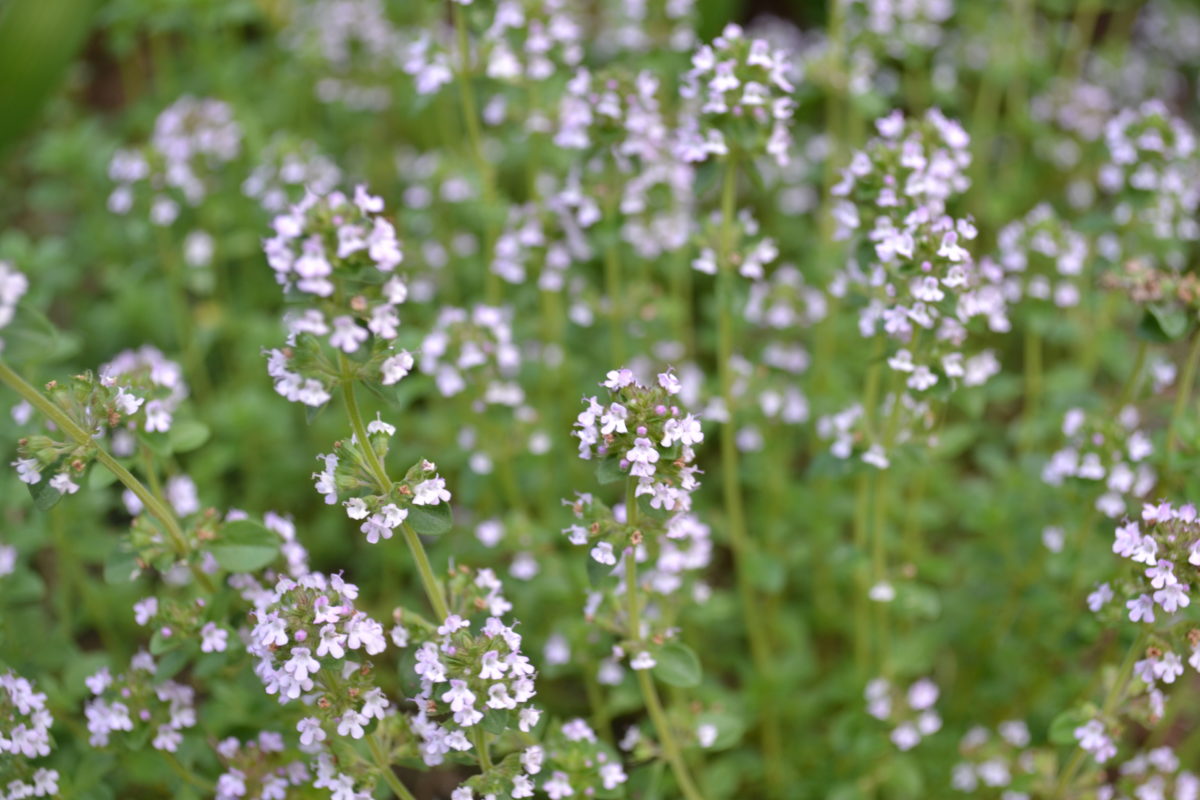 Thyme (Thymus spp.)
Thyme blossoms can come in a variety of colors. Some species bloom in white, others in pink, and still others in shades of blue, giving up sprays of delicate blossoms at the end of their stems on and off throughout the summer months. With many different varieties, thyme can have flavors ranging from savory to citrusy.
Thyme prefers hot and dry conditions and well-draining soil. It does not do well in soil that is too rich with organic matter and does not want to stand in wet soil. Native to a Mediterranean climate, thyme does best when the soil is allowed to dry out a bit between waterings. Give thyme full sun to partial shade for the best results, whether you choose to plant your edible flower garden in the ground or in pots. Thyme is considered a perennial and should come back year after year in the same place (Hartung, 2011).
Whether you plant a lemony or savory version of thyme, you can enjoy its flavor in lemonade, teas, ice cubes, desserts, pasta, grains, potatoes, salads, butter, spreads, and dips. Thyme blossoms frozen into ice cubes can add a magical element as well as layers of flavor to summer beverages. Long sprigs of blooming thyme also make inspiring garnishes for these drinks. Mixing thyme flowers into a glaze for lemon cake is another delightful way to punch up a traditional summer favorite.
With thyme being an ally to the digestive and respiratory systems, it not only lends versatile flavor, but also benefits these body systems when incorporated into our kitchen crafting (Chevallier, 2000).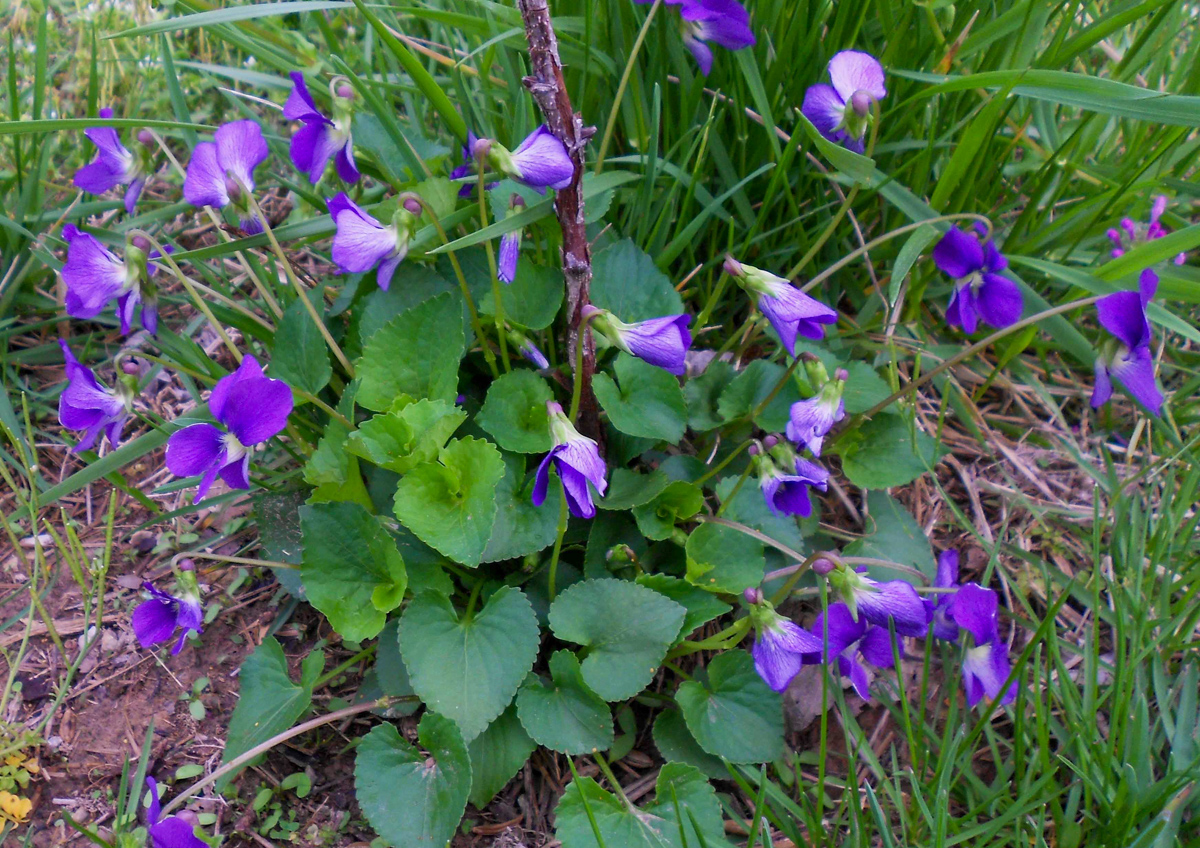 Violets (Viola spp.)
Violets are my newest edible flower garden obsession. Ever since I moved to northeast Ohio, where dog violets (Viola riviniana) blossom in abundance every spring, I eagerly await the arrival of their cute blue and purple blooms as a sign that the harshest and coldest months are behind us. There is a slightly floral and sweet quality to violet flowers, and they are fantastic for decorating desserts. I have even experimented with sugaring the blooms to preserve them for use all year round.
Violets prefer a shady and moist growing environment whether planted in pots or in the ground. Mix organic material, such as compost, into the soil where you plant your violets, and water frequently. While the purple to blue shade of the flower is most familiar to many of us, violets can also bloom in shades of white and pink. (Hartung, 2011). I prefer the blue variety because they can be used to make naturally pink lemonade. Yellow violets may cause gastric distress and should not be eaten.
I like to gather a handful of the blue flowers in large quantities and infuse them in a hot water bath. The blue color is released from the flowers into the water through this process. I then sweeten the water one to one with honey (although sugar can be used in its place) to create a simple syrup. Then to activate the magic color changing action, I make the base for limeade or lemonade by mixing one cup of freshly squeezed juice with six cups of water, and then sweeten to taste using the violet syrup. The acidity of the citrus juice turns the anthocyanins in the violets from blue to pink (Boyle, 1983). This is a great herbal craft to do with children.
As a diuretic, diaphoretic, and gentle expectorant, violets are a friend to the elimination pathways. They also have demulcent properties which allow them to soothe as they move (Chevallier, 2000).
In Closing,
It would be impossible for me to cover all the options you can grow in your edible flower garden in one post, and therefore I have focused the information here on plants that anyone could grow, regardless of land and space availability. It is my sincere hope that this article can lead you into a love affair with edible flowers and the magical way they enhance both sweet and savory kitchen creations. May you take these suggestions and make them your own, and may you benefit from the element of fantasy that edible flowers can bring to your everyday life.
For more on planting flower gardens, see:
Planting the Rainbow: Incorporate Plants Into Your Garden Based On the Color of the Blooms
Vining Herbs: Take Gardening to New Heights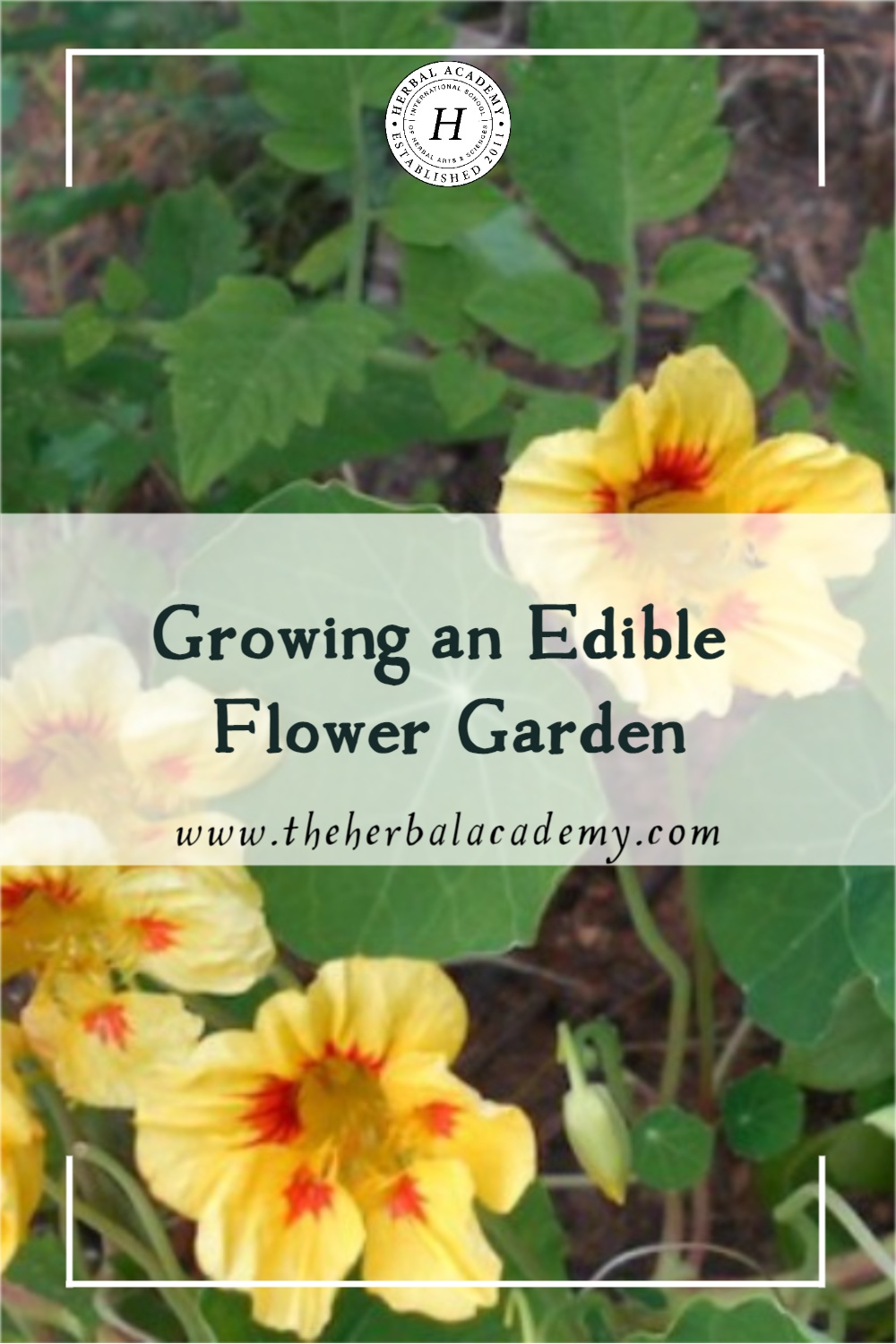 REFERENCES 
Boyle, R. (1983). Experiments and considerations touching colours: First occasionally written among some other essays to a friend and now suffer'd to come abroad as the beginning of an experimental history of Colours. Printed for Henry Herringman.
Chevallier, A. (2000). Encyclopedia of Herbal Medicine: The definitive home reference guide to 550 key herbs with all their uses as remedies for common ailments. Dorling Kindersley.
Hartung, T. (2011). Homegrown herbs: A complete guide to growing, using, and enjoying more than 100 herbs. Storey.
Roberts, M. (2001). Edible & medicinal flowers. David Philip.