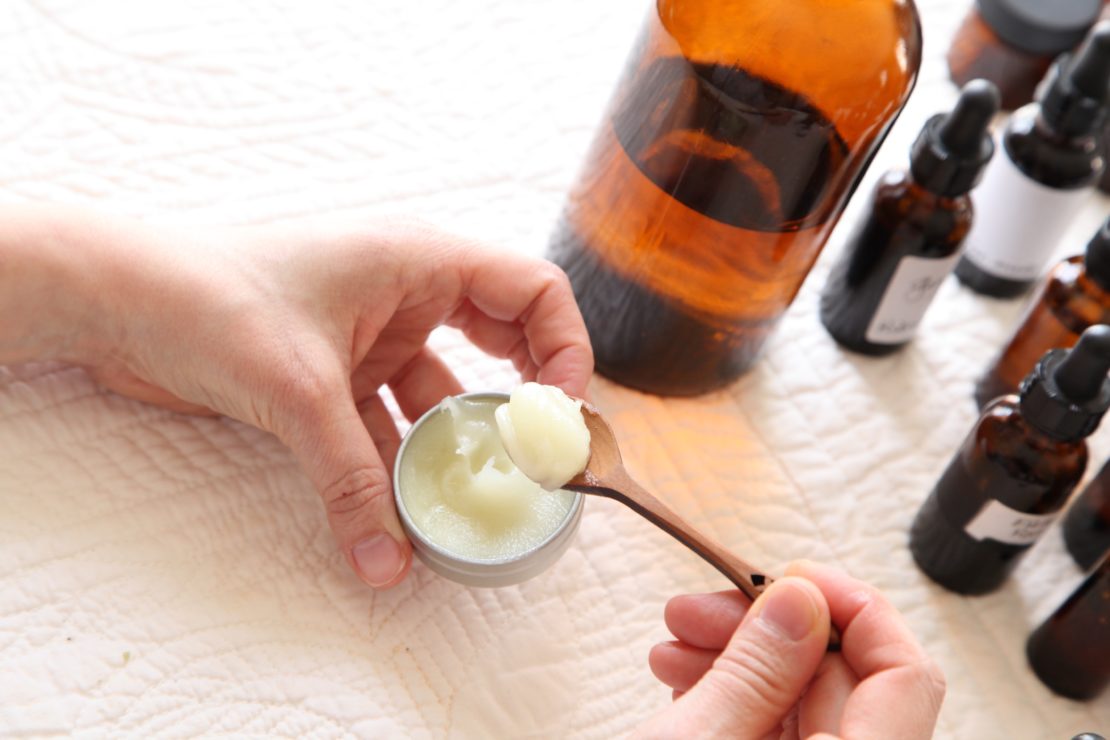 Herbal Citrus Eucalyptus Hand Salve: A Gardener's Best Friend
Do you itch to get outdoors and dig into the garden when spring finally arrives? Does your pent up motivation from a long winter cause you to dig in a little too far, leaving you with rough calloused hands? Or, inflamed blisters and insect bites?
I can account for all three! Maybe it's my motivation or ego to make my gardens, porches, and deck all burst with spring in one weekend. Either way, it really wreaks havoc on my hands. So, I turn to this all-purpose recipe for a Herbal Citrus Eucalyptus Hand Salve.
One of my favorite things about making salves and other natural remedies is that I can tailor the recipe to fit my needs and my skin.
For example, I designed my Hydrating Aloe Vera Face Cream to moisturize and balance the natural sebum oil production of my skin as well as discourage blemishes.
Practicing herbalism isn't just for skin alignments, though. It can also be used for relaxation and stress relief such as my recipe for a Coconut Lavender Foot Scrub.That is really what's so exciting about creating your own natural bath and body recipes!
Today's hand salve recipe will not only moisturize, it will soothe insect bites, scrapes, and cuts!
Hand Salve Benefits
A salve is used to create a protective barrier over the skin and provide nourishment. This barrier works similarly to a band aid by keeping outside organisms away. Salves are commonly used on hands, feet, and the face. They can be applied almost anywhere you want to provide a layer of protection.  
When creating a salve that will be applied to wounds or insect bites, I recommend using less wax than oil in the recipe. Too much wax can cut off oxygen and create the potential for an infection (Visser, 2014). You want a salve that is mostly oil and absorbs quickly into the skin.
Keep in mind, salves with less wax melt easily if exposed to heat. If that happens, no worries—just let the salve cool back down into its firmer shape. Melting easily isn't a bad thing when it comes to salves. In fact, it will penetrate the skin and begin to work its magic faster than a salve heavy in wax. This Citrus Eucalyptus Hand Salve will be soft to the touch when set.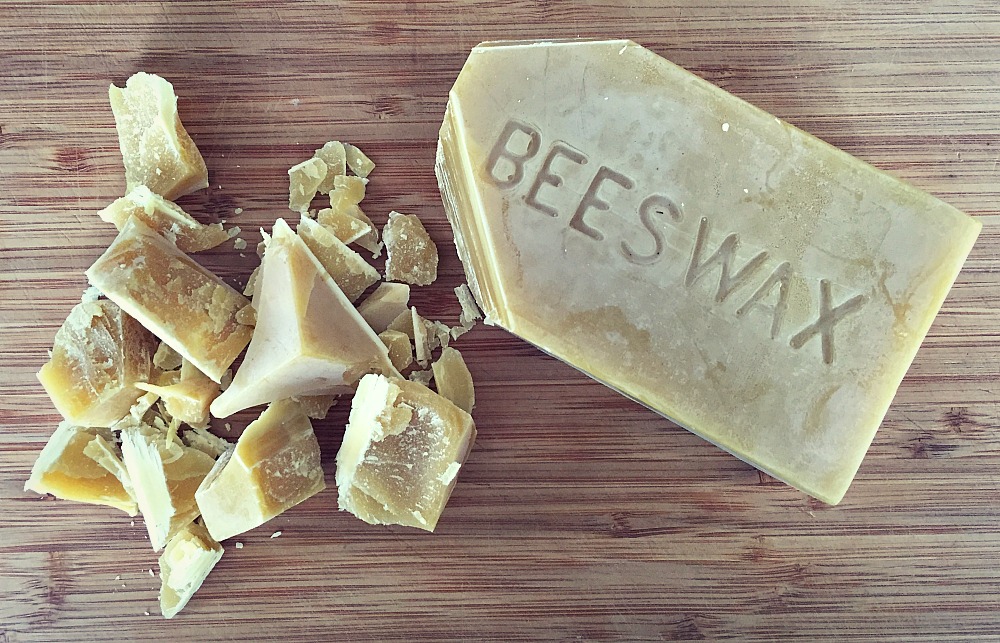 Key Ingredients
Coconut Oil
Coconut oil is believed to have antimicrobial benefits when used internally and externally (Mercola, 2016) and has intense moisturizing benefits for the skin. It is a saturated fat that melts and absorbs into the skin rapidly.
Beeswax
Wax is used to harden and thicken oils to the consistency desired in salves. While there are several options for wax such as carnauba wax and emulsifying wax, beeswax is my favorite.
Essential Oils
Often used for their scent, essential oils are packed full of therapeutic properties. Steam-distilled lemon (Citrus limon) and Eucalyptus (Eucalyptus radiata) essential oils in this recipe are both anti-inflammatory and antibacterial (Harmon, 2017). They make a great addition to a salve!
Cocoa Butter
Rich moisturizing cocoa butter adds extra nourishment for the skin and firmness to the salve. For this recipe, you'll want to use deodorized cocoa butter to avoid the natural chocolate fragrance.
Vitamin E Oil
A natural antioxidant, vitamin E oil provides many therapeutic properties to salves. It promotes cell growth which helps to heal wounds and prevent scars (Visser, 2014).
Recommended Packaging
Small, one to two ounce metal tins or glass jars are best for salves. Wash your packaging choice before you make the salve, and be sure it is dry. Water will shorten the shelf life of the salve.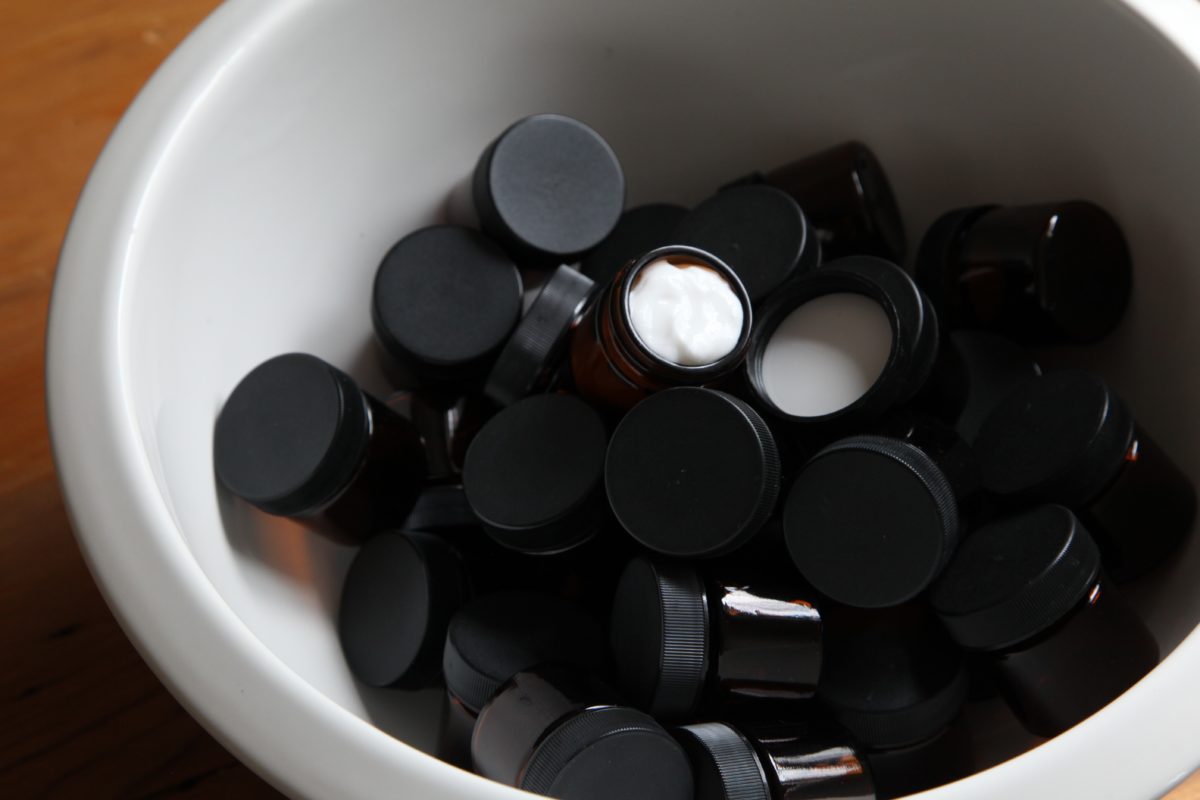 Herbal Citrus Eucalyptus Hand Salve
How To Make A Citrus Eucalyptus Hand Salve
Ingredients
¼ cup deodorized cocoa butter
7 ½ teaspoons beeswax pastilles
½ cup unrefined coconut oil
⅛ cup avocado oil
½ teaspoon vitamin E oil
5 drops lemon (Citrus limon) essential oil
5 drops Eucalyptus (Eucalyptus radiata) essential oil
6 ounce metal tin or 3, 2 ounce tins
Directions
Using a double broiler, combine cocoa butter and beeswax. Heat over a soft boil until melted, stirring often with a whisk. Add coconut oil and avocado oil. Whisk over heat until melted.

Remove from heat and pour in vitamin E oil. Whisk well while adding drops of essential oils.

Pour salve mixture into tin a half of an inch from the top.

Allow to completely cool before placing lid on tin, approximately 2 hours.
If you find yourself overdoing it in the garden this season, make a batch of this Herbal Citrus Eucalyptus Hand Salve. Apply it to dry, cracked, or rough areas on hands. Use it to ease insect bites, blisters, or scrapes. The salve has a shelf life up to one year, depending on humidity and heat, so store it in a cool, dry place.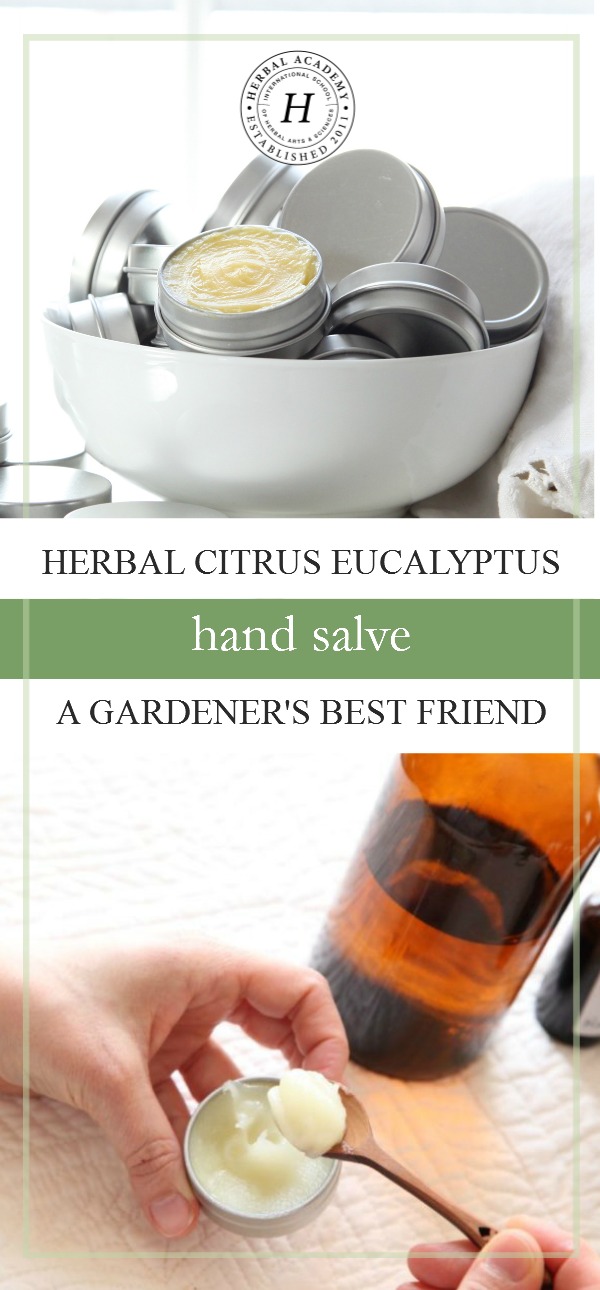 REFERENCES
Harmon, W. (2017). Herbs and Essential Oils. (n.p.): Author.
Mercola, J. (2016, May 30). What Are the Health Benefits of Coconut Oil? Retrieved May 29, 2017, from http://articles.mercola.com/health-benefits-coconut-oil.aspx
Visser, M. (2014). Making Herbal Ointments, Salves, and Balms: The Ultimate How-To Guide. Retrieved May 7, 2017, from http://www.growingupherbal.com/shop/my-books/ultimate-how-to-guide-to-herbal-ointments-salves-balms/