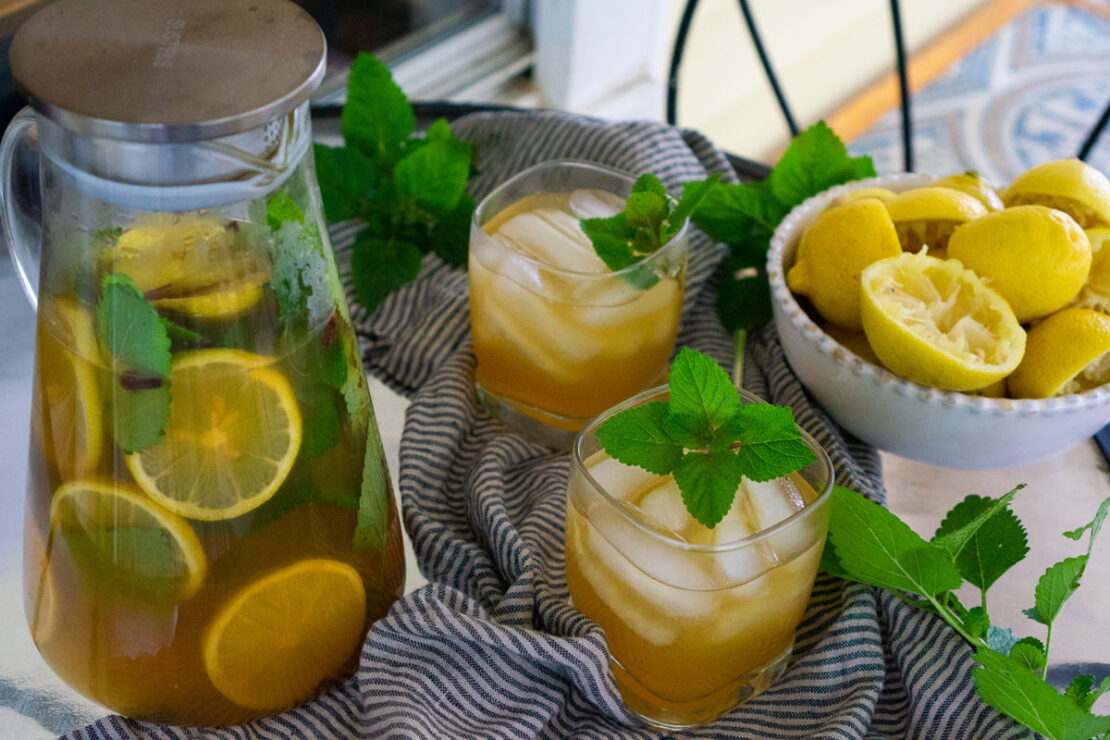 Herbal Arnold Palmer Recipe: Just What You Need! 
In the late 1960s, Arnold Palmer, a famous American golfer and humanitarian, was known to request a drink mixture of mostly tea with a splash of lemonade, which was later named after him. The beverage is readily available as a non-alcoholic staple due to the perfect balance of bold black tea and citrus-sweet lemonade. The drink has gained popularity over the years, and the Arnold Palmer recipe varies by maker. However, the two main ingredients always stay the same. We can all appreciate the refreshing taste of ice-cold tea and lemonade blended to perfection. 
Traditionally, Arnold Palmer's recipe has been a combination of mostly tea, approximately  3 parts black tea and 1 part fresh lemonade. With time, the recipe has evolved by preference. Ratios now vary; some opt for 2:1, 1:1, or may even choose to use more lemonade than tea. Other customized options include green tea instead of black, or the addition of fresh herbs, fruits, and edible flowers. This herbal twist on the classic Arnold Palmer recipe incorporates lemon balm, spearmint, and clove for both aesthetic and calming properties.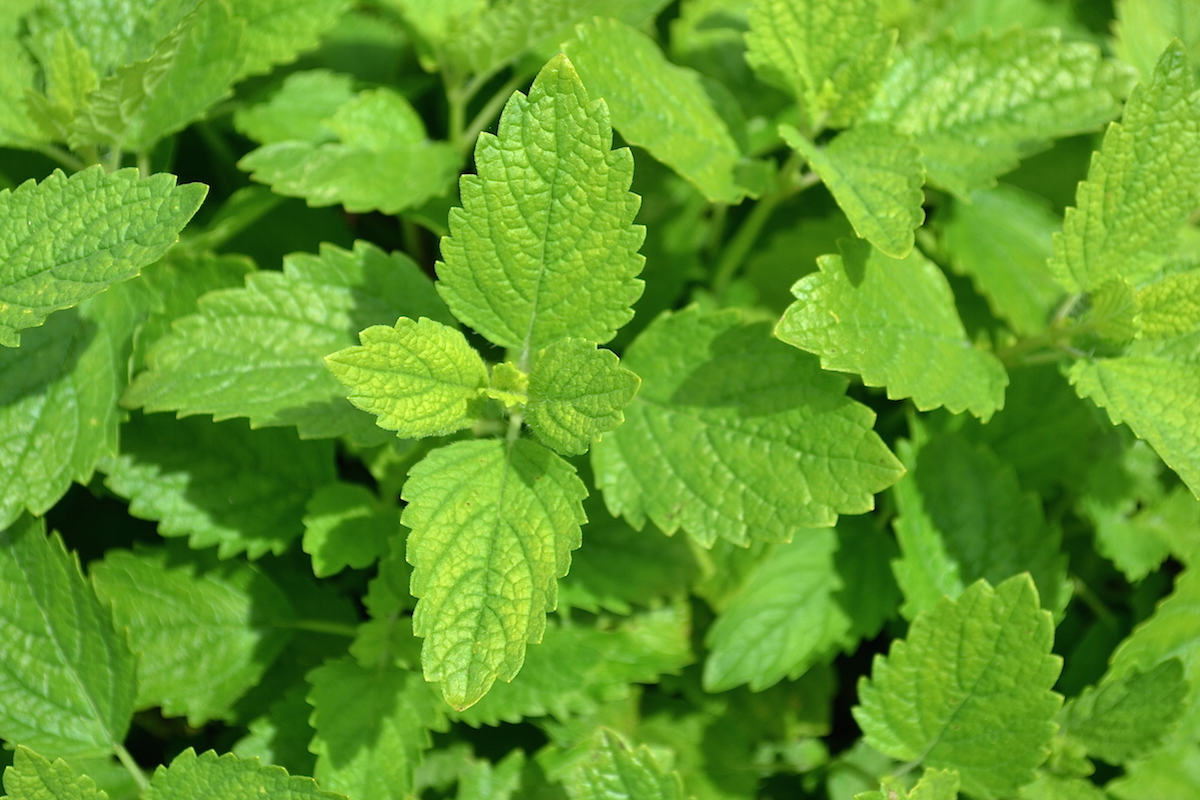 Herbal Tea Additives 
Lemon Balm (
Melissa officinalis
) leaf
Lemon balm promotes longevity  (Cech, 2016) and is in the same family as mint.  This lemon-scented herb is used often to add flavor and synergy to tea, as well as to improve the taste and activity of other herbs it is used in conjunction with (Zak, 1999). Lemon balm is noted as a great at-home herbal treatment and can be beneficial for issues with anxiety, allergies, depression, and insomnia. For this recipe, the lemony taste will be infused in the tea, thus lifting both your spirit and the overall taste.
Clove (
Syzygium aromaticum
) dried buds
This well-known spice, Syzygium aromaticum, is the product of dried buds of the clove tree (Mindell, 1992) and is available in both whole and powdered forms. Sweet-smelling and aromatic, cloves contain the compound eugenol (Ryman, 1984), which can act as an antioxidant. The herb offers a warm and distinct flavor to culinary dishes and beverages. A little goes a long way with this spice, as too much may taste overwhelming. Incorporating cloves into black tea adds a spicy sweetness that offsets the tartness of the lemonade.   
Spearmint (
Mentha spicata
) leaf
Spearmint, like lemon balm, is used to add flavor and body to tea blends and culinary dishes. The herb is cooling, stimulating, and soothing to the stomach (Cech, 2016). Less robust than peppermint, this variety provides a mild flavor.  A gentle herb, spearmint is usually used to calm upset stomachs and ease anxiety in both children and adults. It is an ideal option for this summer drink because of the cooling properties of the herb, which leave the body feeling hydrated and revitalized. Avoid mint leaves if pregnant.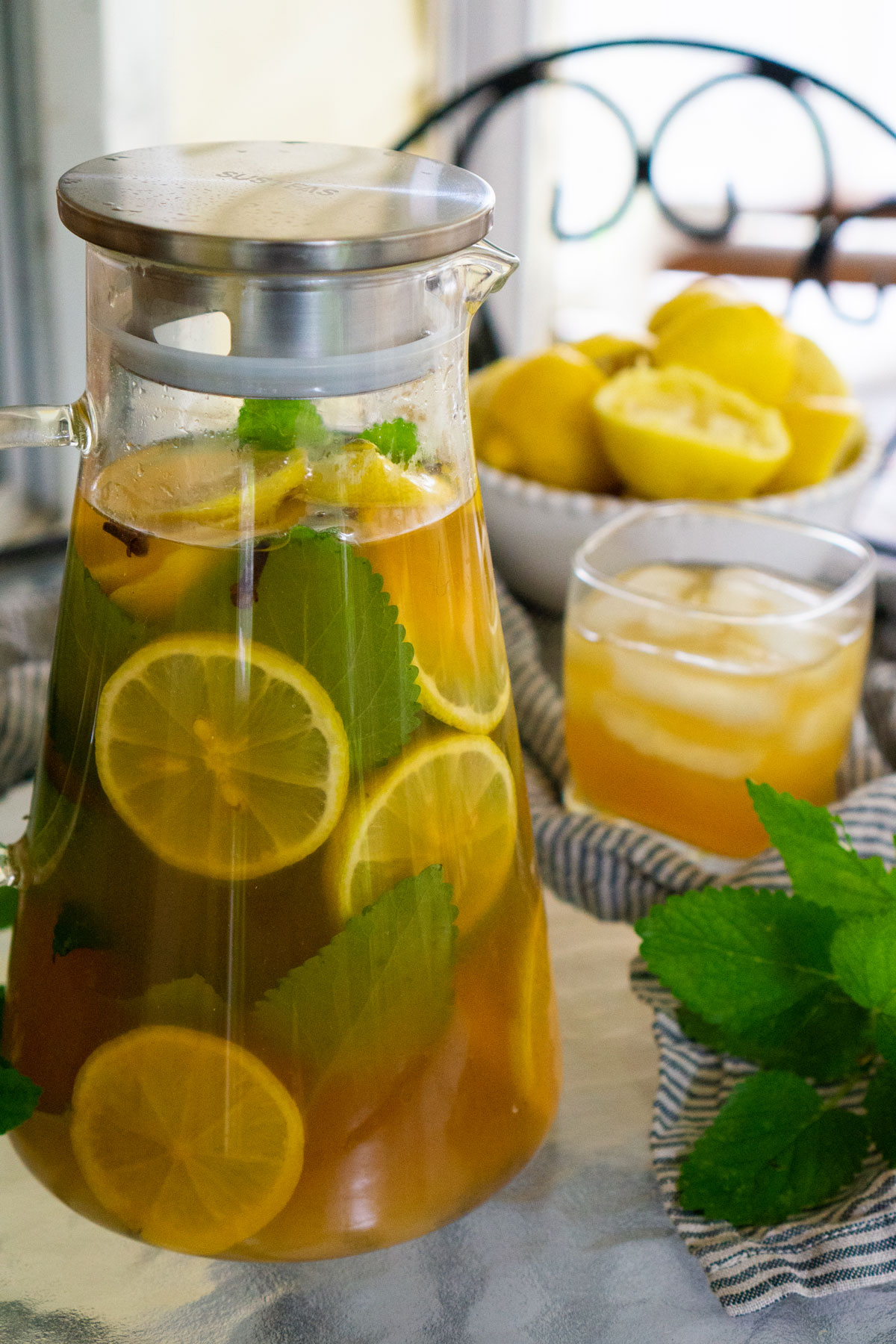 Herbal Arnold Palmer Recipe
This recipe is a great excuse to get in your garden or forage in your local surroundings for the herbs needed. The fresher the ingredients, the better your Palmer will taste! Yield: 64 fluid ounces. 
Ingredients

Tea
2 cups filtered water
4 tablespoons loose-leaf black tea
1 teaspoon cloves
1 handful fresh lemon balm leaves (3/4 cup)
Honey, to taste
1 lemon, sliced
Lemonade
2 cups lemon juice (approximately 12 large lemons)
4 cups filtered water
½ cup of sugar (or honey)
1 handful fresh spearmint leaves (3/4 cup)
1 lemon, sliced
Directions
For the tea, bring the filtered water to a boil, then pour over the black tea leaves in a heat-proof container.  Add the cloves and lemon balm leaves before steeping, covered, for 10-12 minutes. 

After 10-12 minutes have passed, add the sliced lemon and honey to taste. Let the tea chill in the fridge while you make the lemonade. 

For the lemonade, mix together the filtered water and lemon juice, then add sugar or honey to taste. Once pleased with the taste, add in the spearmint leaves and lemon slices, then stir. 

Pour lemonade into the same pitcher as the black tea and stir to combine. Taste, then add more honey or sugar if desired. 

Finish the beverage with a few more lemon slices, lemon balm or mint leaves, and a few cubes of ice. Return to the fridge to chill and infuse for at least 30 more minutes before serving. 

To serve, strain your Herbal Arnold Palmer into ice-filled glasses and enjoy!
If you're a fan of this Herbal Arnold Palmer recipe, you may also enjoy our Lemon Balm Lemonade Recipe and Hibiscus Clove Cooler Recipe! All of the herbs included in these recipes are considered cooling, which means they are hydrating and helpful to the body in a handful of ways.
These and more herbs are discussed further in Herbal Academy's free ebook, Cooling Herbs for Hot Summer Days. Learn which herbs to be on the lookout for when foraging, so you can treat yourself to herbal care and drinks for this season and beyond. Cheers to that!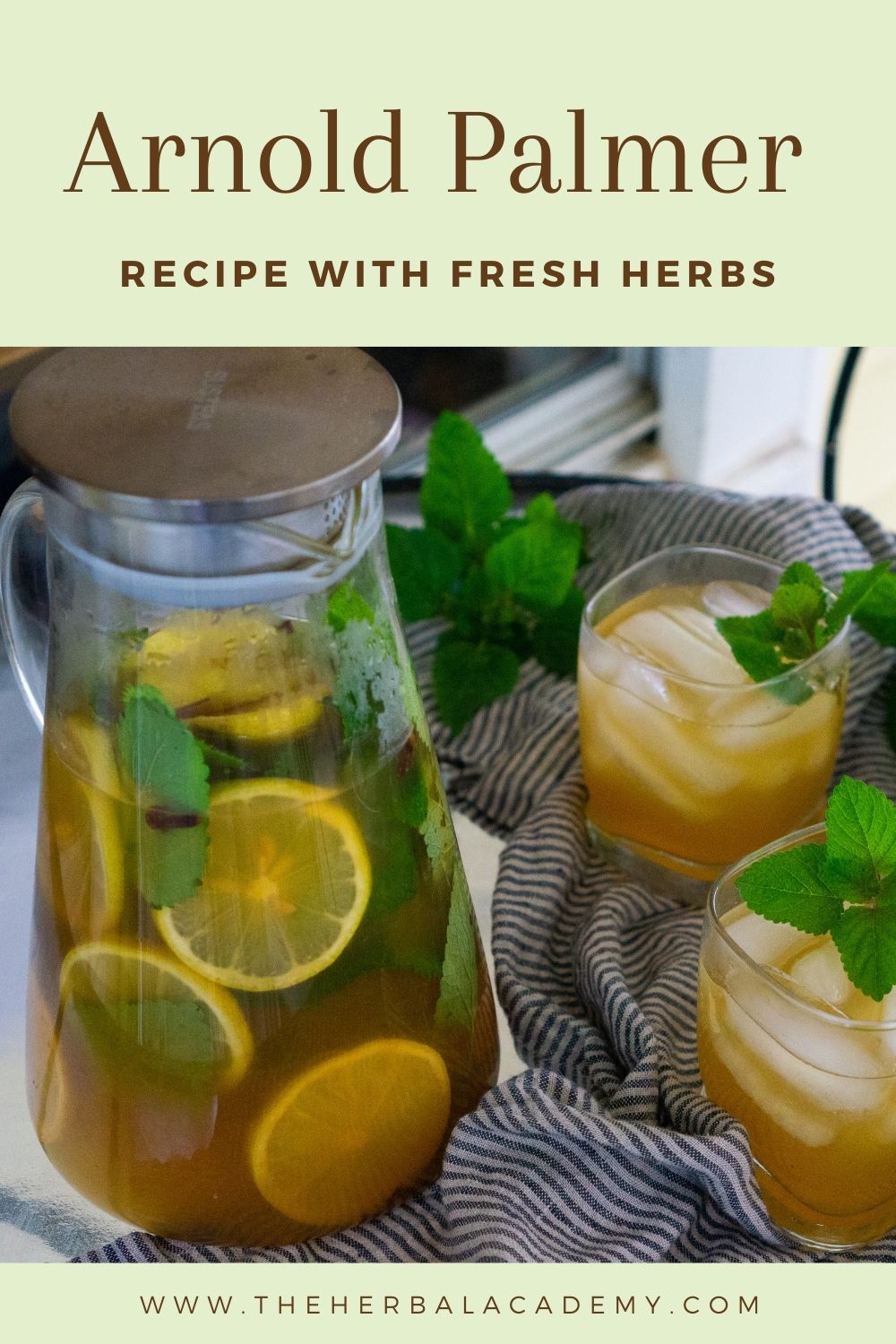 REFERENCES
Cech, R. (2016). Making plant medicine. Williams, OR: Herbal Reads.
Zak, V. (1999). 20,000 secrets of tea. New York, NY: Dell Publishing.
Mindell, E. (1992). Earl Mindell's herb bible. New York, NY: Fireside Books.
Ryman, D. (1984). The aromatherapy handbook. Great Britain: Century Publishing Co. Ltd.