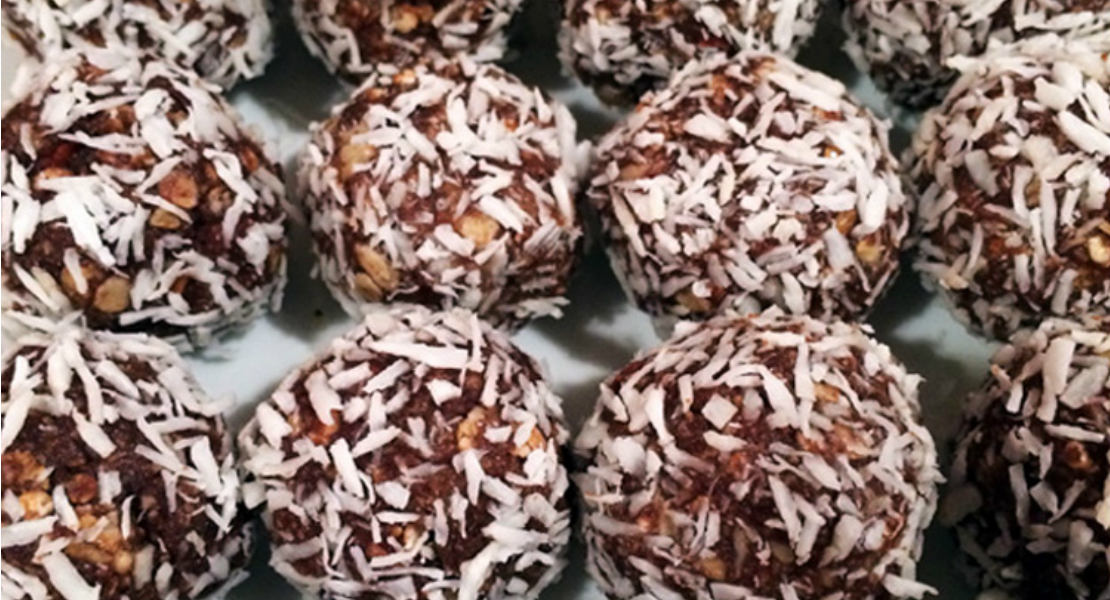 Healthy Raw Snacks You Will Love
Looking for a sweet, decadent treat that is healthy for you, too? These crunchy bites are gluten-free, raw, and fill of chocolate-y goodness and take only minutes to make, which is handy because you'll be "testing" and craving them right away. These healthy raw treats are perfect as an after workout snack to replenish your energy and help repair your tissues. Children will love them because they are chocolate-y!
Note: If you prefer nut-free versions, substitute the almond meal for sunflower meal and the chopped almonds for sunflower seeds. To make sunflower meal, place raw sunflower seed in blender and process for about 10 seconds or until it's the consistency of whole wheat flour.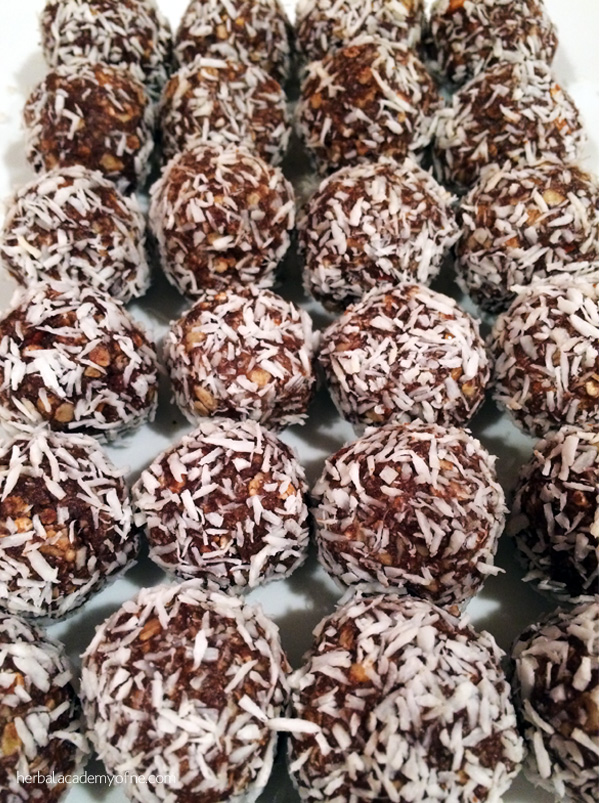 Chocolate Almond Coconut Snack Bites
Makes 24
Ingredients
1 cup gluten-free oatmeal (Bob's Red Mill)
1 cup almond meal
½ cup chopped raw almonds
½ cup coconut oil
¼ cup local raw honey
¼ cup shredded, unsweetened coconut (set aside for rolling)
¼ cup coconut milk or coconut creamer
3 tablespoons raw cacao powder
2 tablespoons maca powder
2 tablespoons hemp protein powder
Directions
Put the shredded coconut in a small bowl and set aside.
Place all the other ingredients in a medium bowl.
Using a fork, blend the ingredients by mashing them together, using the sides of the bowl to help you combine them evenly. The dough will be slightly sticky.
Roll a tablespoon-sized amount into a ball and then roll the balls in the coconut.
Refrigerate until eating.
Chocolate Almond Coconut Snack Bites can be frozen for up to a month.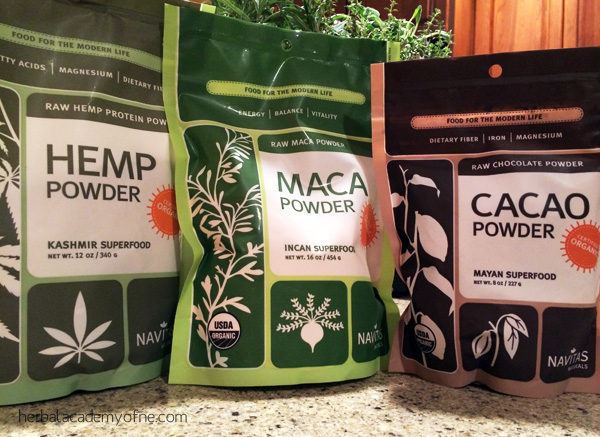 Why is are these raw snack bites so good for you?
Oatmeal – fiber, thiamin, iron
Almonds and almond flour – protein, fiber, vitamin E, magnesium, polyphenols
Coconut oil – antimicrobial, medium chain fatty acids (for brain function)
Local raw honey – natural sweetener, may help with seasonal allergies
Cacao – antioxidant, magnesium, polyphenols, flavonols
Maca – increases stamina, boosts libido, combats fatigue, Vitamin C, calcium, iron
Hemp protein powder – protein, Omega 3 & 6 fatty acids, magnesium
4 More Healthy Raw Snacks You Will Love
Healthy Chocolate Pudding
Apple Fries
Raw Coconut Cranberry Energy Bars
Cranberry Walnut Powerballs


Kimberley Klibansky is an aspiring herbalist and student at HANE. She is a Montessori teacher, beekeeper, gardener, and blog writer at Family, Friends, Food, and Fun. Photos provided by Kimberley.