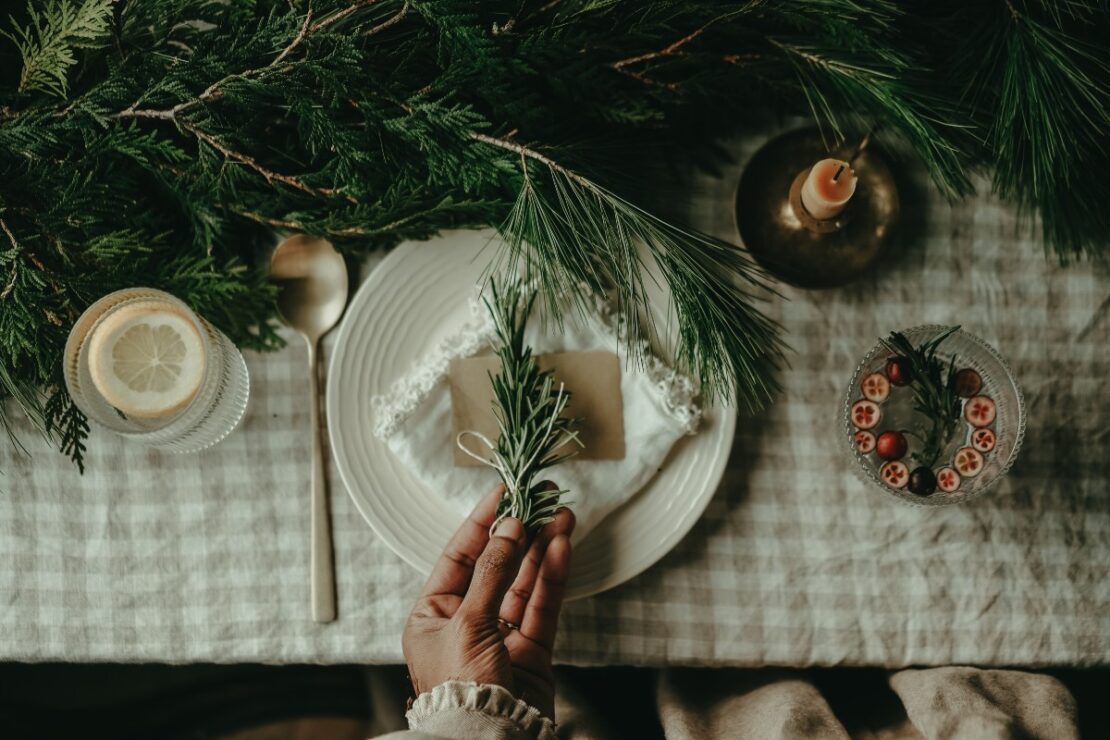 How to Decorate Your Home With Fresh Greenery
Make your home come alive this holiday season by bringing the outdoors in with fresh greenery! The festive and cozy feeling that lush greens bring is enough to put anyone in the holiday spirit. With a little bit of planning and creativity, you can create stunning displays that you'll find yourself wanting to repeat year after holiday year. In this post, we are not only sharing ideas on how to decorate your home with fresh greenery, but we are also giving tips on how to keep indoor greenery at its freshest and best.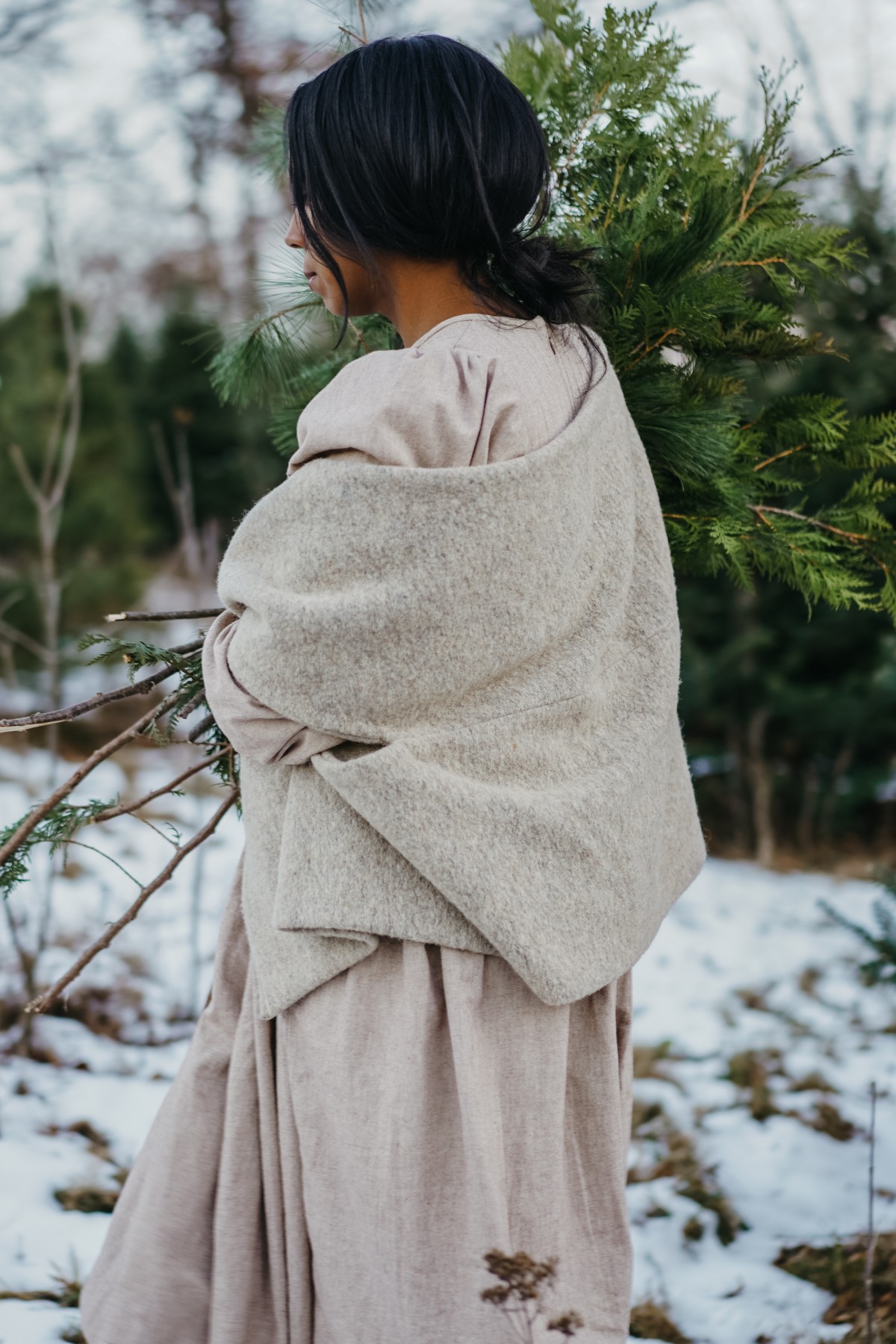 Foraging Fresh Greenery
There are many options for fresh greenery when selecting the best choice for your holiday decorating. Depending on where you live and what's available, you can gather evergreen boughs, pinecones, juniper branches, rosemary sprigs, red winterberry, and more. Of course, always harvest ethically and mindfully. When harvesting plants for internal use (for those that are safe to ingest), stay away from roadsides and places where plants have been exposed to car exhaust and other toxic chemicals. If you are gathering plant clippings for decorative purposes only, you don't need to be as cautious in this regard. However, always ask permission if you wish to harvest from private property. 
In addition, look for plants that are growing in abundance and only harvest from mature plants. Evergreens are a great choice for winter harvesting as they tend to remain healthy and abundant throughout winter; good selections include fir (Abies spp.), hemlock (Tsuga spp.), pine (Pinus spp.), redwood (Sequoia sempervirens), and spruce (Picea spp.). Gather small branches, twigs, and needles, being careful to draw from lower branches and/or material that has already fallen from the tree. Harvesting from the top of a tree may limit its growth. For more on winter foraging, you may want to read our other post, Your Guide to Winter Foraging.
How to Decorate With Fresh Greenery
From wreaths and boughs to table centerpieces and winter potpourri bowls, there are many options when it comes to decorating with fresh greenery. Make your decorations as elaborate or as simple as you like. 
Some simple, festive ideas are: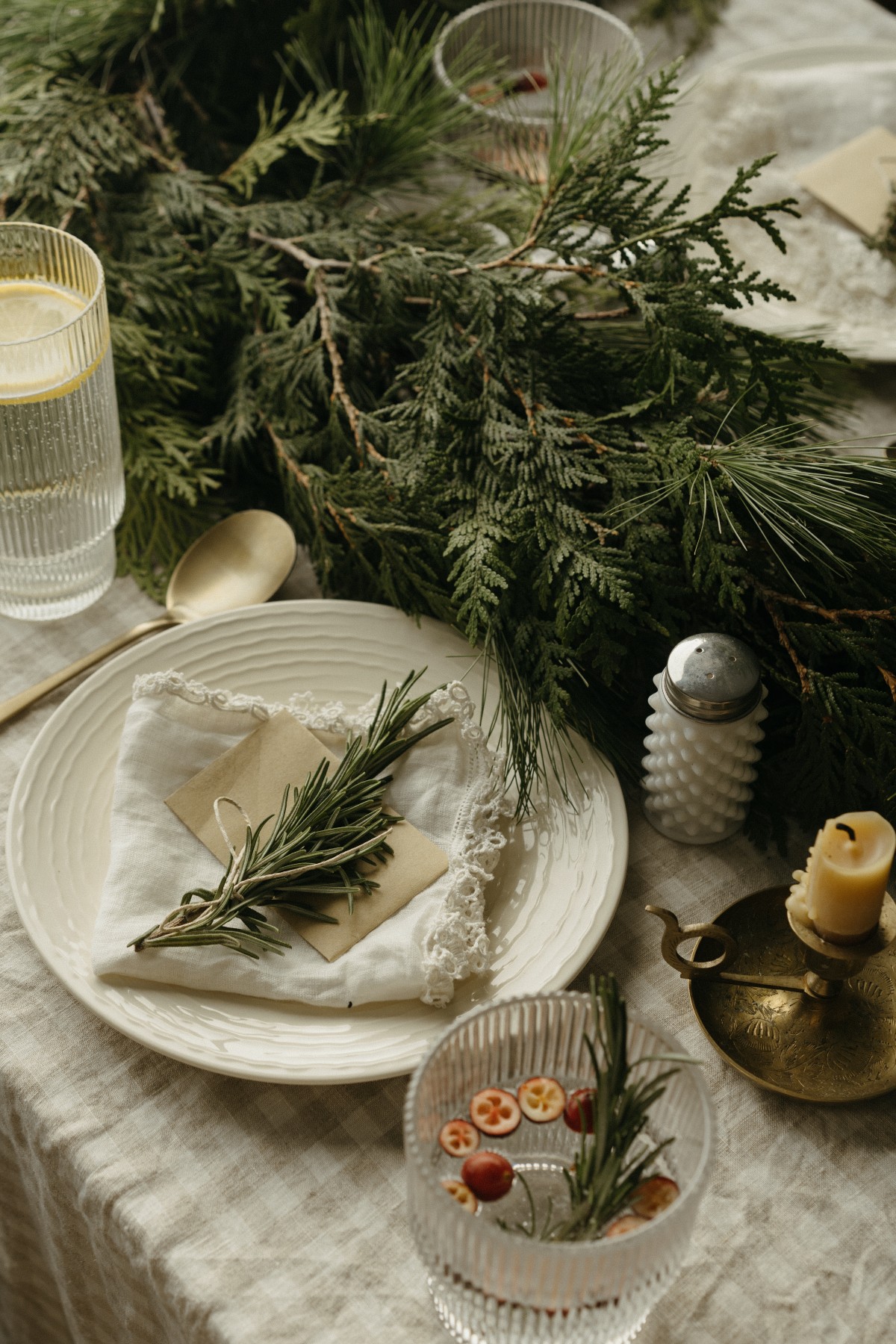 Table- A table runner full of fresh greenery, tapered candles, and other ornaments of holiday cheer can offer a stunning display that your family and guests will enjoy at mealtimes. Consider using pine (Pinus spp.), juniper (Juniperus spp.), cypress (Cupressus spp.), and magnolia (Magnolia spp.) as the greenery options for table centerpieces. Start by gathering several branches of greenery. Place the larger pieces along the table and add in smaller pieces as you go. Space tapered candles, herbs, or other ornaments throughout the greenery for a final touch. Check out our video here for holiday table setting inspiration!
Mantelpiece– Place evergreen boughs over your mantelpiece or on the edges of shelves. Add color and texture to green boughs with pinecones and berries such as juniper (Juniperus spp.), holly, or hawthorn (Crataegus spp.). Consider adding even more color to your mantelpiece by spacing fruit, such as pears or oranges, along the greenery.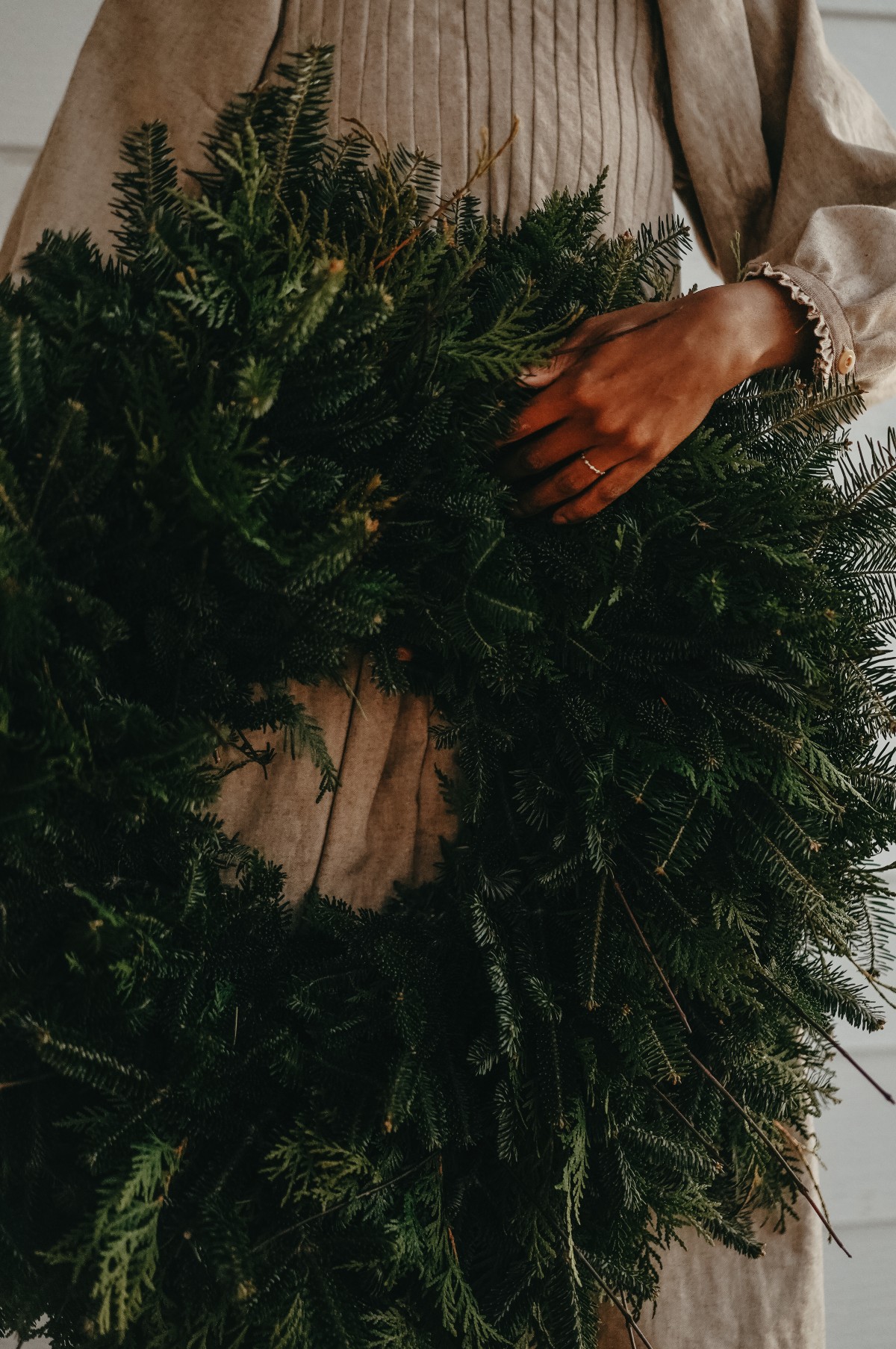 Wreaths- Whether hanging from the front door, placed over the fireplace, or decorating a blank area on the wall, wreaths are a must-have decoration for this time of year. To make a simple wreath from fresh greenery, cut branches from evergreens such as cedar (Cedrus spp.), fir, pine, or boxwood (Buxus sempervirens). From each branch, cut individual pieces off and tie them with string or wire in groups of three. You can use one type of evergreen or incorporate a variety. Use the string or florist wire to tie the groups of greenery to a wreath base. Once the base is full all around, you can tie extra things onto the wreath, like berry sprigs and pine cones. Read more about making wreaths in our posts, How To Make Your Own Fresh Rosemary Wreath and How to Make a Culinary Fall Wreath. 
Garland- To make a garland with fresh greenery, cut branches to be about 8-9 inches long each and secure the pieces together with wire, making the garland as long as you desire for your needs. Garlands are beautiful additions to areas like staircase railings, porch posts, and porch railings. You can add holiday, lights, bows, or other dashes of color to your garland to bring out a more festive feeling.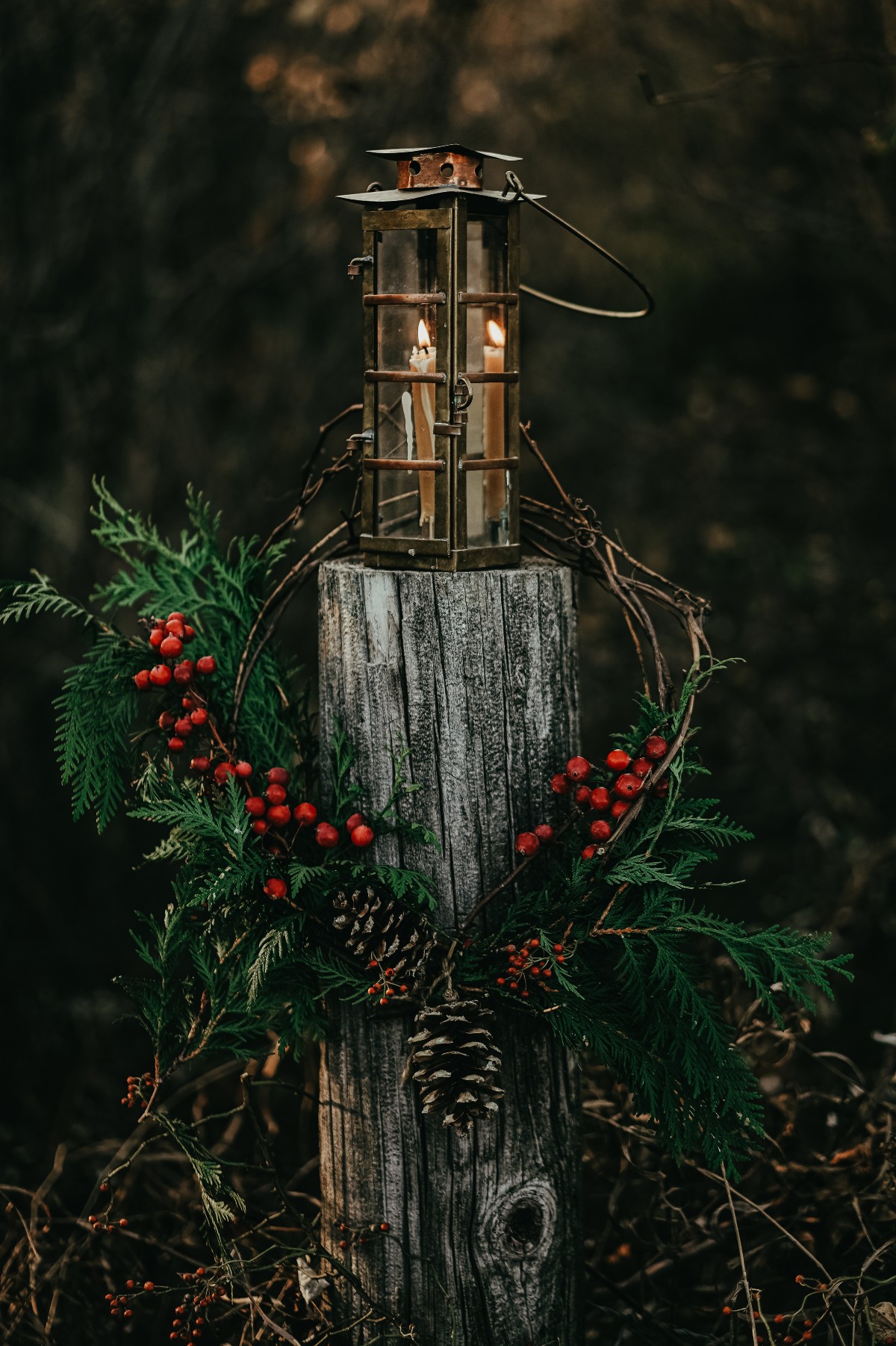 Front entry- The front entry decked out with fresh greenery is a welcome sight at the day's end. This is an opportunity to hang that homemade evergreen wreath on the front door, drape a garland over the doorway, and wrap the porch posts or lamp posts with garland.
Proper Maintenance and Shelf Life
Fresh greenery creates a lovely aroma in your home and brings that festive feeling we all enjoy. However, it doesn't last as long as store-bought faux greenery, so you have to keep that in mind when planning your decorating timeline. Typically, evergreens will hold up for 2-4 weeks, depending on which type you are using. To keep the greenery fresher for a longer period of time, soak the greenery in a sink or tub for 24 hours after harvesting to hydrate it before assembling it for decorating. Also, be sure to spritz it every day or two with water to help keep it from drying out too soon. To keep the fresh scent of pine alive, give this Christmas Tree Room Spray recipe a try in addition to your fresh greenery.
In Closing,
Whether you are decorating for the holiday season or as a way to brighten your days during this colder, darker time of year, fill your home with fresh greenery to delight the senses. Bringing the outside in creates a festive atmosphere that is sure to make you feel like there's no place like home for the holidays.