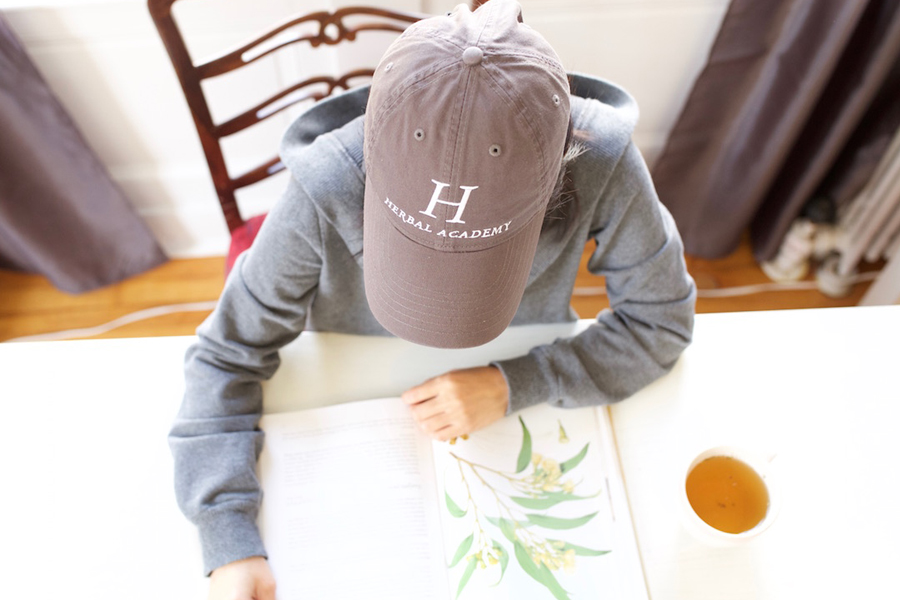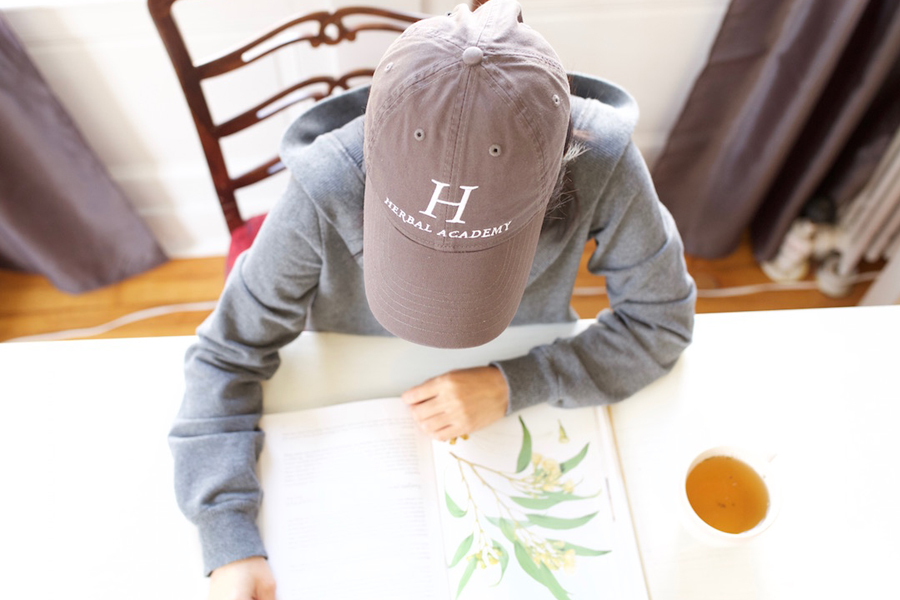 How To Create An Herbal Materia Medica (E-Course)
For those of us in the northern hemisphere, winter has settled over our gardens, over the fields, and over the wild places around us. For some of us, winter means snow. For others, a bleak landscape where nothing stirs. We miss the presence of our garden herbs and wild allies acutely.
It's tempting to pine for spring and the unfurling of leaf and stem, but we've found that winter is the perfect time to connect with herbs, even in their absence! Even though we can't bury our hands in soil and blooms, we can bury our noses in a book and connect with herbal friends old and new by researching plants for our materia medica journals.
We hope you will join us in our brand new materia medica course as we inspire our herbal studies through this cold, dark time of the year and infuse our herbal journeys by studying a few new herbs to tide us over until spring.
If you've never made a materia medica for your herbal studies before—you're in luck! The course teaches everything you need to know to start from scratch. If you already have a materia medica, we know you will still enjoy the course because we've filled it with our best tips and tricks for researching and personalizing your monographs.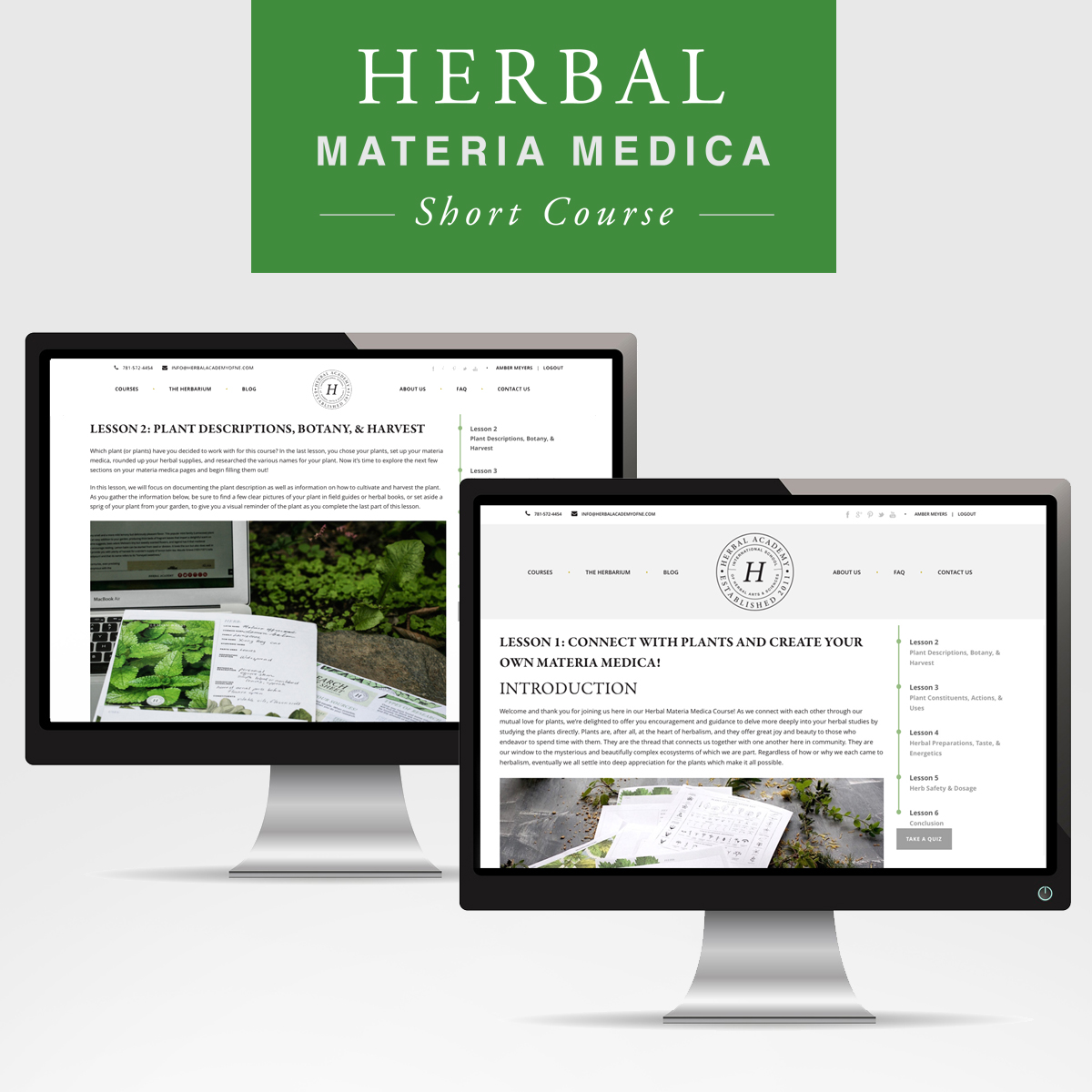 Meet Our Newest Course—Herbal Materia Medica Course
It's here! Our newest course, the Herbal Materia Medica Course, is a fit for everyone—beginning and advanced students alike! Be sure to sign up now so you don't miss it. You don't want to miss this opportunity to connect to your herbal studies like never before!
We believe it is just as important to connect to herbalism directly through the plants themselves as it is to study herbal theory and academics. Out of our love for herbs and our desire to inspire others to further enrich their studies one herb at a time, we have created this special course to help you learn to research and compile herbal monographs to create your own personal Materia Medica.

What Is A Materia Medica Anyway?
These materia medica have taken many forms, from hand illuminated manuscripts to typeset volumes and modern books. We encourage our students to create their own personalized Materia Medicas as part of our Intermediate and Advanced Herbal Courses, and it's a practice we highly recommend to anyone who is interested in learning herbalism.
Our students' materia medica take many forms, too, but we often get asked for guidance on how to get started. So we came up with the Herbal Materia Medica Course!
Why You Should Create An Herbal Materia Medica
The Herbal Materia Medica Course provides a convenient template for starting your own materia medica. Having a uniform template to work with as you study herbs ensures that you don't forget to research any important areas to better understand your herbs.
Dedicating time to focus on a single plant while creating a materia medica allows you to develop a better understanding of the many ways a single plant can support health. Exploring topics such as native range, cultivation, and botanical description can also help our academic understanding come alive so we can begin to understand a plant's "personality," so to speak.
But the course also goes beyond just explaining how to work through creating a materia medica monograph. We've made sure to add plenty of information on herbal safety, researching tips, and activities to help you connect to each plant in your journal.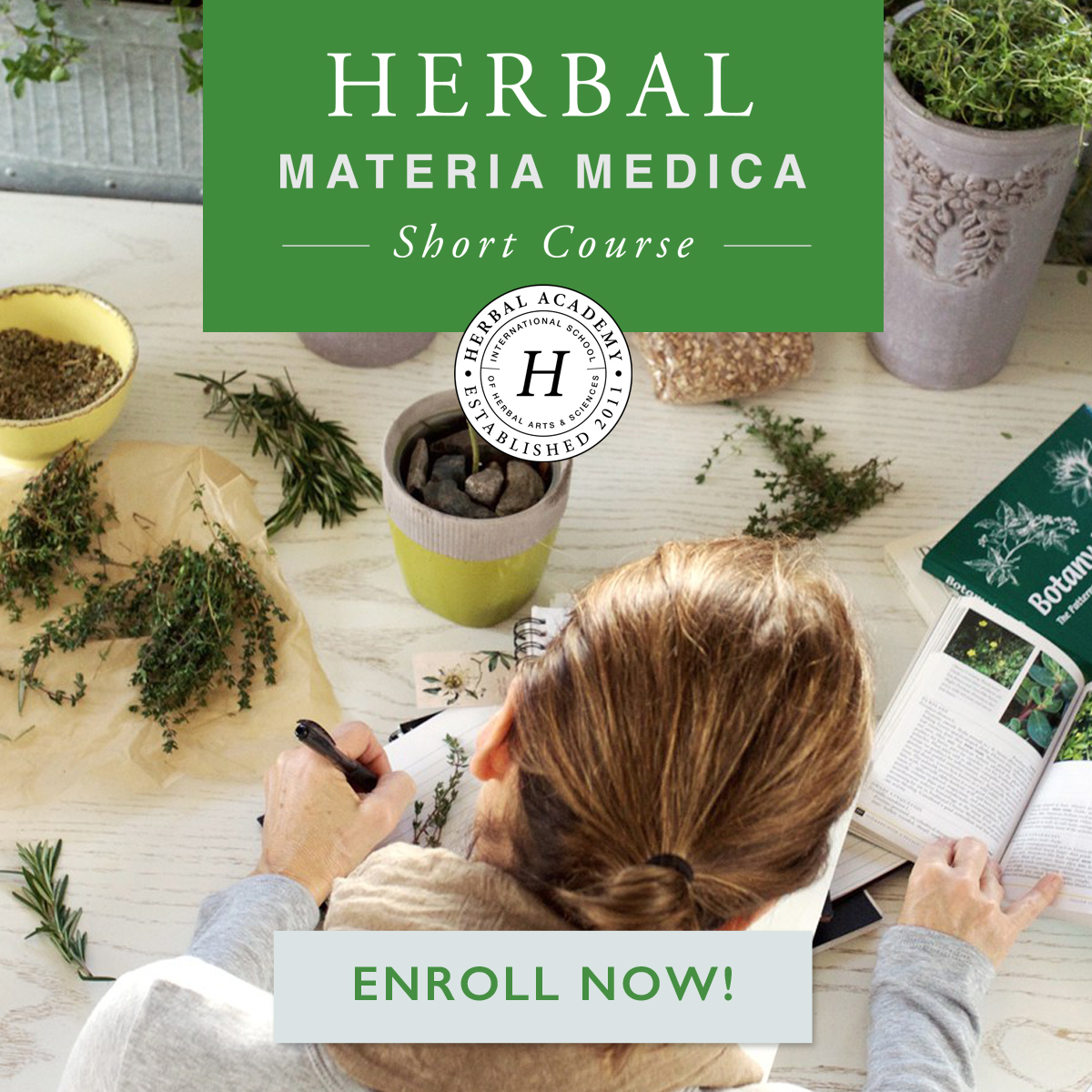 Sign Up Today!
Our materia medica course is now enrolling for a limited time. You will only have until the 10th to pre-register for your place in the course. Class starts on January 10th and enrollment will remain open through January 2017!
Register here: https://theherbalacademy.com/product/herbal-materia-medica-course
Here's what you can expect to find in the six detailed lessons that comprise the course.
Lesson One: Introduction
In Lesson One, you will learn the benefits of studying one herb at a time and choose the herb (or herbs) to include in your materia medica as you work through the course. You will begin researching the first categories for your materia medica pages.
Lesson Two: Plant Descriptions, Botany, and Harvest
In Lesson Two, you will begin exploring the next categories for your monograph, including a mini botany lesson and how to write a botanical description of your plant, how to research which parts of your herb are used, and learning when they are harvested.
Lesson Three: Plant Constituents, Actions, and Uses
This lesson discusses types of modern scientific literature that can be used as a resource when you research your plant, and also examines herbal actions and uses from both traditional and modern perspectives. We even delve into the chemistry of herbs with a look at botanical constituents like alkaloids, saccharides, and terpenes.
Lesson Four: Herbal Preparations, Taste, and Energetics
Herbalists use certain terms to describe how herbs behave and what makes them useful in supporting health. Lesson Four takes a good look at how taste can give you clues into the nature of an herb, and the unique vocabulary herbalists use to categorize herbs.
Lesson Five: Herb Safety, Dosage, Timeline for Use, Herb Safety Continuum Scale
In this lesson, we will explore several safety considerations in more depth and examine the resources that can help you research these important topics so you can add this information to your materia medica.
Lesson 6: Creating Your Materia Medica Document, Your Herbal Journey
Now that you have completed your first plant monograph, you are well on your way to deepening your knowledge of individual plants and building your materia medica! We'll have a look at several ways to create a materia medica and continue on the herbal journey.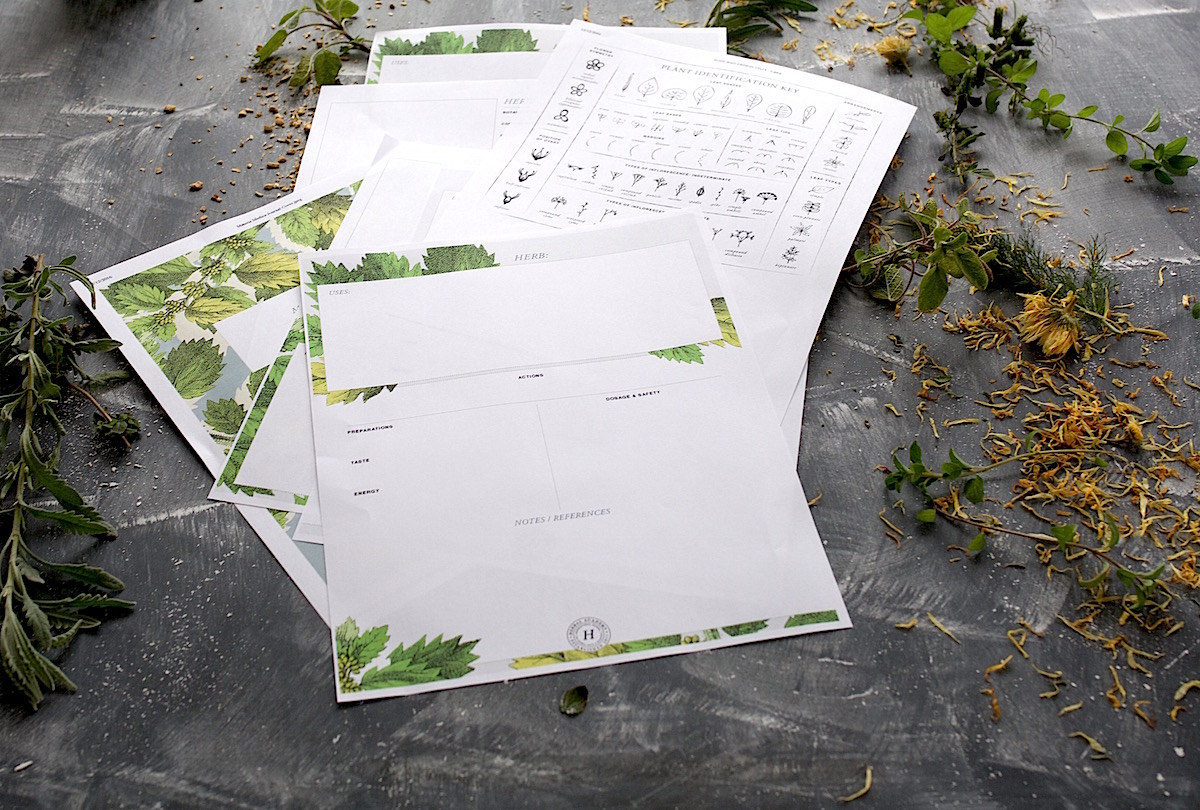 Organize It All With A Materia Medica Journal
Our gorgeous Materia Medica Journal can help you organize your herbal studies while creating a useful tool and treasured keepsake. With the ability to accommodate 50 botanical monographs with room for additional notes, it also contains useful charts and cheat sheets on plant identification, herbal safety, and researching tips and tricks. These notes and charts are featured at the beginning and end for easy reference and to support your herbal learning journey.
A simple, elegant layout with pops of color pages throughout makes it easy to organize your research about each plant. For each monograph, we've included all of the categories we encourage our students to explore as they become acquainted with an herb: botanical and common names, botanical description, uses, actions, dosage and safety, and many more. There's also plenty of room to add a drawing, photograph, or other visual representation of your herbs.
This beautiful journal is made with a hidden spiral binding that allows your materia medica to lay flat while you research, and can be used alone or in conjunction with any of our courses. However, it was especially designed to complement our Herbal Materia Medica Course!  
Sign up with the Materia Medica journal, or pick one up separately at: https://theherbalacademy.com/product/materia-medica-journal
Learn More About Creating A Materia Medica
We hope that this free course will bring a little brightness and cheer to your winter days and beyond. After you sign up for the course and purchase your journal, be sure to visit two of our most popular articles over on the blog to learn even more about creating your own materia medica!
Save
Save
Save