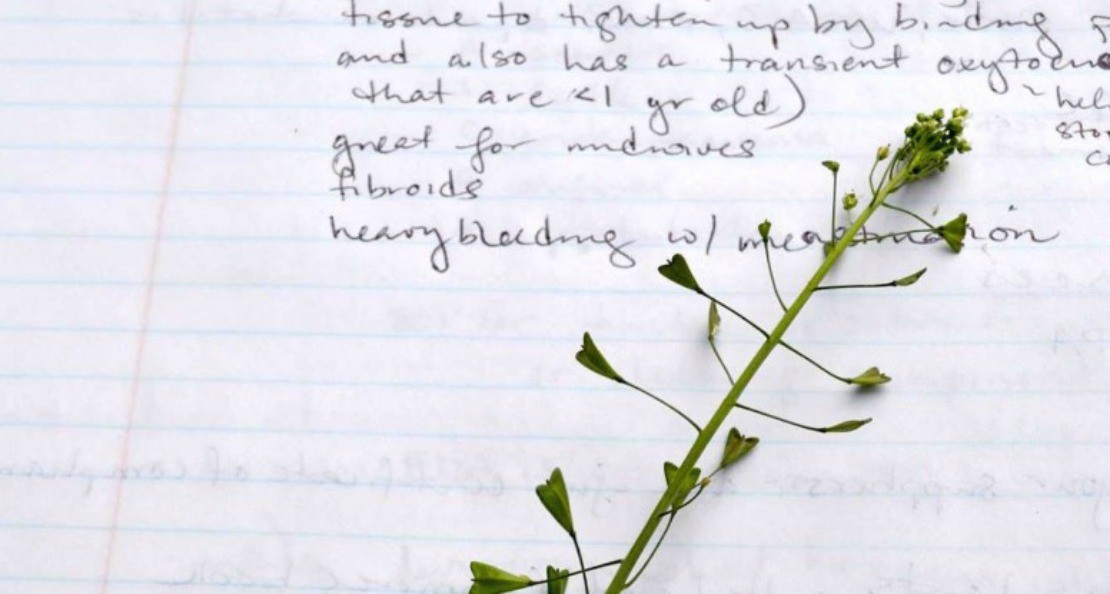 One Herb at a Time: 7 Ways to Inspire Your Herbal Studies
When you begin your herbal studies, the sheer number of herbs you encounter can be intimidating. While it's useful to learn about herbs as the need arises to solve everyday health issues, one of the best ways to approach herbalism is by studying under teachers who can walk with you step-by-step on the first part of your journey. In our online programs, students have direct access to HANE teachers and staff through forums and "contact us" forms. You should consider the value of interacting with teachers as you choose an herbal school, since individualized help can have such a positive impact on your first experiences with herbalism. In addition to enrolling in an herbal school, it's best to become familiar with herbs by studying them one at a time.
You can undertake this kind of study on your own and at your own pace. In so doing, you will be able to spend time focusing on a single herb and developing a relationship with that plant. Hands-on, immersive experience is often the type of learning, and we encourage all of our students to be as hands on as possible! With that in mind, here are seven ways to inspire your personal herbal studies by engaging with plants one at a time.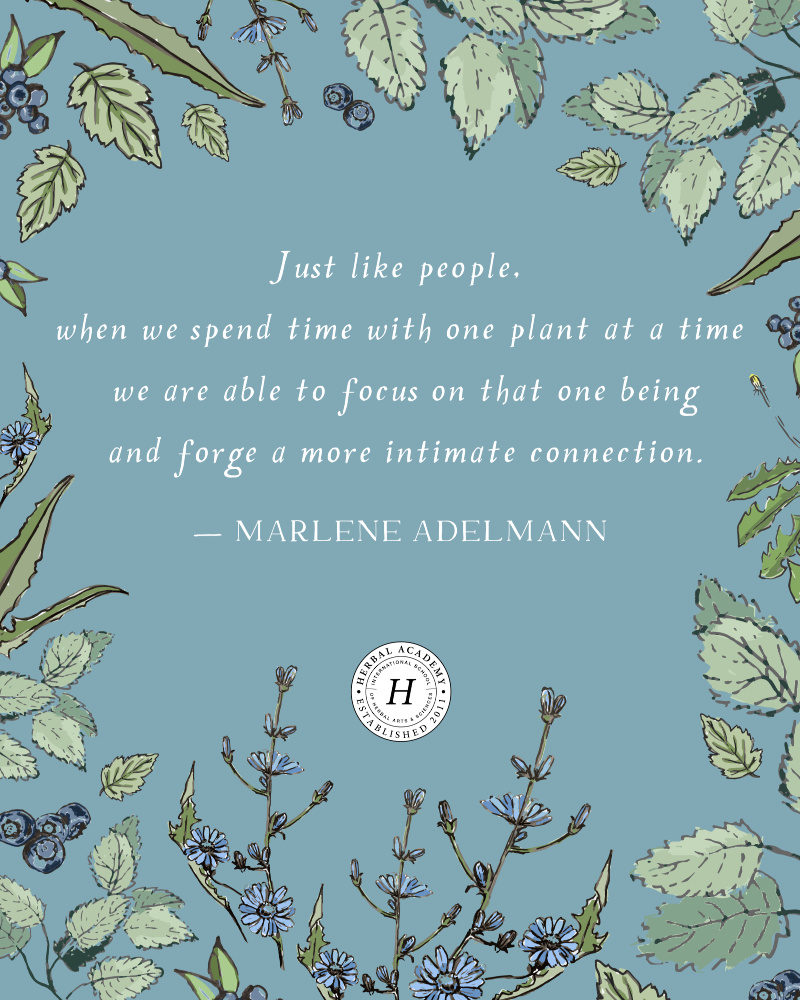 Create a Materia Medica
A materia medica is a type of book that contains detailed profiles of individual herbs. At the Academy, we love the idea of keeping a personal materia medica to deepen our herbal experience. Creating a materia medica is one of the projects we discuss in our online programs. In fact, we talked so much about the importance of building a materia medica that we designed an entire course around this concept – the Herbal Materia Medica Course! A materia medica is the perfect medium for a one-at-a-time herbal approach. In our program, we will teach you what a materia medica is (if you don't already know) and guide you through the research process, equipping you with the tools you need to study herbs on your own. You can also find more information on getting started in this post, What is a Materia Medica?.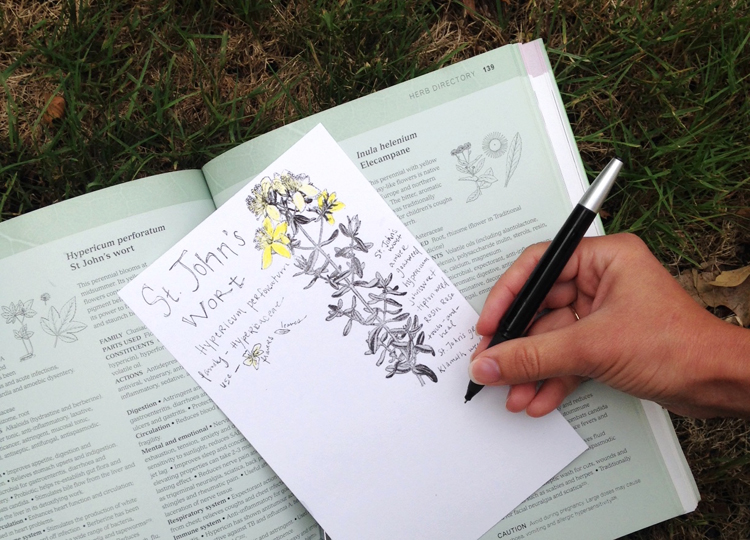 Experience the Taste of Herbs
Some systems of herbalism, such as Traditional Chinese Medicine, rely on taste as a way to organize herbs into groups. Some herbs are known for having a bitter taste, while others might be sweet, pungent, salty, or sour. Each taste indicates certain actions that an herb is especially good at bringing to the body. For example, salty, mineral-rich herbs often have diuretic actions, and bitter herbs often help to support digestion. Knowing the taste of herbs also comes in handy when creating formulas or tea blends – sometimes balancing less pleasant-tasting herbs with some that are more flavorful can make the experience of using herbs nicer!
There are two very easy ways to learn the taste of an herb. Simply make an infusion (or decoction, as the case may be), or try creating an extract using a single herb. When you experience the herb, take a few moments to gather your impressions of the taste. It's best to try the tea unsweetened first, and to use an unflavored alcohol, such as vodka, when making extracts. Record your impressions in a journal or your materia medica, so you will have notes to refer to later.
Spend a Few Minutes With a Field Guide
Becoming familiar with how a plant looks is just as important as knowing how it is useful. Our courses have herb profiles in almost every lesson, and we have included beautiful photographs to help students learn how to identify each herb.
One simple way to learn to identify more herbs is to buy two or three field guides for medicinal plants that grow in your area. Keep the books on your breakfast table or where they can become part of your morning routine, and spend a few minutes each day exploring a new plant. Compare the pictures and notes in each field guide to get a more well-rounded impression of each herb. You can do this over breakfast, or while you drink your morning coffee, and it's a great way to learn to recognize plants that you might find on a walk or hike in your part of the world.
A few field guides that we recommend include:
Peterson Field Guide to Medicinal Plants and Herbs of Eastern And Central North America
Peterson Field Guide to Western Medicinal Plants and Herbs
Medicinal Plants of the Desert and Canyon West
Medicinal Plants of the Pacific West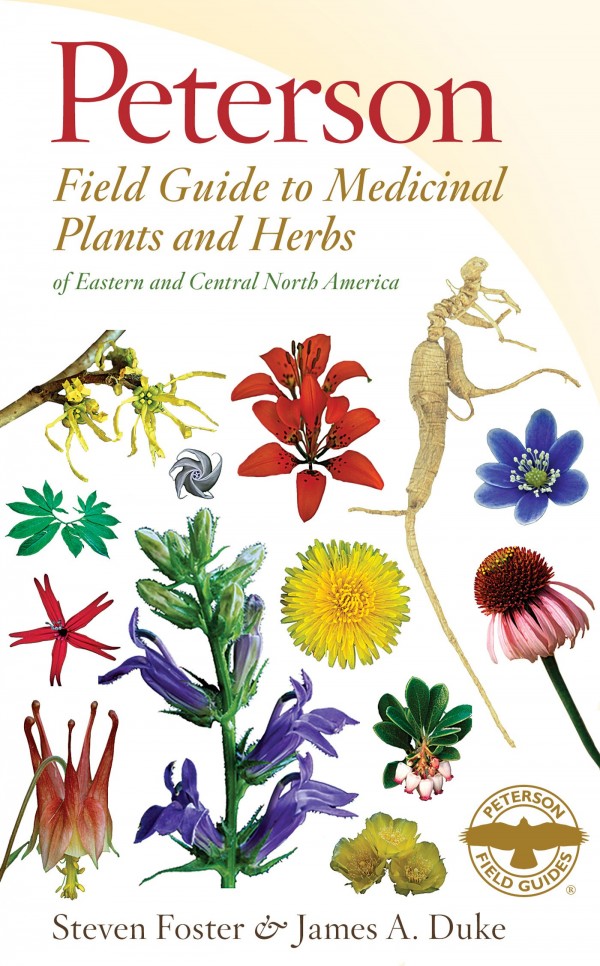 Cultivate a Container Garden
Collecting live plants to study as they grow is another excellent way to learn a single herb at a time. Even if you are short on garden space, you might be able to make room for a container garden on a patio or a sunny windowsill. Keep it small and buy a single plant at a time to give yourself plenty of time to observe each one. You could add a plant as you study it for your materia medica, or as one piques your interest at a local garden center, or as you come across it in your studies elsewhere. Make two plant markers for each pot –one with the common name, and another with the Latin name, for extra credit! For more tips on indoor herb gardening, take a look at our post, How to Start an Indoor Herb Garden.
Join (or start) a Study Group
Starting a study group with the focus of learning one plant at a time is a great way to learn and to meet other herbalists. Meeting once a month gives everyone plenty of time to research and come prepared to contribute. Herbal clubs or organizations in your area may know of study groups that you can join, and you can also ask at places, such as local garden centers and herb shops. If you are organizing a study group of your own, be sure to consider where you would like to meet and how to connect with other herbalists in your area.
Someplace public is often best, at least until everyone gets to know one another better. Local parks often have picnic pavilions that are free to use on a first- come, first-serve basis, or they can be reserved for a small fee. Coffee shops, book stores, libraries, and local herb shops are places that might welcome your study group, but be sure to check with management before you schedule your meetings to make sure they are expecting you and that no other events are scheduled that day.
Color an Herb
Using an herbal coloring book as a starting point is another novel way to learn about herbs one at a time. Read up on each herb from different resources as you complete the pages, and if you like, you could even take notes in the blank spaces around the margins of the page. You could also include your completed coloring page in your materia medica. If you use a medium such as water colors or pastels, you might even want able to display your finished pages as part of your home decor, or find another way to put them where you can enjoy looking at them often.
Dover Publications has a Medicinal Plants Coloring Book, and an Herbs Coloring Book to get you started (copies for under a buck on Amazon!). There are even a few free downloads available on the US Forestry Service's Color Wildflowers webpage. Not all of the plants featured there are herbs, but some of them are, including yarrow and Oregon grape.
Subscribe to an Online Herb-of-the-Month Club
Online Herb-of-the-Month Clubs are fun and full of information about individual herbs. Taking it slow with one herb a month makes it easy to fit in your extra studies, even with a full schedule and other herbal learning commitments. Herb-of-the-Month clubs are monthly publications including Natural Herbal Living Magazine or Herbal Roots Zine, and are delivered as PDF files to your email inbox. Natural Herbal Living Magazine also offers a monthly herb box, full of ingredients and supplies to make the recipes included in that month's magazine. Herbarium members can get a special discount on Natural Herbal Living's magazine and herb box.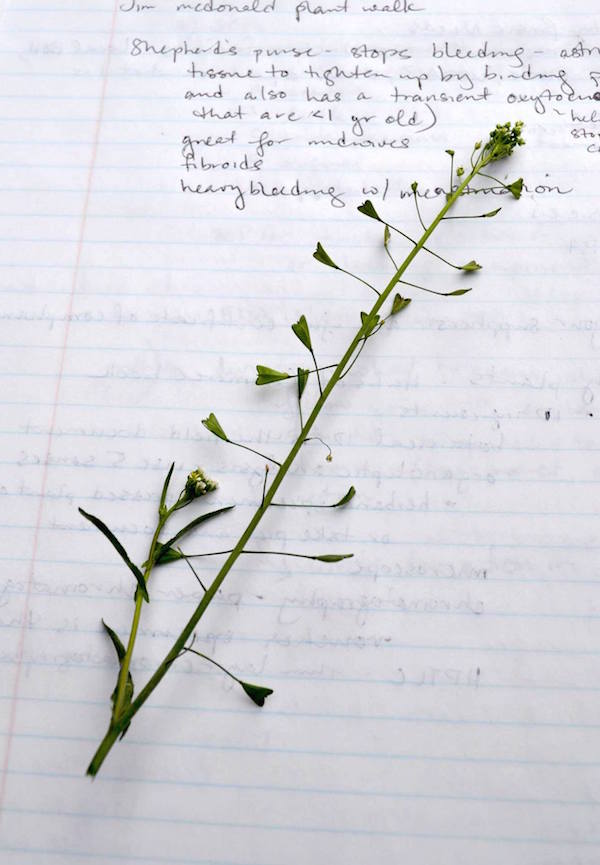 Slowing down and learning about one herb at a time is a nice break in a busy schedule, and it's an excellent way to inspire your herbal learning and keep your herbal education fresh and exciting. We hope you enjoy getting to know some herbs one-on-one, and we'd love to see you in class!
Enhance your Herbal Studies with The Herbarium
Our membership community is a not-to-be-missed resource for learning more about individual herbs. Our herbal profile database includes beautiful photos and botanical sketches of each herb to help you learn to identify herbs by sight, and the profiles draw from folk traditions and modern research to give you a detailed picture of how the plants are used. What's more, we always include important safety information, and the database is constantly being expanded and updated. We'd love for you to stop by for a video tour to learn more!