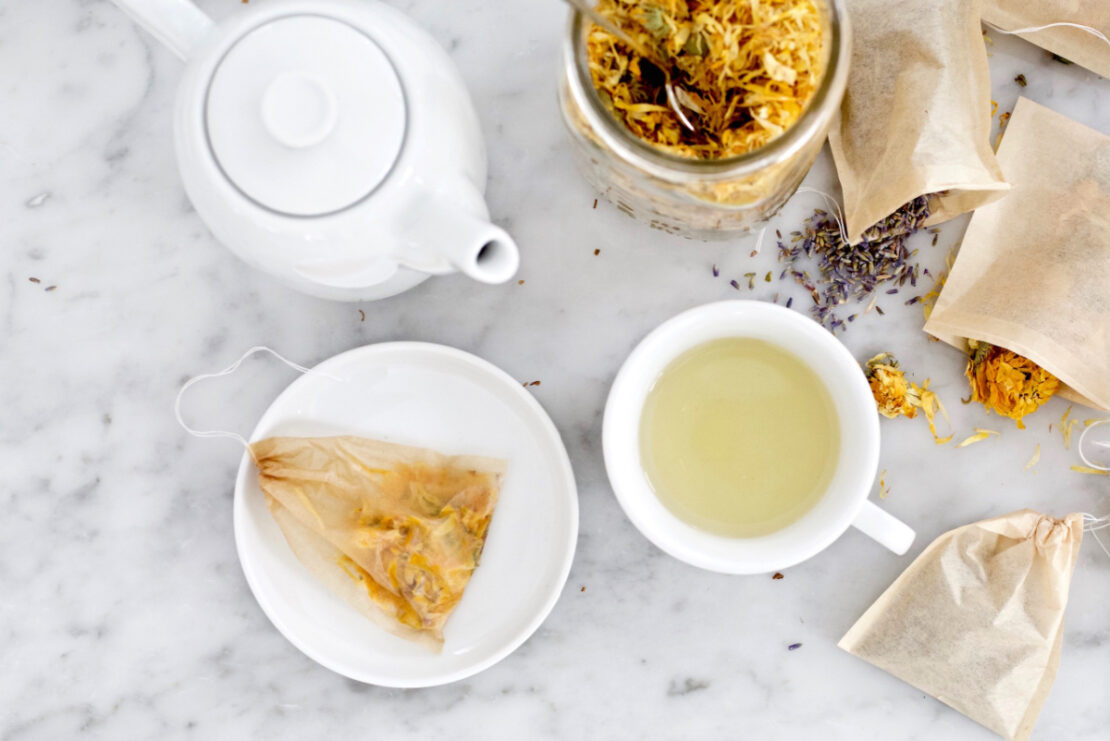 Reconnecting With Nature Through DIY Skin Care
Now that it's the wintertime, I've had to up my DIY skin care routine due to increased dryness and irritation. At first, it seemed like a chore, but skin care has now become something I find very meditative and relaxing. Being able to source many of these ingredients directly from the earth has allowed me to appreciate the beauty of doing things myself naturally while reaping the benefits of plant healing power.
So…where to begin? Walking into the skin care aisle in any store can feel overwhelming, as there are so many different brands that use complex ingredients. The packaging on a bottle might be cute, but it's difficult to be certain if the excess chemical additives are helping or hurting your case.
As someone who has struggled with hormonal acne, dark marks, and scars for most of my life, I have tried everything under the sun to heal my skin. After spending hundreds of dollars on various products and regimens over the years, I began studying natural holistic DIY skin care with organic ingredients. Not only have I found this to be more sustainable for my budget and lifestyle, but my skin finally feels amazing. Most of these ingredients are easily accessible, so you can purchase them from your local grocery store or simply start a small herb garden on your patio.
8 Go-To Natural DIY Skin Care Essentials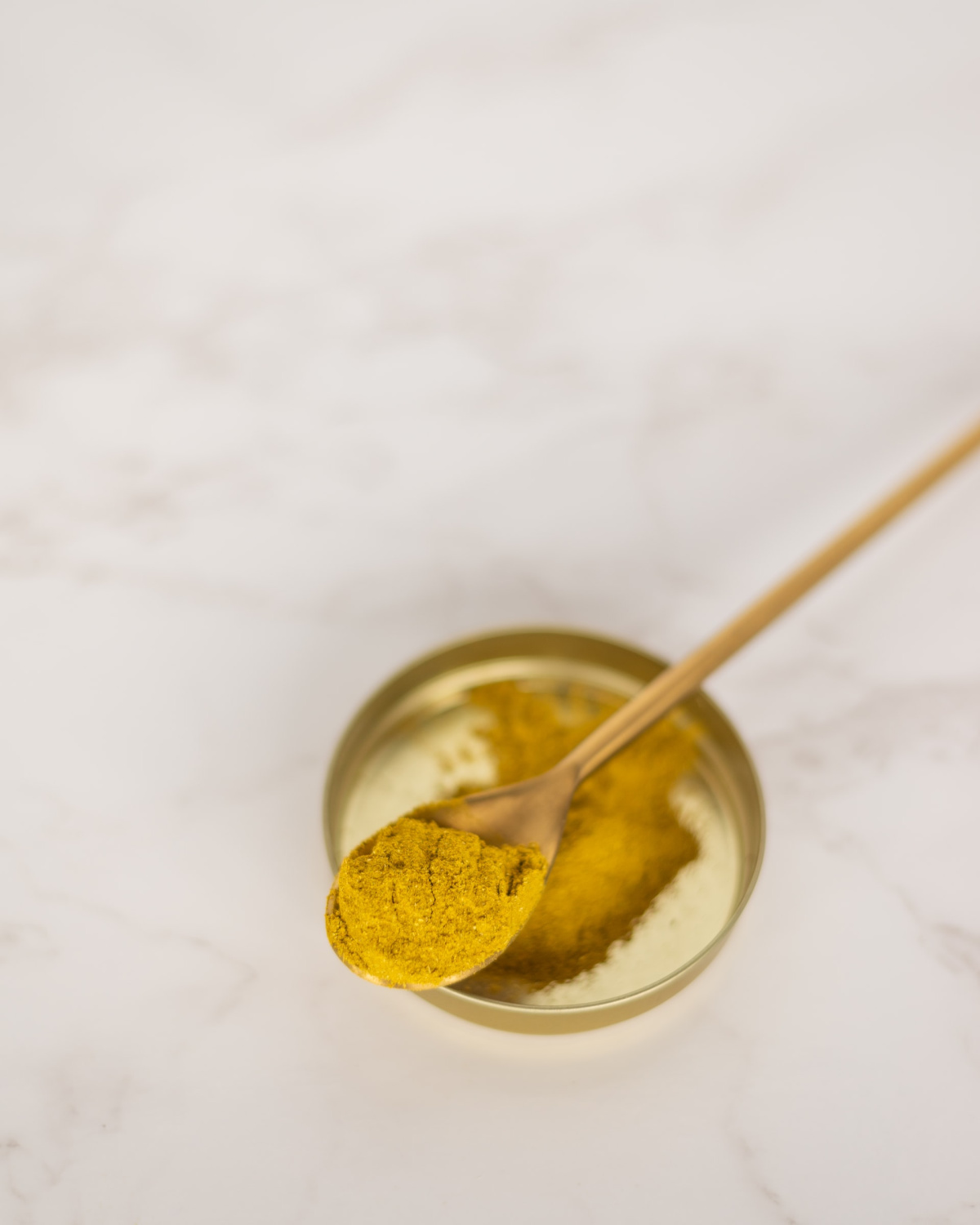 Honey and Turmeric Face Mask
These powerhouse ingredients will make your skin super glowy and soft. Raw honey's antibacterial and anti-inflammatory properties will soothe acne-prone or sensitive skin, drastically reducing the size of breakouts (Mandal & Mandal, 2011). Turmeric's anti-inflammatory and antioxidant qualities reduce acne scarring and brighten dark circles (Gold, 2014). I like to purchase capsules of turmeric, so I can choose to take it as a supplement or easily mix one into some honey. This is my go-to DIY skin care mask at least once a week in the wintertime to help combat dullness.
Red Clover to Ease Eczema
According to holistic skin care expert Earle (2014), "Herbs like red clover help eliminate toxins in the bloodstream that appear to trigger inflammation." Red clover does this through its alterative action that supports the body in removing metabolic waste. It can help soothe and reduce the appearance of itchy red patches (Gold, 2014). You can drink red clover as a tea, take it as a supplement, or apply it topically as an ointment. In the summertime, I love foraging for various herbs to make homemade teas. Red clover and lemon balm tea is a super refreshing summer drink, packed full of antioxidants and beneficial properties. Just steep four red clover blossoms, a sprig of lemon balm, and throw in some fruit slices.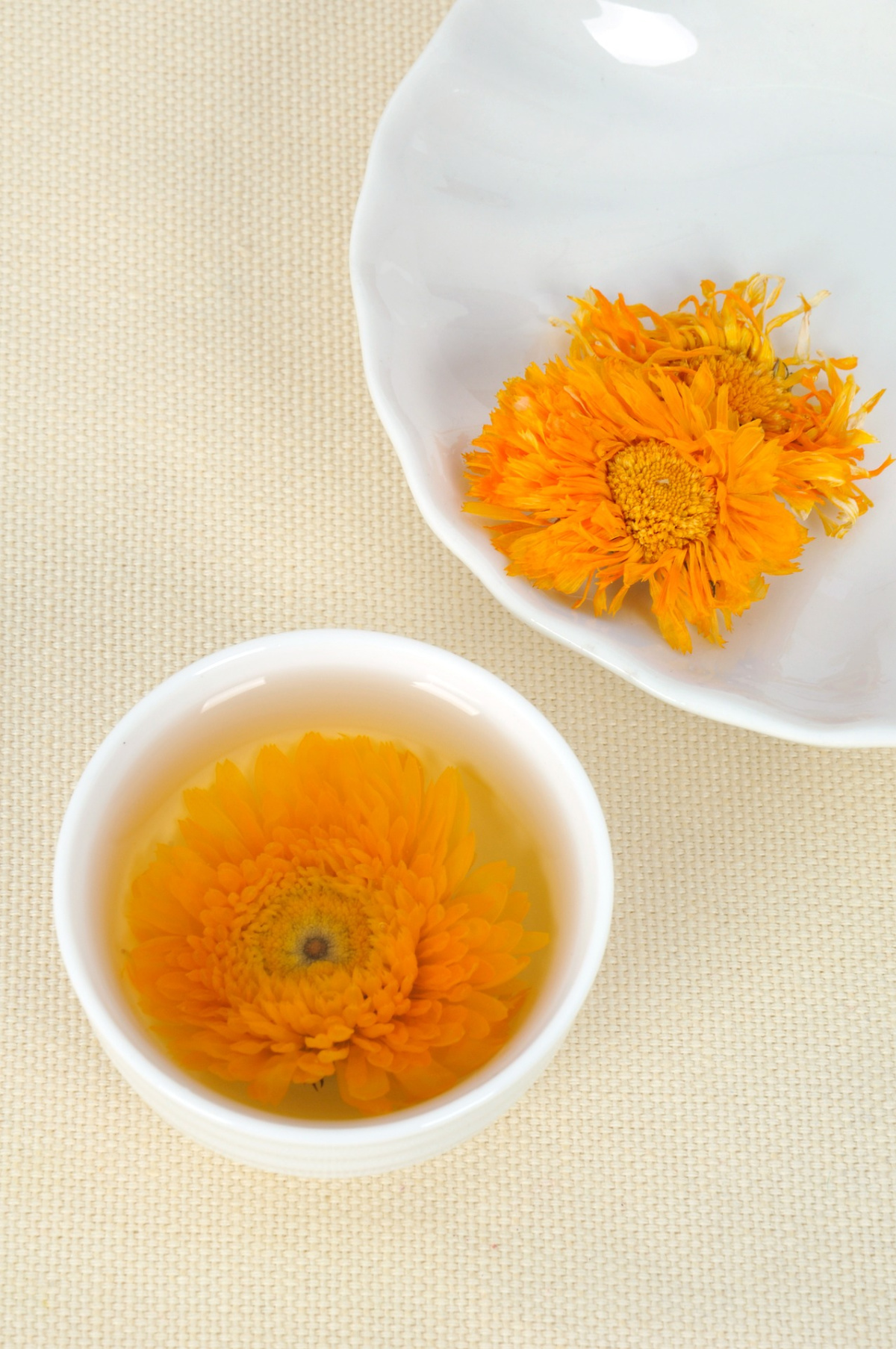 Marigold Tea
Did you know marigolds are more than a beautiful pest control flower in the garden? Pot marigold or Scottish marigold is best for teas (contains calendula), all parts of the flower can be used. The resin in the flower also traps garden pests. Calendula oil is extracted from the flower tops of marigold and has similar herbal properties as the flower itself. Native to Asia, Western Europe, and the Mediterranean, the oil has anti-inflammatory and antiseptic properties that are great for the skin (17 Plants & Herbs For Glowing Skin, n.d.).
For those who suffer from acne or skin inflammation, marigold tea is can be wonderful for helping reduce inflammation and regenerate new skin cells. I drink two cups a day, but any at all is beneficial to your health. The calendula oil found in marigolds is also known to slow aging, reducing the appearance of wrinkles. In Ayurveda, marigolds are cooling by nature, so they help combat inflammation in the body. This flower can easily be grown in your own garden or patio for easy harvesting.
Sage and Rosemary Toner
This toner is packed full of antioxidants which help fight aging and free radicals and at the same time support the regeneration of new healthy cells. Sage also acts as a natural astringent, which is perfect for oily, acne-prone skin types (17 Plants & Herbs For Glowing Skin, n.d.). I like to several sprigs of rosemary and sage, steep in 1 cup of water, then add a splash of witch hazel toner. Using a cotton pad, use this toner all over your face. Once your face dries, just use your favorite moisturizer!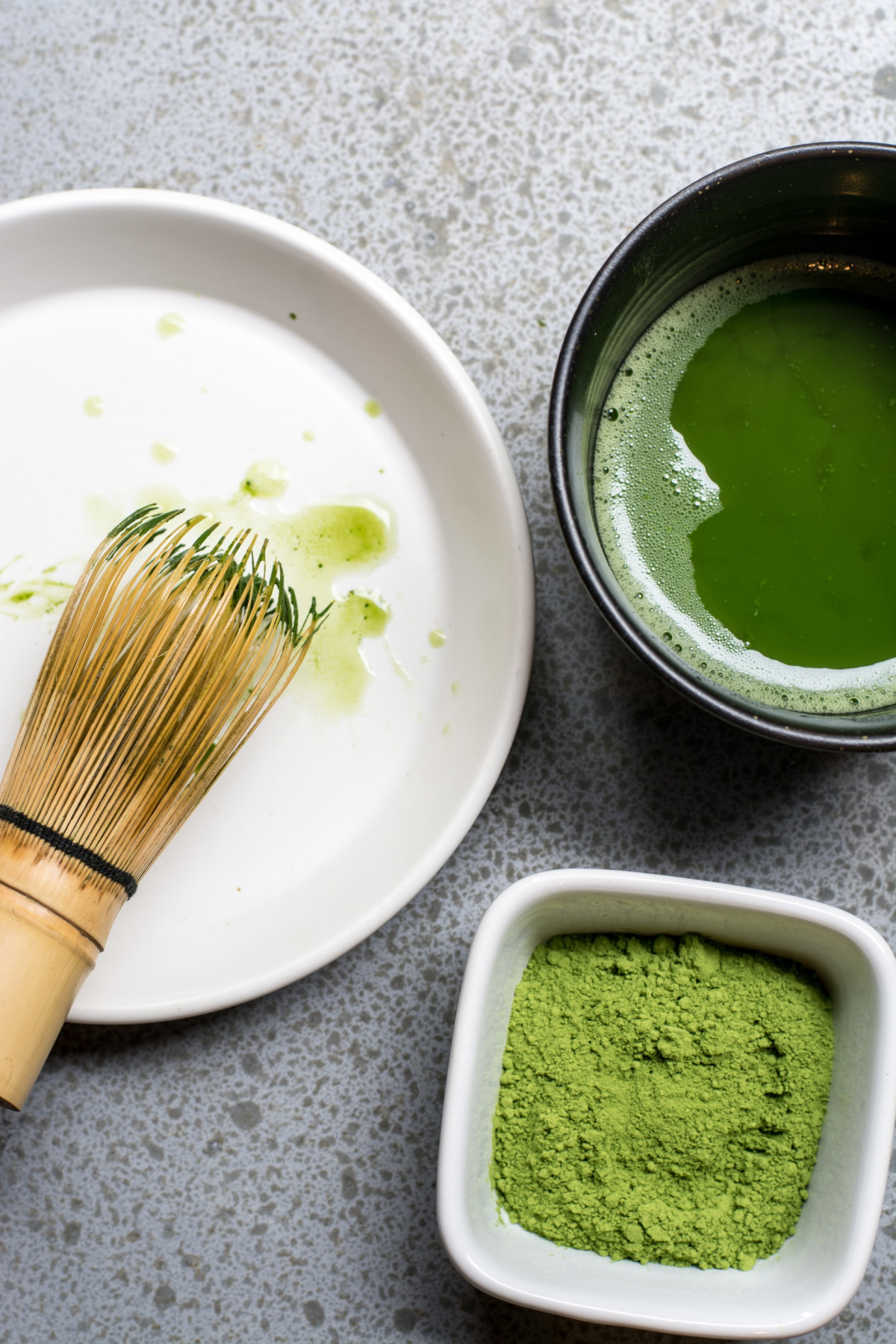 Green Tea
Green tea is another amazing plant with anti-inflammatory properties. Full of healing antioxidants, green tea reduces redness and irritation, fights skin cancers, and hydrates your skin (Chacko et al., 2010). This can be ingested as a tea, or you can make a face mask by mixing green tea with honey. Mash up green tea leaves or add green tea powder to some honey. Apply the mixture to your face with hands or a cool spoon. I started drinking one cup of green tea daily instead of coffee for a boost of energy—my skin has definitely thanked me!
Mint Tea and Spot Treatment
Mint is a great herb to have on hand if you are prone to acne. Mint leaves are antimicrobial and naturally contain salicylic acid, which is fantastic for preventing and soothing breakouts (17 Plants & Herbs For Glowing Skin, n.d.). You can mash a few leaves and combine them with enough honey to create a spot treatment paste or simply drink it as a tea.
Evening Primrose Oil
Evening primrose contains GLA (gamma-linolenic acid) and LA (linoleic acid). These essential fatty acids aren't created in the body, but they are incredible for anti-inflammatory purposes (Christie, 1999). Evening primrose oil can be purchased at most stores in the supplement section. It has been key for me in resolving my acne. I take a capsule supplement daily. Another option is to grow your own evening primrose plants, as the seeds, leaves, roots, and flowers are all edible. Harvest your own seeds and sprinkle them on your salads or in your smoothies!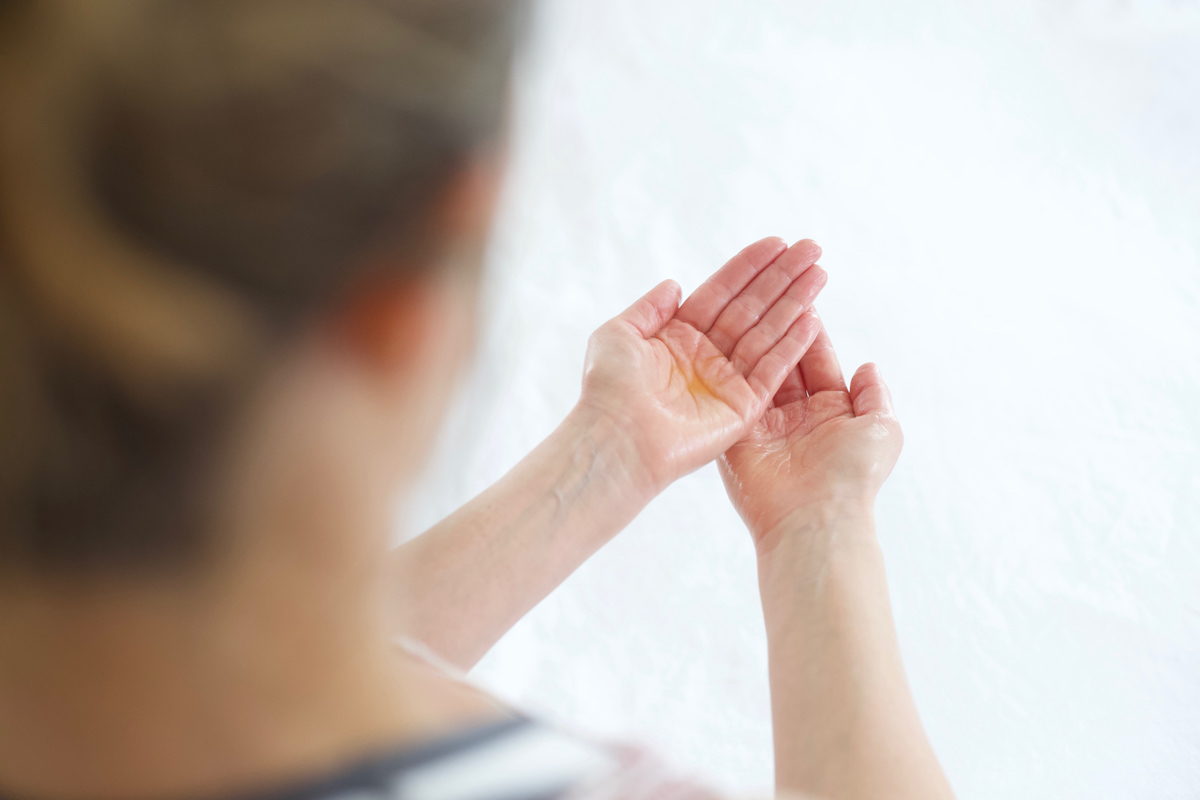 Apple Cider Vinegar Toner
Similarly, apple cider vinegar has anti-inflammatory properties and consists of acetic acid and alpha hydroxy acid (Jahns, 2022). This means apple cider vinegar is perfect for exfoliating the skin, absorbing excess oils, and clearing blocked pores. It also has the power to restore the proper pH levels to your skin, keeping the outer layer of your skin, the acid mantle, healthy and glowing. I like to make a toner with apple cider vinegar by diluting the solution 50/50 with distilled water.
Skin Care and Self-Care are Powerful!
In addition to helping us look and feel like our best selves, did you know self care gives us hope? It shows our subconscious that we are worthy of love. Developing a healthy skin care routine can help us feel more grounded and may even help us to better regulate our emotions. Taking the extra time in the morning to mindfully nourish my skin or dilly dally in the garden while harvesting fresh ingredients has also helped me learn to show myself more kindness and compassion.
Connecting with nature through skin care is incredibly healing for the mind, body, and spirit. I hope you find joy in connecting with yourself and the planet through these skin care tips!
For more on DIY skin care, see:
Simplifying Herbal Skin Care: 5 Basic Recipes to Get You Started
4 Herbal Recipes For Everyday Skin Care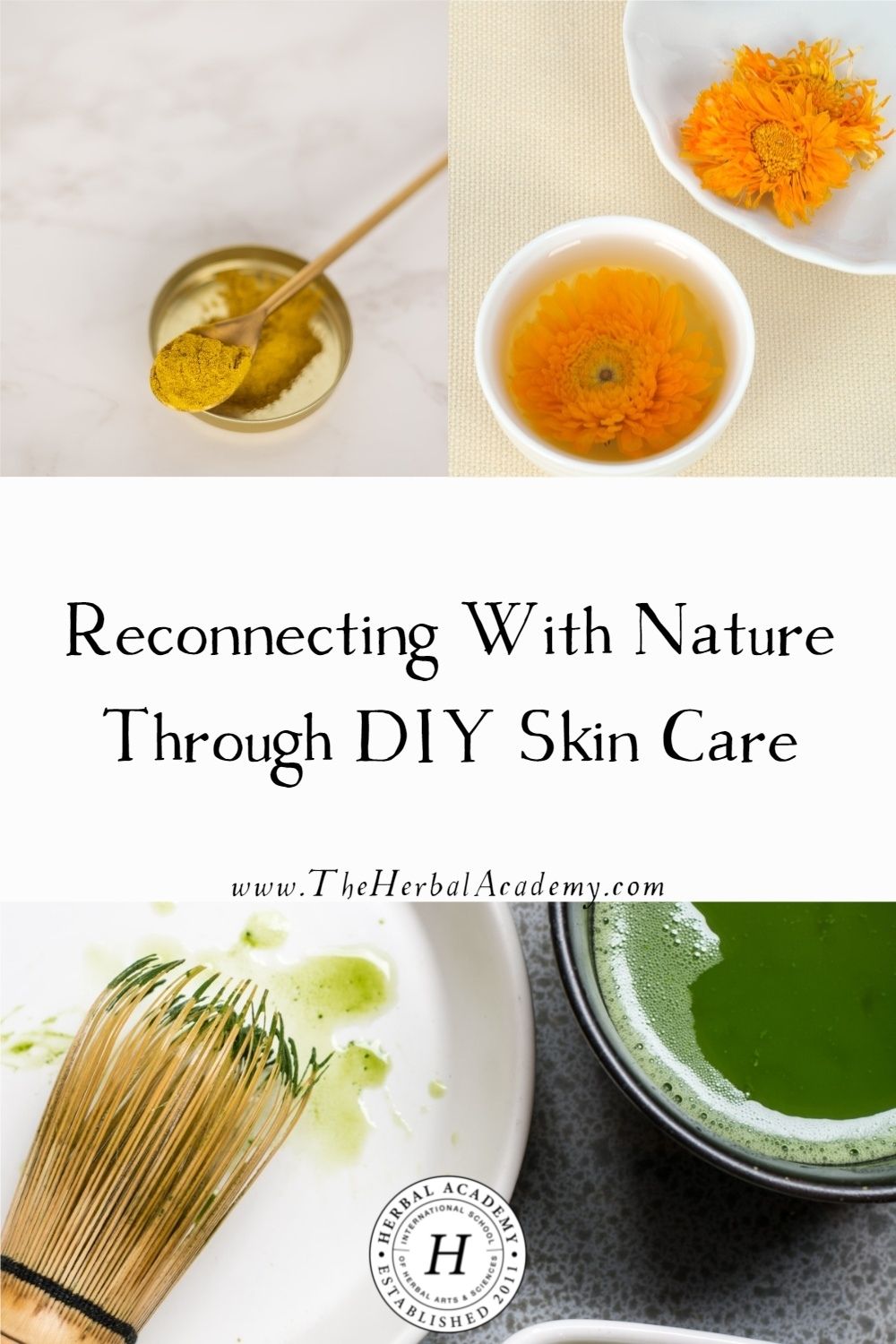 REFERENCES
17 Plants & Herbs For Glowing Skin. (n.d.). BioClarity. Retrieved February 17, 2022, from https://www.bioclarity.com/pages/17-plants-you-can-grow-at-home-for-radiant-skin
Chacko, S. M., Thambi, P. T., Kuttan, R., & Nishigaki, I. (2010). Beneficial effects of green tea: a literature review. Chinese medicine, 5, 13. https://doi.org/10.1186/1749-8546-5-13
Christie, W. W. (1999). The analysis of evening primrose oil. Industrial Crops and Products, 10(2), 73–83. https://doi.org/10.1016/s0926-6690(99)00013-8
Gold, G. (2014, November 3). These 7 herbs and spices can save your skin – beauty – everyday health. EverydayHealth.com. https://www.everydayhealth.com/beauty-pictures/these-herbs-and-spices-can-save-your-skin.aspx
Janhs, Erin (2022, February, 11). I swapped my pricey toner for a DIY version—and my skin cleared up. Byrdie. https://www.byrdie.com/apple-cider-vinegar-for-face-toner
Mandal, M. D., & Mandal, S. (2011). Honey: its medicinal property and antibacterial activity. Asian Pacific Journal of Tropical Biomedicine, 1(2), 154–160. https://doi.org/10.1016/s2221-1691(11)60016-6
White, A. (2015, August 11). 8 home-grown plants for naturally glowing skin. Mindbodygreen. https://www.mindbodygreen.com/0-20697/8-homegrown-plants-for-naturally-glowing-skin.html