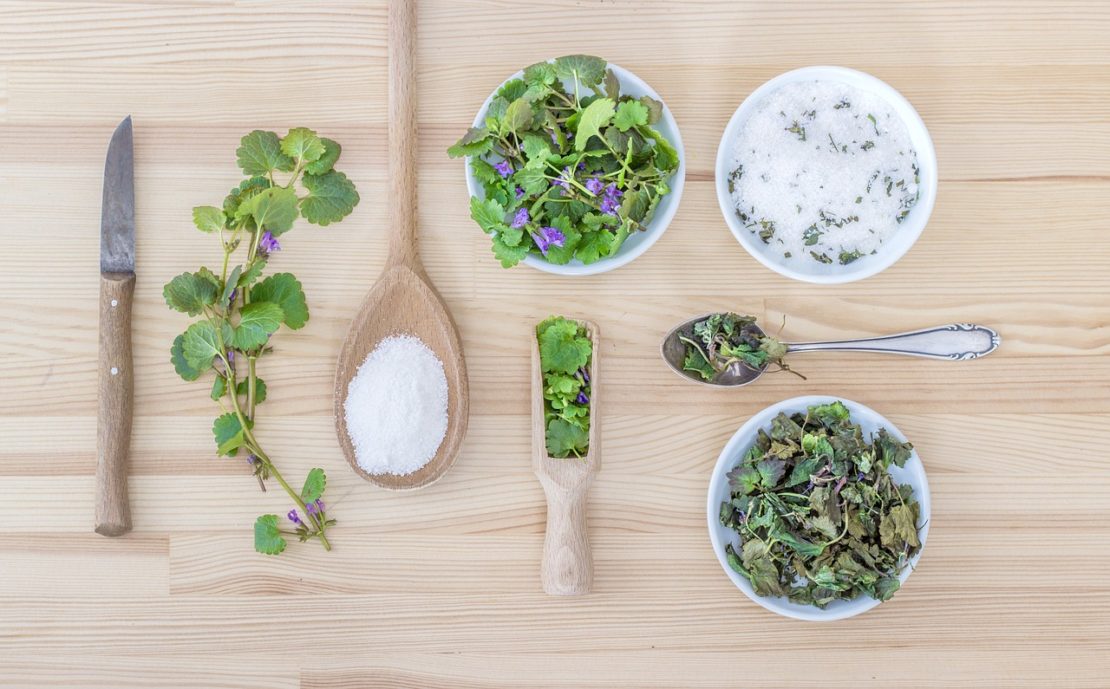 Simplifying Herbal Skin Care: 5 Basic Recipes To Get You Started
Have you ever searched for easy homemade herbal skin care recipes only to find complicated recipes with 15 steps and hard-to-find ingredients? Us too, which is why we have compiled this list of simple DIY herbal skin care recipes made with basic, user-friendly ingredients.
Not only are these straightforward recipes easy to follow, but they are also easy to adapt using your favorite herbs or essential oils. Infuse coconut, almond, or sunflower oil with popular herbs such as lavender, mint, lemon balm, and chamomile. I am a huge fan of lavender, which is soothing and always makes me feel better, as well as and mint, which is zesty and refreshing—perfect for infusing in the body wash recipe below. When using essential oils, be sure to check for safety and follow proper dilution guidelines.
Creating and using non-toxic face and body products should not be intimidating, even for beginners.
5 Basic Herbal Skin Care Recipes
1. 

Basic Salt Body Scrub

Since you are getting your scrub on, why not make an easy and effective DIY salt body scrub. Here's what you need for this recipe.

Use this natural scrub to buff away dead skin cells and smooth rough patches.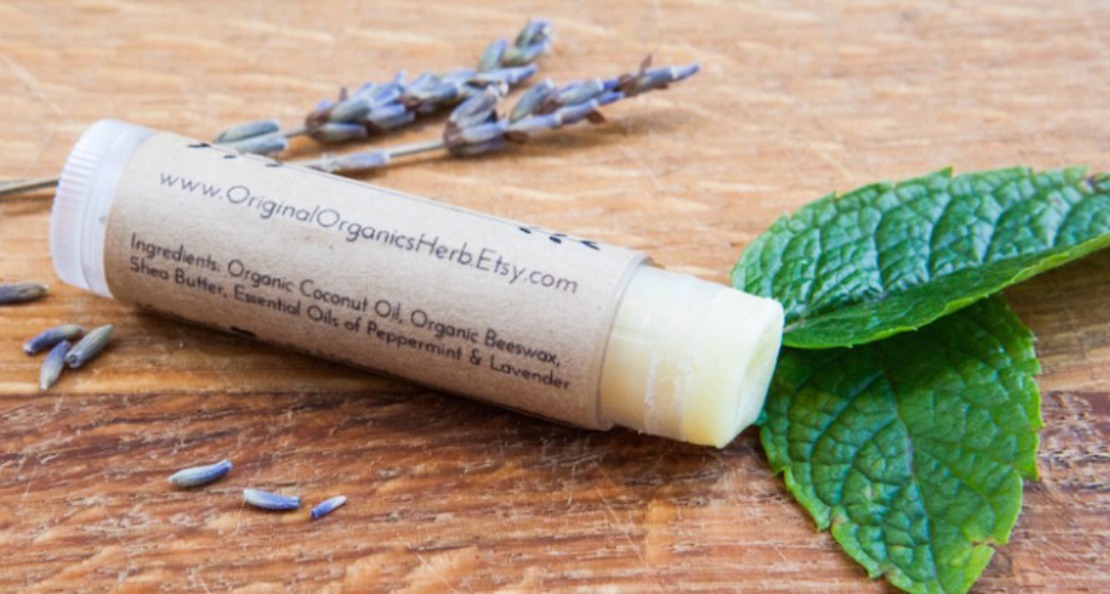 2. Basic Lip Balm
I have a confession to make: I am a lip balm addict. And, making my own balms is a fun, less expensive way to feed my obsession. Plus, the possibilities are endless so feel free to get creative! The basic recipe listed here has been adapted from 101 Easy Homemade Products for your Skin, Health, and Home by Jan Berry.
Shelf-life: approximately 6 to 9 months.
Pro tip: Do not leave this balm in a hot car. It will melt and make a mess.
3. Basic Lip Scrub
Want to get really soft kissable lips? Use a gentle, earth-friendly lip scrub before applying your new balm. It is one of the easiest scrubs to make.
Note that while the abrasive quality of the sugar is perfect for removing dry skin from your lips, it can also be slightly harsh, so don't overdo it. Use this scrub sparingly—once to twice a week—and discontinue if irritation occurs. Follow with moisturizing lip balm.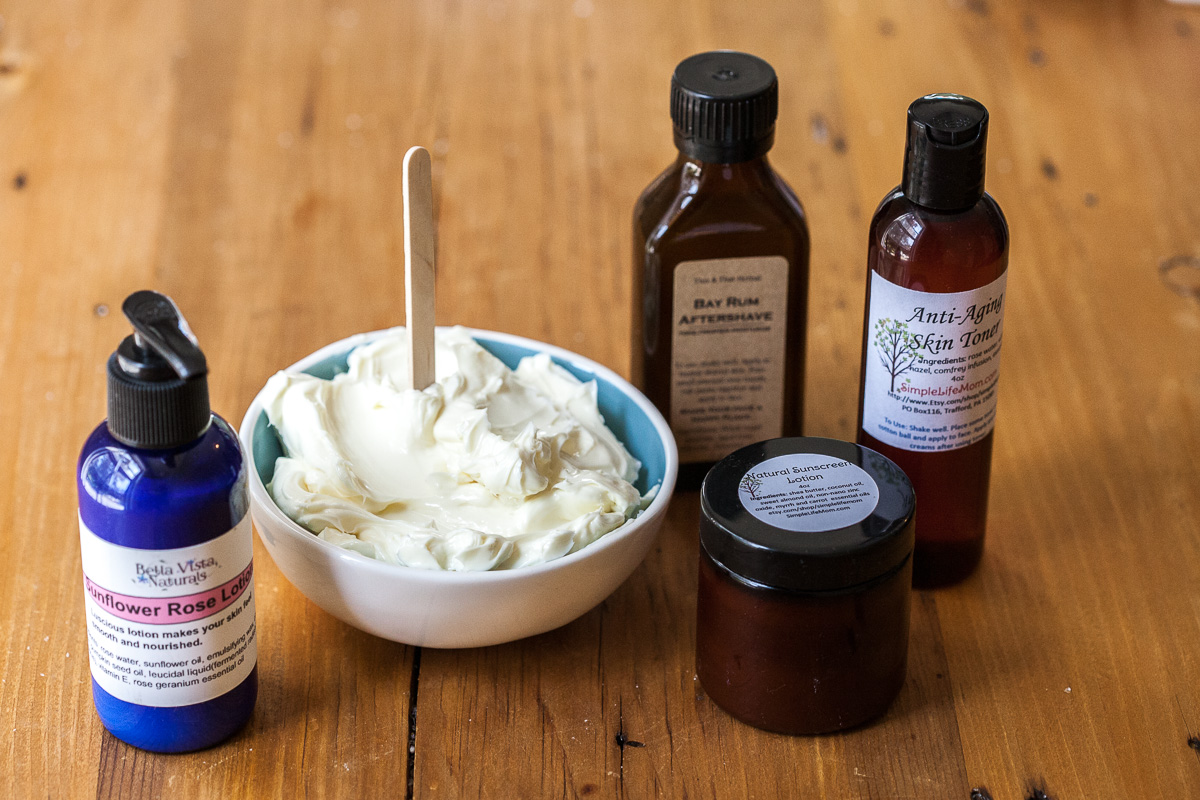 4. 

Basic Body Butter

As a dry skin sufferer, I have tried so many different moisturizers, especially during in the rough New England winters. This is my favorite, easy-peasy, everyday option that can be used on your face, entire body, and even your hair.

If making this during warm weather months, you can place in the refrigerator to speed solidification. I typically make two batches of this potion, one plain and one with lavender essential oil.
5. Basic Herbal Body Wash
With summer upon us, this body wash is a refreshing treat on a hot summer day. From 101 Easy Homemade Products for your Skin, Health, and Home by Jan Berry.
We hope you enjoy creating these easy, earth-friendly herbal skin care products. Making homemade herbal face and body products does not have to be intimidating or difficult. Using natural, non-toxic ingredients is good for your skin as well as the planet. The recipes presented here include easy-to-find, basic ingredients so that practitioners of all levels can create them. Once you become more comfortable you get making your own products, you can explore more advanced herbal and essential oil recipes.
What are some of your favorite go-to skin care recipes? Connect with us on our social sites, and let us know what herbal skin care recipes you make to use every day.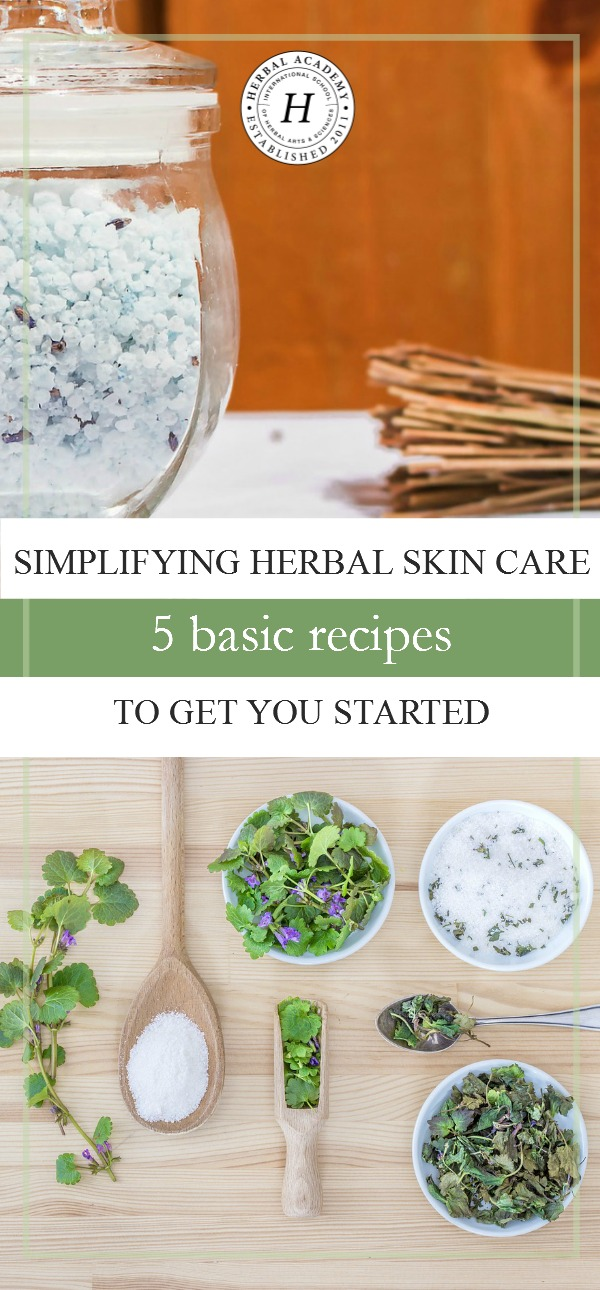 REFERENCES
Berry, Jan (2016). 101 Easy Homemade Products for Your Skin, Health & Home. Salem, MA: Page Street Publishing.
Housel, K. (2016). Homemade Lavender Salt Scrub. Retrieved on June 15, 2017 from http://www.motherearthnews.com/diy/homemade-lavender-salt-scrub-zbcz1601.