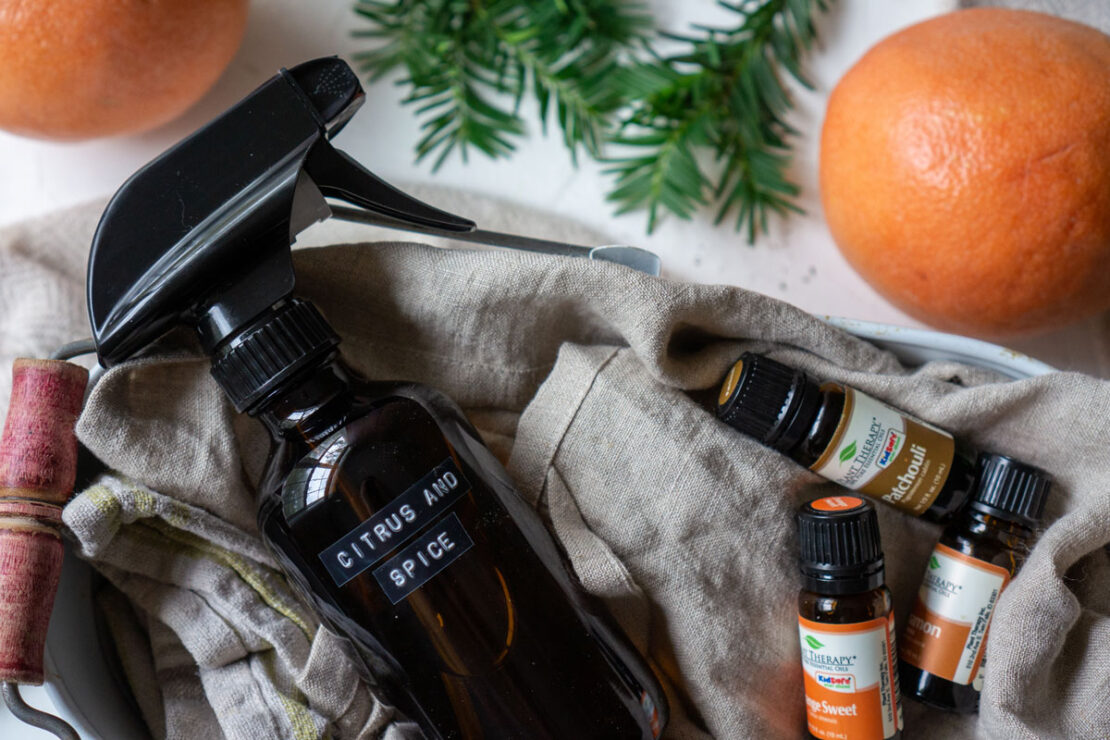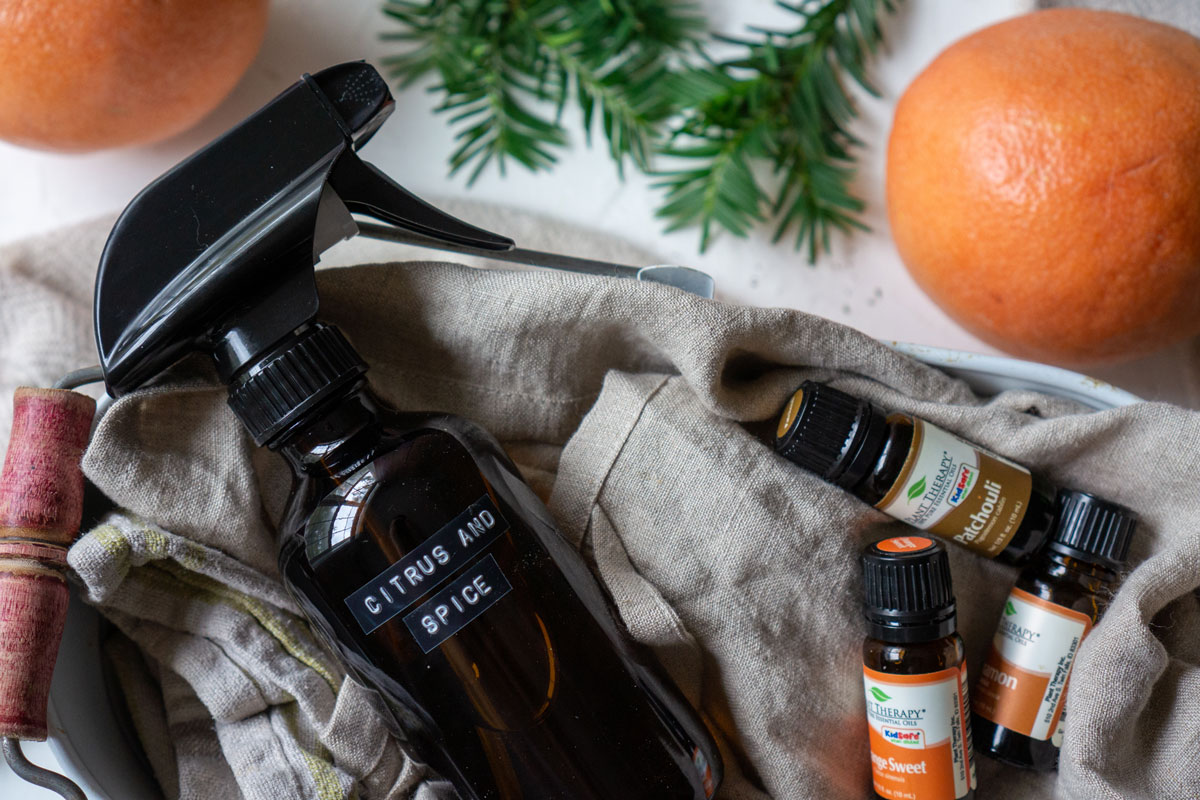 Citrus and Spice: DIY All-Purpose Cleaner
Crisp cool air and tree colors turning to auburn and golden hues welcome the arrival of autumn and winter months. Tis the season to enjoy the comforts of home, like a crackling fireplace, a cozy couch, or a clean kitchen that's ready for cooking up hearty recipes. And speaking of recipes, have you ever tried making your own DIY all-purpose cleaner?
All-purpose cleaners that incorporate essential oils are easy to make, affordable, and contain fewer toxic ingredients than most store-bought cleaners. They effectively clean, and they have the added benefit of brightening your home with delightful aromatherapy scents.
This article will discuss the multiple benefits of making your own household cleaner with natural ingredients. Don't miss the easy and affordable recipe for Citrus and Spice: DIY All-Purpose Cleaner toward the end of the article, which smells amazing and works beautifully!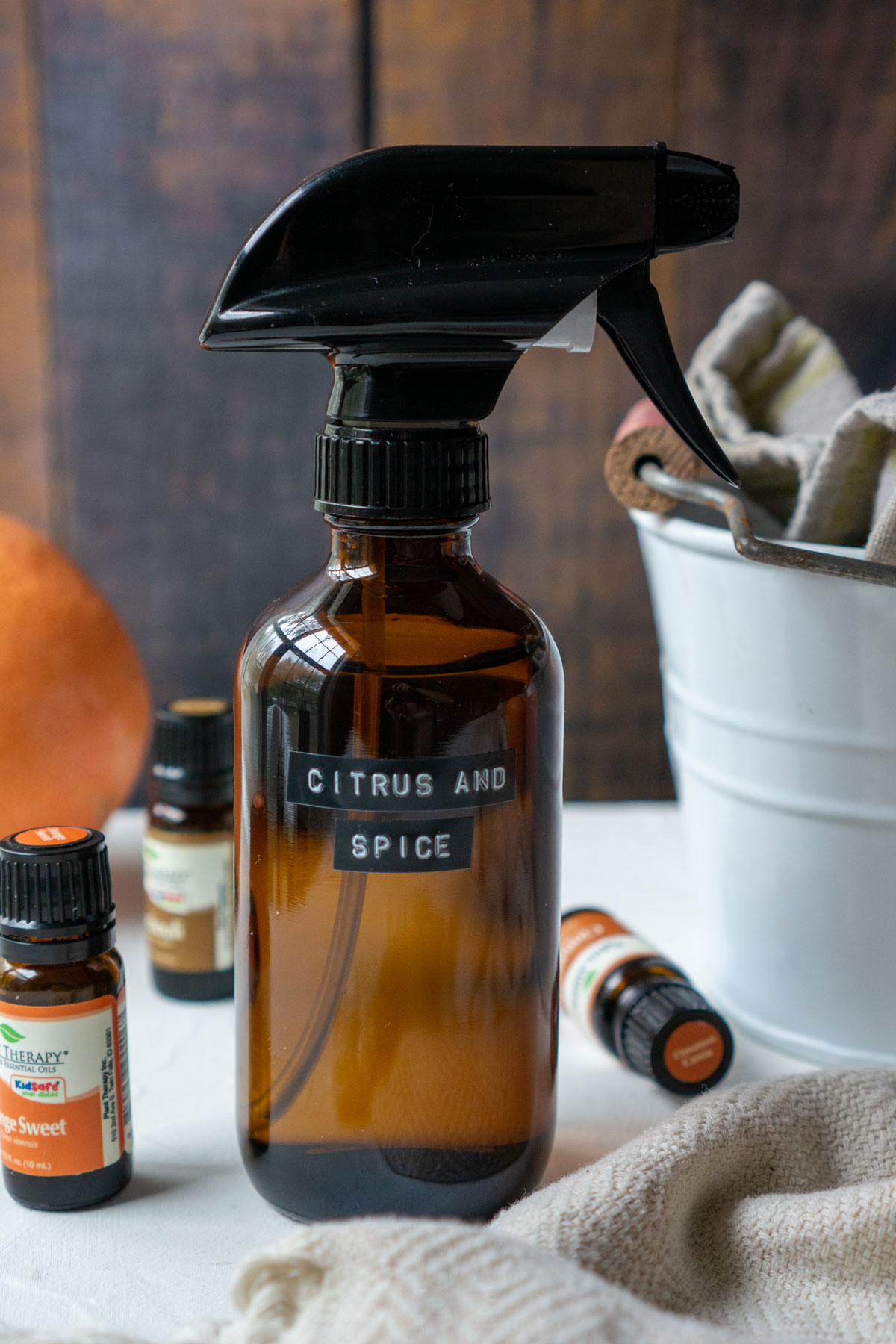 Benefits of Making Your Own Cleaner with Essential Oils
One of the most important benefits of making your own cleaner is avoiding unhealthy ingredients in your home. Who wants to clean a house with toxic chemicals that can cause harm? 
Furthermore, green cleaning with environmentally friendly ingredients can still be effective at breaking down dirt and microbes. Vinegar, alcohol, witch hazel, hydrogen peroxide, baking soda, dish soap, and essential oils all make excellent cleaning ingredients. Plus, the price is right. Making your own cleaner can cut your cleaning costs way down.
Finally, essential oils do wonders for the scent and ambiance of your home. They can deodorize bad smells while improving mood aromatically. After you get the hang of making your own cleaning products, you'll be able to adjust the scent to match your mood and preferences. There are nearly endless combinations!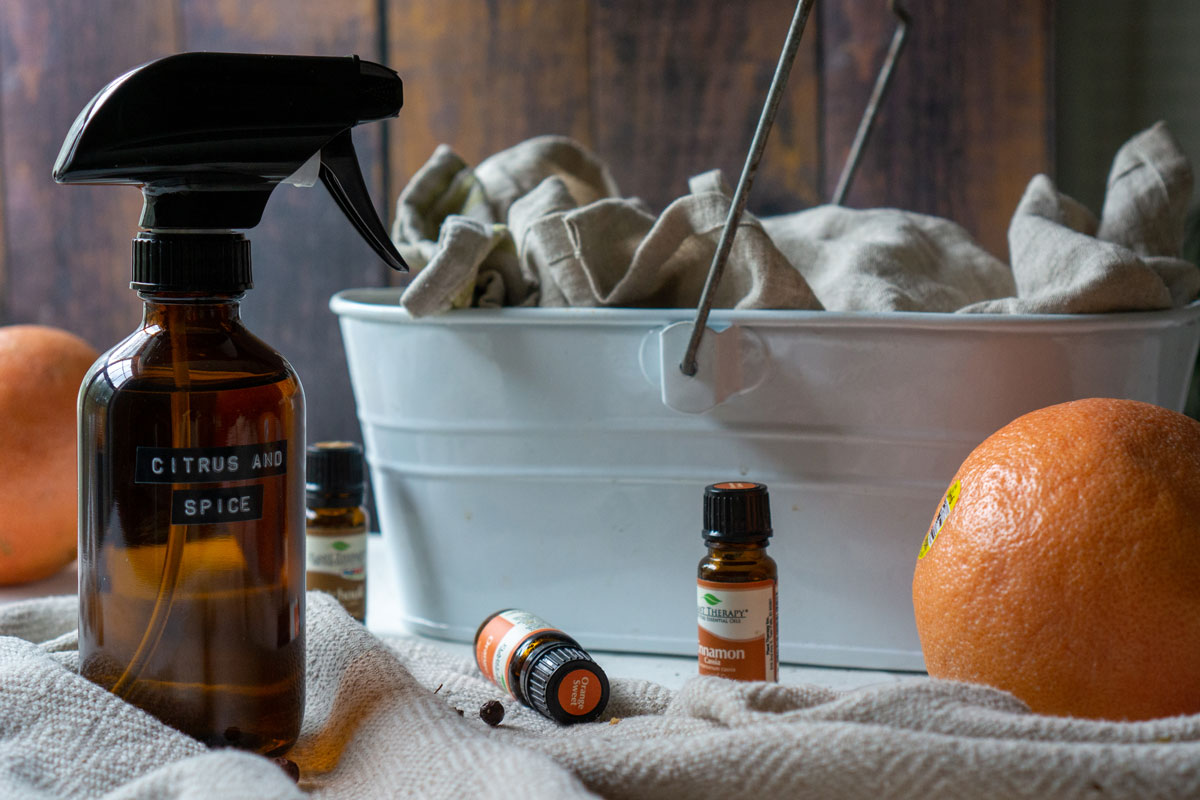 Unhealthy Ingredients in Some Commercial Cleaners
Did you know that indoors, homes can have up to five times more dangerous chemicals floating around in the air than the outside environment? The vast majority of these chemicals can be traced back to household cleaners! Additionally, the American Association of Poison Control Centers (AAPCC) indicates that 20% of reported toxic exposures are caused by cleaning products (World Watch Institute, 2004).
Store-bought cleaners that include components like ammonia, bleach, or fragrance chemicals can cause skin and respiratory irritation. Some people can get headaches, allergic responses, or even hormone-disrupting or toxic reactions (Organic Consumer Association, 2018; Women's Voices for Earth, n.d.).
Here is a list of chemicals found in some commercial household cleaners that can be hazardous to your health.
1,4-Dioxane

is considered by the Environmental Protection Agency (EPA) to be a probable human carcinogen and is found in some laundry detergents (Environmental Working Group, 2007).

Alkylphenol ethoxylate

is a surfactant that can disrupt hormones and may affect fetal development (Gorman, 2007; Nimrod & Benson, 1996).

Ammonium quaternary compounds

have been identified to induce asthma (Gorman, 2007).

Bleach

can cause respiratory, skin, and eye irritation (Wiggins, 2017).

Formaldehyde

can cause cancer (Pestano, 2011).

Fragrances

are chemicals used to make a certain scent. They are one of the top allergens in the world, triggering asthma attacks, digestive upset, headaches, and even cardiac dysfunction (Environmental Working Group, 2007).

Glycol ethers

, such as 2-butoxyethanol, are solvents that have been linked to reduced fertility and fetal development (ECHA European Chemicals Agency, 2011; Welch et al., 1988).  

Monoethanolamide

is a surfactant that can cause contact dermatitis and asthma (Andersen, 1999).

Perchloroethylene

is commonly used in dry cleaning. The impact of overexposure may include negative effects on memory, coordination, vision, and mood (ToxTown, NIH US Library of Medicine, n.d.).

Phthalates

can affect sperm count, cause allergies, and result in asthmatic reactions (Gorman,

2007).
Natural Ingredients with Cleaning Benefits
There are many harsh chemicals in commercial cleaners that can be unhealthy for people, pets, and the environment. Conversely, there are common household ingredients that are much less toxic but still clean just as effectively. These include vinegar, hydrogen peroxide, witch hazel, rubbing alcohol, baking soda, dish soap, and essential oils.
For example, in one recent study, a cleaning preparation with vinegar, baking soda, and tea tree essential oil was effective against bacteria like Staphylococcus aureus and Escherichia coli (Goodyear et al., 2015). Further, Matthew Hoffman, MD, suggests using hydrogen peroxide instead of bleach to sanitize, kill mold, and remove stains (2008).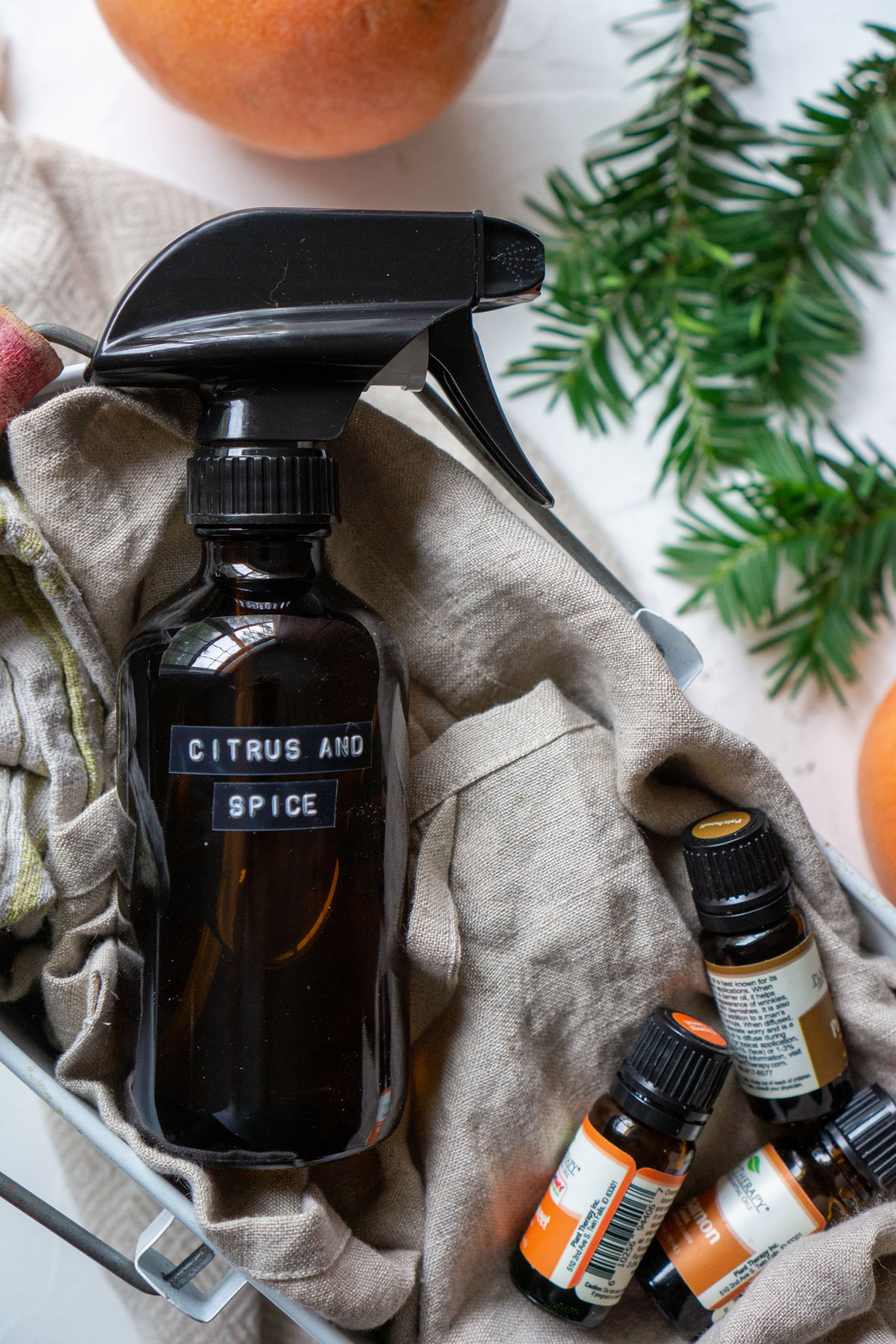 Citrus & Spice: Featured Ingredients
You might like to know some of the benefits of each ingredient included in the Citrus and Spice: DIY All-Purpose Cleaner recipe found later in this article.
Lemon (Citrus limonum) essential oil offers a deodorizing and mood-boosting aroma that can help reduce grease stains and has pest-repelling activities (Al-Qudah et al., 2018; Sarder & Alamgir, 2019). It has also been found to be effective against multiple types of bacteria and fungi (Gucwa et al., 2018; Prabuseenivasan et al., 2006).
Orange (Citrus sinensis) essential oil offers a light and sweet citrus scent that may help calm anxiety (Mannucci et al., 2018). It also offers antimicrobial and repelling activities (Dosoky & Setzer, 2018). Cleaning with citrus scents seems especially gratifying in the way it transforms the scent of the room! 
Rosemary (Salvia rosmarinus) essential oil has a stimulating scent and has scientifically demonstrated significant anti-microbial and pest-repelling activities (de Oliveira et al., 2019). Rosemary can also create a homey feeling in a room. 
Cinnamon (Cinnamomum zeylanicum) essential oil is a strong antimicrobial that freshens the air with a stimulating spicy smell. In a study testing 50 essential oils, cinnamon showed the strongest antibacterial activity (Deans & Ritchie, 1987). Cinnamon and clove bud scents give an assured warmth and inviting feeling to a space.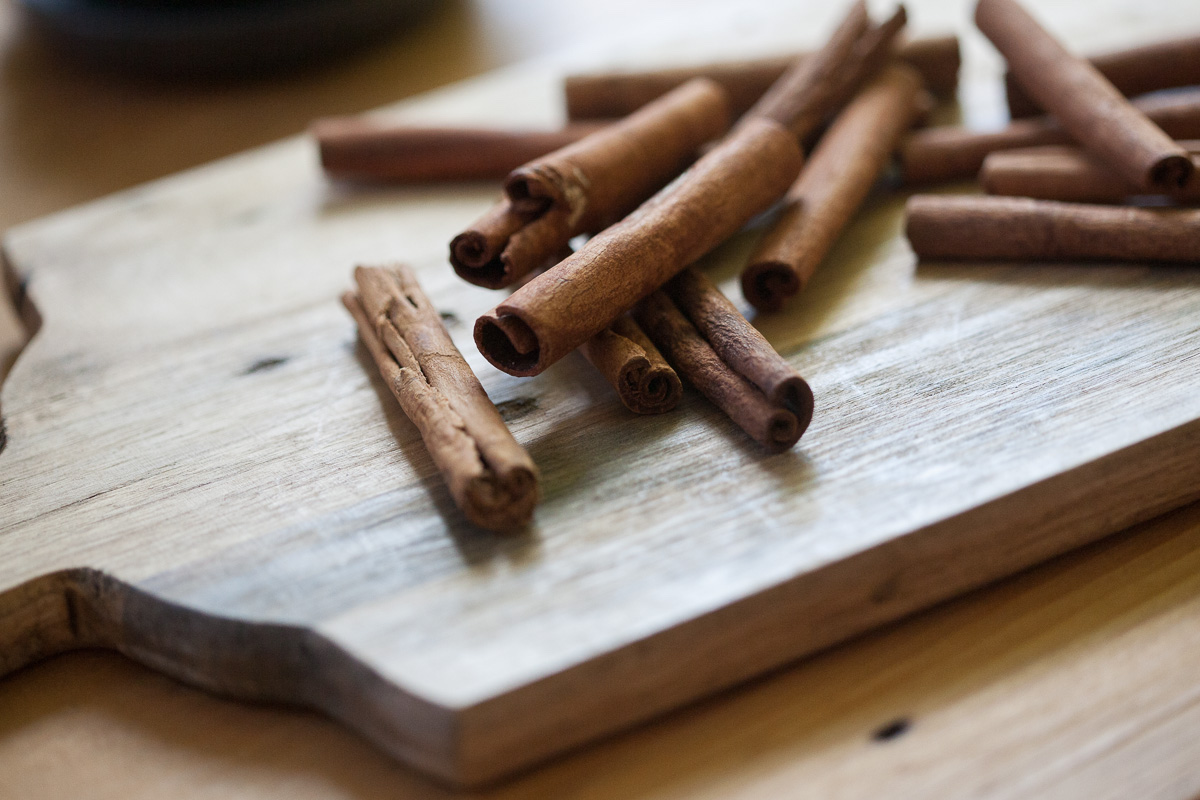 Clove bud (Syzygium aromaticum) essential oil is powerfully anti-microbial, insecticidal, and repellant (Deans & Ritchie, 1987; Trongtokit et al., 2005). We can sense that strong action when we are hit with the unmistakable scent.
Vegetable glycerin is a sugary fat extracted from plants. It is used to combine water-soluble ingredients with oil-soluble ingredients. This ingredient provides consistency and will help keep your ingredients blended together. 
Dish soap helps cut oil and grease in cleaning. This gives the product more immediate action at lifting collected soil, oil, grime, and debris.
Hydrogen peroxide may be used to replace bleach in cleaning. It is antimicrobial, anti-mold, and much less toxic than bleach (Otter et al., 2009; Using Hydrogen Peroxide, n.d.). Similar to bleach, it's special actions of lightening stains, or deactivating pathogens is by a simple reaction with oxygen.  
Witch hazel (Hamamelis virginiana) offers antimicrobial, insect repelling, and deodorizing actions (Natural Standard, 2020). This is also one of the easiest hydrosol or hydrosol-like ingredients to source. 
Vinegar (acetic acid) helps breakdown grease and has antimicrobial potential (Rutala et al., 2000).
Baking soda (sodium bicarbonate) is an effective polishing cleaning agent that also helps absorb bad smells (Lansky, 2009). Further, it offers antimicrobial action against certain human pathogens (Rutala et al., 2000).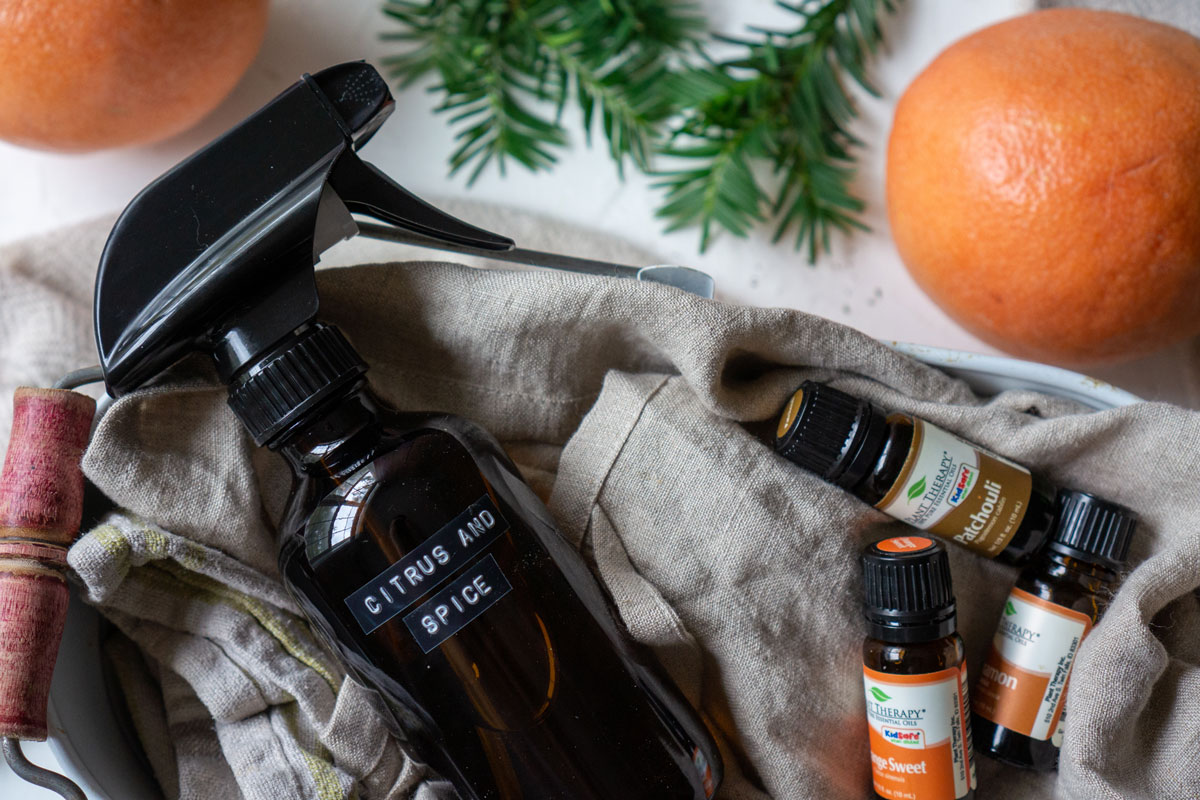 The Price is Right
Not only are natural ingredients less toxic, but they are also cheap! The recipe provided in this article includes the products listed above with an estimated cost of $26 (not including the spray bottle or storage jug). It makes 64 ounces of condensed cleaner, in which you add water to make 320 total ounces.
One typical bottle of commercial cleaner you buy from the store is about $7 for 24 ounces. Do the math, and you will find that making your own cleaner is almost 4  times less expensive!
Citrus & Spice: DIY All-Purpose Cleaner Recipe
Now you know you can easily make a natural cleaner that also provides aromatherapy benefits at a fraction of the cost!  This recipe, below, should last the average household at least three months. It can be used throughout the house on most hard surfaces, but avoid using on certain types of wood, cloth, and fragile surfaces.  It is always good to test a small inconspicuous area first. Let's get started!
Ingredients
¼ ounce of lemon (Citrus limonum) essential oil
¼ ounce orange (Citrus sinensis) essential oil
¼ ounce of rosemary (Rosmarinus officinalis) essential oil
25 drops of cinnamon leaf (Cinnamomum zeylanicum) essential oil
25 drop of clove bud (Eugenia caryophyllata) essential oil
2 tablespoons vegetable glycerin
1 tablespoon dish soap
1 cup hydrogen peroxide
1 cup witch hazel (Hamamelis virginiana)
1 cup white vinegar
1 teaspoon baking soda (optional)
About 5 cups distilled water
Cleaning gloves
Glass measuring cup with a pour spout
Funnel
One 64-ounce glass container or beer growler (roughly the size of an apple cider jug) with lid
Spray bottle
More water
Directions
Wear gloves.

In a glass measuring cup with a pour spout, combine all the essential oils with the vegetable glycerin and dish soap. Stir to combine.

Mix in the hydrogen peroxide, witch hazel, and vinegar with a spoon. 

(Optional) Separately, place baking soda in the 64-ounce container. Place the container in the sink before pouring in the ingredients that you just mixed in the glass measuring cup. (Like an elementary school volcano experiment, when you combine vinegar and baking soda, it will fizz up.)

Using a funnel, pour the ingredients from the glass measuring cup into the 64-ounce container.

Wait a few minutes for the foam to settle, and then fill the rest of the 64-ounce container almost to the top with water.

 Seal with a lid and shake well.

Store at room temperature in a dry cupboard away from sunlight.  Keep out of reach of children and pets.  This cleaner should be usable for 6 months.  Avoid use if you notice any unusual color or aroma changes.  
To Use: 
You have just made a condensed cleaning solution that you can dilute with 80% water in a spray bottle for general household cleaning. Fill a spray bottle 20% full with the condensed cleaning solution, then fill up the rest of the way with distilled water. Shake.
To use, spray on most hard surfaces to clean.
Safety:
Avoid cleaning near pets, small children, and those with certain medical conditions. Allow proper ventilation. If possible, sync some of your cleaning sprees for times when you can open a window for a period of time, and let the pleasant, or chilly, breeze move you to work quickly! Use gloves to clean if you have sensitive skin. Discontinue use if any irritation occurs. Always keep cleaning products, even if natural, out of the reach of children and pets, who might be tempted by their sweet scents. 
Avoid getting this cleaner on delicate fabrics or surfaces. Patch test a small inconspicuous area before using on anything precious or any surface you are unsure about!
In Closing,

Once you have made your own DIY all-purpose cleaner, you may never want to buy another commercial cleaner again. Use it to clean your whole house, from the kitchen and bathroom to the floors and counters. You can even put some in your laundry (add about ⅓ cup to your washing machine's fabric softener dispenser tray).
You might also like to try mixing up the essential oils used in the recipe. Some favorites to clean with include eucalyptus, grapefruit, lavender, lemongrass, pine, and peppermint. Enjoy the benefits of aromatherapy when you clean your house!
Find more household cleaner recipes in:

5 Ways to Clean with Lemons
How to Make an All-Purpose Herbal Cleaning Spray for Spring Cleaning
5 Homemade Spring Cleaning Products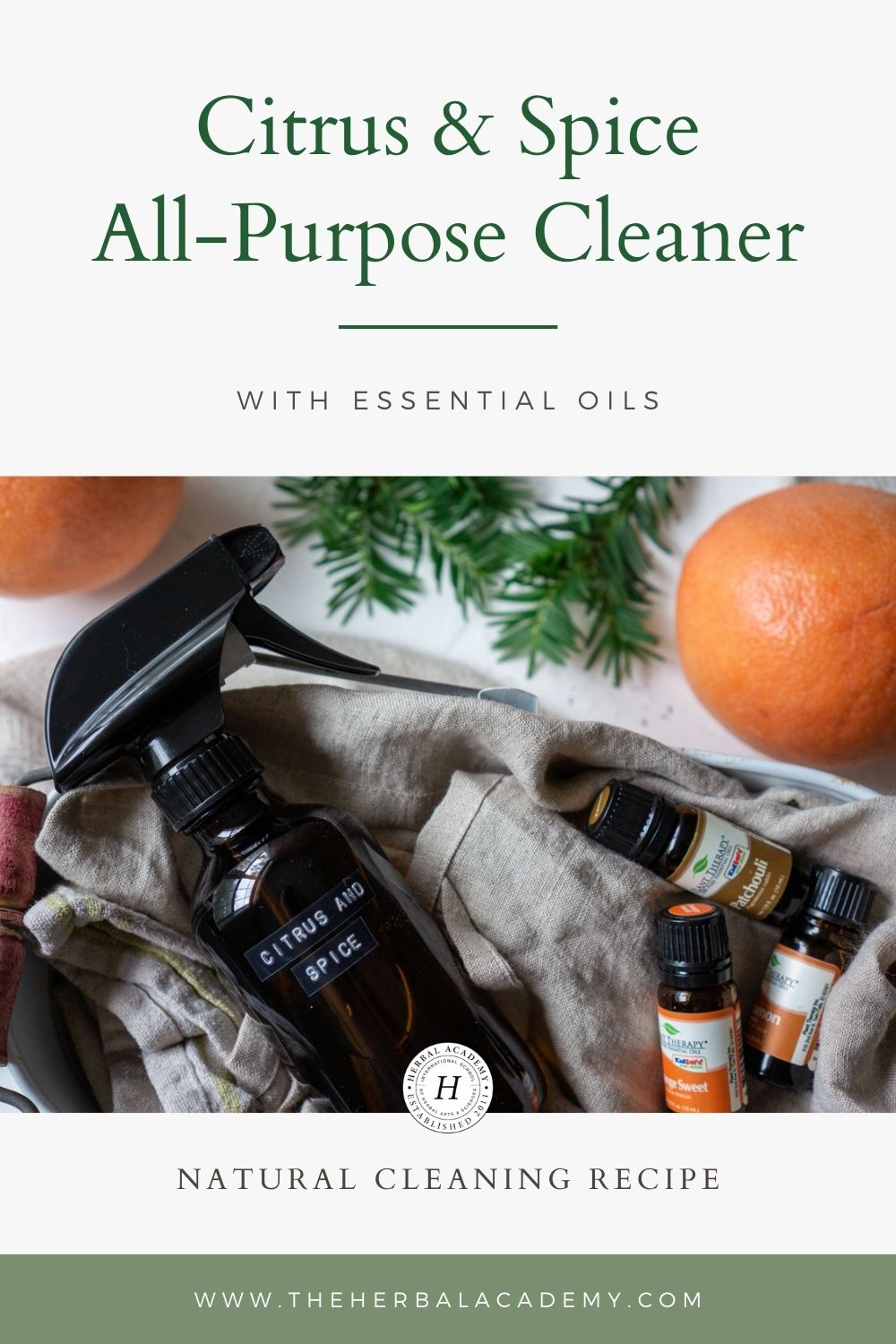 REFERENCES
Al-Qudah, T. S., Zahra, U., Rehman, R., Majeed, M. I., Sadique, S., Nisar, S., & Tahtamouni, R. W. (2018). Lemon as a source of functional and medicinal ingredient: A review. International Journal of Chemical and Biochemical Sciences (ISSN 2226-9614).
Andersen, F. A. (1999). Final report on the safety assessment of cocamide MEA. International Journal of Toxicology, 18 (2_suppl), 9-16.
de Oliveira, J. R., Camargo, S. E. A., & de Oliveira, L. D. (2019). Rosmarinus officinalis L. (rosemary) as therapeutic and prophylactic agent. Journal of Biomedical Science, 26(1), 5.  https://doi.org/10.1186/s12929-019-0499-8
Deans, S. & Ritchie, G. (1987). Antibacterial Properties of Plant Essential Oils. International Journal of Food Microbiology, 5,165-180. https://doi.org/10.1016/0168-1605(87)90034-1
Dosoky, N., & Setzer, W. (2018). Biological activities and safety of Citrus spp. essential oils. International Journal of Molecular Sciences, 19(7), 1966. https://doi.org/10.3390/ijms19071966
ECHA European Chemicals Agency. (2011). classification and labeling inventory database. [Online Database] Retrieved from www.echa.europa.eu 
Environmental Working Group (EWG). (2007). Cleaning supplies and your health. [Online Article] Retrieved from www.ewg.org
Goodyear, N., Brouillette, N., Tenaglia, K., Gore, R., & Marshall, J. (2015). The effectiveness of three
home products in cleaning and disinfection of Staphylococcus aureus and Escherichia coli on home environmental surfaces. Journal of Applied Microbiology, 119(5), 1245-152. https://doi.org/10.1111/jam.12935
Gorman, A. (2007). Household hazards: Potential hazards of home cleaning products. Women's Voices for the Earth.
Gucwa, K., Milewski, S., Dymerski, T., & Szweda, P. (2018). Investigation of the antifungal activity and mode of action of Thymus vulgaris, Citrus limonum, Pelargonium graveolens, Cinnamomum
cassia, Ocimum basilicum, and Eugenia caryophyllus essential oils. Molecules, 23(5), 1116. https://doi.org/10.3390/molecules23051116
Hoffman, M. (2008). The best non-toxic ways to clean your home. [Online Article]. Retrieved from https://www.webmd.com/a-to-z-guides/features/best-nontoxic-ways-to-clean-home#1
Lansky, V. (2009). Baking soda: Over 500 fabulous, fun, and frugal uses You've probably never thought of. Minnetonka, MN: Book Peddlers.
Mannucci, C., Calapai, F., Cardia, L., Inferrera, G., D'Arena, G., Di Pietro, M., … & Calapai, G. (2018). Clinical pharmacology of Citrus aurantium and Citrus sinensis for the treatment of anxiety. Evidence-Based Complementary and Alternative Medicine. https://doi.org/10.1155/2018/3624094
Natural Standard (2020). Witch hazel monograph. [Online Article]. Retrieved from www.naturalmedicines.therapeuticresearch.com
Nimrod, A. C., & Benson, W. H. (1996). Environmental estrogenic effects of alkylphenol ethoxylated. Critical Reviews in Toxicology, 26(3), 335-364.
Organic Consumer Association (2018). How toxic are your household cleaning supplies? [Online Article]. Retrieved from https://www.organicconsumers.org/news/how-toxic-are-your-Household-cleaning-supplies
Otter, J. A., Puchowicz, M., Ryan, D., Salkeld, J. A., Cooper, T. A., Havill, N. L., … & Boyce, J. M. (2009). Feasibility of routinely using hydrogen peroxide vapor to decontaminate rooms in a busy United States hospital. Infection Control & Hospital Epidemiology, 30(06), 574-577.
Pestano, P. (2011). U.S. (finally) labels formaldehyde "known human carcinogen." [Online Article]. Retrieved from: https://www.ewg.org/enviroblog/2011/06/us-finally-labels-Formaldehyde-known-human-carcinogen
Prabuseenivasan, S., Jayakumar, M., & Ignacimuthu, S. (2006). In vitro antibacterial activity of some plant essential oils. BMC Complementary and Alternative Medicine, 6(1), 1. 
Rutala, W. A., Barbee, S. L., Aguiar, N. C., Sobsey, M. D., & Weber, D. J. (2000). Antimicrobial activity of home disinfectants and natural products against potential human pathogens. Infection Control & Hospital Epidemiology, 21(1), 33-38. 
Sarder, M. R., & Alamgir, M. (2019).  Waste valorisation and recycling. Singapore: Springer.
ToxTown, NIH US Library of Medicine. (n.d.). What is perchloroethylene (PCE, PERC)? [Online Article]. Retrieved from https://toxtown.nlm.nih.gov/chemicals-and-contaminants/perchloroethylene-pce-perc
Trongtokit, Y., Rongsriyam, Y., Komalamisra, N., & Apiwathnasorn, C. (2005). Comparative repellency of 38 essential oils against mosquito bites. Phytotherapy Research, 19(4), 303-309. 
Using Hydrogen Peroxide. (n.d.). Hydrogen peroxide. [Online Article]. Retrieved from http://www.using-hydrogen-peroxide.com/
Welch, L. S., Schrader, S. M., Turner, T. W., & Cullen, M. R. (1988). Effects of exposure to ethylene glycol ethers on shipyard painters: II. Male reproduction. American Journal of Industrial Medicine,14(5), 509-526. https://doi.org/10.1002/ajim.4700140503
Wiggins, K. (2017). Cleaning with bleach, 6 reasons why you should be cautious. [Online Article].  Retrieved from: https://learn.compactappliance.com/cleaning-with-bleach/
Women's Voices for the Earth (n.d.). The dirt on cleaning product companies. [Online Article]. Retrieved from http://www.womensvoices.org/safe-cleaning-products/the-dirt-on-cleaning-product-companies/
Worldwatch Institute (2004). Good Stuff? A behind the scenes guide to the things we buy. [Online Article]. Retrieved from http://library.uniteddiversity.coop/More_Books_and_Reports/Good_Stuff-Guide_to_the_Things_We_Buy.pdf