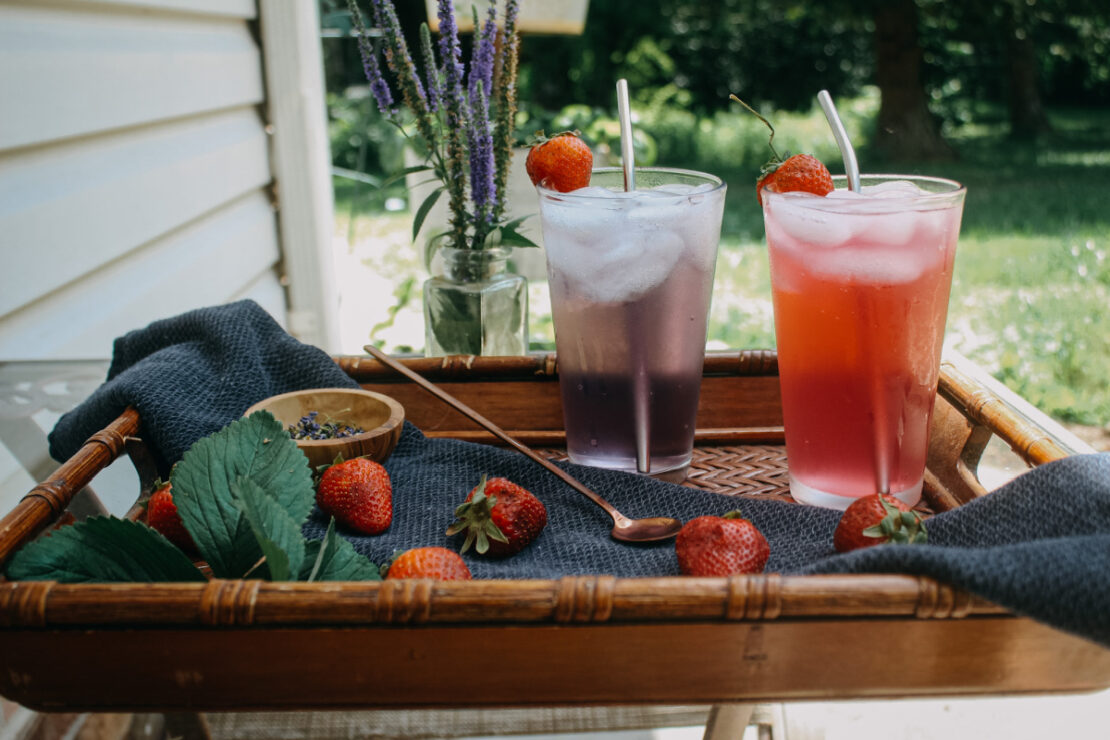 Color-Changing Herbal Limoncello Recipe
As summer reaches its peak, you will likely find yourselves looking for ways to come together with friends and family — while staying cool! While food and games are all enjoyed at warm-weather gatherings, why not take your celebration to the next level by offering a fun botanically infused cocktail (with a mocktail option) for your guests to enjoy – like this herbal limoncello recipe!
Today, we have a showstopper for you! We're taking the classic Limoncello and decking it out with some festive color-changing magic, all while giving it a botanical twist using simple herbal preparations you can make at home. 
This fun limoncello recipe is great to serve in front of an audience because it magically changes color from a purple-blue to a vibrant pink with the addition of lemon juice! 
We're calling this recipe the Showstopper Limoncello, and our lead Herbal Academy teacher of the Botanical Mixed Drinks Workshop created it specifically for special gatherings! We're sharing both a cocktail and mocktail version below, and we're sure both you and your guests will love it! 
Keep in mind that there are a few steps to making this botanical limoncello recipe, so be sure to read the directions well in advance of when you plan to serve it. This way, you'll be prepared ahead of time, which will make serving the drinks on your event day magical (quick, easy, and stress-free)!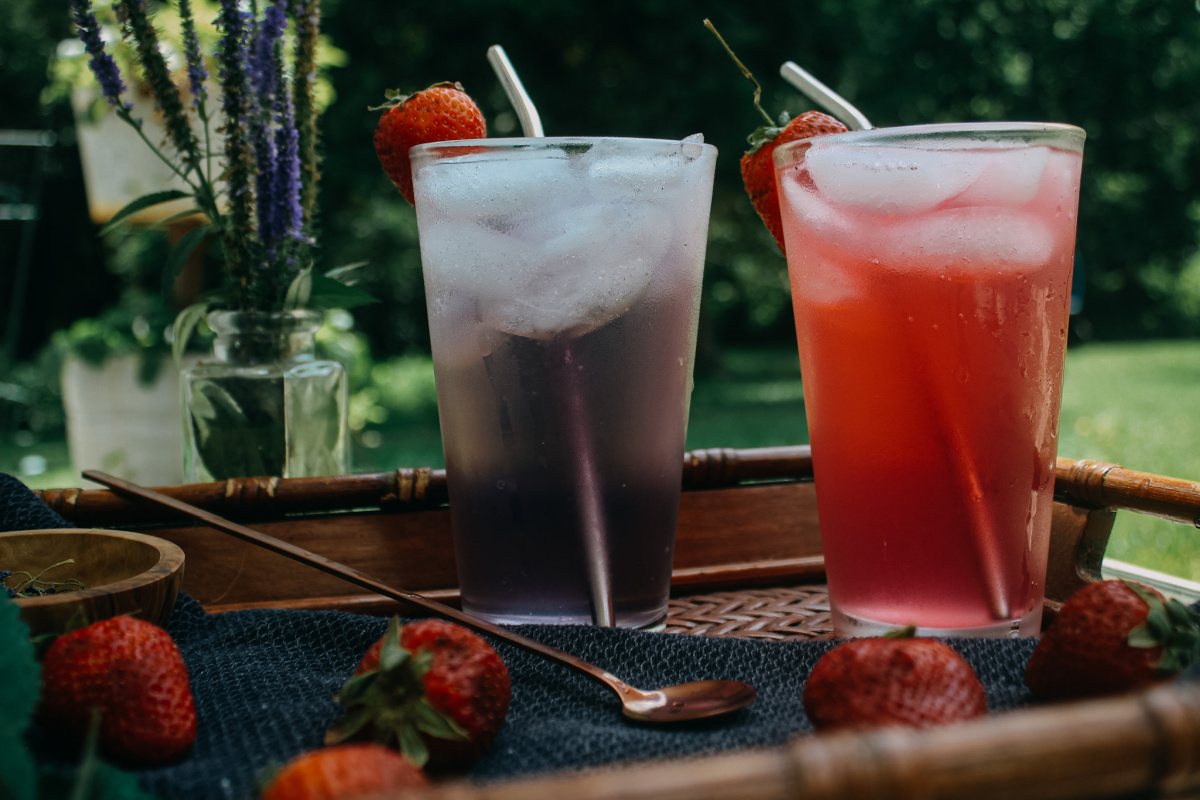 Showstopper Limoncello
This fun limoncello recipe is great to serve in front of an audience because it magically changes color from a purple-blue to a vibrant pink with the addition of lemon juice! Yield: 4 drinks.
Supplies:
Saucepan
Colander
Fine-mesh sieve
Measuring glasses and spoons
Cutting board
Knife
Citrus juicer
Vegetable peeler
2 glass canning jars with lids
Parchment paper
4 collins/highball glasses
Ingredients
½ cup vodka (omit for mocktail)
5 lemons
½ cup dried violet (Violet spp.) aerial parts
1 cup red cabbage leaves
2 cups water
1 ½ – 2 cups additional water (1 ½ cups for cocktail; 2 cups for mocktail)
½ cup unbleached, non-GMO cane sugar (or sugar alternative, such as honey or maple syrup)
4 strawberries (for garnish)
Ice
Directions
Start today: 
If you plan to serve cocktails at your event, you will want to make your lemon-infused vodka well before your gathering. Begin by using a vegetable peeler and peel strips of the outermost rind (no pith!) from 1 lemon (set aside the other 4 lemons for later). Roughly chop the peel into small pieces and place them in a small glass canning jar. Next, cover the lemon peel with ½ cup vodka. Place a piece of parchment paper between the jar and the lid, cap, and set it aside in a dark, warm location. Ideally, infuse up to a week, but overnight can work if you're serving it on shorter notice. If you don't have time to make a lemon-infused vodka, check to see if your local liquor store carries some! 
The night before the event: 
To best extract the cooling, demulcent properties of the violet leaf and flower, you will want to make a violet infusion the night before your event. Begin by adding ½ cup of dried violet aerial parts to a quart-sized glass canning jar. Cover with 1 ½ cups water (2 cups for mocktails). Put a lid on the jar and set aside to steep overnight. 
The morning of the event: 
In the morning, strain the violet infusion through a fine-mesh sieve. Compost the herbs, and set the reserved liquid aside. 
Next, heat 2 cups of water in a saucepan over medium-high heat until the water begins to boil. While waiting on the water to come to temperature, you will need to rinse some cabbage leaves and chop them into small pieces. You should have 1 cup of chopped cabbage. 
Once the water comes to a boil, add the cabbage. Keep the water boiling for 1 minute then remove the saucepan from heat. Strain the mixture through a colander. Compost the plant material and transfer the liquid back into a clean saucepan. Your liquid should have taken on a purple-blue color.
Add in ½ cup of sugar (or sugar alternative) and stir well to dissolve. 
For a cocktail, strain your lemon-infused vodka through a fine-mesh sieve and add ½ cup to the sugar liquid along with 1 ½ cups of the violet infusion you set aside. For a mocktail, add 2 cups of the violet infusion to the sugar mixture. Place this mixture in the refrigerator to completely cool.
Before serving:
Slice 4 lemons in half. Press each lemon half down onto a citrus juicer to squeeze out the juice until you have ¾ cup of lemon juice. 
Fill each collins glass half full of ice cubes. Fill each glass with 1 cup of your purple-blue liquid. Add in a straw and garnish the side of the glass with a sliced strawberry for an extra pop of red. Feel free to toss a few fresh blueberries into the glass as well.
When you're ready to impress your guests, give each of them a small bowl or cup filled with 3 tablespoons of lemon juice to pour into their glass. As soon as they pour it in and give it a gentle stir with the straw, it will shift from a purple-blue color to a vibrant pink color! 
And voila—now you have a Showstopper Limoncello! Enjoy!
We hope you enjoy making and serving this fun herbal limoncello recipe at your summer gatherings this year. We're sure your guests will certainly love it!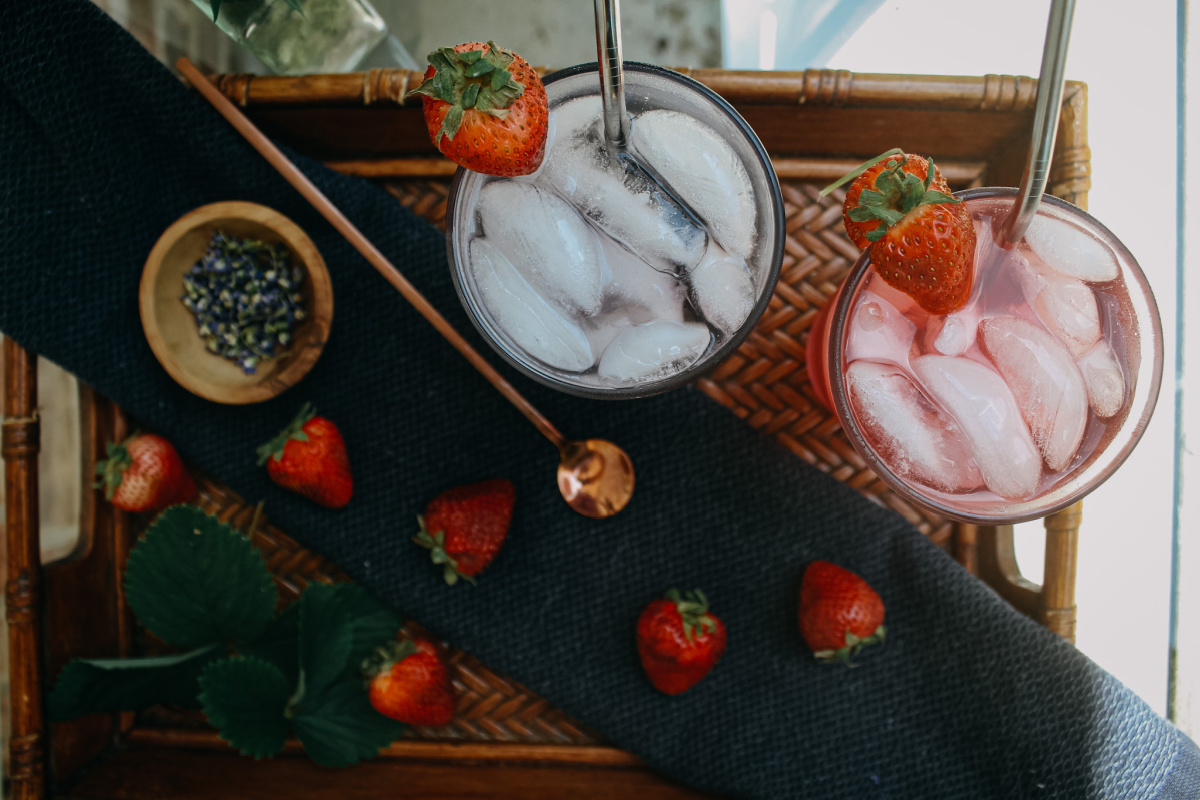 If you love the idea of whipping up super original botanical mixed drinks for your friends and family, then you may be ready to take a deep dive into the world of botanical mixology! 
Join us in our brand new Botanical Mixed Drinks Workshop – starting July 5th! 
In this workshop, you will explore the components of a well-made mixed drink, the botanical preparations you can include to elevate your drinks to new herbal heights, discover easy ways to transform a cocktail into a mocktail for those times when you want to skip the alcohol, and learn how to create a well-stocked bar with basic supplies and ingredients so you can create concoctions at the ready. 
You can even upgrade your enrollment with our Botanical Mixed Drinks Recipe Booklet – a beautifully designed book that is pretty enough to display at the forefront of your bar! Inside you will find helpful information and charts from the workshop along with 13 taste-tested recipes to help get you started mixing, shaking, and stirring your way to becoming a botanical mixologist from the comfort of home.
Just imagine serving botanical mixed drinks at a summer cookout and soaking up the compliments while your friends and family marvel at the way your herbal creations double as the star ingredients in your cocktail (or mocktail!) cabinet.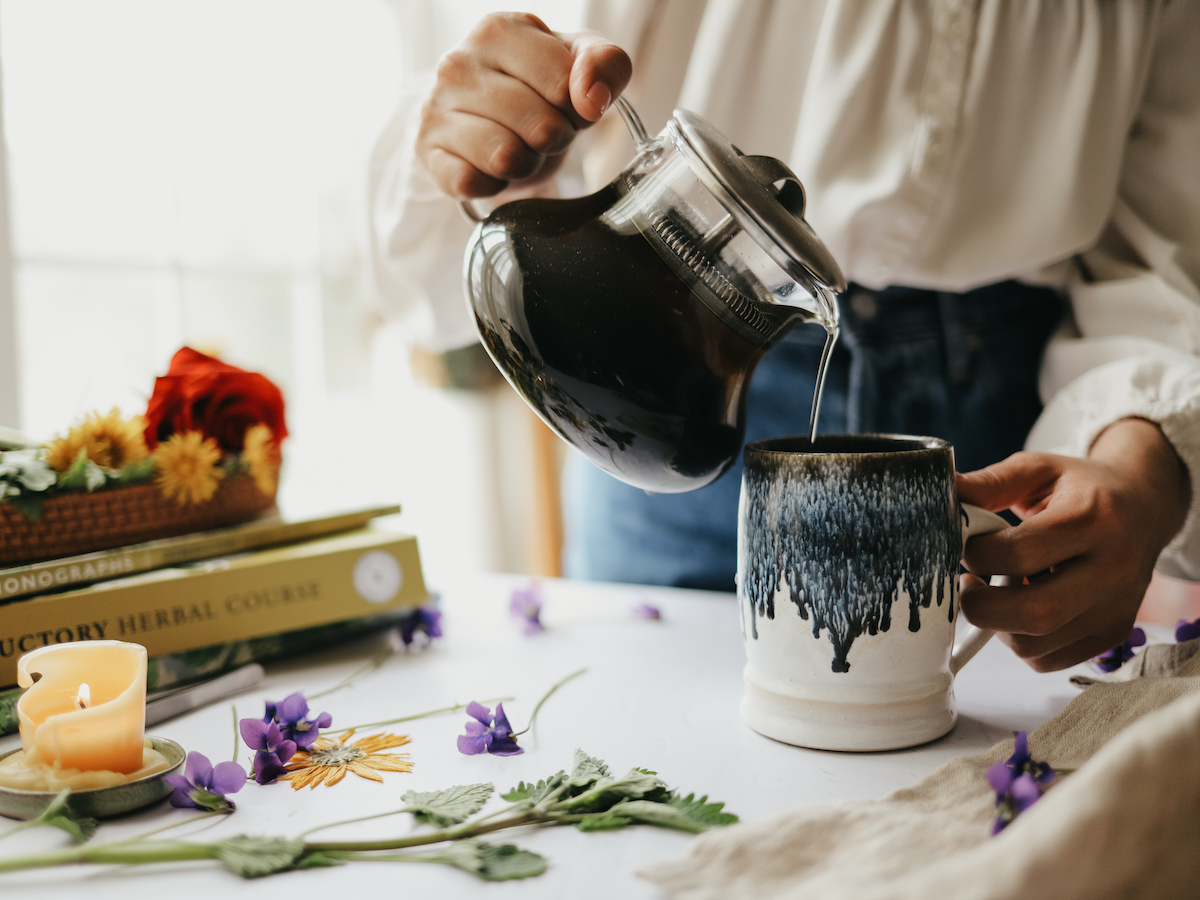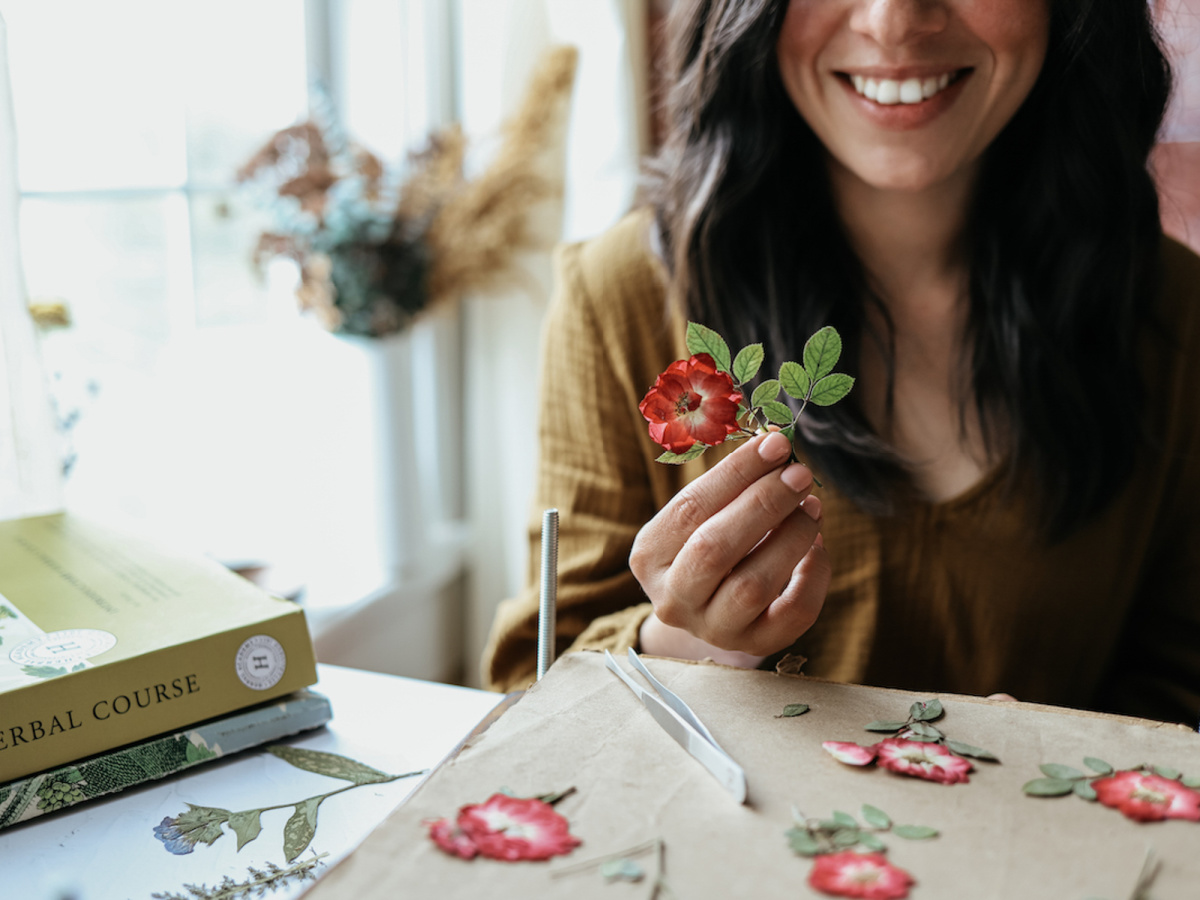 And don't forget about our other herbal summer workshops!
Our Tea Blending 101 Workshop is open and will teach you everything you need to know to start blending and brewing custom herbal tea blends at home, today! 
In the Flower Pressing for Herbalists Workshop, you will discover everything you need to know to expertly press and beautifully preserve plants for your herbal studies and creative pursuits. Doors are open, so you can start today!
Sign up for your favorite workshop or save $10 and bundle them all together for a summer of fun, plant-filled botanical studies!
Reserve your seat in the Botanical Mixed Drinks Workshop now!