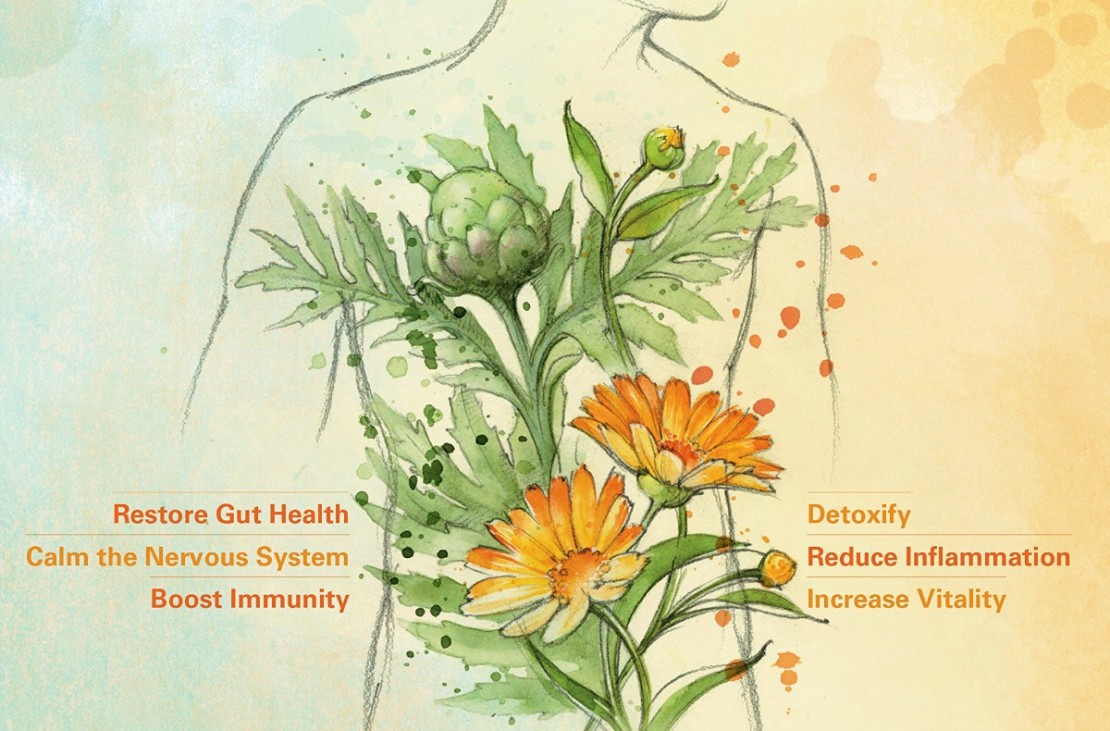 Book Review: Body Into Balance
Herbalism has much to offer to help us maintain vibrant minds and healthy bodies. When utilized in a holistic approach in conjunction with healthy patterns of nourishment, sleep, exercise, and other self-care methods, herbs are a powerful tool for supporting wellness. In her new book, Body Into Balance: An Herbal Guide to Holistic Self Care, herbalist Maria Noël Groves teaches readers that symptoms or illness are the body's way of communicating imbalance, and by listening to these messages, we can choose herbs to help correct our course and steer ourselves back toward a balanced state.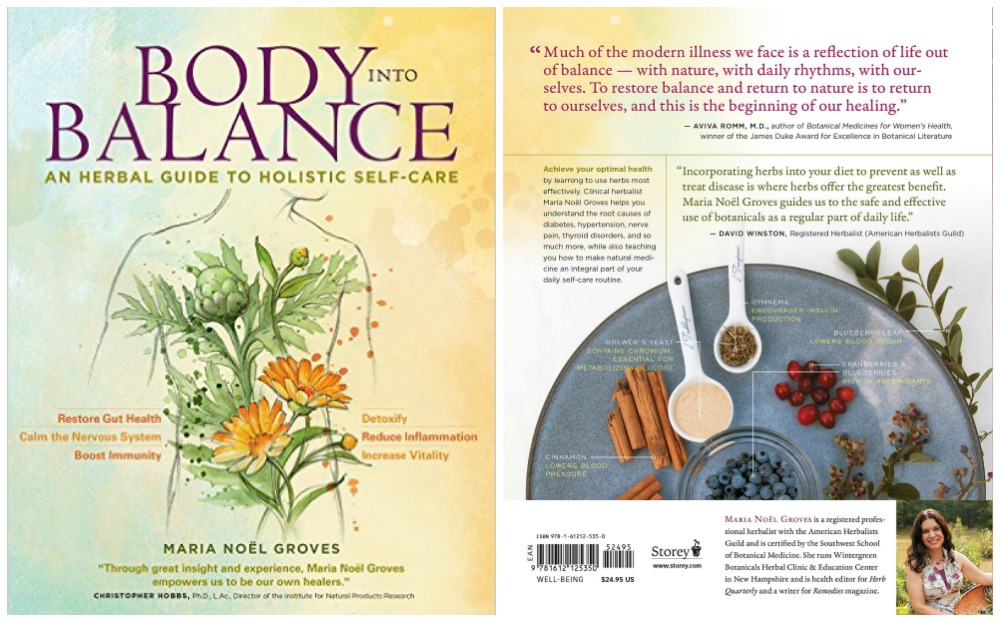 This book is ideal for those people new to herbalism as well as those wishing to continue their learning journey. In a friendly and clear manner, the author first leads the reader through the foundations of good health – the body's basic needs, nutritive herbs, stress and energy management, mood and sleep, digestion and elimination, and detoxification – and then through the body systems – immune, respiratory, blood (sugar), cardiovascular, brain (memory and cognition), thyroid, skin and connective tissue, and reproductive. There are also chapters on managing pain, longevity and vitality, and herbal medicine for children and pets.
Each chapter includes a discussion of the importance of optimal function in the body system (and a bit of anatomy and physiology to support that understanding), which symptoms dysfunction might manifest as, and the clues those symptoms offer about deeper imbalance. The author provides monographs for the herbs she recommends to support a return to balance in that system, a variety of recipes, and protocol points that summarize the key recommendations. Photographs of herbs with similar actions (e.g., "sleepytime sedatives," "immune modulators," and "herbs for longevity") and summary charts help organize information, and offshoot sections define terms or go into more depth about related subjects. The presentation style is very clear, making the book easy to navigate.
The final section of the book discusses harvesting, buying, and using herbs (with dosing instructions) and gives clear instructions on making various herbal preparations for the do-it-yourselfer.
Maria Noël Groves has covered extensive territory in this book, laying out the "why" of using herbs to support health and unraveling the "how" of using herbs safely and effectively. This book offers helpful and insightful guidance for folks interested in using herbs to support their move back to balanced wellness.
Maria is also one of the Herbal Academy's educators, contributing her expertise to our Advanced Herbal Course. A registered professional herbalist with 20 years experience, Maria runs Wintergreen Botanicals Herbal Clinic & Education Center in New Hampshire, where she focuses on education and empowerment through classes, health consultations, and writing. She is also the founder of the NH Herbal Network Chapter of the American Herbalists Guild. Learn more about Maria on our Herbal Academy Team Page.
Books and resources listed in the Herbal Bookshelf, as well as in references, citations, and book reviews on the Herbal Academy website may contain titles and language that include words and phrases such as "healing," "treat," and "medicinal." Herbal Academy web pages that include book reviews, products, references, citations, periodicals, or other publications and links should not be construed as medical claim, diagnosis, or treatment. The Herbal Academy is not responsible for the content of these outside resources. The Herbal Academy makes neither medical claim, nor intends to diagnose or treat medical conditions.