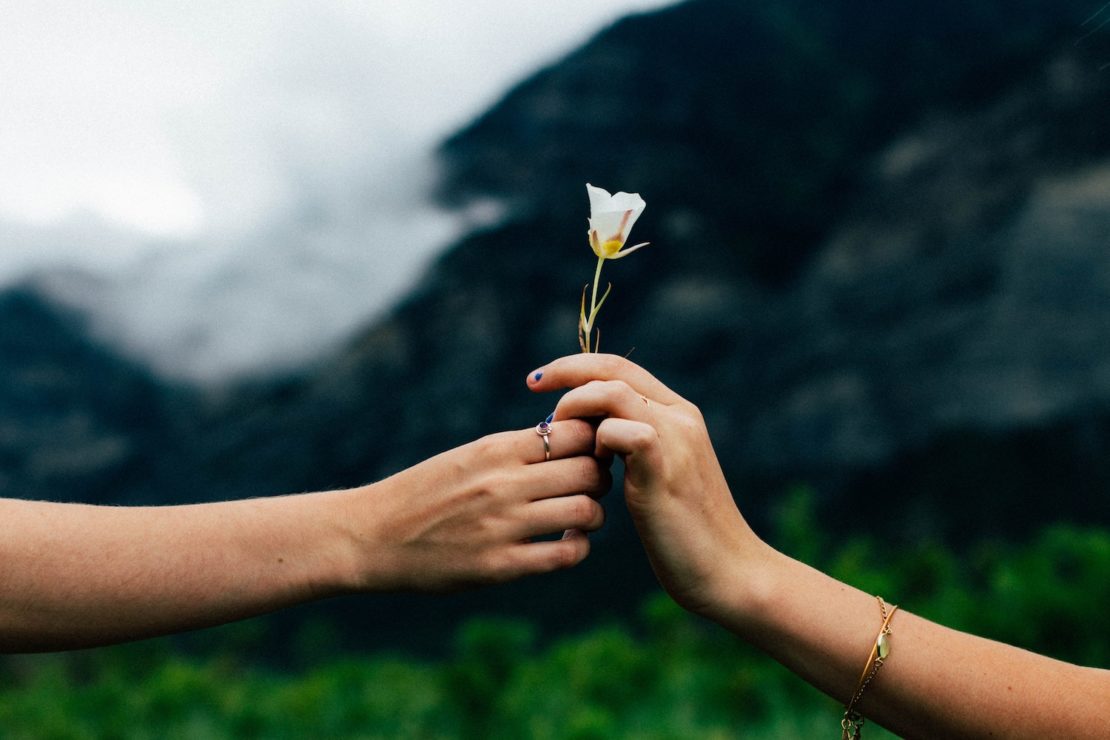 23 Gifts for the Aspiring Herbalist
The holidays are quickly approaching. As we scramble to find the perfect gifts for all of our loved ones, we find ourselves wondering what to buy that plant-crazed friend or relative on the list. Below you'll find 23 gifts for the aspiring herbalist—many of which are things I've both shared and received. May they become rooted in the heart of those you cherish.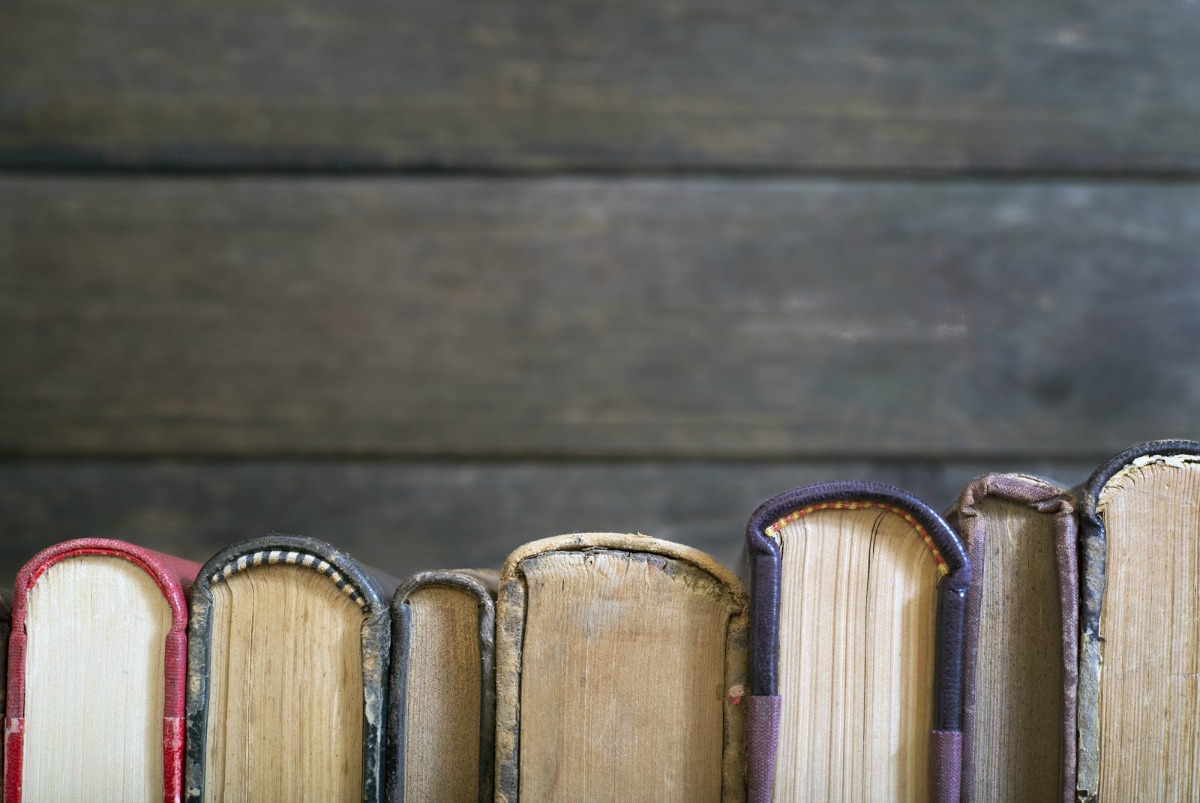 5
Books to Enhance the Herbal Library
I love books to the point of having way too many, and somehow, they still make their way onto my Christmas list. They are dog-eared, stuffed, bookmarked, and referenced consistently. I find knowledge to be one of the best gifts and a consistent reminder of the one who passed it to me.
For all those readers on your list, here are five of the first books in my library and ones that remain loyal companions.
This encyclopedia is a comprehensive collection of Old World plants. Each plant is briefly described then broken down to include taste, tissue states, specific indications, preparation/dosage, and contraindications. It concludes with further reading suggestions for continued learning.
This short book is a beautifully illustrated collection of common herbs and a must-have for the beginner. Each description includes tips on growing the plant as well as herbal uses. It then goes further to break down the plant parts used, the key constituents, and safety factors. And, if that wasn't enough, it provides easy to prepare recipes.
This book begins with a brief course in both historical medicine and basic anatomy. It then breaks down both familiar and not-so-familiar herbs into quick snippets of information including herbal uses, identification, and cultivation. My favorite part is the "Medicine Cabinet" box for each herb. This section is a quick reference to infusion and tincture amounts and dosages.
The next two books are likened to treasures you would obtain if passed down from your wise grandparents. They are by two of my favorite authors who make me look with more than an inquisitive mind, but rather a begging spirit. They are simply a gift to read:
Matthew Wood combines herbs and their healing with Bible stories, and I don't think I could say this any better that Dana Ullman, MPH:
"After reading this book, you will find it more difficult than ever to separate the science, art, and spirit of healing" (from book cover).
I have about every book written by this wise herbalist. I reference them almost daily in both my work and home. This book is like many others that list common herbs, yet it is written in a way that reminds me of my grandmother giving advice. It is a treasure in my library.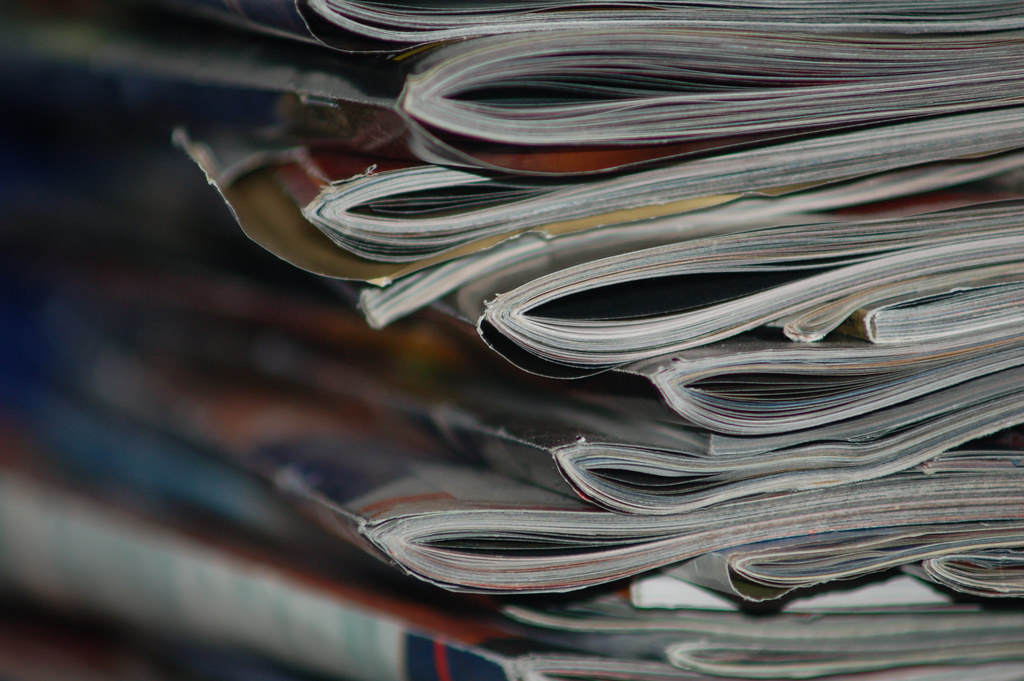 6 Magazine Subscriptions For Continued Learning
Next to books on my shelves are stacks of magazines.
I commonly ask for a subscription to one of my favorites for Christmas. It is a wonderful way to stay up to date as well as continue learning. Magazines tend to be a bit more approachable for someone just starting out, as well as nice reminders for the experienced herbalist. The information is both brief and inspiring, the recipes accessible, and the pictures vibrant.
This magazine must be one of my favorites! One year, I honestly asked to receive EVERY back issue. I love this one! With its hand-drawn photographs, this magazine resembles a vintage newspaper or herbal journal. The periodical is chock-full of recipes, both for medicine cabinet and kitchen.  
I buy this magazine for my daughter whenever I see it. It is simply beautiful from cover to cover and filled with beautiful photos and recipes. A cookbook of bath and body, this is sure to please the aspiring herb lover.
More of a traditional style publication, this comes by way of the publishers of Mother Earth News. It includes recipes, articles, and valuable advice for your health and home.
It is simply wonderful when giving what has influenced you, you are offered the influence of another. When asked to contribute some gift suggestions, these three magazines were suggested to me. I did some research on them, and am incredibly happy and eager to receive my first copy of each. I guess I'll benefit from this blog as well! Here they are:
In 1992, this magazine began as an herbal newsletter. The information in the newsletter grew to to some 30 pages by 2004 and birthed the existing herbal magazine. Herbal information and recipes in and out of the kitchen bring foragers, crafters, and family herbalists together one plant at a time. (Don't forget that Herbal Academy students receive 10% off of TEH Magazine subscriptions)
This quarterly magazine features writings by teachers and practitioners, such as Paul Bergner, Matthew Wood, Kiva Rose, Phyllis Light, and Susun Weed. These writers among many other plant lovers inspire, encourage, and educate herbalists from the advanced to the beginner.
Taproot magazine is an independent, seasonally inspired, quarterly magazine focusing on everything home. The pages are packed with crafts, recipes, and stories sure to motivate and influence the willing hand.

4 Handmade Herbal Products with Special Coupons
Every birthday or holiday, my daughter makes me the most beautiful and fragrant of herbal products. I cherish them, and every time I use them, I remember the beautiful fragrance she has been in my life.
Many times, my daughter attaches a coupon to the herbal product to add an extra touch to her gift. She will include some small favor that provides time to myself, a helping hand, or a much needed rest. These little pieces of her time leant to me make the herbal gift even more special.
This year, share a bit of your passion for herbs with your loved ones. Mix up one of your favorites in a keepsake container or chose from the examples below. Don't forget to attach the recipe and a special reminder of the fragrance they've added to your life.
1. Bath Salts with "Take me Away" Coupon
Here is a wonderful relaxing lavender bath salt recipe to gift to friends or family, and it's a great gift to help someone relax after a long tiring day.
You can blend a few drops of your favorite essential oils into a tablespoon of carrier oil (such as coconut oil) and then combine into a cup of Epsom salts. Next, add some dried lavender flowers to add color. Collect the mixture into a muslin cloth and bind with ribbon.
Cut a piece of cardstock with decorative scissors and write the words "Take Me Away" on it.
On the back, print out any conditions attached to the favor. (For example: Free for one hour of "you time" – childcare provided.) Attach this coupon to the muslin cloth with colorful ribbon.
2. Homemade Soup with "Dinner's on Me" Coupon
We all have those days when dinner is nothing more than a good intention. These are the days when most of us reach for those take-out menus. This option is not always the healthiest, so why not gift a healthy, hearty soup for your friend or loved one to put in the freezer for just this occasion?

Here are some recipes that will soothe even the most hectic days:
Farm Stand Minestrone with Pesto Crostini and Pumpkin Soup.
You might want to prepare the soup ahead of time and have it freezer ready in mason jars. You can also can soups to give as gifts as well. You can tie the "Dinner's on Me" coupon around the top with kitchen twine. (See above for directions to prepare.)
3. Homemade Herbal Mead or Mulled Wine with "Permission to Wine" Coupon
Do we not all have those days when we just need someone to listen to us? This gift is perfect for a free venting session!

Purchase your favorite wine or mead, attach "Permission to Wine" or "A Mead to be Heard" coupon around the bottle with an artificial grape vine, and viola!
If you would like to take the gift a bit further (and have a bit of fun in the process), give a go at making mead or mulled wine!
4. Homemade Pine Cleaning Spray with "One Hour Cleaning Service" Coupon
When I think of winter, especially Christmas, my mind immediately calls to pine.
One of my favorite ways to use pine is for cleaning. It brings the crispness of outside into the warmth of my home. This homemade pine cleaning spray recipe (#6 in the list) can be given as gift to show aspiring herbalists even more ways to use herbs.
To make the cleaning spray gift, mix the solution and put it into a spray bottle. Cut the coupon into the shape of your hand and attach to a cloth with a clothespin. Clip the clothespin onto the sprayer of the bottle.  

7 Supplies To Grow The Home Apothecary
Every herbalist needs jars, bottles, and containers to store and display their herbs and the concoctions they so beautifully contribute to. However, these supplies can be expensive for the beginning herbalist and building a collection takes time. Why not help them out by giving them the gift of herbal supplies?

Purchase or gather a few of the following supplies and place them into a gift basket with colorful ribbon and twine, fresh flowers, and pine branches for decoration. This will make a stunning display to help the aspiring herbalist jumpstart their new found passion.
1. Mason Jars
Mason jars are a must-have for the home apothecary as they are a great way to store dried herbs, bath salts, herbal teas, potpourri, and kitchen goodies.
2. Amber Glass Bottles & Jars
Amber colored glass bottles and jars are often used to store herbal preparations such as tinctures, salves, herbal extracts, essential oil blends, and cosmetics. Be sure to check out our Tincture Bottle Set in the Goods Shop. This set includes 6 – 1 oz. Boston Round Amber Tincture Bottles with droppers as well as a favorite Herbal Academy tincture recipe and 6 labels for your bottles.
3. Tins
Tins are great containers for smaller herbal products such as lip balm, eye cream, or first-aid cream. They are perfect for a purse or pocket to provide easy access. We have put together a set of 9 seamless flat metal tins in a variety of sizes to meet your needs. Our Herbal Tin Container Set includes an Herbal Academy salve recipe as well as 9 labels for each size tin. You can find them here in the Goods Shop!
4. Mortar and Pestle
A mortar and pestle is not just for making delicious pesto; they are great tool to grind herbs into a fine powder. If you don't think your herbal friend is up for that yet, why not get them a coffee grinder that's specific to herbs to make the job a bit easier.
5. Digital Scale
When working with herbal recipes, precision is key. A digital scale is a great tool to ensure accurate measures and is a must have for all aspiring herbalists from beginner to advanced.
6. Starter Herbs
When first starting out, I turn to herbs I am familiar with, are easy to grow, and extremely versatile. Think kitchen herbs: rosemary, thyme, sage, parsley, mint, oregano, lemon balm, tarragon, and cilantro. All of these herbs are ones most beginning herbalists are very familiar with, can be easily grown inside and outside, and have probably been used in the kitchen on several occasions. To take these herbs beyond kitchen use provides an easy and approachable path for the beginner.
7. Essential Oils & Carrier Oils
A collection of essential oils is a great gift idea for aspiring herbalists, as essential oils work well with herb remedies and herbal skin care recipes. My favorites ones to have on hand are four oils that can not only be used alone but also blend well together. They are lavender (Lavandula angustifolia), tea tree (Melaleuca alternifolia), chamomile (Matricaria chamomilla), and peppermint (Mentha x piperita).
When using essential oils, they must be diluted with  a carrier oil. It would only be rational if you were going to purchase a beginner set of essential oils that you would include a sample of some carrier oils as well. The number one carrier oil I would recommend is an oil they probably already have in their kitchen: olive oil. This oil is helpful in so many applications from culinary to skin care to medicinal. Two other oils that are great options are almond and coconut oil.
Here are some websites that supply many of the above gift ideas for the aspiring herbalist.
I've also found antique stores to be incredibly beneficial in the hunt for unique bottles and jars.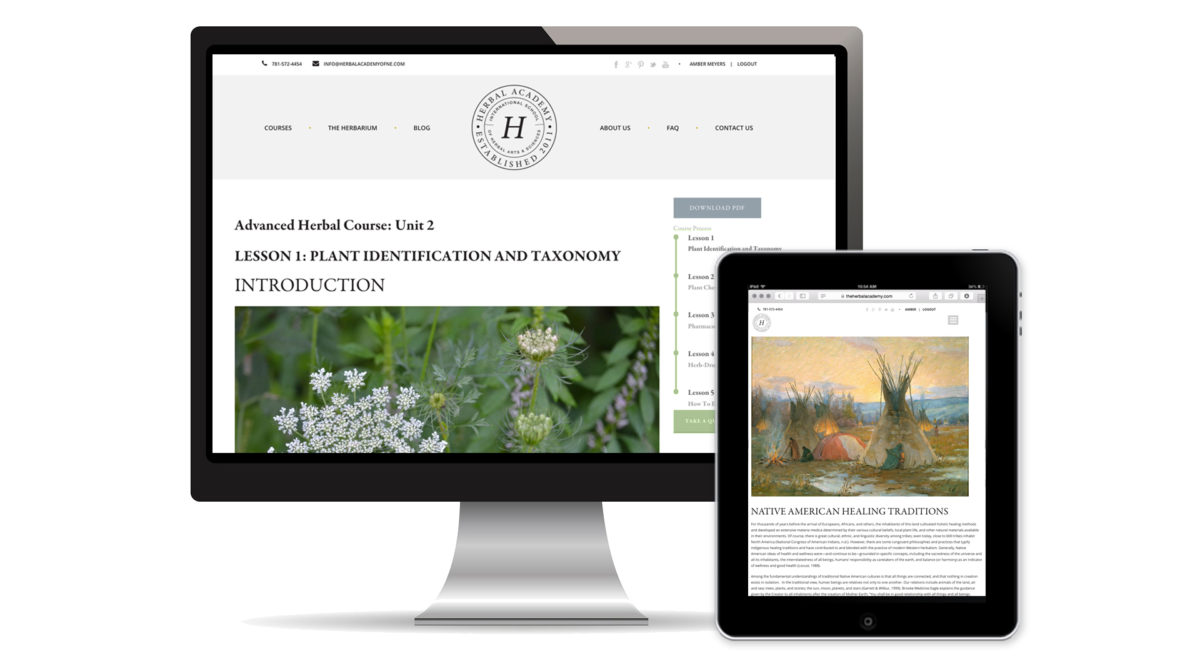 The Gift Of An Herbal Education
Don't forget that the gift of an herbal education is within reach of most people these days thanks to the Internet. No matter where the aspiring herbalist is in their herbal journey, there's always more they can learn.
Below are a couple herbal education options from the Herbal Academy that can be given as gifts.
1. Individual Herbal Courses
Herbal Academy individual herbal courses are for the very beginner to the advanced clinical level herbalist. They are broken up into 4 parts.
Don't forget that all Herbal Academy courses are 10% off until the end of December. This is the perfect time to give the aspiring herbalist the gift of an herbal education and save a little money while doing it!
2. The Herbarium
An annual subscription to The Herbarium makes a great gift for the aspiring herbalist. The Herbarium is a membership site filled with educational articles, herbal monographs, videos/tutorials, and a members-only forum for asking question and getting feedback on topics related to herbalism. This is a great way to connect and learn from fellow herb lovers!
Gifts for the Aspiring Herbalist
There are many other gifts for the aspiring herbalist such as the simple sharing of a rare herb or one that has had a significant impact on your life. And, don't forget to share the why's and how's of the herbs you give for that is the gentle reminder, the hug, the fragrance of that which was gifted.

I hope these gifts for the aspiring herbalist will provide growth and togetherness for you and all your loved ones. May your holidays be ever bountiful and filled with fragrance!
Be sure to tag your herbal gifts with #myherbalstudies when you share them on Facebook or Instagram this year. We'd love to see the creative gifts you're giving to friends and family!