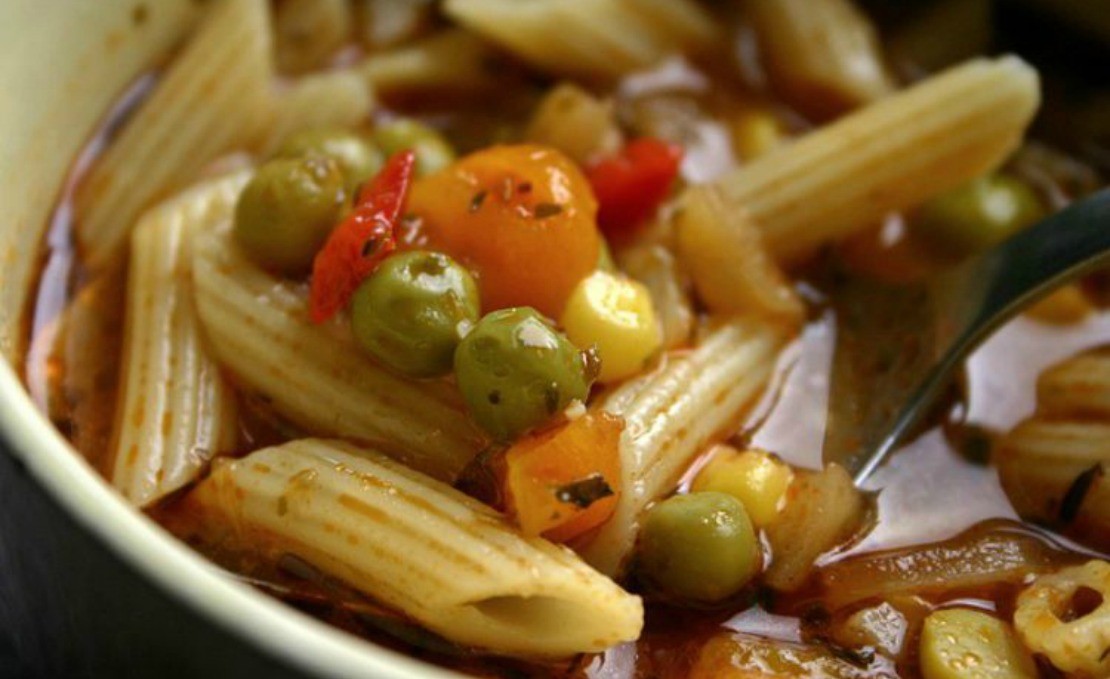 Farm Stand Minestrone With Pesto Crostini
As summer rolls into autumn our local farm stands brim with luscious, incredibly delicious produce. Each year I make up big batches of soup with vegetables and herbs from nearby farm stands to freeze for my family to enjoy during the winter. One of our favorite soups is Italian minestrone. Minestrone means "big soup" and it is a indeed a tasty way to capture the big flavors and textures of seasonal veggies year round (Stradley, 2004). Top off a tasty bowl of minestrone with a warm slice of pesto crostini and you have a full, healthy meal with lots of nourishing veggies to fill up your belly.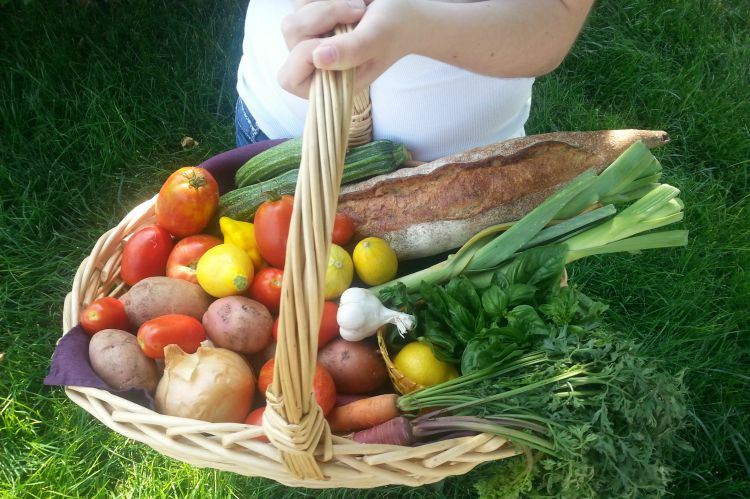 Homemade Seasonal Minestrone
Minestrone can be made with whatever vegetables are in season and on hand. During the late summer, vegetables such as summer squash, tomatoes, fennel, carrots, green beans, onions, and potatoes are all ripe and ready to play around in the soup pot. In late autumn, harder squashes such as butternut and acorn, plus deep leafy greens, make great additions to minestrone.
This minestrone is made with a lot of vegetables, calling for roughly twelve cups of vegetables from your farm stand plus eight cups of tomatoes! Yum! The recipe below includes the veggies I used in my most recent batch of minestrone. You can substitute the veggies in this recipe for your favorites and remember it can easily be doubled to make extras for freezing. Don't forget to pick up some basil while you are at the farm stand for the pesto crostini!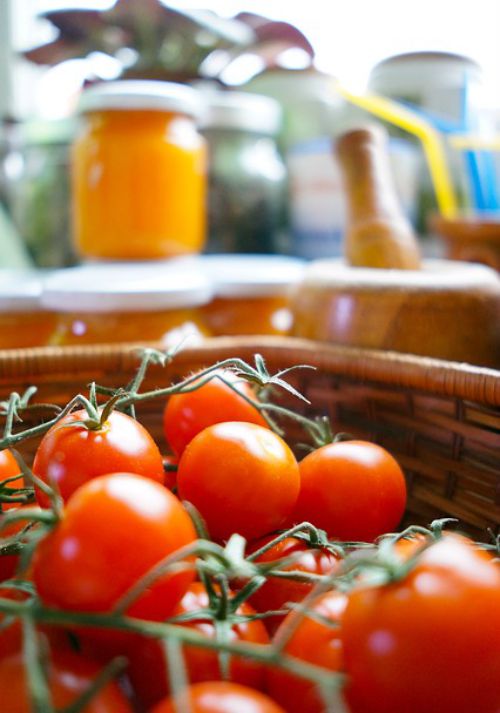 Farm Stand Minestrone
Ingredients
8 cups of roughly chopped tomatoes
1 big chopped onion
4 to 6 cloves of minced garlic
4 cups of water or 3 cups of water and 1 cup of white wine
3 chopped Romanesco small zucchini
4 chopped little yellow squash
4 chopped potatoes
6 chopped carrots
2 sliced leeks
1 teaspoon dried oregano
1 teaspoon dried thyme
1/2 teaspoon of dried rosemary
2 cups of cooked beans such as cannellini or garbanzo
1 1/2 cup of cooked pasta such as fusilli, shells, or elbows
1 piece of Parmesan cheese rind, optional
Olive oil
Salt & pepper to taste
Directions
First start making the stock for your soup. Cover the bottom of a big pot with a layer of olive oil and heat on medium-low heat.
Add the chopped onion and a sprinkle of salt to the pot. Stir to coat the onions and cover with a lid. Let cook until the onions begin to soften.
Add the tomatoes, minced garlic, and water. Stir and cover the pot. Cook over medium low heat until the tomatoes break apart.
Using a blender or immersion blender, carefully process the stock until it is smooth. You can leave some tomato and onion chucks if you wish. It's up to you!
While the tomatoes are simmering, start cooking your vegetables.
In another large pot (it should be bigger than the stock pot because you will be mixing everything together to finish the soup) add olive oil to cover the bottom of the pot.
Begin adding your vegetables to the pot, starting with the hardest vegetables first such as carrots and potatoes. Let each vegetable start to cook and soften before you add the next kind. Add a generous sprinkle of salt and keep a lid on the pot to help the veggies steam and soften. Stir often and add a little bit of water when needed to keep the vegetables from sticking.
Once the vegetables are well cooked and soft, pour in the tomato stock.
Add the oregano, thyme, and rosemary. Feel free to use more of these herbs if you wish. Also double the amount if you are lucky enough to be using fresh herbs!
Add the Parmesan cheese rind if you are using it.
Add the beans and stir well.
Let everything simmer together for at least 15 minutes.
Taste and season with salt and pepper to your liking.
Add the noodles when serving to keep them from getting mushy in the soup.
Serve piping hot with a nice piece of pesto crostini on top, mangia!
A Tasty Topping
Another favorite to make during late summer is pesto. While most often pesto is made with basil, pine nuts, olive oil, and lemon, there are as many variations of pesto as there are minestrone, with most folks having their own favorite recipe. It can be made with a variety of different herbs from nettles to cilantro to basil, as well as a variety of nuts including pine nuts, almonds, and even hazelnuts. Making and freezing pesto is a great way to preserve the beautiful flavor of herbs. Indeed, pesto highly adored by most herbalists and I have known herbalists who fervently covet pesto during the deep cold of winter.
RECIPE
Pesto Costini
Ingredients
1/3 cup of almonds
2 cloves of garlic
4 cups of loosely packed fresh basil leaves
Juice of 1/2 a lemon
Olive oil
Salt
Parmesan cheese, optional
1 crusty baguette
Directions
To make the pesto: combine the almonds and garlic in a food processor and process until ground.
Add the basil and lemon juice.
Process the basil and lemon juice while you begin drizzling in the olive oil until the pesto begins to loosen and it is the texture you want.
Add salt to taste and Parmesan cheese if you are using it, in which case you will probably need less salt because of the saltiness of the cheese.
To make the crostini: Heat the oven to 350 degrees.
Slice the baguette into 1/2″ slices and brush each side with olive oil.
Arrange the baguette pieces on a cookie sheet and bake for 15 minutes, flipping the pieces half way through baking to ensure a nice crispiness on both sides.
Top the crostini with pesto and place one on top of each bowl of soup. If you like, you can let the crostini sit for a few minutes to soak up some of the broth.
Looking for more tasty herbal recipes to fill your belly? Visit our Eat Well section for lots of wonderful, healthy inspiration!
REFERENCES
Stradley, Linda. (2004). Linda's Culinary Dictionary. Retrieved on 8/22/15 from http://whatscookingamerica.net/Glossary/M.htm