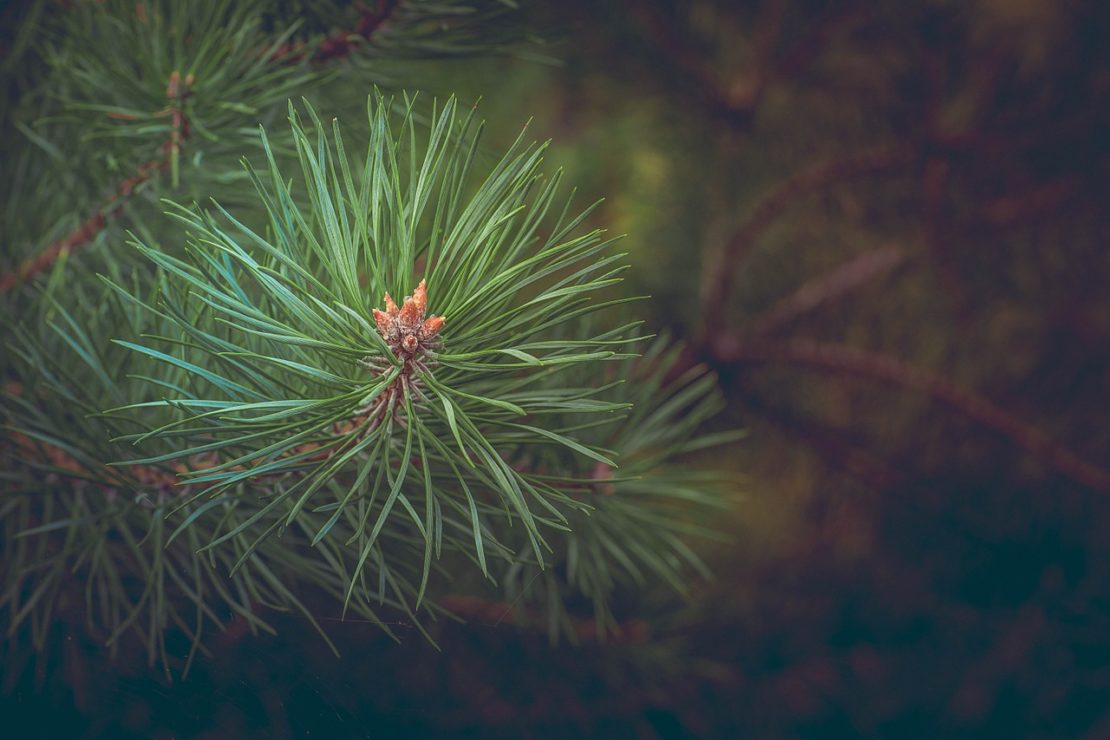 8 Terrific Ways To Use Pine Needles Right Now
Have you ever wished you could stock your herbal apothecary with only a handful of herbs? Herbs that have so many uses, you'd never find yourself in a situation where you didn't have something that would work? I know I have.
Many times, apothecaries can grow large and overwhelming. When you focus on selecting herbs that can be used in a wide variety of ways, you can keep size and overwhelm under control.
Pine, especially pine needles, is an herb that fits this criterion just perfectly. It's an herb with a lot of uses for your health and your home, and thankfully, it isn't hard to come by.
What's So Great About Pine?
Pine, specifically white pine, has been used since the Middle Ages. Native American peoples taught early American settlers how to use the needles, bark, and sap in a variety of ways to keep them healthy.
Pine is an antiseptic that can be used internally to support the body in a speedy recovery. In respiratory infections where thick mucus is present, it works to draw phlegm up and out of the lungs. It's also been used externally to draw out toxins or objects embedded in the skin (Wood, 2009).
Finding & Using The "Right" Pine
Pine trees are a common tree native to the northern hemisphere, and there are many different varieties with useful properties. They're found in several kinds of habitats and can be foraged within a short distance of most people.
Pines are distinguished from other conifers by their needles. They are bundled in clusters of 1-6, most commonly 2-5. Many pines have long needles, but there are some varieties with shorter needles.
It's important to note that not all conifers are considered pines. While many conifer needles have useful properties similar to that of pine, there are a few that are toxic, such as the yew tree (Deane, n.d.b.). Most true pines are safe to use, with the possible exception of the Ponderosa pine, which should be avoided in pregnancy (Walker, 2015).
If you're new to foraging for herbs, it's wise to get help from someone with a bit more experience. Also, check out these 10 tips for wildcrafting medicinal herbs for some additional help.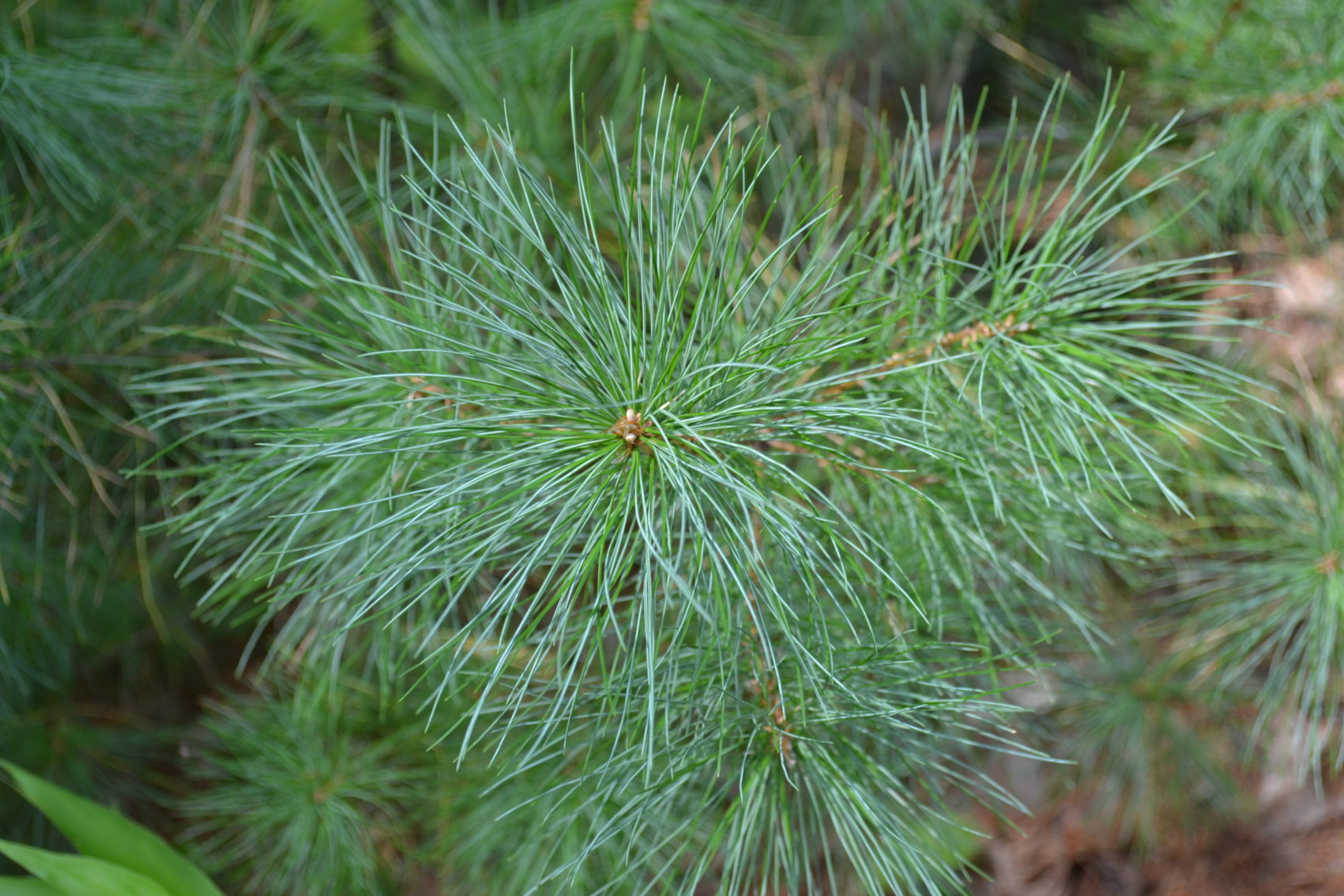 8 Ways to Use Pine Needles
Pine trees are something that we may see fairly often, but we might not realize how useful they are. In fact, pine needles can be used for a variety of ailments (such as in this decongesting herbal salt steam), as a food source, for making crafts, and even in the garden.
Let's take a look at 8 more uses for pine needles below.
1. Pine Needle Tea
Pine needles are high in vitamin C, and have been known in the past to keep scurvy away (Deane, n.d.a.). They are an awesome survival food.
One of the best ways to utilize pine needles in this way is to make a refreshing pine needle tea. Simply pour boiling water over the gently crushed needles and enjoy. Perfect for a chilly day!
2. Pine Needle Syrup
Pine needles are a natural decongestant and expectorant. They are also antiseptic and are great for coughs and congestion (Wood, 2009). Making a pine needle syrup is a good way to get the benefits of pine needles while also coating and soothing the throat. It's easy to make and has a delicious flavor as well.
3. Pine Needle Vinegar
Making a pine needle infused vinegar is another wonderful way to use pine needles. Here's how herbalist Susan Weed does it (from the article Pine Keeps You Fine):
"I preserve all the vitamins found in fresh pine needles by soaking them in apple cider vinegar for six weeks. I fill a wide-mouthed jar with pine needles and pour room-temperature, pasteurized apple cider vinegar over them until they are completely covered. A plastic (or non-metal) lid and a label with the name of the plant and the date completes the preparation. I call this tasty vinegar "home-made balsamic vinegar" and you will be surprised at how much it tastes like the store bought stuff —'Only better,' say many, with a smile" (Weed, 2008, para. 4).

4. Pine Needle Salve
Pine needles have some analgesic and anti-inflammatory properties that make it perfect for using in salves. They are also antiseptic, antibacterial, and antifungal (Walker, 2015). Try making this peppermint pine headache stick for headache pain, and this evergreen lip balm will keep your lips nourished and protected from the harsh winter weather.
5. Pine Needle Cookies
This may come as a bit of a surprise, but pine needles are the perfect addition to fall and winter treats, particularly cookies! These pine needle shortbread cookies sound especially tasty. Plus, you still get all the health benefits that pine needles have to offer!
6. Pine Needle Household Cleaner
You can also use pine needles to make an effective natural household cleaner with a lovely scent.
A good way to start is to use pine needle infused vinegar with baking soda and castile soap for cleaning projects. Or you can make this homemade "pine sol" for wood surfaces.

7. Pine Needle Crafts
Feeling crafty? There are many different seasonal projects and crafts that can be made using pine needles. Handwoven coiled pine needle baskets are traditional and beautiful. Make a pine needle wreath or these decorative pine needle tassels for the holiday season. Perhaps my favorite crafty way to use pine needles are these paintbrushes made with natural materials.
8. Pine Needle Mulch
If you have a lot of pine needles on the ground in your yard, use them in your compost pile or as mulch around your plants. They are on the acidic side, so if your soil is already acidic you may want to mix the pine needles with some other material to offset that. The best part about using pine needles in the garden is that they are free and usually very easy to come by.
Bonus: Conifer & Gin Bubbles
Looking for a delicious drink that's a fit for any season of the year? Look no further than this conifer and gin bubbles recipe, perfect for entertaining or enjoying by yourself!
Will Pine Needles Be A New Addition In Your Apothecary?
As you can see, there are a lot of ways to use pine needles. I hope these ideas have given you some inspiration and encouragement when it comes to harvesting pine needles to use in your home and for your health! The health benefits alone make seeking out pine needles worthwhile, but there are many other reasons to go along with that. Who knew that such a common tree could have so many uses?
Happy pine needle foraging, and don't forget to pin this post to your Pinterest boards so you can come back to it again and again!
Want to learn more about making your own herbal preparations? There are many other herbal skills addressed in the Introductory Herbal Course.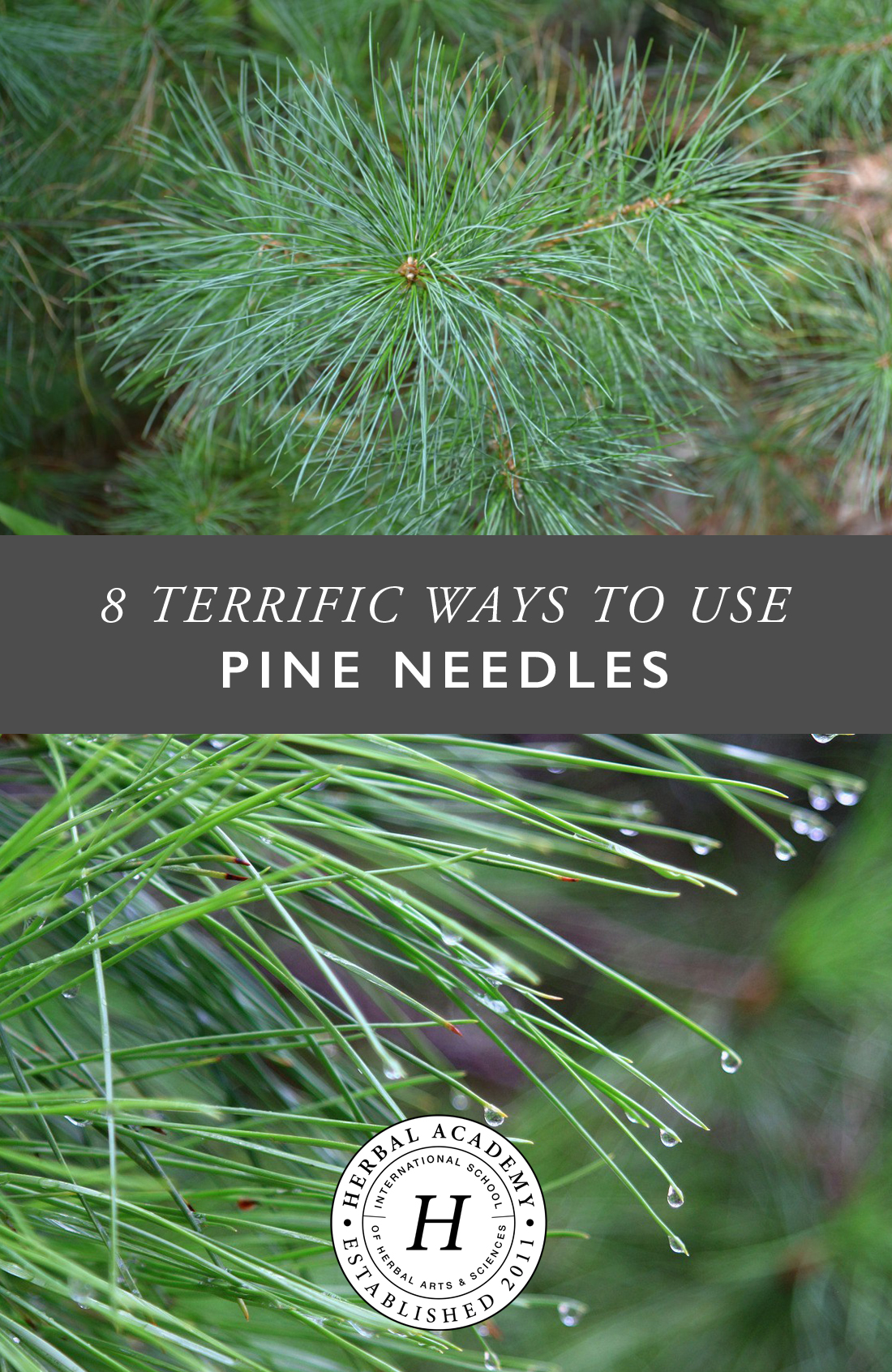 REFERENCES
Deane, G. (n.d.a.). Pining for You. Retrieved on 9/25/16 from http://www.eattheweeds.com/pines-not-just-for-breakfast-anymore-2/
Deane, G. (n.d.b.). Yew. Retrieved on 9/25/16 from http://www.eattheweeds.com/yew/
Walker, B. (2014). The Amazing All-Purpose Pine Needle Tea. Retrieved on 9/25/16 from http://davesgarden.com/guides/articles/view/3126/
Weed, S. (2008). Pine Keeps You Fine. Retrieved on 9/25/16 from http://www.susunweed.com/herbal_ezine/April08/healingwise.htm
Wood, M. (2009). The earthwise herbal: a complete guide to new world medicinal plants. Berkeley, CA: North Atlantic Books.