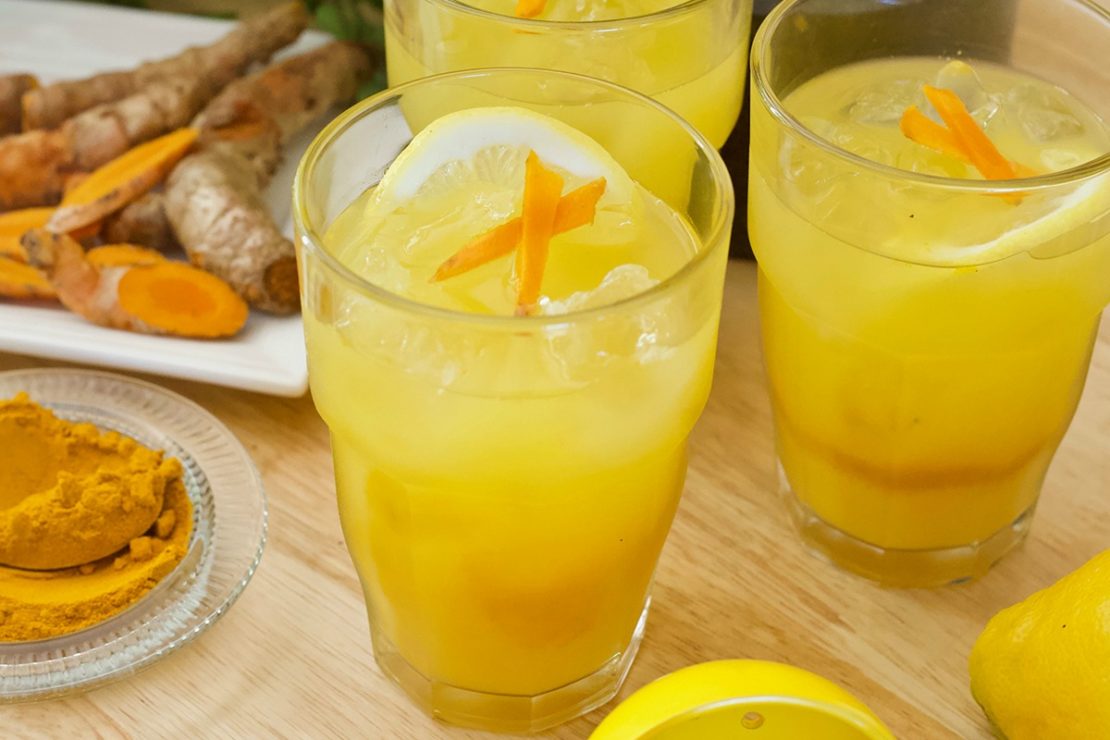 Turmeric Lemonade: Health Benefits & How To Make It
There is something so beautifully simple about using herbs and roots to live a healthy life. The familiar adage, eat the rainbow is apropos –  it is not hard to imagine the health benefits of ground beet root powder with its bright red color or the beautiful blue-green shade of the superfood spirulina.
Turmeric is amongst many foods which are both beautiful and health-supporting. Turmeric, with its orange-yellow hue, is a vibrant and inspiring root we can integrate into our diet.
Although this root is included in many Indian and Asian recipes, if you are unfamiliar with turmeric, it may seem intimidating to incorporate it into your diet in other ways. However, it can be as easy as creating a simple, refreshing drink such as lemonade.
Follow this post for an overview of the health benefits of turmeric and get a recipe for a nutritious and delicious turmeric lemonade!   
Turmeric: A Mighty Colorful Spice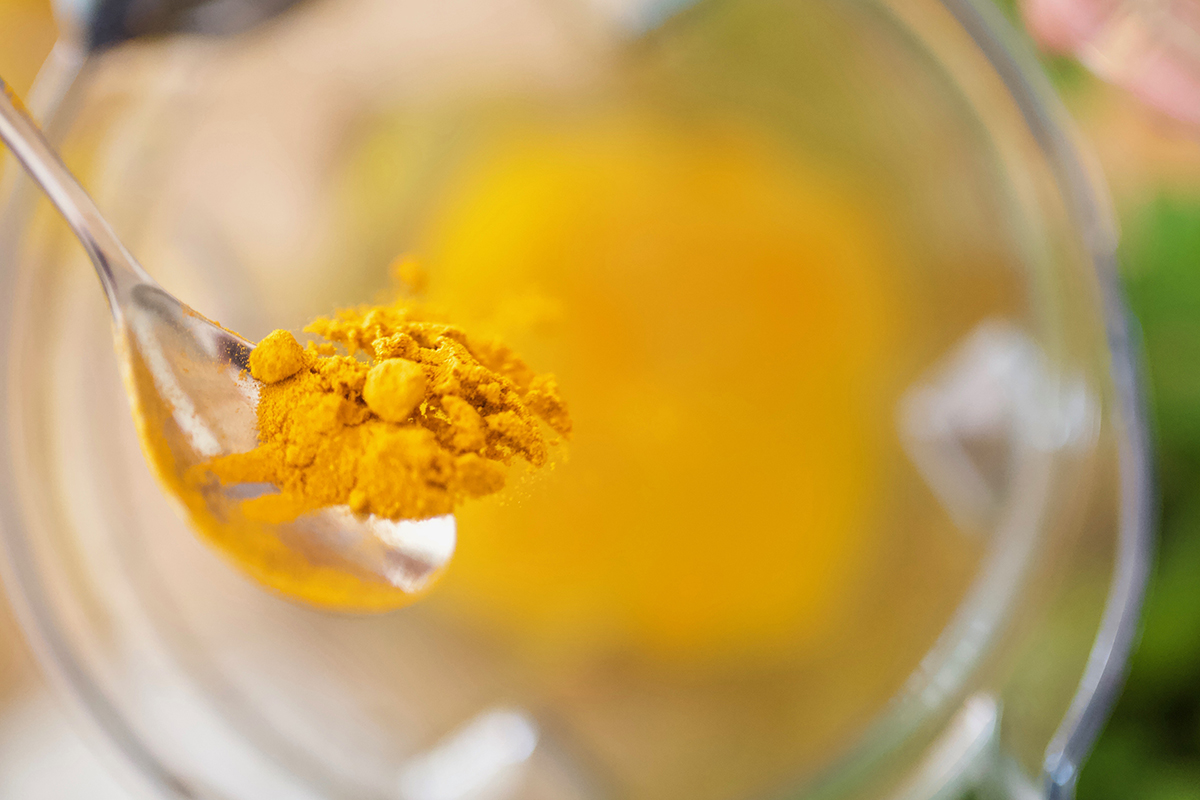 Whether it's grated from the fresh root, dried and ground using a mortar and pestle, or simply in powder form, I just love the vibrant color of turmeric. There's something about its bright, cheery orange-yellow hue that puts me in a good mood. Part of the magic of herbs and spices is in the color and flavor they bring to our lives, and turmeric is one spice that does not disappoint in this regard.
Turmeric has traditionally been used in Indian dishes and is most well-known in the West as the yellow component in premade curry powders. Although it is often seen in powder form in this part of the world, turmeric grows as a root and is a relative of ginger.
Turmeric is abundant in health benefits, namely, its inflammatory supportive properties (Murray, Pizzorno, & Pizzorno, 2006), and I have personally benefited from using turmeric in recipes in order to soothe inflammation in my body. The golden spice has been traditionally used in India for hundreds of years to remedy a wide range of ailments (Rathaur, Raja, Ramteke, & John, 2012). Turmeric provides many health benefits, however, aiding inflammation is perhaps the most well known. According to Rathaur et al. (2012), turmeric can help to ease health issues such as bursitis, arthritis, back pain, and overall inflammation in the body. Turmeric reduces inflammation by lowering histamine levels, increasing natural cortisone production, and by inhibiting cytokine, an inflammatory gene (Rathaur et al., 2012).
In addition to its inflammatory supportive properties, turmeric benefits digestion by aiding the body in producing digestive enzymes and by increasing bile production which helps the body to digest fats while also detoxing the liver (Rathaur et al., 2012). It has also been shown that turmeric can be taken in high doses without side effects (Rathaur et al., 2012). Currently, some in the scientific community are advocating for the increased use of turmeric in medical treatments due to its many benefits (Rathaur et al., 2012).
Turmeric's lovely light ginger flavor is not overpowering, and while we are most familiar with turmeric in our curries and soups, it can be added to smoothies and even incorporated into skin remedies (although beware it will impart its vibrant color to skin and clothing!).
One of my favorite ways to use turmeric during the spring and summer months is to make Turmeric Lemonade.
How to Make Iced Turmeric Lemonade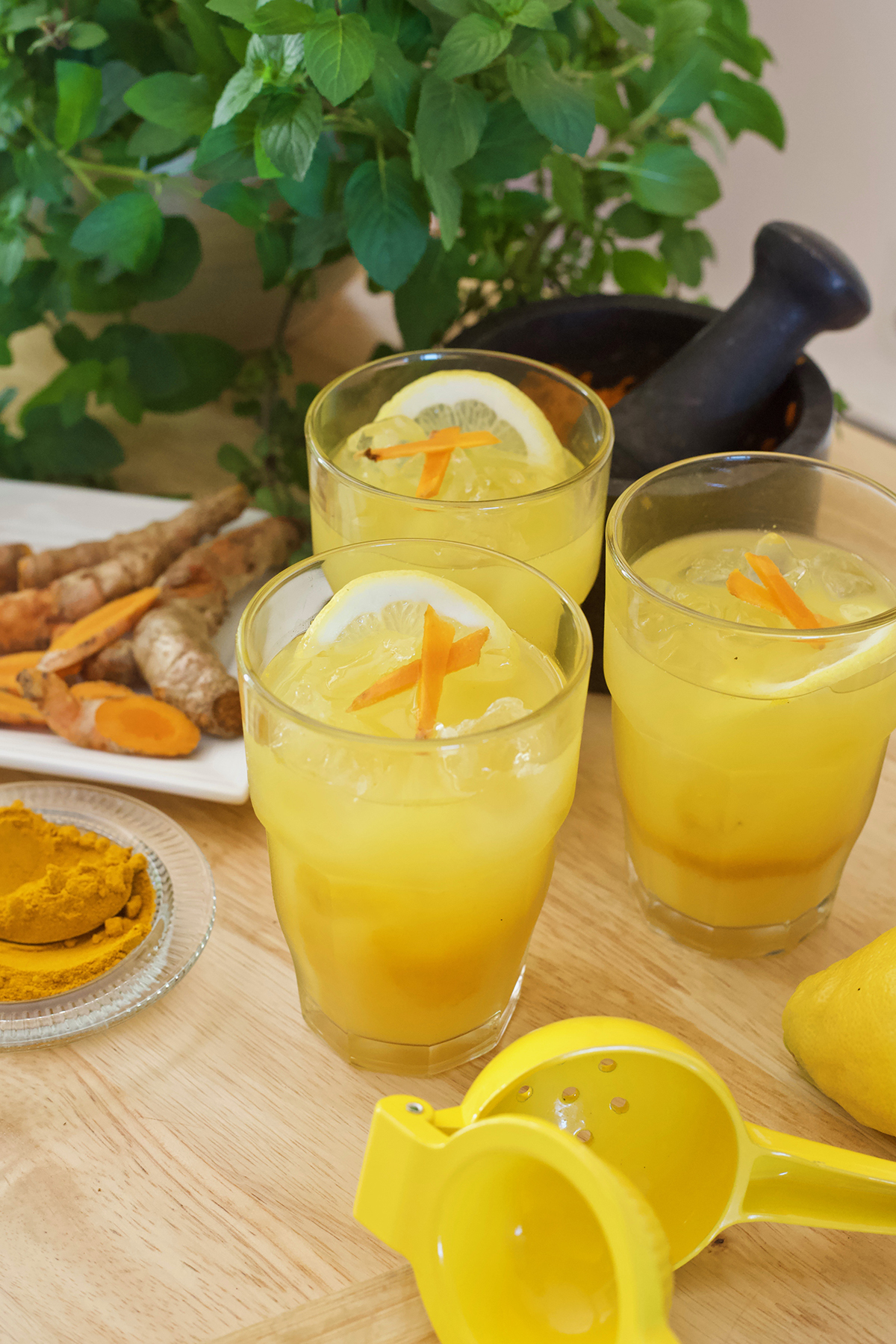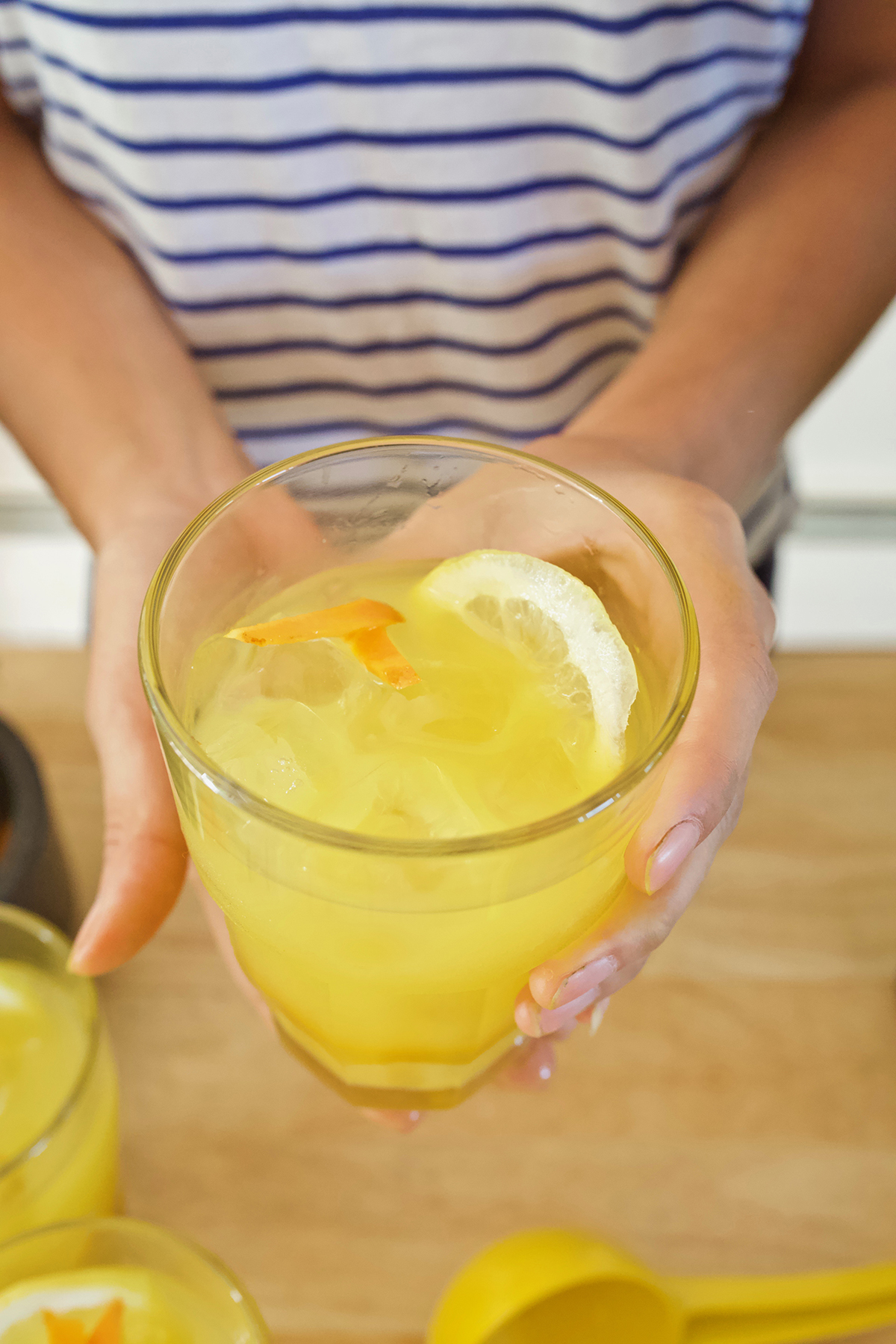 Iced Turmeric Lemonade Recipe
Adapted from an original recipe by Wellness Mama
This bright and refreshing drink will help to integrate the health benefits of turmeric on a sunny-summer's day!
Ingredients
2 cups water
2 cups ice
2 tablespoons fresh mint or basil, muddle
3 freshly squeezed lemons
2 teaspoons turmeric powder
1 teaspoon maple syrup (or more to taste)
One or two grinds fresh cracked pepper.
Directions
Muddle mint/basil using a mortar and pestle. Otherwise rough chop it to the point that the aroma of the mint/basil is released. Place it in the bottom of your pitcher.
Blend the remainder of the ingredients in a blender.
Pour the fresh juice into your pitcher.
Pour into cups over ice and garnish with a fresh sprig of mint and a lemon wedge.
Enjoy with your family on a hot day.
Notes:
This lemonade is meant to be served fresh!
You can also use stevia or erythritol if you prefer a sugar substitute. If substituting honey, it will not be vegan. You can also choose to omit the sweetener if you prefer a tart lemonade!
The cracked black pepper increases the bioavailability of curcumin (Shoba, Joy, Joseph, Rajendran, & Srinivas, 1998).
Turmeric is a potent spice to incorporate into your diet. It can support inflammation and contribute to overall health (Murray et al., 2006). In our home, we add it to most every dinner recipe including pasta sauces and curries. Turmeric lemonade is a creative way to incorporate this beautiful spice into your diet. Let us know if you make this recipe or if you come up with any non-traditional ways to use turmeric.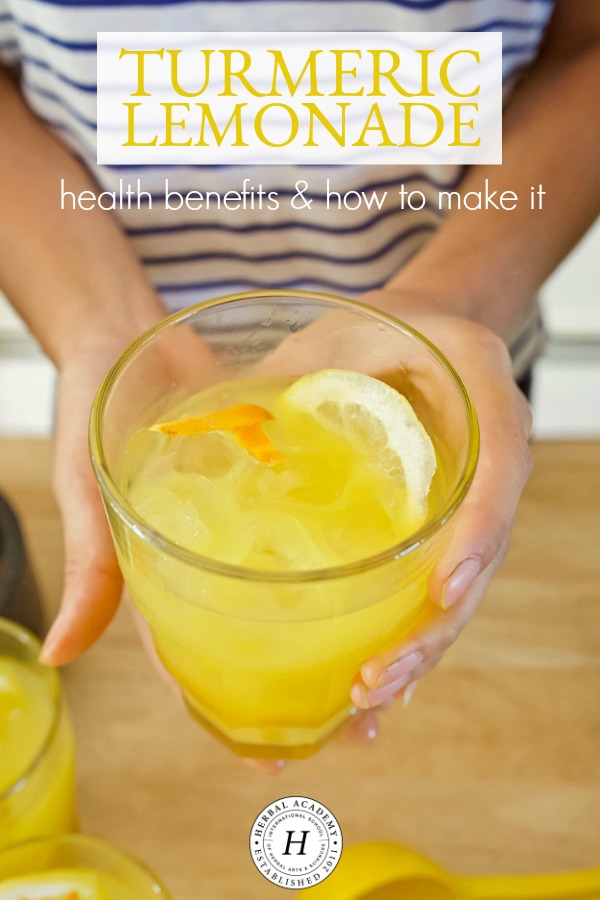 REFERENCES:
Murray, M. T., Pizzorno, J. E., & Pizzorno, L. (2006). The condensed encyclopedia of healing foods. New York: Pocket Books.
Rathaur, P., Raja, W., Ramteke, P. W., & John, S. A. (2012). Turmeric: The golden spice of life. International Journal of Pharmaceutical Sciences and Research, 3(8), 1987.
Shoba, G., Joy, D., Joseph, T., Rajendran, M. M. R., & Srinivas, P. S. S. R. (1998). Influence of piperine on the pharmacokinetics of curcumin in animals and human volunteers. Planta medica, 64(4), 353-356.