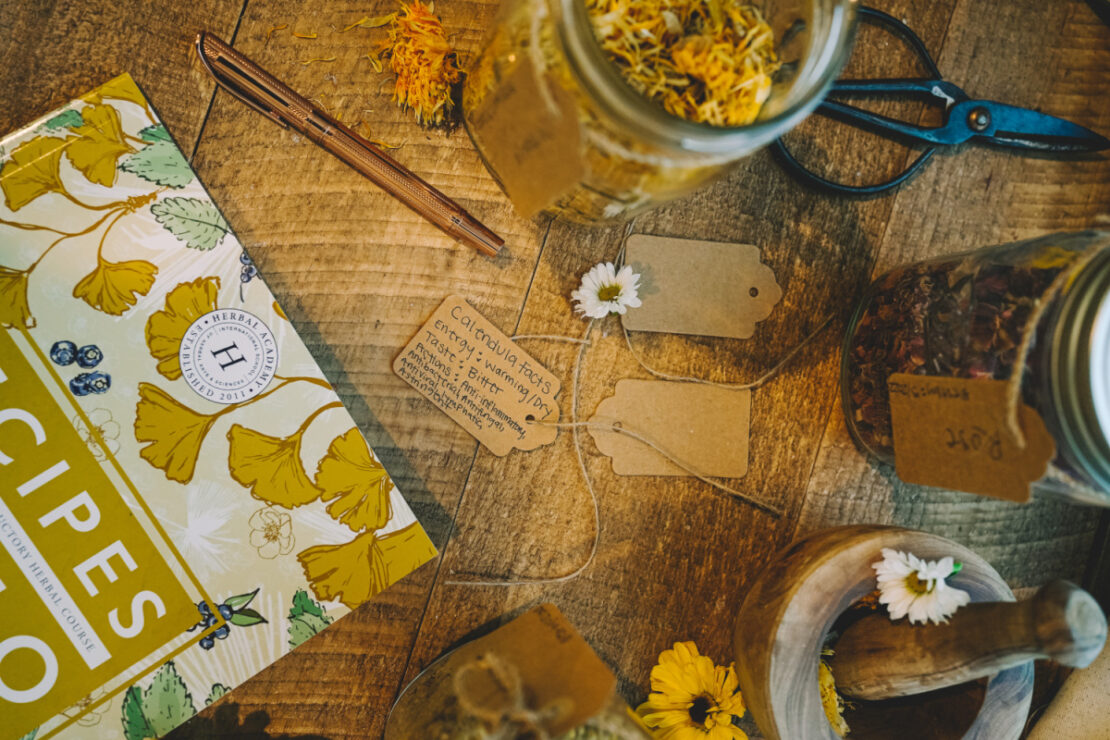 5 Helpful Study Tips for Herbalism
As a new student of herbalism, oftentimes it can feel overwhelming as we try to soak in the abundance of information we are learning. Trying to remember lists of new terms, the benefits of common kitchen spices, and the unique energetics of all the different herbs may feel quite daunting! Much like our time in school, we can rely on an array of study habits to help retain information. Each person is uniquely different in how they learn best, but some universal study tips can be effective for everyone. 
Here at Herbal Academy, we take great care in the structure of our online courses. Self-paced, information-packed, and brought to life with stunning visuals and videos, our programs make herbalism education approachable and engaging. While taking your time as you work through our courses is a great practice, here are five other helpful tips for all of the budding herbalists joining our student community. 
Our Top Study Tips for Herbalists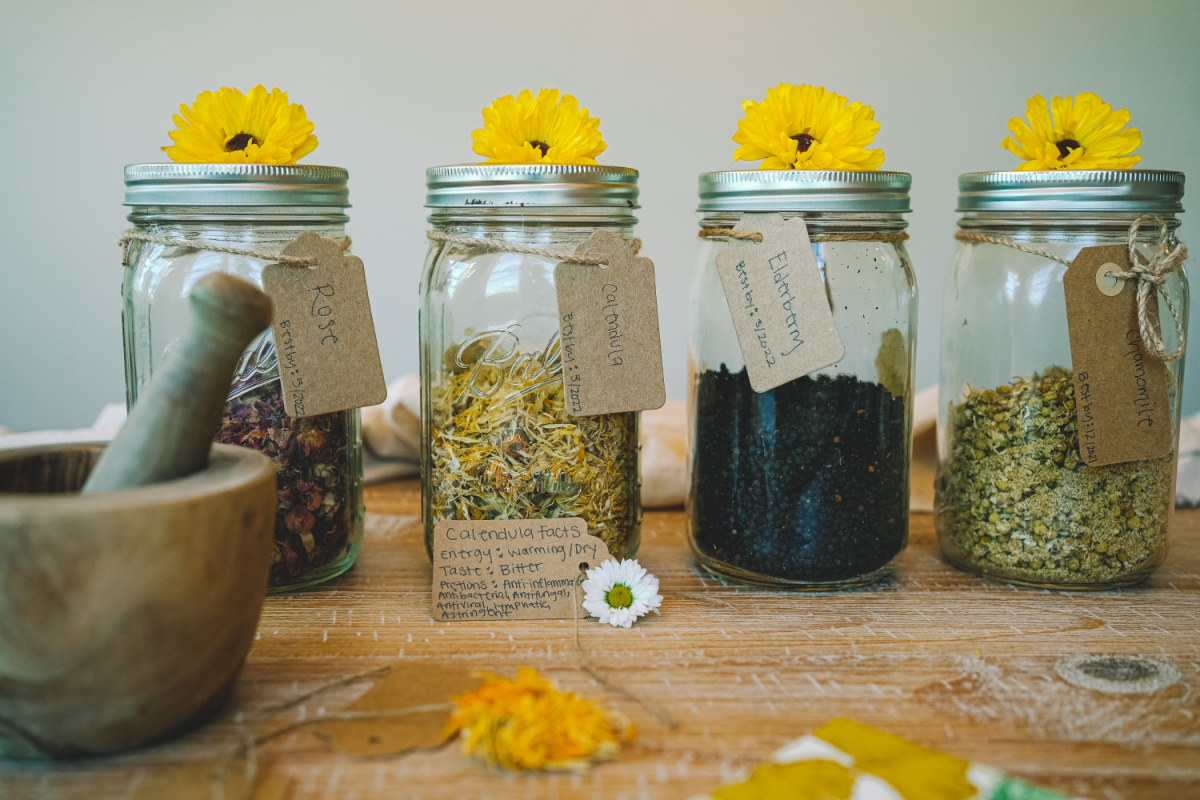 Herbal Tags
Think of these handy tags as more than identifiers—they are also herb flashcards, perfect for herbal students at every level! As you grab your jar of calendula, the helpful hang tag is a reminder of all the beneficial goodness this herbal ally has to offer. 
Ideas of what to include on your herbal tags:
 Herb name + binomial

 Energetics 

 Taste profile 

 Herbal actions

 Best if used by date

 Any other information to help you in your studies
Herbal facts can be found in course monographs as well as The Herbarium's extensive plant monograph database! Search the database and pull information from the herb monograph of choice to add to your tag. With a membership to The Herbarium, you'll also gain access to several other wonderful resources like topic intensives and articles!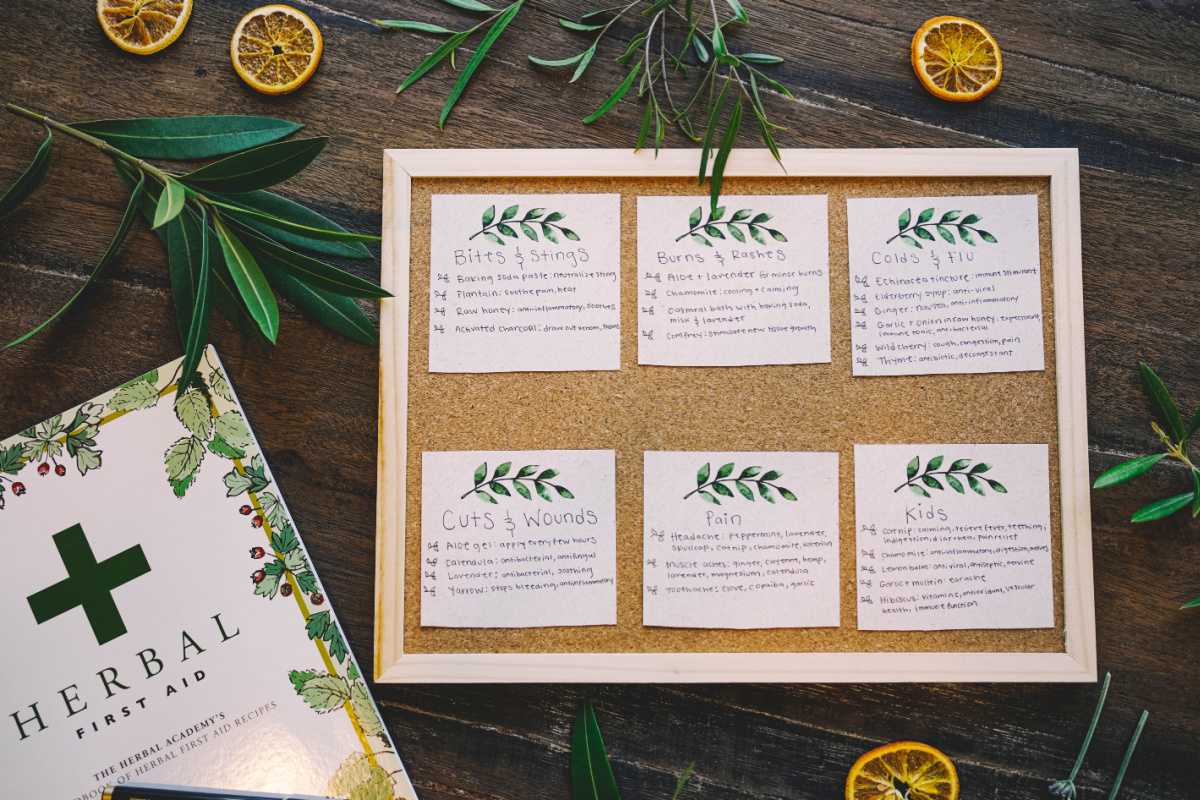 Herbal Reference Board
Have you ever found yourself scrambling in the moment to remember what could help in an acute situation? You just burned your hand on the stove and the heightened stress of the situation fogs your brain about what to do next. All of the useful information you've learned in your herbal studies is somewhat forgotten at the moment. It has happened to all of us at some point!
A useful tip that is an easy and fun project to put in place is a herbal reference board. You can hang this nearby so it's available when you need it—think of your pantry, herbal closet, bathroom, or medicine cabinet as places to house the reference board. If a problem should arise, you have a visual reference of what to do in certain situations! Additionally, each time you open that cupboard or cabinet, you can take a moment to review and absorb the information. An example of how to set up your own herbal reference board would be to use these categories:
Bites & Stings

Burns & Rashes

Colds & Flu

Cuts & Wounds

Pain

Kids
Each category can list tried-and-true herbs or herbal formulas used to ease and support the ailment. We have a wonderful Herbal First Aid book as part of our Intermediate Herbal Course text book set. Additionally, there are lots of articles on the Herbal Academy blog to search through, including On-the-Go Herbal First Aid, as well as an ebook on Pantry Herbalism for Cold and Flu Support.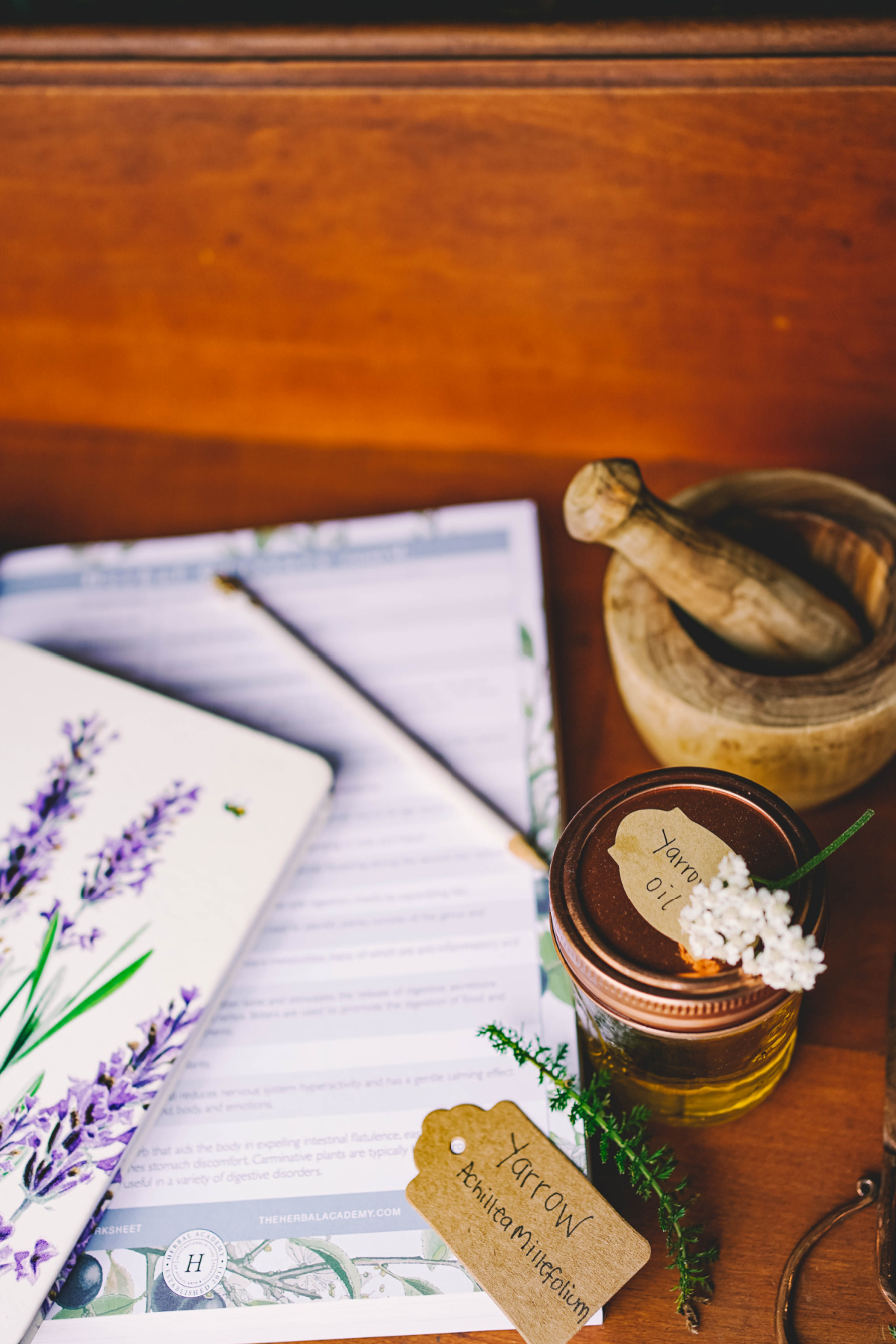 Binomials
When asked, many herbalists will respond to the question "What advice would you give someone who is starting their studies in herbalism?" with a resounding "Always write both the common name and binomial of the plant!!"
A plant's binomial consists of its genus name (capitalized) followed by its species name (uncapitalized). A few important reasons to learn the binomial of each plant you are studying include:
The first word identifies the genus of the plant

, allowing the student to understand the various species that are in that same category. This helps you to make important connections as you are learning different herbal recipes—for example, the

Rosa

genus includes

dog rose (

Rosa canina

), beach rose (

Rosa rugosa

), multiflora rose (

Rosa multiflora

), apothecary rose (

Rosa gallica

), and Damask rose (

Rosa damascena

), and they are all used similarly in herbalism so you could use the one you have access to.
Learning binomials helps to reduce confusion with many common plant names overlapping.

For example,

mint:

we use the term freely, however, understanding the many varieties of mint by their binomials will help you as you study to understand each plant's unique properties and uses—for example, peppermint (

Mentha

x

piperita

) and spearmint (

Mentha spicata

).  
Binomials are universal.

When traveling or communicating with herbalists beyond your region or abroad, using binomials for plants will help to ensure you are on the same page, as the list of common names for many plants is long and often overlapping! 
Our Materia Medica Course supports you as you compile plant monographs, a wonderful approach to identifying and learning each plant. By studying plants one herb at a time, we have the opportunity to connect with individual herbs at a meaningful level through in-depth study. The Herbal Materia Medica Course will teach you this simple––yet powerful––study process and help you organize what you are learning into plant monographs for future reference.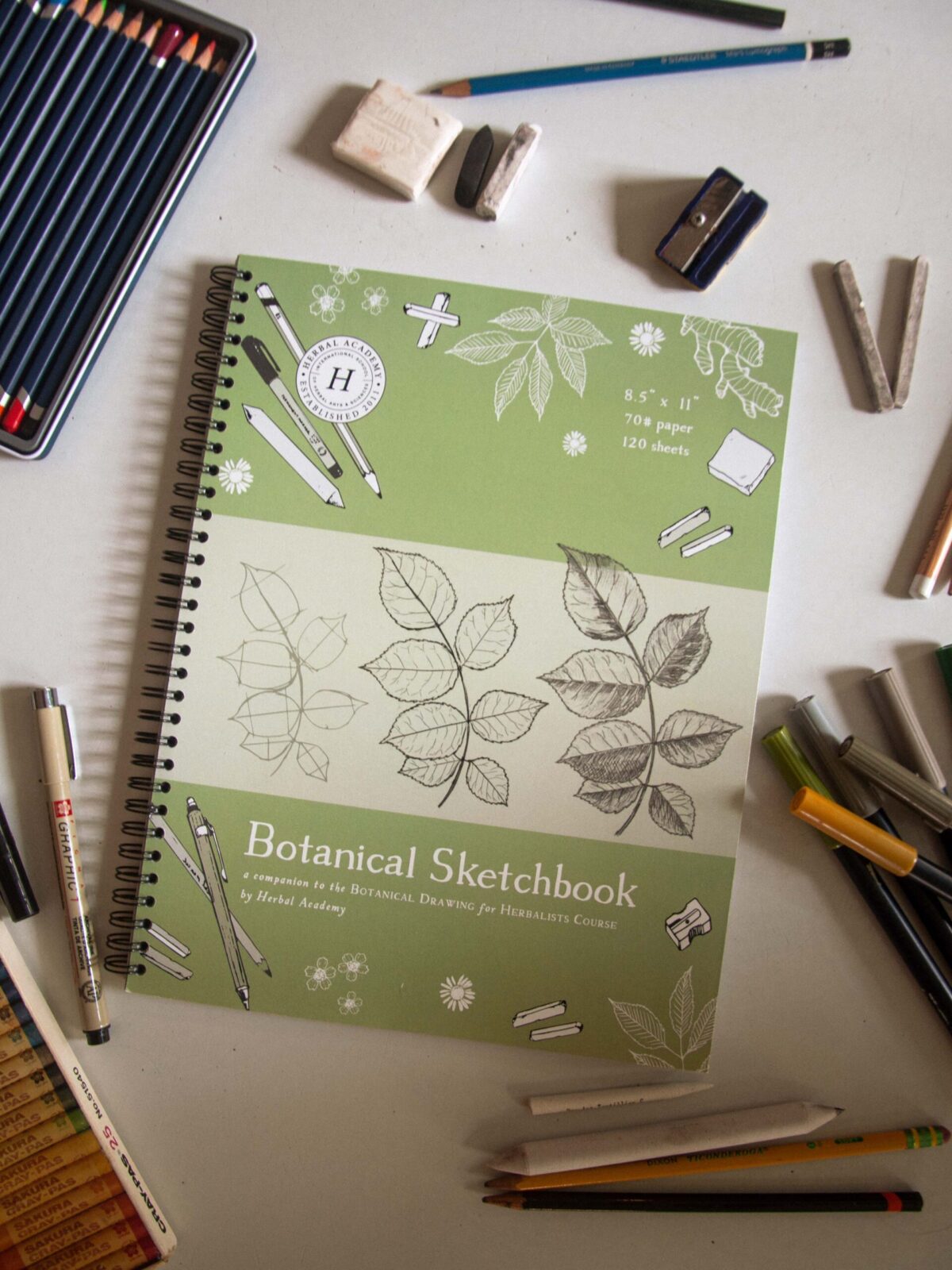 Botanical Drawings
To draw a plant is to sit and admire all the intricacies that make each plant unique. Drawing plants means paying close attention to every detail, which is so helpful for learning proper plant identification. While studying, simply sketching out the plant will turn on a different part of your brain and help you commit the plant's characteristics to memory. Taking what your eye sees and putting it down on paper is a helpful practice to aid you in remembering the experience. 
Our exciting new course, Botanical Drawing For Herbalists, will take you through this process step-by-step! Not only will you learn to make personalized botanical illustrations, but you will also begin to see the plants more closely and render them with greater accuracy. As you'll soon see, drawing is a very effective study tool that can help you embed a plant's characteristics in your memory—all while you enjoy a mood-boosting, meditative activity that nurtures your creativity.
Sensory Stimulation
Our senses are a powerful tool. Connecting experiences to memory, recording new information as knowledge, and recalling facts later can all be initiated through our senses. A hands-on approach to learning herbalism is a way to involve your whole body in the learning process. When studying a certain herb, take rosemary, for example, the best way to remember various aspects is to:
Observe

Touch

Smell

Taste
Write down your experience of what the plant looks like, what it felt like to touch, how it smelled, and what it tasted like (edible plants only, of course). This sensory stimulation is a powerful message to our brain and a beneficial study tool. After hands-on engagement with the plant, your mind and body will remember that rosemary is potent, aromatic, deep green, and has a unique strong flavor. 
The Foraging Course is a great resource to enroll in if you'd like to learn more about properly identifying wild edible plants. We'll take you from field to apothecary and forest to fork as we explore all of the fun ways to prepare wild dishes and herbal preparations in this 5-lesson crash course into wild foraging!
In Closing, 
The wide world of herbalism can be immense at first. Oftentimes, new students feel like they are not retaining the information. However, don't be discouraged! Herbalism is a personal journey of a thousand steps. It's not a race to a certification or a venture that needs to be learned in a certain amount of time. Ask most herbalists and they will tell you they are forever a student of plants. These five unique study tips will make your long, wonderful journey of being an herbal student that much more fulfilling. With each recall of an herbal action or binomial or recipe, you will feel more and more connected and confident in your abilities.