How to Make Apple Spiced Liqueur
It is November. A cold chill has settled, blanketing the days with lower temperatures. It is time for cozy fires, warm food, and spiced drinks. This homemade apple spiced liqueur recipe gives your taste buds a welcome dose of sweet and spice, with a little bit of heat. The sweet taste of apples with cinnamon and cloves is a delicious reminder of this beautiful time of year, a time to give thanks and a time for sharing. This spiced liqueur recipe is perfect for sharing with friends and family at holiday dinners and gatherings.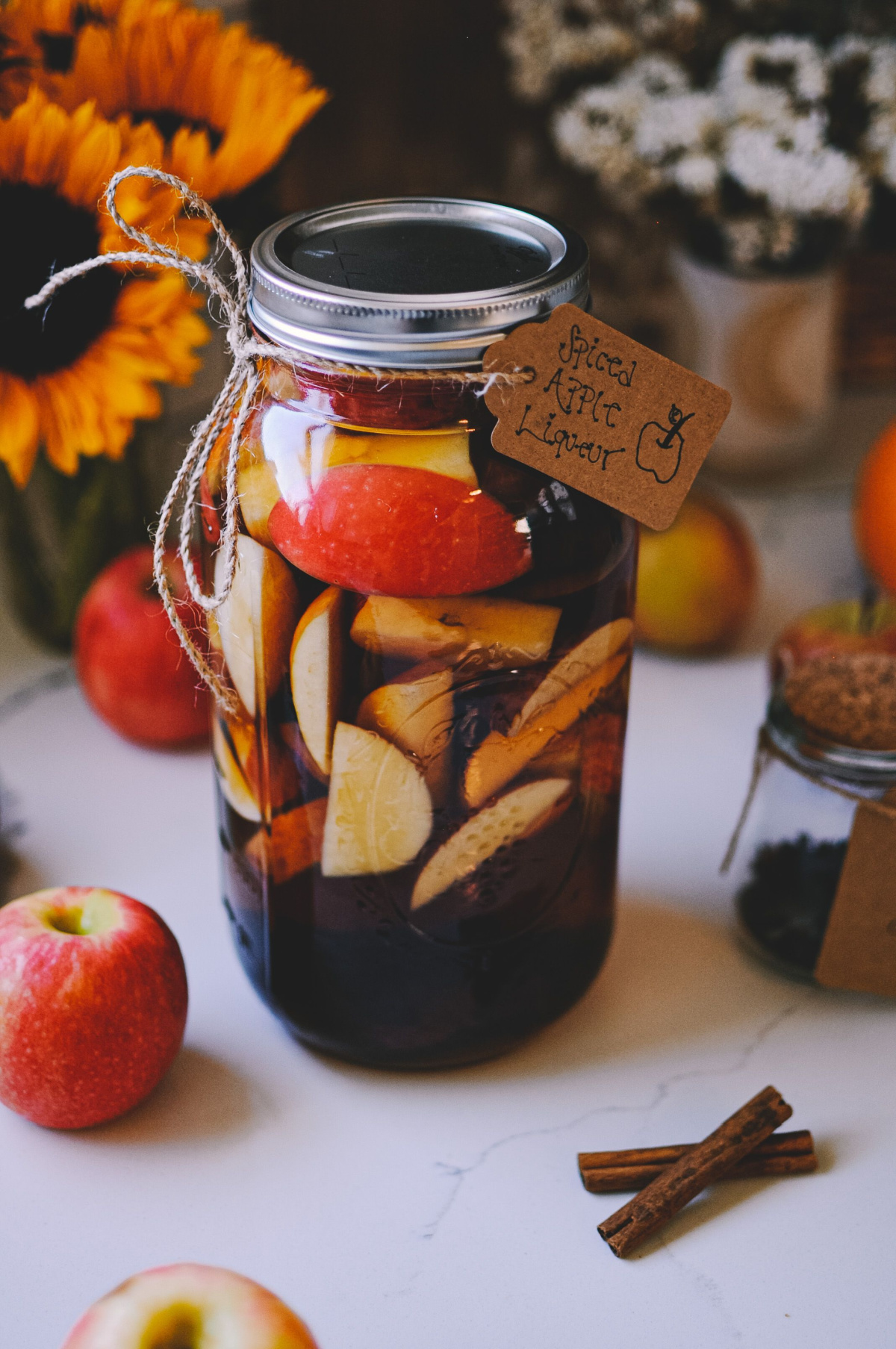 Recipes That Connect Us to the Season
When I think of fall, I am immediately transported to a tree-lined street with golden leaves glittering the ground; the scent of cinnamon and cloves fills my nose and pumpkins and apples—symbols of the season—line my countertops waiting to be made into something delicious. There's something about this apple spiced liqueur recipe that makes me feel deeply connected to the season. It requires seven days to infuse, and each time I walked by the clear glass jar filled with apples, spices, and rum, I was struck by the beauty of the fruit suspended in a rich amber-colored liquid. I knew once it was ready, it was going to be quite the experience! This homemade herbal spiced liqueur is easy to make, has a wonderful shelf life, and did I mention it is delicious?! 
What is an Herbal Liqueur? 
An herbal liqueur is an alcoholic beverage that has been infused with various fruits, herbs, spices and sugar. You're creating a special drink, perfect for the holidays. Much like other herbal infusions, it is customizable with varying benefits. Many household cooking spices got their popularity for their impact on your food, but also on your body. Not only are you going to enjoy the taste, but you're able to enjoy an extra offering from the spices themselves. 
The History of Liqueur and Why Make It? 
Thanks to the monks in the 13th century, we can now enjoy infused herbs in this sweet unique way (Britanica, 2007). Liqueurs have historical roots in herbalism. There are still ancient recipes put into practice today. The famous Green Chartreuse liqueur follows an original manuscript of 130 plants, herbs, roots, leaves, barks, brandy, distilled honey, and sugar syrup  (Chapman, n.d.). 
Infusing fruit, herbs, and spices is such a magical process. The slow art of pulling out each plant's constituents into the liquid is something I've really enjoyed while studying with Herbal Academy. A sip of tea, or in this case, a toast with friends from a homemade recipe, is always better. Thankfully this liqueur recipe doesn't call for 130 different plants (whew).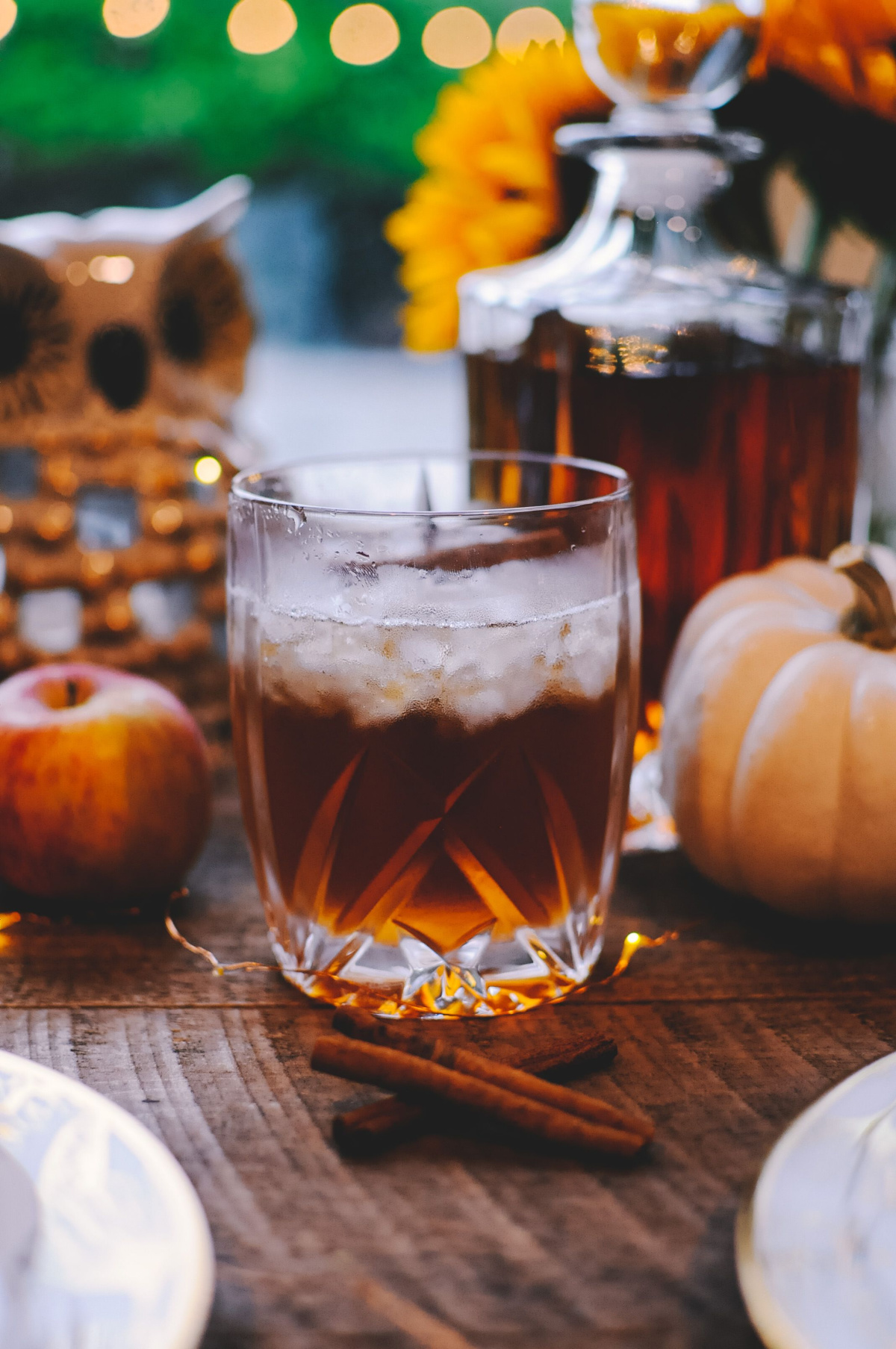 How to Make Your Own Apple Spiced Liqueur
Apple Spiced Liqueur Recipe
This particular apple spiced liqueur recipe calls for sweet apples, cinnamon sticks, cloves, brown sugar, and rum. This is a classic combination and one that will immediately taste like fall!
Ingredients
6 apples (I used a mix of fuji and honeycrisp, the sweet flavor really gets highlighted in this drink)
4 cinnamon (Cinnamomum verum) sticks
4 clove (Syzygium aromaticum) buds
Rum (After the apples were added to the 64-ounce jar, it took about 42 ounces of Rum to fill the jar up. If you purchase a 1.75 L bottle, you should have plenty for this recipe)
1 cup brown sugar for simple syrup (create your own, directions below)
Directions
Start by cleaning your apples. I like to soak mine in a water / vinegar bath in the sink.
Next, chop up your apples, removing the core.
In a large glass jar (I used a 64 ounce size) place the chopped apples inside.
Add 4 cinnamon sticks to the jar.
Add 4 cloves to the jar.
Next, fill the jar with rum to the very top, leaving little room for air. 
Place a lid on your jar and allow the recipe to sit in a cool dry place for 7 days.
After a week, your liqueur infusion is ready for the next step. This is where you will make your own brown sugar simple syrup.
In a saucepan, place 1 cup of water with 1 cup of brown sugar.
Put the stove on low and heat until the sugar is fully dissolved.
Reserve the liquid.
Next, strain out the solids from your liqueur infusion.
In the large glass jar or swing-top bottle, add in the brown sugar simple syrup and then fill the rest with the strained liqueur liquid.
Mix them together and you're done! 
To Use: 
Apple spiced liqueur can be enjoyed on the rocks or added to a festive holiday drink like apple cider. The sweet taste of apples and brown sugar really shine. The warm flavor of the cinnamon and cloves balance out this lovely herbal drink.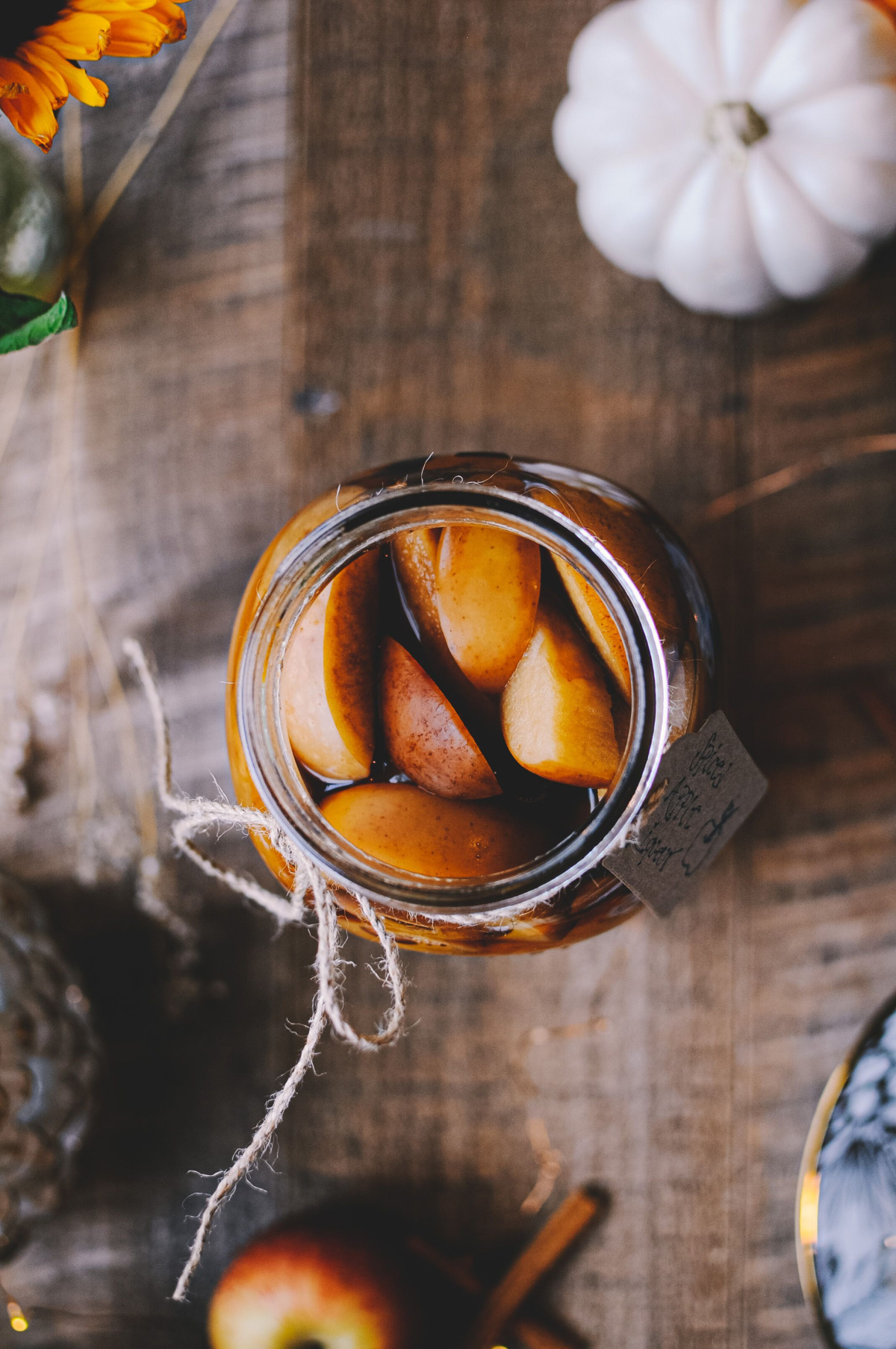 In Closing, 
The table is set, the house is filled with laughter and good food. A feeling of thankfulness for the season is palpable. As we raise our glasses of homemade apple spiced liqueur, we take a moment to enjoy this time of year and all that we've experienced. Cheers to those who came before us and passed down their knowledge and cheers to those who continue the tradition of living a life dedicated to the wonderful use of plants.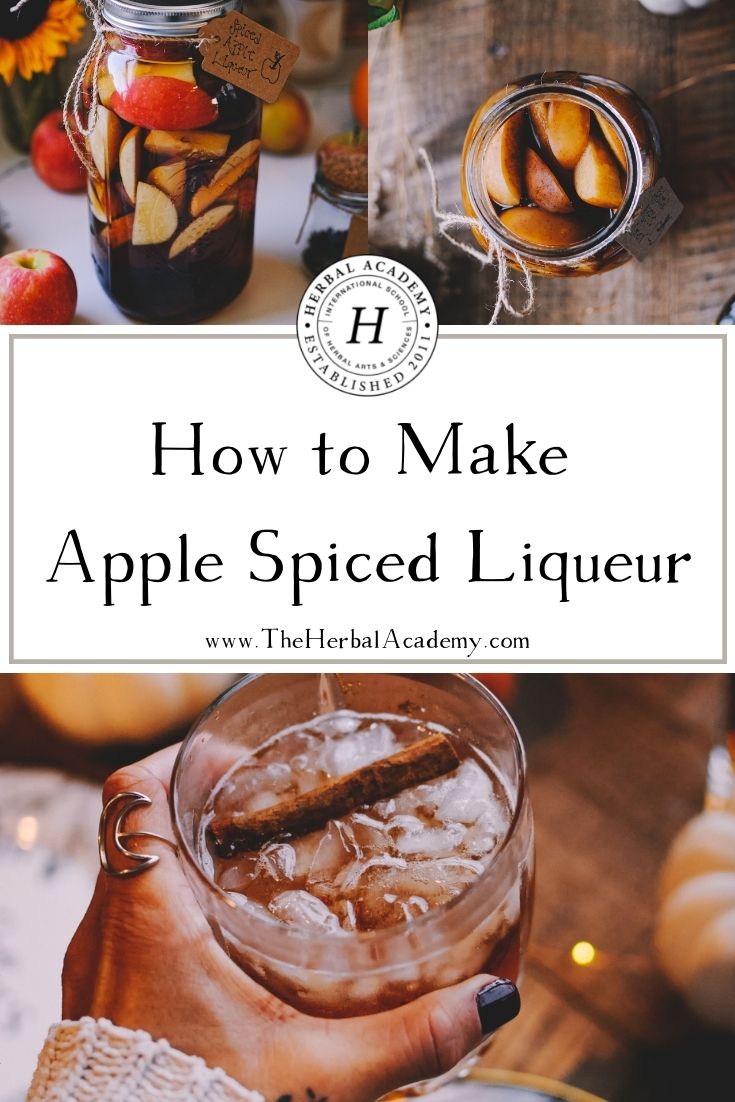 REFERENCES
"Liqueur." (2007). Retrieved from https://www.britannica.com/topic/liqueur
Chapman, J. (n.d.). History of liqueurs [Online Article]. Retrieved from https://www.oxfordwine.co.uk/history-of-liqueurs