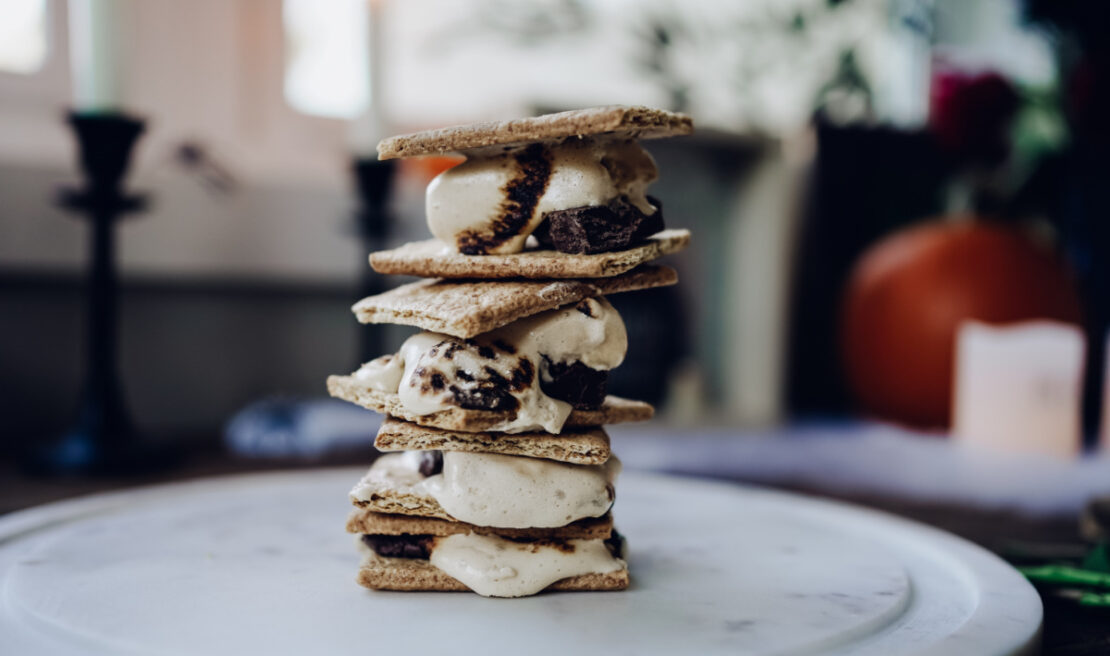 Sanderson Sisters S'mores With Herbal Chocolate and Marshmallow Root Marshmallows
Create your own black flame chocolate, dripping in herbal goodness with a hint of rose flavor. Whip up homemade fluffy marshmallows made with the very ingredient they were named after — marshmallow root (Althaea officinalis). Sandwich them between two graham crackers and you'll have the tastiest bite of s'mores you've tried yet! 
"Sisters, we've been gone 300 years." —Winifred Sanderson
Actually, it's been nearly 30 years since the Sanderson Sisters flew across the big screen. Time sure does fly, and some say so do broomsticks on All Hallows' Eve! Here at the Herbal Academy, we are big fans of the movie Hocus Pocus. Team member, Heather, especially so. For the anniversary and premier of the sequel to the classic Halloween tale, she is sharing an herbal chocolate s'mores recipe so divine, you'll be positively bewitched.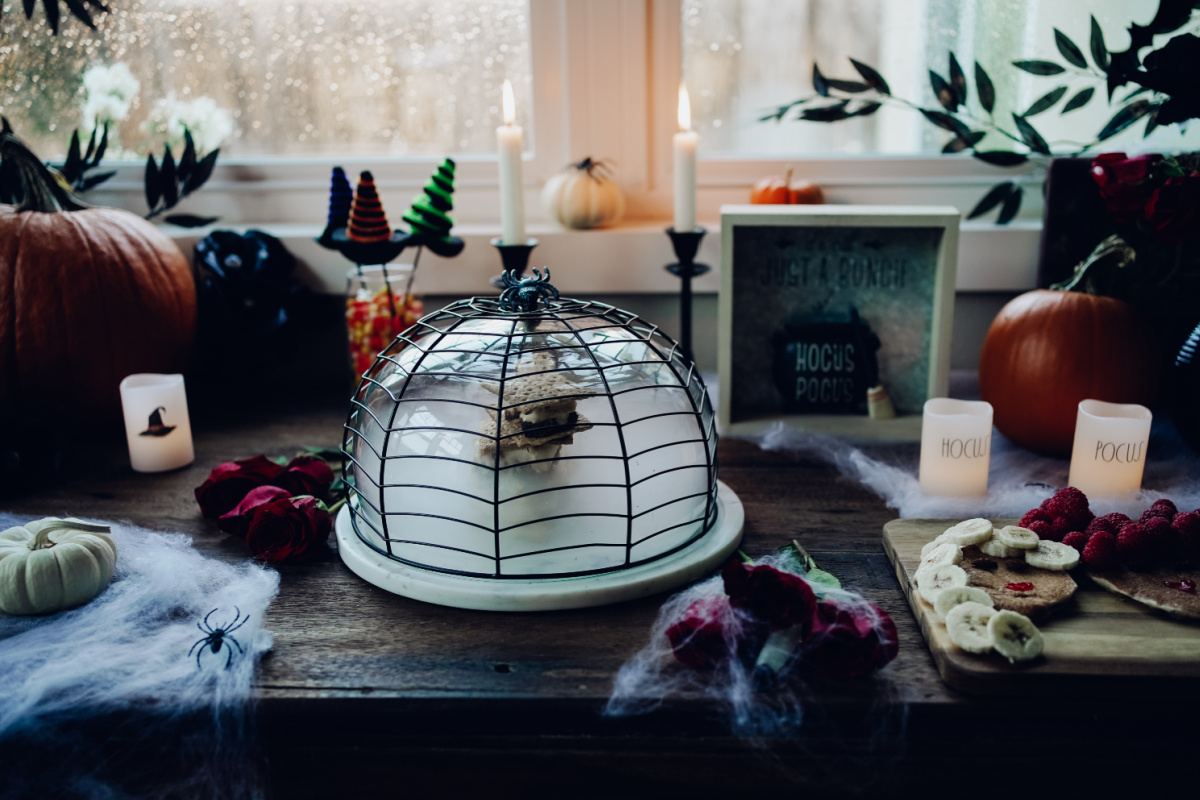 Sanderson Sisters S'mores
This recipe is a creative spin on s'mores for a classic Halloween movie. As the leaves fall and temperatures begin to drop, traditions emerge from storage boxes, outdoor fire pits start to roar, and recipes are pulled from the pantry. As kids, getting to toast our very own marshmallow was such a highlight. Watching the fluffy white delectable morsel bounce and kiss the fire with each flick of the wrist was mesmerizing. S'mores, let's be honest, are a year-round treat. But they somehow taste better when enjoyed out by the fire on a crisp fall night. Save this recipe for the next family fun evening—it makes the perfect pairing with a watch party for the newest Hocus Pocus!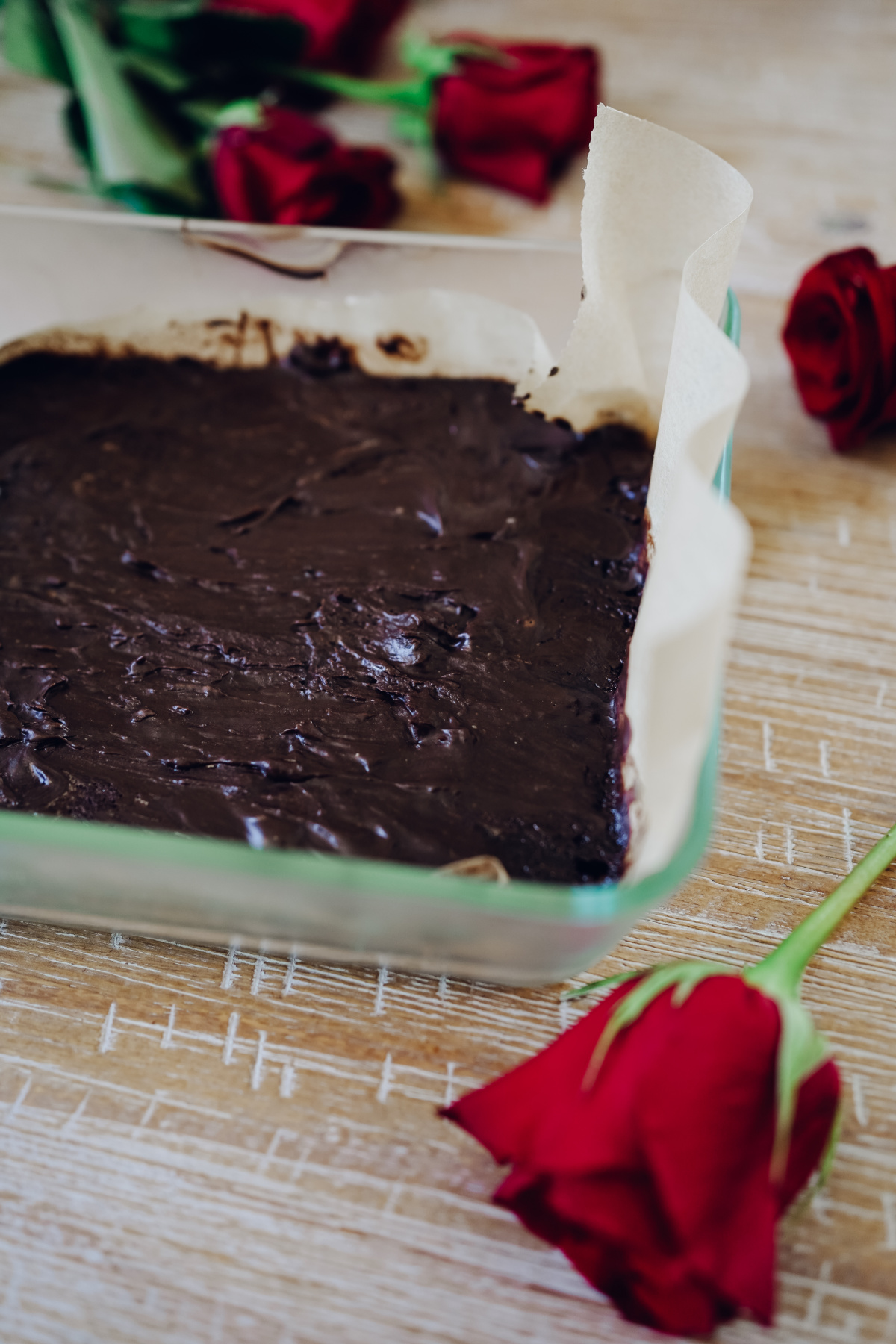 Black Flame Herbal Chocolate
To make this Black Flame Herbal Chocolate recipe, creamy, rich dark chocolate melts into a pool of delicious liquid, and then rose simple syrup is drizzled into the chocolate bath. Together, they mix and create a divine chocolate bite. The bitterness of the dark chocolate is balanced by the sweetness of the rose. This is a pairing so great, you'll go back for seconds! Rose (Rosa spp.), notably known for its sweet scent and beautiful petals, is used in various baking recipes. The delicate rose tastes exactly how it smells, aromatic and sweet; it infuses a unique flavor into the chocolate. Adding rose simple syrup is a great way to elevate your sweet treat recipes, such as these s'mores.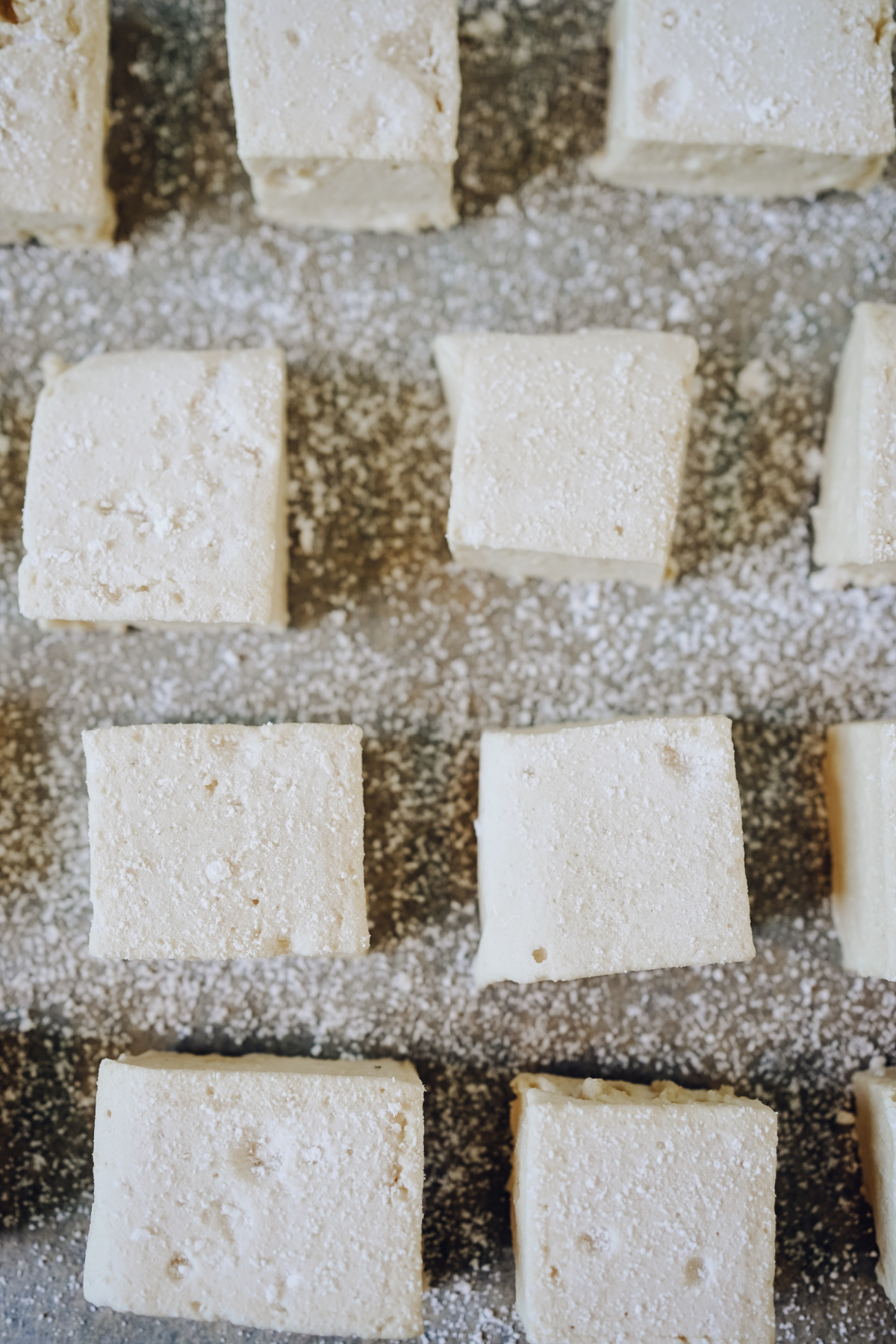 Maple Marshmallow Root Marshmallows
Gooey, sticky, oh-so-worth-it marshmallows are incredibly easy to make yourself. A little time and a lot of mixing and poof, you're a marshmallow maker now! We couldn't just make any old marshmallow now, could we? We've elevated these marshmallows with sweet maple sugar, that's right! Using sugar made from maple syrup is a new favorite. The maple flavor in these marshmallows is otherworldly, so sweet, and just perfectly paired with the rose dark chocolate. 
The other ingredient that goes into the marshmallow making is maple syrup. Double maple? Sign me up! Maple syrup is a great alternative sweetener and contains invert sugar that helps prevent crystallization to produce a smooth consistency.

Last but not least, there is none other than marshmallow root itself. The wonderful thing about infusing recipes with various herbal ingredients is that you get a dose of some of the benefits the plant provides. In this case, marshmallow (Althaea officinalis) root has substantial calcium and is an excellent source of trace minerals (Pedersen, 2011). It is said that the Egyptians squeezed sap from the mallow plant and mixed it with nuts and honey. This tradition was later passed down and became popularized by the French in the early-to-mid-1800s. Candy makers whipped sap from the mallow root into a fluffy candy mold (National Confectioners Association, n.d.). It was a time-consuming process and since the demand was high, gelatin was eventually used as a time-saving replacement. Therefore, the marshmallows we see today no longer contain any marshmallow root. This recipe is an homage to the traditional method, but for ease of making, it includes gelatin as well.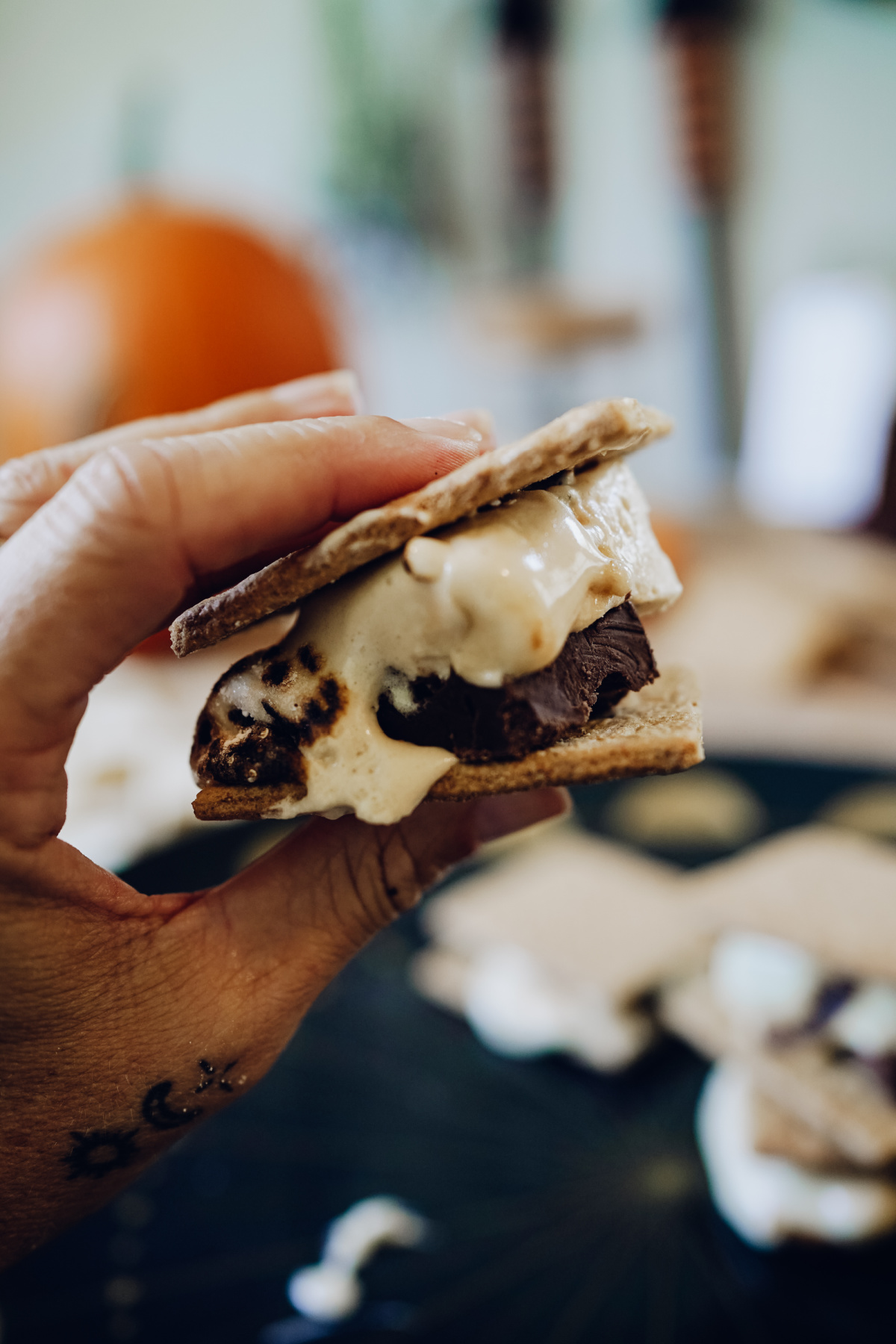 Sanderson Sisters S'mores
It's all just a bunch of hocus pocus and a few herbal ingredients to create your very own Sanderson Sisters S'mores. Filled with rich rose-flavored Black Flame Herbal Chocolate and homemade Maple Sugar Marshmallows with Marshmallow Root, each bite is so delicious, it just may bring back the sisters!
Supplies
Candy thermometer
Pot
8"'x8" baking dish
Parchment paper
Mixer (handheld or stand mixer)
9"x12" baking dish
S'mores Recipes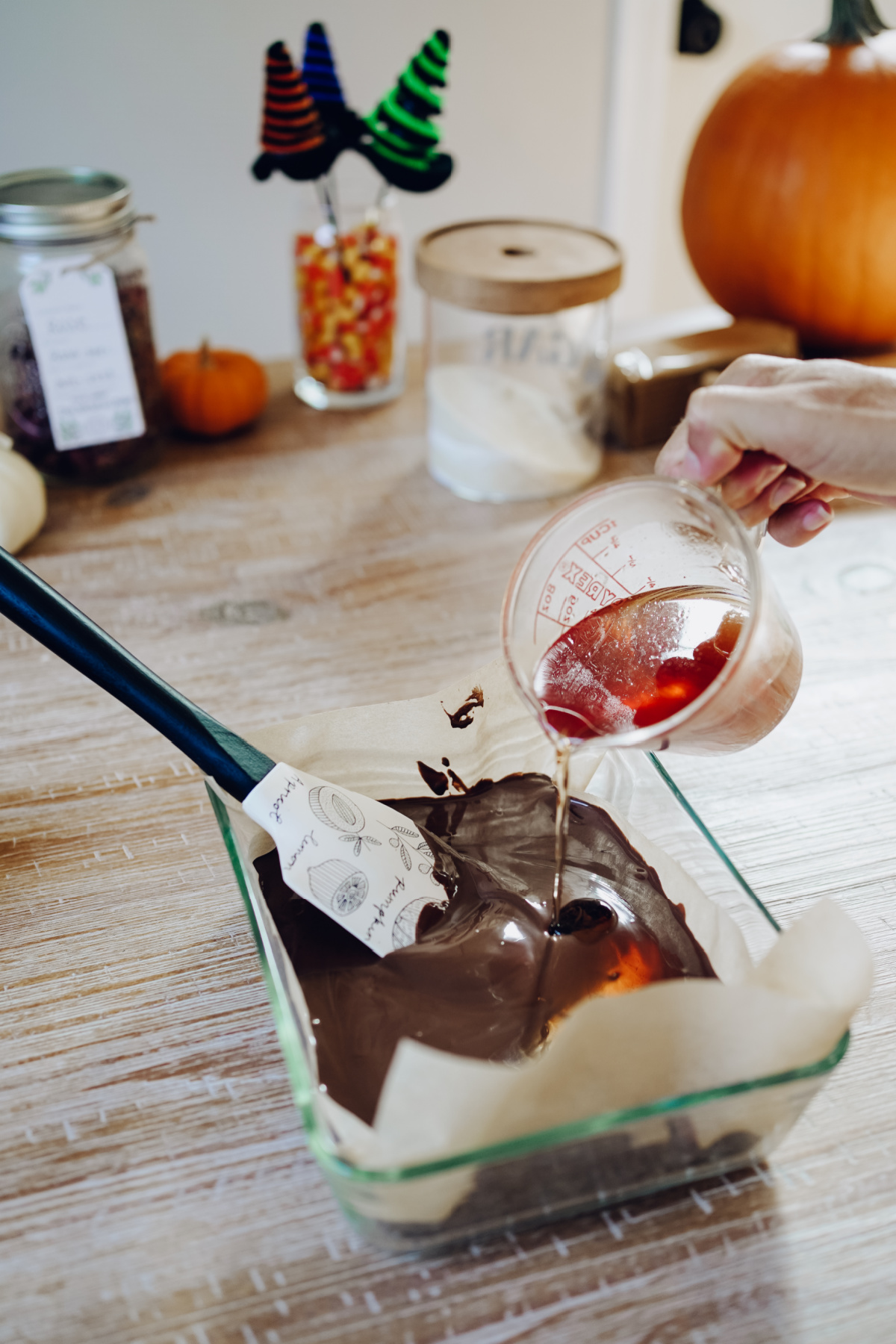 Black Flame Herbal Chocolate
Ingredients
10 ounces dark melting chocolate (a favorite is Ghirardelli)
½ cup organic sugar
½ cup water
4 ounces dried rose (Rosa spp.) petals
Directions
Start by making a rose simple syrup. In a pot, combine water, sugar, and rose petals and allow the mixture to simmer for 15 minutes. Turn off the heat, cover, and infuse in the pot for an additional 15 minutes. Strain out the rose petals and reserve the delicious rose simple syrup for the recipe. 

Line an 8"x 8" baking dish with parchment paper and add the dark melting chocolate. Pop it into the microwave, set the timer for 30 seconds, heat, and stir, using 30-second increments until the chocolate is fully melted. Alternatively, melt the chocolate in a double boiler or in a saucepan with a heat-resistant bowl nestled inside. Place water in the saucepan and turn on low to medium heat. Place chocolate in the bowl and stir until it melts. Pour melted chocolate into a lined baking dish. 

Once the chocolate is a melted velvety texture, pour in about ¼ cup of the rose simple syrup. Stir in well and allow the chocolate to set. You can place it into the fridge for faster results. 

The dark rose chocolate will be ready in no time and you can cut it into squares to prepare for your s'mores.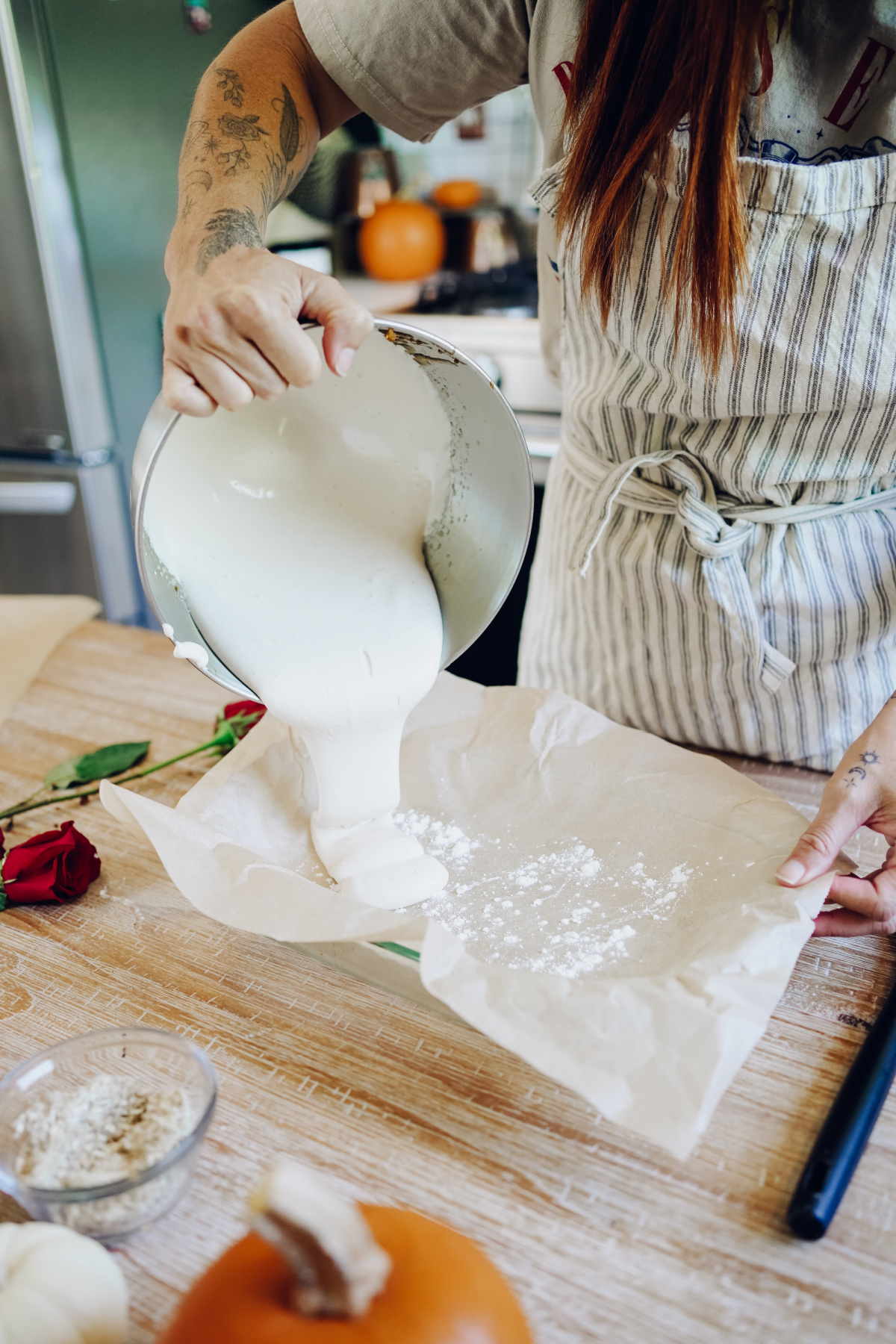 Maple Sugar Marshmallows With Marshmallow Root
Ingredients
1 tablespoon marshmallow (Althaea officinalis) root, cut
½ cup hot water
3 tablespoons gelatin (grass-fed is preferred)
½ cup cold water
½ cup marshmallow (Althaea officinalis) root infusion
½ cup maple sugar
½ cup maple syrup
¼ teaspoon salt
Directions
Create a marshmallow infusion by adding 1 tablespoon of marshmallow root to a cup and pour in ½ cup of hot water. Cover and let steep for 15 minutes. Strain out the marshmallow root and reserve the liquid. 

While the marshmallow root is infusing, activate/bloom the gelatin. Place the gelatin and cold water into a mixing bowl. Stir and let sit while completing the other steps. This allows the gelatin to coagulate. 

In a pot, add in the marshmallow root infusion, maple sugar, maple syrup, and salt. Place a candy thermometer in the pot and simmer on medium heat until you reach 240 degrees F. Watch as it rises and bubbles, creating a sticky candy potion. 

Once the temperature reaches 240 degrees F, slowly pour the hot candy liquid into the mixing bowl with the gelatin. Start with your mixer on low, but once all of the liquid has been poured in, increase the speed to high. The texture will go from a liquid to a very fluffy consistency after a few minutes. That's how you will know it is done!

In a 9"x12" baking dish lined with parchment paper that has been dusted with cornstarch, pour in your marshmallow mixture. Spread it with a greased spatula until it is even. Let the marshmallows set for at least 4 hours. 

Sprinkle the tops with more cornstarch or powdered sugar, then cut them into squares. 
To assemble these Sanderson Sisters S'mores, lightly toast your marshmallow. No fire pit? No problem! A stovetop fire will work too, just place the marshmallow onto a skewer and lightly toast. Too much toasting and these homemade marshmallows will quickly melt. Place a square of herbal chocolate and your lightly toasted marshmallow root marshmallow between two graham crackers and enjoy!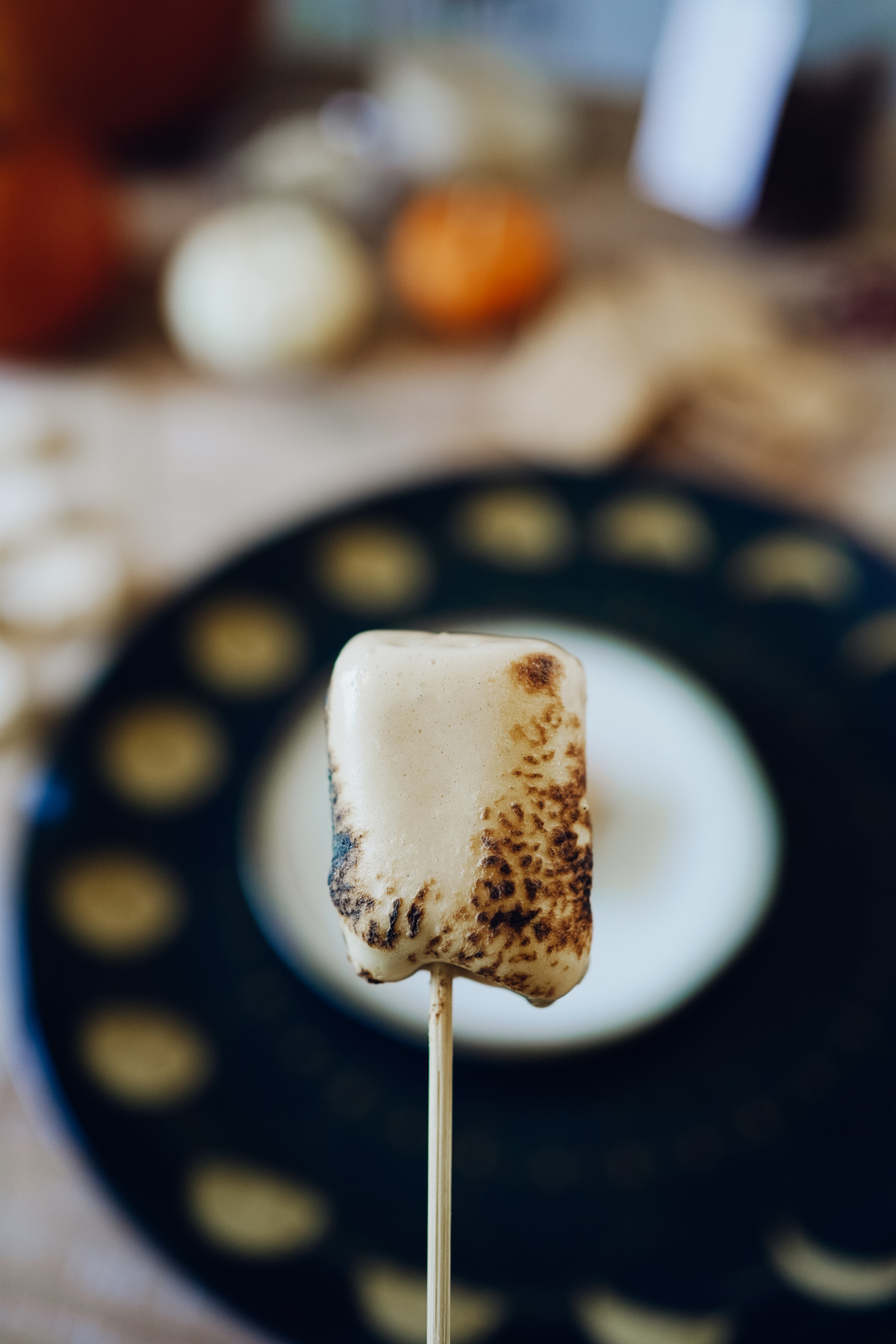 In Closing, 
These gooey, oh-so-delicious s'mores are as memorable as the movie after which they are named. Pair your tradition of watching Hocus Pocus with these easy-to-make Sanderson Sisters S'mores. The pillowy texture, sweet herbal flavors, and unique ingredients take s'mores to the next level!
For more creative ways to use marshmallow root, see:
20 Inspiring Ways to Use Marshmallow Root
Homemade Marshmallow Root Lip Balm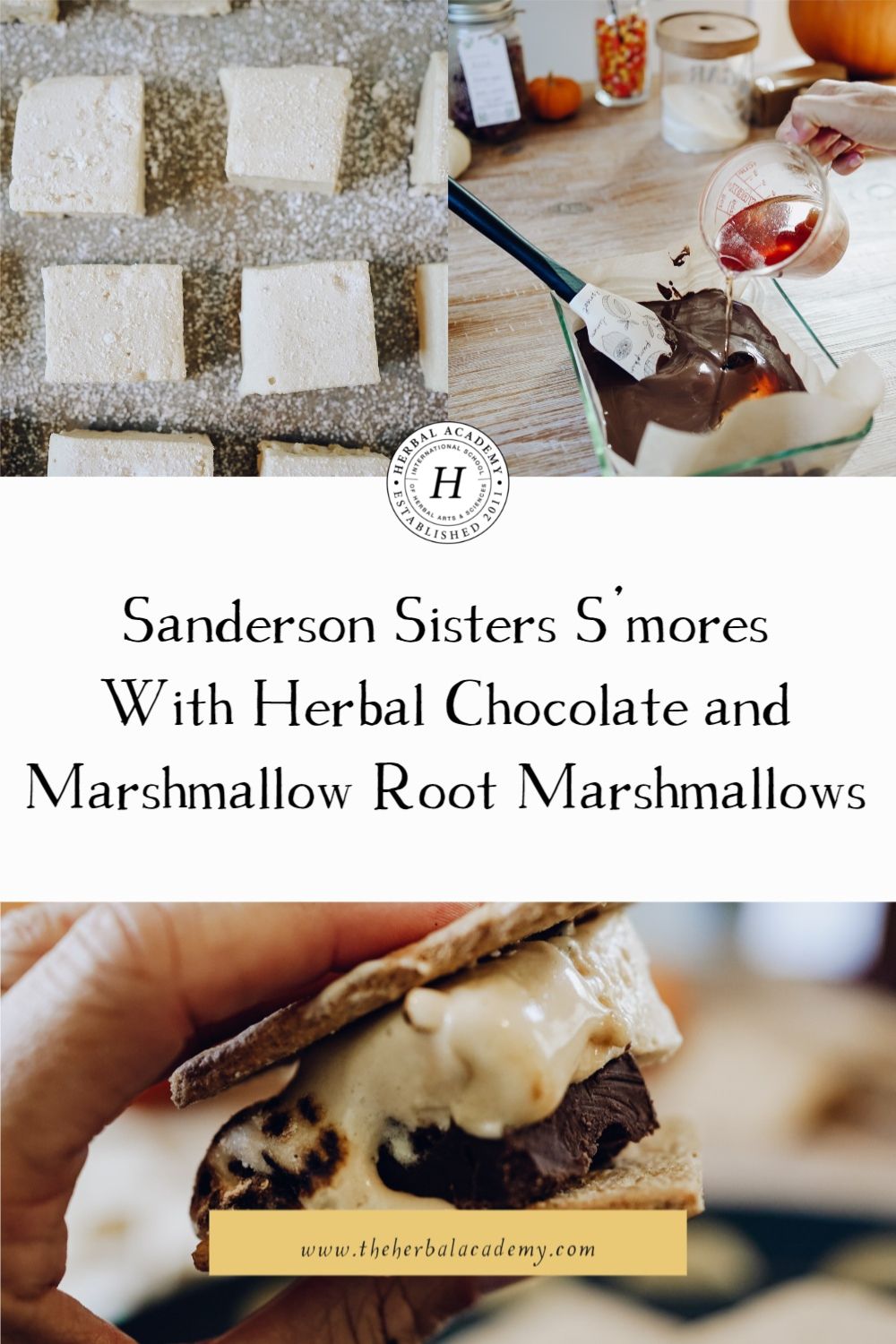 REFERENCES
Marshmallows. (n.d.). National Confectioners Association. Retrieved September 27, 2022, from https://candyusa.com/marshmallows/‌
Pedersen, M. (2011). Nutritional herbology. Whitman Publications.