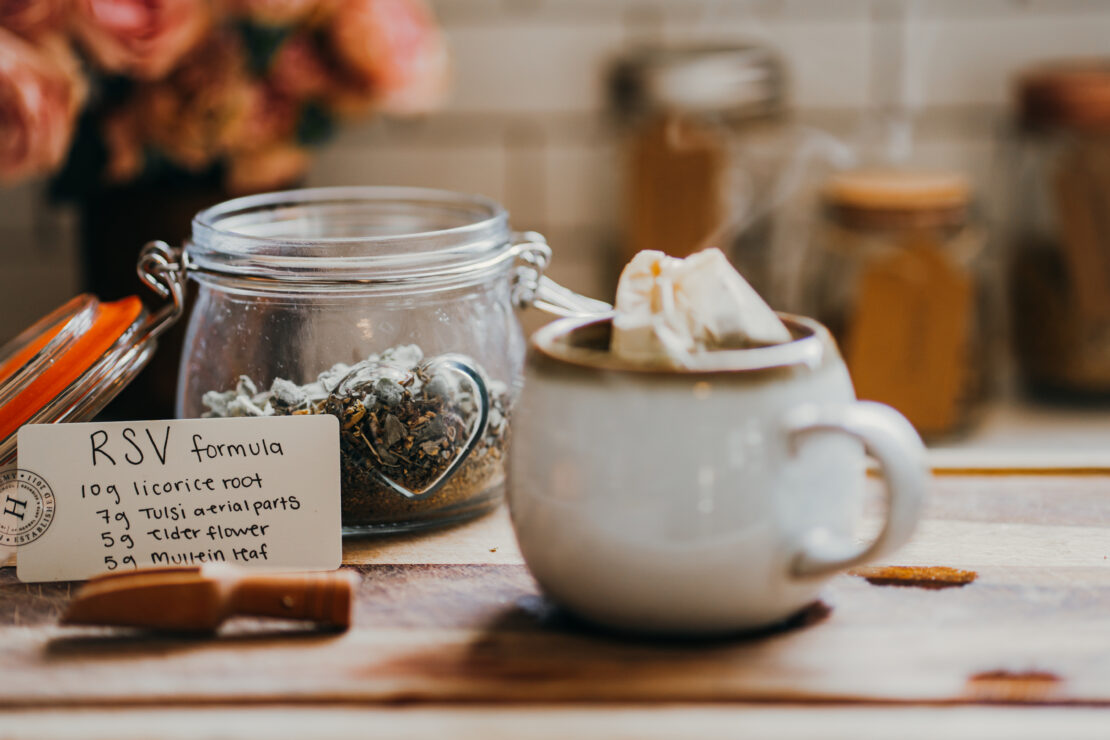 An RSV Tea Formula to Assist as a Gentle and Soothing Expectorant
This soothing RSV Tea is a nice blend to have on hand for all of those respiratory viruses that have been rearing their ugly heads this winter! Especially useful for the respiratory syncytial virus (RSV) and safe for most children, the herbs in this tea blend act as a gentle expectorant, assisting the body in expelling excess or stuck respiratory mucus, soothing sore throats, and gently encouraging fever resolution. 
This herbal tea blend has a sweet flavor because of the licorice root, but honey can certainly be added if desired, as honey can also assist in loosening a cough. While this combination of herbs can also be made into a tincture or syrup, tea is a great way to take these respiratory-support herbs—drinking hot tea boosts the diaphoretic action of tulsi and elderflower and hydration is key when managing respiratory infections! However, brewing a batch of this tea and making it into popsicles (with or without some unsweetened fruit juice added) can be especially soothing for sore throats (and another way to encourage hydration when drinking tea is difficult). Note that licorice should not be used by folks with edema or high blood pressure—marshmallow (Althaea officinalis) root can be substituted in its place. Although marshmallow doesn't have the antiviral properties that licorice has, it also acts as a soothing expectorant and anti-inflammatory for dry coughs and sore throats.

Always be in touch with your healthcare provider when dealing with RSV, as RSV and other respiratory infections may need emergency care, especially in young babies, older adults, and individuals with compromised immunity or chronic heart or lung conditions.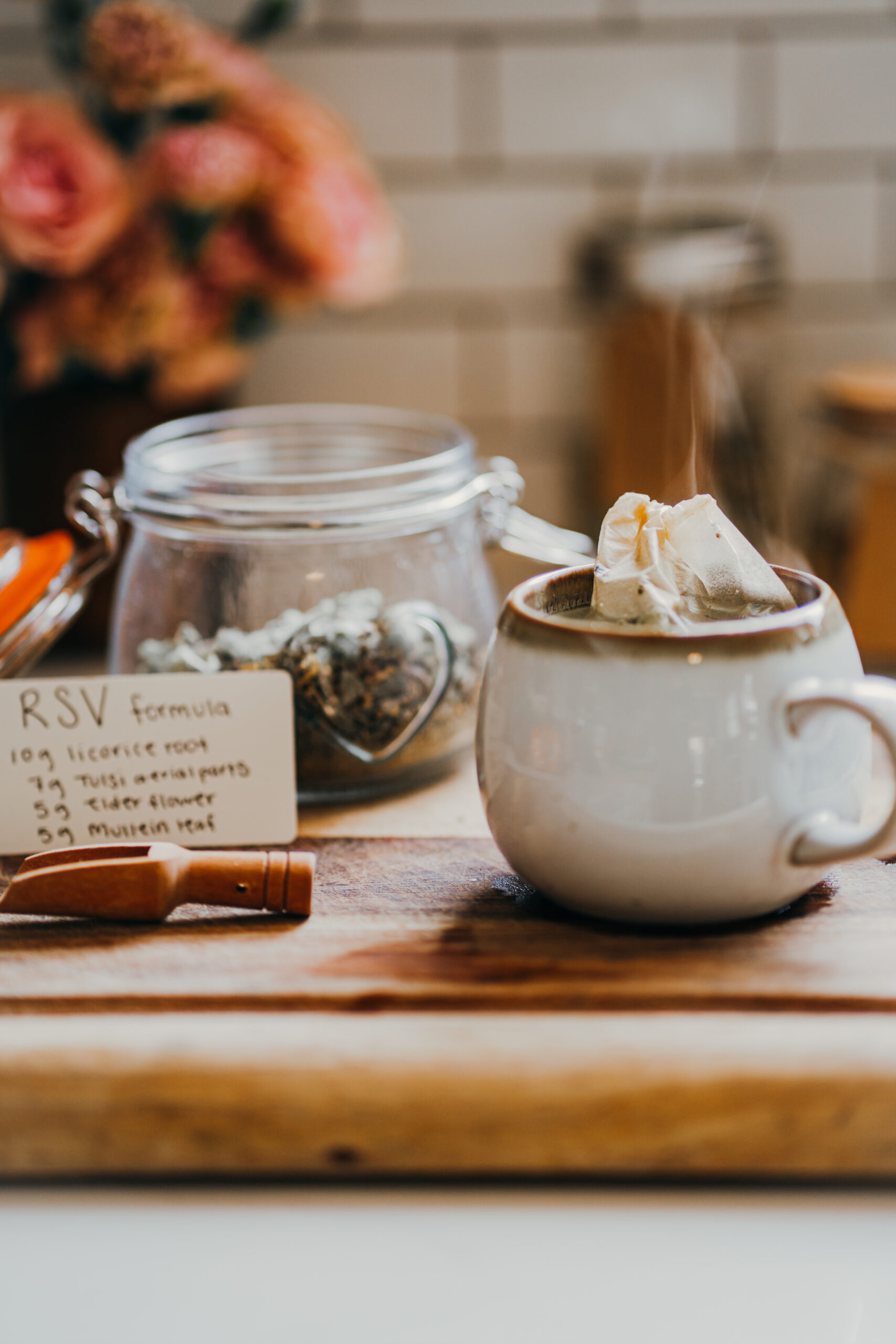 RSV Tea Formula
This gentle tea blend can be just the thing to help soothe and assist the body when dealing with a respiratory virus.
Ingredients
20 grams licorice (Glycyrrhiza glabra) root
15 grams tulsi (Ocimum tenuiflorum) aerial parts
10 grams elder (Sambucus canadensis or S. nigra) flower
10 grams mullein (Verbascum thapsus) leaf
Directions
Combine all herbs in a glass jar for storage.
To make a cup of tea, shake the jar well and use 1 tablespoon of the herbal mixture per 8-10 fluid ounces of water for adults.
Cover and let steep for 15-20 minutes. Strain and enjoy while hot. Be sure to use an extra-fine strainer to remove the tiny mullein leaf hairs, which can cause irritation!
In Closing,
Whether making a simple cup of tea or using these herbs in a creative way to make something like a popsicle treat, we hope you find this RSV Tea Formula to be soothing in assisting your body during times of respiratory illnesses.