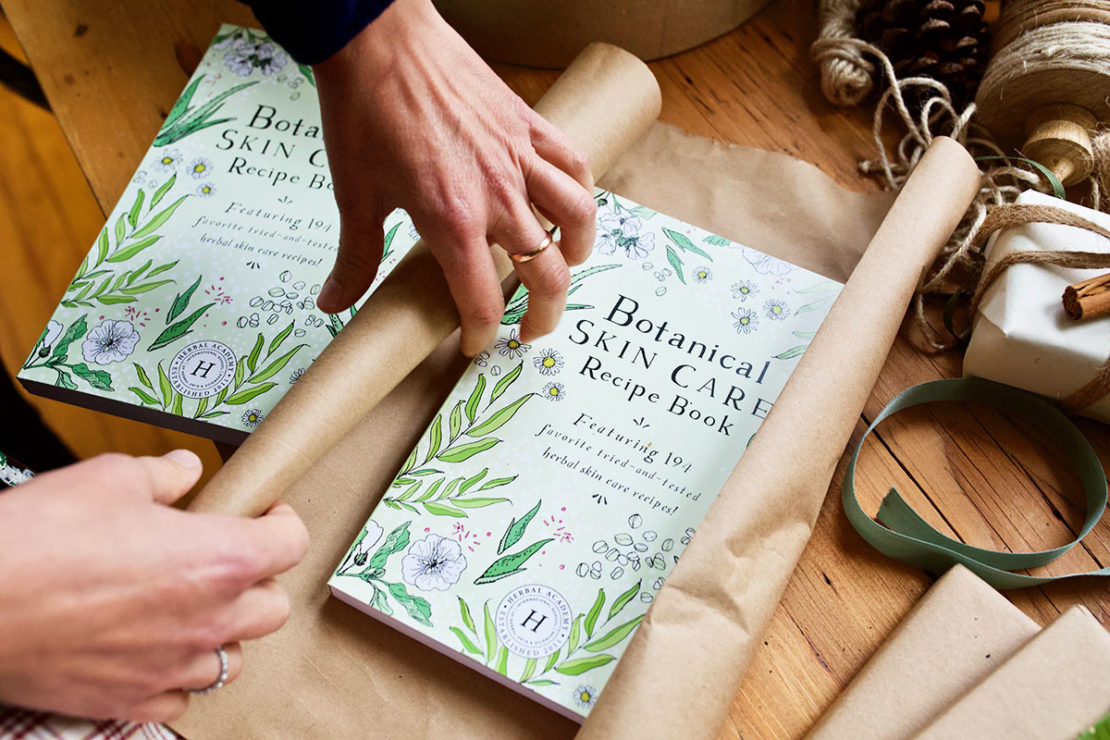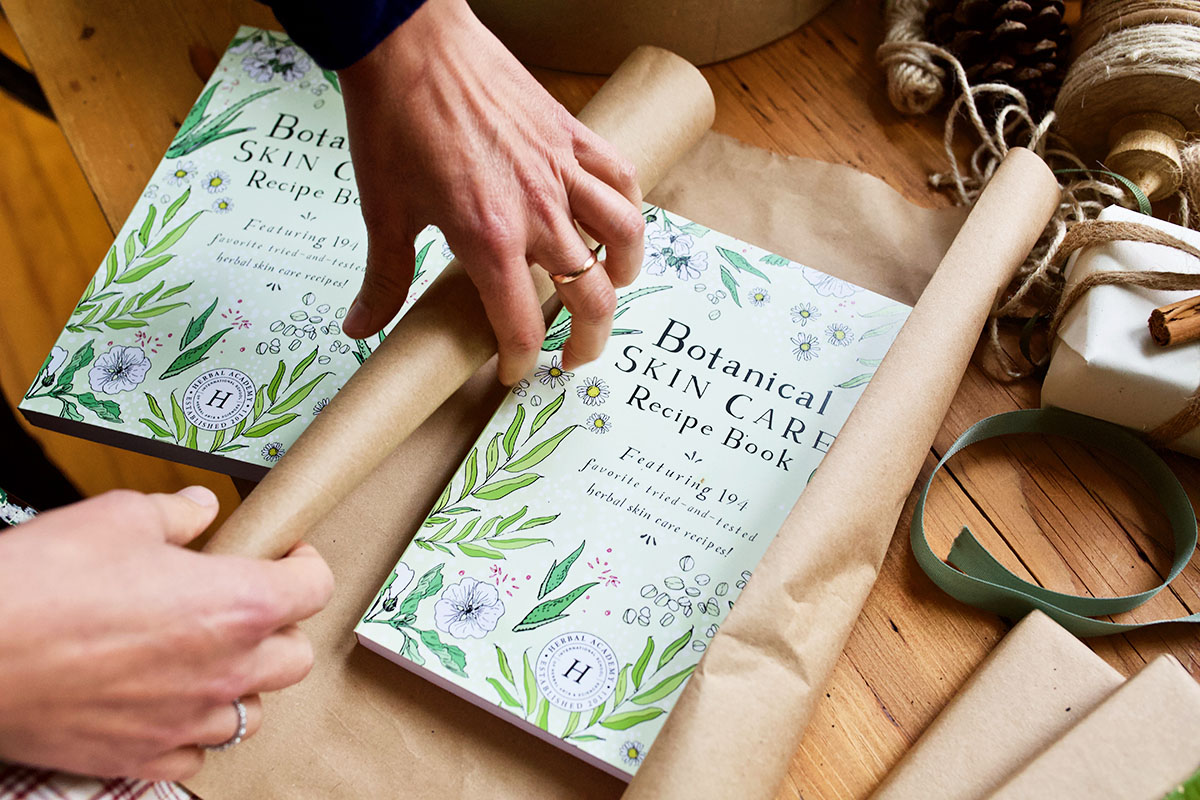 Our Guide to Finding the Perfect Gifts for Herbalists
Holiday shopping season is upon us! Do you have an herbalist or two to shop for this season? Or maybe you're building your own holiday wish list? If you're unfamiliar with herbal practices, or if your herbalist loved one seems to already have everything they could possibly need, look no further! We've rounded up the absolute perfect gifts for herbalists. From the adorable but useful stocking stuffer to herbal calendars and journals to keep them organized, our gift guide is a one-stop-shop for all of your gift-giving this holiday season.
The Perfect Gift for Any Herbalist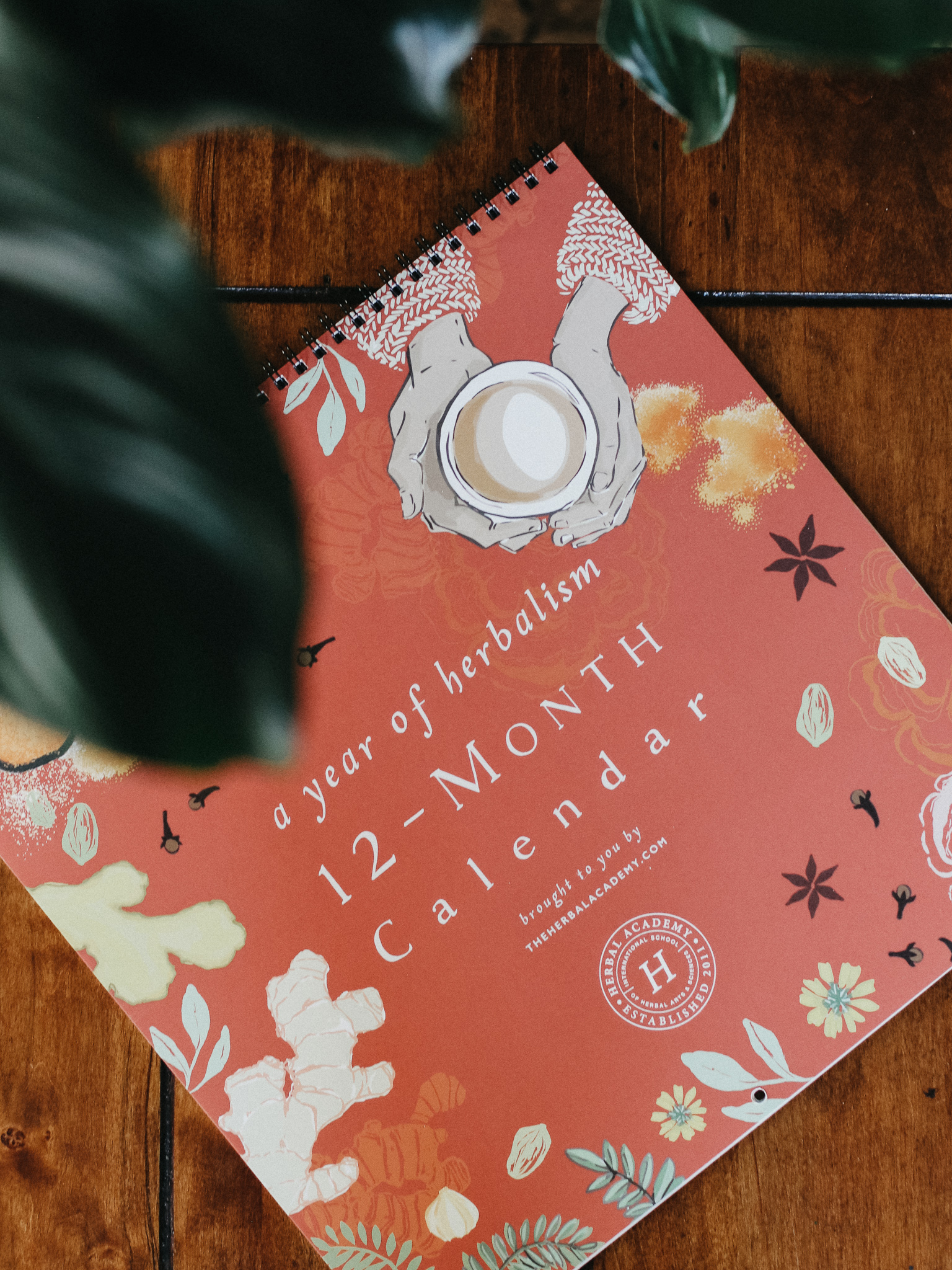 Whether they are an aspiring herbalist or a seasoned practitioner, your loved one will be thrilled to receive the gift of organization and inspiration wrapped in one beautifully illustrated package. The 12-Month Herbal Wellness Calendar keeps track of important dates and includes herbal recipes and holistic lifestyle practices, plant profiles, and apothecary lists of seasonal herbs and preparations.
The 12-Month Herbal Wellness Calendar is also so charmingly illustrated that the artwork alone is its own gift!
If you're shopping for gifts for herbalists this season, make sure this calendar is on the list.
A Stress-Free Holiday Gift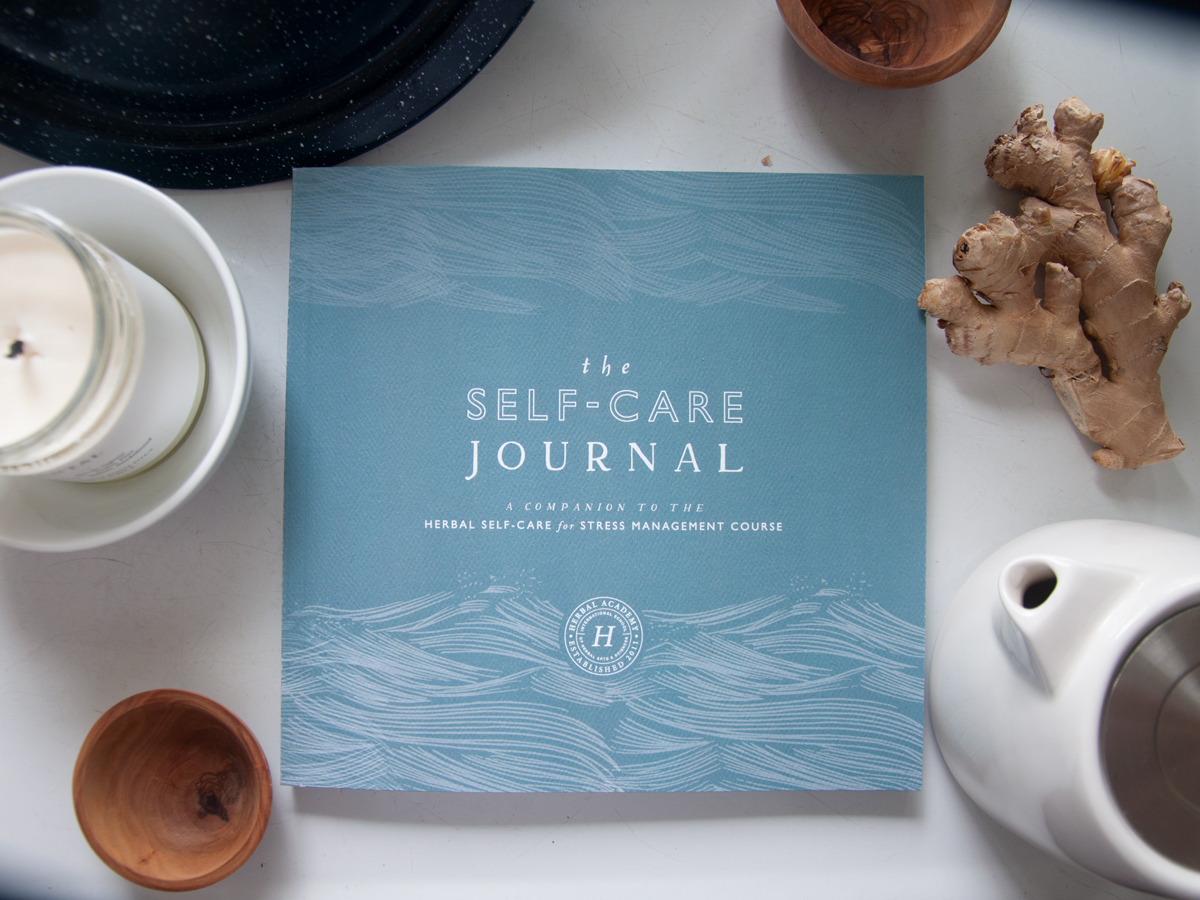 The Self-Care Journal is high on our list of gifts for herbalists because stress reduction is truly a gift that keeps giving. This journal takes a calming approach to tracking and understanding the factors that contribute to stress levels and the daily habits and practices that can help to manage stress. With prompts to dive deeper into themes on wellbeing, as well as herbalist-guided suggestions and trackers for hydration, sleep, nutritional support, and herbal support, The Self-Care Journal is a thoughtful gift that will be welcomed and used throughout the year. And in the name of self-care, we suggest giving one to yourself, too!
Give the Gift of Knowledge
Whether your herbalist has taken classes with Herbal Academy before or not, they will find so much use and enjoyment in receiving textbook sets from some of our most popular and life-changing courses.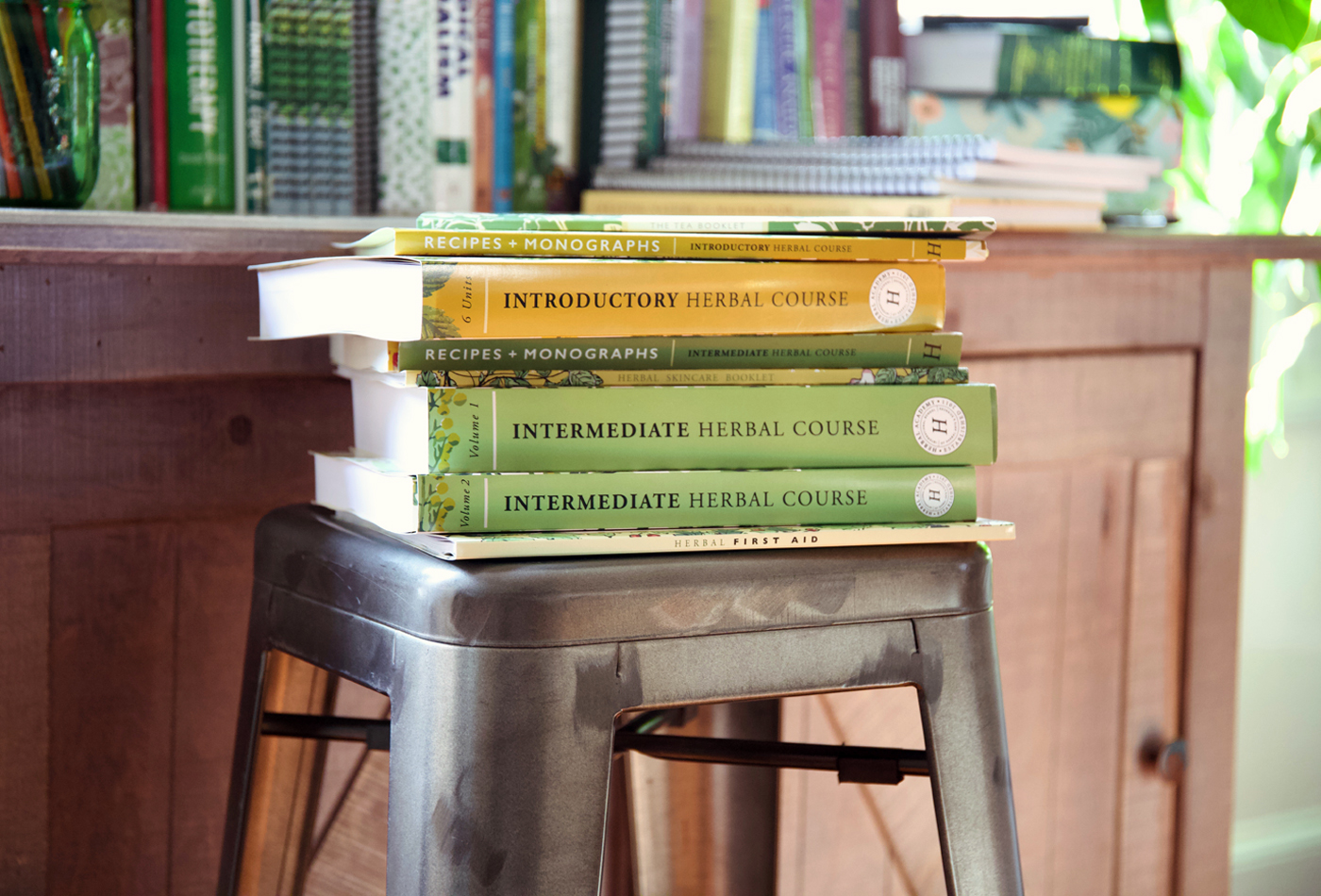 Introductory Herbal Course Textbook Set
Our Introductory Herbal Course Textbook Set covers the foundational principles to get started as an herbalist, build a strong understanding of herbal knowledge, and pique the wonder and interest of every budding herbalist. Included in the set are:
Introductory Herbal Course Textbook

: This textbook includes the full Introductory Herbal Course that is offered online by Herbal Academy. With over 550 pages, this is an extensive and invaluable foundational learning resource. 

The Tea Booklet

: If the herbalist in your life

loves

tea and you think they'd enjoy learning how to craft their own herbal tea blends, The Tea Booklet will be a perfect guide to get them started with the art of herbal tea!

Recipe + Monographs Book:

This thoughtfully organized book contains the plant monographs and recipes from the textbook in an easy-to-reference format!
Intermediate Herbal Course Textbook Set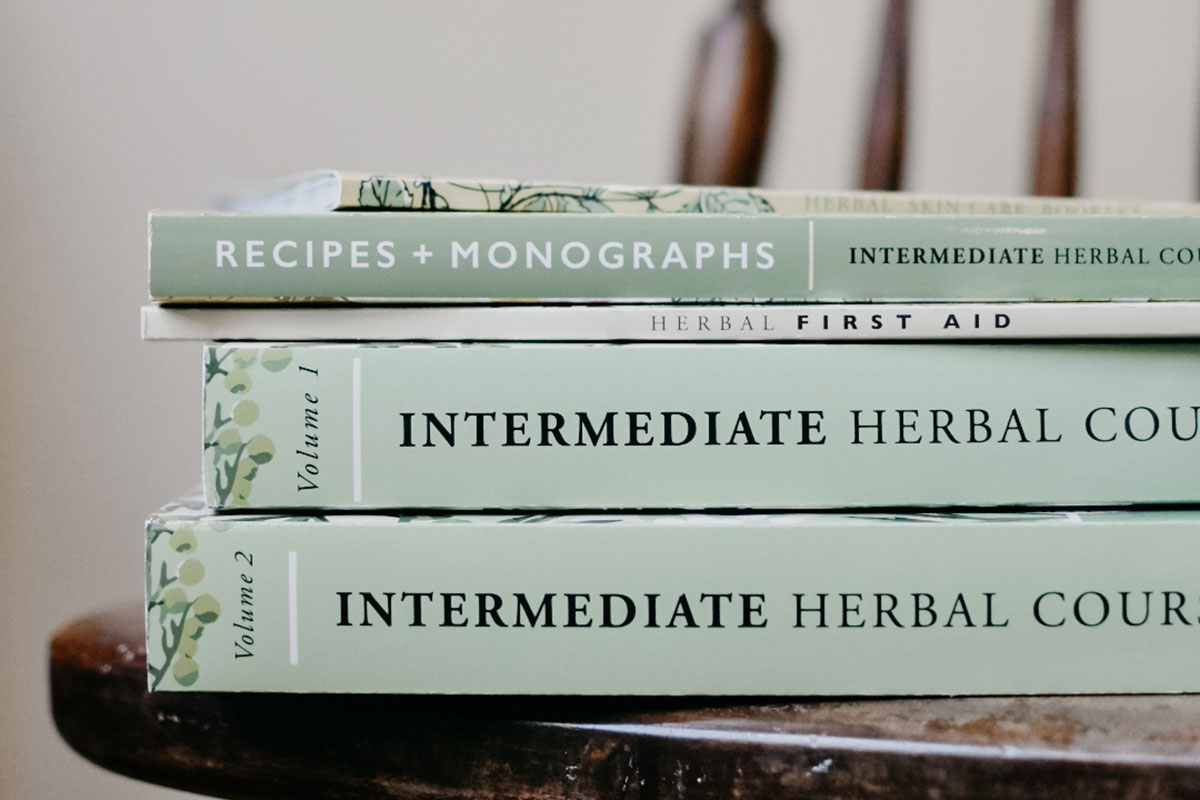 Our Intermediate Herbal Course Textbook Set will take your loved one's herbal practice to the next level. With books and resources from an extensive and comprehensive herbal curriculum, they'll love diving into the benefits and uses of the plants they cherish. Included in the set is:
Intermediate Herbal Course Textbooks (Volumes 1 & 2)

: This beautiful textbook set features nearly 1,000 pages—the same curriculum as featured in the online version of the program. This curriculum delves into each body system and the many herbs that can be used to support wellness and help return an organ or body system to balance. 

Herbal First Aid Bookle

t: With a wide assortment of recipes, this book is an herbalist's go-to for the first aid herbal preparations that are needed for common complaints. 

Herbal Skin Care Booklet

: This gorgeous skin care guide will walk an herbalist through skin care tips, favorite herbal allies, and recipes for healthy, radiant skin!

Recipe + Monographs Book

: With over 270 pages, this thoughtfully organized book is a treasured resource, featuring the 150 monographs and 175+ recipes from the course.
This Gift Will Help Them Glow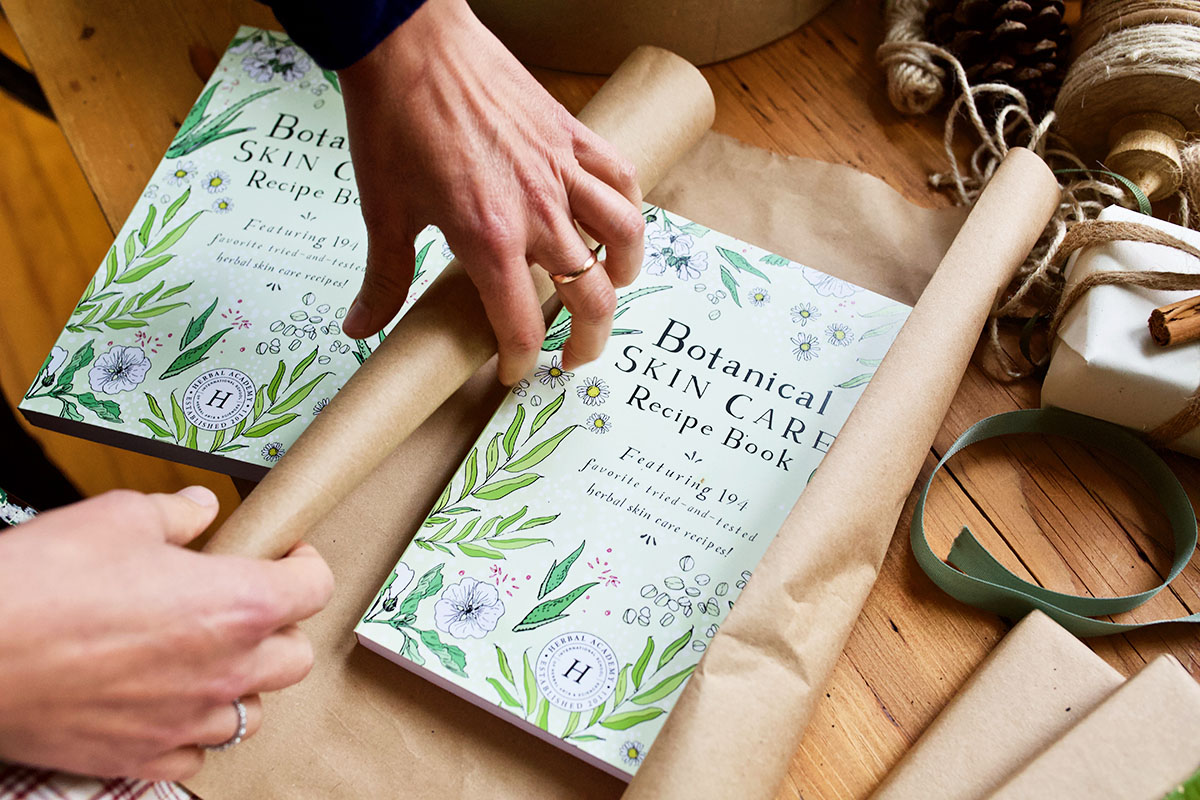 Healthy skin is a gift that keeps giving, and that's precisely what you'll give to the recipient of the Botanical Skin Care Recipe Book! With an impressive 194 recipes, the Botanical Skin Care Recipe Book will walk an herbalist through foundational formulas for head to toe skin and body care as well as ways to customize their own creams, body butters, salves, toners, and more. They'll feel confident knowing that these skin care products are safe, effective, and well-loved by seasoned herbalists!
This Gift Will Help Them Grow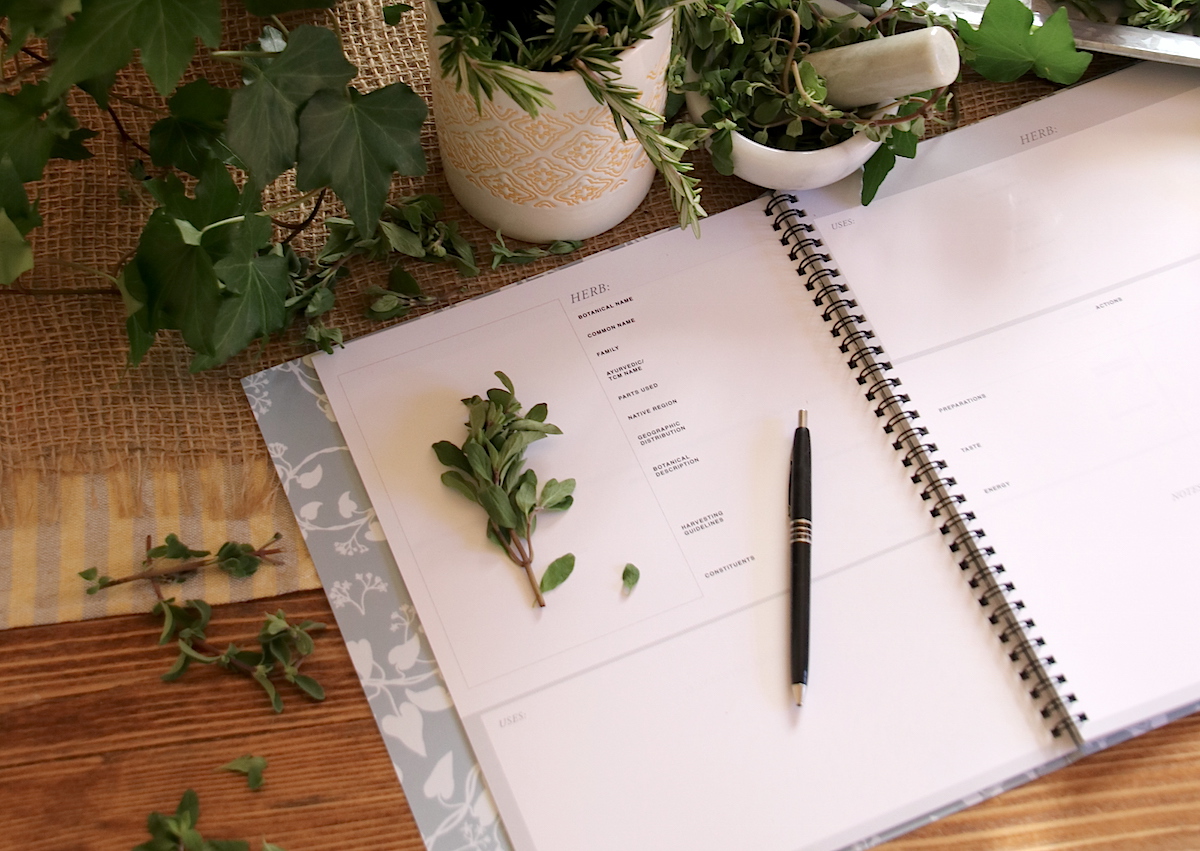 If the herbalist in your life is always drying plant clippings, researching plant identification tips, or doodling mushrooms in their spare time, the Materia Medica Journal is a clear gift choice. With enough space to accommodate 50 illustrations, plant identification information, and notes from the field, the Materia Medica Journal is a foraging and herbalism essential and one of our go-to gifts for herbalists!
Add Style with Helpful and Inspiring Reminders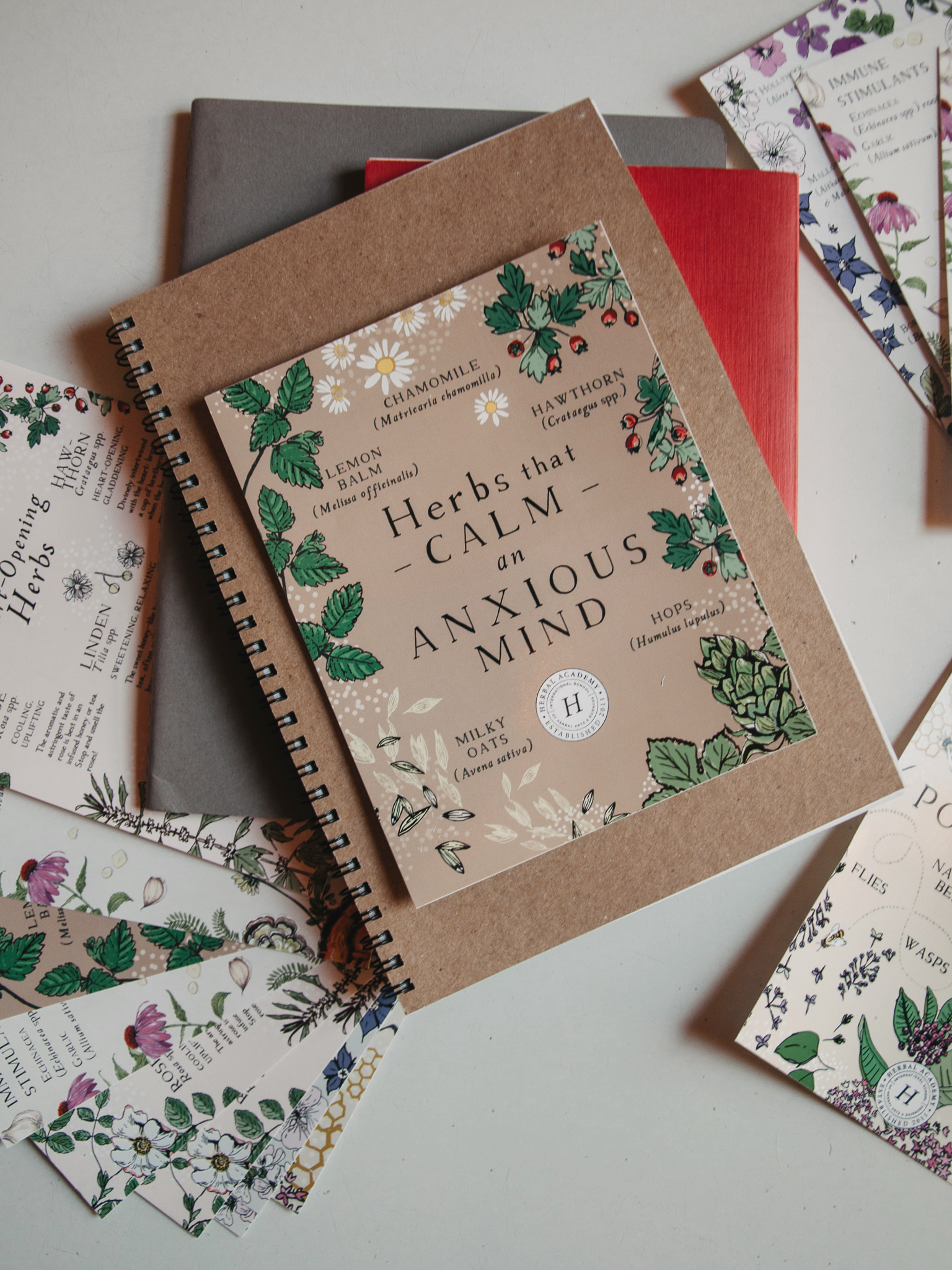 If your herbalist friend is the type to put stickers on their laptops, notebooks, water bottles, and everything else in between, the Instagram in Print sticker decals will be a perfect gift for them! Beautifully illustrated, these decals offer up helpful reminders that any herbalist will find valuable. If your loved one is botanically inclined, the Pollinator decal and 9 Edible Flower decal will brighten their day. If they are more curious about the particular benefits of certain herbs, the Herbs to Calm an Anxious Mind decal or Heart-Opening Herbs decal will be just the ticket.
You can choose the sticker (or stickers!) that'll fit your friend the best!
An Herbal Gift That'll Stick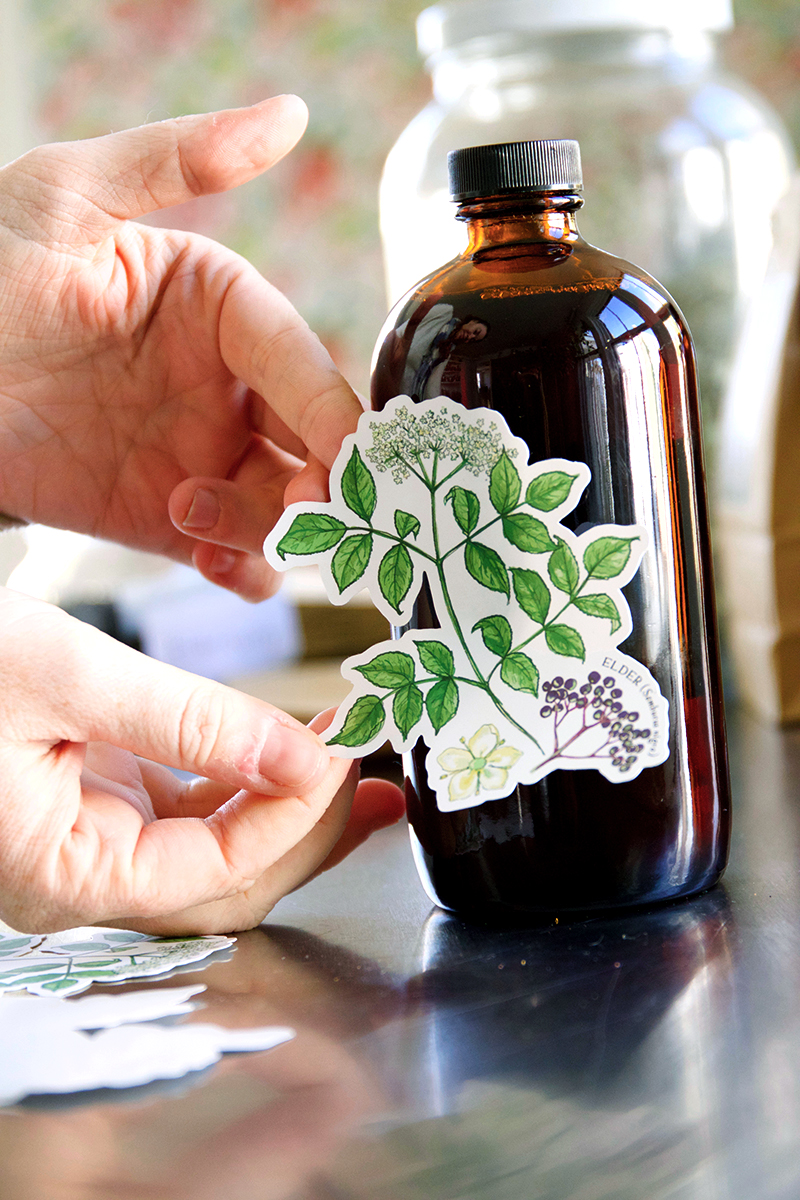 The recipient of this gift will love having the illustrations of their favorite plants and herbs close at hand. These beautifully illustrated herbal stickers are the perfect thing to dress up their plant monograph, notebook, water bottle, computer, or car! You'll be able to choose from the following sets, making this a gift for herbalists that's customizable to their unique passions.
Flowers Set: Mimosa, Rose, Elder, St. John's Wort, Yarrow, Violet

Leaves + Greens Set: Blackberry, Lambsquarter, Purslane, Cleavers, Yellow Dock, Dandelion

Commonly Foraged Plants Set: Plantain, Red Clover, St. John's Wort, Elder, Rosehip, Burdock

Bitters Set: Artichoke, Wormwood, Gentian, Hops, Dandelion, Angelica

Tonics Set: Milk Thistle, Hawthorn, Oat, Nettle, Dandelion, Burdock
A Great Gift for Beginners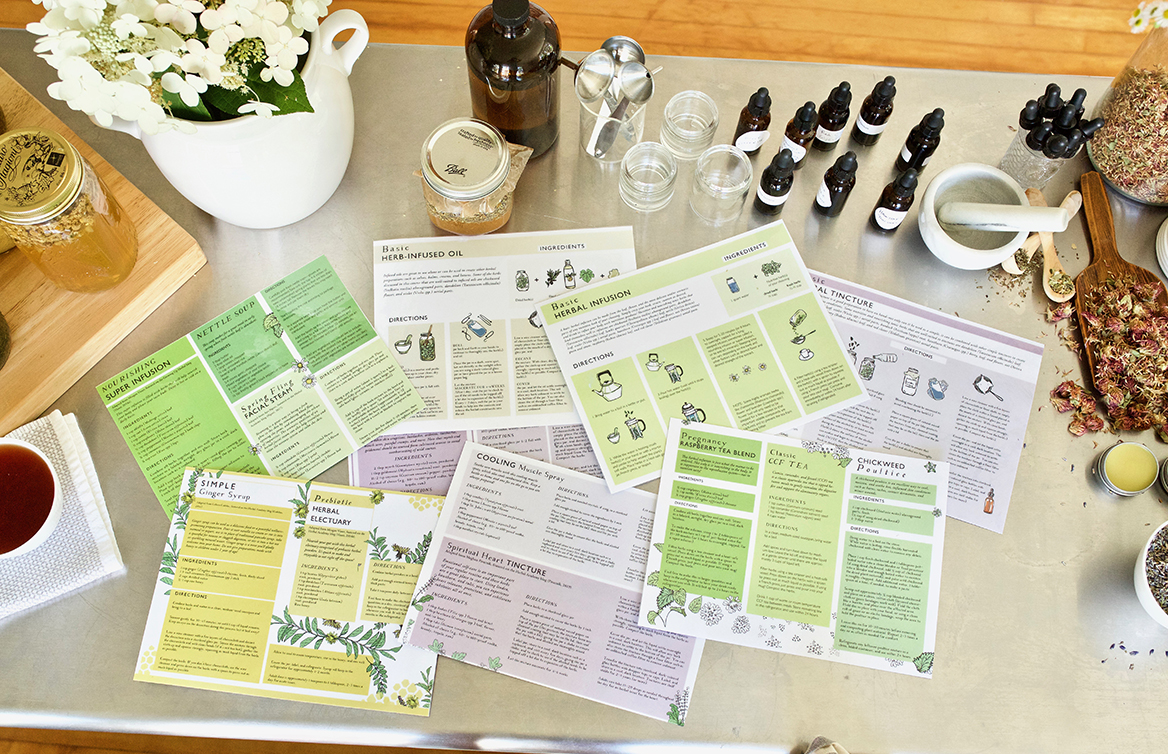 The Herbal Preparations Recipe Guides are an ideal gift for herbalists who are just starting out on their herbalist journey, as the 32 recipes and how-to tutorials are the perfect way to get hands-on instruction in the kitchen! They'll learn how to make water-based, sweet-based, alcohol-based, and oil-based herbal preparations, from teas and honeys to tinctures and salves! These recipe guides will quickly become a go-to resource for the budding herbalist.
The Gift They'll Take With Them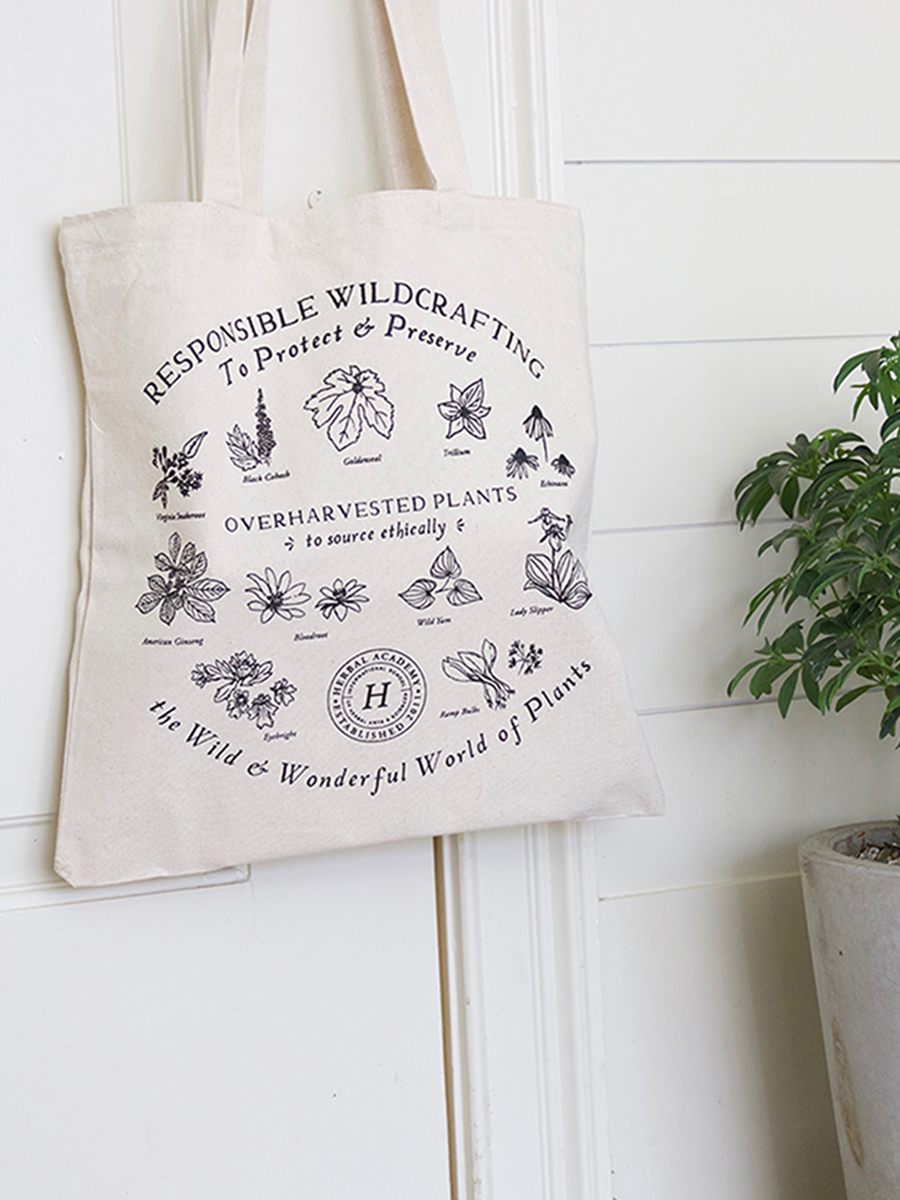 If you know an herbalist who loves foraging and wildcrafting for herbs and plants to engage with the natural world and further their herbal practice, look no further than the Plant Steward Tote Bag. Designed with an important reminder to harvest responsibly and sustainably, the canvas Plant Steward Tote Bag is machine washable and sturdy enough to accompany the intrepid botanist or forager on many an adventure.
Let Them Choose Their Own Gift
We hope this guide has helped you find the perfect gifts for herbalists in your life! If you're still unsure of what to give them this holiday season, a gift card is always a safe (but thoughtful!) bet. We'll even hand write the gift card and package it up in a beautiful presentation. At checkout, just be sure to edit the Shipping Address with the recipient's mailing address instead of your own!
Enjoy Finding the Perfect Gift This Season
During a season where so much emphasis is placed on finding the right gift, we hope you also find pleasure and enjoyment in choosing a gift that'll make your loved one smile. Sometimes the act of giving a gift can be a gift to the giver, as well!
Happy Holidays!