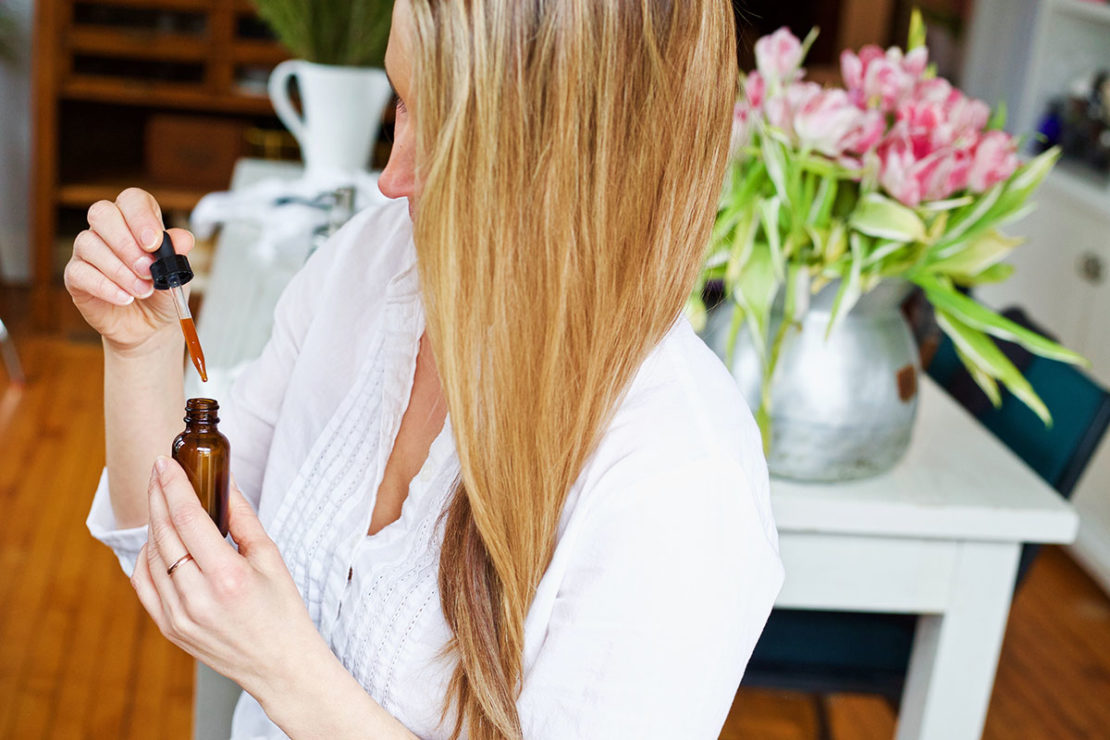 DIY Herbal Hair Serum For Silky Soft Hair
There is nothing quite so luxurious as running your hands through silky soft hair. Although you might think you can only achieve this by visiting the salon, you can actually make it happen in your very own home! Making your own herbal-based hair serum is easy, fun, and effective—not to mention free from all of the chemical additives you might find in a commercial hair serum or at most beauty salons! Read on to learn how to make a DIY herbal hair serum for silky soft hair at home.
Why Use A Hair Serum?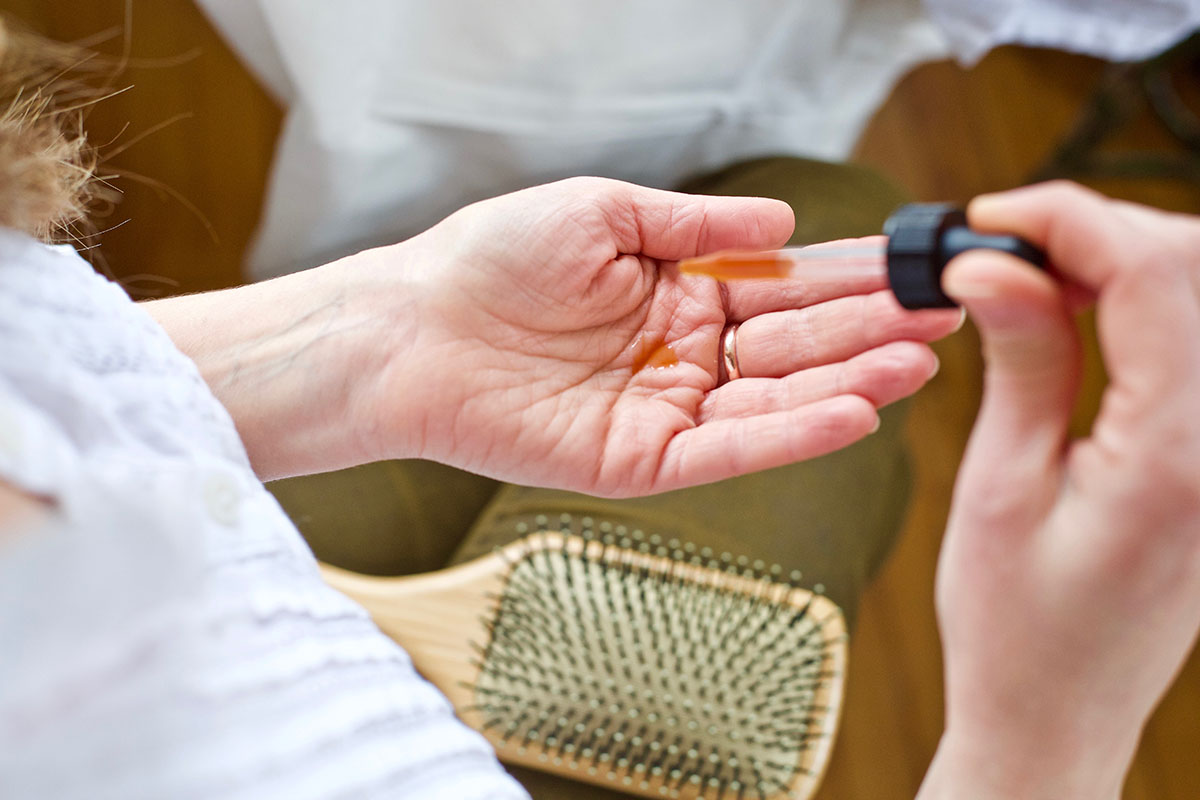 Just as the seasonal elements can take a toll on our skin, they can also impact our hair. However, we don't often think to protect or nourish our hair with the same attention we provide our skin. Beyond simply keeping our scalp "clean," we also need to ensure the rest of our hair is cared for using other natural methods like this DIY herbal hair serum.
Using an herbal hair serum daily has many benefits beyond simply enhancing the beautification of your hair. Hair serums can help promote moisture for dry hair (or "dead ends"), prevent hair from breaking further, and encourage a healthy balance in our hair's natural oil production (Barve & Dighe, 2016).
Although you do not need to use it every day, if you enjoy the ritual and results, you can use it daily with no detrimental effects! It is essential to use hair serums in the wintertime or after exposure to drying elements like ocean water. When you know your hair will be exposed to a harsh and potentially damaging chemical, such as chlorine in a swimming pool, apply a generous amount of herbal hair serum before going in the pool to help protect your hair ahead of time (Buck, 2014).
Try incorporating a silky soft herbal hair serum into your self-care routine after you wash your hair when the hair is damp or dry. Since many shampoos and conditioners can actually strip our hair of its natural oils, using a hair serum after cleansing helps reestablish a healthy amount of oil in the hair in addition to protecting against dirt and grease that can accumulate throughout our day (Falconi, 1998).
A little bit goes a long way when applying an herbal hair serum, so start small! Rub a couple drops into the palms of your hands and then massage through the hair shaft. Avoid rubbing the oil directly into the scalp, since this can make your hair more greasy instead of the silky soft hair texture you are looking for.
Nourishing Ingredients to Include in your Silky Soft Hair Serum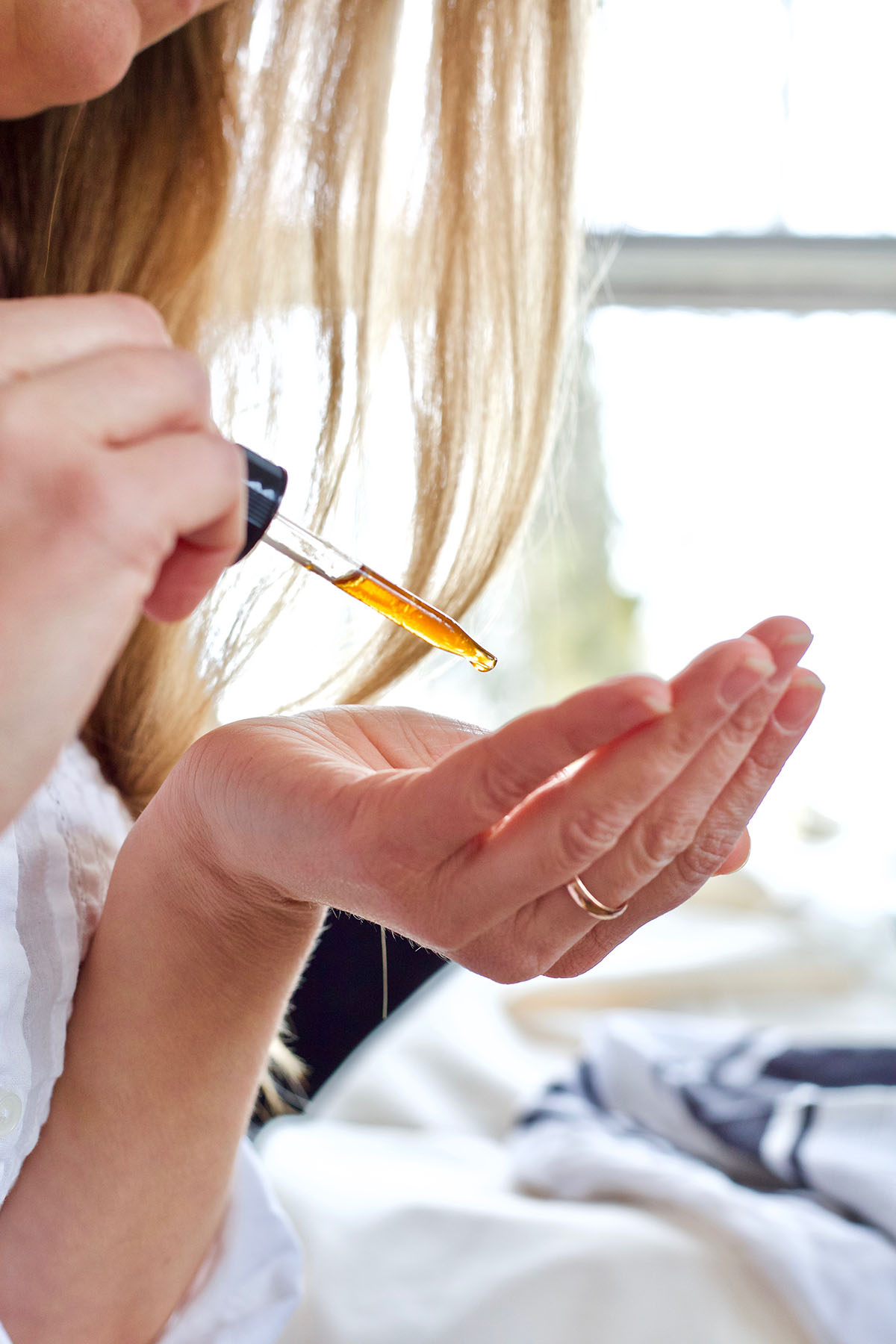 Jojoba Oil (
Simmondsia chinensis
)
Although jojoba oil is referred to as an oil (and feels just like one), it is actually considered a wax! Jojoba has a multitude of well-known applications in skincare but can also be used for hair as well. In this DIY herbal hair serum, jojoba is the primary base oil. Even though jojoba is pricier than other oils out there, the properties this oil over other commonly used hair oils like grapeseed or sunflower is unparalleled. Jojoba increases hydration in the hair, which helps prevent breakage and promotes the restoration of damaged hair (Goldstein & Goldstein, 2014).
Argan Oil (
Argania spinosa
)
There is a reason argan oil is also known as "liquid gold," "green gold," "the oil of 100 virtues," and "miracle oil" by users around the world (Kamar & Ransley, 2016). Argan oil is rich in vitamin E, phytosterols, and antioxidants, among other compounds, which lends it vital nourishing and moisturizing qualities. The tree itself only grows wild in a barren, dry, and harsh landscape in southwestern Morocco. These adaptive properties of the argan tree offer us insight on the hydrating action within the fruit's oil. (Learn more about the Doctrine of Signatures in plants here!)
Vitamin E Oil
Supplementing with vitamin E is a common practice to promote healthy hair, skin, and nails, but did you know you can also use vitamin E oil topically to support silky soft hair? Outside of our hair cuticle lies a protective layer of fat which can be stripped away by harsh shampoos or other hair products, causing our hair to lose its shine. Vitamin E can help restore this layer of protective fat, thus bringing back our shiny, silky soft hair (American Academy of Dermatology, 2011). Adding vitamin E oil to your DIY herbal hair serum can also help prolong the shelf-life slightly (Mountain Rose Herbs, n.d.).
Rosemary (
Rosmarinus officinalis
)
This DIY herbal hair serum recipe calls for rosemary essential oil to help strengthen hair and add a calming, yet stimulating, aromatic element. Rosemary is well-known to help stimulate hair growth when massaged into the scalp, but when applied to the rest of our locks, it can also assist in strengthening hair to prevent further breakage (Gladstar, 2001).
Calendula (
Calendula officinalis
)
Typically known for its powerful tissue regenerative qualities, Calendula infused oil also carries a strong emollient property which helps create silky soft hair with shine (Gehring, 2011). Although rinsing with the infusion of Calendula can help lighten your hair color, using a small amount of this hair serum will not create the same effect.
Gotu Kola (
Centella asiatica
)
Gotu kola is a premier circulatory stimulant, nervine, and commonly used to promote healthy tissue repair and growth; in traditional Ayurvedic practice, gotu kola is infused into oil and then massaged into the hair to support thick hair growth and create luscious locks (Khalsa & Tierra, 2008). Using it topically in this DIY herbal hair serum can help increase circulation to the area which prevents increased hair loss, especially when it is stress-related (Preedy, 2012).
DIY Herbal Hair Serum for Silky Soft Hair
Materials:
2-ounce glass pump bottle or tincture bottle (clear or frosted if you want to see the dried rose petals inside)
Crockpot
Dish towel or cloth pot holder
Small glass heat-proof jar with lid
DIY Silky Soft Hair Serum
Ingredients
3 tablespoons jojoba oil (about 1.5 oz)
1 tablespoon argan oil (about 0.5 oz)
25 drops vitamin E oil
A pinch of dried rose petals
10-15 drops rosemary essential oil
Approximately 0.5-1 tablespoon dried gotu kola
Approximately 0.5-1 tablespoon dried Calendula
Directions
Place dried gotu kola and Calendula in a heatproof glass jar and then cover with jojoba oil until the oil completely covers over the herb. Screw on the lid.
Fold a kitchen towel or cloth pot holder and place it in the bottom of the crockpot. (This is a safety measure so that your glass jar does not heat up too fast and crack). Place the jar on top of the towel in the crockpot and then fill the crockpot with water until it reaches at least halfway up the side of the jar. (You may need to put a small weight, such as a rock or crystal, on top of the jar to keep it from floating around).
Turn the crockpot to the "keep low" or "low" setting and allow the herbs to infuse in the oil overnight (or for approximately 6-10 hours). The temperature should not exceed about 140 degrees.
Turn off the crockpot and allow the jar to cool to room temperature in the water bath.
Strain out the dried herbs from the oil.
Pour the oil into the glass bottle.
Add the vitamin E oil, rosemary essential oil, and dried rose petals, and then fill the remainder of the bottle with the argan oil.
To use, rub 5-10 drops of herbal hair serum in your hands and then smooth throughout damp or dry hair (2-inches away from the root and down toward the end of the hair shaft) as desired.
**You can easily double or triple this recipe to make a larger batch for gifting or to repurpose the Calendula and gotu kola-infused oil for another herbal preparation.
Get Creative!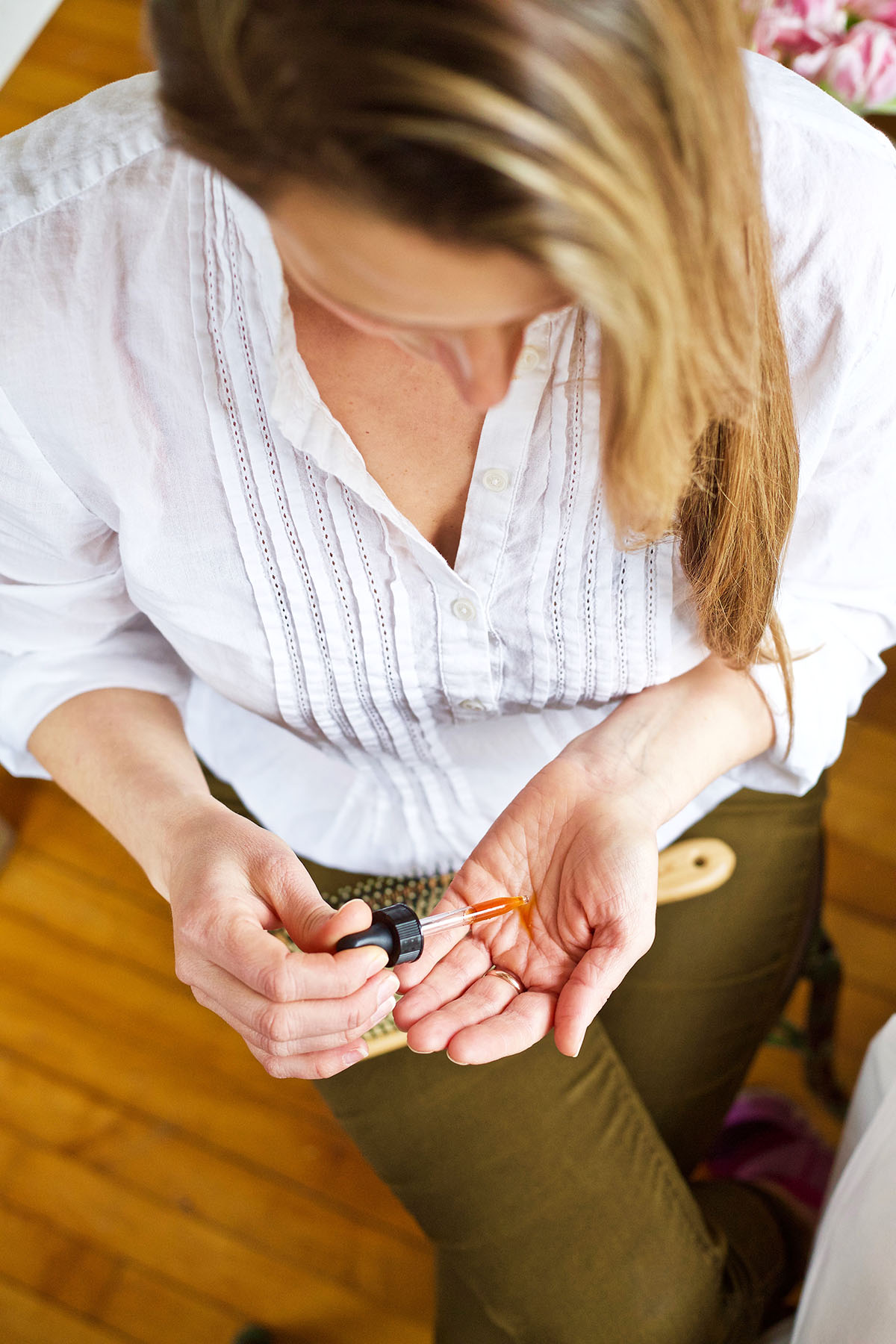 If you want to mix up the essential oils you use to bring in a different scent or purpose, get creative and play around with your recipe a little! If you are new to using essential oils, we encourage you to read our post on How To Use Essential Oils For Hair Care.
This DIY herbal hair serum also makes a beautiful gift. You can portion the serum into smaller, 1-ounce bottles, and try switching the pinch of dried rose petals for another pinch of your favorite herbal flowers.
Curious to learn more ways to attain silky soft hair? Read my post on Top Nutritional Tips For Healthy Hair here.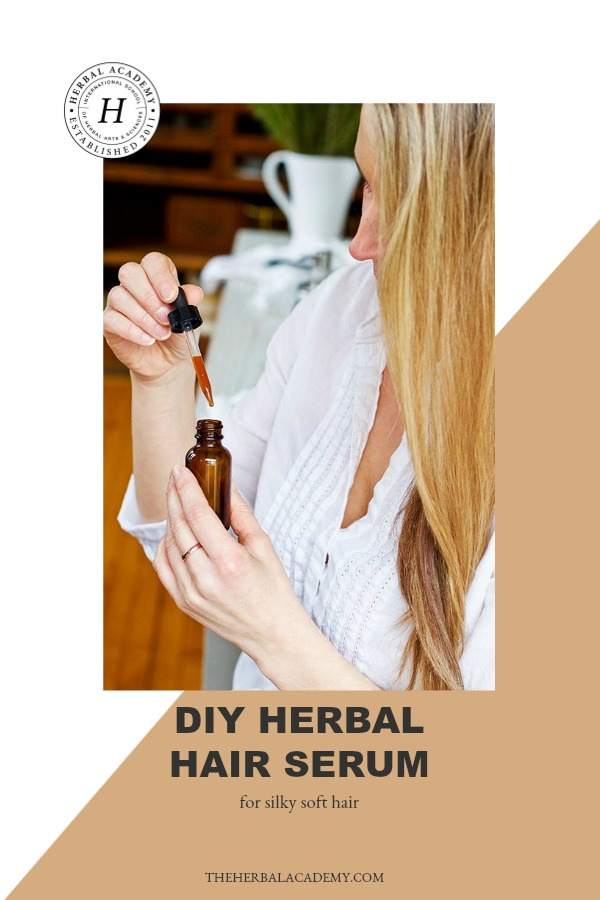 REFERENCES
American Academy of Dermatology. (2011). Going to great lengths for beautiful hair: Dermatologist shares hair care tips for healthy and damaged hair. (2011). Retrieved from https://www.aad.org/media/news-releases/going-to-great-lengths-for-beautiful-hair-dermatologist-shares-hair-care-tips-for-healthy-and-damaged-hair.
Barve, K. & Dighe, A. (2016). The chemistry and applications of sustainable natural hair products. Switzerland: Springer.
Buck, S. (2014). 200 tips, techniques, and recipes for natural beauty. Beverly, MA: Fair Winds Press.
Falconi, D. (1998). Earthly bodies & heavenly hair: Natural and healthy bodycare for every body. Woodstock, NY: Ceres Press.
Gladstar, R. (2001). Rosemary gladstar's herbal recipes for vibrant health. North Adams, MA: Storey Publishing.
Goldstein, M.C. & Goldstein, M. (2014). Healthy oils: Fact versus fiction. Santa Barbara, CA: Greenwood.
Kamar, A. & Ransley, A. (2016). The complete book of argan oil. Marvel Oils.
Khalsa, K.P.S., & Tierra, M. (2008). The way of ayurvedic herbs. Twin Lakes, WI: Lotus Press.
Mountain Rose Herbs. (n.d.) Vitamin E oil. Retrieved from https://www.mountainroseherbs.com/products/vitamin-e-oil/profile.
Preedy, V. (2012). Handbook of hair in health and disease. The Netherlands: Wageningen Academic Publishers.