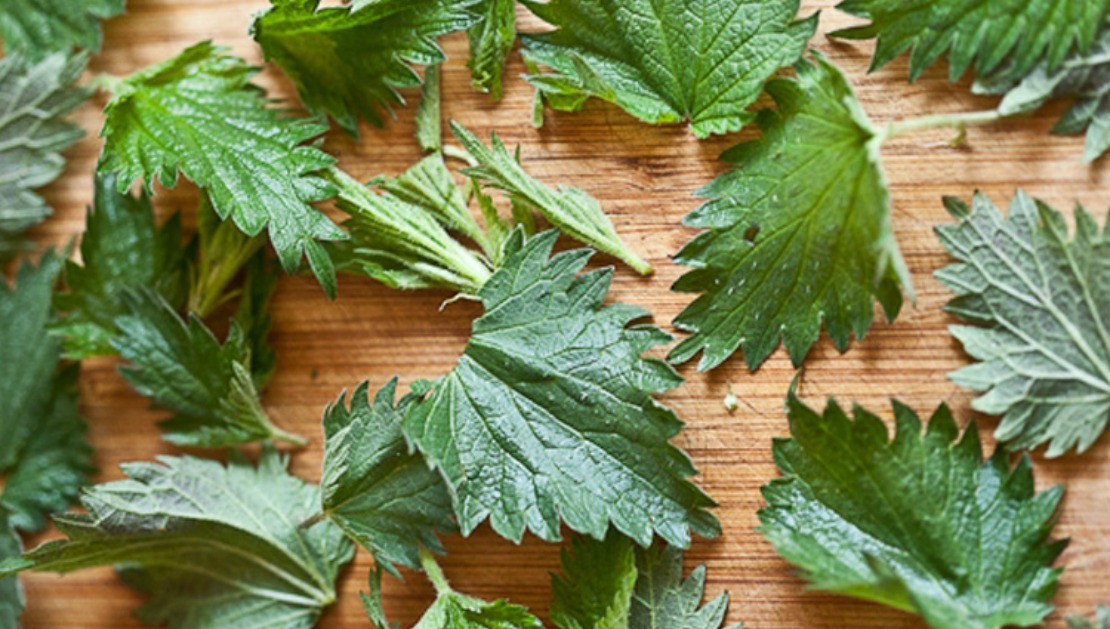 Harvesting and Cooking Nettles (Plus, Nettle and White Bean Recipe!)
Spring nettles are at their best right now in New England – new, spring-green, and tender – so last weekend I was delighted to discover a large patch simply brimming with the prickly goodness of nettles. Harvesting, preparing, and cooking nettles doesn't have to be hard. Along with health benefits of nettle in herbal tea, these nutritious, wild edibles are earth-to-table greens that can be steamed up as a replacement for spinach in recipes or made into soups.

Harvesting Nettles
Always be sure you properly identify any wild edible, cross referencing in at least two reputable sources or with the help of an experienced forager. Also ensure that your edibles haven't been sprayed with chemicals and are set well back from the road (I like to harvest no closer than 50 feet from the roadside). Nettles grow in partially shaded areas, woodlands, and along trails and rivers. They are covered in fine, stinging hairs both on the ribbed stem and on the leaves. Leaves are opposite, and are usually ovate with toothed edges and heart-shaped bases; other species like slender nettle (also edible), have slender leaves with rounder bases and sparser hairs. Nettles are best as young shoots before they flower. Wear gloves when harvesting and use scissors to snip the tops off, and place in canvas bag or a basket.

Storing and Preparing Nettles
I wasn't able to use my harvest immediately, so I arranged them as a sort of bouquet with the ends of the stems submerged in a mug of water and placed a bag loosely around it. I then placed the nettle bouquet in the fridge. If you change out the water every other day, they'll keep for several days like this until you have time to cook them. To handle nettles, don a pair of clean gloves or simply pick them up with a paper towel. Slice the leaves off and then wash and rinse well. Steam for about 10-15 minutes to turn your nettles from tough, stinging leaves into tender, delicious greens.
Cooking Nettles
Below is an example of a side dish recipe that originally called for spinach. Nettles can be substituted for cooked spinach or other dark leafy greens in just about any recipe – just be sure to steam nettles well to inactivate the stingers!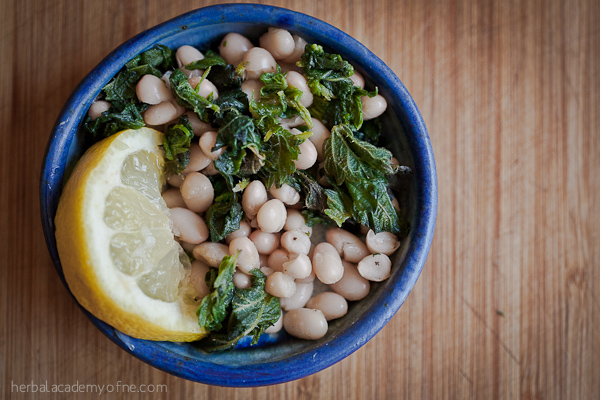 Spring Nettles with Garlic-Lemon White Beans
Ingredients
Medium-large bunch of fresh nettles, removed from stems and rinsed
One can of white beans
A couple fresh garlic cloves, crushed
Extra virgin olive oil
1/2 lemon
Salt and pepper to taste


Directions
Place nettles into steamer basket and place over pan of water to steam for 10-15 minutes.
Drain and rinse beans, and place into a pot with crushed garlic, olive oil, and lemon juice. Warm gently.
Combine steamed nettles with beans, and add salt and pepper to taste.