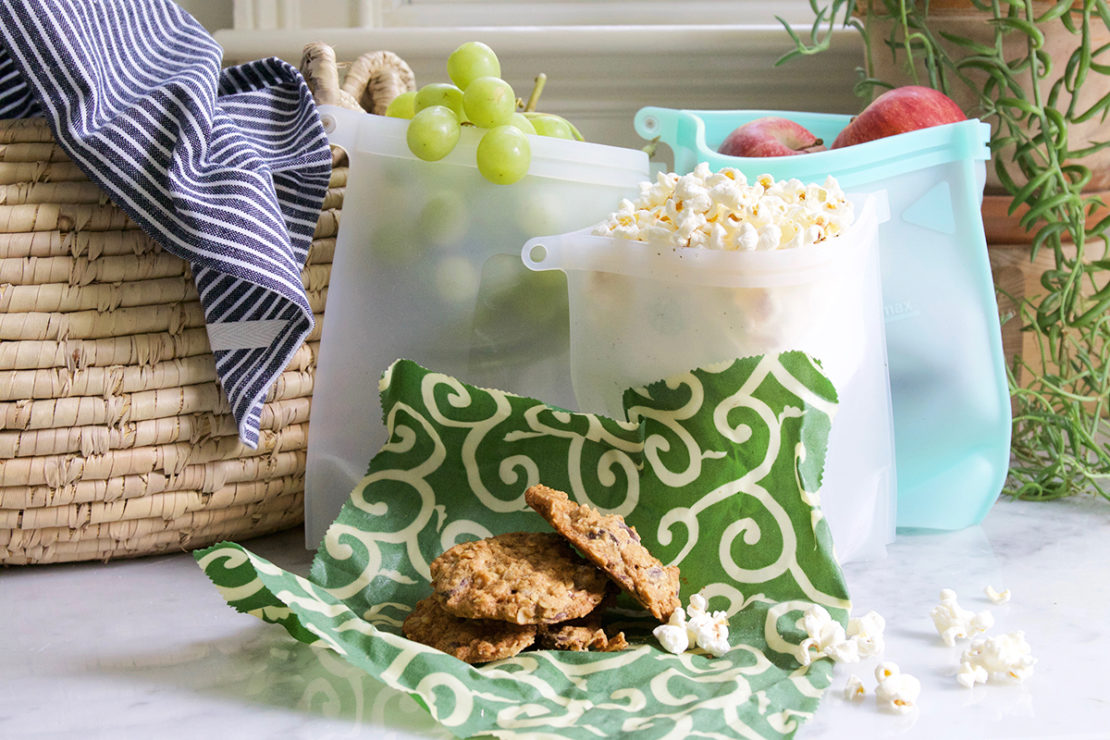 6 Green Storage Tips for Food
Now that summer is in full swing and our gardens are bursting with healthy fruits and vegetables, we need to store our produce for longevity. With increased awareness of the downsides to plastics and the threat of climate change, green food storage has become more popular than ever. These green storage tips for food will help you preserve food while keeping you—and the planet—happy and healthy. 
6 Green Storage Tips for Food
Tip 1: Use What You Have
One of the best green storage tips for food—or anything else for that matter—is to use what you already have. With so many new eco-options, it can be tempting to toss all of your old containers in the trash and start fresh but use restraint. 
While those old plastic containers and bags might not be the most eco-friendly option available, getting rid of them is not necessarily an eco-friendly act either, especially since only a small percentage ( around 30 percent) of the waste stream is actually recycled in the United States annually (Sinai, 2017). Globally, the numbers are even worse, with only 9 percent of the 6.5 billion metric tons of plastic waste being recycled, and 79 percent lingering in landfills or the environment (Parker, 2018). 
So before you throw out all of your old storage containers, consider using them up or donating what you have before you invest in new green storage solutions. And while we know that plastic is wrought with negative health issues (more on that below), if you want to purge your old containers, be sure to recycle them properly so they don't end up in our oceans (Sinai, 2017). 
Tip 2: Swap Single-Use for Sustainable
Plastic storage baggies and plastic cling-style wrap are popular for a reason—they are convenient and easy to use. However, they are also horrible for the planet. In fact, single-use plastic is a major threat to the ecology of our planet. 
"From poisoning and injuring marine life to disrupting human hormones, from littering our beaches and landscapes to clogging our waste streams and landfills, the exponential growth of plastics is now threatening the survival of our planet" (Earth Day Network, n.d.).
Unfortunately, plastic bags cannot be recycled easily through curbside programs, and those that aren't properly recycled or disposed of end up polluting the environment and harming wildlife. You can recycle them at the grocery store, however: How2Recycle manages store-based recycling bins for flexible plastics—high-density polyethylene (HDPE) and low-density polyethylene (LDPE)—such as plastic bags, produce bags, bread bags, and the like.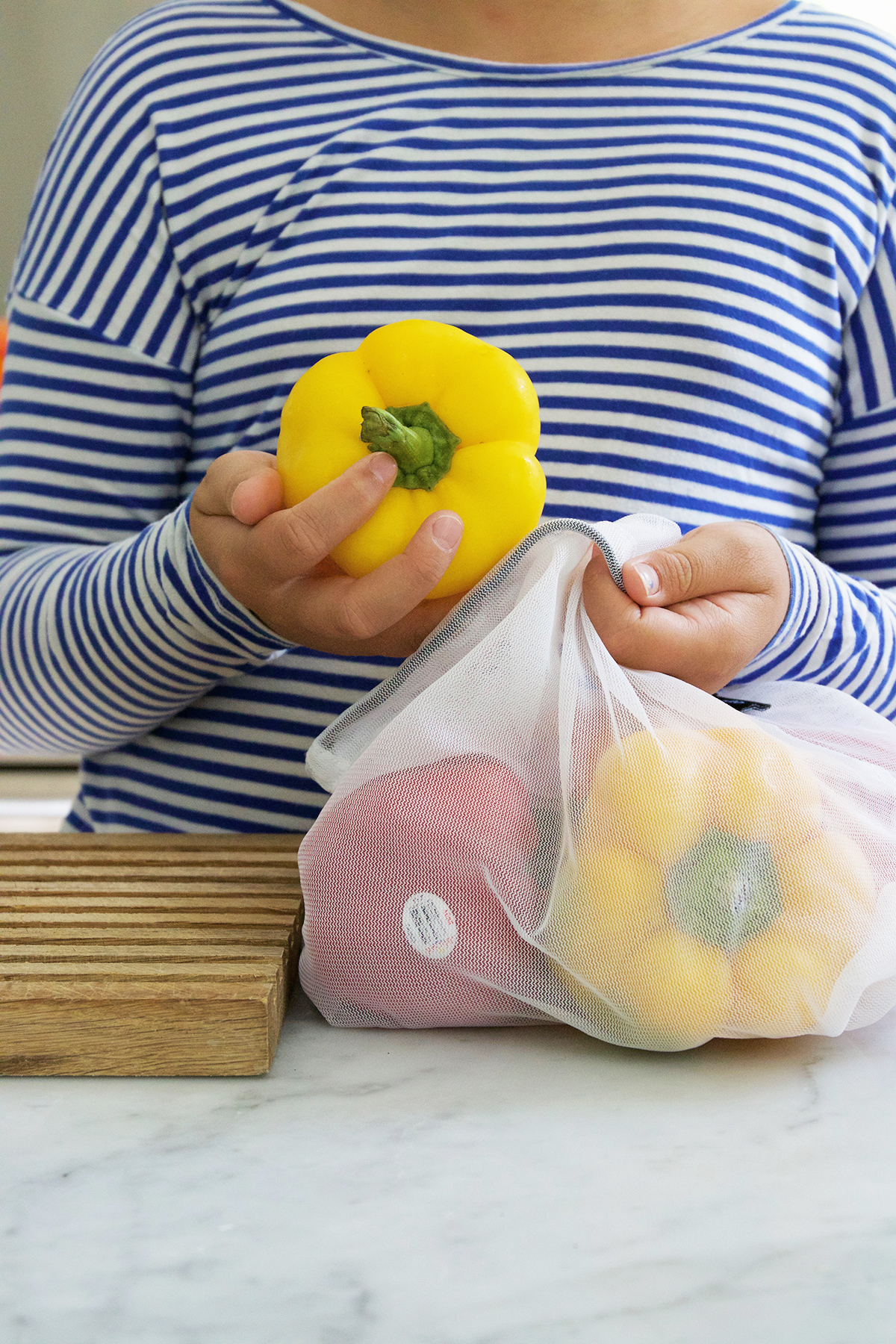 The destructive prevalence of single-use plastic bags has even led to many major cities and states banning them altogether in favor of more eco-friendly options like paper or reusable bags made from cotton, canvas, or upcycled materials like plastic bottles. 
Tip 3: Ditch Plastic
The best green storage tip is to avoid plastic altogether and go for sustainable, long-term storage solutions, such as glass or cotton. 
In addition to the fact that only a small portion of plastic is recycled, plastic is more difficult to recycle than glass, aluminum, and paper. Despite the push to recycle single-use plastics, plastic production has outpaced recycling at a pace of five-to-one, making it nearly impossible to keep up with the glut of new plastic. 
According to National Geographic, plastic takes 400 years to biodegrade, which means every piece of plastic created—6.9 billion tons of it as of 2015, minus the 12 percent incinerated and 9 percent recycled—still exists somewhere on the planet (Parker, 2018).
Plastic is also associated with a host of negative health issues. First, remember, there is nothing natural about plastic. According to the Ecology Center, most plastics we know, such as polyvinyl chloride (PVC), are toxic and contain phthalates and heavy metals (Ecology Center, n.d.).
The majority of plastics contain known hormone disruptor Bisphenol-A (BPA) as well as phthalates such as di(2-ethylhexyl)phthalate (DEHP) and even BPA-free plastics contain a host of unidentified chemicals that manufacturers are not required to disclose to consumers. All plastics—regardless of their recipe or origin—can leach into our food and beverages, particularly when heated (Ecology Center, n.d.). 
Tip 4: Go for Glass
The ubiquitous canning jar is the gold standard of eco-storage. It is convenient, food-safe, and can be used and reused indefinitely. Like many other green storage options, the once-humble canning jar has seen a resurgence in popularity. Now you can find different lids, jar jackets, reusable straws, and more to transform your jars into drinking jars, to-go coffee cups, snack containers, and more.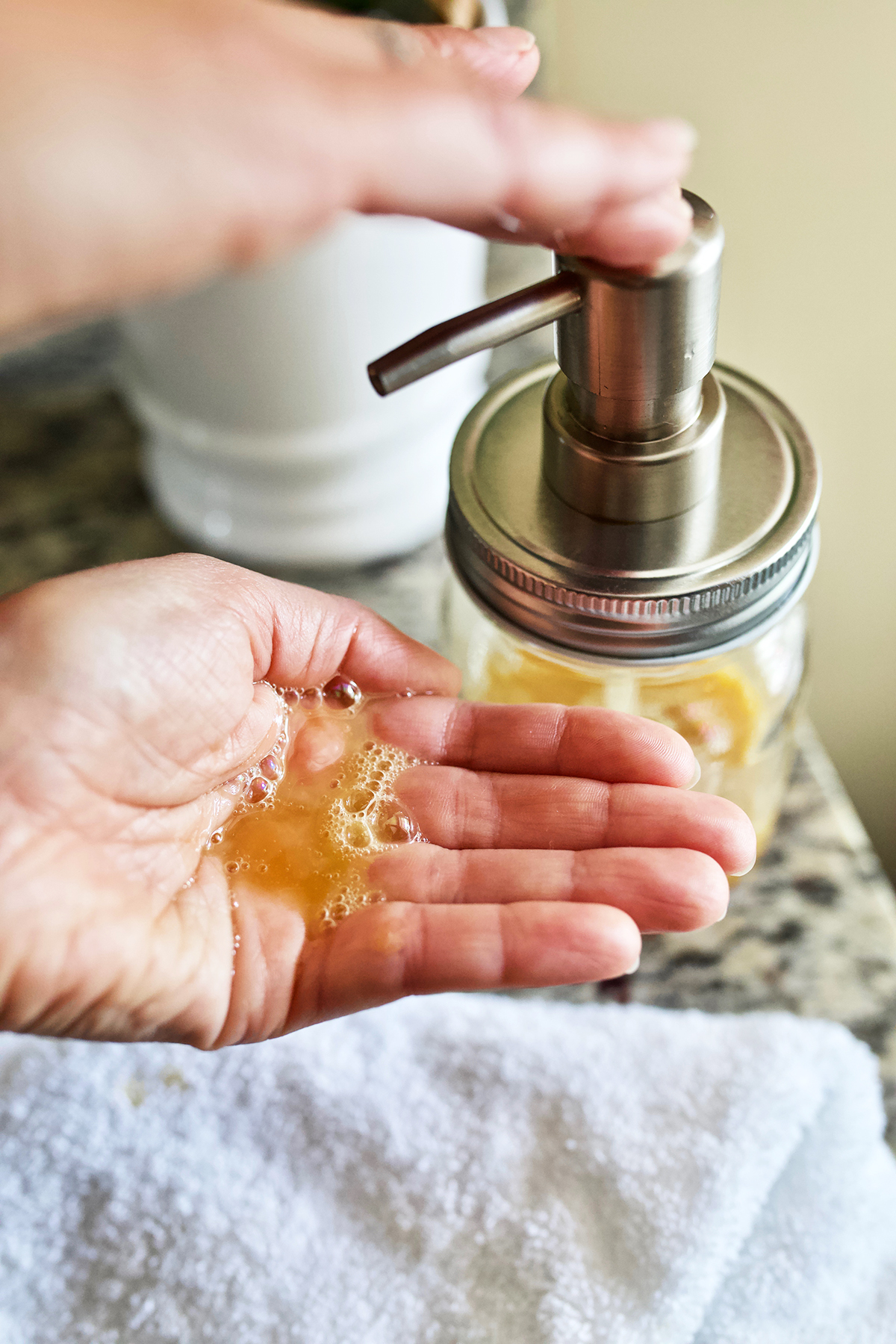 Glass jars are one of the best options for storing food, including dry goods, leftovers, and produce. Glass jars, bowls, and containers are great for the refrigerator or freezer as well as the pantry or countertop. Plus, there is no worry about chemicals leaching into foods when they are heated in glass. You can also clean out and reuse glass jars from items that you have purchased, such as pasta sauce, nut butter, pickles, and more. 
Glass jars can be reused for storage around the house, not just food—from storing craft supplies to housing your favorite homemade salve or balm. Plus, unlike plastic, glass does not lose its integrity when recycled, enabling it to be recycled and reused multiple times (Shreeves, 2009).
Tip 5: Get a Better Bag
With so many green alternatives, moving away from single-use plastic bags is surprisingly easy. One of the most popular storage options on the market is the reusable silicone bag. What makes silicone bags great is that not only can they be used for produce and food storage, they are also freezer-, microwave-, and dishwasher-safe. 
Silicone "wraps" and bowl covers are a green alternative to plastic cling—they work the same way, but are washable and reusable. They are also an excellent option for all of those containers and jars without lids! If you are not a fan of silicone, beeswax wraps are also a great green storage option, and if you want to save some money, you can even make DIY beeswax wraps in your home kitchen. Plus, there are bee-free vegan wrap options available as well.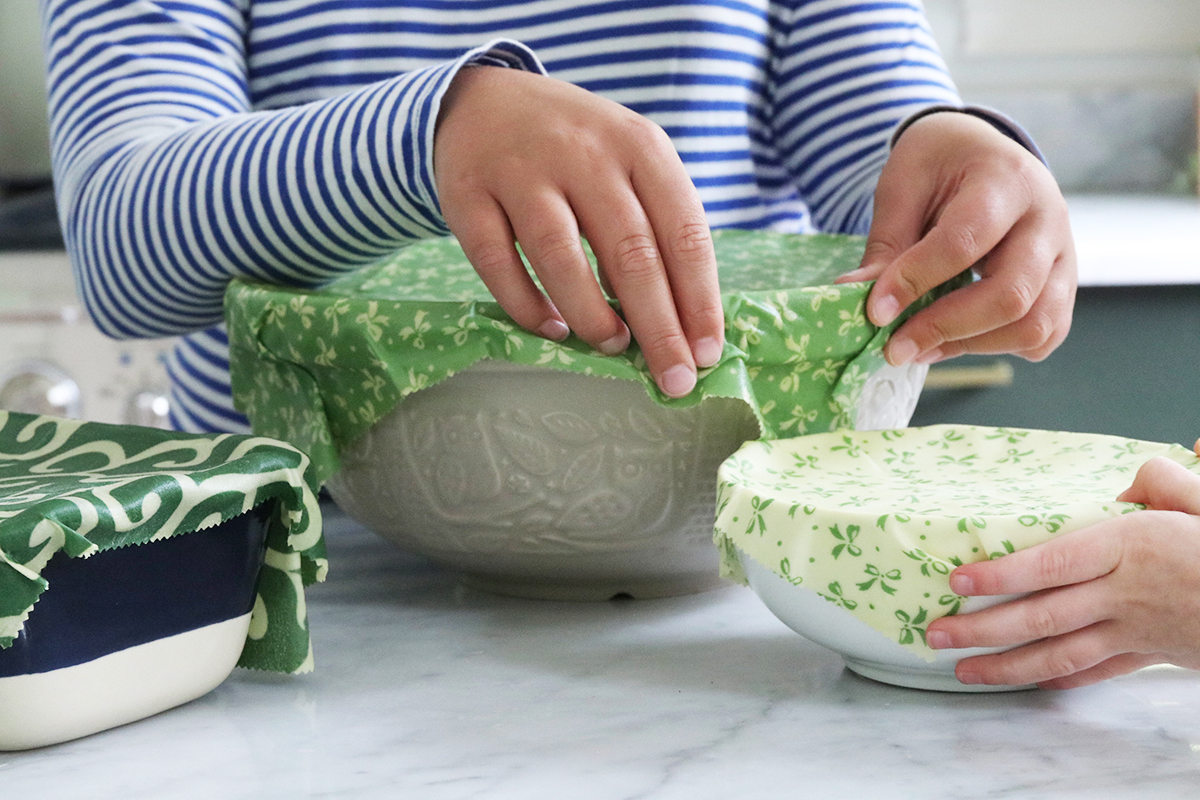 Several brands also produce biodegradable produce bags—often made from corn or other plant-based materials. These bags can be rinsed and reused several times and then composted once they are worn out. 
Another great green storage tip is using organic cotton bags. These bags are similar to the mesh produce shopping bags but are intended for produce storage. Mesh bags are great for eliminating waste while shopping but are not the best for storage since they allow too much airflow. Organic cotton bags—either with a drawstring or zipper—are more tightly woven and perfect for keeping produce fresh in the refrigerator. These machine-washable bags are also ideal for bulk dry goods storage, such as beans, rice, nuts, and more. If you are crafty, you can even make your own out of old sheets or pillowcases! 
Tip 6: Get Creative
Remember, it is not just about reduce-reuse-recycle anymore: the new standard is reduce-reuse-repurpose-recycle. 
Clean out your cabinets and see what you have before buying new. Chances are you have some great storage options already waiting in your pantry. If you have containers without lids, try silicone wraps or upcycle what you have for different purposes. Ask an older relative or friend for items they are no longer using—our grandmothers were on to something all those years ago! You can also visit yard sales, thrift stores, and consignment shops for vintage glassware such as Pyrex for saving leftovers or fresh produce.
While this list is a great start, it is certainly not exhaustive. In fact, we would love to know your best green storage tips for food! Feel free to share your tips with us on our Facebook and Instagram pages!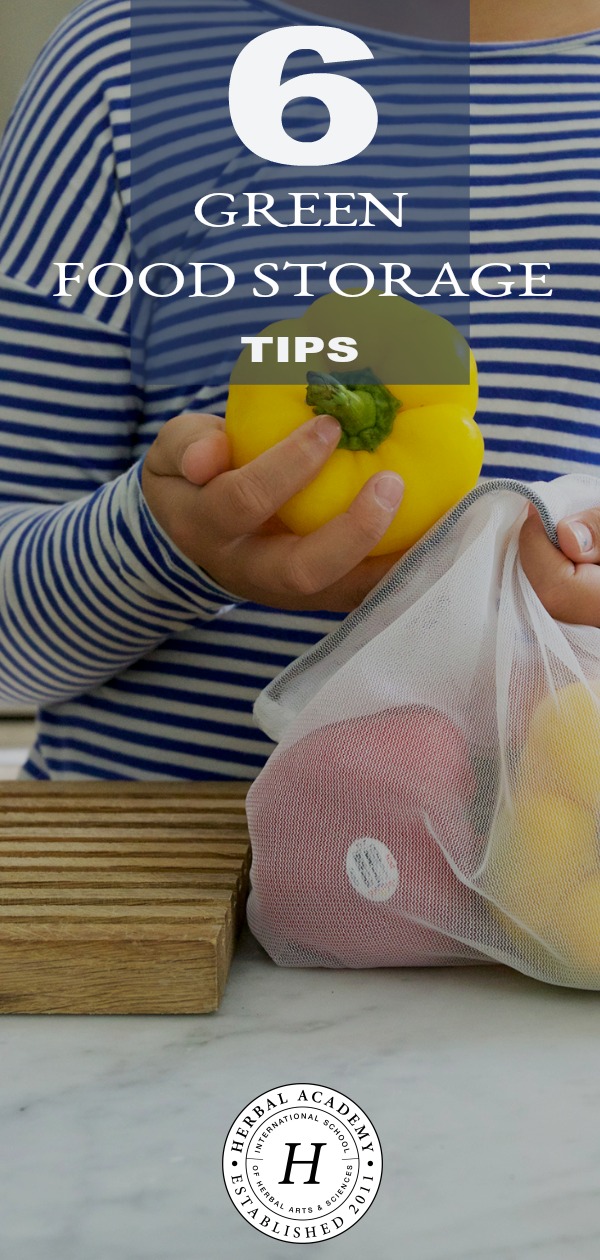 REFERENCES:
Ecology Center. (n.d.). The problem with plastics. Retrieved from https://ecologycenter.org/plastics/ 
Earth Day Network. (n.d.) Earth day network campaign: End plastic pollution. Retrieved from https://www.earthday.org/campaigns/plastics/plastics-campaign/?gclid=CjwKCAjw67XpBRBqEiwA5RCocUB77hbPlG7wYdmJ4QIAG4YXekv8sxGjgCGPjkdGeXbibCq7lECC9hoCGc4QAvD_BwE
Parker, L. (2018). Planet or plastic? A whopping 91% percent of plastic isn't recycled. Retrieved from: https://news.nationalgeographic.com/2017/07/plastic-produced-recycling-waste-ocean-trash-debris-environment/
Sinai, M. (2017). Surprising recycling statistics. Retrieved from https://recyclenation.com/2017/11/surprising-recycling-statistics/
Shreeves, R. (2009). Glass vs. plastic. Retrieved from https://www.mnn.com/food/healthy-eating/blogs/glass-vs-plastic