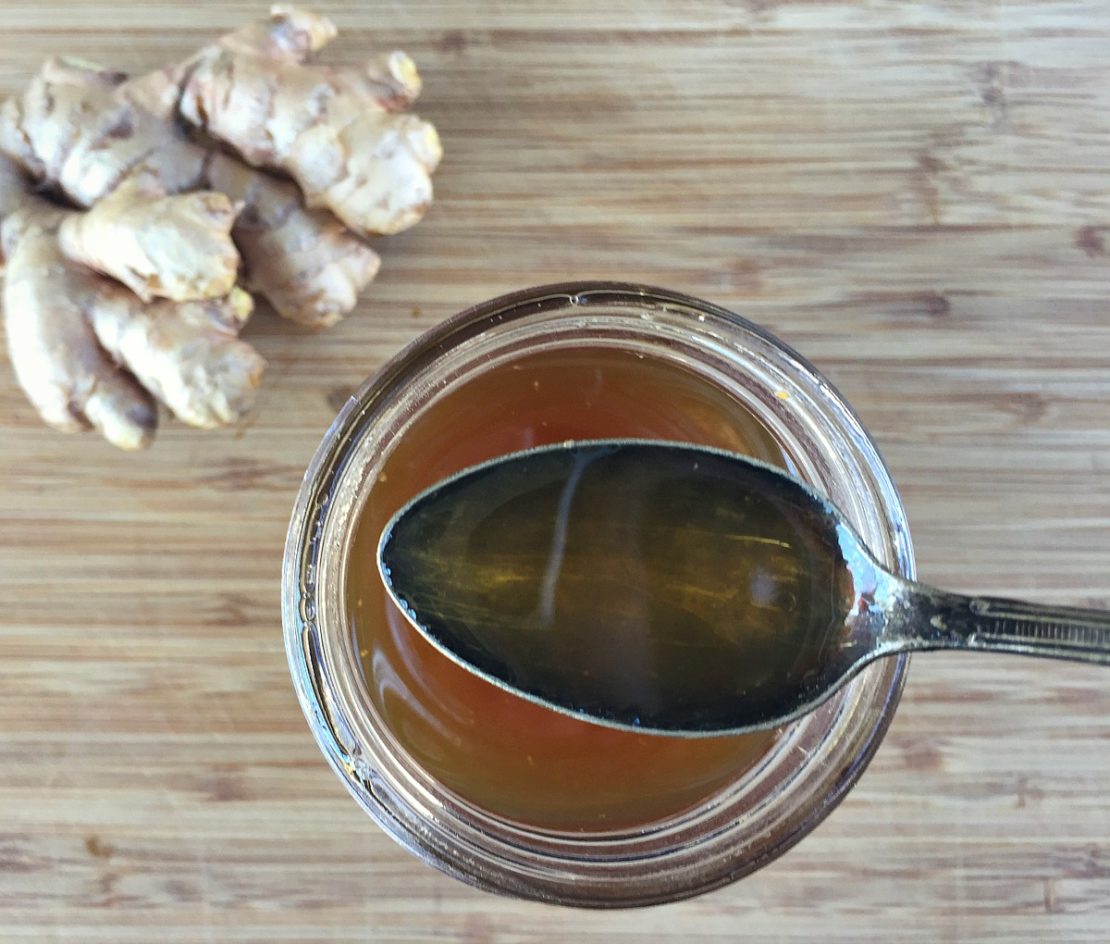 How To Make and Use Ginger Syrup
Ginger is a great herbal ally that should be a part of every home herbalist's medicine cabinet. Not only does it have many health benefits, but it can be used in a variety of herbal preparations. Today, I want to show you how to easily make and use ginger syrup in your daily life, but first, let's look at some health benefits of using ginger.
The Many Health Benefits of Ginger
Ginger has a few key actions that make it such an amazing and useful herb. Not only is it well-known for its anti-nausea and digestive properties, but it's also an anti-inflammatory, antispasmodic, diaphoretic, a circulatory stimulant, and appetite stimulant ("Ginger," n.d.).
Below, let's look a bit deeper into some of the more well-known medicinal benefits of ginger.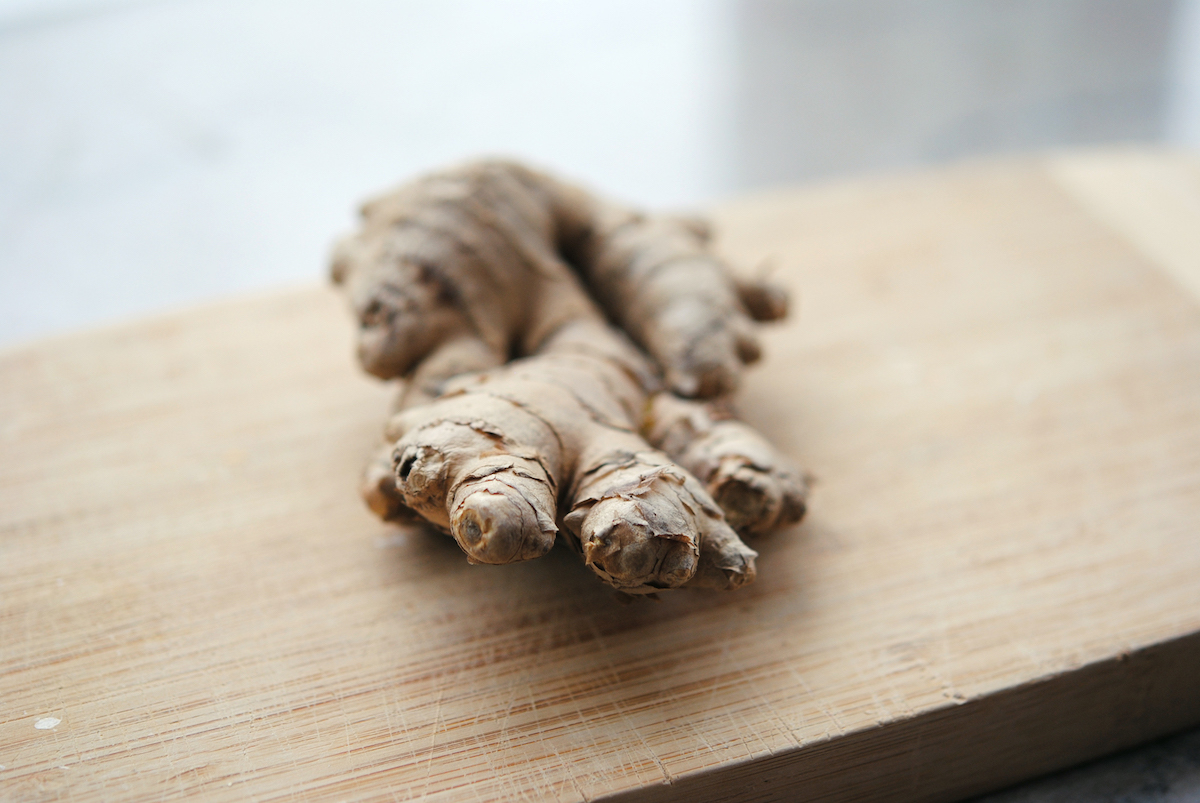 Ginger As A Digestive Aid
Ginger eases digestion and helps to reduce gut inflammation. It can help with intestinal cramping, bloating and gas, and when consumed after a meal can help our body to more easily digest (Wood, 2007).
Ginger For Nausea
Ginger is known by many to be a powerful herb against nausea. Several studies have found that ginger is more effective than over-the-counter medications for nausea, motion sickness, and seasickness (Gladstar 2012). Studies have even shown it to be effective for morning sickness in pregnancy and for chemotherapy-induced nausea (Ozgoli et al., 2009; Ernst and Pittler, 2000).
Ginger As An Immune Booster
Ginger is a warming, decongesting herb that is beneficial for colds and flus, respiratory congestion, and sore throats (Gladstar 2012). It is anti-inflammatory and anti-viral, which makes it one of our top 5 kitchen herbs for cold season.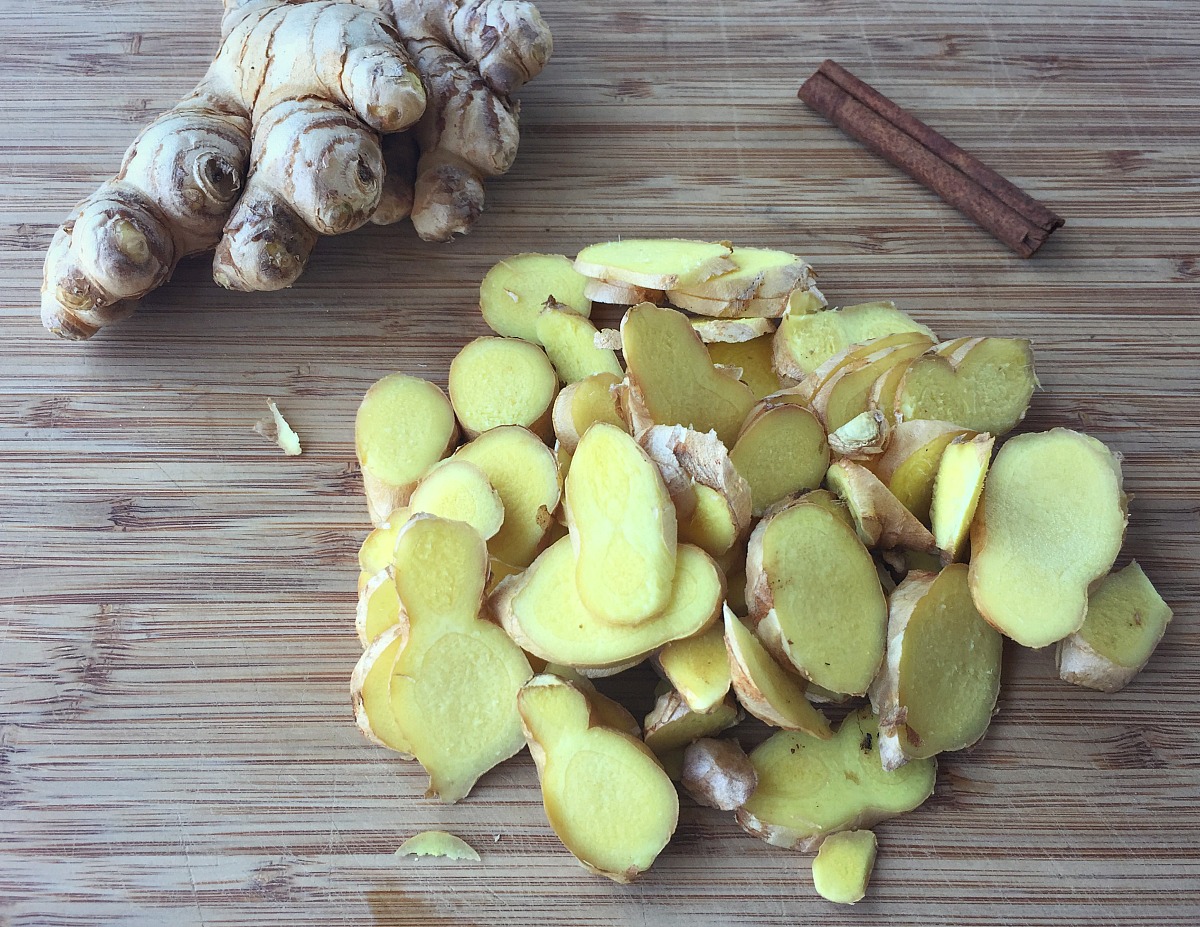 The Energetics And Flavor of Ginger
Ginger has a pleasant and warming flavor, so it's oftentimes more palatable than other herbs. It's a common ingredient in fall and wintertime sweet treats, such as gingerbread, gingersnaps, and molasses cookies. This is for good reason too, as it is a strong immune system booster and is beneficial for colds and flus, both of which are common during the winter season (see: Three Reasons to Eat Ginger During Wintertime).
Another great way to enjoy the flavor and benefits of ginger is to make it into a medicinal syrup. It is simple to make and keeps well for whenever you might need it. There is a recipe below for how to make and use ginger syrup.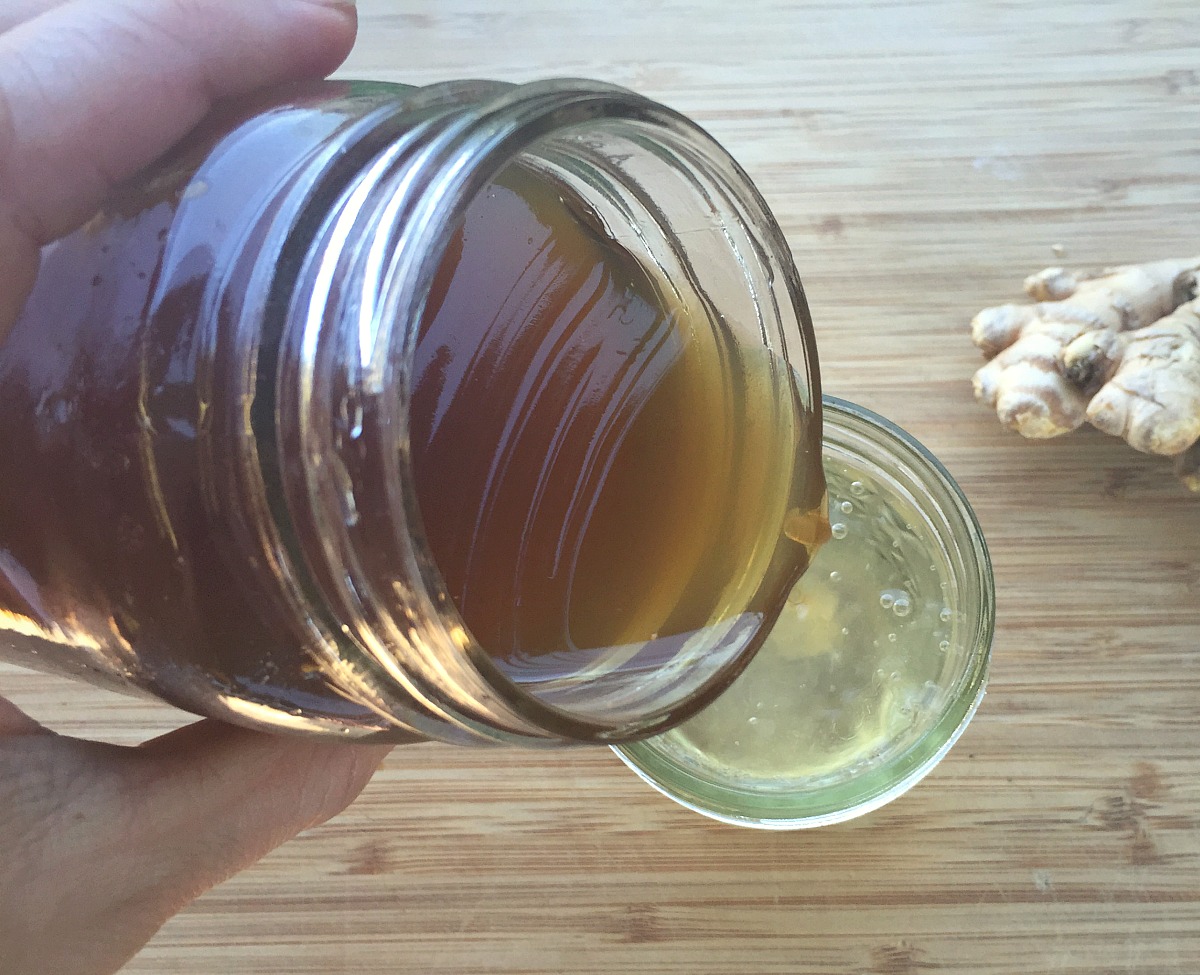 How To Make Ginger Syrup 
Ginger syrup is easy to make and surprisingly delicious. I recommend using fresh ginger, as it is usually quite easy to find in the produce section of most grocery stores, and it imparts a better flavor than dried ginger. If the ginger is organic it is not necessary to peel the outer skin, otherwise, it's probably better if it is peeled.
Either honey or sugar can be used in this recipe. I've included instructions here for both. Honey has the added benefit of being anti-viral, anti-bacterial, and anti-fungal, so can make this syrup even more powerful. If raw honey is used, it is important to let the ginger concentrate cool completely before adding it, in order to preserve the honey's benefits. The amount of sugar or honey you use will vary depending on how sweet you want the syrup to be. One cup will make a heavy syrup, and one-half cup a light syrup.
Ginger Syrup
Ingredients
1 cup thinly sliced fresh ginger root
1 cinnamon stick (optional)
2 cups water
½ – 1 cup sugar or honey
Directions
Combine ginger, cinnamon stick (if using), water, and sugar (if you are using honey, it will be added later) in a small saucepan and bring to a boil.
Reduce heat to a simmer until the liquid has reduced by half, about 30-45 minutes.
Strain out the ginger. If you used sugar then your syrup is finished and you can skip to storage.
Let the syrup cool to room temperature, then stir in the honey (if using).
Store in a glass jar in the fridge. The syrup will keep for a month or more. Yields about 2 cups of finished ginger syrup.
How to Use Ginger Syrup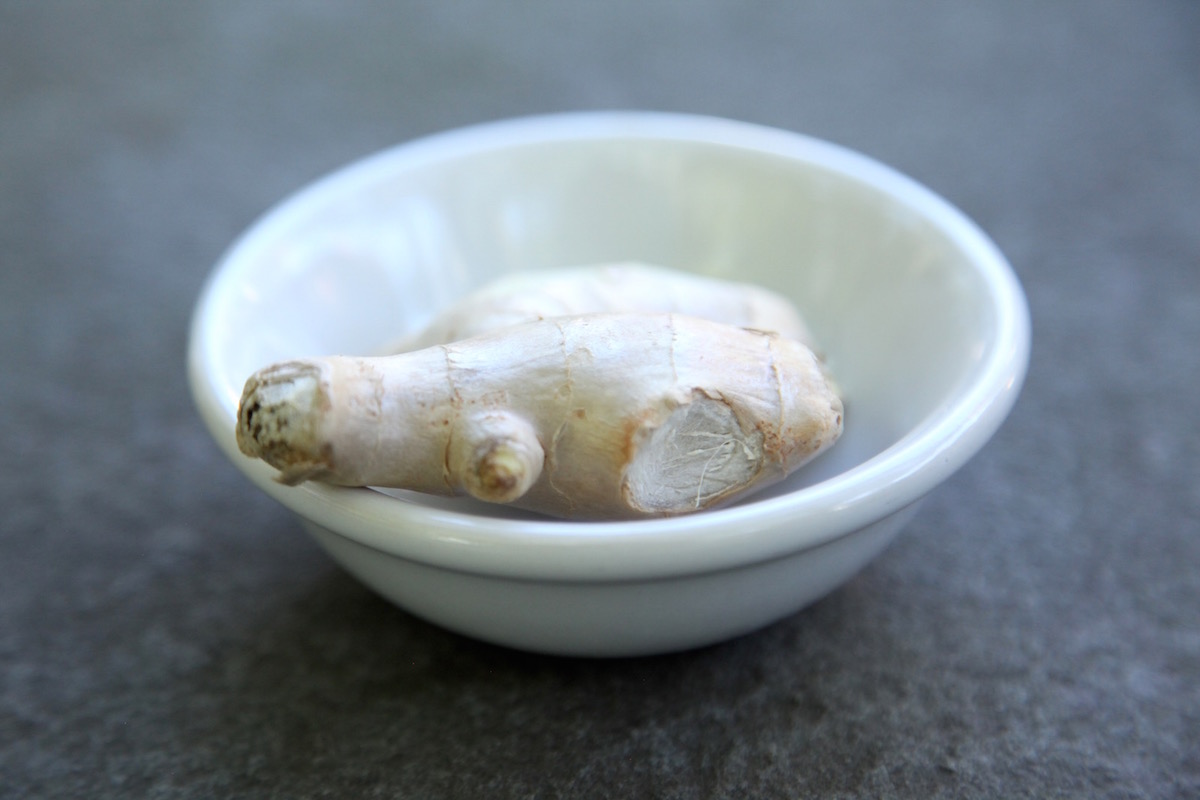 The best part about this ginger syrup is that it's health promoting and great tasting, which often isn't the case for other herbal preparations. Because of this, it can be used as a delicious food as well as a powerful medicine.
It's delicious poured over vanilla ice cream or stirred into oatmeal or yogurt. It could also be used in place of traditional pancake syrup, used in marinades and sauces, or simply as a cocktail flavoring.
To use ginger syrup for its health benefits, you can take a spoonful if you're not feeling well, if you're nauseous, or if you're suffering from sluggish digestion. It's also wonderful stirred into a hot tea.
My favorite way to use ginger syrup is to stir it into sparkling mineral water. This makes a natural ginger ale drink that settles the stomach and tastes good at the same time. Healthy, healing, and delicious!
Learn more about the health benefits of ginger and various ways to prepare it in The Herbarium!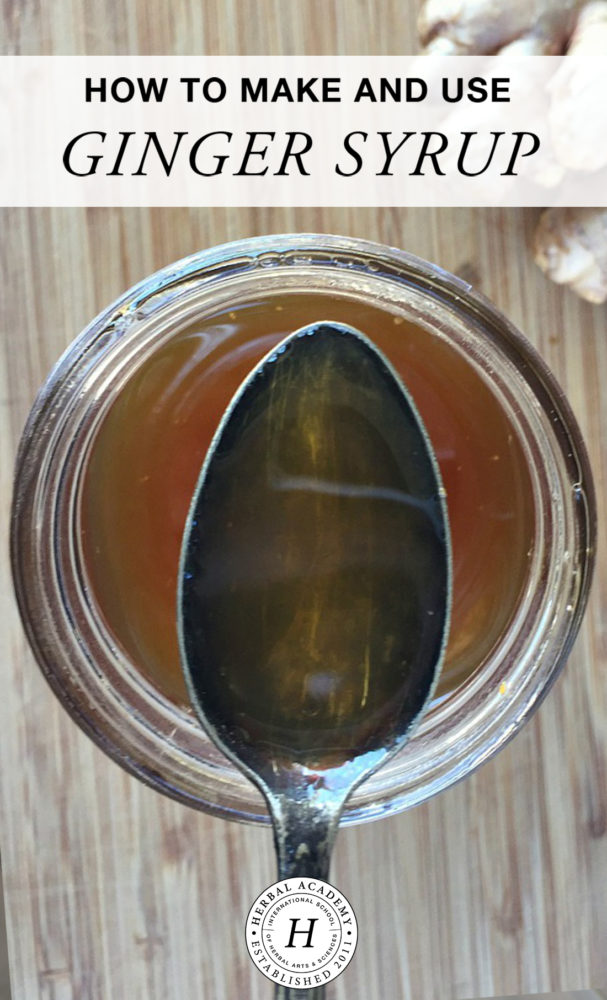 REFERENCES:
Ernst. E and Pittler, MH. (2000). Efficacy of ginger for nausea and vomiting: a systematic review of randomized clinical trials. Br J Anaesth, 84(3):367-71.
Ginger Monograph. (n.d.). Retrieved on 6/21/2016 from http://herbarium.herbalacademyofne.com/monographs/#ID=1012
Ozgoli, G., Goli, M., Simbar, M. (2009). Effects of ginger capsules on pregnancy, nausea, and vomiting. Journal of Alternative and Complementary Medicine, 15(3):243-246.
Wood, Matthew. (2007). Ginger. Retrieved August 2016 from http://www.woodherbs.com/Ginger.html