Essential Oils for Insect Bites and Stings
I love this time of year—the trees, the flower, the sunshine…the bugs. While I accept that they are an important part of our ecosystem, I am not a huge fan of insects. Unfortunately, they seem to love me, which is why I rely on essential oils for insect bites and stings.
I am a friend to ladybugs and caterpillars, but mosquitoes and I have a long, volatile history. And while mosquitoes may be the most common annoyance, horse flies, deer flies, chiggers, sand fleas, bees, and numerous other insects can dampen your summer fun.
As a kid, I was always the one covered in welts and spotted head to toe with pink dots of Calamine lotion from May to September. Now, I use natural bug repellent to keep the bugs away and swear by essential oils to help soothe my delicate skin when I do get bitten.

Essential Oils for Insect Bites and Stings
Bites that Itch and Stings that Burn
A few summers ago while vacationing with my husband I was bitten several times, despite using a natural bug repellent. I am pretty sure the bites were from several different insects, including mosquitoes and greenhead flies. Since we were at a remote beach cabin with no stores nearby, I had to make do with what I had on hand. Luckily I had peppermint oil with me, which I used on a whim to soothe my bites. Upon returning from that trip, I began researching essential oils for insect bites and stings and discovered that peppermint is, in fact, one of the best cooling therapies (The Hearty Soul, 2016).  
Should insects get the best of you, herbal treatments can ease the discomfort. Many commercial bug-bite products contain plant-based counterirritants that stimulate sensory receptors in the skin, creating a sensation of warmth, coolness, or reduced pain. These include camphor, derived from the essential oil of the camphor tree (Cinnamomum camphora); menthol, the chief constituent of oil of peppermint (M. piperita); and oil of clove (Syzygium aromaticum) (Foster, 1997, para. 6).

Remedies That Are Cooling and Soothing
Witch hazel, a water distilled from the leaves and twigs of the Hamamelis virginiana plant, is a well-known remedy for soothing skin. It can be found at most drug and health stores. This is something I always take when traveling for its ability to help with the itch and inflammation of bites, stings, or other minor skin oddities. A few dabs on irritated spots should help relieve some itching and burning as well as reduce inflammation.
In the book, The Complete Book of Essential Oils & Aromatherapy, author Valerie Ann Worwood (1991) recommends a basic travel kit with many essential oils that cover a wide range of vacation-related issues. For essential oils for insect bites and stings, she recommends lavender, chamomile, eucalyptus, and thyme. Note that thyme, lavender, and peppermint also have insect repellent qualities as well. Read more on summer travel kit items here.
While peppermint is cooling, lavender (Lavandula angustifolia), German chamomile (Matricaria recutita), and calendula (Calendula officinalis) offer more soothing relief from bites and stings. Both chamomile and calendula have been shown to reduce inflammation and encourage healing (Foster, 1997).
Lavender (Lavandula angustifolia) essential oil can be applied neat directly to mosquito bites. For large areas of bites, Worwood recommends a concoction of 1 cup cider vinegar or the juice to two lemons plus 10 drops of lavender and 5 drops of thyme added to a bath, followed by the application of lavender or a lavender/eucalyptus/thyme/lemongrass blend in a vegetable carrier oil (Worwood, 1991).

Anti-inflammatory and Antiseptic Essential Oils
In addition to the oils mentioned above, tea tree (Melaleuca alternifolia), basil (Ocimum basilicum), and rosemary (Rosmarinus officinalis) oils have all been used to help alleviate the painful symptoms of bites. Thyme ct. Linalool oil (Thymus vulgaris) can can calm bites and reduce the risk of infection due to the naturally occurring presence of thymol. Be sure to dilute this antimicrobial; it can be mixed with eucalyptus oil for improved soothing (The Hearty Soul, 2016).
While rosemary (Rosmarinus officinalis) and basil (Ocimum basilicum) are often associated with culinary delights, these oils are also popular choices for coping with bite irritation. Rosemary should be diluted in a carrier oil or mixed with another essential oil such as peppermint, lavender, or tea tree (The Hearty Soul, 2016).
Individual Relief and Safety
Since everyone's skin is different, you may have to try a few essential oil remedies to find the best option for you and the specific bite you have suffered.
Remember, when used properly, essential oils for insect bites and stings have the power to soothe, cool, and ease the itching, burning, and stinging of summer bites. Be sure to read instructions and labels carefully and dilute appropriately for safe use. And, remember to use a natural insect repellent to ward off bugs before they have the chance to bite you.
Have you found relief for summer bites by using essential oils? Which ones worked best for you?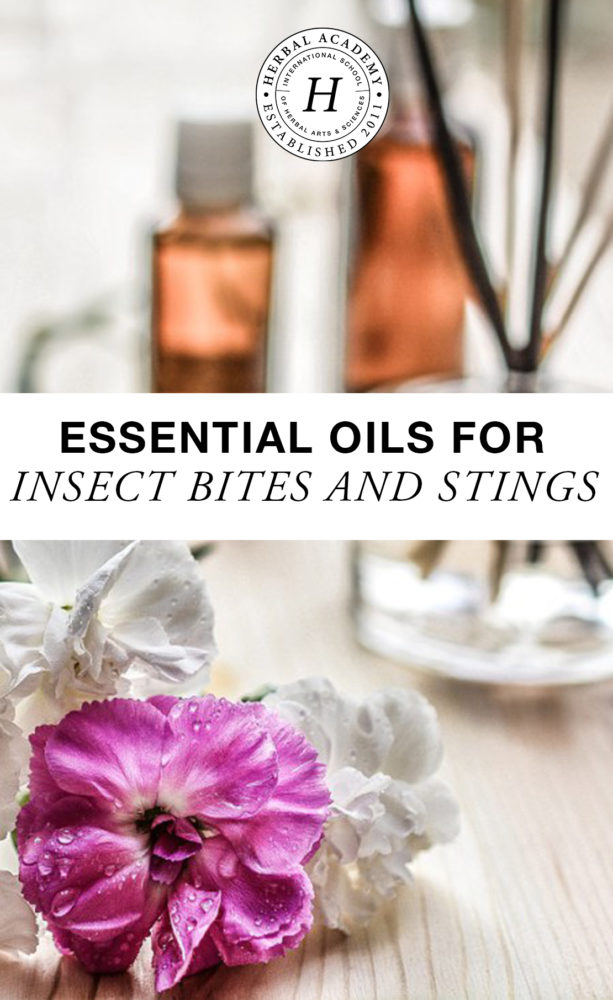 REFERENCES
Foster, Steven. (1997). Herbs for Health: Treat Insect Bites and Stings. Retrieved from www.motherearthliving.com/health-and-wellness/herbs-for-health-battle-of-the-bug.aspx?PageId=2#ArticleContent.
The Hearty Soul. (2016). 7 Essential Oils to Soothe Your Bug Bites Fast. Retrieved from theheartysoul.com/insect-bites-essential-oils/.
Worwood, V. A. (1991). The complete book of essential oils and aromatherapy. San Rafael, CA: New World Library.