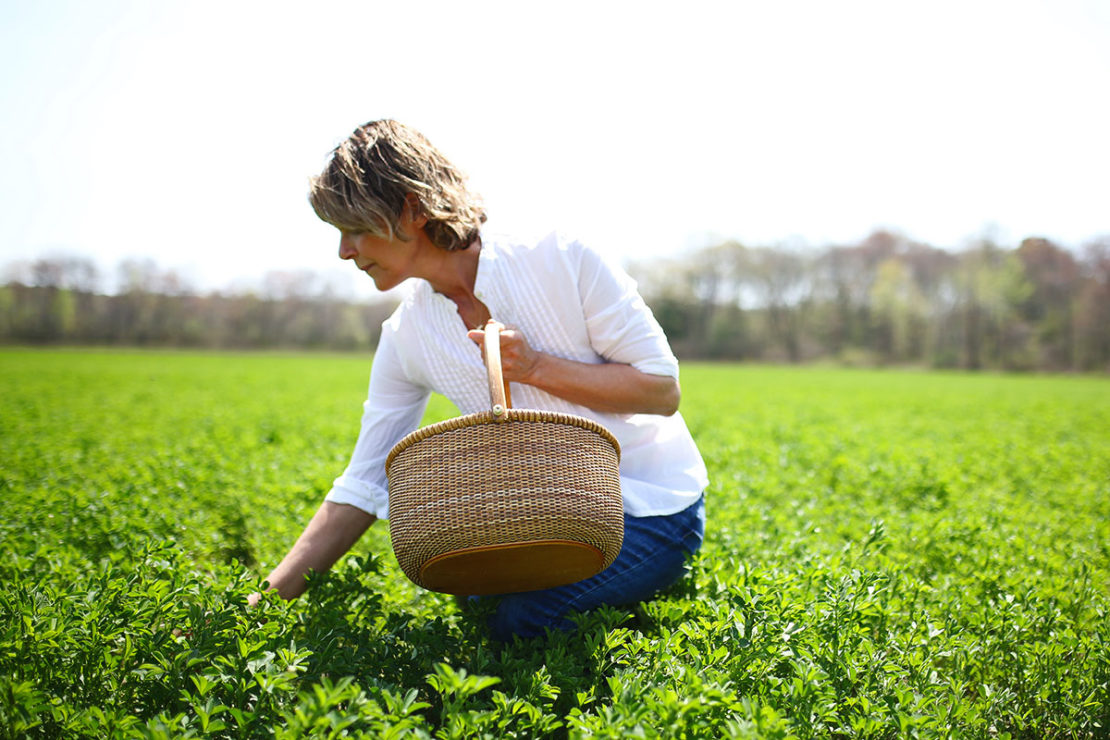 How to be an Environmentally Sustainable Herbalist
Herbalists often come to this enchanting practice via a connection to plants and care for the earth. Many will find that the study of plants and their benefits leads to the development of a connection on a deeper level. From this blooms a relationship that often looks beyond what plants can do for us, and asks how we can give back to them in return, ensuring their ability to thrive. In essence, becoming an environmentally sustainable herbalist includes developing a keen awareness of our environment over time and experience.
Sustainability is the term often used to describe the long-term viability of a practice. Sustainability is defined as "the quality of not being harmful to the environment or depleting natural resources, and thereby supporting long-term ecological balance" (Dictionary.com, 2017). With 80% of people worldwide using herbs in some part of their healthcare practices (Ekor, 2013), it is important that we are mindful to take care of the resources we have been given, as our choices have great implications on the plants, their ecosystems, and the environment on a larger scale. Being an environmentally sustainable herbalist includes awareness of where we source our herbs, how they are grown and harvested, which specific plants we're using and what frequency of harvest they can sustain, and how much we use in each application.
To ensure the use of herbs as sources of food and wellness support for generations to come, it is our responsibility as plant practitioners to consider how our use impacts the long-term viability of plant populations. Adopting the following practices will help protect our precious plants and allow one to practice herbalism in an environmentally sustainable manner.          
4 Ways To Be An Environmentally Sustainable Herbalist
1. Wildcraft Herbs

Also known as foraging, wildcrafting is the practice of gathering herbs, plants, and fungi from the wild. This can be a sustainable form of sourcing herbs—when done with care and with plants that can sustain the harvest—as it involves simply utilizing what nature has provided with no human input.
Wildcrafting is an opportunity for the environmentally sustainable herbalist to minimize their environmental footprint by not having herbs shipped from far off places, while also deepening their connection to the local landscape and the plants they harvest. Our local flora can be our best source for concocting herbal preparations and incorporating herbs into meals as what grows around us is often available in abundance and with careful, experienced foraging, can provide affordable sources for food and herbs.
With the availability of a wide variety of plants that can be shipped to our doorstep at the click of a button, we may turn to a more popular, species for our herbal needs when there is, very possibly, an equivalent local herb available in our own backyard or surrounding landscape. When deciding which herbs to use, first consider what is available in the forests and fields near you, if that plant can fulfill your needs, and if its population can sustain harvest.
It is important to be educated before embarking on your first wildcrafting experience: proper identification is paramount, a sound understanding of the plant and its ecosystem and needs is vital, and employing sound wildcrafting ethics and practical considerations is a necessity. Some excellent resources to become familiar with include these tips for wildcrafting medicinal herbs and recommended foraging guidebooks to take with you.
2. Source Domestic Herbs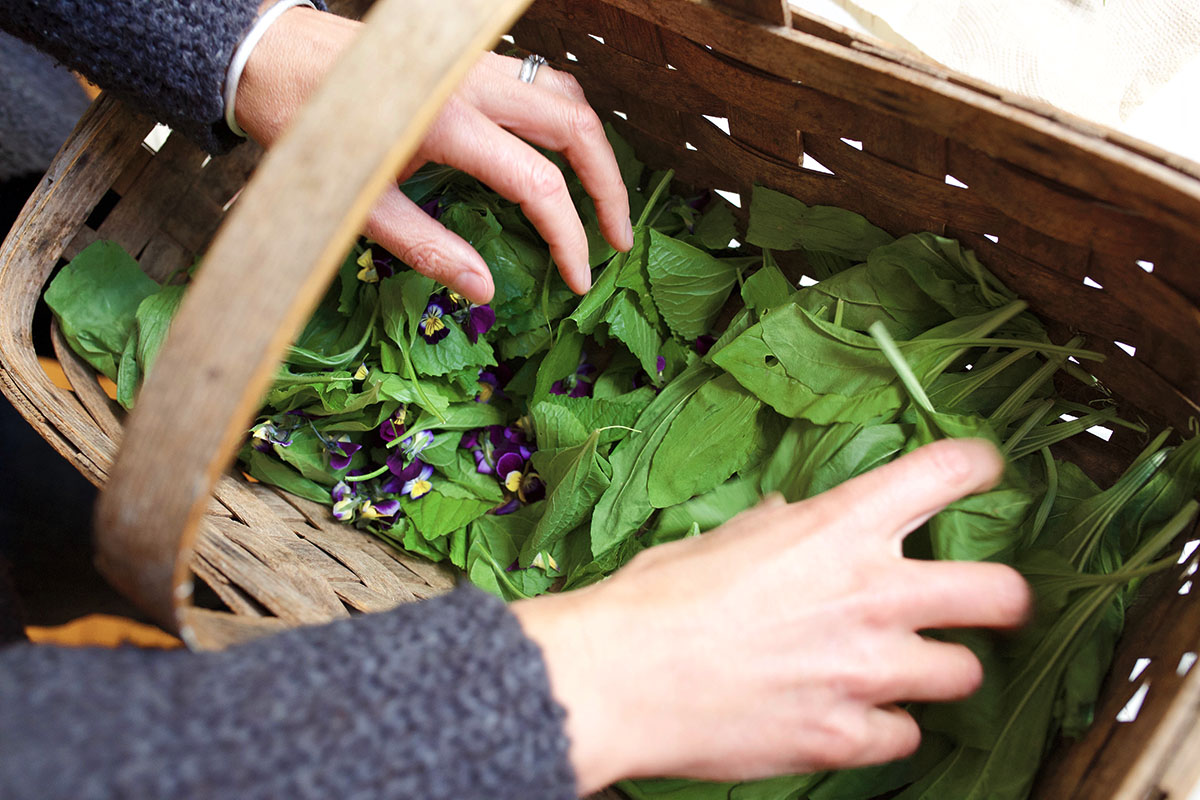 When wildcrafting isn't an option, it may be necessary to purchase herbs from a reputable source. Surprisingly, many bulk herbs are not sourced from domestically grown plants. The herbs you find online may be certified organic, but they may also be from countries like Egypt, Croatia, and beyond. Buying herbs that come from thousands of miles away not only has a large environmental footprint from the travel required to get that herb to you, but it also allows more time to elapse from harvest until you receive the herb, meaning it won't be as fresh upon arrival.
The fact that many herbs found online are grown outside of the United States doesn't mean there aren't local sources for herbs available to meet your needs. There are a number of herb farms in the United States; you may be surprised (and fortunate!) to find one within a reasonable distance from where you live. This list of Sustainable Herbal Farm and Ethical Wildcrafters in the US is an excellent resource to find a local, sustainable source for domestic herbs.
3. Use Essential Oils Sparingly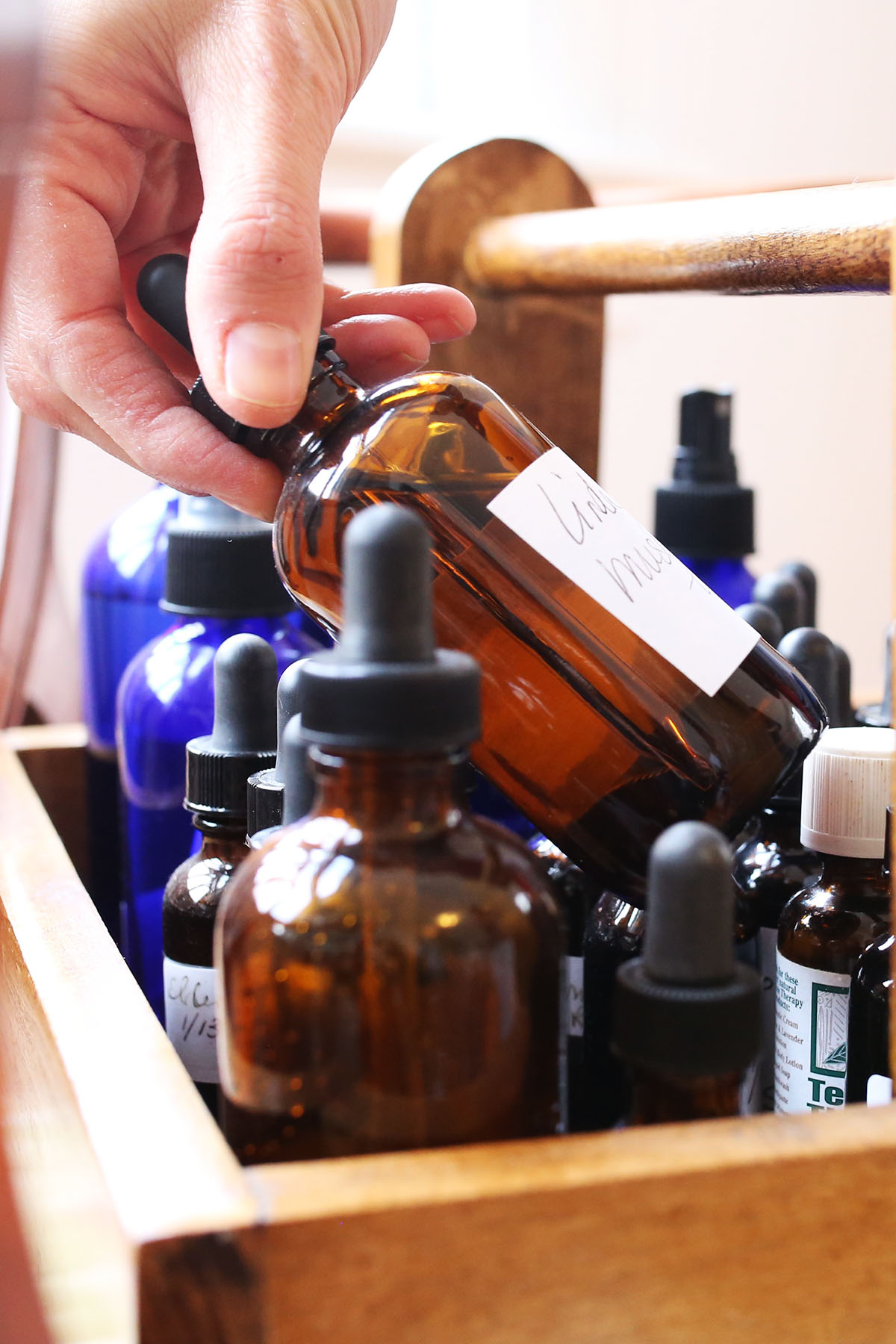 If you are interested in natural health, odds are you've used essential oils, or have at least heard the buzz about them. These volatile plant oils can be used in skincare, haircare, for natural insect repellent, in cleaning products, to promote winter wellness, soothe headaches, offer wound and scar support, and may even improve quality of life for those with Alzheimer's and dementia.
There are many uses and benefits that come with incorporating essential oils into a holistically minded lifestyle. Along with these numerous advantages, essential oils come with cautions of which to be aware, one of the greatest being the issue of sustainability.
A less commonly discussed aspect of essential oils is how they are produced. In some cases, it can take a great deal of plant matter to produce one drop of essential oil. For example, it can take about 50 roses to yield one drop of rose essential oil (AromaWeb, n.d.). It is important to keep in mind the time, energy, and natural resources that go into growing, harvesting, and processing the plants used to produce just one drop of essential oils.
Using essential oils sparingly is key, as well as discerning whether we truly need to use them in the first place and if there is a more sustainable option available. For example, rather than putting orange essential oil in a cleaner, consider using rinds from a whole orange, which would typically go to waste otherwise.
Some essential oils to use even more sparingly (or not at all) due to current sustainability issues include:
Rosewood (

Aniba rosaeodora

)

Agarwood (Oud) (

Aquilaria malaccensis

)

Frankincense (

Boswellia carterii

) from Somalia

Spikenard (

Nardostachys jatamansi

)
4. Consider What is Truly a "Need"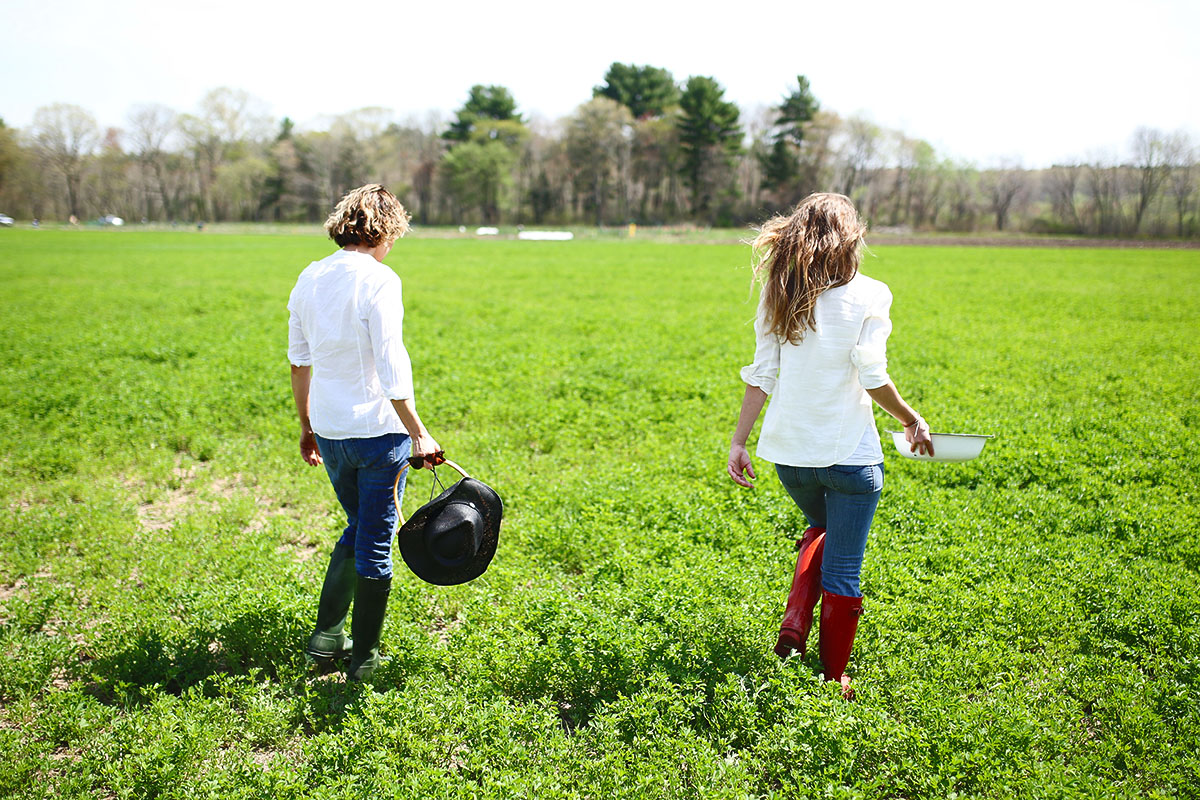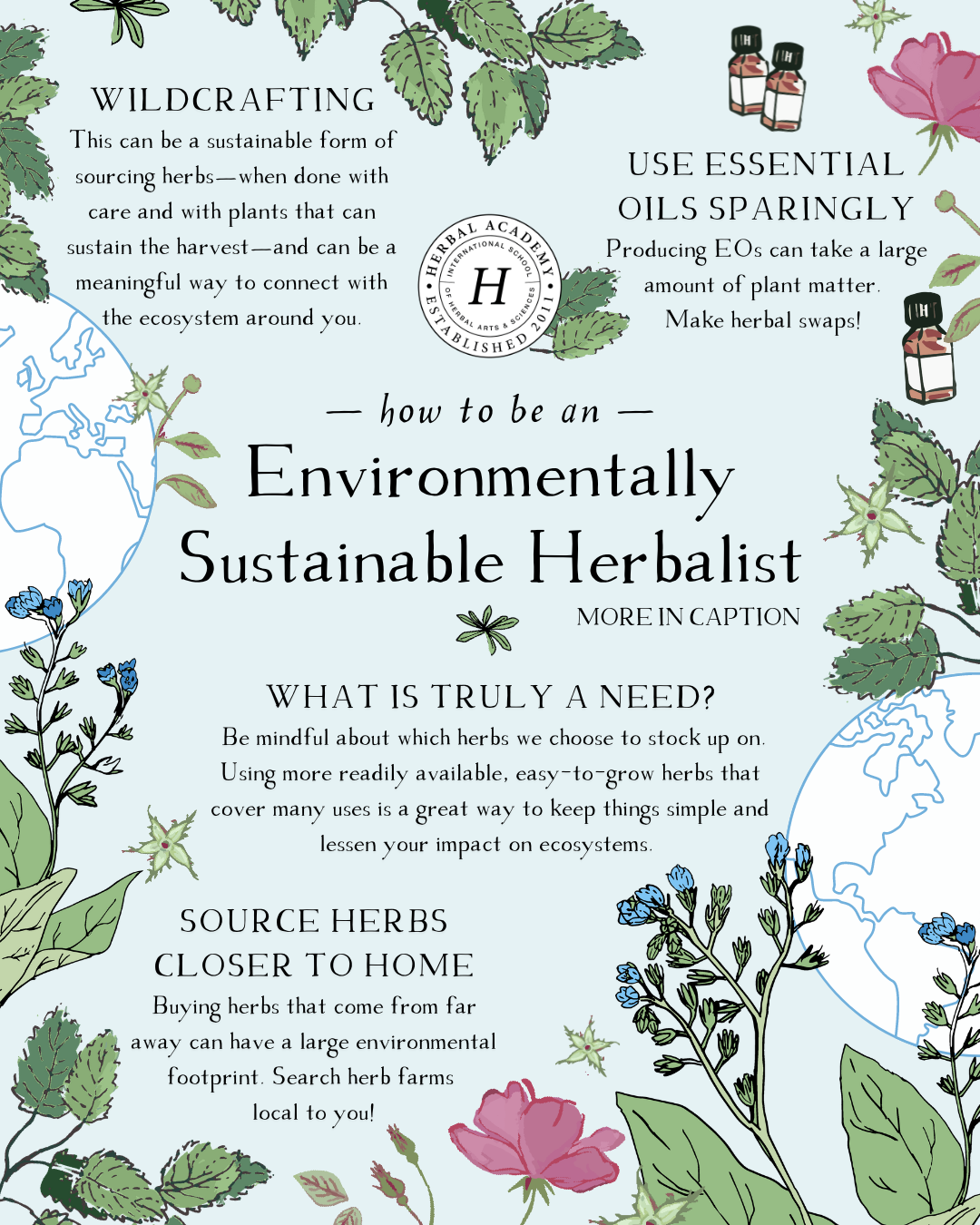 Part of being a good steward of the earth includes responsible consumption. The first question to ask when deciding whether to consume, buy, or acquire is, "Do I truly need this?" Since herbs are capable of providing our body with wide-ranging benefits, our impulse may be to load up on all the herbs and herbal products we can find.
Rather than falling into the consumer culture, even with something so good for us, being mindful about which herbs we choose to stock up on and why will underscore the values of environmental sustainability and simplicity. Using more readily available, easy-to-grow herbs that cover many uses is a great way to keep things simple and lessen your impact on ecosystems.
Generally, sustainability is not only good for the environment, but it is good for us as well. Being an environmentally sustainable herbalist means being mindful of where the plants we use come from and how they are grown, which will ensure their availability for future generations to continue this ancient tradition of herbalism.
Following the above guidelines of sourcing herbs as locally as possible, using herbs and essential oils mindfully, and harvesting our own herbs from the local landscape when possible are some of the best ways to practice sustainability in herbalism.
To further explore this important topic, some recommended resources include: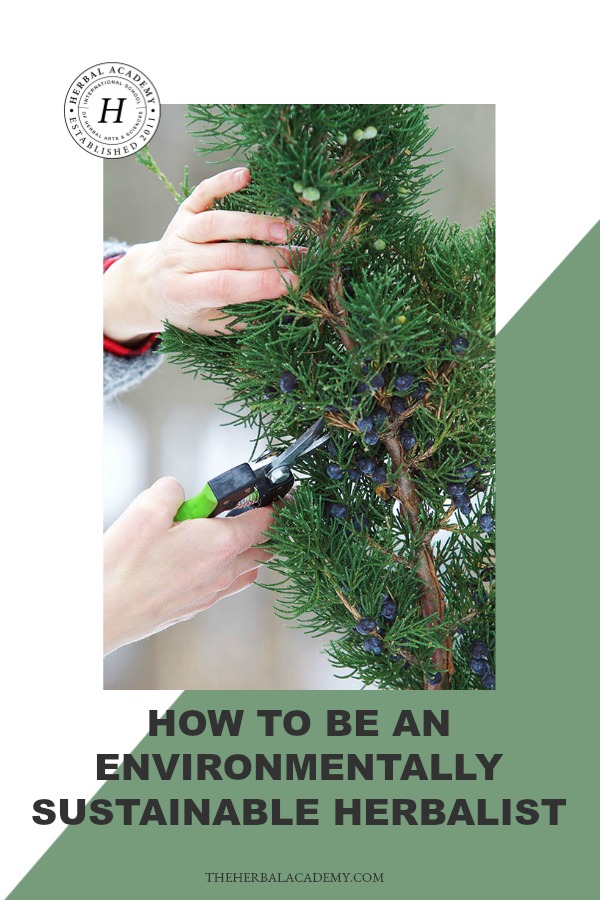 REFERENCES
AromaWeb. (n.d.). Essential oil yields. [Online article]. Retrieved from https://www.aromaweb.com/articles/essential-oil-yields.asp
Dictionary.com. (2017). Sustainability. Retrieved from http://www.dictionary.com/browse/sustainability
Ekor, M. (2013). The growing use of herbal medicines: Issues relating to adverse reactions and challenges in monitoring safety. Frontiers in Pharmacology, 4, (177). doi: 10.3389/fphar.2013.00177
Tisserand, R. (2017). Spikenard and sustainability. [Online article]. Retrieved from http://tisserandinstitute.org/spikenard-sustainability/