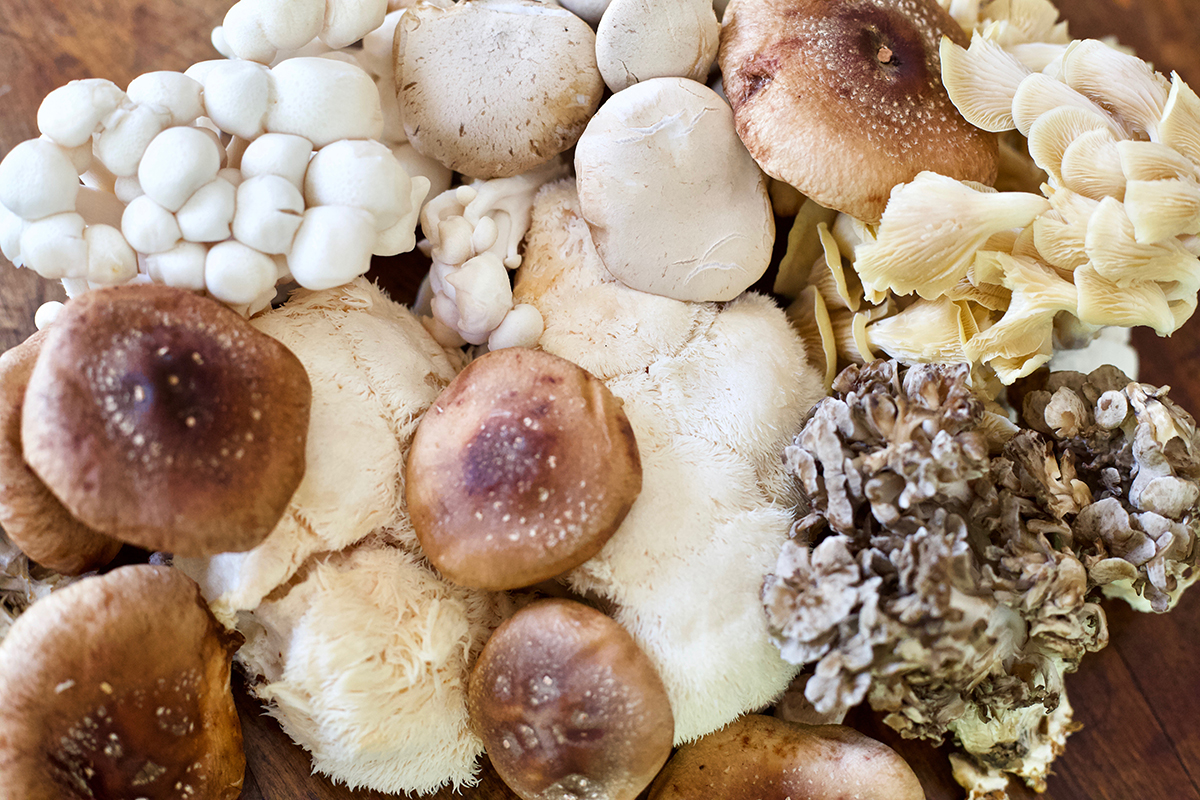 Edible Mushroom Benefits of Six Super Star Mushrooms
Perhaps you are a mushroom lover by nature and incorporating edible mushrooms into your diet comes naturally to you. On the other hand, you are not alone if you find mushrooms to be an acquired taste. Proper preparation techniques and well-balanced recipes certainly improve the appeal of edible mushrooms. However, if tantalizing recipes aren't enough motivation, knowing the edible mushroom benefits of some of the best fungi available to us may provide further inspiration.
Edible mushrooms can support your body and mind through a number of avenues. Two major edible mushroom benefits are: one, nourishing the nervous system and, two, supporting the immune system. Mushrooms support the immune system because they contain complex starches (polysaccharides) that stimulate the immune response. Though this might sound like something you want to avoid, this type of immune system stimulation actually improves the function and effectiveness of your immune cells. The complex starches in edible mushrooms teach your immune cells to become more discerning—annihilating true pathogens while leaving harmless allergens alone. Mushrooms that offer immune system support include reishi (Ganoderma lucidum), maitake (Grifola frondosa), shiitake (Lentinula edodes), turkey tail (Trametes versicolor), cordyceps (Cordyceps sinensis), and chaga (Inonotus obliquus) (Groves, 2016). Each individual mushroom species has unique benefits as well. Let's take a closer look at the edible mushroom benefits of a few types of mushrooms and how they can bolster your overall wellness.
Edible Mushroom Benefits of Six Super Star Mushrooms

Lions' Mane (Hericium erinaceus)
Though some of the research on lion's mane is preliminary, the results and indications for this edible mushroom's benefits are promising. Lion's mane helps nerve cells regenerate, making it particularly useful in working with trauma-related nerve damage. Also, there is research to support that it contains nerve growth factors, which help stimulate nerve growth, heal nerve damage, improve cognition, and fight dementia (Groves, 2016).
Reishi (Ganoderma lucidum)
Due to its adaptogenic properties, reishi falls under the category of herbs that Ayurveda calls rasayana. A rasayana has an overall nourishing and tonifying effect on the whole body and mind, thus helping us make better use of our energy stores (S. Romine, personal communication, October 6, 2018). Examples include ashwagandha (Withania somnifera) root and tulsi (Ocimum tenuiflorum) aerial parts. Reishi is known for its ability to support longevity and vitality. Among other edible mushroom benefits, reishi provides a treasure trove of wellness benefits, including fighting fatigue and decreasing the effects of stress, reducing pain, protecting liver function, improving nerve and brain function, and supporting the structure and function of the lungs (Groves, 2016).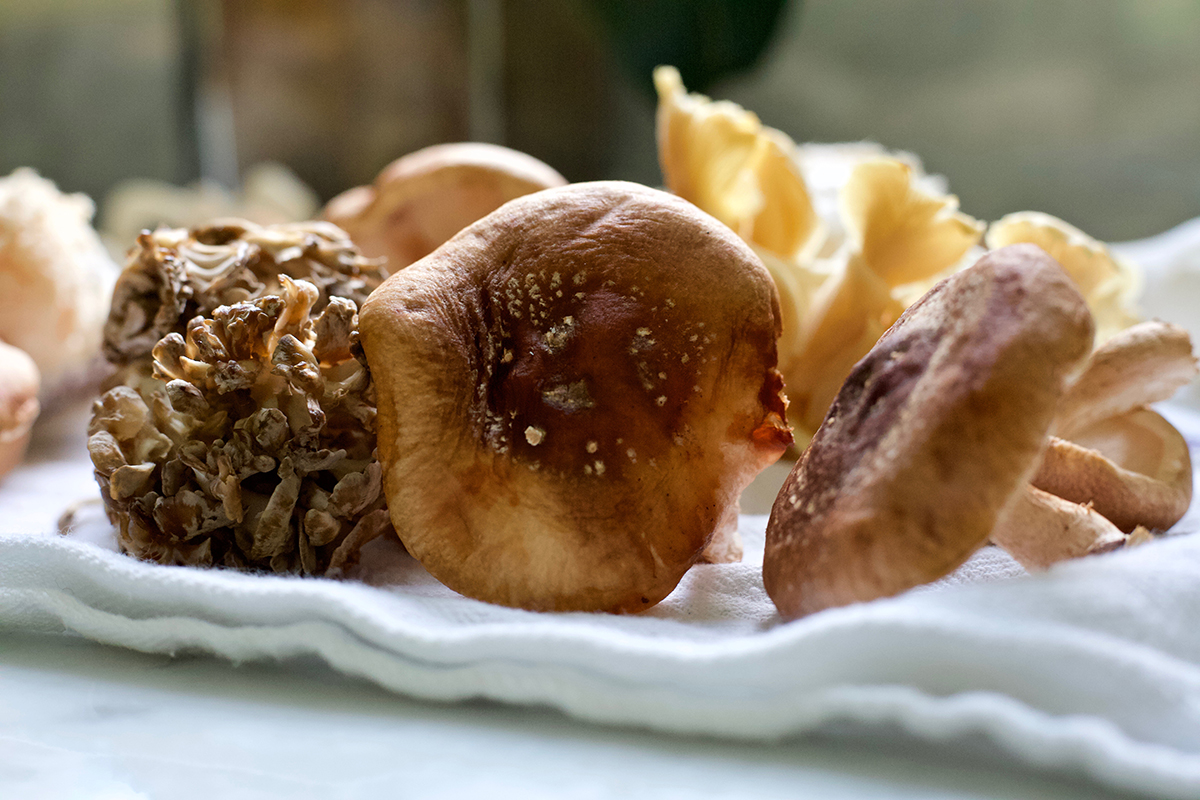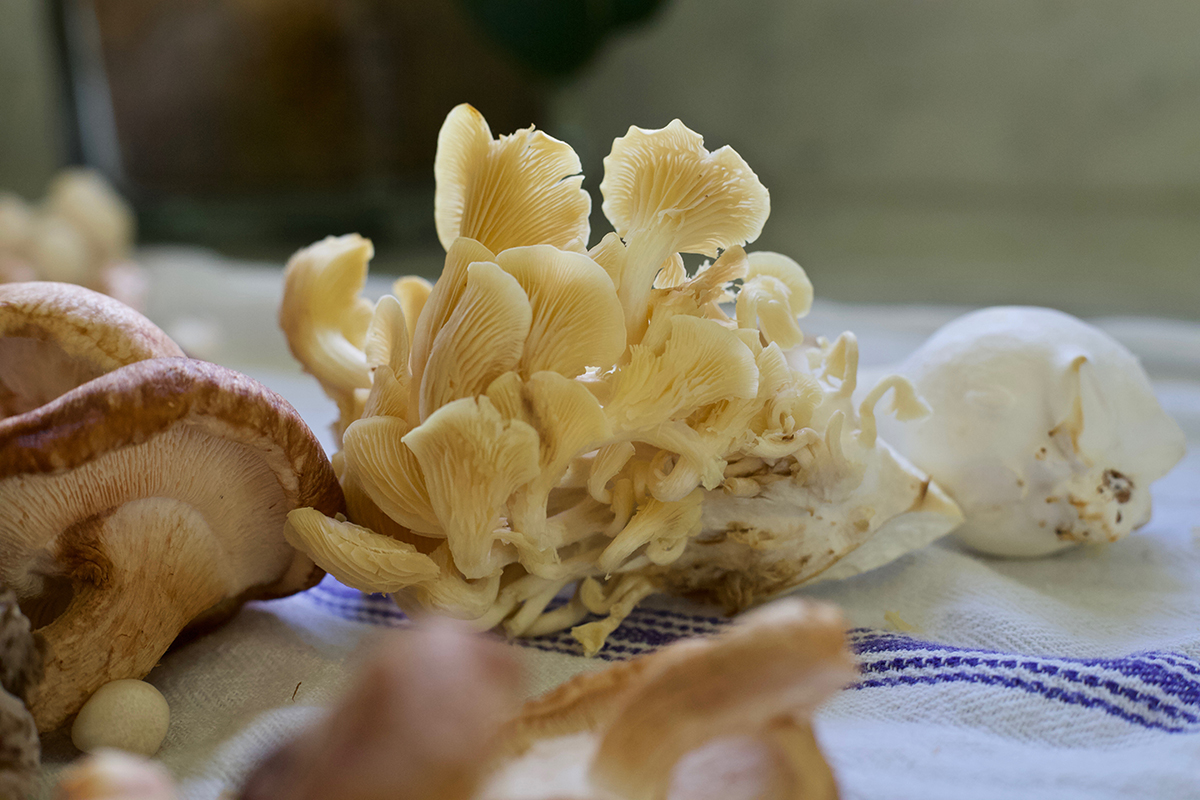 Cordyceps (Cordyceps sinensis)
Cordyceps is also considered to be a lung tonic and, like reishi, has adaptogenic properties. Other edible mushroom benefits for cordyceps are that it energizes both the body and mind and is, thus, better consumed in the morning. This may be helpful for athletes or those who need a kickstart. However, cordyceps can feel overly stimulating for some people (Groves, 2016). In this case, reishi would be a better choice as it has a more soothing effect on the nervous system.
Turkey Tail (Trametes versicolor)
Turkey tail shows significant promise when it comes to supporting the immune system. In fact, more research has been conducted on the health benefits of turkey tail mushroom than any other mushroom species, thus making it a leader when it comes to edible mushroom benefits. Numerous studies demonstrate that turkey tail mushroom has the ability to enhance immune function, and encapsulated extracts are often prescribed along with chemotherapy for cancer patients in Japan, and this is paid for by Japan's national health care system (Hobbs, 2004).  This fungus may have further applications for those suffering from cancer as antitumor activity has been observed, and turkey tail mushroom may help increase the lifespan of cancer patients (Hobbs, 1986). Furthermore, the krestin that is found in turkey tail mushroom has been shown to inhibit the binding of HIV with lymphocytes in vitro (Hobbs, 2004), which further illustrates its potential for immune support.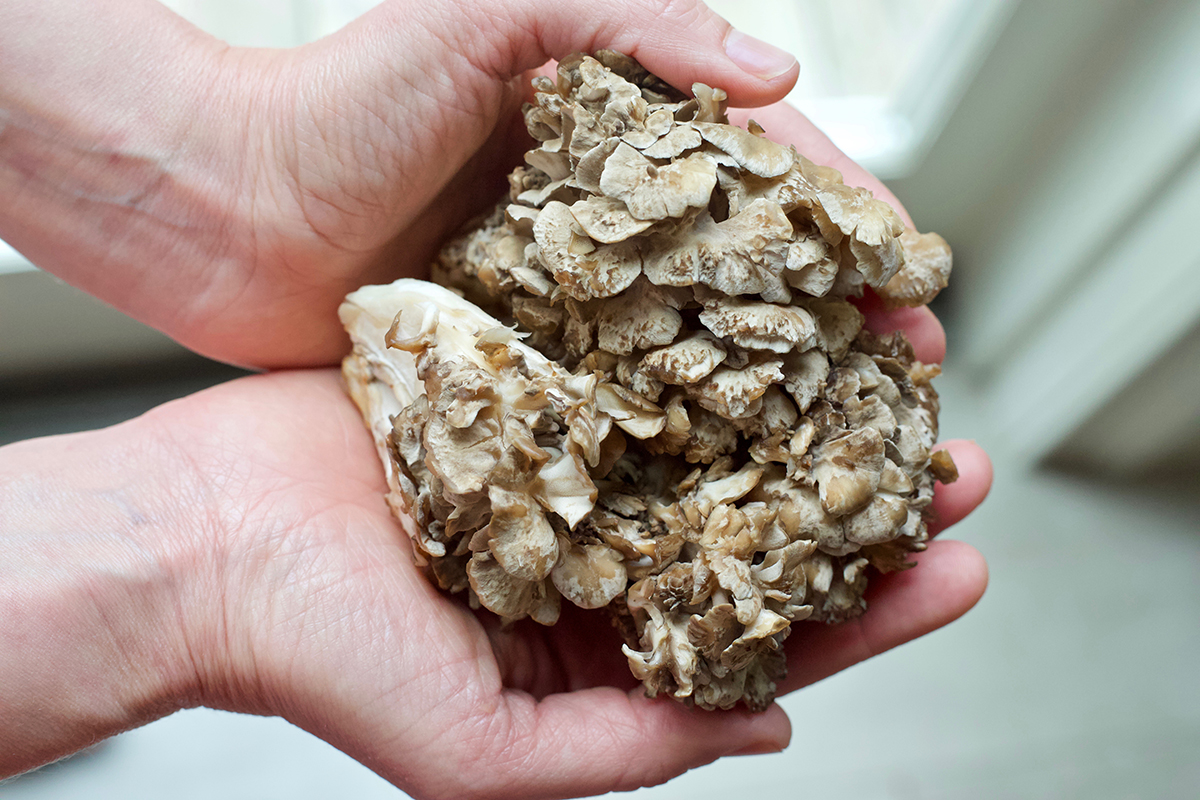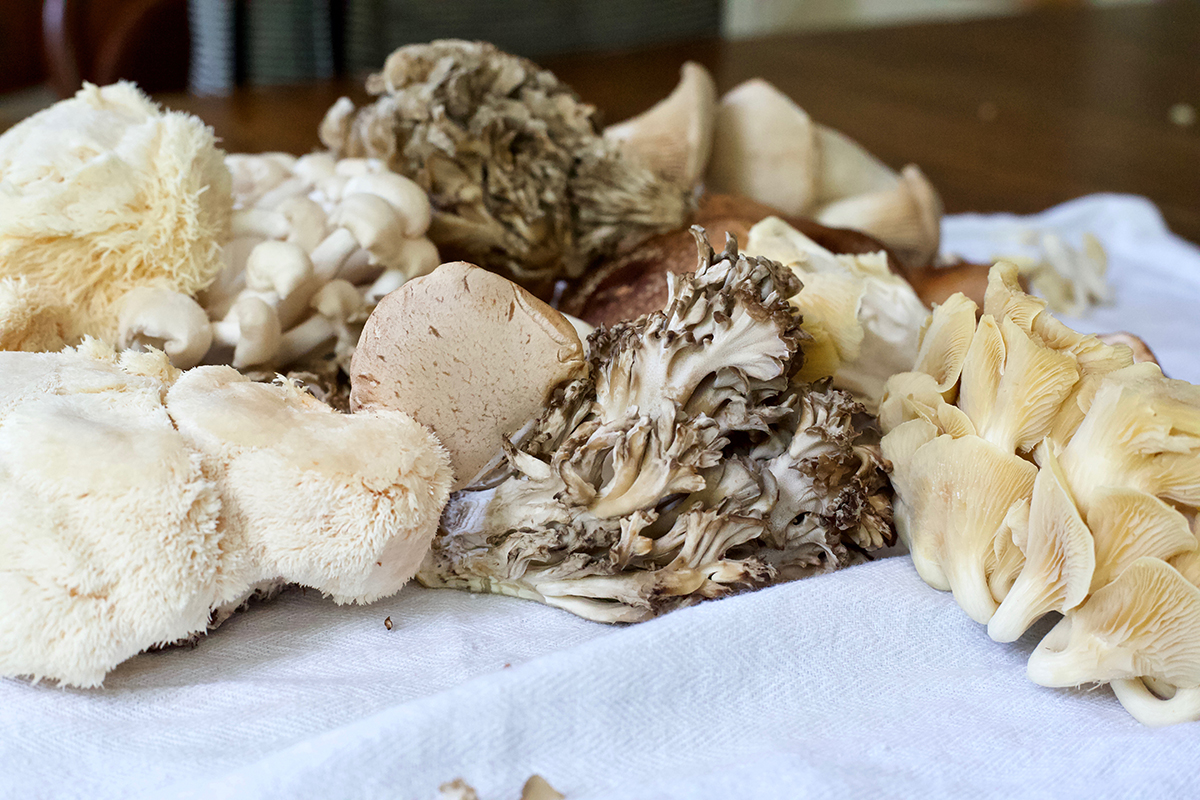 Shiitake (Lentinula edodes)
Shiitake mushrooms have become a popular culinary ingredient and make an easy addition to soups and stews. Edible mushroom benefits of these mushrooms include assisting the immune system in a number of ways. Research indicates that shiitake extract has antitumor and antiviral properties (Hobbs, 1986). Also, they may help lower heightened blood pressure and cholesterol levels, improve liver function, and simulate killer-T cells, an important aspect of the immune response (Hobbs, 1986).
Maitake or Hen of the Woods (Grifola frondosa)
In addition to immune support, maitake mushrooms have been shown to help lower blood glucose levels, and non-human studies have shown promise in using maitake for liver protection, as well as lowering blood pressure and harmful cholesterol levels (S. Romine, personal communication, October 6, 2018). Furthermore, maitake has been shown to inhibit tumor growth when taken orally (Hobbs, 1986).
As you can see, there are numerous reasons to incorporate mushrooms into your diet and supplementation routine. Edible mushroom benefits are vast and profound. What an excellent excuse to get creative in the kitchen while nourishing your immune and nervous systems! Learn even more about mushrooms for wellness in our post, 10 Amazing Mushrooms for Wellness.
Free Mushrooms for Wellness Download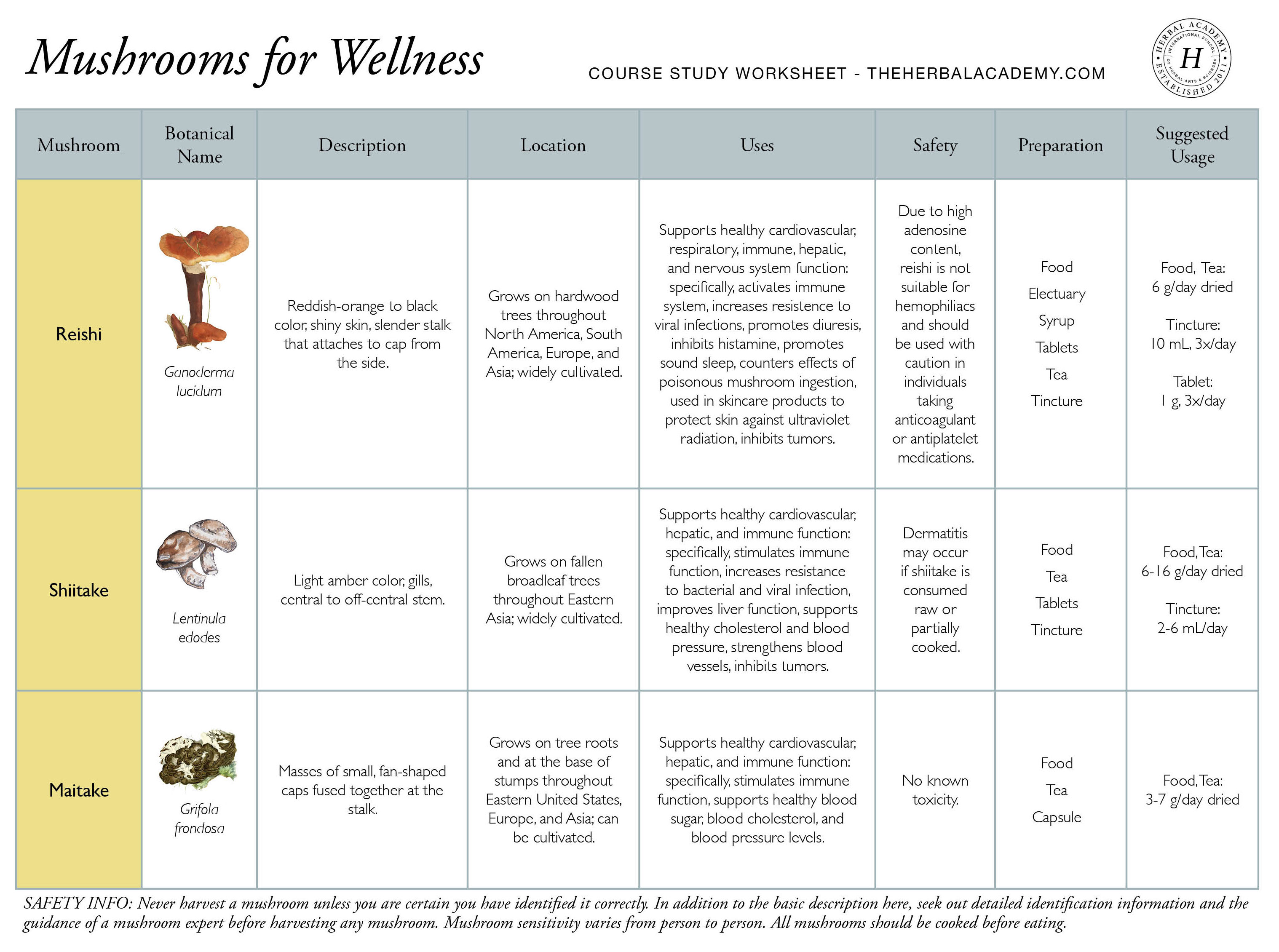 Learn more about these amazing mushrooms and their wellness benefits in this free Mushrooms for Wellness download from the Herbal Academy's Intermediate Herbal Course. This graphic highlights ten common mushrooms and sums them up into a simple chart that you can print and add to your herbal study notebook or materia medica.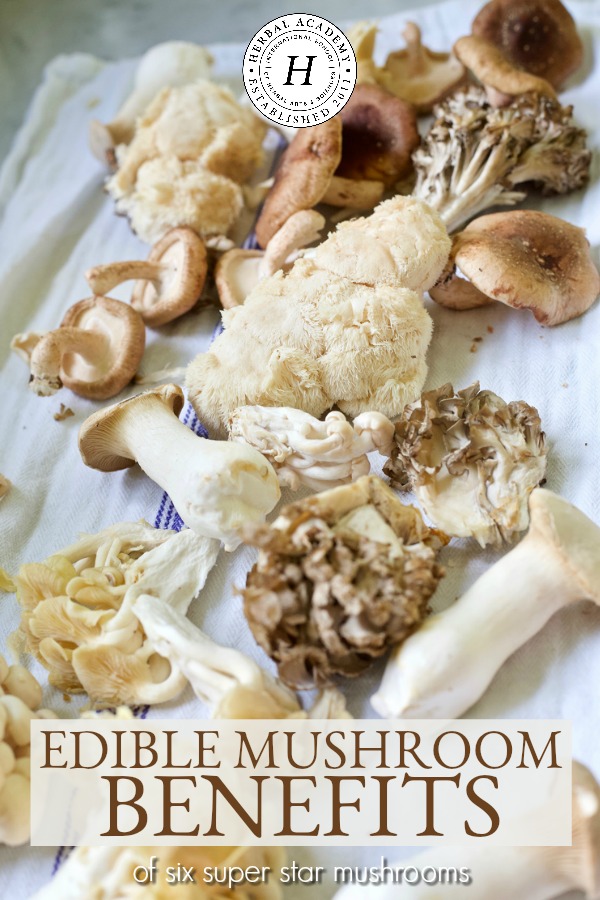 REFERENCES
Groves, M. N. (2016). Body into balance: An herbal guide to holistic self-care. North Adams, MA: Storey Publishing.
Hobbs, C. (2004). Medicinal value of turkey tail fungus trametes versicolor (L.:Fr.) pilat (Aphyllophoromycetideae). A Literature Review. International Journal of Medicinal Mushrooms, 6,195-218. doi: 10.1615/IntJMedMushr.v6.i3.10.
Hobbs, C. (1986). Medicinal mushrooms. Retrieved from https://www.christopherhobbs.com/library/featured-articles/mushroom-articles/