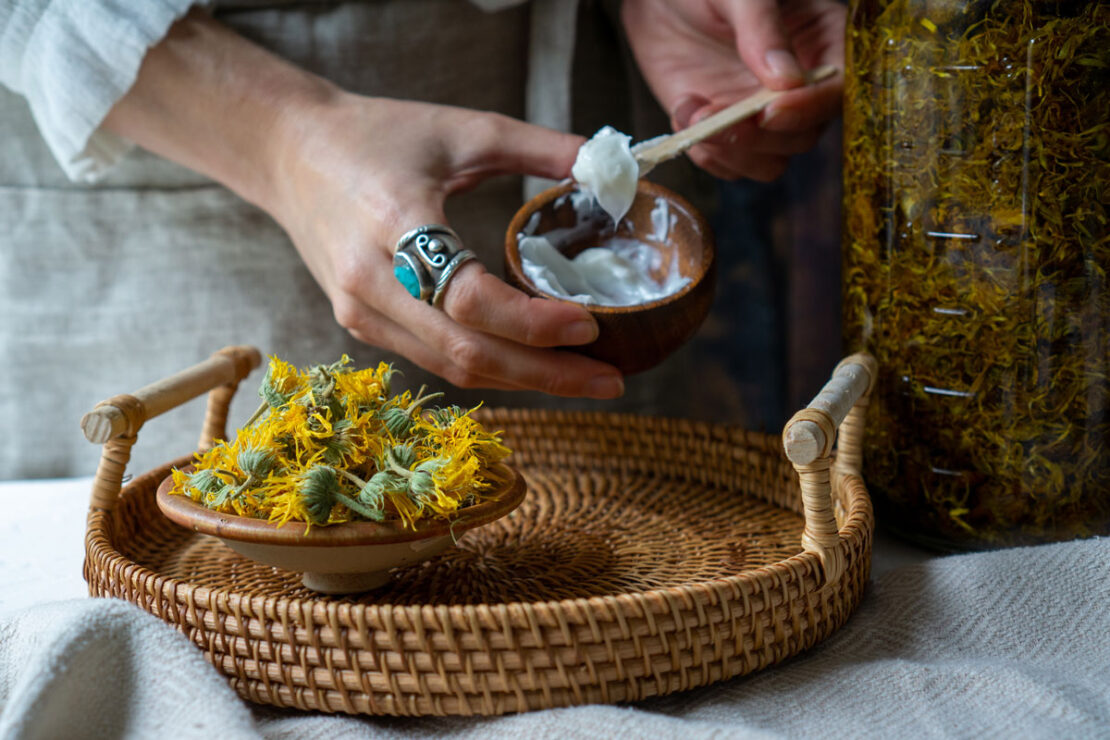 Shelf-Stable Calendula Cream Recipe
As herbalists, we turn to our trusty herbal allies to create simple and safe skincare products. We love our calendula-infused oil, our lavender hydrosol, our rose petals. But how can we bring these beautiful herbal ingredients together into a calendula cream recipe or another botanical skincare creation that is shelf-stable? After all, any time we include a water-based ingredient—whether that's hydrosol, tea, aloe gel, or water—we risk harboring microbes such as bacteria, yeast, and mold. 
This may not be a problem for the home herbalist who is creating small batches of products, which are used quickly and can be refrigerated. But how can herbalists share their luscious creams, lotions, and other DIY body care products with a wider audience? In order to offer our herbal skincare products to clients or even sell them at a local farmers market or online shop, we need to extend their shelf life so that they remain stable and contamination-free for a much longer period of time—all without introducing skin irritants or other undesirables into our carefully crafted goods!
 If you are looking to take your skincare products to the next level, you'll need to look outside your garden, your apothecary, and your local apiaries to source true emulsifiers, natural preservatives, and perhaps even skin-safe, nontoxic synthetic preservatives. 
We cover this topic in much greater detail in our Emulsifiers and Preservatives Short Course, for which this blog post and recipe offer a special sneak peek.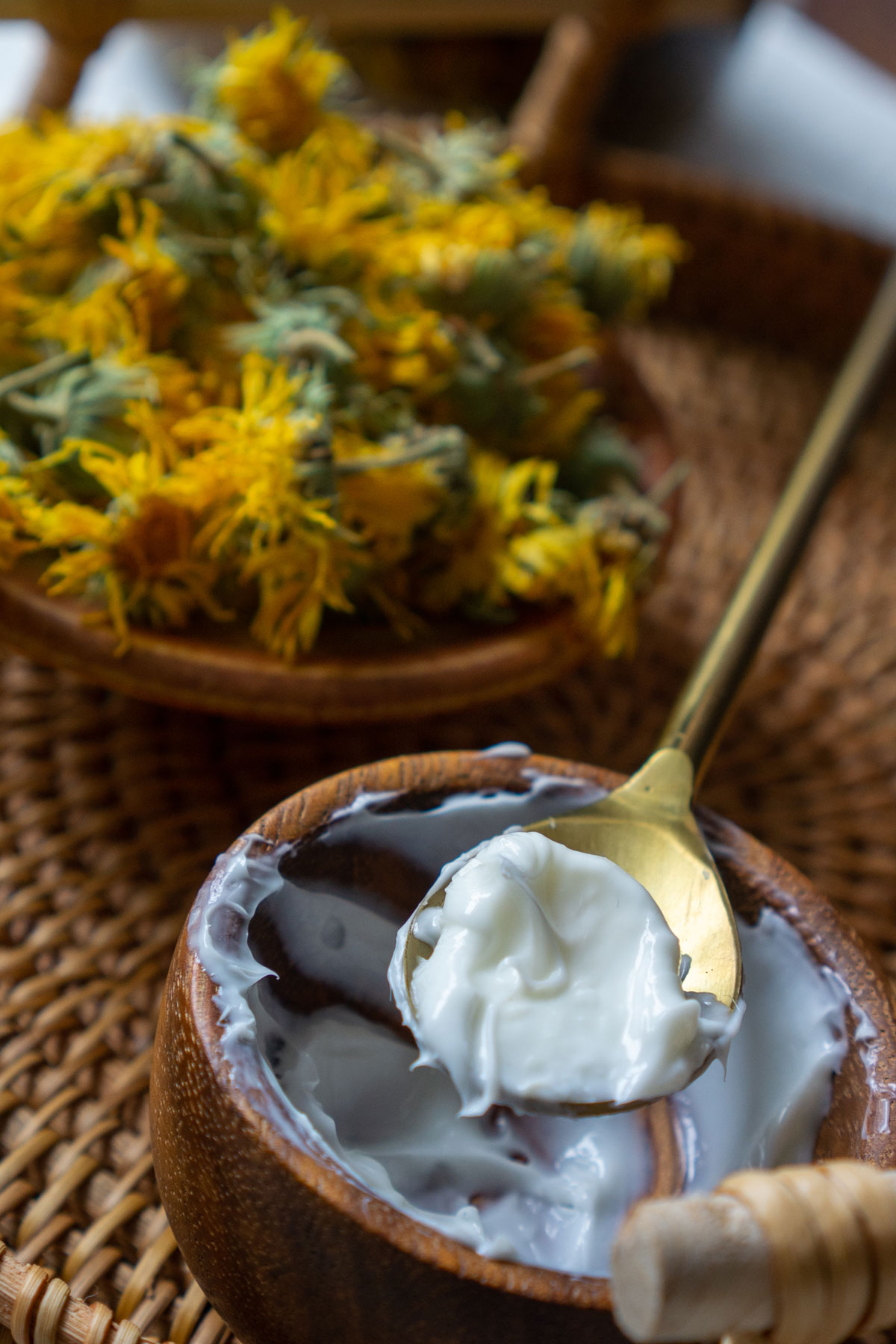 Although most of the emulsifiers and preservatives that we recommend in the course are plant-derived, they have typically gone through many changes in the laboratory and aren't as "natural" as the ingredients you might be using for your personal homemade products. You may feel a little hesitant about including anything that's not an unprocessed, familiar ingredient in your skincare products, but ensuring shelf-stability and lack of contamination is paramount if you're thinking about selling your creations.
 In the recipe below (and in our Emulsifiers and Preservatives Course), we honed in on the additives that most closely align with our shared values of being as natural as possible, whenever possible. 
Ingredient Profiles
The following calendula cream recipe blends calendula-infused oil with roman chamomile hydrosol and chamomile-infused glycerin. We also blend in laurel wax as an emulsifier, xanthan gum as a gelling agent, and Leucidal® Liquid SF Max as a natural preservative. Each ingredient plays an important role in the finished cream's soothing, shelf-stable properties.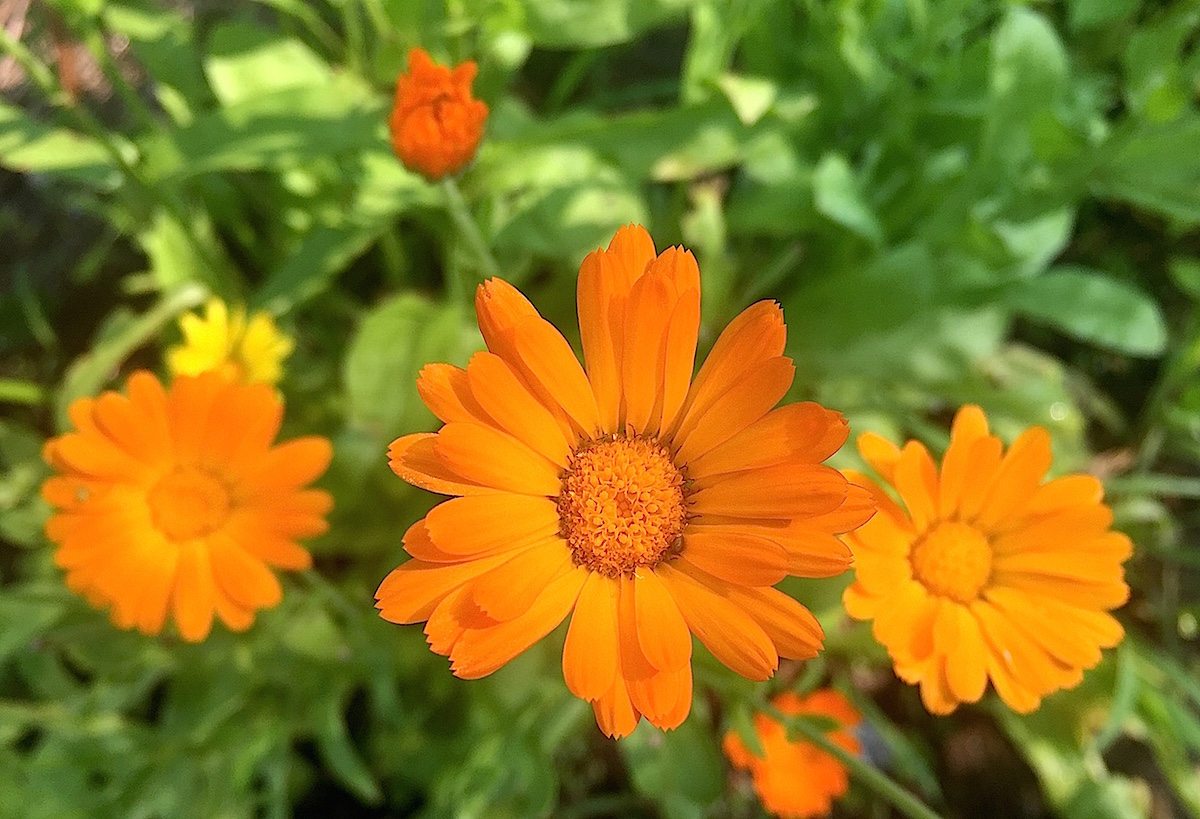 Calendula (
Calendula officinalis
) 
Calendula is a standout herb for skin support in both traditional use and in modern clinical research. Applied topically, it is helpful in situations from minor scratches to serious wounds, and even bacterial imbalance. Calendula supports the body's own immune response to allergens or antigens, encouraging macrophagic activity that gobbles up bacteria and other invaders, making it specifically helpful for hot, red, pus-filled tissue (Foster, 1993). Acne is one example of a hot, eruptive skin imbalance that can be supported with topical use of calendula, as are conditions such as dermatitis, bruising, boils, and rashes (Bisset, 1994). Learn more in A Family Herb: Helpful Calendula Blossoms.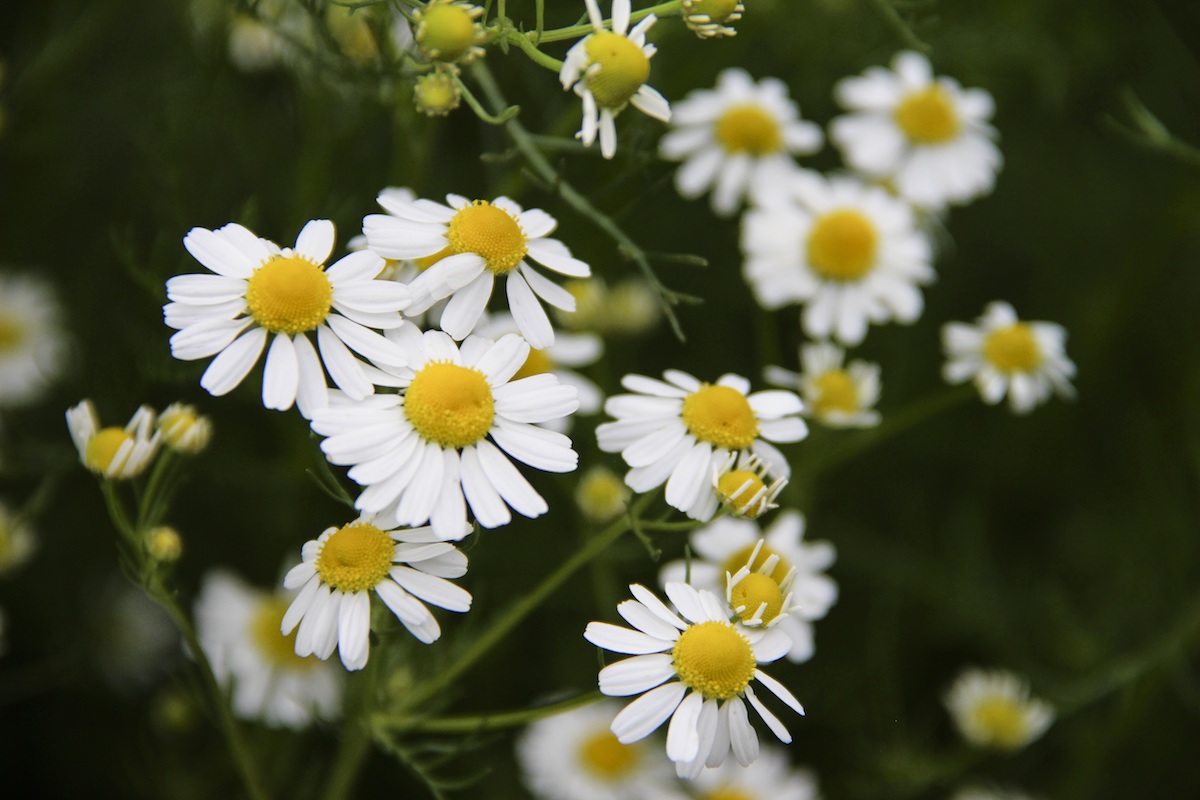 Roman chamomile (
Chamaemelum nobile
) 
Roman chamomile hydrosol is used in this cream for its anti-inflammatory, cooling, and soothing properties. This gentle hydrosol can be used for all skin types but is particularly well-suited for irritated or inflamed skin. 
Learn more about this lovely herb in Get to Know the Versatile Chamomile Plant.
Explore more ways to use hydrosols, also known as steam-distilled "floral waters" in 4 Everyday Ways to Use Hydrosols.  
Laurel Wax (Emulsifier) 
In the following recipe, we recommend laurel wax as the emulsifying agent, which is derived from the Myrica pubescens tree. Emulsifiers, also known as emulsifying agents, are substances that allow oil-based ingredients and water-based ingredients to mix together without separation. Without an emulsifying agent, oil and water ingredients can be briefly mixed if shaken together in a container, but including an emulsifier will ensure that the ingredients create a stable, concentrated end product with a smooth consistency that won't separate over time.
Siligel™ or Xanthan Gum 
Xanthan gum is a natural gelling agent that decreases transepidermal water loss to help keep skin moisturized. It also helps with the spreadability of lotions and creams. 
 Leucidal® Liquid SF Max (Preservative)
This recipe calls for Leucidal® Liquid SF Max as the natural preservative. This product is made from peptides found in fermented radishes, and it has broad-spectrum antimicrobial properties. 
This particular natural preservative is mixed in at the very end of the product-making process, and is best used for products within a particular range of pH. Each natural preservative has its best applications and directions for effective use. 
Crafting with Percentages
You'll see below that the recipe, below, uses percentages rather than specific measurements. These percentages are based on the weight of each ingredient. The beauty of percentage-based recipes is that you can easily convert each recipe to produce the exact amount of product that you need.
Let's say you want to make 20 ounces of finished cream. To determine the amount needed for each ingredient, simply multiply your total desired volume (20 ounces) by each ingredient's percentage converted into a decimal. For example, to calculate how much calendula oil to add to your product you'll first need to convert 35% to a decimal. To do that, simply divide 35 by 100 to get 0.35. Next, multiply 20 by 0.35 to get 7—this means you'll need to add 7 ounces of calendula oil to your product.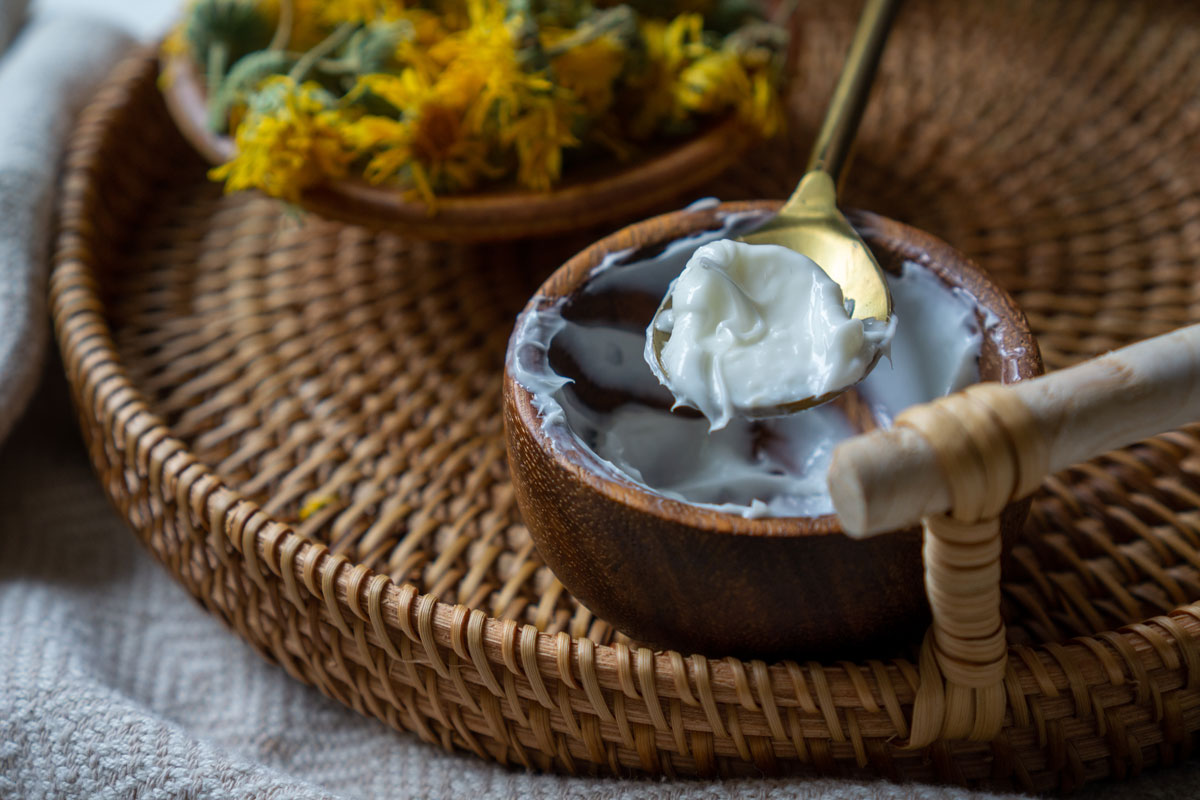 Shelf-Stable Calendula Cream with Chamomile
This herby cream is just the thing for dry, inflamed skin! It is best stored in dark-colored glass bottles with pumps, airless pumps, or dropper tops.
Ingredients
Oil-Phase Ingredients (40% of total product)
35% calendula (Calendula officinalis) flower-infused sweet almond oil. (Learn how to make herb-infused oil here.)
Water-Phase Ingredients (56% of total product)
50% Roman chamomile (Chamaemelum nobile) hydrosol
5% chamomile (Matricaria chamomilla) glycerite or plain food-grade vegetable glycerin (Learn how to make herb-infused glycerin, here.) 
Cooling-Phase Ingredients (4% of total product)
Directions
Set up two double boilers side by side and heat both to a simmer.

Measure out all ingredients in beakers/prep bowls while double boilers are heating up.

Once water is simmering, lower heat to medium-low on both double boilers and add water-phase ingredients to one double boiler.

Add oil-phase ingredients to the second double boiler.

Gently whisk the content of both double boilers (separately and with different whisks) until a uniform consistency is reached.

Continue to whisk as you check the temperature of the ingredients. When the content of both double boilers reaches 140 degrees Fahrenheit (60 degrees C), slowly pour the water-phase ingredients into the oil-phase ingredients, whisking continuously. Product will become opaque.

Place the double boiler insert into an ice bath quickly to cool the product to room temperature—temperature should be below 104 degrees F (40 degrees C) before preservative is added. 

Add preservative and whisk gently.

Pour product into sanitized containers and close.

Label, store in a cool, dark, dry area, and use within 9-12 months.
In Closing, 
This calendula cream recipe is a great starting point for anyone who wants to sell creams or lotions and needs them to remain mold-free and shelf-stable. Our Emulsifiers and Preservatives Course goes into this topic in much greater detail with information about other natural emulsifiers and preservatives, along with specific recipes for how to use them in botanical skincare products. 
Does this inspire you to go on a cream-making kick? If so, then don't miss our recipes for:
Comfrey Cream Recipe for Achy Joints and Muscles
DIY Firming Wild Rose Undereye Cream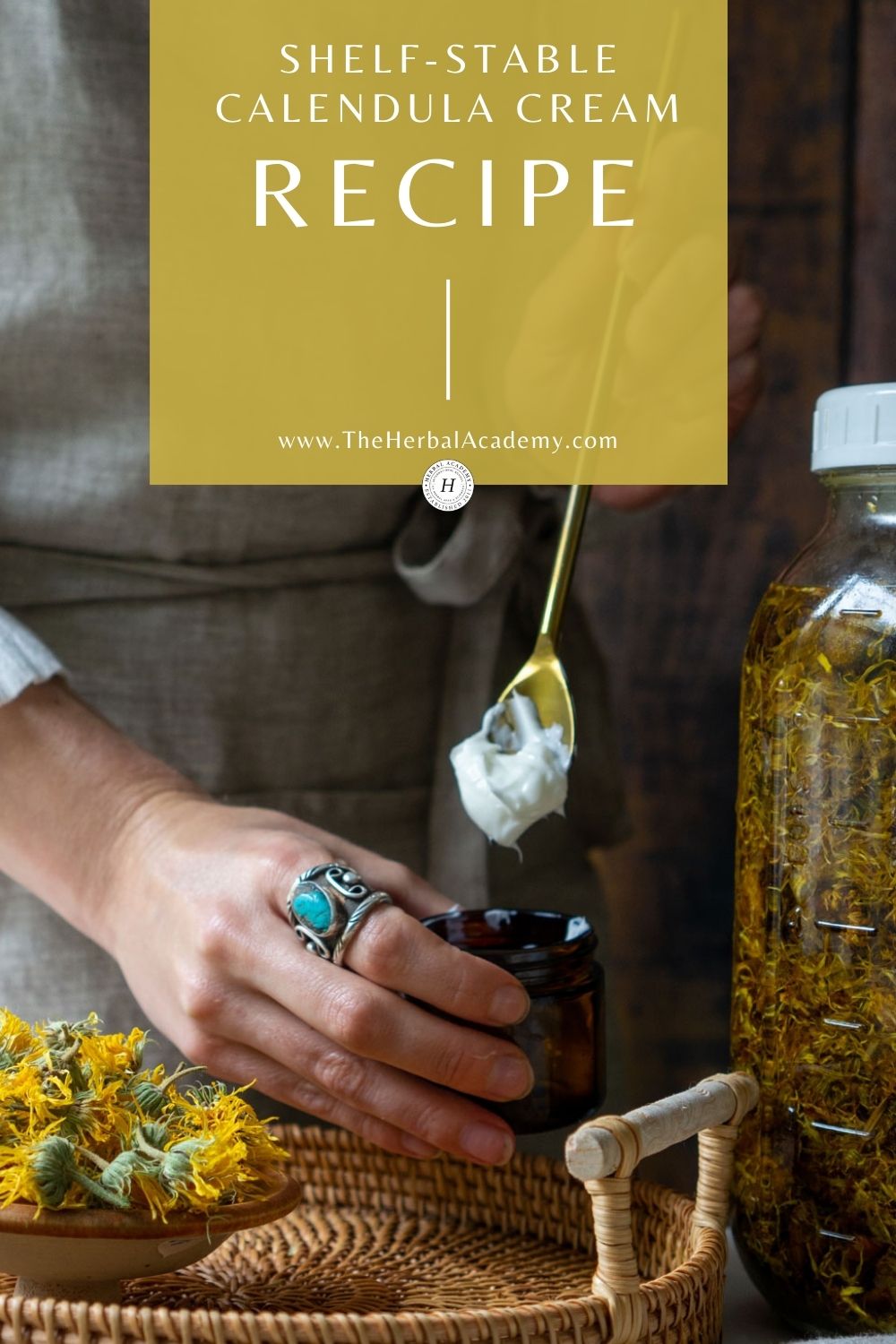 REFERENCES
Bisset, N.G. (1994). Max Wichtl's herbal drugs & phytopharmaceuticals. Boca Raton, FL: CRC Press.
Foster, S. (1993). Herbal renaissance: Understanding, using and growing herbs in the modern world. Layton, UT: Gibbs Smith.