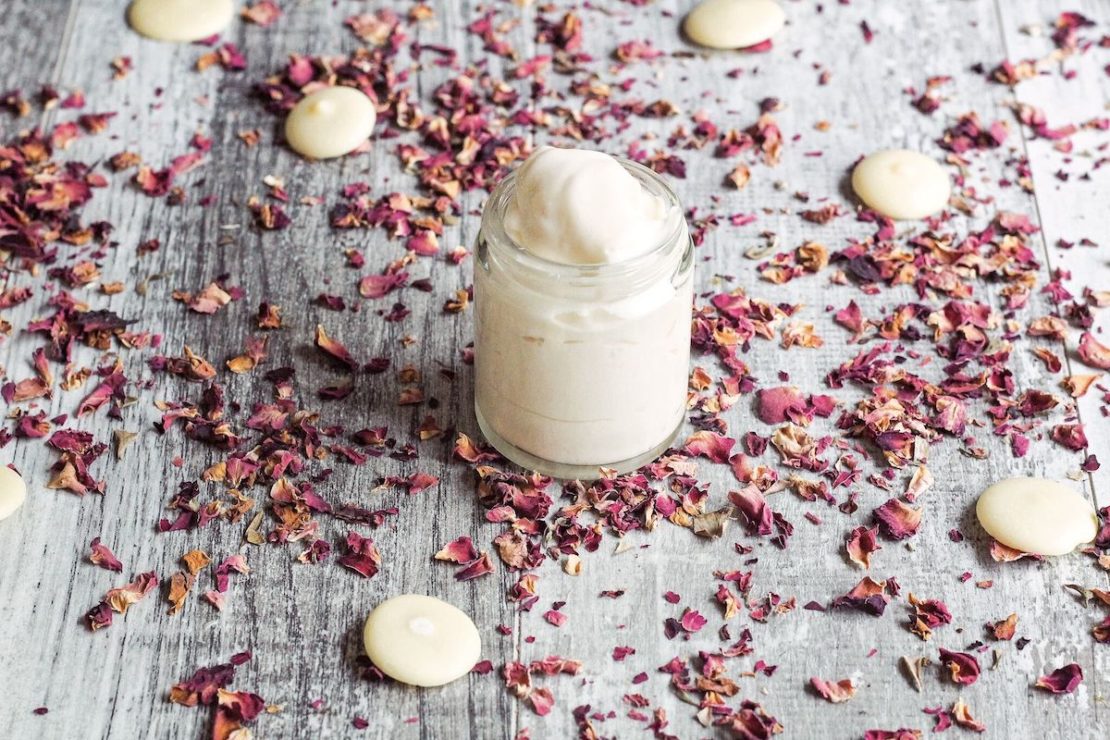 DIY Firming Wild Rose Undereye Cream 
Book excerpt from The Backyard Herbal Apothecary by Devon Young.
My slow evolution into "becoming an herbalist" started with a love of plants and a love of knowledge. My earliest memories are a library of pretty plants and heavenly aroma, diverse textures and pleasing flavors. To say I was a "plant nerd" from an early age would probably be an understatement. Iloved growing things from seed and starts and was quite proud of myself when an adopted volunteer cherry tomato plant produced more fruit than my father's carefully selected varieties. I have loved spending time in the earth, tuning into the plant world. Years of corporate retail and hospitality pulled me away from that which I loved, but the plant world was always waiting for my return.
A few years ago, I decided to take the leap of faith and step into the plant world full-time, first as a CSA farmer, and then, slowly as an herbalist. My thirst for herbal knowledge led me to get a degree in Complementary and Alternative Medicine—but the real teaching was done by the plants and the herbalists that knew them so well. Never have I felt so at ease with the path I have chosen. My life is now filled with herbs—and I could not be more pleased.
In the wide world of herbal resources, one may soon become overwhelmed with the learning options. I have been blessed to learn from many great teachers in the herbalism field and have greatly enjoyed my experiences with the detailed expertise shared in the Herbal Academy's Introductory Herbal Course and Craft of Herbal Fermentation Course. Courses like these inspired me to become a teacher in this field through my blog NittyGrittyLife.com, and eventually with my first book. My goal with The Backyard Herbal Apothecary was to write a book that was what I wanted when I was first introduced to herbalism—a deep dive on plant uses, identification, growing care, and herbal recipes for the plants that I saw in my own backyard. I hope that you will take the time to experience all that nature offers by stepping into your own backyard and seeing it through the eyes of an herbalist.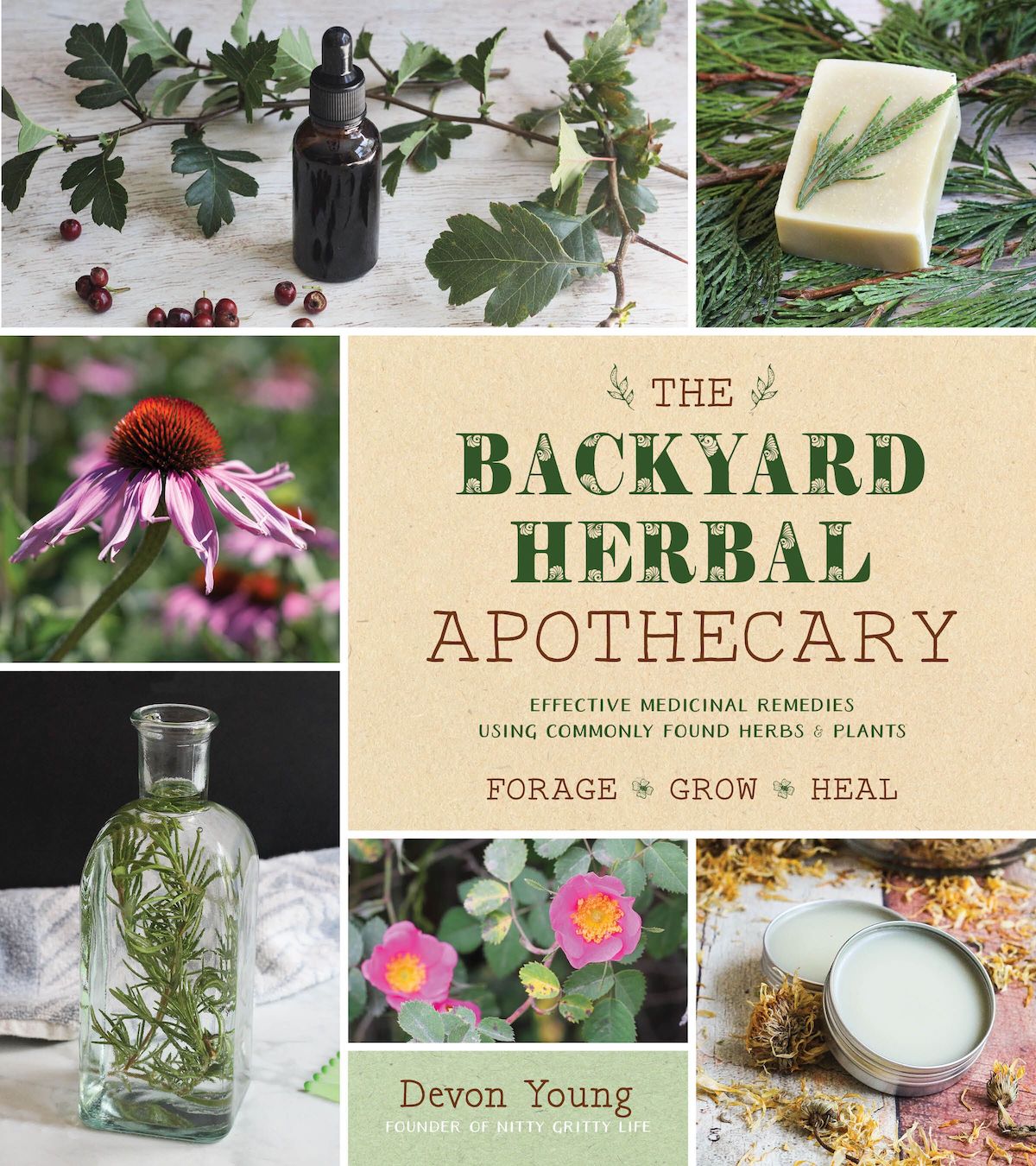 The following wild rose herbal monograph and Wild Rose Undereye Cream recipe is reprinted with permission from The Backyard Herbal Apothecary by Devon Young, Page Street Publishing Co., 2019. Photo credit: Devon Young.
Wild Rose Herbal Monograph
Other Common Names: There are thousands of rose types and names
Latin Name: Rosa sp.
Herbal Energetics: cool/neutral
Therapeutic [Herbal] Actions: alterative, antibacterial, antidepressant, anti-inflammatory, antioxidant, antiseptic, antispasmodic, antiviral, anxiolytic, aphrodisiac, astringent, cardiovascular, cholagogue, diaphoretic, digestive, diuretic, emmenagogue, expectorant, hypotensive, tonic, vulnerary
Parts Used: flower, hips (fall fruit)
Herbal Monograph
Rose is the botanical on which legends are built. Rose allegory and myth first appear in written record as long ago as ancient Mesopotamia, after which the Greeks and Romans wove this most fragrant botanical into many tales. The Greek goddess Chloris declared the rose the undisputed queen of the floral kingdom, and some many years later, early Christians dedicated the rose to the Virgin Mary, dubbing her the Rosa mystica. Aesop spins a poetic tale of a meeting of flowers, for which rose arrives too late, but being ever-favored, the rose could stand alone as queen. From fairy fable to Christianity, the rose is tied to a variety of emotions and virtues. In our modern Western culture, the rose is closely associated with love, as it has been throughout much of written history. Looking deeper, we see rose also symbolizing innocence and protection. And there is hardly a botanical that offers a clearer message about boundaries than rose. To gather her beauty (and medicinal [wellness] benefits), one must be respectful of her thorns.
In the Ayurvedic tradition of medicine, rose is the great balancer. Rose takes excess and moves it to areas of deficiency, particularly when we are speaking of "heat." This is often observed as external heat, such as reddened, marbled, splotchy skin, with signs of visceral cold (like sluggish digestion). I reach for rose when I want to harmonize a formula, as its flavor is calm and inviting and its energetics are gentle. Rose is never an herb with a heavy hand; rather it invites balance and healing [restoration].
Rose is closely associated with matters of the heart. Often, we see this botanical being linked to our emotional hearts and rightly so. Rose possesses a euphoric aphrodisiac quality and seems to soften the edges of anxiety and self-doubt. It is naturally uplifting and appears to have a calming effect on blood pressure and speedy pulse. Rose also acts on the cardiovascular system in a more mechanical way in offering excellent vitamin C stores by way of the petals and even more so from the hips.
Not limited to affairs of the heart (metaphorical and physical), rose is often used for digestive and urinary complaints. A gentle tonifying astringent with antispasmodic action, rose firms and supports lax tissue. These properties make this botanical ideally suited to those with upper abdominal cramping, mucus in the digestive system and diarrhea. A simple tea of chamomile flowers and rose petals will soothe any number of digestive complaints and calm nervous dyspepsia.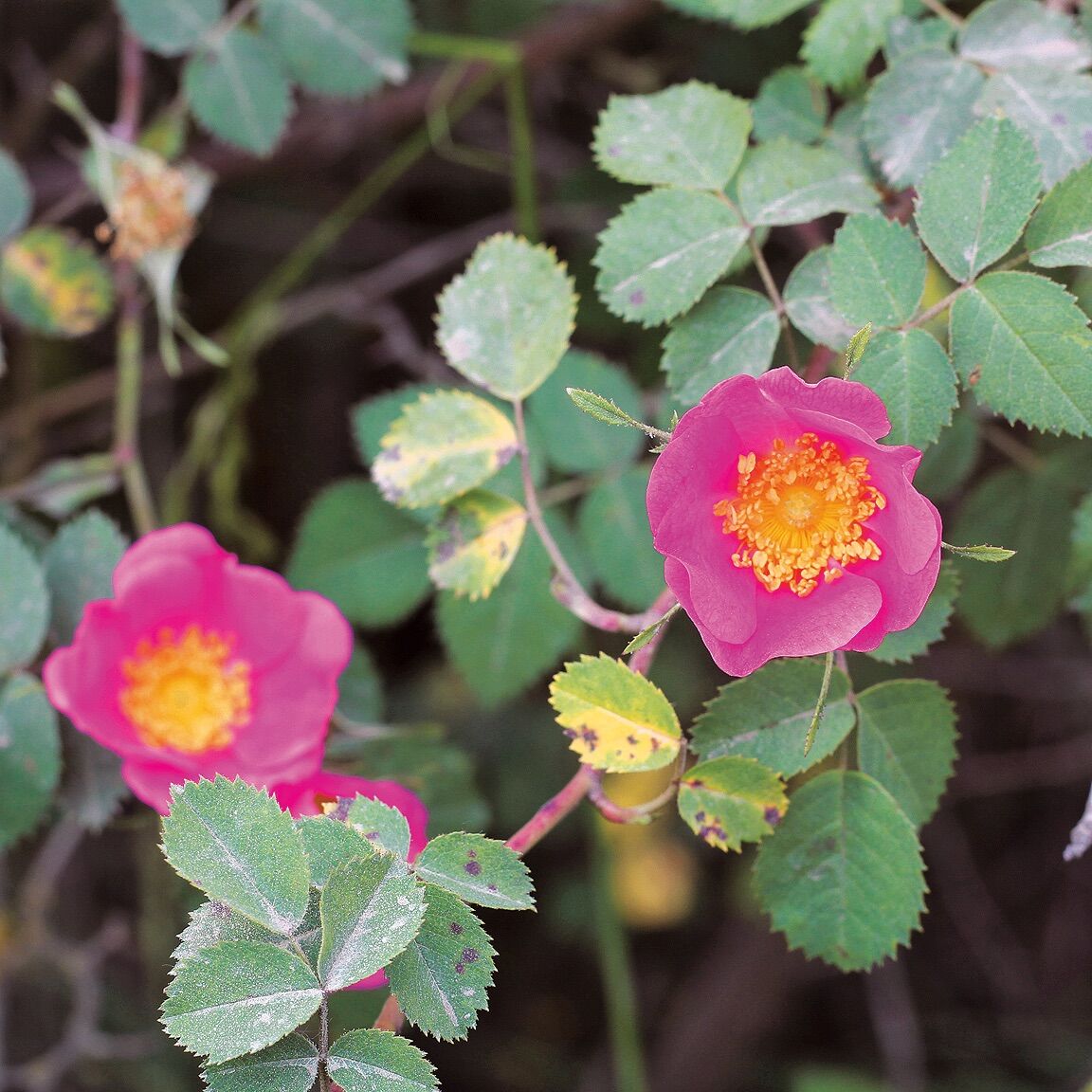 Rose is also a cardinal herb for female sexual health. As a libido-boosting [stimulating] aphrodisiac, there is little question regarding its ability to put folks in the right frame of mind for romance. Moreover though, it is a nourishing and supportive herb for more intimate concerns such as feminine itching, vaginal dryness, menstrual cramping, excessive bleeding, pelvic congestion, and prolapse.
Considering its association with beauty, rose is an unsurprising botanical for the skin. The alluring perfume of rose is simply enough to make one feel beautiful and desired. Beyond its euphoric aroma, rose petals and rose hips are truly indispensable in herbal skin care. Rose petals are exceptionally soothing to hot, dry skin conditions, such as rosacea and sun or windburn, while also promoting firmness. As a humectant, rose actually draws atmospheric moisture to the skin, encouraging a plump, radiant complexion and reducing the appearance of fine lines. Rose hips are an excellent source of vitamin C and can be used to speed the skin's natural renewal process to reveal positively glowing, baby-soft skin and reduce discoloration and scarring.
Best Preparations: Rose is a versatile herb with a variety of applications both internal and external. Teas and infusions made from rose petals and rose hips are full of alluring flavor and medicinal [wellness] benefits. I prefer to prepare tinctures from fresh plant material, but dried herb is also fine to work with. Due to the relatively high moisture content of petals and rose hips, oil infusions should be crafted with dried herb.
Skincare items such as creams and serums can be made with infused oils and aqueous menstruums, such as witch hazel and vegetable glycerin. Fine aromatic hydrosols can be crafted from distillation of the petals. Additionally, rose hips yield an exceptional pressed oil.
Rose petals and rose hips are fascinating and ephemeral flavors when added to jams, jellies and baked goods. Beverages prepared with rose have a hint of the divine.
Herbal Substitutes: Calendula (Calendula officinalis): vulnerary | Lavender (Lavandula angustifolia): sedative
Safety & Precautions
Rose is widely considered safe. If you are pregnant, nursing or taking prescription medication, please consult your physician before taking this or any other herb.
Look-Alikes: Other cultivated Rosa species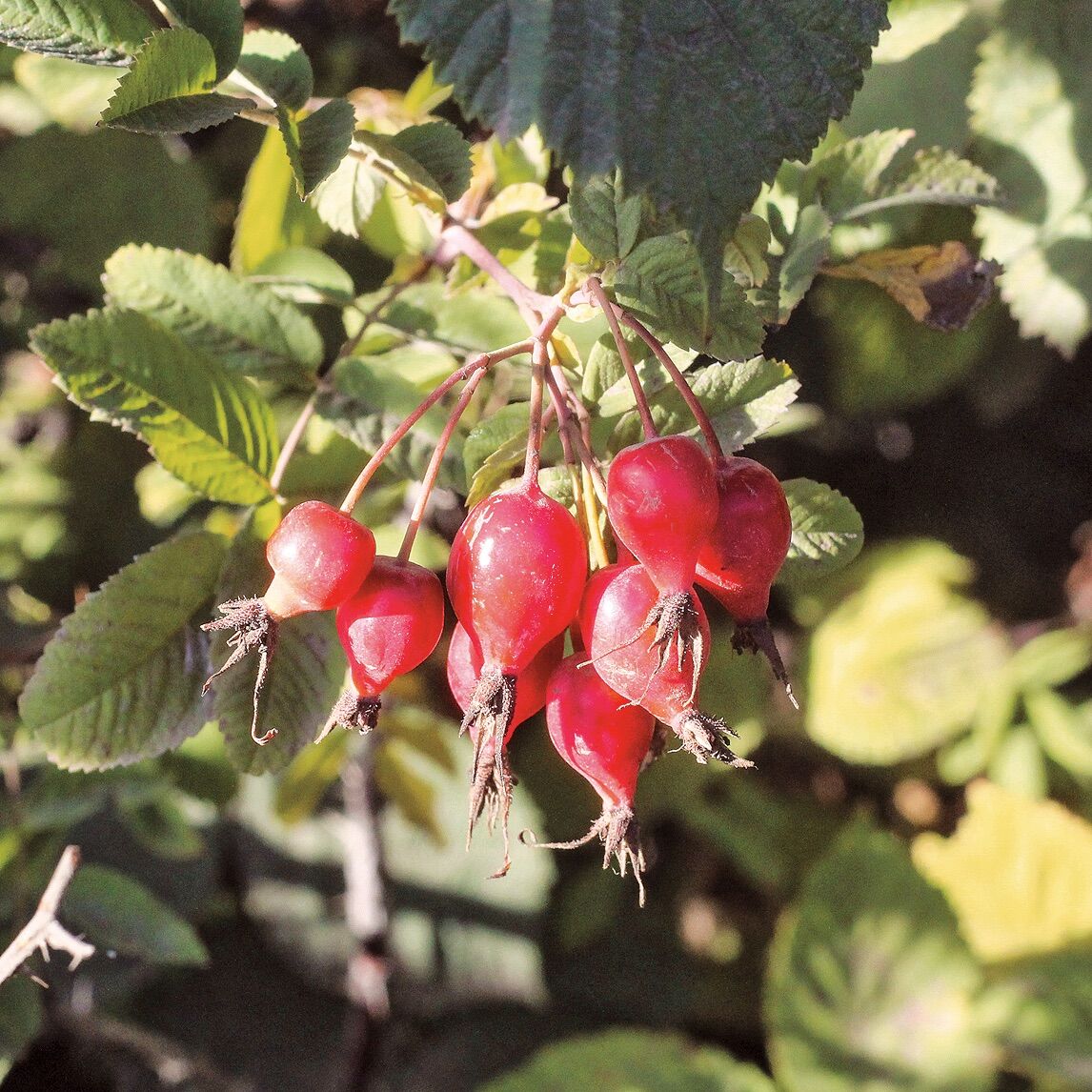 Identify & Grow
Type of Plant: Perennial
Habitat: Roses prefer full sun, rich soils, and adequate moisture. Wild roses are often observed along roadsides, property lines, and near waterways and ditches.
Height: A somewhat sprawling habit with arching canes reaching 3–15′ (1–5 m)
Leaf: Alternate leaves with 5 to 9 serrated leaflets; green with new growth sometimes blushing bronze-red
Stem: Prominent prickly thorns
Flower: White to pink five-petaled flowers with prominent yellow stamens in the center appear late spring into early summer
Fruit: Flowers mature into red ovoid to round fruits in early to late fall
Growing Information: Roses are most easily propagated by division. Dig suckers in early spring or fall and transplant to a sunny location with fertile soils. Trim to about 6″ (15 cm) above ground level to promote good root system development.
Forage or Grow? Wild roses may be a bit unruly for a suburban landscape, making this botanical a good one for most foragers. Cultivated and hybrid tea varieties of rose are suitable for any landscape, but have a somewhat reduced medicinal [wellness] value and rarely produce adequate hips.
Best Harvest Practices
Flower Harvest Window: Late spring
Hip (Berry) Harvest Window: Fall
Wild rose is easily identified. Gather petals in spring, leaving the stamens intact to develop a hip. Harvest red rose hips after the first frost to encourage flavor and sweetness.
Firming Wild Rose Undereye Cream
Roses are luxurious. So are eye creams. Can you imagine a more luxurious treat for the delicate skin around your eyes?
This heavenly formula is an absolute olfactory treat, and it's an incredibly rich and nourishing cream for the skin around the eyes. This cream promotes firm, soft skin and reduces the appearance of fine lines and puffiness. Since this cream is not chemically preserved, it must be refrigerated between uses and discarded after 2 weeks.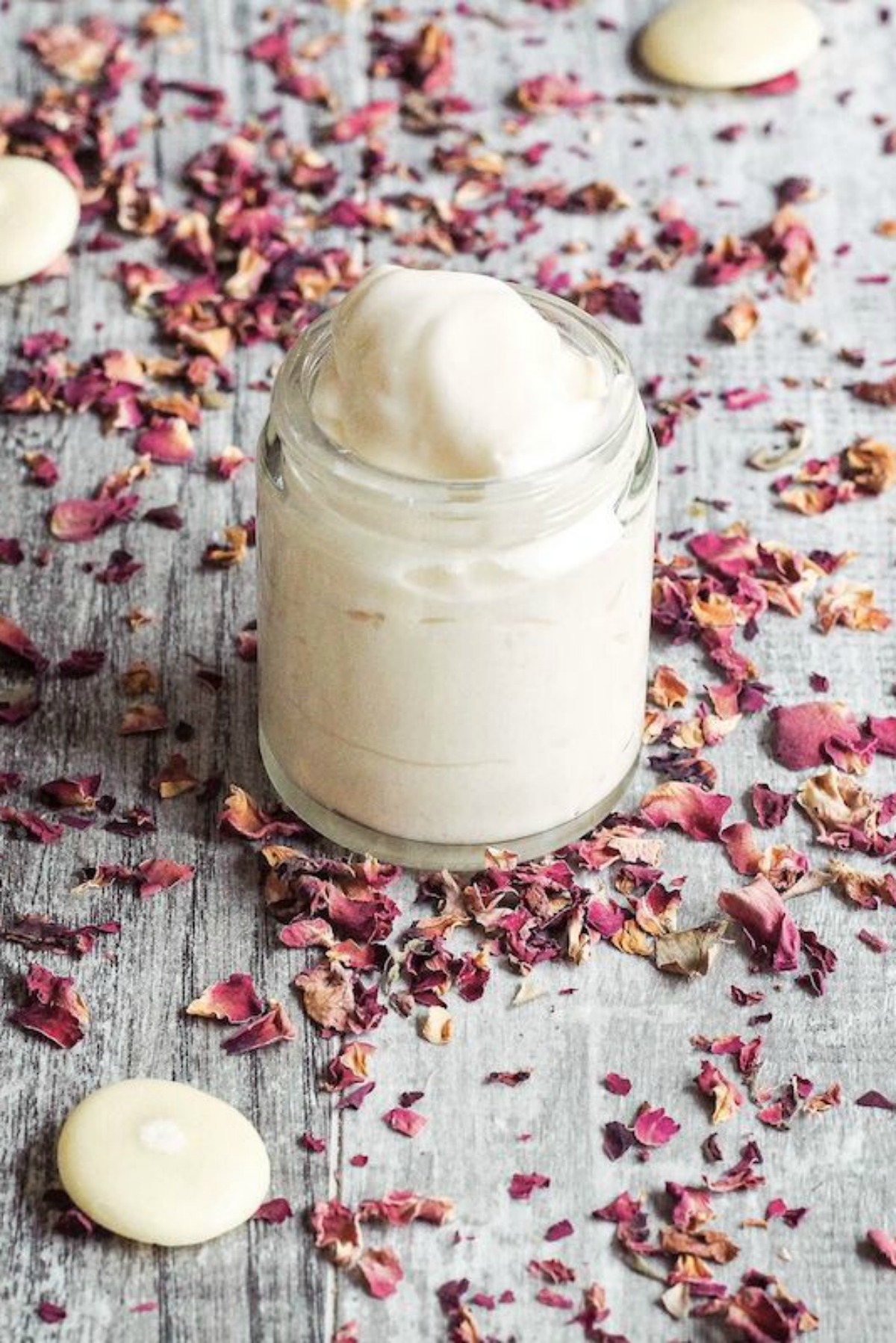 Firming Wild Rose Undereye Cream
Yield: 2 ounces (60 ml)
Ingredients
1 tbsp (15 g) coconut oil or oil of your choice
1 tbsp (15 g) cocoa butter
1 tbsp (1 g) dried wild rose petals
1 tbsp (12 g) emulsifying wax pastilles
1 tbsp (15 ml) rose hip seed oil
3–5 tbsp (45–75 ml) rose water or distilled water
Directions
Using the double boiler method, infuse the coconut oil and cocoa butter with the rose petals. Strain the infused oil through a fine-mesh sieve and return to the double boiler. Add the emulsifying wax and rose hip seed oil, and heat just until the wax is melted. Remove from the heat, and set aside. Meanwhile, gently raise the temperature of the rose water to within about 10 degrees of the oils. In a small blender or with a handheld beater, slowly pour the rose water into the oils to emulsify. Spoon or pipe into a 2-ounce (60-ml) container.
Apply

using your ring fingers, taking special care not to tug at the delicate skin around the eyes. Refrigerate between uses. Use within 2 weeks.
The Backyard Herbal Apothecary
Learn even more about the herbs in your backyard and get recipes to make with those herbs in Devon's new book, The Backyard Herbal Apothecary. You can find it here on Amazon.