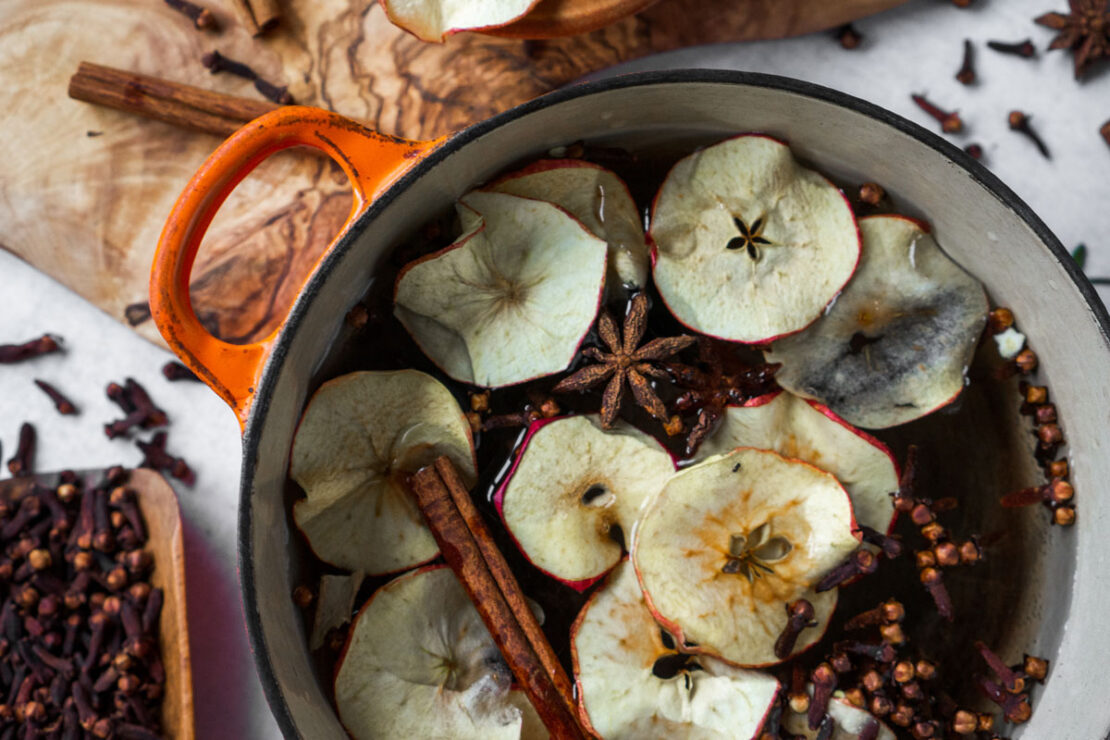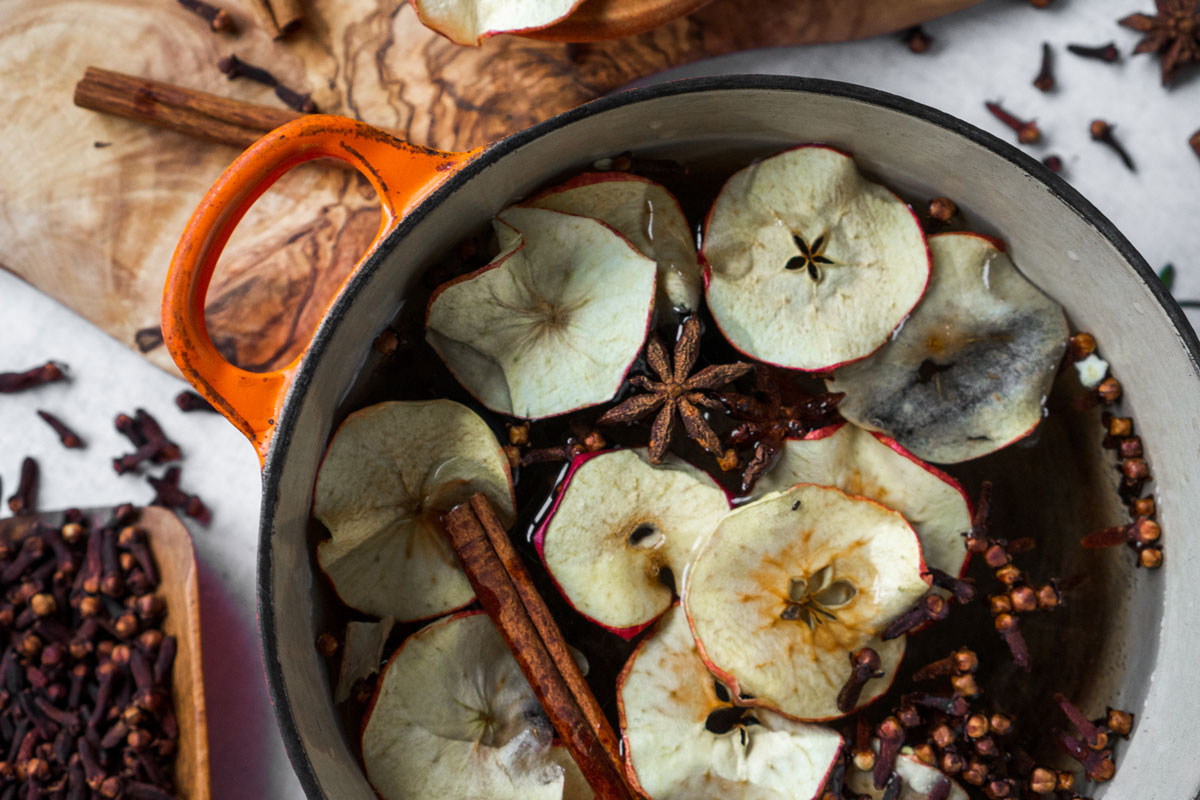 Apple Cinnamon Stovetop Potpourri Blend
If you love the smell of freshly baked apple pie (honestly, who doesn't?), then this Apple Cinnamon Stovetop Potpourri Blend is for you. With this delightful recipe simmering on the stovetop, your whole home will smell like a freshly baked apple pie—with only a fraction of the work! This dried blend also makes a wonderfully inexpensive and delightful herbal gift, so consider doubling or tripling the batch to share with others. 
Stovetop potpourris, also known as "simmering spices," have been used for centuries to fill homes with the comforting smells of local fruits, spices, flowers, and herbs. Unlike most store-bought candles and incense blends, homemade stovetop potpourri is entirely natural and free of harsh synthetic fragrances. As a bonus, these aromatic creations are also inexpensive because they feature common kitchen ingredients that you probably already have on-hand, like cinnamon and apples.
Before you know it, you'll be creatively mixing and simmering all sorts of combinations to discover your own personal favorite!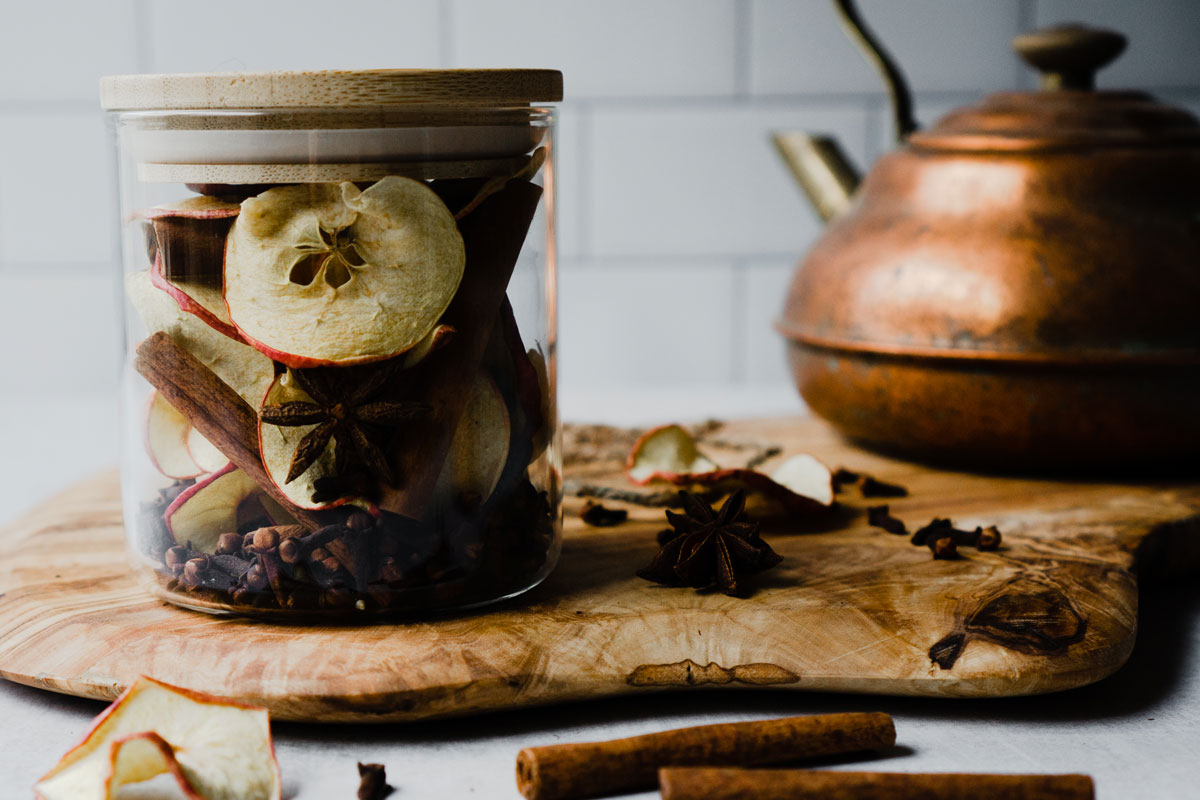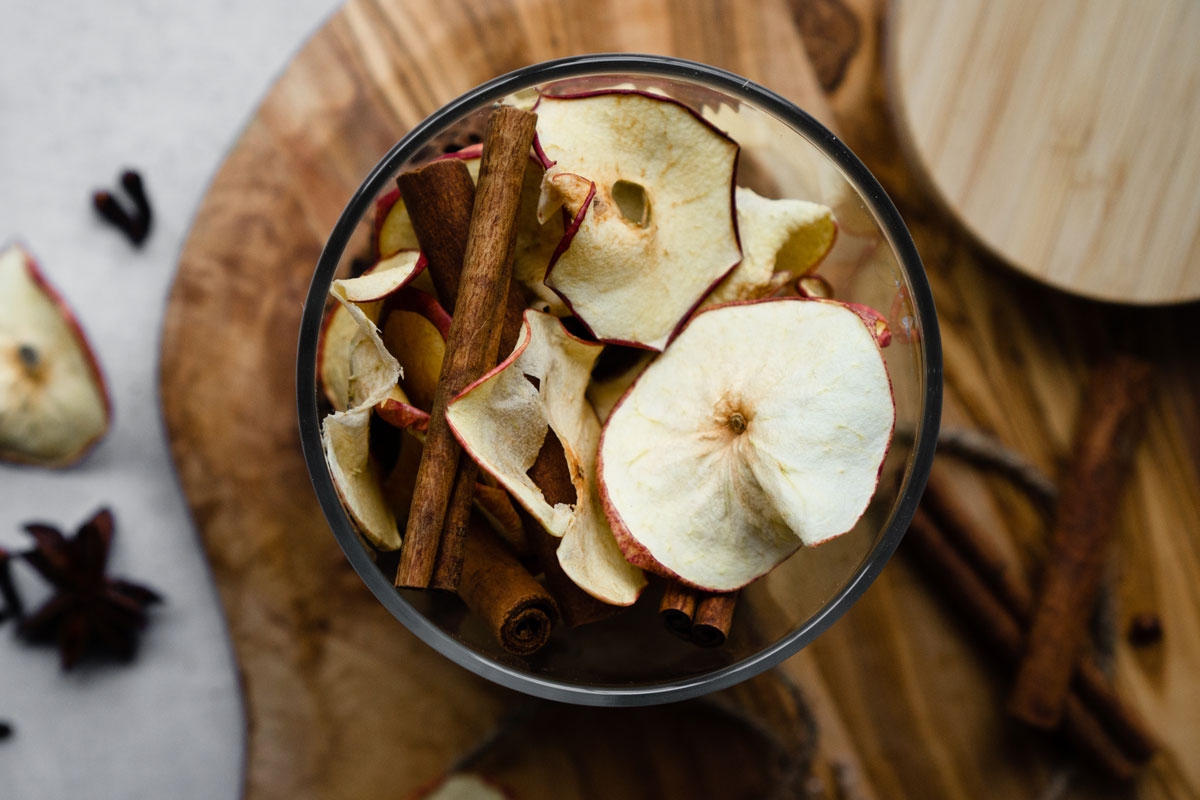 Apple Cinnamon Stovetop Potpourri
This recipe calls for dried ingredients so that your blend will be shelf-stable and you can share it as a gift. However, if you plan to simmer this blend yourself immediately, you can save yourself some trouble and use fresh apple slices instead.
Yield: one 14-oz glass jar.
Ingredients
2 dried apples

4 star anise
(Illicium verum
) seeds

¼ cup dried ginger (
Zingiber officinale
) rhizome

6 cinnamon (
Cinnamomum
spp.) sticks

⅓ cup clove (
Syzygium aromaticum
) buds
Directions
Dehydrate the Apples
Preheat the oven to 225 degrees Fahrenheit. 

While you're waiting for the oven to come to temp, slice the apples very thinly and lay the slices on a lined baking sheet in a single layer. (To help prevent the apple slices from browning, dip them in a solution of 1 tablespoon vinegar or lemon juice per quart of water and then pat dry before placing them on the baking sheet.)

Bake for about 1 hour, then flip the slices and bake for another hour. Cooking time will vary based on your apple slices' thickness, but they're done when they have a leathery texture. 

(If you have a food dehydrator, you can use that instead and follow the instructions in your manual.)

Let apple slices cool completely before adding them to your potpourri jar. 
Blending the Potpourri
Because these are designed as gifts, presentation is key! It's best to layer the ingredients directly in your jar in a way that's visibly pleasing to the eye. The apple slices and cinnamon sticks take up the most space, and you can fill in the gaps with spices.

For a unique finishing touch, thread some twine or decorative ribbon through a dried apple slice and tie it around the outside of the jar. 
To Use:

To use your blend, add the entire mix to a stockpot or crockpot, cover with water, then simmer on and off for a few days. Turn the heat off any time the scent becomes overpowering or if you feel your home smells sufficiently delightful. After a few hours have passed, and the smell has faded, turn the heat back on for a fresh infusion. This blend will last 3-4 days and should be stored in the fridge overnight.

After you've extracted as much of the smell as possible, compost your spent herbs and spices and use any remaining water to give your houseplants a taste of apple pie. 

In Closing, 
This Apple Cinnamon Stovetop Potpourri blend is a beautiful gift and a fun way to infuse your home with the scent of the holidays. Plus, this all-natural recipe will help you avoid the overly powerful smell of synthetic fragrances. If you're interested in more stovetop potpourri recipes, then see our post 3 Stovetop Potpourri Recipes for Winter.