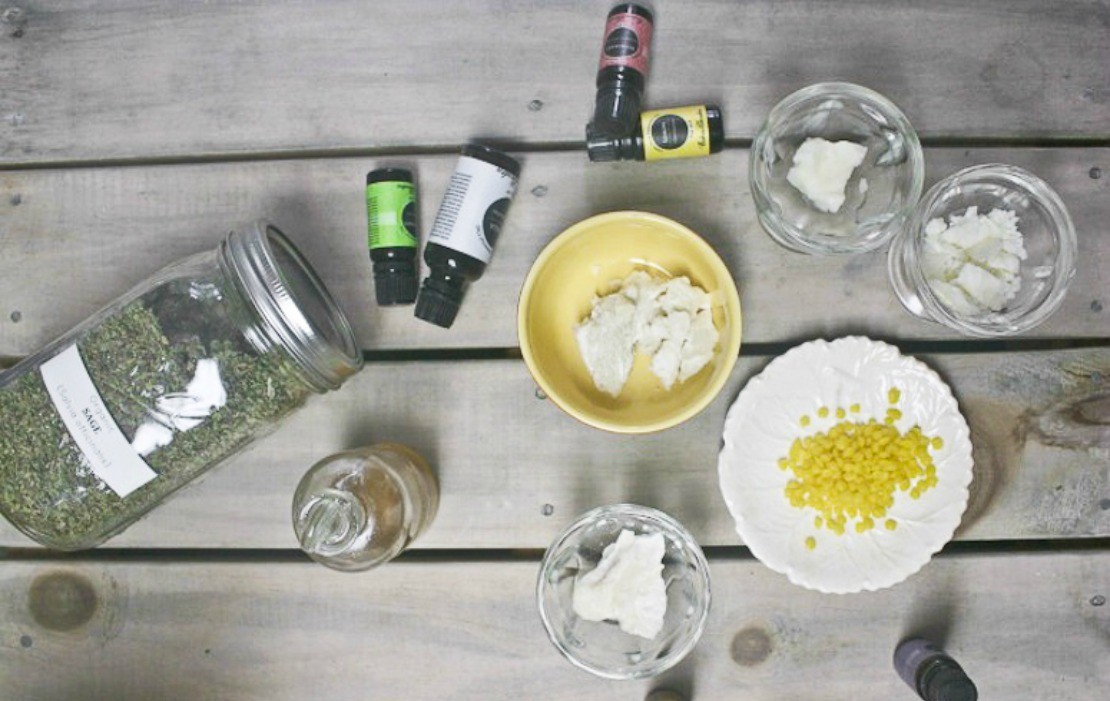 An Herbal Deodorant That Works… Finally!
I think I'm one of those people who've tried every natural deodorant recipe they could find only to be utterly disappointed when they all fail to work… at least the way you expect.
When I first became interested in natural living, trading in my old, toxic skincare products for natural ones was the first step I took. Come to think of it, deodorant was probably the first thing that made its way into the trash can and was replaced by a better option. However, when the store-bought natural deodorants failed one by one, I switched to the cheaper option… making them myself. Then after failed recipe after failed recipe, I gave up and started digging through the trash, looking for that toxic deodorant again.
You hear the terms "crunchy" and "granola," and that's supposed to describe those of us that are into natural, healthy living. Well, I don't know how "crunchy" or "granola" I am, but I think I'd probably be stripped of my "crunchy mama" title by some for admitting I used store-bought, chemical-laden deodorant while promoting a natural lifestyle for so long.
I just couldn't help it. It seemed like no matter how many natural deodorants I tried, I would always end up smelling like sweat 2 hours later which led to me needing to put on more deodorant over and over during the day. That was too time consuming and did not work for me. Ultimately my choice to go back to the toxic deodorant basically boiled down to this… I don't like to stink, and all the natural options I'd tried weren't cutting it.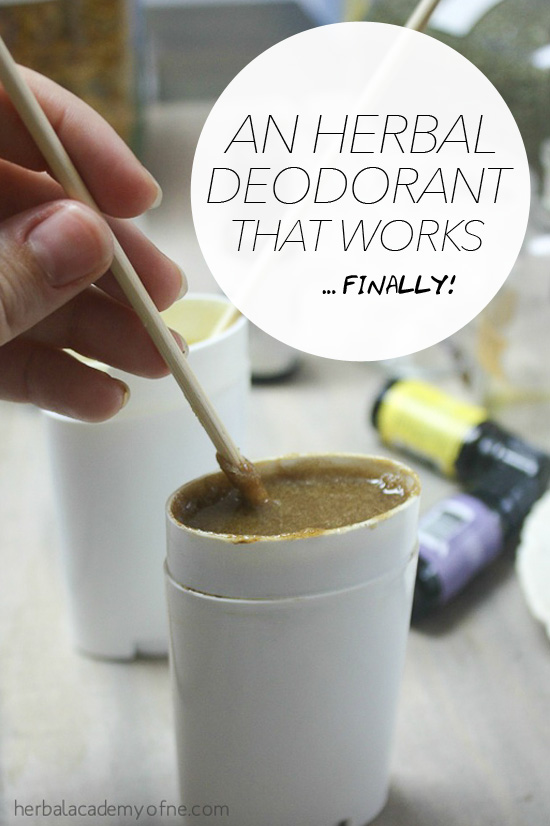 It was such a struggle for me. Every time I put that toxic stuff on, which was only when I needed to, my mind would battle between health and hygiene. Thankfully, that battle has finally come to an end for me and health and hygiene are now walking side-by-side thanks to a recipe I found.
Today, I'm gonna share that recipe with you. If you too have been struggling with finding the perfect natural deodorant that keeps you from stinking, here it is. Hopefully this will do for you what it has for me!
An Herbal Deodorant That Works
Herbal Deodorant
Adapted from a recipe by Rosalee de la Forêt
*makes 2 – 2.5 ounce containers
Ingredients
Directions
Place sweet almond oil, sage, and calendula in a double boiler. Infuse for 60 minutes over low heat. Strain, reserve 1 ounce of infused oil.
Using a scale that measures in partial ounces, weight butters and beeswax. Melt butters and wax in a saucepan over low heat. Once melted, add in 1 ounce of infused herbal oil. Mix well.
Add essential oils of choice.
Measure and add baking soda and arrowroot powder to oil. Mix well.
Add 1/8 teaspoon of lime juice to help combine oils and powders together well.
Pour into deodorant containers and allow to cool.
What Makes This Recipe Work So Well?
The great thing about this recipe is that it's fairly close to store-bought deodorant. It goes on smooth, has a powdery feel, and leaves you smelling nice. Let me tell you some of my favorite things about this recipe.
First, it uses an infused herbal oil with fantastic benefits. The reason I chose sage and calendula is because they are anti-microbial which helps to cut down on bacteria causing smells, and sage is an antihydrotic herb which means it has the ability to decrease perspiration. Many desert people use sage in their deodorant recipes because it works so well.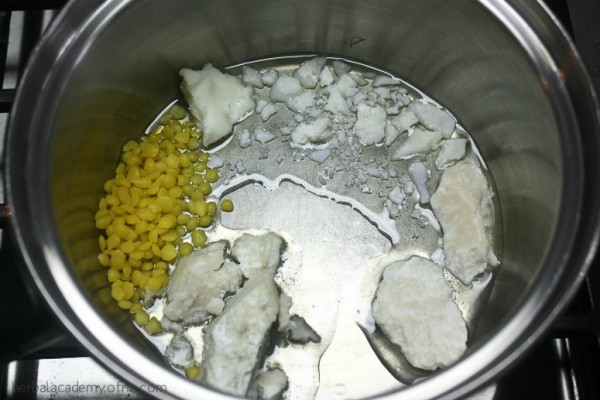 It also doesn't feel wet or greasy since it uses sweet almond oil which absorbs into the skin quickly as well as a variety of hard butters to give it firmness instead of going overboard on the beeswax which can leave a greasy feel if too much is used.
It incorporates baking soda and arrowroot powders with help cut down on smells and they add to the smoothness of this deodorant. At the end of the recipe, you'll notice that you have to use lime or lemon juice. Not only do these juices help deodorize, but their acidic pH reacts with the alkaline pH of the baking soda causing a reaction that allows the powders and oils to stay mixed together. If it didn't do this, the powders would sink to the bottom of the deodorant tube while the oils rose to the top. This helps everything stay mixed together, and it works perfectly every time!
Scenting Your Deodorant
I love blending essential oils and coming up with various scent combinations. In fact, I wrote a whole post on how to blend essential oils for beginners that you can check out if you'd like.
When I make my deodorant using the above recipe, I like to scent each of my tubes with different smells. If you want to do this too, simply skip step 3 in the directions above add the essential oils in at the end. Here's how I do it.
1. Pour deodorant into deodorant tubes (like these ones)
2. Add 15 drops of essential oils of choice to each tube. Stir the mixture with a skewer stick or a wooden popsicle stick to mix the essential oils in with the deodorant.
3. Let sit to harden.
Pretty simple. Keep in mind that the essential oils you use will all affect the color your deodorant turns out to be. If your deodorant turns out darker due to darker oils being used, be sure you only use it when you're wearing dark colored clothes as it will most-likely stain whites and other light colors.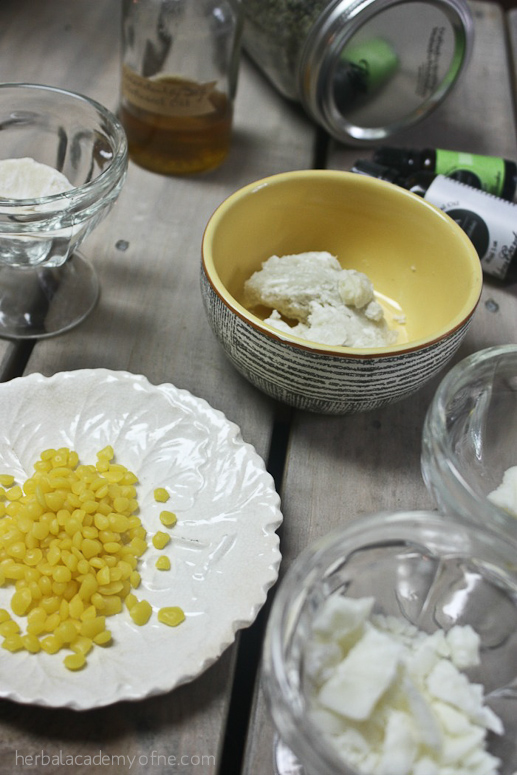 Because I like blending essential oils so much, I'm including two of my favorite blends for women and one for men below. Try them out and see what you think!
Essential Oil Blends For Herbal Deodorant
Be sure to purchase your essential oils from a quality source. We get many of ours here from Mountain Rose Herbs.
Feminine Recipe 1
relaxing, grounding blend
6 drops vanilla essential oil
5 drops lavender essential oil
4 drops patchouli essential oil
Feminine Recipe 2
energizing blend
6 drops lemon essential oil
5 drops rosemary essential oil
4 drops peppermint essential oil
Masculine Recipe
earthy, grounding blend
6 drops fir needle essential oil
5 drops eucalyptus essential oil
2 drops sandalwood essential oil
2 drops vetiver essential oil
So there you go… an herbal deodorant that is good for your skin, good for your body, and will leave you feeling fresh and smelling good all day long!
Meagan Visser is a registered nurse turned home-schooling, stay-at-home mom to 4 small boys. She live in the Southern Appalachian Mountains of East Tennessee, and is currently a family herbalist that is passionate about using herbs for health and healing. She teaches natural-minded mamas how to take charge of their children's health naturally on her blog GrowingUpHerbal.com and in her Letters To Natural Mamas emails.
Photos for this post are provided by and copyrighted to Meagan Visser, and used here with permission.
REFERENCES
De la Foret, R. (2012, July 17). Rosalee's Natural Deodorant Recipe. Retrieved August 24, 2014, from http://www.herbmentor.com/rosalees-natural-deodorant-recipe/