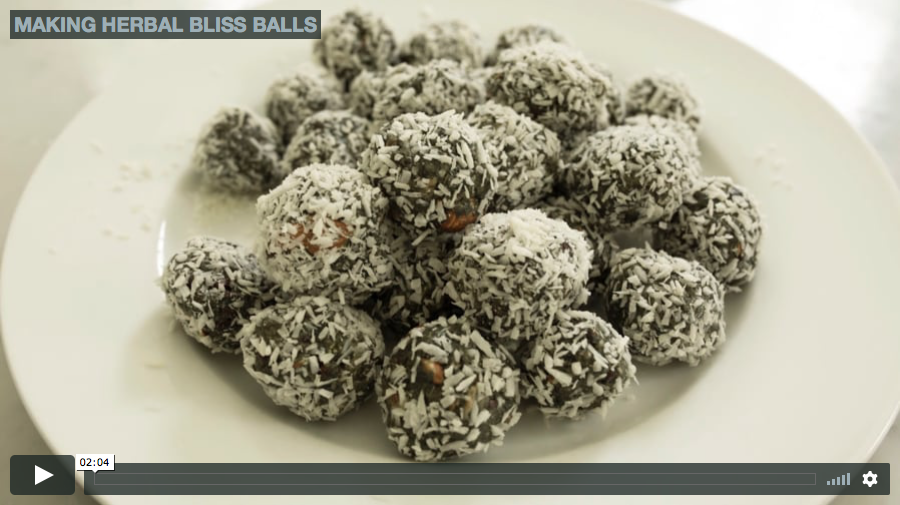 Adaptogen Bliss Balls Recipe & Video
Adaptogens are a category of tonic herbs that are often used to keep the general terrain of the body healthy and functioning properly. While there are many types of tonic herbs, adaptogens are often classed as endocrine system tonics, though they can have an effect on other body systems as well.
While we're not going to go into a lot of detail about specific adaptogen herbs and how they can support the body in this post, we are going to share a few important key points to know about these herbs as well as a delicious recipe and video tutorial for Adaptogen Bliss Balls from our newly updated Introductory Herbal Course!
4 Important Key Points To Know About Adaptogens
There are many adaptogenic herbs available to use. Some of these include eleuthero (Eleutherococcus senticosus) root, tulsi (Ocimum tenuiflorum) aerial parts, rhodiola (Rhodiola rosea) root, ashwagandha (Withania somnifera) root, reishi (Ganoderma lucidum) mushroom, schisandra (Schisandra chinensis) berry, and astragalus (Astragalus membranaceus) root. However, before using these herbs, it's important to know the following key points.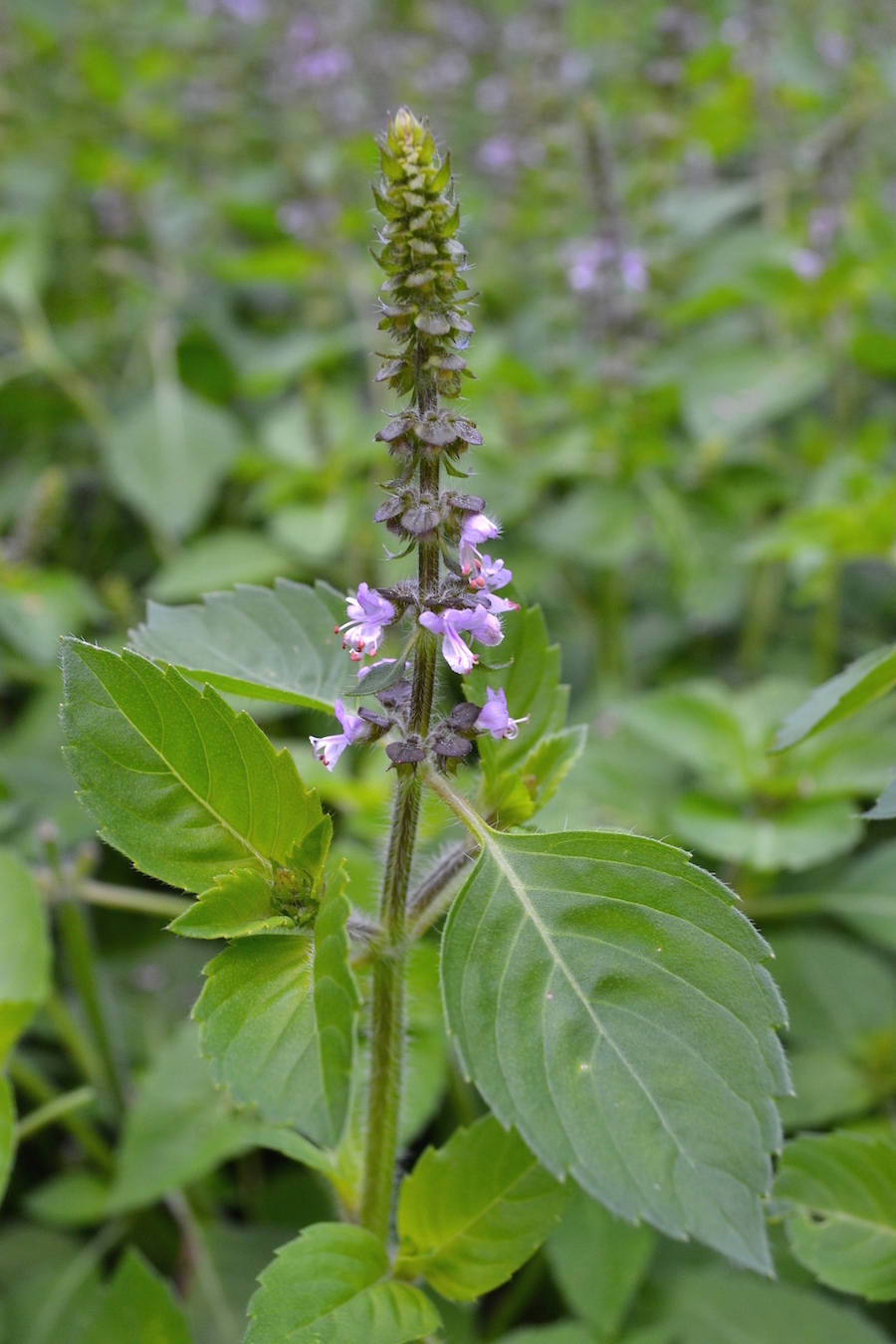 1. Adaptogens Are Normalizing
Adaptogens have a normalizing effect on the body, particularly through their work to balance the endocrine system, helping to improve the body's ability to respond to both physical and emotional stressors with increased resilience.
2. Adaptogens Are Balancing
Adaptogens may also have a balancing effect on the immune system, nervous system, or other systems of the body.
3. Not All Adaptogens Are The Same
Adaptogens are not all the same! Just like other herbs, there are nuances in their energetic and organ system affinities. Some adaptogens, such as ashwagandha (Withania somnifera) root, are more nourishing and building; others, such as rhodiola (Rhodiola rosea) root, are more stimulating.
4. Adaptogens Can Be Used Long-Term
Many adaptogens need to be taken over an extended period of time in order to see their full restorative benefit. (This is true of many other tonic herbs, as well.)
With that being said, herbal adaptogens are a wonderful group of herbs for people of all ages to explore. One way you can easily start using these herbs is by adding them to your food.
Below, we're sharing a recipe and video from our updated Introductory Herbal Course. This information is an excerpt from Unit 3: Herbal Support For Common Complaints, and this recipe is called Adaptogen Bliss Balls. These little delights will truly bring you bliss as soon as they hit your tongue. In fact, they are so yummy and so healthy, you'll have to stop yourself from eating the whole recipe in one sitting!
Adaptogen Bliss Balls
Adaptogen Bliss Balls
This is a classic way to enjoy the restorative benefits of adaptogens. Many of the nourishing adaptogens should be used in fairly high doses and many of them are pretty tasty, so food-based preparations, like these herbal balls, can be a great way to work them into your daily health plan.
Ingredients
½ cup powdered herbal adaptogen blend—this could include any combination of the following powdered herbs: astragalus (Astragalus membranaceus) root, eleuthero (Eleutherococcus senticosus) root, ashwagandha (Withania somnifera) root
1 tsp ginger (Zingiber officinale) rhizome powder
1 tsp cardamom (Elettaria cardamomum) or fennel (Foeniculum vulgare) seed powder
1 cup peanut butter or almond butter or other nut butter
1/2 cup honey
1/3 cup tahini (optional)
Optional add-in ingredients:
1/2 cup chopped almonds
1/2 cup chopped cacao nibs
1 cup shredded coconut to roll in
1/8 cup spirulina powder
1/8 cup hemp seeds
If you add all of these ingredients, you may need to increase the amount of nut butter or honey to keep the mixture moist.
Directions
In a large bowl, mix together nut butter of your choice and raw honey.

In a second bowl, stir together all powdered herbs.

Slowly mix the powdered herbs into the honey/nut mixture until a thick paste forms.

Roll this "dough" into balls 1-inch in diameter.

Dust with leftover herb powder to prevent from sticking.

Store in the refrigerator.

Eat 2-3/day to help support a healthy immune system.
If you'd like to know more about adaptogens and other tonic herbs, how to approach common complaints using herbs, or get access to dozens of tried and tested herbal recipes, we invite you to check out our updated Introductory and Intermediate Courses.
Even Better The Second Time Around!
Here at the Herbal Academy, we recently revised two of our foundational herbal courses, the Introductory Herbal Course and the Intermediate Herbal Course, to include updated content alongside beautiful photos and videos, additional recipes, and new printable graphics. We've even enhanced the flow and formatting of these courses to make them more functional for our students!
Introductory Herbal Course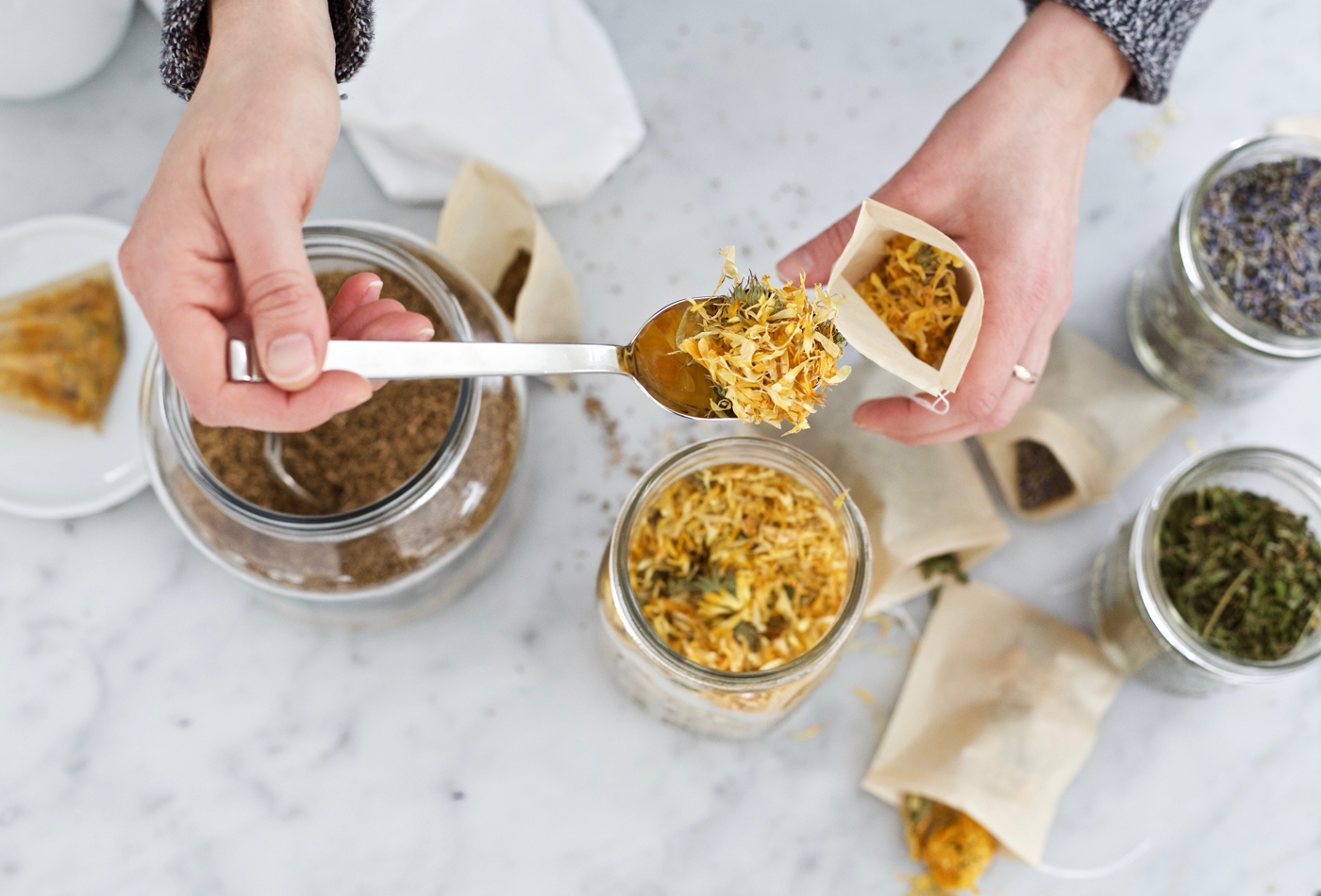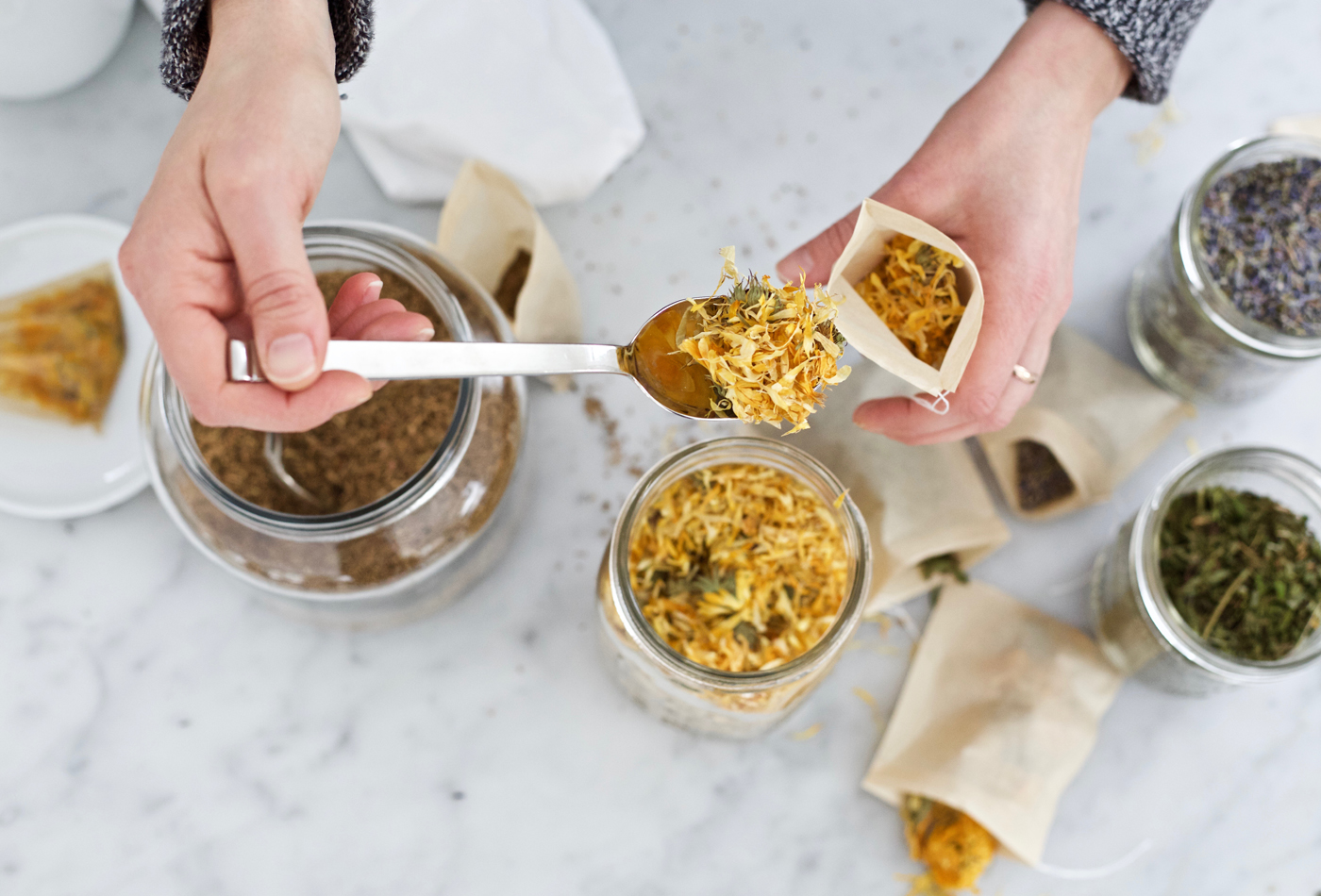 Our updated Introductory Herbal Course covers a broad spectrum of topics from using herbs in the kitchen and making herbal preparations to herbs for common body system imbalances and the herbal holistic approach.
This program includes:
Six units

34 total lessons

Downloadable and printable handouts and charts

Ebooks

Videos and tutorials

Dozens of recipes, and

Over 75 herbal monographs
You'll walk away from this course with all the foundational principles you'll need to know to get started as an herbalist.
Intermediate Herbal Course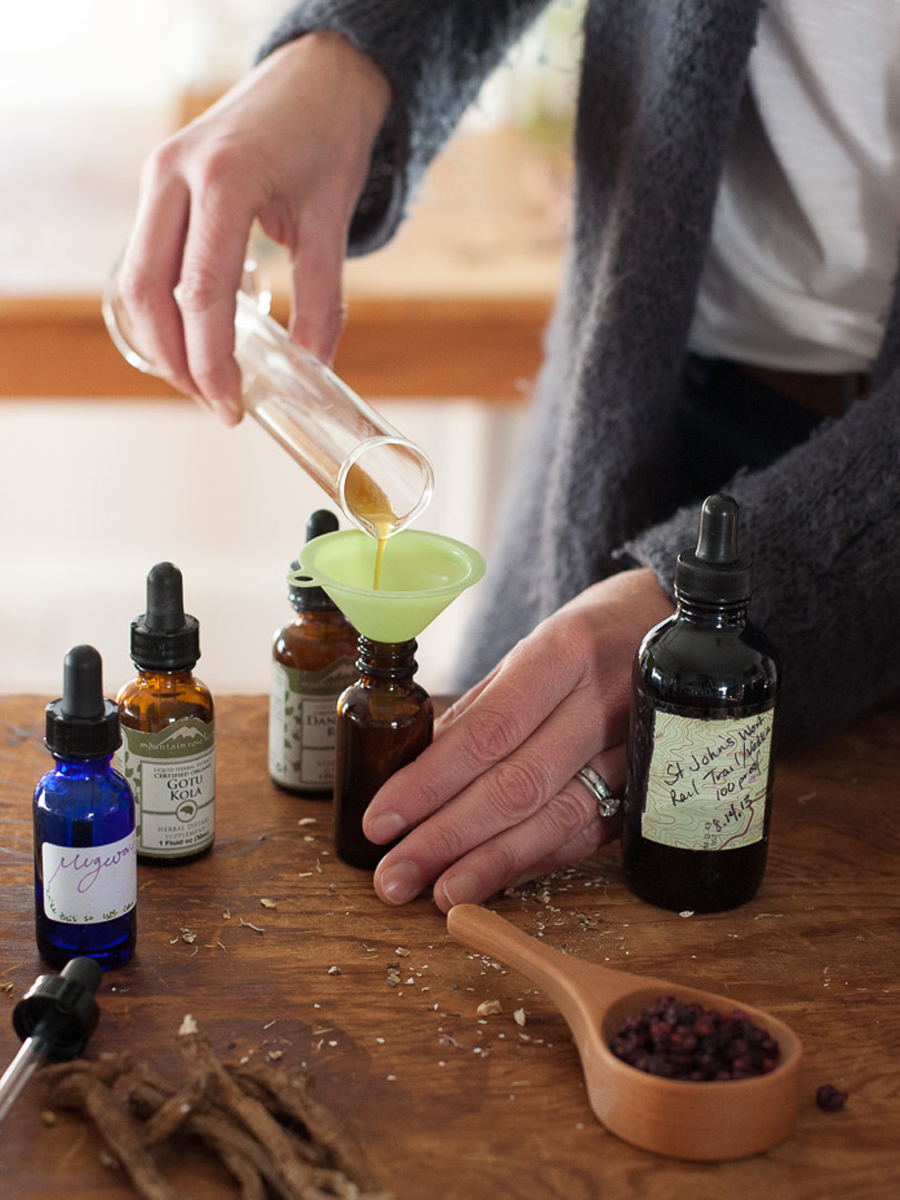 Our updated Intermediate Herbal Course starts by building the foundation of herbalism and slowly leads to more advanced topics.
This program includes:
Ten units

56 total lessons

175+ herbal recipes

150 herbal monographs

Beautifully designed handouts and charts that can be downloaded and printed

Ebooks that include additional information

Video lessons and tutorials
All courses include exercises and quizzes for students to complete, access to course instructors, access to an online student forum where you can share photos, ask questions, and get to know teachers and fellow students, and get exclusive discounts from Herbal Academy partners. All students will also receive a certificate of completion when they finish each course.
While both courses continue to be available in an online format, they are also now available in full-color print versions as well!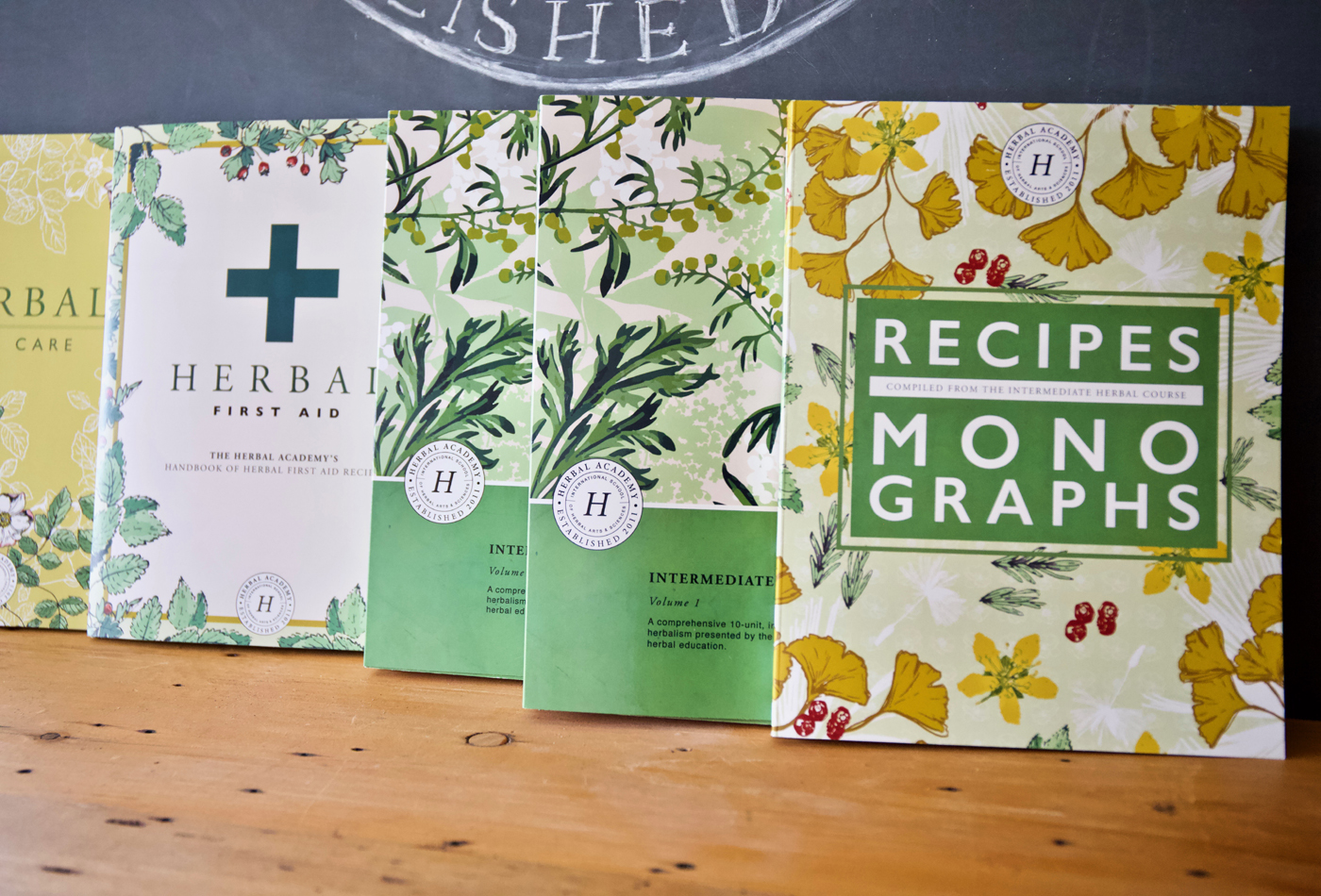 Both Introductory and Intermediate Herbal Course registrations can be upgraded with our Printed Course Packages to take your course to a whole new level of experience! Our set of printed course books presents each course in entirety in printed form for your study and enjoyment! With this upgrade, you will receive the Herbal Academy's complete course textbooks along with a compiled Recipes + Monographs Book and the program's featured Booklets as well.
Learn more about our revised and updated Introductory Herbal Course and our Intermediate Herbal Course, and let us be a part of your herbal journey!
Subscribe to our YouTube Channel for more Herbal Videos!
Join us over on the Herbal Academy's Youtube channel and follow along as we add new videos for you each and every month! Videos are a great way to share and connect with our community and students in a very visual platform. On our Youtube channel, you'll find helpful information about the Academy, as well as regular plant walk and foraging videos, DIY demonstrations, and more.
To subscribe to our channel, and view all the other videos uploaded right now:
Visit our Youtube channel,
Click the big red "subscribe" button,
Find all our videos under the Playlist option covering:
Herbal Tutorials and Recipes
NEW Mini-Herbal Walks
Herbal Courses here at the Academy
And general videos about the Herbal Academy