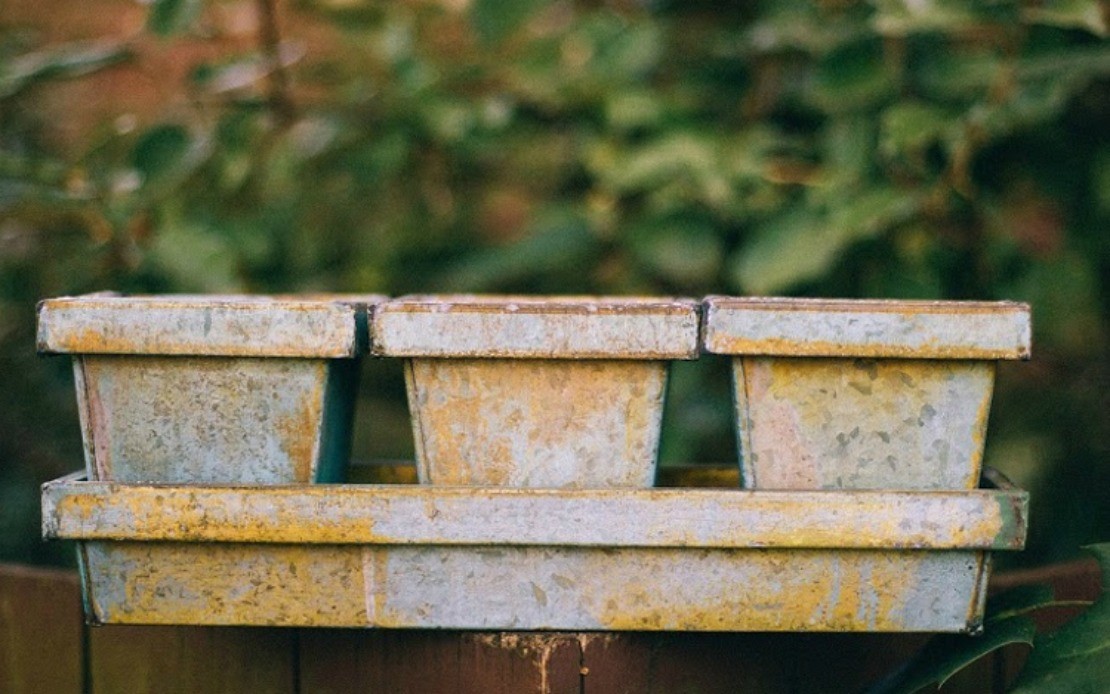 A Child's Winter Herb Garden
One of the things we all miss most once the snows fall in our home town is the bounty of the herb garden. The herbs grow sort of grow thither and yon at our place and the children are very used to munching mint and having sword fights with lavender whenever they please. Well, this year I decided to do something about it and so we created an indoor winter herb garden for children.
Which plants to use for the winter herb garden?
If you, too, decide you'd just rather not go through the winter without some herbs at your fingertips then I challenge you to include the little ones in your winter herb garden adventures.  Which kind of herbs you plant is completely up to you and your kids! I suggest you stick with herbs your children already know; even non-gardeny kiddos will recognize mint and basil.  Maybe pick one that features in a favorite family recipe over the holidays – does your mother's famous stuffing recipe call for sage? Sage happens to grow well in a pot, FYI.
If you're new to herbs or new to growing plants indoors, mint and basil really are good ones with which to start out. Rosemary and lavender are pleasing to see and smell and are both pretty hardy.
Where to get the herbs for your indoor garden?
If you have an herb garden and don't want to purchase new herbs, then find two or three in your yard that are calling to you and dig them up. If you'd like to visit your local nursery before they close up shop for the year (if they do that in your neck of the woods), then explore what they have available. You could also check your local botanical garden for fall sales as they usually have interesting varieties from which to choose. There are some online vendors for herbal plants, too. Don't forget obliging neighbors – have your kids bring cookies and smile sweetly when they beg plants.
You can, of course, grow something simple like basil from seed. Herbal Academy of New England can help you out there with their Five Steps to Starting Seeds post. If you want to grow from seed, plan to start this project about a month before you want to finish it.
The other thing you can do is to take cuttings of your herbs and wait for them to root in a glass full of water in a sunny windowsill. We have a post coming up over at Homestead Lady about our adventures in growing cuttings from our herb garden so look to see that soon.  Until then, if you'd like to learn more about this process, you can visit this link.  This process will take several weeks, too, so plan accordingly.
Planting your children's winter herb garden
If you're rooting new herb plants in water or planting from seed, remember to start ahead of this project by at least three to four weeks. If you plan to pick some potted herbs up from the nursery, just make sure you do so before their selection is gone for the season. If you're digging them up from your yard, be certain to do that before the ground freezes.
Once you've picked your plants and they're ready to go, you need to think about a good container for your winter herb garden. I always go for ease of use and practicality when planning for an indoor plant. There are a lot of cute containers for indoor growing, though, and I encourage you to play around with clay pots and old garden shoes and even washtubs and sinks, if you want – you can plant herbs in almost anything! Here's a link to learn how to weave your own basket from vines and twigs in your backyard, which is another fun project for the kids.
The one thing I want to have you remember is that, if this garden is for the children, you want to make sure you pick a container to plant into that isn't easy to break and isn't too heavy to lift. If the children are going to have to feed and water this winter herb garden, they're going to be able to need to move it and work with it.
Make sure you set up both your children and your winter herb garden for success by providing your plants with a windowsill that gets about six hours of sunlight.  I suggest teaching the children to bring the plants to a nearby sink to water them, as opposed to using a water can so that you avoid spills and leaks.
You can always dress any container with a bow or some lovely moss to cover the soil when you're done planting your herbs.  If you decide you'd like to make gifts of these, the holiday are coming up soon!  We wove our baskets and tucked in our rooted, baby herbs and plan to inundate our grandmas this Christmas.
What will you and your children do with your winter herb garden?
Tessa Zundel is the homemaking, homesteading, homeschooling mother of five small children and wife to one long suffering man. She currently lives on an acre in suburban Utah but will soon be making her home in the wilds of Missouri. She is an advanced master gardener, slowly working on becoming a master herbalist and is the founder of the Salt Lake County Seed Swap. She is also the author of DIY: Healthy, Holistic Bug Out Bag. Most days you'll find her hauling her good natured, adventuresome children around to learn about herbs, small farm livestock, fiber and other lost arts, whole foods, and home education. There's always something being tinctured, fermented, built, or milked around here – just ask the long suffering man! To find out what her latest project is, pop on over to Homestead Lady and join the fun! You can also find her on Facebook, Twitter, Google +, Pinterest and Hometalk.