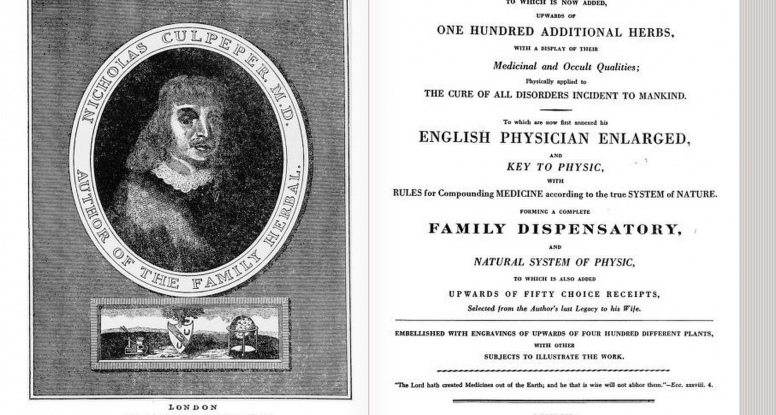 3 Old-Timey Herb Books You Can Read Online
Herbalism is seeing a revival in our times, but there is still much we can learn from herbalists who came before us. The history of herbalism goes far, far back into time with the first known reference to medicinal herbs found on clay tablets of the ancient Sumerians. Many old herbal manuscripts are preserved in libraries and museums around the world, but now that we have the internet we can take a peek into old herbal manuscripts from home whenever we like!
The Complete Herbal, King's American Dispensatory, and A Modern Herbal are three herbal classics that are now available online and are worth taking some time to explore. Although these herb books have much to offer regarding the historical uses of plants and give us insight into the herbal practice of their times, it's important to remember that we should consider what they present alongside modern medicine and current herbal research and practice. That being said, we hope you enjoy taking a look at the roots of herbalism – directly from the source.

Culpeper's Complete Herbal
One of the oldest herbals continually in print, Nicholas Culpeper's Complete Herbal was originally published in 1653. At the time, it was common for books to be published in Latin instead of English, as Latin was considered to be the language of the truly educated. However, Culpeper was a bit of a radical in his day, and wanted medical knowledge to be available to everyone, not just the Latin-speaking gatekeepers of knowledge. Not only did Culpeper insist that his own works be published in English, but he also published an unauthorized translation of The London Dispensatory (a key medical work of the time) that earned him several enemies and critics within the circle of his medical colleagues.
Born in 1616 in Surrey, Culpeper would eventually become a quirky English botanist, physician, herbalist, and astrologer. He studied at Cambridge for theology, but became fascinated by the study of medicine and afterwards apprenticed to an apothecarist. Culpeper became outspoken about the expense of physician's fees in his day, and scorned the common practice of diagnosing patients based mainly on the evaluation of their urine rather than examination of the patients themselves. He opened an apothecary on Red Lion Street in London where he became well known for his work with the poor, sometimes seeing as many as 40 people in a day and often charging nothing for his services.
Much of Culpeper's work was also colored by his training as an astrologer, combined with earlier medical traditions presented by Greek physician Galen. Because of this, Culpeper's Complete Herbal can seem very strange to the modern reader. It helps to understand that Culpeper was essentially blending two pre-existing systems in order to describe what he observed with his five senses. Underneath the astrological symbolism is actually a well-thought out system of applying herbs that made sense within its historical context and the personal context of the herbalist who developed it.
Culpeper's Complete Herbal can be found online at Archives.Org. Used copies of the book are also available on Amazon for as low as $5.00.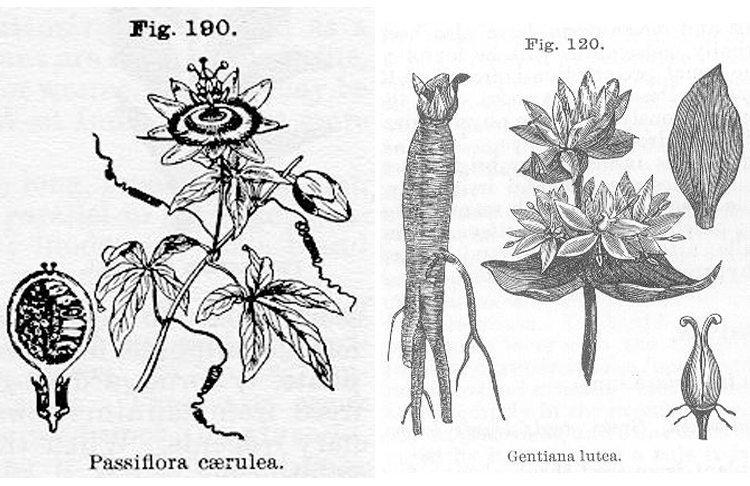 King's American Dispensatory
Jump forward in history to the mid 1800s, and you will find yourself in the middle of a new medical paradigm. Across the ocean in North America, the Eclectic Physicians were beginning to ply their trade.
American Eclectic Medicine was a movement that occurred from around 1845-1939. It began with an individual by the unlikely name of Wooster Beach, who began his studies under an unlicensed country doctor but eventually made his way to New York to pursue formal studies in medicine. Dr. Beach went on to become the founder of a medical school that went through several name changes before finally settling on The Reformed Medical College of the City of New York.
Dr. Beach had a strong focus on herbs that he passed on to his students and the various schools and colleges that arose in the wake of the Reformed Medical College. The students that were educated under Beach's curriculums became known as Eclectic physicians because they tended to draw from many different sources in treating their patients – including herbalism and even Native American ethnobotany – and believed in using whatever systems and medicines gave their patients the most benefit. Eventually, the Eclectic Medical Institute was established in order to train these new Eclectic physicians, and one of the professors there, Dr. John King, wrote an extensive materia medica that was first published in 1854 and became known as King's American Dispensatory.
John Uri Lloyd, PhD and Harvey Wickes Felter, MD, two prominent Eclectic physicians of the time who were also faculty at the Eclectic Medical Institute, undertook to revise and update the Dispensatory in 1898 as a tribute to the memory of Prof. King, who was a dear friend of Lloyd's.
King's American Dispensatory provides an intriguing look at turn-of the century American herbalism right before herbalism and medicine officially parted ways for many years.
You can read the version of King's American Dispensatory that was revised by Lloyd and Felter at Henriette's Herbal Homepage.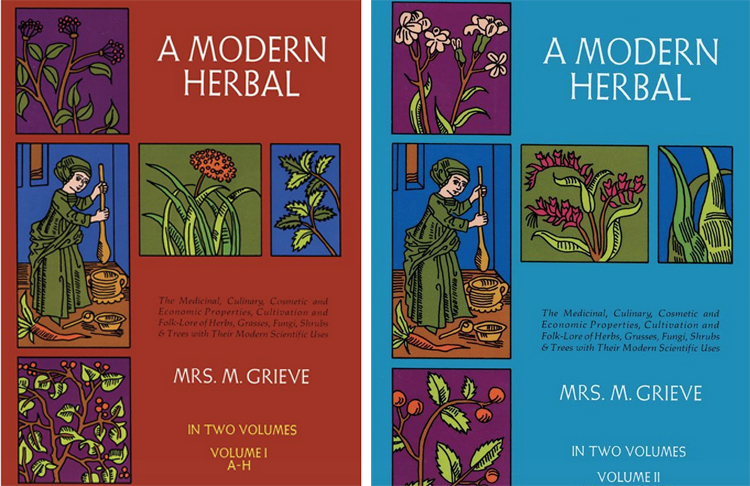 A Modern Herbal
Travel forward another half-century or so, and back across the ocean to England once again, and you will find A Modern Herbal has just been published.
Well, it may be a not-so-modern herbal now, but back in 1931, Maude M. Grieve's now-classic book was brand new on the shelves. The editor of A Modern Herbal, Mrs. C. F. Leyel, noted in her introduction:
BOTANY and medicine came down the ages hand in hand until the seventeenth century; then both arts became scientific, their ways parted, and no new herbals were compiled. The botanical books ignored the medicinal properties of plants and the medical books contained no plant lore.
Sophia Emma Magdalene Grieve (1858-1941), also known as Maude, was the Principal and Founder of The Whins Medicinal and Commercial Herb School in Buckinghamshire, England. In addition to her book, Mrs. Grieve wrote educational pamphlets on herbs during World War I when the war efforts caused a shortage of medical supplies. As a fellow of the Royal Horticultural Society where she received much of her training, she helped educate civilians on how to harvest and prepare herbs to assist with the shortages. In addition to her work with the Royal Horticulture Society, Mrs. Grieve was also President of The British Guild of Herb Growers.
A Modern Herbal gives us a fascinating look at herbalism that is a blend of earlier sources like Culpeper alongside the herbal folklore of the British Isles that had survived in the countryside.
You can read A Modern Herbal here, at Botanical.com.
A Modern Herbal Vol. 1 and Vol. 2 are also available for sale on Amazon.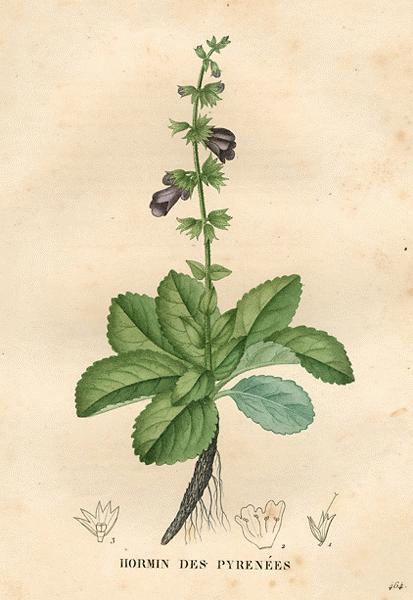 Reading Into the Past
As you explore these and other old herbal books, be sure to remember that these resources were written with the best knowledge available at the time. Understanding historical context –what was going on in the world of medicine, and the world at large, during the period the books were written – is important for piecing together an accurate picture of what the authors were trying to convey. It's also important to remember that some things have fallen out of fashion for good reason – modern research may have brought to light safety issues or a more complete understanding of the human body since these books were originally published. Regardless, there is still much we can learn from old-timey authors, and if nothing else, these books can give us a sense of being part of the greater community of herbalists through time.
Looking for more books to support your herbal studies? Our new Herbal Bookshelf can help! Search, preview, and purchase books that have been hand-picked by Herbal Academy educators with ease. What will you add to your herbal library next?
REFERENCES
Osborn, David K. (2007). Nicholas Culpeper: English Herbalist and Astrologer. Retrieved from http://www.greekmedicine.net/whos_who/Nicholas_Culpeper.html
Felter, Harvey Wickes. (1912). The Biographies of King, Howe, and Scudder. Retrieved from
http://www.henriettes-herb.com/eclectic/bios/bios-emi.html
The Herb Society. (1980). The Herbal Review: A Broadcast Circa 1930 on Growing and Using Herbs by Mrs. Maude Grieve. Retrieved from
http://www.herbsociety.org.uk/members/art-hh-maude-grieve-broadcast.htm
Books and resources listed in the Herbal Bookshelf, as well as in references, citations, and book reviews on the Herbal Academy website may contain titles and language that include words and phrases such as "healing," "treat," and "medicinal." Herbal Academy web pages that include book reviews, products, references, citations, periodicals, or other publications and links should not be construed as medical claim, diagnosis, or treatment. The Herbal Academy is not responsible for the content of these outside resources. The Herbal Academy makes neither medical claim, nor intends to diagnose or treat medical conditions.