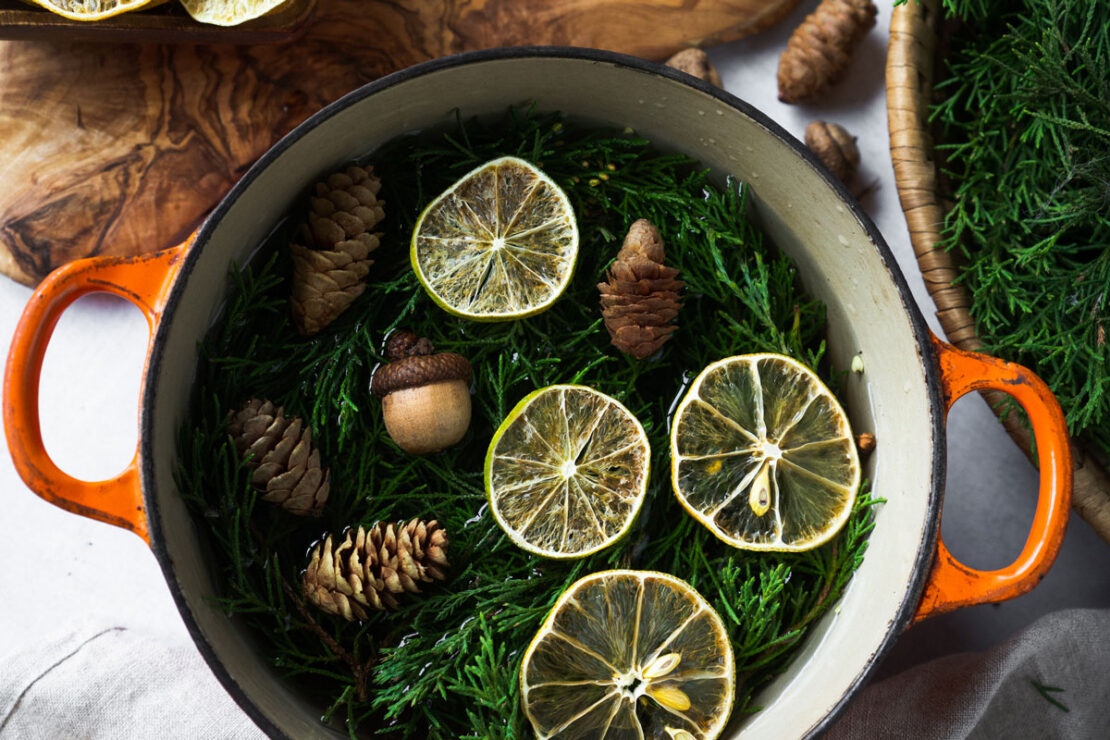 Woodland Winter Stovetop Potpourri Recipe
A long walk in the woods is good for the body and the soul. If you've ever walked through a dense evergreen forest, then you know just how rejuvenating it can be to take deep breaths of the fresh, piney scent. Just the smell itself can boost your mood! To bring the smell of the forest inside your home, consider making a winter stovetop potpourri blend from foraged evergreen sprigs. This aromatic herbal project makes a great gift, plus it's easy, affordable, and it doesn't involve any synthetic fragrances or chemical scents.
Stovetop potpourris, also known as "simmering spices," have been used for centuries to fill homes with the comforting smells of local fruits, spices, flowers, and herbs. Unlike most store-bought candles and incense blends, homemade stovetop potpourri is entirely natural and free of harsh synthetic fragrances. In the following recipe for a Woodland Winter Stovetop Potpourri Blend, we combine foraged ingredients, like evergreen sprigs, juniper berries, and pine cones, with citrus rounds for an invigorating and clean scent.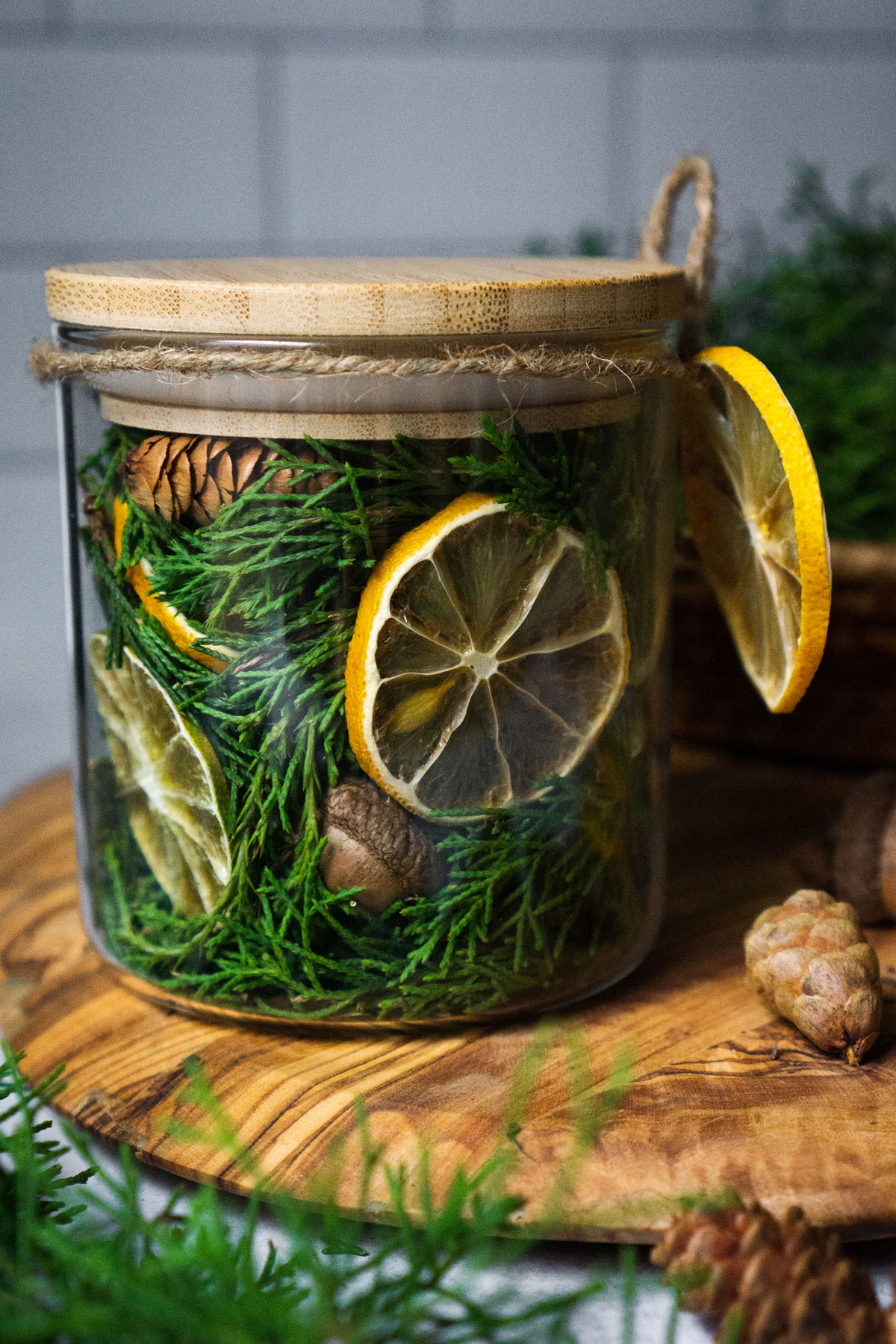 This winter stovetop potpourri recipe involves a walk in the woods (or around your neighborhood) to find foraged materials, like evergreen sprigs and pinecones. Enjoy the meditative time for yourself, or consider bringing young ones along for some cold-weather fun.  There are endless combinations of stovetop potpourris, so use this recipe as a template and then have fun adding various items from your spice cabinet, like cloves and cinnamon. Let your creativity run wild!

Stovetop potpourri blends make wonderful gifts, so consider doubling or tripling the recipe below to share with friends and family. If you're making this blend as a gift, then you'll want to gather the materials just a day or two before sharing so the evergreen sprigs don't wilt and lose their scent.  Encourage your gift recipient to simmer the blend within a few days of receiving.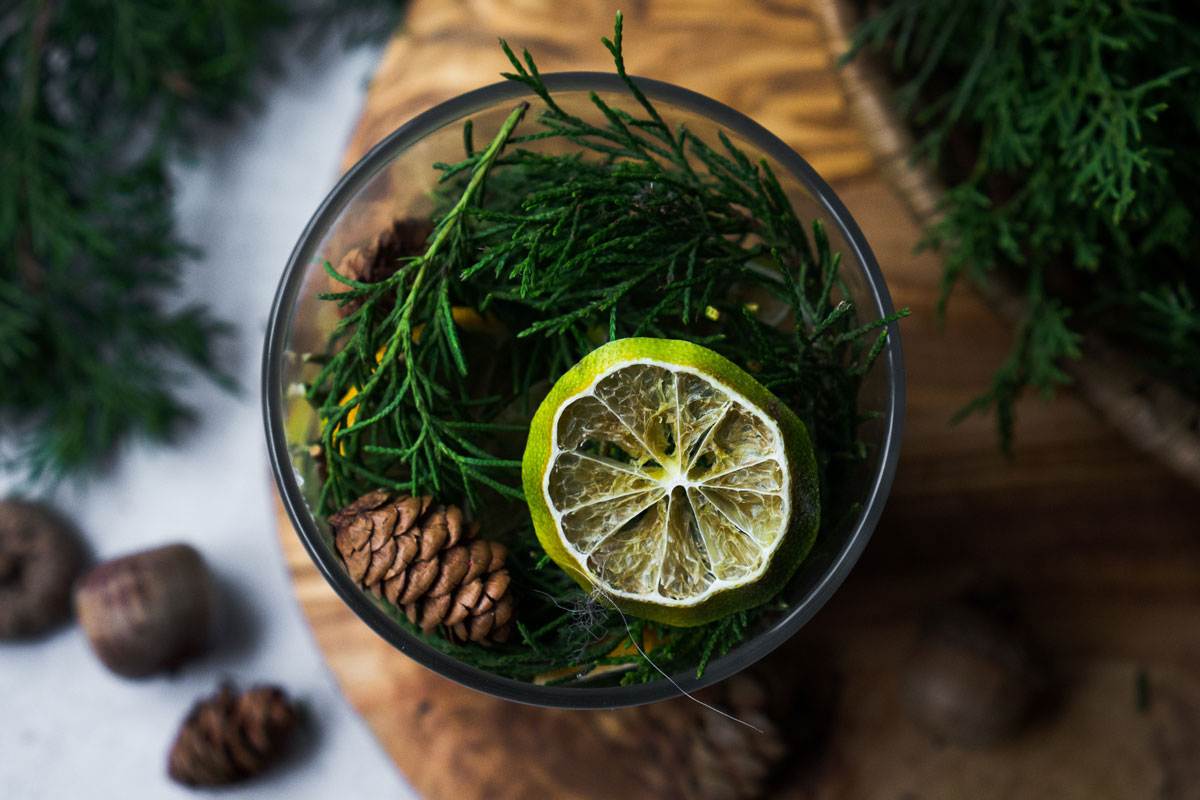 Woodland Winter Stovetop Potpourri
Bring the forest into your home with this delightful simmering spice. The combination of evergreen sprigs and citrus makes a very crisp and clean scent that is sure to uplift your mood.
Yield: one 14-oz glass jar.
Ingredients
5-6 evergreen sprigs (pine, spruce, fir, cedar, juniper, or cypress all work well)

1 lemon or lime, thinly sliced and dehydrated
1 handful of juniper (
Juniperus
spp.) berries, tiny pinecones, or acorns (decorative only)
Directions
Dehydrate the Citrus
Preheat the oven to 200 degrees Fahrenheit. 

While you're waiting for the oven to come to temp, slice the citrus very thinly and lay the slices on a lined baking sheet in a single layer. 

Bake for about 2.5 hours or until the peels are dry and the flesh is translucent. Periodically rotate the baking sheet so the fruit dries evenly.

Remove the citrus slices when they're done, and let cool completely before adding them to your potpourri blend.

(If you own a food dehydrator, you can use that instead and follow the instructions in your manual.)
Blending the Potpourri
Because these are designed as gifts, presentation is key! It's best to layer the ingredients directly in the jar in a way that's visibly pleasing to the eye. Evergreen sprigs and citrus slices will take up the most space, and you can fill in the gaps with the smaller items.

Cap the jars, and decorate each one with a label and twine. 
To Use:

To use your stovetop potpourri blend, add the entire mix to a stockpot or crockpot, cover with water, then simmer on and off for a few days. Turn the heat off any time the scent becomes overpowering or if you feel your home smells sufficiently delightful. After a few hours have passed, and the smell has faded, turn the heat back on for a fresh infusion. This blend will last 3-4 days and should be stored in the fridge overnight.

After you've extracted as much of the smell as possible, compost your spent herbs and spices and use any remaining water to give your houseplants an evergreen-inspired drink. 
In Closing, 
This Woodland Winter Stovetop Potpourri blend is a beautiful gift and a fun way to infuse your home with the smell of the forest. Plus, this all-natural recipe will help you avoid the overly powerful smell of synthetic fragrances. If you're interested in more stovetop potpourri recipes, then see our post 3 Stovetop Potpourri Recipes for Winter.