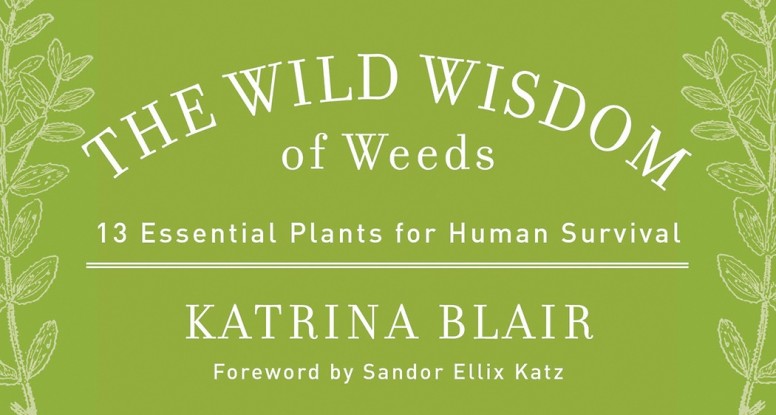 The Wild Wisdom of Weeds Review + Giveaway
One of the reasons folks are drawn down the path of herbalism is the powerfully moving experience of reconnecting with wild plants. Humans have co-evolved with plants for millennia and we clearly could not survive without them. But our need for plants goes well beyond oxygen, breakfast, lunch, and dinner — our relationship with plants is energetic as well as physical. They offer us sustenance, nourishment, and medicine as well as a connection to ancient wisdom and our wild, animal selves.
Our modern society does not foster this relationship, and while we are seemingly able to get on just fine without it, at a deep level many of us feel a sense of disconnection or loss often without being able to identify it as such. Interaction with wild plants helps us to realign ourselves with the nature of which we are part and restore this connection.
In The Wild Wisdom of Weeds, Katrina Blair has identified thirteen wild plants as "essential for human survival": amaranth, chickweed, clover, dandelion, dock, grass, knotweed, lambsquarter, mallow, mustard, plantain, purslane, and thistle. Throughout her global travels, she recognized that these plants are found across the globe, wherever permanent human civilization exists.
In the turbulence created by climate change and resource depletion, she suggests that these plants offer a local source of food and the security that comes with it, while their resilience and ability to adapt offers an important example for humans.
Among their many attributes, these thirteen wild global survival plants:
Are found in abundance near human communities across the globe, both in rural and urban environments;
Are hardy, resilient, and can adapt to changing environmental conditions, and seek disturbed lands (in other words, they follow our footsteps);
Regenerate disturbed, infertile, and compacted soils;
Enable us to thrive on locally sourced food and build food security;
Require minimal resources to produce;
Are inexpensive;
Provide a nutrient-dense source of complete proteins, minerals, and vitamins;
Provide medicinal and first aid remedies;
Can be used in bath and beauty preparations; and
Are a source of fibers and dyes.
The author devotes the majority of the book to extensive profiles of the wild thirteen plants. Each plant profile includes photographs of the plant and detailed descriptions of plant botany, habitat, history, edible uses, medical actions, medicinal uses, and recipes, including both culinary and medicinal preparations. The profiles are just the right combination of instructive description and anecdotal conversation and are accessible to both beginner and experienced wild plant forager alike.
The recipes include those that have been developed for the author's Local Wild Life Cafe at the Turtle Lake Refuge in Durango, Colorado, which has been serving locally grown, wild-harvested, and living foods lunches to their community for fifteen years. Recipes include variations on familiar foods (dandelion leaf pesto, clover flower apple pie, green juices, and green powders for smoothies) as well as inventive recipes that stretch us beyond our comfort zone (knotweed bread, mallow root milk, sour dock lemonade, purslane sauerkraut). That being said, let's keep in mind that not so many decades ago, pizza was beyond American cuisine's familiar comfort zone!
As it turns out, the plants we most need and have the most to learn from may just be those most humble and resilient plants which have adapted to thrive in our shared ecosystem — be they outside the back door, along a sidewalk, or at the edge of the woods. There is no doubt that it takes a bit of a shift in mindset to change our view of the wild plants around us from weeds to allies. It was not so long ago that my children and I sautéed wild harvested nettle and sat around the table taking our first bites with more than a bit of trepidation!
As with herbalism, learning and becoming comfortable with wild foods foraging feels much more doable with the guidance and gentle encouragement of a trusted mentor. This book promises to be just that — a mentor and valuable resource to consult as we learn to incorporate more wild plants into our daily lives. It certainly opened my eyes to foraging as an integrated way of feeding myself instead of just an occasional complement, and has inspired me to expand my use of these wild plants.
Book Giveaway!
We're pleased to offer our readers in the United States a chance to win a copy of  The Wild Wisdom of Weeds!
For a chance to win, please leave a comment using one of the comment options below and tell us about your foraging experience – do you wild harvest any of the plants listed above? Which ones are you interested in learning more about?
For a second bonus entry, sign up for our newsletter (in the box at the bottom of our webpage or at this link) and then come back and leave a second, separate comment letting us know that you did so. If you are already subscribed to our newsletter, just let us know that in the second comment.
The contest closes at midnight (Eastern Standard Time) on Monday, December 8, 2014. We'll choose the winner using a random number generator. The winner is whomever left the comment that matches that number! The winner will be announced in the comments below and on Facebook.
Good luck!
Photos courtesy of Chelsea Green Publishing