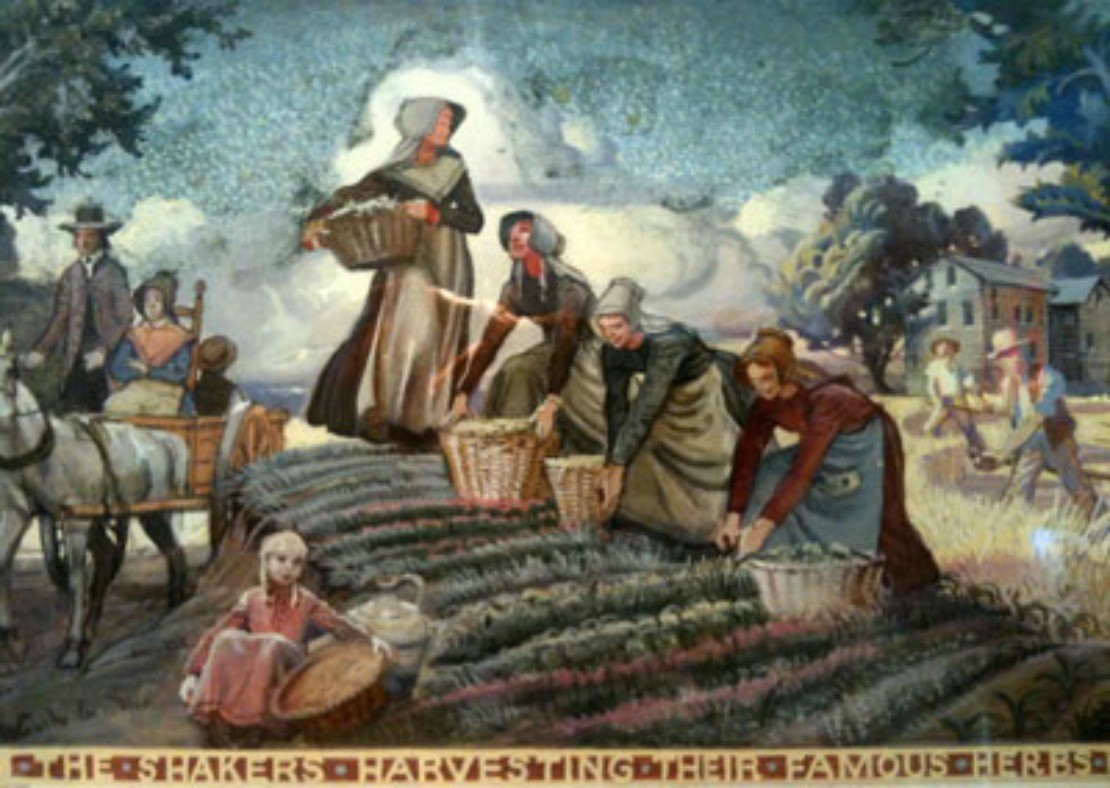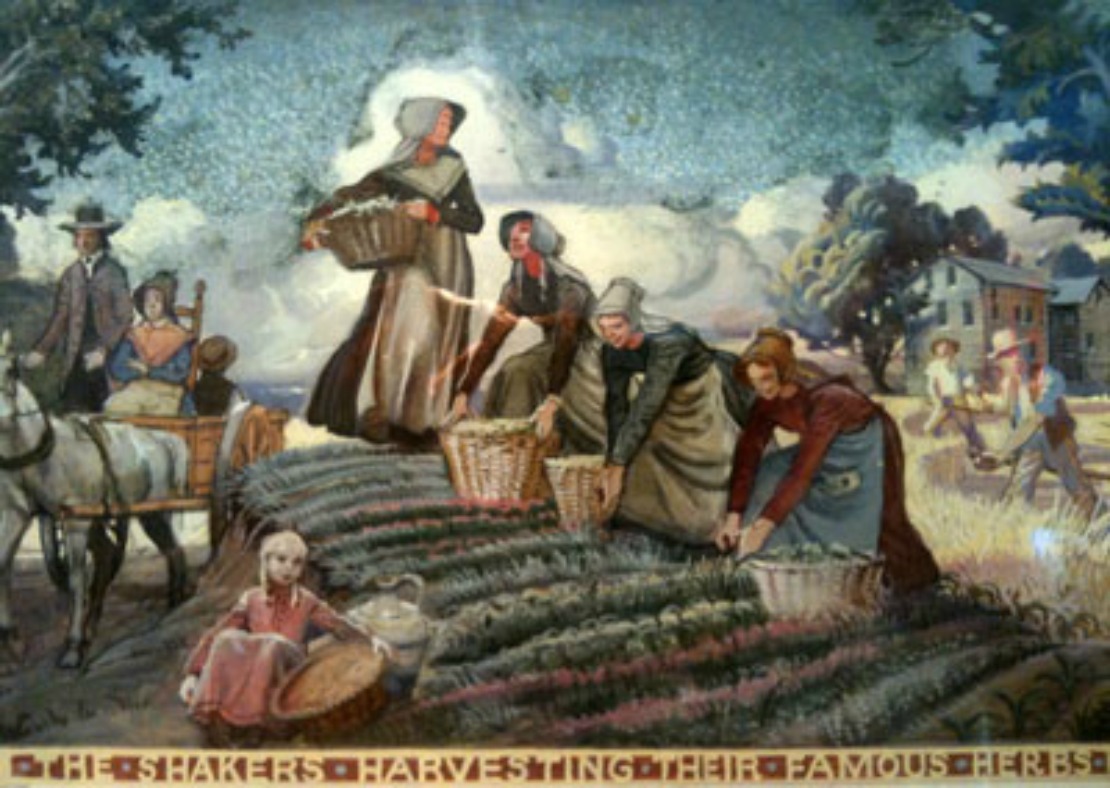 The Shakers and our First Herbades
Who Were the Shakers?
The Shakers were a religious sect of "believers" who established agriculturally-based and independently functioning communities in America ever since their arrival in 1774. Twenty-four villages in all were established by the end of the 19th century. Currently, two villages remain which are considered "active." Many of the villages have become museums open to the public. Despite their dissolve they have remained among the most admired and intriguing to study. Why?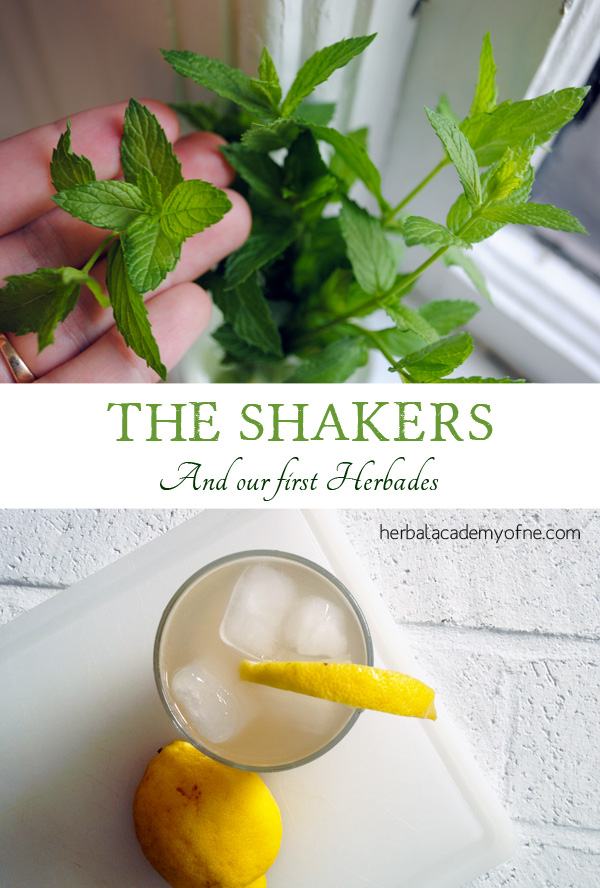 The Shakers were disciplined, hard-working, innovative and entrepreneurial. They desired to be self-sufficient, relying on their own industry to support their communities from the lands in which they lived. Their work ethic made them successful with whatever they chose to do. Providing seeds and medicinal herbs to "the world" were among their most successful of businesses. We may be more familiar with their beautiful wooden furniture and baskets which are still made and used today.
Among Our First Herbalists
The Shakers are considered among our first herbalists next to the Native Americans who held all the medicinal knowledge of our native plant species (Beale and Boswell, 1991). Perhaps, for the Shakers, their interest in herbalism started simply because they did not rely on imported teas, coffees or conventional medicines! Their early years were spent in much poverty. Roots, leaves, and barks were often used to make teas such as chicory root, sage, lemon balm, and dandelion root (Beale and Boswell, 1991).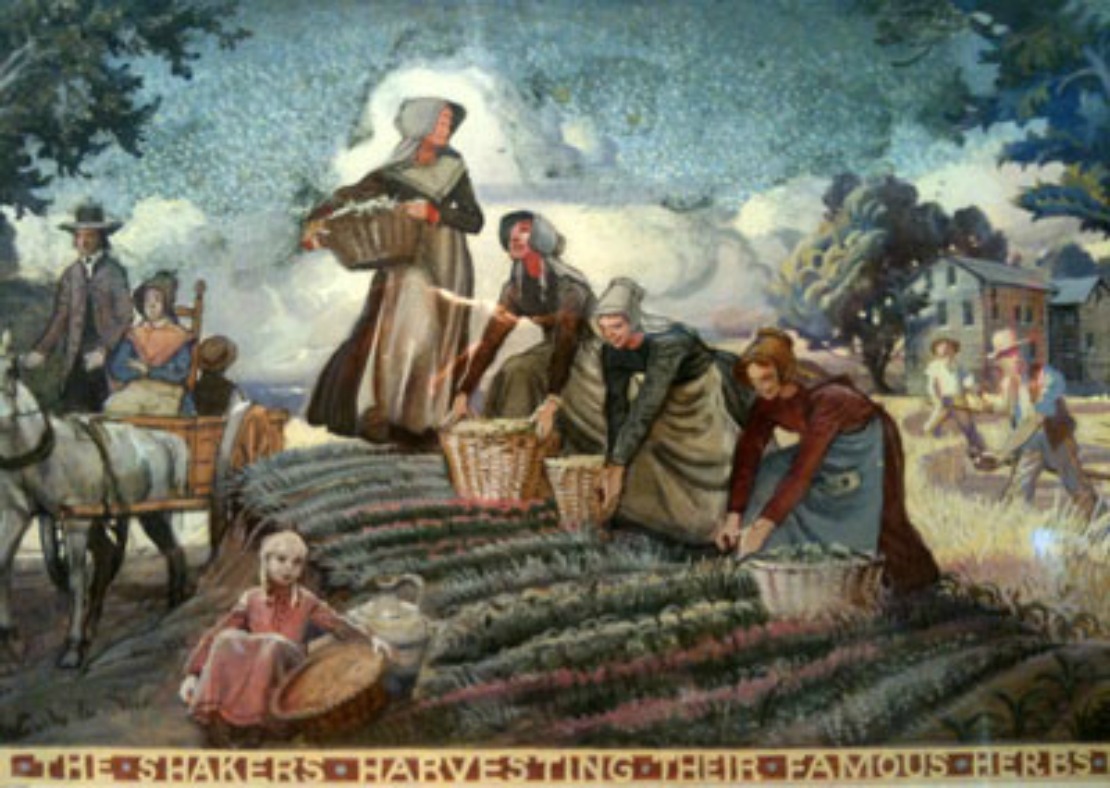 They desired to remain closed to the outside world. The Shakers treated their own sick and dying by relying on the medicinal herbal knowledge of the Native Americans as well as their own herbal knowledge, which they worked hard to develop. Their philosophies for health and living stood in stark contrast to conventional medical practices of their time. Ironically, they have become exemplary for their health practices.
An Herbal Business Grows
The beginning of the Shaker herbal business occurred during the 1820's (Beale and Boswell, 1991). First they sold herbs to the general public. However, their business grew when they began to provide medicinal herbs to a unique group of independent thinking medical doctors of the mid-19th centuries known as Eclectic Doctors (Miller, 1998) who specialized in herbal medicines for remedies. As demand grew over a 50 year period, they created mail order catalogues of their medicinal plants which included their own bottled remedies and syrups.
By the 1850s the Shakers became world-renowned suppliers of medicinal herbs. They offered over 356 herb species in their catalogue for sale (Miller, 1998) which included wild-harvested native plants from throughout the Northeast region of America, cultivated herbs, and imported medicinal plants from other regions for resale. Their quality and reputation was superb. Their selection and inventory was so extent that one could say that they were the amazon.com for medicinal herbs of the 19th century.
Haymaker's Switchel and Herbades to Cool the Hard Working
Maintaining their farms to sustain their communities and herb business required long hours of hard work in their fields and forests. Summers were extraordinarily busy with men, women, and children growing, gathering, and wild-harvesting, and then, processing the herbs. Haying still needed to be done to provide for their animals for the winter and vegetable farming, harvesting and preserving was on-going for their communities to thrive. There was never an idle moment.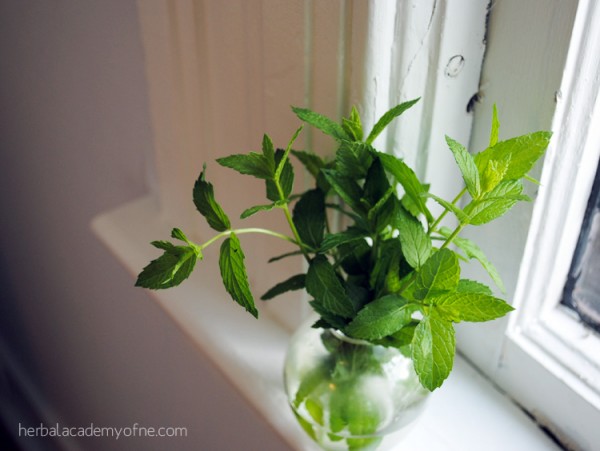 While there weren't ice machines tucked behind the freezer doors of their refrigerators, Miller and Fuller (1970) comment that "never in New England was there a haying without quantities of cold switchel [a sweet and sour drink made with ginger] at hand". Chilled from ice kept in icehouses which had been collected the winter before, the drinks were kept cold this way, or kept in springhouses, or down in wells to stay cool.
The Herbal Recipes
"He who knows not what it is to labor knows not what it is to enjoy" (Eldress Anna White, Mount Lebanon Village, New Hampshire. From: Miller, 1998.)
I know that we all work very hard!
Now, let's enjoy a cooling herbal summer drink!
Classic Haymaker's Switchel
This drink may not be appealing to us now, but here is a recipe from the Hancock Shaker Village (Miller and Fuller, 1970) which dates back to colonial times. Go ahead and give it a try after a full day in the garden!
Ingredients
1 cup brown sugar
2 quarts water
½ cup molasses
¾ cup vinegar
½ tsp ginger, dried and powdered
Directions
Stir up the ingredients and cool. Serves 5 cups
Making Herbades
I have come across several Shaker recipes for Herbade which usually contain the most easily grown and abundant herbs (if these herbs aren't abundant in your area, you can get them here). The mints were most popular, along with lemon balm and borage. They are often mixed with a tart fruit juice or ginger and always sweetened.
I include one early (18th century) recipe and one contemporary (20th century) recipe plus a recipe for gingerade using fresh ginger.
Herbade from the Harvard Shaker Village
(Miller and Fuller, 1970)
Ingredients
½ cup chopped mint
½ cup chopped lemon balm
½ cup sugar syrup (boil 2 parts water with 1 part sugar for 5 minutes)
¼ cup lemon juice
½ cup orange juice
4 quarts dry ginger ale or natural flavored ginger carbonated water for a healthier option
Directions
Chop up the herbs quite finely.
Then pour the warm sugar syrup, lemon and orange juice over the herbs.
Cover and let steep. Original instructions are to steep for 1 hour or more. I would suggest steeping the herbs overnight to extract more flavor.
Strain and add ginger ale or natural flavored ginger carbonated water.
Herbade from Canterbury Village
(Beale and Boswell, 1991)
Ingredients
2 cups water
4 tea bags
1 cup mint
1 cup lemon balm
1 cup borage leaves
Juice of 6 lemons
Juice of 4 oranges
5, 12-ounce cans ginger ale
1 quart white grape juice
Directions
Boil the water.
Remove it from the heat, pour it over the herbs and tea, and steep for 1 hour.
Add the remaining ingredients. Chill.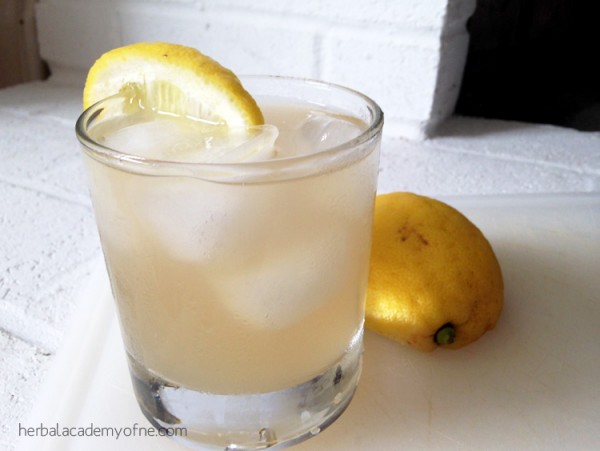 Shaker Gingerade from North Union Shaker Village, Ohio
(Miller and Fuller, 1970)
Ingredients
4 ounces ginger root
4 lemons
2 quarts boiling water
Sugar syrup to taste (boil 2 parts water to 1 part sugar, 5 minutes)
Directions
Cut ginger into small pieces
Cut the lemon rinds into paper thin strips and add to ginger root.
Pour boiling water over this mixture and let steep for 5 minutes.
Strain and when perfectly cold, add two cups lemon juice and sugar syrup to taste.
Dilute with very cold water and chips of ice.
In hot weather, sprigs of mint inserted in the glasses add interest to this beverage.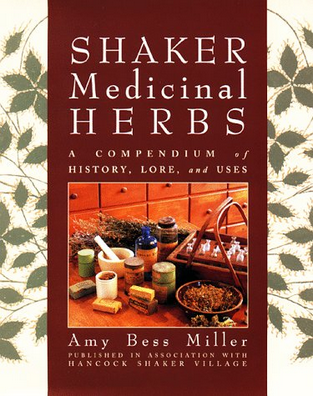 If you are interested in learning more about the Shakers, we highly recommend checking out Miller's book,  Shaker Medicinal Herbs. This book features beautiful illustrations and documents Shaker usage of 300 plants, shrubs, and trees!
This post was written by Rachel Ross of Hillside Herbals. Rachel grew up between two nature sanctuaries and received a degree in biology and a Masters in Botany. Later, she acquired an RN, and MSN, and is now a practicing Certified Nurse-Midwife. She sees the plants as powerful allies to nourish, strengthen, calm, and heal. Her humble hope is to share this knowing with you.
REFERENCES
Beale, G. and Boswell, M. (1991). The Earth Shall Blossom. Woodstock, VT: The Countryman Press, Inc.
Miller, A. (1998). Shaker Medicinal Herbs. Pownal, VT: Storey Books.
Miller, A. and Fuller, P. (1970). The Best of Shaker Cooking. New York, NY: Collier Books.
Shaker museums and villages to visit in New England
1. Canterbury Shaker Village, 288 Shaker Rd., Canterbury, New Hampshire 03224
http://www.shakers.org/
2. Fruitlands Museum 102 Prospect Hill Rd., Harvard, Ma. 01451
http://www.fruitlands.org/
3. Hancock Shaker Village 1843 West Housatonic St., Pittsfield, Ma. 01201
http://hancockshakervillage.org/
4. Sabbathday Lake Shaker Museum, United Society of Shakers, 707 Shaker Rd., New Gloucester, Maine.
http://www.shaker.lib.me.us/museum.html